Has anyone of you tried Redoxon Vitamin C
effervescent tablets before? It's one of the earlier brands of vitamin C that are still relevant today.
What are Redoxon vitamin C tablets?
In case you have not tried it or have not heard of it before, Redoxon sells vitamin C tablets in tubes containing 10 vitamin C tablets each. Each box may have 2 tubes or more. They also sell other types of vitamins and supplements.
It comes in effervescent orange and also lemon flavoured tablets. The orange tablets are my personal favourite as they taste quite decent, more similar to an orange juice.
Redoxon vitamin C tablets contain 1000 milligrams of vitamin C (ascorbic acid), phenylketonurics (which in turn contains phenylalanine).
How do I consume Redoxon vitamin C tablets?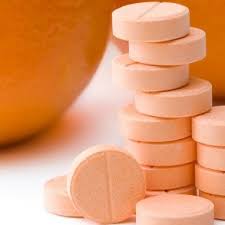 For adults and adolescents, you only need to take 1 tablet daily, or as advised by a doctor or a pharmacist. Get a glass of cold water with at least 1/2 filled. I normally use about 3/4 of a glass. Dissolve the effervescent tablet in the glass of water simply by dropping the tablet into the glass. Wait for a few minutes for the tablet to be completely dissolved (not necessary to stir) and then proceed to drink.
What are the benefits of consuming vitamin C tablets?
Vitamin C, i.e. ascorbic acid, is abundantly found in fruits and vegetables. It is water-soluble and acts as a powerful antioxidant. It comes with plenty of benefits:
It helps to repair and also regenerate tissues
It acts as a protection against heart diseases
It helps in the absorption of iron
Scurvy can be prevented with enough vitamin C
It decreases cholesterol as a whole
It decreases bad cholesterol and triglycerides (type of fat)
It may also aid against certain types of cancers as it combats free radicals
It neutralises the effects of nitrites. Nitrites may be found in preservatives which raises the risk of some forms of cancer.
It also helps in lessening the duration and also the symptoms of a cold
It delays or prevent cataracts
Overall, it boosts the body's immune system
When should I take vitamin C tablets?
If you have the following symptoms, you might be experiencing a vitamin C deficiency:
fatigue
muscle weakness
bleeding gums
scurvy
leg rashes
muscle aches
joint aches
You can also take vitamin C when you feel like you're going to fall sick or you're going to get a sore throat.
What are the side effects of consuming too much vitamin C?
Generally, vitamin C is quite safe for consumption. Nonetheless, certain symptoms may occur for over-consumption:
diarrhoea
nausea
cramps
gastrointestinal problems
Personal Experience With Redoxon Vitamin C Tablets
I normally take vitamin C tablets when I fail to consume enough vegetables or fruits. Sometimes you can be really busy at work and neglect taking vitamin C in the form of fruits and vegetables. If you're not having enough natural vitamin C, these tablets will come in handy for you.
Personally, I consume these vitamin C tablets when I have a sore throat (or going to), when I have flu (common cold) or even when I feel like I'm going to fall sick due to fever or flu. Most of the time, these tablets really helped me and I recovered much faster than usual. More often than not, I managed to prevent myself from falling sick by drinking the dissolved vitamin C tablet.
Consuming tablets is not enough for some cases. If you have a sore throat, gargle with salt water as well. It complements each other and as a result, you will heal even faster.
Conclusion
Redoxon Vitamin C tablets have proven to be useful for me for years and I'm still continuing to take them when it's suitable. It's not a miracle tablet, but it really fastens the healing process and boosts your immunity system. If you're interested in buying these tablets, you can get it from Amazon or from your local pharmacy.
Prices pulled from the Amazon Product Advertising API on:
Product prices and availability are accurate as of the date/time indicated and are subject to change. Any price and availability information displayed on [relevant Amazon Site(s), as applicable] at the time of purchase will apply to the purchase of this product.