The Stone of Scone in Persona 5 is one of the treasure demons that you will see throughout the game. This particular demon (Stone of Scone) floats on top of a rock.
You can find this demon somewhere during the fourth palace of the game, i.e. Futaba's Palace.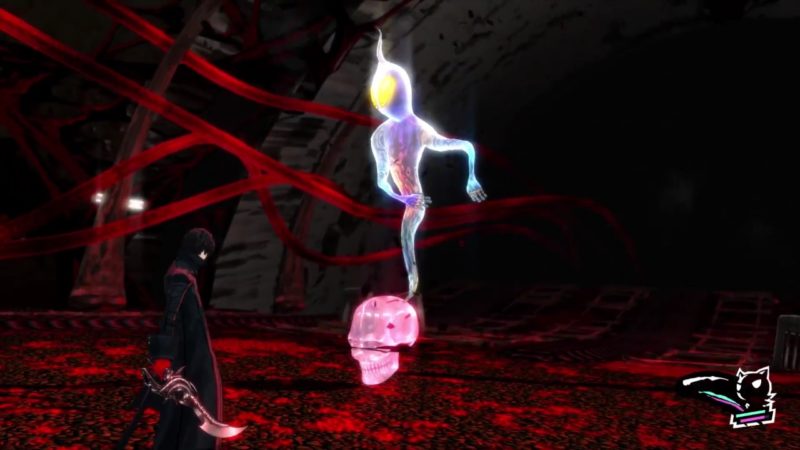 How do you find this Stone?
Just as you find the other treasure demons, you can find it if you grab glowing treasures in palaces.
Look for glowing treasures in Futaba's Palace (4th palace) and you should be able to encounter this.
Another place to find it is the Mementos, near the Path of Akzeriyyuth.
How to increase the chance of encountering this demon?
Apparently if you enter the Mementos on a rainy day, you'll have better luck of finding one.
Otherwise, you can also craft a Treasure Trap infiltration tool to increase the appearance rate of this particular treasure demon.
You can craft the tool using silk yarn, plant balm and cork bark.
How do you defeat the Stone of Scone?
It is best if you have elemental curse skills and you should be able to defeat it quite easily.
You can use Eiha, Eiga, Eigaon or other curse attacks against this demon.
Once it's down, talk to it to be able to capture it.
Another way to defeat it if you don't have such skills, is to use critical strike.
If you've met the Tower Confidant (Shinya Oda), you will gain an ability to guarantee critical strikes. Shinya is the small boy playing gun games in the arcade.
You will learn a special gun move to defeat the Stone of Scone.
Otherwise, you'll have to use skills with high chance of critical strikes.
The Stone of Scone is capable of dropping a magic stone and the skill card of Sukukaja.
It will also give 1,000 experience points and 12,000 yen.
---
Related articles:
How To Increase Guts (Social Stats) In Persona 5
Ways To Raise Knowledge In Persona 5
Persona 5 – How To Increase Charm
Is RuneScape Dead? What Are Your Thoughts?
6 Online Games That Will Make You Feel Nostalgic (And Maybe Old)