Hey guys, today's post is to explain why I'm not very active on Facebook, my Instagram, Reddit or even on my blog these days.
A few weeks ago, I was rather active on forums like Black Hat World and Warrior Forum. I was looking for more ways to make money online.
Then I stumbled upon one article. An article that changed it all.
I was introduced to the world of Steemit.
There's a whole lot to know about Steemit and what it is, but I won't explain all of it. Partly because I'm still new and I don't know a lot of things about it.
I'll just explain briefly (in my own words) on what and how it works.
What is Steemit?
Basically, Steemit functions like a social media platform, something like a combination between Twitter and Reddit.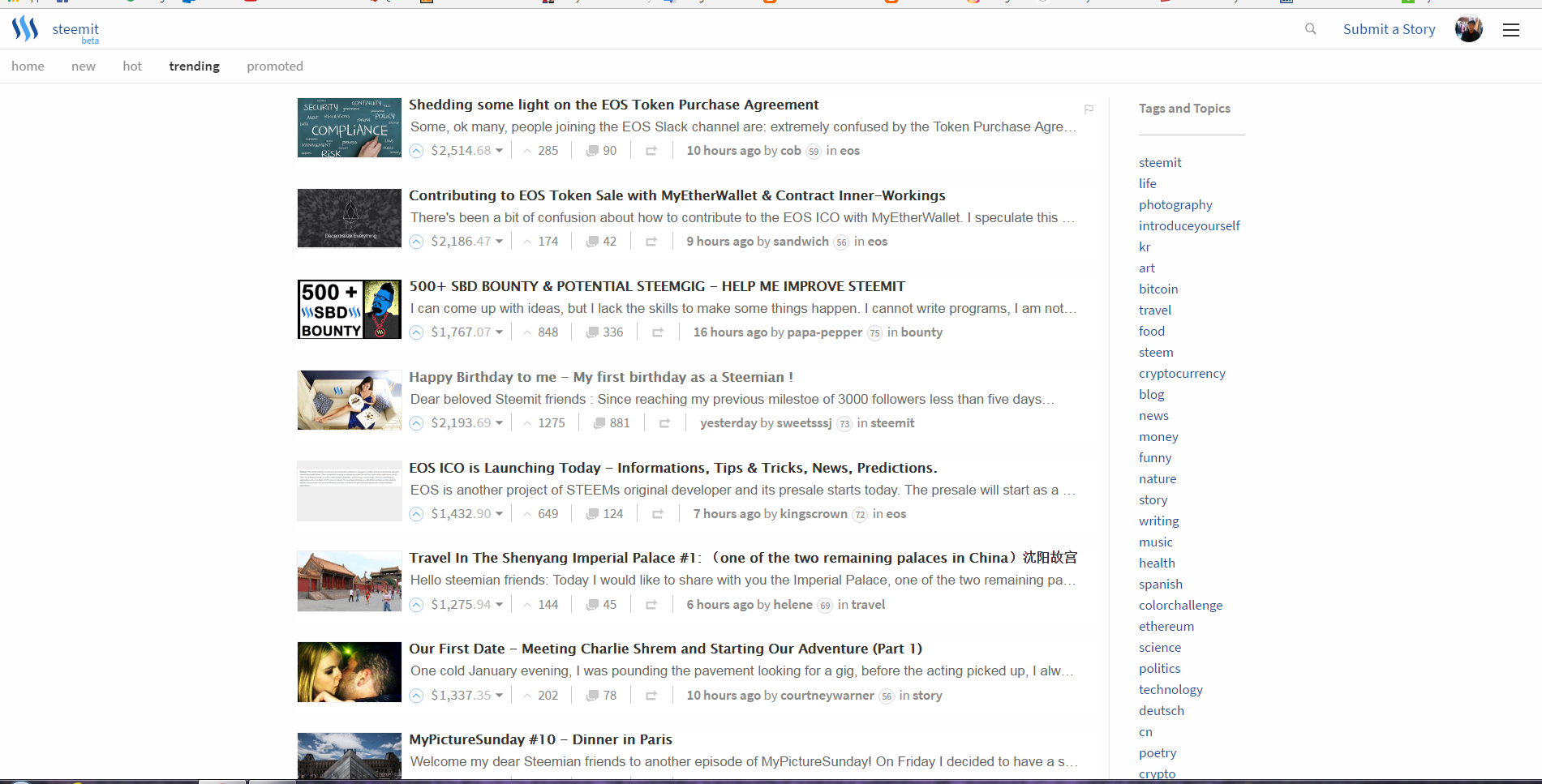 This is how the interface looks like.
You'll see a feed of everyone's posts, and you can of course filter them based on their tags, and further filter them based on "new", "hot", "trending" and "promoted".
For instance, you can choose "photography" and you'll see all of the posts that tagged photography. You can filter them based on "new" which is most recent, or "hot" and "trending", i.e. posts that obtained lots of upvotes and dollars.
If you look closely, you'll see that those posts made at least $1,000. What?! You can make money writing? Is it too good to be true?
Probably yes for the most of us.
The hard truth is, most people will earn maybe a few cents or a few dollars when just starting out. Do not get deceived by the "trending" page.
It's possible to reach that amount, but it takes a long time and a lot of effort.
So why would anyone pay you to write?
Let me clarify.
Steemit doesn't pay you USD or any country's currency to blog. They give you STEEM Dollars.
Have you heard of Bitcoin? Similarly, STEEM Dollars is a cryptocurrency and it's new (2016).
Cryptocurrency is like an internet currency, which may become the currency of the future.
There's too much technicality on what cryptocurrency is, why is it valuable and so on, so I'm not going to go there.
I have very limited knowledge on this.
What I do know is that cryptocurrencies can be very volatile. A few days ago, Ethereum (another cryptocurrency) dropped from a few hundred dollars to ten cents overnight!
That's how volatile it is.
How does Steemit work?
I'm sure you're pretty confused as I was when I first started.
Before we start, you have to understand a few things.
Steem Dollars (SBD) : Whatever money you earn on Steemit is by default paid in Steem dollars and also in Steem Power. You can choose to be paid by 100% Steem Power as well. Steem Dollars can be traded for Bitcoin, and eventually traded for your local currency.
Steem Power: By default, if you earn $1.00 on a post, 50% goes to Steem Dollars and 50% goes to Steem Power. What is Steem Power for? The more Steem Power you have, the more value your upvote is worth. Think of it as being more influential. You can also upvote your own posts and comments, but it's not ethical.
Steem: Steem is the name of the cryptocurrency, but it doesn't actually provide any commercial value. That is because Steem Dollars is the one that is used to trade for other currencies. To be honest, I don't know what it's actually for. Perhaps more for cryptocurrency traders.
Voting Pool: Take this as an example. Imagine you have 100 stamina a day. Each time you upvote something, your stamina decreases by 4. In other words, your voting pool is limited. You can upvote as many things as you want, but your upvotes only have value if you have not depleted your voting pool. For example, I upvote 10 posts and they get $0.05 per upvote. My voting pool is then depleted. I can upvote more but they may get ZERO on my upvotes. So how do I replenish my upvotes? Each day, your voting pool is automatically regenerated by 20%.
Minnows – Minnows are newbies in Steemit. People with very low Steem Power and can't influence anything. I'm a minnow.
Dolphins – Dolphins have reached a stage where their votes have more influence and are more accomplished.
Whales – Whales are Steemit's biggest influencers. People who can give you tens of dollars with one upvote. These are the people you hope would follow you.
1. Submit a story
Firstly, you can submit a story. In other words, you can post. What do you post? Anything at all, even if it's NSFW material.
It's pretty much like blogging. You can put pictures and videos in your text to make it look better. You can blog about food, life, travel, poetry, stories, horror movies, or anything at all!
2. Upvote
On Steemit, you're allowed to upvote 2 things: posts and comments.
Whenever you upvote a person's post or comment, he or she will earn a bit of money depending on your voting power.
What is voting power?
By default, whenever you upvote something, you will use 100% of your voting power. Don't confuse this with voting pool. For example, if I use 100% voting power, my voting pool might get depleted by 4/100. If I use 50% of my voting power, my voting pool might only be depleted by 2/100. If you reduce your voting power, you can give valuable upvotes to a bigger group of people.
Can you upvote your own posts and comments?
You are allowed to, but it's not good for the system. Steemit is supposed to be a community, so if everyone only upvotes himself or herself, what's the point? Then Steem would lose value and the platform becomes useless.
3. Resteem
On Steemit, you can resteem other peoples' post as well. It's basically like a retweet on Twitter.
You don't get paid for resteems but you would help others.
Remember, it's a community!
4. Rewards
This is probably what you're interested to know about.
Are all of those dollars listed under my post or my comment mine?
NO.
How it works is that whatever amount you've earned is divided into author reward and curator reward.
Author refers to the person who made the post or comment. Author reward is 75% of the dollars listed.
Curator's reward is 25% of the dollars listed.
A curator is basically a person who upvotes your comment and/or post.
If 20 people liked your post, the 25% is divided among them depending on their Steem Power as well.
A person with higher Steem Power will get more. That is obvious because if my upvote is worth $0.01 and another is worth $10, the other person deserves to get more back.
Hence, the higher your Steem Power, the more you'll earn in return. Steemit rewards both content creators and content upvoters.
5. Password
As Steem is based on blockchain technology, your password has to be kept by you, and preferably offline.
This is to prevent hackers from stealing it. Steemit gives you a super long password, with a combination of uppercase letters, lowercase letters and numbers.
You have to keep a backup of it! Once you've lost it, you can't get it back. It's not like Facebook where you can choose your own password.
If you want a new password, they will generate a new code but it will still be a super long password where you probably can't memorize.So, keep a backup only accessible to you.
Guard it with your life!
Conclusion
That's all I'll say on how it works. There are lots of pages of FAQS provided on Steemit, which probably answers all of your questions!
Sorry if you're confused by my short write-up. Do read their FAQS and guides!
If you ever choose to come onto Steemit, follow me!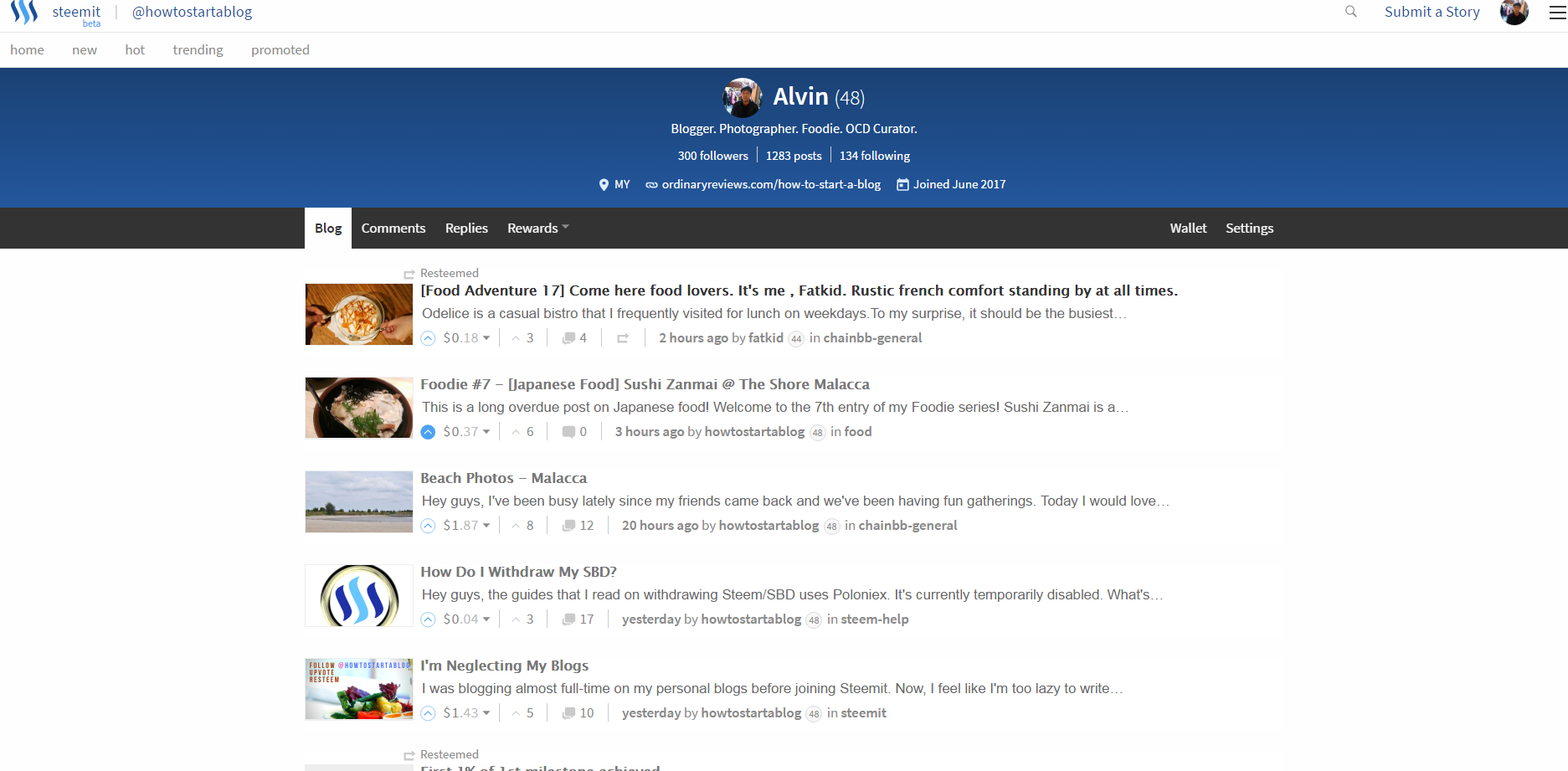 Thanks again for reading!