No Good Deed is a quest in the Atlantis chapter of Assassin's Creed Odyssey.
Your task is to help Persephone spy on Hekate who is at a secret meeting.
Here's a walkthrough of No Good Deed in AC Odyssey.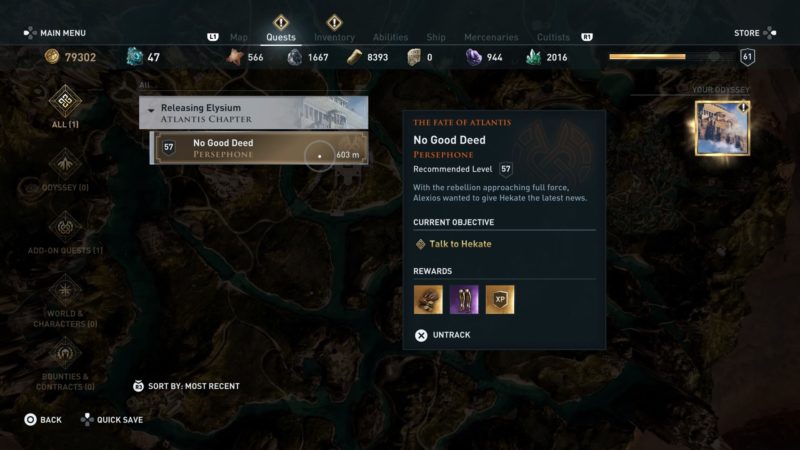 This quest is recommended for level 57 and above, but it differs according to your own level.
Talk to Hekate
Your first objective is to find and talk to Hekate. She is supposedly at Pheraia's Retreat at the exact location shown below.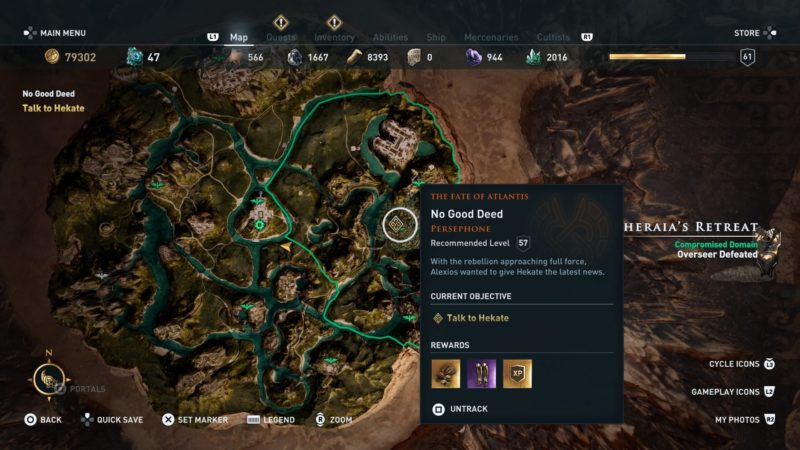 When you get there, you'll see Persephone instead.
She'll ask for your help to spy on Hekate.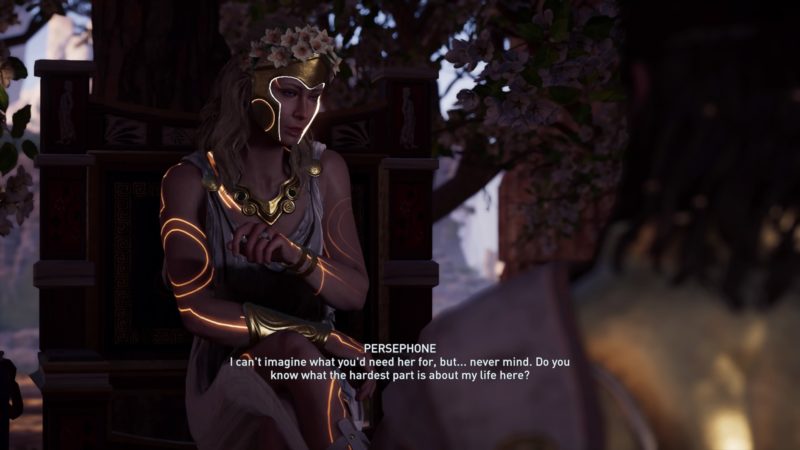 Find Hekate
You can find Hekate nearby at Iphigenia's Compound. The exact location is shown in the map below.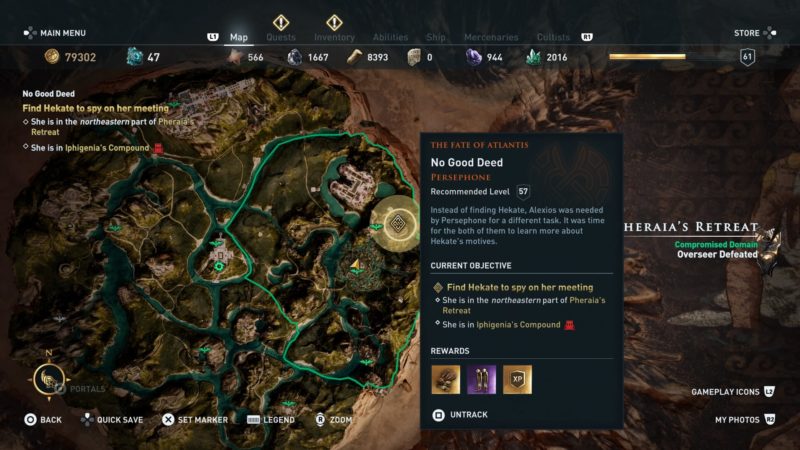 There'll be guards all around the compound. To get to Hekate, climb on top of the building and look for this compound.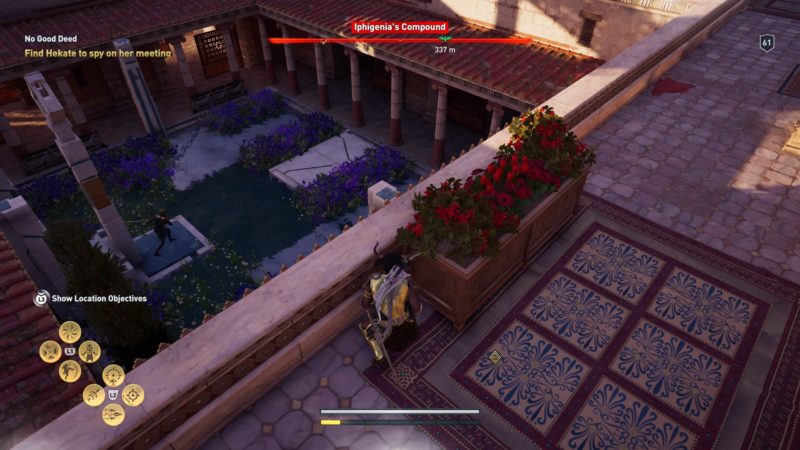 You'll find a Kolossi here. Stealth kill it if there aren't any guards around.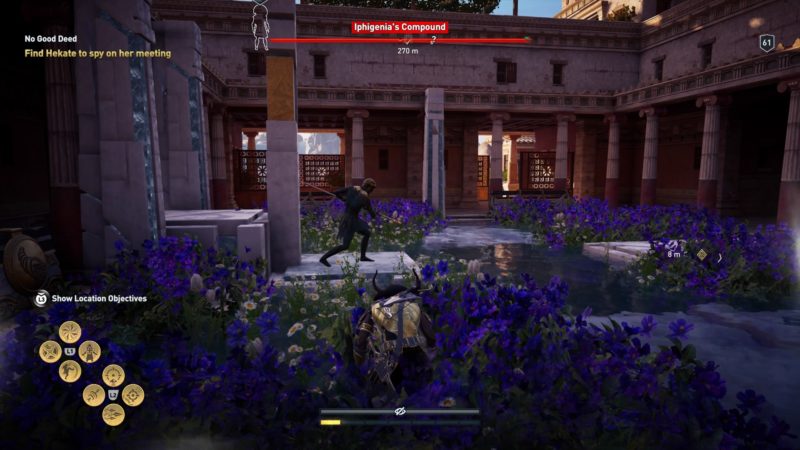 Now, get to this door and interact with it.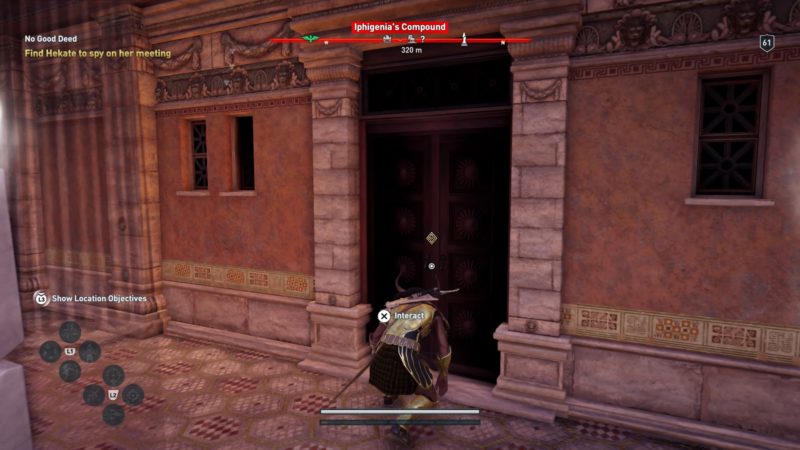 A cutscene will load, and you'll see Hekate talking to Hermes. Apparently Hekate is trying to overthrow Persephone.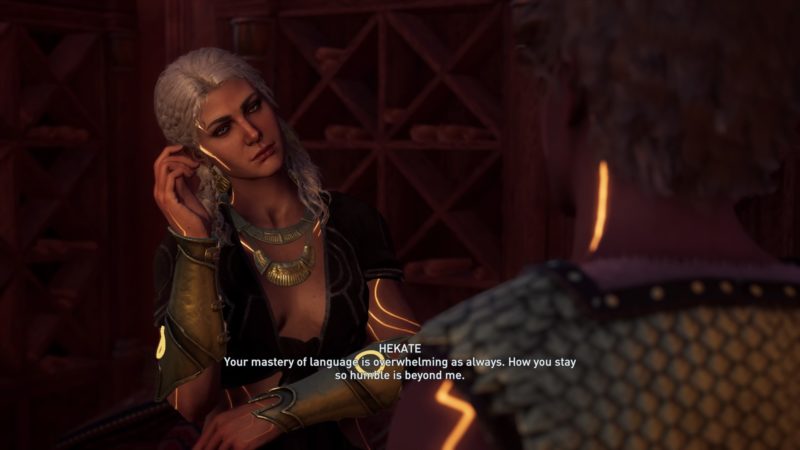 During the conversation, you have a short time to either wait, interrupt or leave. I chose to wait.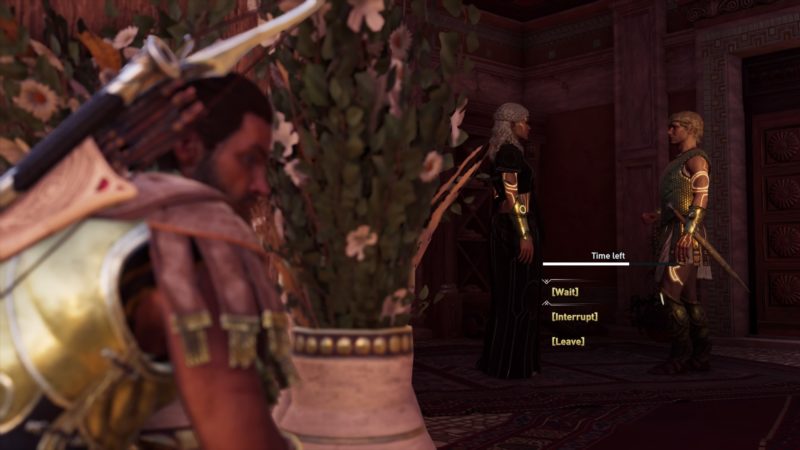 On the second time, I chose to leave instead. I'm not sure about the outcomes for the other options.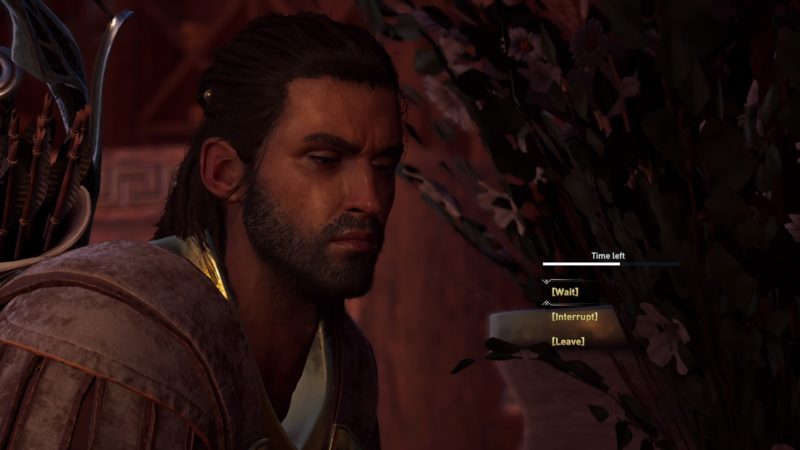 Return to Persephone
Now, get back to Persephone. She will be waiting at Asphodel Fields, inside her palace.
The exact location is shown below.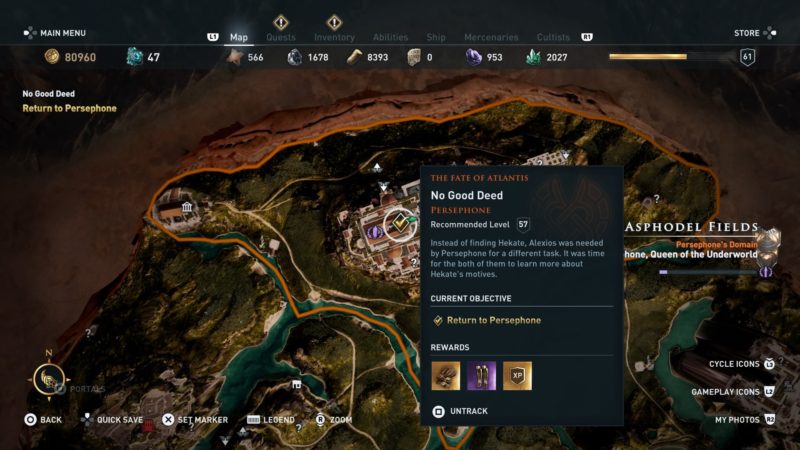 Interact with the door.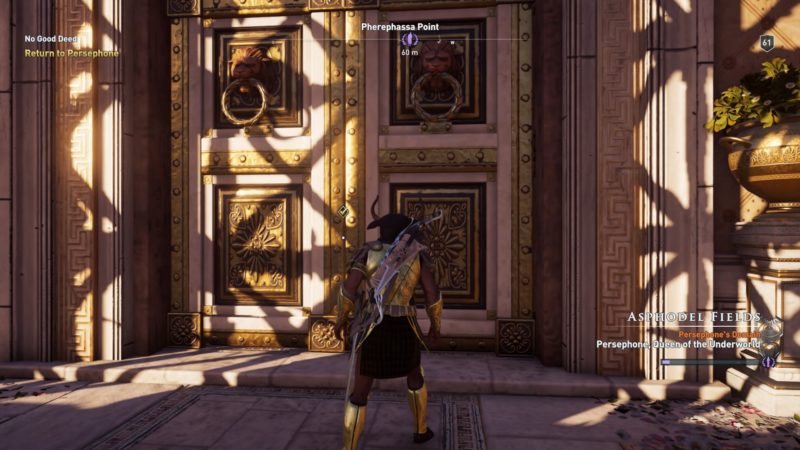 During the conversation, you can choose to lie or tell the truth.
I chose to tell the truth. If you're playing it for the first time, why not lie and see what happens? It doesn't end well anyway.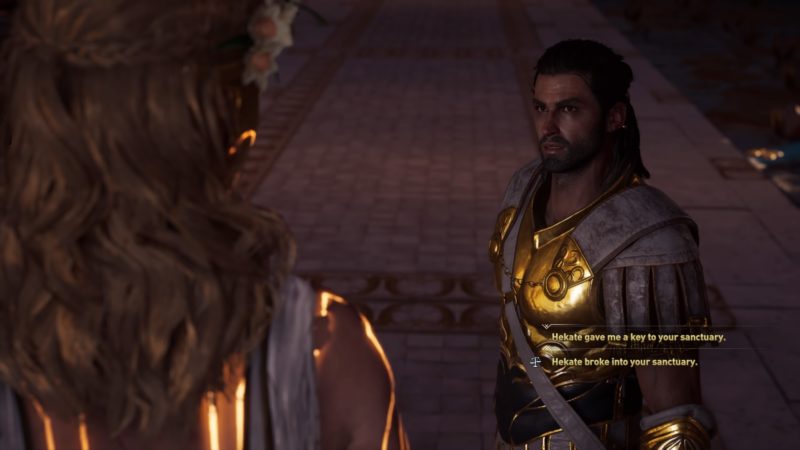 For the second time, I chose the truth again.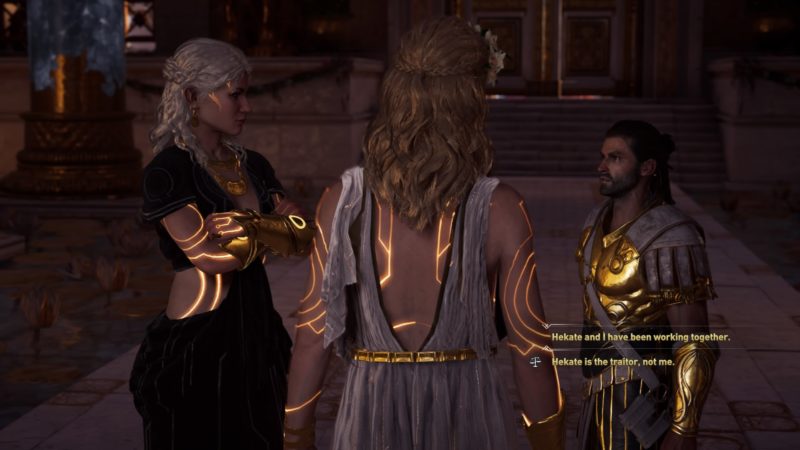 For the last option, I chose "Hekate wants your throne".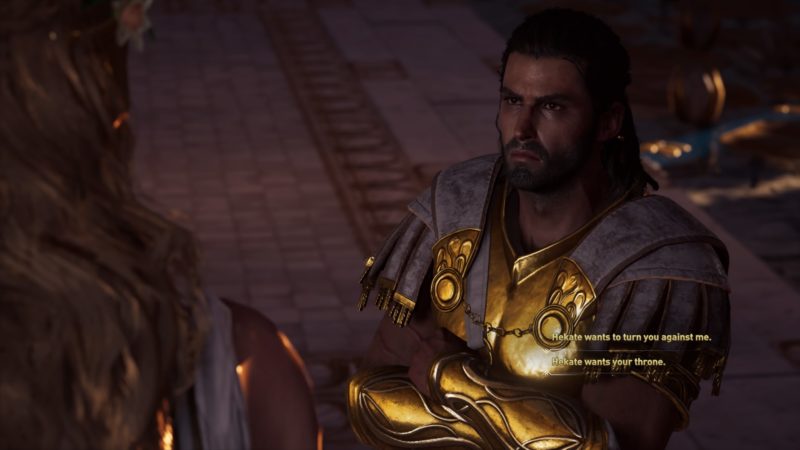 Persephone was mad but she was interrupted with news on the rebellion.
The quest completes after you leave the palace. You will earn some drachmae and a pair of Lightweight Isu Treads.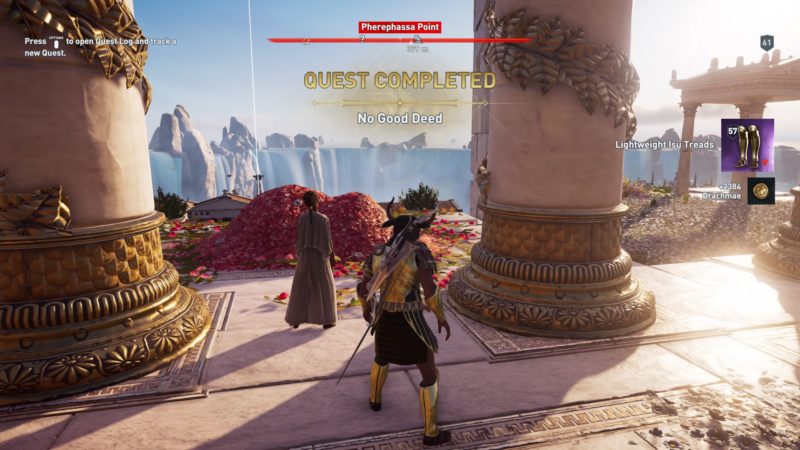 ---
Related articles:
The Rebellion's Uprising: Assassin's Creed Odyssey Walkthrough
The Beacons Are Lit: Assassin's Creed Odyssey Walkthrough
A Life For A Life: Assassin's Creed Odyssey Walkthrough
Popular: Assassin's Creed Odyssey Walkthrough
The Keeper And The Flame: Assassin's Creed Odyssey Walkthrough