From Stranger Things to The Haunting of Hill House, Netflix has been an innovator in drama, horror, and things that go "bump" in the night.
The Mist is no different, and offers a morbid look into the beauty and ruthlessness that is accompanied by the everlasting cycle of life and death.
On the outskirts of Bridgton, an unnamed soldier wakes up in the woods only to find that he is unable to remember who he is, or how he ended up there. By his side is a German Shepherd who he initially calls Rufus, until the dog runs off into the creeping mist and is killed, leaving viewers horrified as the soldier flees from the unseen danger.
Overall, the suspenseful opening definitely leaves us with a sense of bewilderment, and a sprinkle of sadness for poor Rufus.
Here's an overview of Netflix series – The Mist. There are spoilers ahead!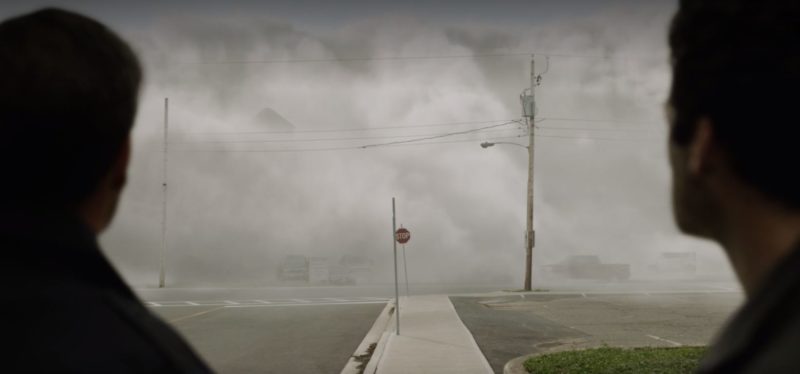 Who is Mia?
From this point on, things just seem to get more and more confusing, which is probably why the series has received such severe criticism amongst viewers. Mia Lambert for example, appears to be a random drug addict whose mother dies, leaving a large sum of cash in buried in the backyard of her childhood home. Not before finding herself face down on a barn floor fighting for her life. She wins, and ends up with a murder warrant out for her arrest.
How did she get into this predicament? We're not really sure, and it's not ever really made 100% clear; perhaps we'll get more on her backstory in the second season.
There are "Small Town Clichés"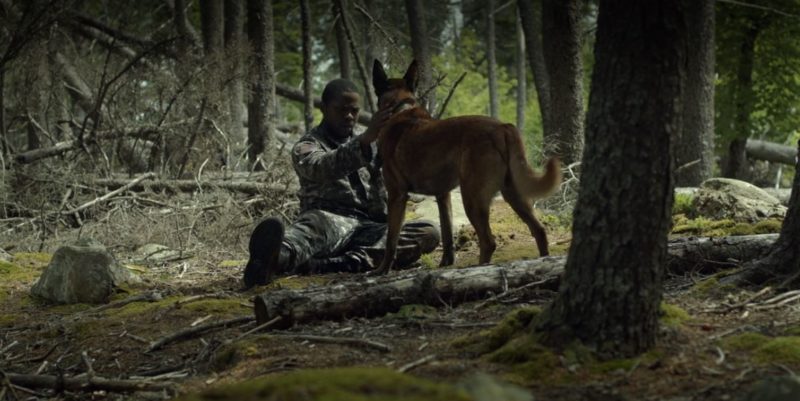 Things get really interesting when Eve, mother of Alex and wife Kevin, is fired from her teaching job for conducting an impromptu sex ed class after a parent files a complaint with the Board of Education. In an ironic turn, Kevin later allows Alex to attend a party without telling her mother; in the morning their daughter returns home in a clear state of distress.
She has been sexually assaulted, and the family friend Adrian claims that he witnessed the person who did it. Jay, the son of a policeman and a primary member of the high school's football team is painted as the villain who raped Alex. He later ends up taken to the police station, where Mia and the soldier are in separate cells.
So far, The Mist is following a storyline that's pretty basic and eerily similar to another Netflix original, 13 Reasons Why. The plot is fairly typical; unpopular high school girl goes to a party, may have had a few too many, a jock from an influential family may or may not have taken advantage, and the whole town is speculating on their own version of what actually went down at the party.
However, this show does have an interesting, but questionable twist toward the end of season one.
Then of course you've got the older couple who live in the house on the hill, Mr. and Mrs. Raven, hanging out with nature and living out their golden years. Unfortunately, that comes to an end as a stranger comes through the mist out of nowhere, killing Mr. Raven and then himself. For some reason, Mrs. Raven is spared, although she is clearly shaken and mortified over the violent death of her husband.
There are some hints that allude to Mrs. Raven essentially being the town savior, though. As she is the first to notice frogs and insects rising up out of the lake by their home in an abnormal fashion, and her life was spared while her husband's was taken. Where some of us might have assumed that the mist could be some type of government experiment (it is an adaptation after all), the other perspective is that this could be the Rapture.
When the mist finally overtakes the town, citizens take cover in the classic horror hiding spots. Each group winds up moving from their location to the local church, or the only mall in town. As they lose hope and fall short on their resources, people begin to turn on one another.
Anarchy ensues at the mall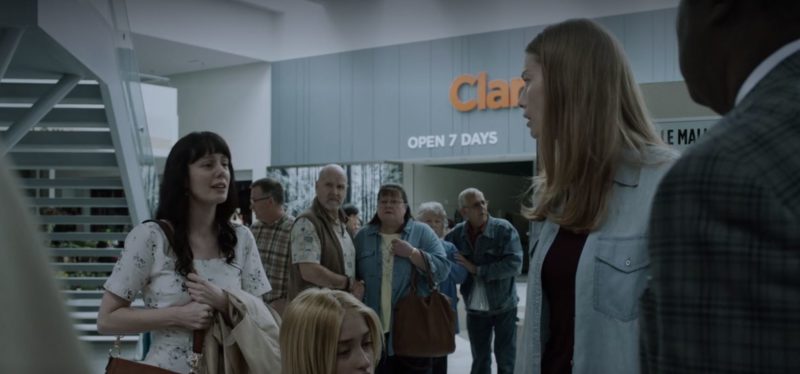 Kevin, Adrian, Connor, Mrs. Raven, Mia, the town priest, and a few other citizens remain sheltered inside the church. Jay, Alex, Eve, and others from the mall find themselves doing fine initially. This is up until they find two active duty military members who have committed suicide, once again giving us the idea that this does in fact have to do with some type of strange military experiment…sounds a bit like Stranger Things, right?
Jay and Alex have a short run in, and he attempts to tell her that he didn't harm her. She isn't sure what to believe, but she tells Eve who is silently furious about Jay cornering her daughter. Truthfully, the mother daughter relationship between the two isn't all that convincing. Alex is 16, but the acting portrayed is more like that of a girl who is 13 or 14. When Eve interacts with her daughter, it's rather babyish and seems almost as if the two don't mesh well in acting as parent and teenager.
Eventually, Jay tries to get Alex to confess publicly that he didn't hurt her, and in response her mother grabs a gun and threatens him. They take off to another portion of the mall to find their own way, the problem is that food is scarce.
The church is where the action is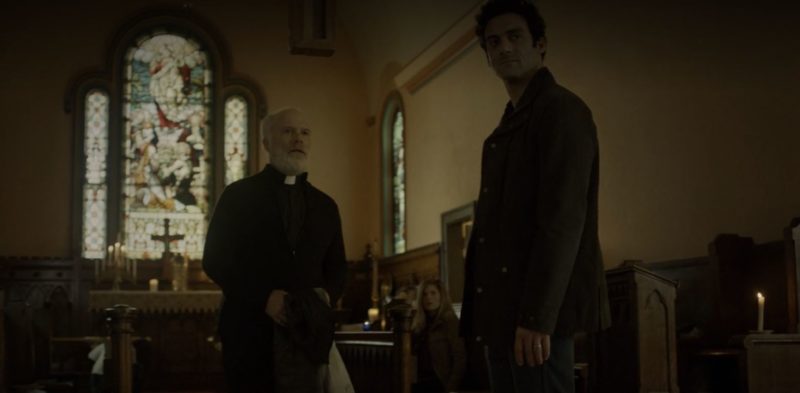 Meanwhile, Mrs. Raven bonds with a young man who was once imprisoned for doing "a lot of really bad things," and he suggests to her that if this were truly the Rapture he'd be the first to die. Eventually, she tires of being locked away inside the church while Connor badgers Adrian about accusing his son of rape, and Kevin takes it upon himself to defend him, Mia, and the soldier.
Mrs. Raven attempts to leave the church in despair, her husband is gone and she doesn't care whether she lives or dies. The young man tries to stop her, when a moth flies into his ear and something tears him apart from the inside. His death is pretty gruesome and cringe-worthy, which is perfect for any gore lover. Here we are again, wondering how and why she ended up surviving. Which is a good thing, considering it's one of a few consistent storylines in the show.
Alex's friend Adrian spends quite a bit of time with the priest and agrees to baptized. While it is part of the plan, it would seem that more and more, he feels some type of guilt. Still, he manages to grab the keys to a vehicle while convincing the priest that "he's a sinner!"
When Kevin's group finally has the opportunity to escape the church, the priest begins to take over as the leader. Mrs. Raven continues to suggest that this is simply nature doing what it does, and so he takes offense, feeling that he's being challenged in front of his flock by her, and God. Whatever good intentions it seemed he had in the beginning of the show, is now replaced by a serious case of pride.
He responds to the perceived challenge by smashing Mrs. Raven's pet spider in front of everyone, claiming that he'll do whatever he must to save their souls. As a test of faith, Mrs. Raven and the priest walk out into the mist together.
Around the same time, Kevin's group has reached a safety point, the hospital.
The Mist finally strikes the mall
Out of their curiosity and boredom the game shop associates decide they want to see what happens when they let the mist into the library. Unfortunately, they do this without bothering to check if anyone is inside; Alex and a younger girl have been using it as a place of solace, until they become trapped. The girl's mother begins to follow Alex and Eve throughout the mall, listening to their conversations and reporting back to the group they separated from after the confrontation with Jay.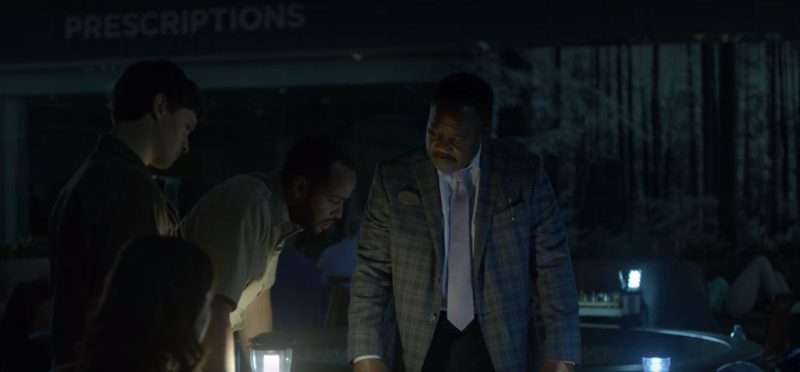 Alex goes out on her own searching for supplies and food, stopping in a dark room that might have something useful. The door slams shut, and to no surprise, someone pours gasoline over the doorway and sets it on fire.
The tension begins to mount significantly by the middle of episode five, enough to keep you locked into the series even with the random, unnecessary, pop-up characters. Part of the issue could be that the adaptation is trying to cover several events from the book, pressing them all into one season. As distracting as those things are, Episode 6 starts to reveal the darker side of humanity as Mrs. Raven herself begins to manipulate the minds of those around her.
Connor especially has placed his faith in Mrs. Raven, and their close relationship ultimately changes his desire to "restore order" in the world.
We won't give away any major spoilers, but let's hope that season two offers some answers to the many open ends left behind in the first.
This article was written by a freelancer.
---
Related articles:
Is Netflix's "Kingdom" Worth Watching? – Reviewed
Netflix's Cargo: All You Need to Know And Is It Worth Watching?
Review: Netflix's Revenger Strikes With Action-Packed Narrative
Netflix's Extinction: All You Need To Know About This Netflix Original
Netflix's Black Mirror: Bandersnatch – Is It Worth The Watch?
Fullmetal Alchemist (Live Action) Review – Worth Watching On Netflix?