One of the biggest headaches in MapleStory M is probably the lack of refining powder. This mobile version of MapleStory requires a lot of refining powder for you to increase the level of your equipment.
You'll probably have enough armor and weapon refining powder for your epic equipment, but how about those with unique and legendary rarities?
This is a short guide or article that will explain some ways to get more weapon and armor refining powder in MapleStory M.
Before we begin, do note that there are different rarities of refining powder, i.e. normal, rare and epic. Unique powder is much harder to obtain.
1. Create alternate characters in your MapleStory M account
The most popular way in getting a decent amount of refining powder is by creating alts in your account. Whether it's against Nexon's rules or not, I'm not sure. Do it on your own risk.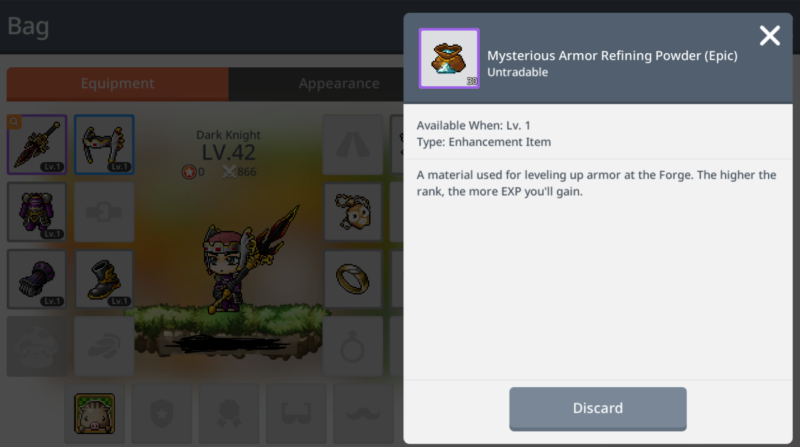 You'll receive a good amount of refining powder in the lower level stages of your character, maybe from level 1 to level 80+.
Each time you complete a quest, you should be rewarded with some powder, be it for your armor or weapon. That said, the amount given in quests may have dropped after the patch.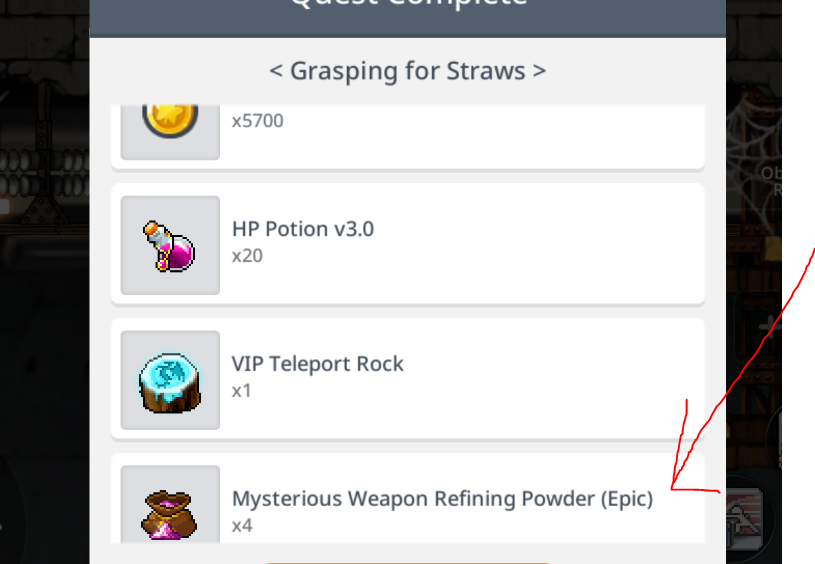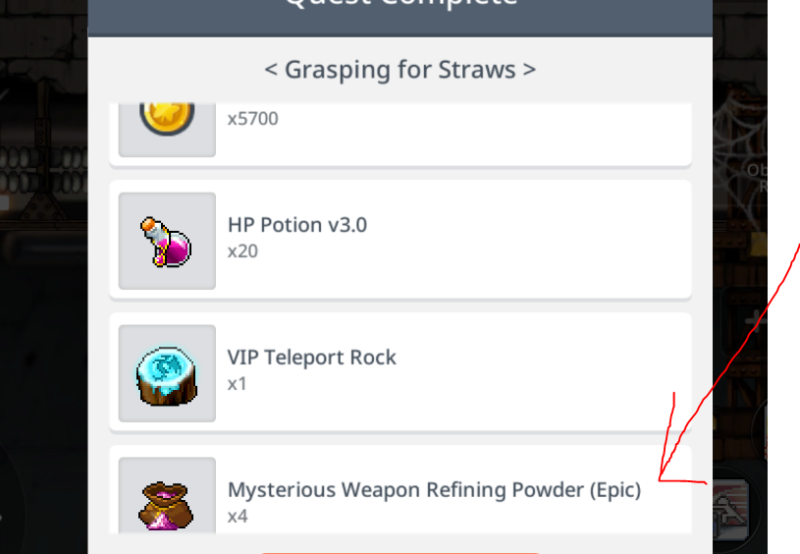 Nexon may be trying to reduce the number of people harvesting powder from alts, or rather make it more difficult to do so to preserve the value in items.
Currently, you should end up with maybe 200 epic refining powder individually for armor and weapon when you have reached level 80. I didn't count it properly but it's somewhere there.
That should allow you to make a few level upgrades if your item is of unique rarity.
The only thing to do now is to rinse and repeat. Whether you'll get banned doing so, I'm not certain, so be warned.
Also, these powder are not tradable among characters, so you need to transfer your weapon or armor through the storage along with mesos.
Use your alt account to then level up the equipment. Do not equip the item! Transfer the equipment back to your main character once you're done.
Read also: How to get mythic items in MapleStory
2. Keep doing Elite Dungeons daily
Another way of getting refining powder in MapleStory M is by doing Elite Dungeons every day. You get like 3 free tickets a day, plus 1 ticket after completing all 3, making it 4 in total.
Elite Dungeons rewards you with epic equipment and epic refining powder (for hard difficulty and higher level rooms). It isn't hard at all to be honest. Get a group of 4 for speed runs.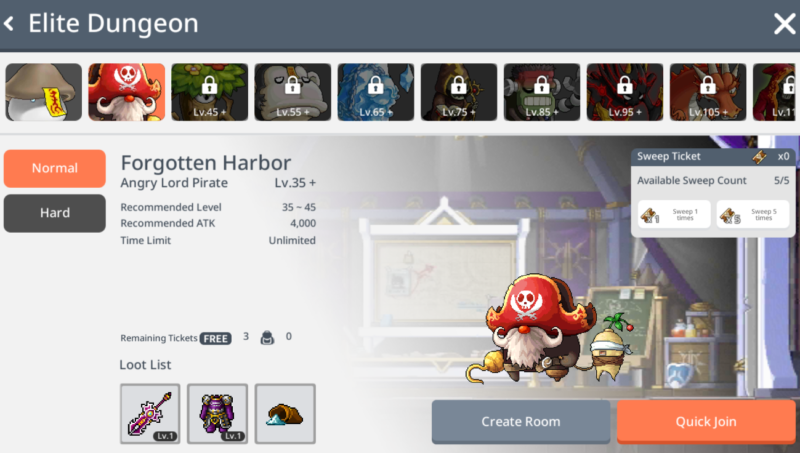 The screenshot was taken with my alt account, so the loots are only of normal rarity. However, when doing dungeons of level 105 and above, the loots are definitely epic equipment and powder.
Each time you might get around 5 or 6 epic refining powder, so one day is around 20. Keep accumulating each day.
3. You can buy refining powder with gold leaves (not recommended)
Of course, you can go to "Shop" and buy epic refining powder with gold leaves you've so difficultly accumulated.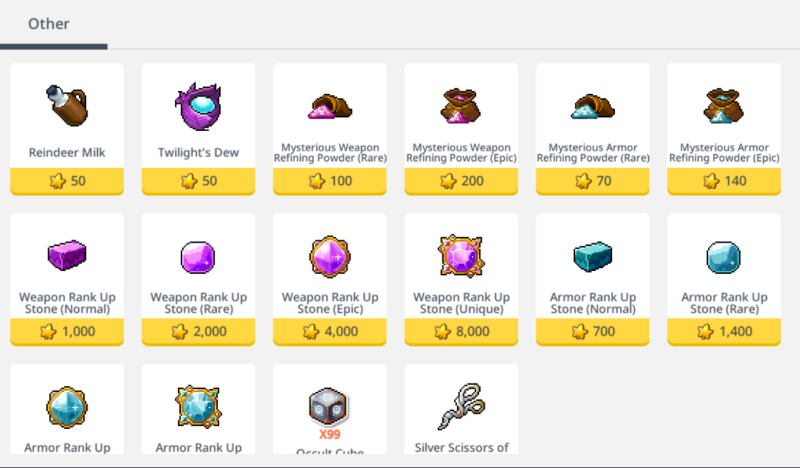 You can get like one armor powder for 140 gold leaves and one weapon refining powder for 200 gold leaves. It's insanely expensive.
You would be better off buying the rank up stone since you can't get them elsewhere (except maybe the cash shop package where you can get a few unique stones).
I made the mistake of buying powder with leaves, so don't emulate me.
Read also: How To Play MapleStory M On Your PC (Windows 10)
4. Choose refining powder for the rest reward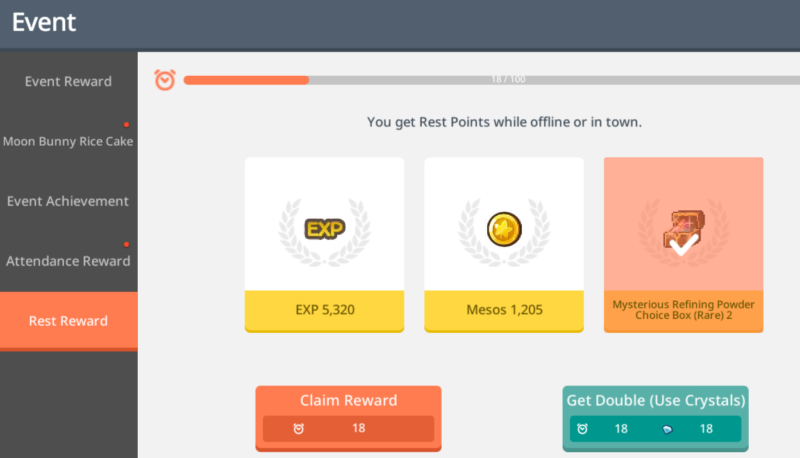 You will get the option of choosing between EXP, mesos and a maximum of 3 epic refining powder whenever you stopped playing for hours.
It may be better to go for the powder since they're harder to get. You can easily farm for EXP and mesos elsewhere.
Read also: How to get emblem equipment in MapleStory M
What if you still don't have enough refining powder?
The last options are to either buy the unique equipment straight from the Trade Station as sold by other players, or use equipment as fodder for experience points.
You can sacrifice some epic equipment that are already leveled in lieu of the refining powder, and they should give you good experience points for your main equipment level.
For e.g. I used an epic equipment that is already level 15 and it helps to level my unique weapon at least once. It's an expensive way, but if you have the mesos, you can do so.
You can buy leveled equipment in the Trade Station and use it "as powder" for your equipment.
Hopefully this article helps. Do leave other suggestions that you know of.
---
Related articles:
MapleStory M Guide For Newbies
MapleStory M – How To Get Legendary Equipment
How To Farm Gold Leaf In MapleStory M
MapleStory M – How To Earn Mesos Fast
How To Level Up Fast – MapleStory Mobile
Top 10 Games Like Skyrim That You Can Play As Alternatives
Games Like Harvest Moon – Top Ten Picks
Fallout 4 – Best Power Armors (Top 5)