Equipment is paramount to end game success in MapleStory M. In order to get higher rank equipment, one way is to rank it up using stones.
Rank up stones have different rarities as well, for e.g. rare, epic and unique.
The lower ranks are much easier to obtain and the hard part is when you need to rank up your unique item to legendary status.
For each item, you need 10 rank up stones, be it for weapon or armor. Here's how you can get rank up stones in MapleStory M.
1. Normal rank up stones
The normal rank up stones are the easiest to obtain, and most people don't even use them.
Perhaps you would only need them if you plan to get a perfect base attack (PBA) weapon from the start and an item of normal rank is the cheapest in the Trade Station.
Luckily for you, these rank up stones will be given to you after certain quests, by Athena Pierce in Henesys. You don't even need to buy them.
2. Rare rank up stones
Next up are the rare rank up stones. These are also provided after you complete certain quests, specifically in Kerning City at about level 30.
Hence, no need to worry here. You can buy them from the Gold Leaf shop but it's not worth it at all. So please don't waste the leaves on them.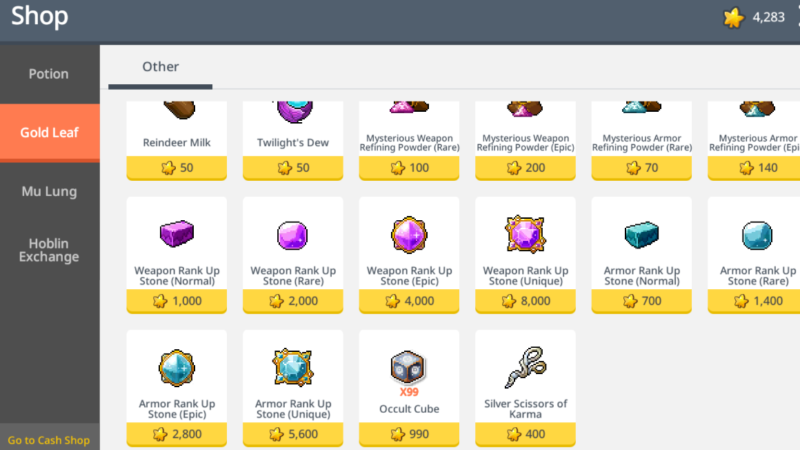 3. Epic rank up stones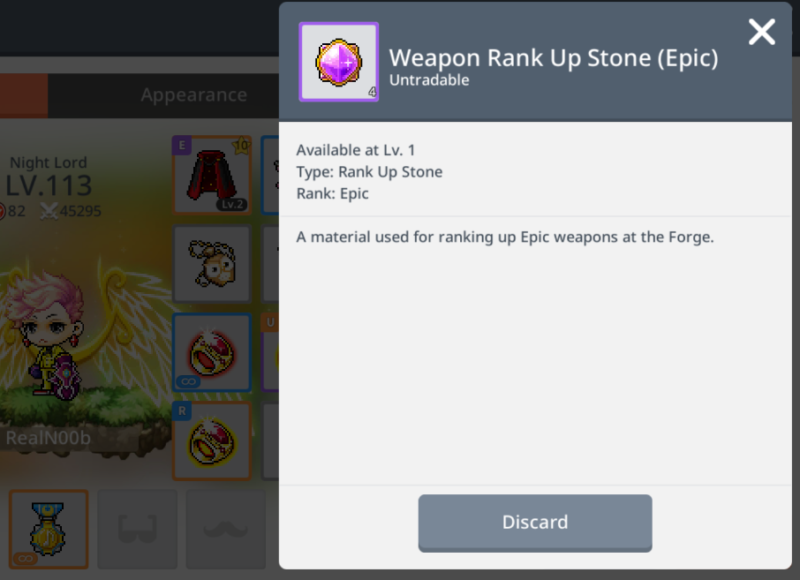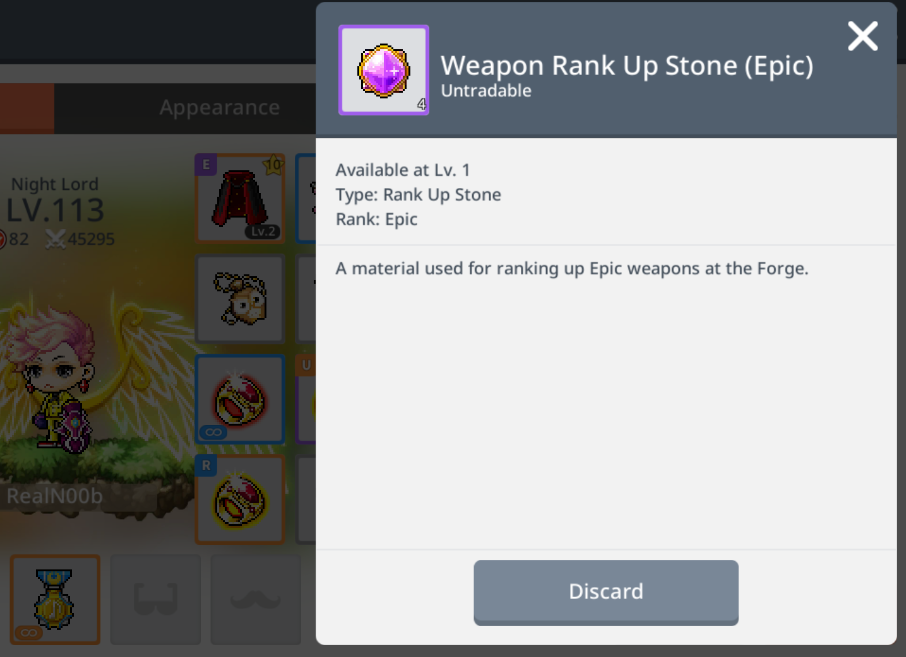 Here's where it starts to get difficult. Epic rank up stones are used to rank up epic equipment to unique status.
These have to be bought from the Gold Leaf shop. Not sure where it is? Click on "Shop" and you'll see it.
It costs around 4,000 Gold Leaves for each weapon rank up stone, meaning you'll need to spend 40,000 Gold Leaves to rank up an epic weapon.
That's a lot of leaves, even more so since Zakum only drops 100 leaves after the latest patch. One way to solve this issue is to buy a unique weapon right away.
It's also easier to farm mesos than Gold Leaves. The only reason one would rank up epic is if the weapon is a PBA weapon. Personally, I bought a PBA unique before the price shot up, which saved me some leaves.
As for armor, it costs 2,800 Gold Leaves per stone.
4. Unique rank up stones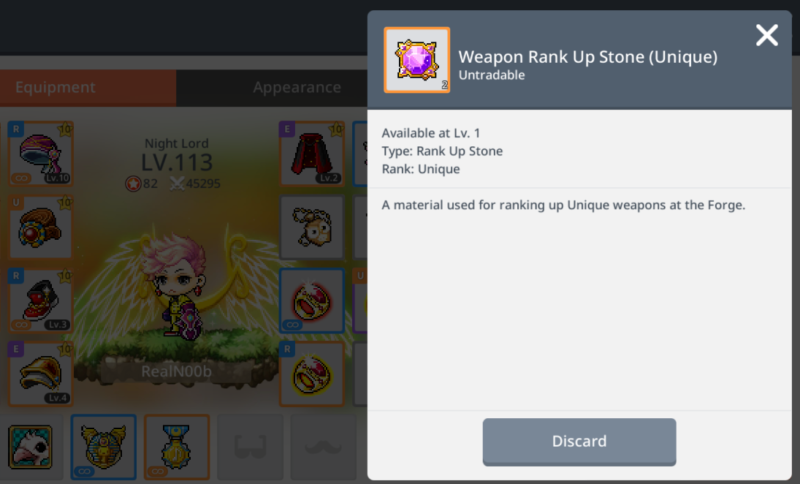 Unique rank up stones are much more expensive. A weapon rank up stone costs 8,000 Gold Leaves and you need 10 of them to rank up from unique to legendary (total 80,000 leaves).
As for armor, it costs 5,600 leaves. Focus on your weapon first as damage is more important than your defense (considering your defense doesn't do much).
Of course, Nexon provided an alternative for unique rank up stones, and these have to be bought using real cash. Additionally, they are super expensive.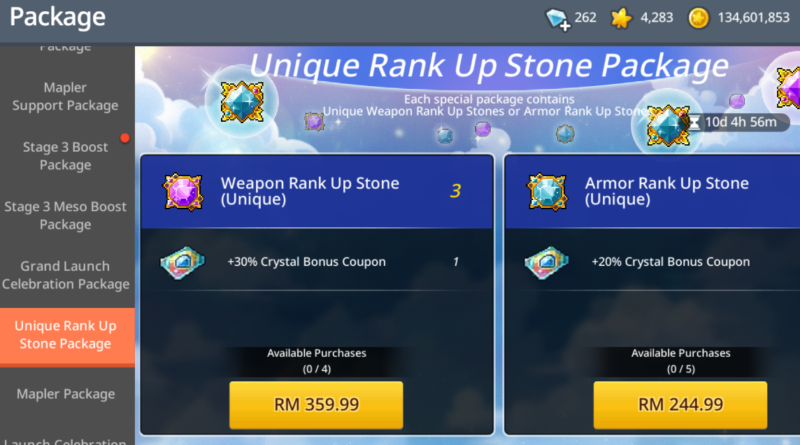 You can go to "Shop" and look for "Packages". You'll find it there.
For F2P players, you have to slowly farm for Gold Leaves and you should prioritize ranking up your weapon first, since they make the most difference in the game.
Read also: How to get more Gold Leaves in MapleStory M
In a nutshell
Rank up stones are very crucial in the game, and while you can use Gold Leaves to buy all sorts of things, it's better to keep them for these stones.
As for legendary stones, they are not available yet at the time of writing. For F2P players, it's hard enough getting 10 unique rank up stones, let alone think of legendary ones.
---
Related articles:
MapleStory M Fusing Guide – Frequently Asked Questions
MapleStory M – Guide And Tips On Progressing In The Game
How To Get Emblem Items In MapleStory Mobile
MapleStory M – How To Get Mythic Equipment
How To Get Legendary Items In MapleStory M
MapleStory M – How To Get More Weapon And Armor Refining Powder
How To Play MapleStory M On Your Computer