MapleStory is a childhood game for many of us online gamers and it definitely brings back nostalgic memories.
Nexon recently launched a mobile version of MapleStory globally, about 1 week ago to be exact. We're already seeing players over level 120 in just a few days, which is insane.
While most of us can't emulate that, due to lack of time and money, here are some of the best ways to level up fast in MapleStory M.
Nevertheless, I don't think I need to mention below that buffs that gives you additional EXP are very useful in leveling up; and the top players probably bought tons of them from the Cash Shop.
1. Use the auto-battle and auto-quest function
Auto-battle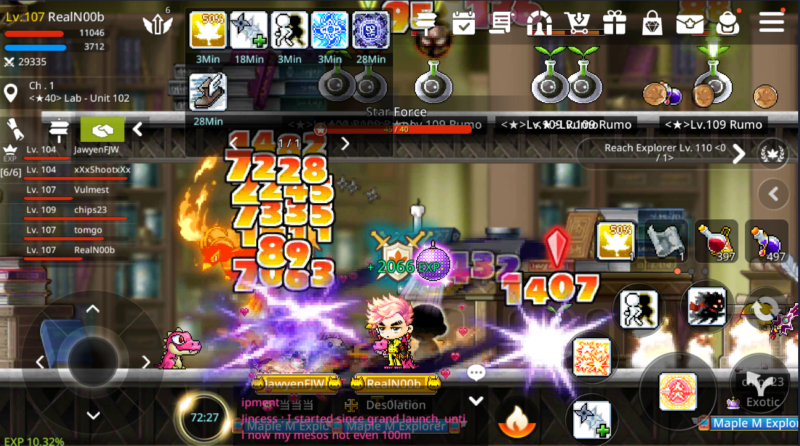 MapleStory M came with a much more convenient feature, i.e. the introduction of the auto-battle function.
This allows your character to grind and train by itself to level up. You don't even have to worry about your health as it uses potions for you.
That said, you still need to ensure that you have enough HP and MP potions, otherwise your character still dies.
However, you're only given a free 2-hour ticket per day for auto-battle, and perhaps like 10-minute or 30-minute tickets elsewhere.
When you run out of that, your only option is to purchase their auto-battle tickets from the cash shop. That's one way Nexon makes money from you guys.
Auto-quest
Next is the auto-quest. This one doesn't eat up your auto-battle tickets. This function seems to be available all the time, and your character does the walking and fighting for you.
Even in fetch quests (e.g. collect monster loots), the auto-quest button works. However, to jump from one quest to another, you still need to manually go through the conversation yourself.
The auto-battle and auto-quest buttons are very useful for those who're working and do not have time to touch their smartphones much.
Since they're given to you, why not utilize these functions? Quests are great for leveling up, but as your level gets higher, you can't rely on quests alone to level up.
When you're around level 90+ to 100+, you need to grind a lot, and use auto-battles whenever you can.
2. Daily Dungeon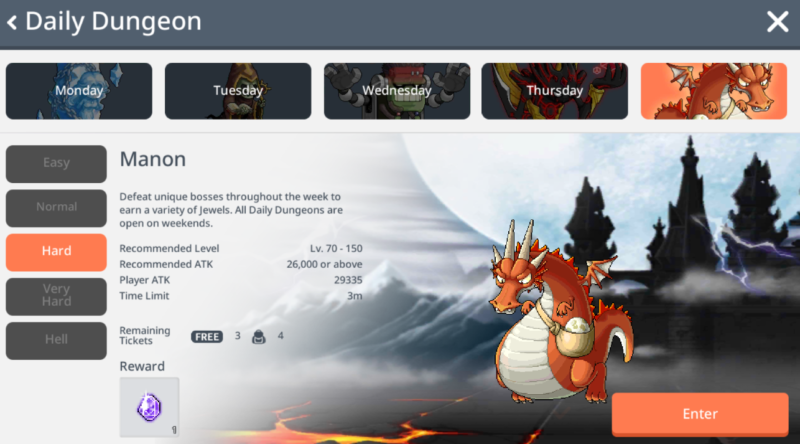 MapleStory M also has plenty of different dungeons you can play in several times a day. You'll normally get three free tickets per dungeon.
Daily Dungeon is like the easier version where you have three minutes to get rid of monsters and kill the boss.
You'll get a good amount of EXP from doing this Daily Dungeon, but it's finite. Additionally, they will reward you with gem(s) that can enhance your stats.
3. Elite Dungeon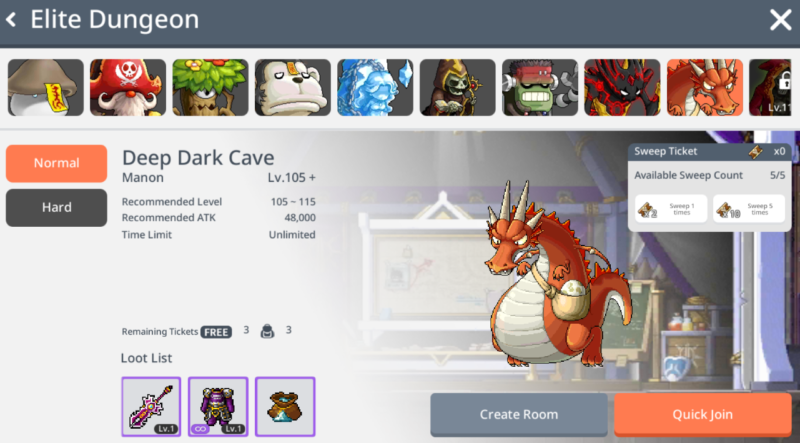 Elite Dungeon is a much tougher version of the Daily Dungeon. You are allowed to form parties for this one, up to 4 players.
You have like two maps to clear, with a total of almost 100 monsters and 1 boss. The good thing is that you will win an equipment when you complete it.
Furthermore, you do get some good EXP after you've completed. The downside is, it's not easy to clear it alone unless you go for the lower difficulty.
Like the rest, you only get like 3 free entries a day.
4. Mini Dungeon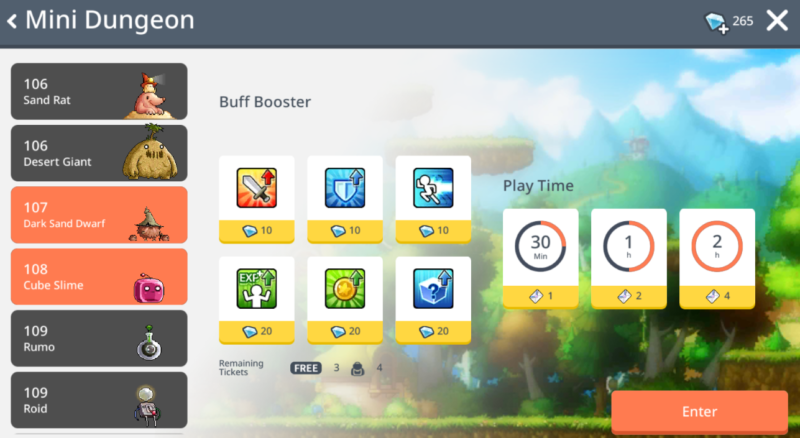 Mini Dungeon is said to be a good place for grinding and earning EXP, according to MapleStory M themselves.
However, I do not feel like it's the best place to level up. You basically get the whole map to yourself but there's a time limit and a finite number of entries.
If you run out of tickets, you have to buy them from the Cash Shop.
The best place to grind, in my opinion, is the next option on this list.
Read also: MapleStory M – Class Guide
5. Star Force Field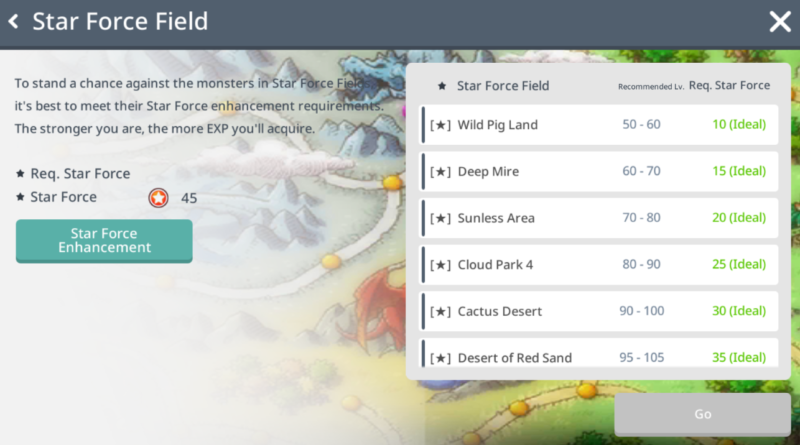 Star Force Field is my ultimate place for grinding. However, you shouldn't do this alone.
Get a party with you, especially one with a Bishop with the HS ability (for additional EXP).
The thing about Star Force is that you need a certain amount of enhancements on your equipment to qualify.
Try to raise your enhancements as much as possible to get to maps that are suitable for your level.
Furthermore, if you have more star force, the monsters may spawn faster (I may be wrong).
MapleStory M doesn't seem to penalize your EXP if you have many members with a higher level than your character.
Instead, having a big party seems to be more beneficial if everyone is doing a good job killing monsters.
Additionally, Star Force Field is open 24 / 7 without the need of buying a ticket.
6. Nett's Pyramid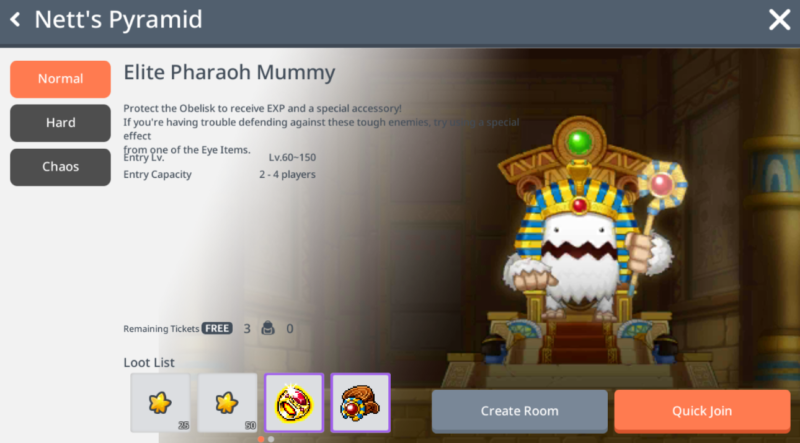 Nett's Pyramid is a great place to farm for equipment you can't get elsewhere, like the Immortal Pharaoh Belt, or the rings and medals.
They give you much better stats than your ordinary equipment. That said, it's hard to get and it depends on your luck.
Even though you can farm for equipment here, you still get a decent EXP upon completion.
Like many other dungeons, entries are limited.
Read also: Legendary Equipment MapleStory M
7. Guild Banquet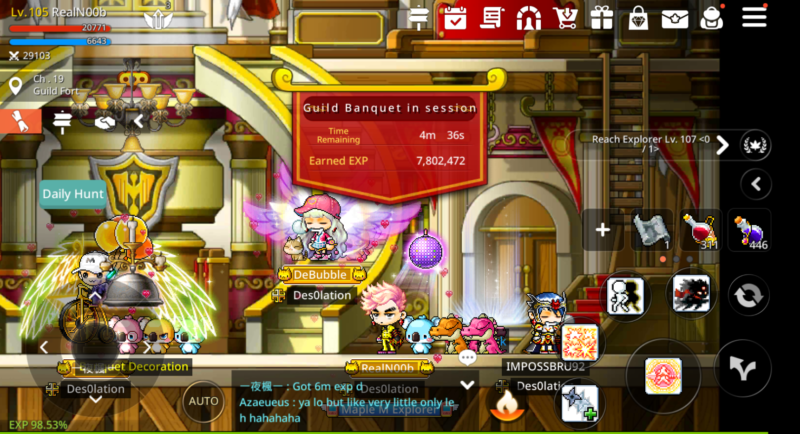 Guild Banquet also gives a great amount of EXP in 30 minutes. Do join a guild that opens a banquet every day.
Each guild can open a Guild Banquet once a day for 30 minutes and everyone who is inside it gets EXP for doing nothing at all. I personally received like 7 million EXP during the event. I'm not sure if everyone gets a different amount.
All of you have to be at the Guild Fort to receive the EXP whenever the Banquet is open. It's also a great time to mingle around and know your members better.
8. Daily Hunts
Don't forget to do your daily hunts! You can easily get over 30 million EXP a day doing hunts alone, if you're at level 110 and above.
It is located at the last tab under the "Task" section. You are required to hunt about 110 monsters of each variety as stipulated in the game.
The best way to do it fast is to use Mini Dungeon and you can complete two hunts at one time, since each map has two different monsters.
Best way to level up in MapleStory M?
The ways given above do not last 24 / 7, especially not the auto-play functions nor the dungeons.
Those who are at the top, logically, must have bought a lot of additional EXP buffs (some are stackable) from the Cash Shop.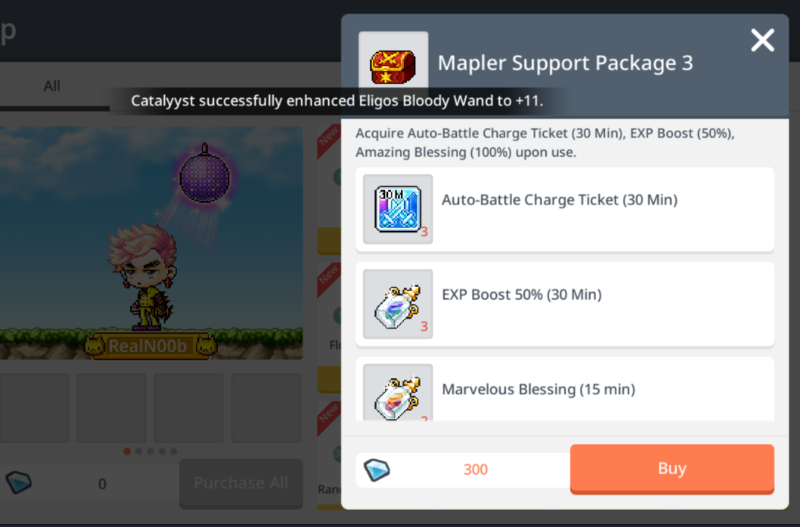 Otherwise, it doesn't seem possible. You can also buy auto-battles which are quite expensive.
As MapleStory M is a pay-to-win game (depending on your perspective), naturally to be the best you have to spend lots of time and money.
You can still do well without buying cash, just that it's a longer route for you.
The various ways to level up highlighted above should help you in this case.
Also, check out this guide on which are the best places to grind in MapleStory M.
---
Related articles:
MapleStory M: Best Equipment For Dark Knight And Dawn Warrior
Zakum And Horntail Guide (MapleStory M)
MapleStory M – How To Farm And Get More Gold Leaves
How To Play MapleStory M On Your PC (Windows)
MapleStory M – How To Get More Weapon And Armor Refining Powder
How To Earn Mesos Fast In MapleStory M
Top 10 Fastest Pokemon Of All Time [Updated Today]
15 Best Medieval Games To Play [Updated 2018]
Games Like Harvest Moon – Top Ten Picks
Fallout 4: Best Sniper Rifles In The Game (Top Ten)
Best Gaming Earbuds For Casual And Pro Gamers