Equipment is what sets you apart between players in MapleStory M. In this mobile game, your level isn't as important as what it used to be.
Nowadays even skills and action points (AP) are all thought out for you, so you won't go wrong with your build.
The only thing that differs among players is your equipment's stats. There are different levels of rarity for each equipment, i.e. normal, rare, unique, epic, legendary, mythic and so on.
As the game is still new, most players (especially F2P) strive to get legendary equipment. Here are a few ways you can get legendary equipment in MapleStory M.
1. Ranking up your unique equipment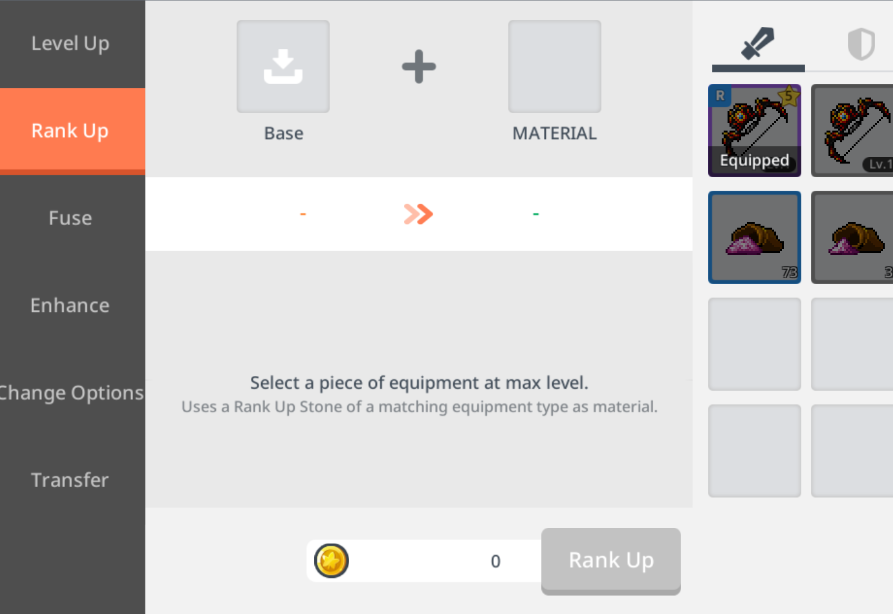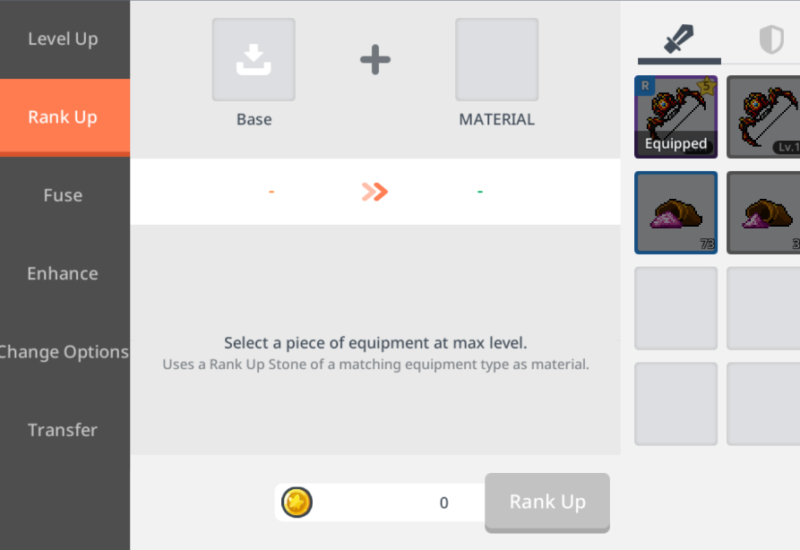 I can only think of four ways at the moment to get a legendary equipment. The first way is to rank up your unique equipment.
Most people use this method only for their weapon, be it for a Night Lord's claw or a Dark Knight's spear.
This is because many people now are looking to have a perfect base attack (PBA) weapon from the start.
You can buy an epic rarity perfect stat weapon in the Trade Station for maybe a few million mesos. Then, slowly level up your weapon and eventually rank it up to unique with 10 epic stones (40k gold leaves).
Once you've reached unique, repeat the process until you're able to rank up your weapon to legendary status. It requires 20 levels from unique to legendary which requires a huge amount of refining powder.
Furthermore, ranking up a unique item requires 10 unique rank up stones which costs another 80,000 gold leaves! Nexon of course provided a "real money version" to buy unique rank up stones.
It costs a lot of money and you only get 3 rank up stones per buy (which is insane). For F2P players, you'll probably have to create alternate characters to farm refining powders from quests (lvl 1 – 85).
As for gold leaves, just keep accumulating. You can use this guide here on how to get gold leaves.
It's definitely a long route if you want to have legendary equipment, and this method is usually worth it if you're looking to have a PBA weapon. Otherwise, you may regret having a less than perfect weapon near the end game. If you plan to strive for legendary, do it for your weapon first.
2. Buying legendary equipment straight from the Trade Station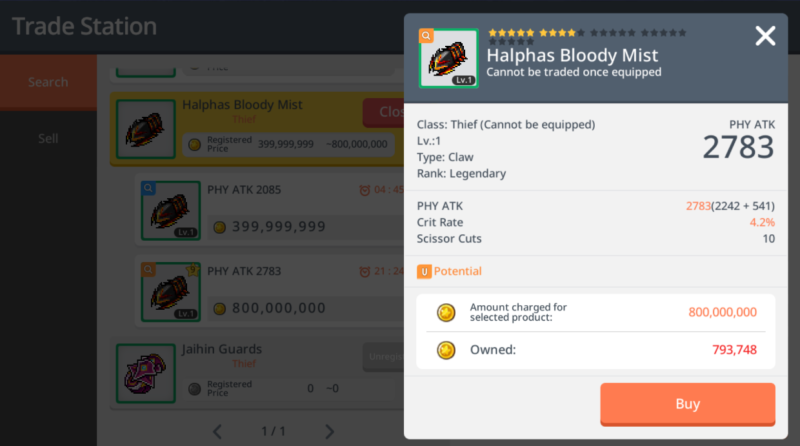 The easiest route for whales (cash rich people) is to buy legendary equipment from the Trade Station.
It probably costs a few hundred million mesos at the very least, and the equipment is probably not perfect.
For armor, I doubt it matters much if it's perfect or not, but try to have at least a PBA weapon.
If you have the mesos, go ahead and buy legendary equipment from the Trade Station.
3. Using the rare treasure box in the Cash Shop (for P2P players)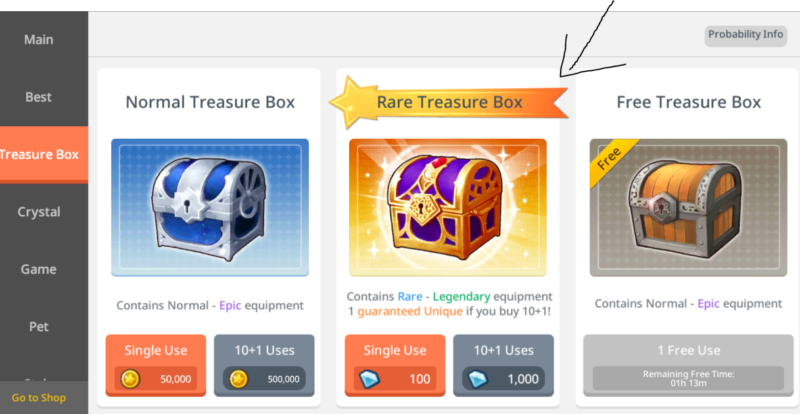 Next is also another method for cash rich players. You can buy crystals from Nexon and purchase the rare treasure box (10 + 1).
The odds of getting a legendary equipment is about 0.22% which is very low of course. A unique is only about 0.60%. The rest are rare and epic equipment.
There's one guy on YouTube that spent on 48,000 crystals and didn't even get a single legendary equipment or even an emblem equipment.
It depends on your luck and the probability is pretty bad. That said, there are a few who managed to get legendary equipment from these treasure boxes.
4. Fusing two unique equipment of the same type at max levels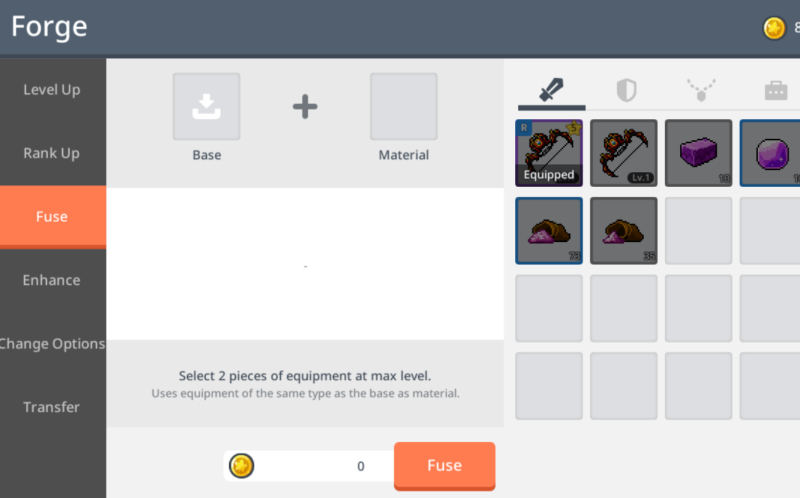 Another way of getting a legendary equipment is by fusing two uniques of the same kind. For e.g. you can fuse two level 20 Halphas Bloody Mist (claw) and get one legendary equipment.
The downside to this method is that you will get a totally random similar weapon with random stats. For e.g. you fuse Halphas claws and you might even get a Briser or a Jaihin. The stats are also random.
If you wish to have a PBA weapon, this is a terrible method.
The reason people like to fuse equipment is because there's a possibility of getting an emblem equipment.
If you're not familiar, an emblem equipment is one which gives additional stats. For e.g. a unique claw has 1333 as its PBA. An emblem unique claw can have an even higher attack, like 1.5k or 1.6k.
Many people aim for emblem as well, but the odds are pretty bad when you fuse. Even if you fuse two perfect weapons, you will get a totally random weapon with random stats.
In a nutshell
Legendary equipment definitely gives a big boost to your stats (be it attack or defense). Most people strive for legendary equipment in MapleStory M as it gives a sense of accomplishment especially if you didn't spend any real money on it.
Hopefully this guide would have helped you if you knew nothing about it.
---
Related articles:
MapleStory M – Tips And Tricks
How To Play MapleStory M On Your PC
MapleStory M – Which Is The Best Class To Use?
How To Get Mythic Items In MapleStory M
MapleStory M – How To Level Up Fast In This Mobile Game
How To Farm For Mesos – MapleStory
Games Like Banished – Top Ten Alternatives To Play Today
Fallout 4: Best Perks To Choose From With Your Skill Points