Jewels are quite useful in MapleStory M as it provides additional stats to your character.
Some help to boost your attack, while others may be useful for gaining extra EXP or a higher drop rate.
Here are some of the best jewels to use in MapleStory M, especially for DPS.
Jewels For Higher Attack / Damage
Most of us players aim to have a jewel set which gives the most damage in total.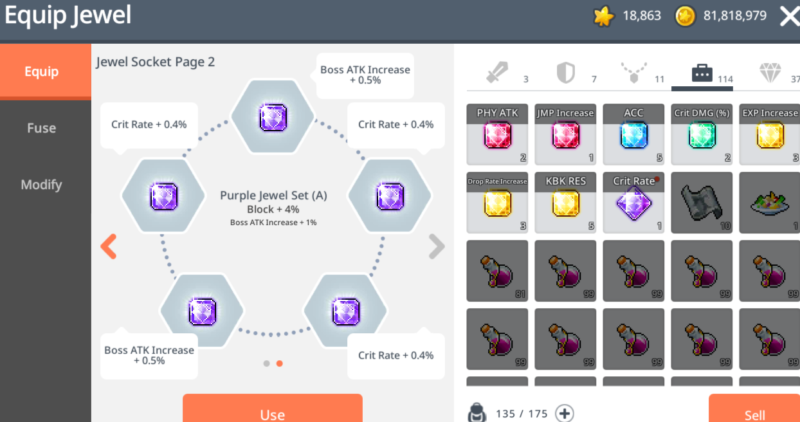 However, it's hard to decide between using physical attack (or magic attack), critical damage, critical rate, boss attack or even physical / magic damage increase.
Some are flat value while some are just percentages. Which jewel gives the best DPS depends on your overall attack.
If your total physical or magic attack is below 8,500 or somewhere around that value, you should go for the flat damage.
This means the best jewel set for DPS should be the flat damage magic attack or physical attack.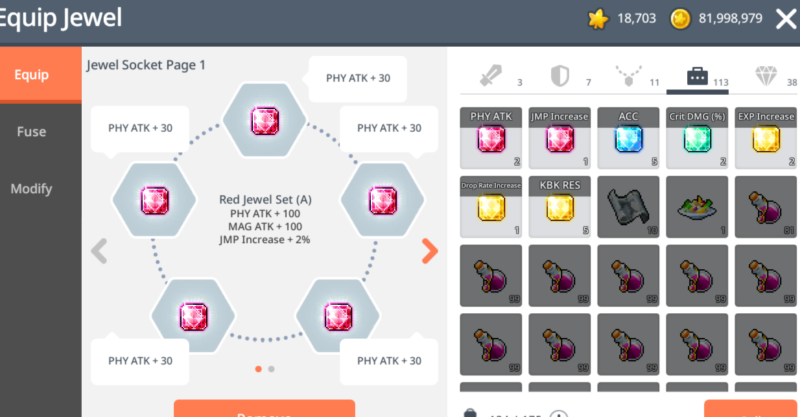 Furthermore, the set bonus is huge, i.e. phy attack +100, mag attack +100 and JMP increase 2%. That's only for the rank A set.
If you have rank S jewels, it's much higher than that. As for phy damage % jewels, they are only good if your attack is already very high, and that requires at least a high level mythic weapon (with many stars).
As for crit damage and crit rate, I'm not sure if they're more useful than flat damage jewels for overall DPS. Do let me know if you think those jewels are better.
Jewels For EXP And Drop Rate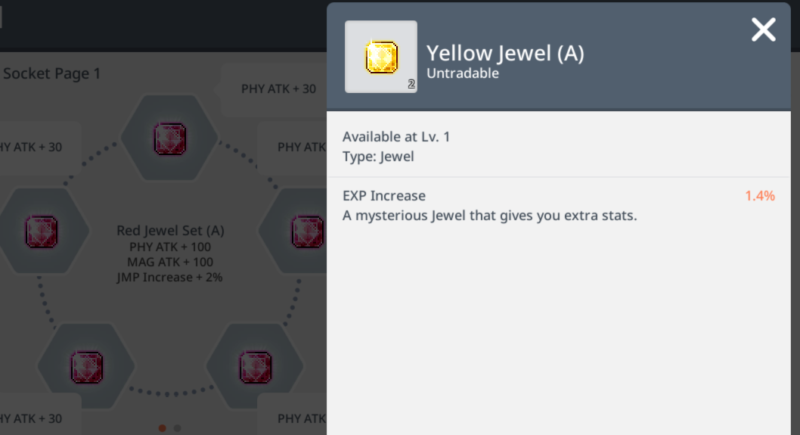 As you can keep two pages of jewels for F2P players, the first page may be for DPS but the next can be for EXP or drop rate increase.
Get the yellow jewels for either EXP or drop rate. The set bonus (for rank S yellow) is quite useful as it gives 100 knockback resistance, among other things.
This is especially useful for Bowmasters who often die when get knock-backed too often. The resistance is also for survivability when doing auto-battles.
Jewels For Survivability
For those who prefer survivability, you may go for the evade build.
Evade jewels (rank A) give about 0.9% evasion if I'm not mistaken and in a set it's about 4.5% not including set bonus.
I'm not sure if they help that much, but since it's based on percentage, the higher your evade stats, the more value you get.
There are also accuracy jewels but you don't really need them if you are already using accuracy equipment (like gloves).
Where To Farm Jewels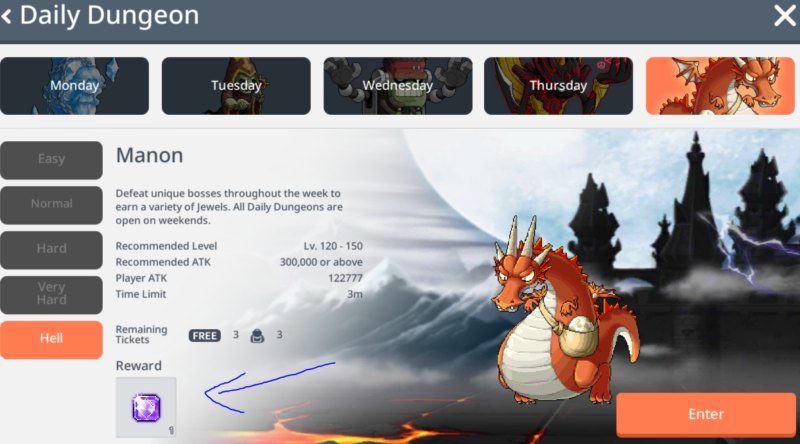 The best place to get jewels is the Daily Dungeon. There's a different color each day, so if you're aiming for certain colors (like red for physical attack), keep your free tickets for that day.
You get three free tickets a day and an additional one upon completing all three. Hence, keep the additional ticket for the day that provides the jewels you need. That's the most efficient way I think.
Sometimes there may also be events that reward you high rank jewels, but you can't really rely on them for fast accumulation. As for now, Daily Dungeon is your best bet.
In A Nutshell
For increasing DPS, I would go with the phy attack or mag attack jewel set as for now, since the set bonus contributes a lot towards damage as well.
Phy damage % jewels are only useful when you already have really high phy attack, meaning end game weapons.
For your second page of jewels, perhaps it's nice to get the yellow set for EXP increase as it helps you in grinding.
You can only use one page at a time, so do rotate when necessary.
---
Related articles:
MapleStory M: Best Equipment For Bow Master
MapleStory M: Immortal Guild Dungeon And Papulatus Guide
Best Places To Grind (MapleStory M) – Which Star Force Field To use
MapleStory M: Mu Lung Dojo Guide (How To Complete It)
Knights Of Cygnus – MapleStory M
MapleStory M – Zakum And Horntail Guide (Expedition)
Games Like MapleStory – Top Ten Alternatives To Play Today
MapleStory M – Guide And Tips On Progressing In The Game