As the Cygnus Knights patch is out today, many new things have been introduced to MapleStory M.
There are plenty of things to check out, including the Burning Event, the new Guild Shop, Gachapon system, and an improvement to movement arrows just to name a few.
This guide only covers the new Immortal Guild Dungeon which features Papulatus as the boss.
1. How to enter the Immortal Guild Dungeon and how to participate
First of all, the guild interface has changed a little. Guild attendance seems to tick itself these days. I'm not sure if it ticks itself or if it ticks when you collect guild attendance rewards.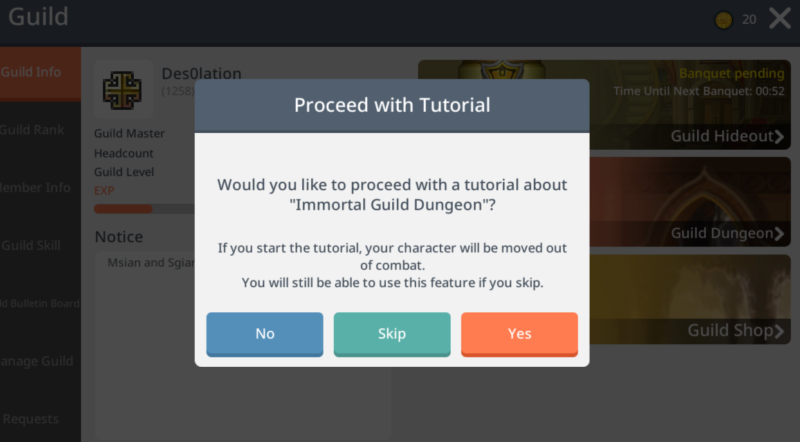 Just go to Guild Info and you should see the Immortal Guild Dungeon tab. Just click on it and begin the tutorial. You will earn 50,000 mesos for completing the tutorial.
How it works is that you have 60 seconds to hit Papulatus and it will summon some noob monsters at the side. I think only the damage towards Papulatus is counted and the other monsters are just distractions.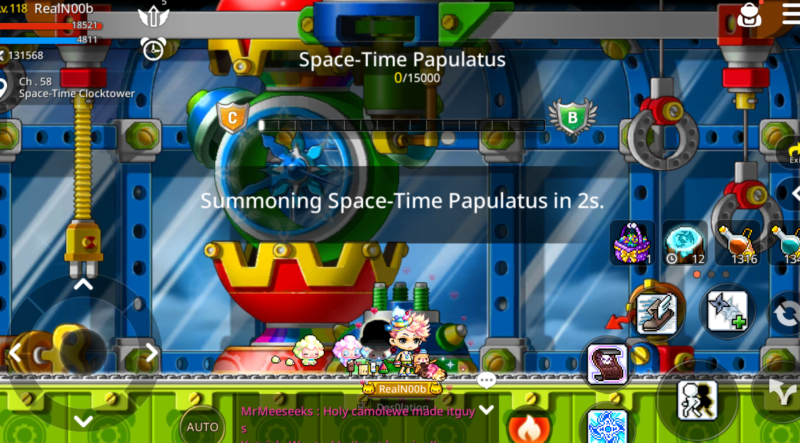 They only hit you 1 damage so don't worry about touching the monsters. The more damage you deal, the higher you go up in rank. You start from rank C and you slowly go up until rank SS. As you can see above, I failed to get rank SS very narrowly. I would have succeeded if I had used some buffs, but it doesn't matter that much (once you see the rewards).
To be clear, I was using a level 9 Mythic Briser claw so you get the gist of my damage.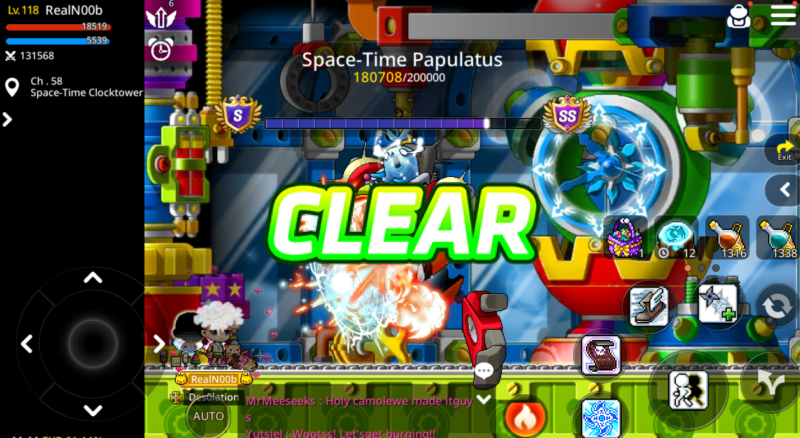 The whole point of this is that you earn rewards depending on how much damage you dealt, which brings us to the next point.
Edit (15th September): I've finally gotten rank SS with the 30% boss attack buff and probably bishop buff. Here's the video:
2. Guild rewards and personal rewards of Immortal Guild Dungeon
There are two kinds of rewards that you may get. Guild ranking is the accumulation of every members' personal damage and you get rewards depending on how much your guild's total damage is.
This means if your guild has lots of players and all are pretty strong, you will probably be getting one of the top rankings (e.g. SS).
Another is personal rewards where you will get rewards depending on your personal damage. You can participate in this Immortal Guild Dungeon twice a day, so you can earn personal rewards twice.
Personal rewards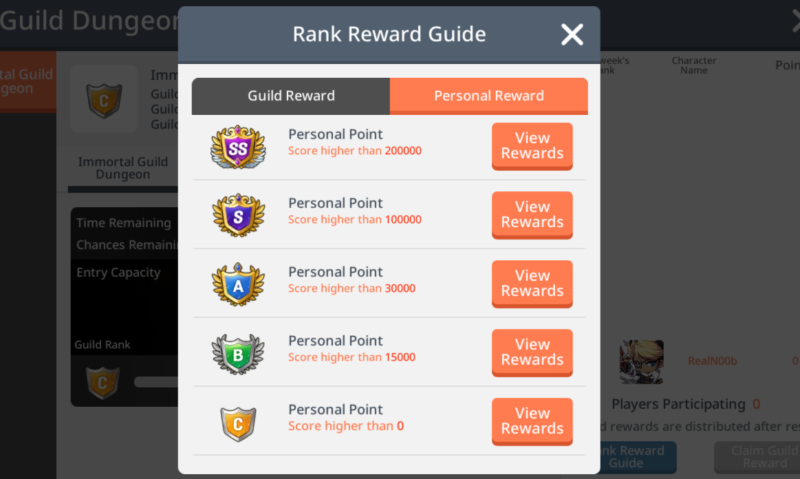 This is the list of personal rewards. If I had scored 200k points, I would have been eligible for the rank SS treasure box.
That said, it's nothing special.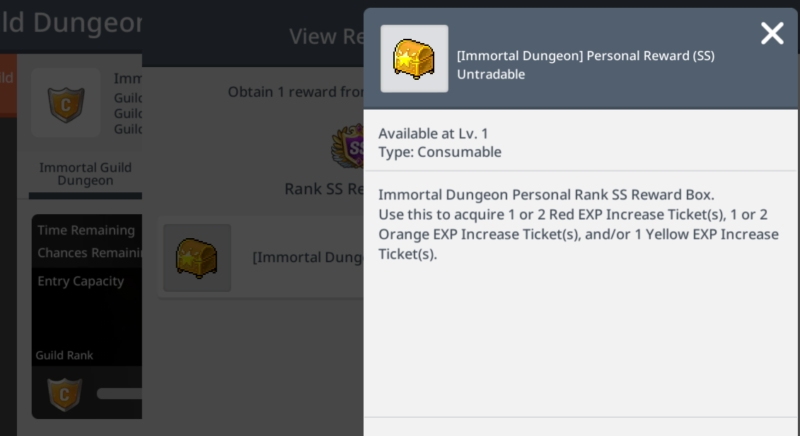 I got the Rank S box twice and in both times, I received only the 10% EXP increase ticket. Such a bummer huh? But I guess it's free.
Guild rewards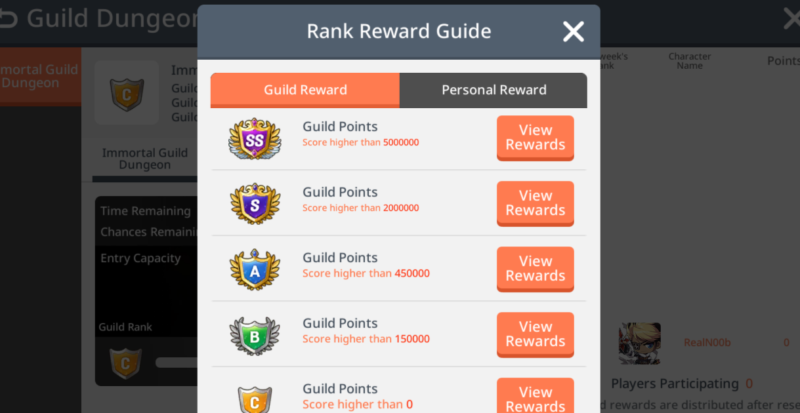 As for guild rewards, the items you will be getting are auto-battles instead. It depends on your guild's total damage.
For e.g. I alone scored over 180,000 guild points which means we are at least rank B already.
If you have plenty of members that deal decent damage, you should be getting free auto-battles daily.
Thoughts on the Immortal Guild Dungeon of MapleStory M
When I first saw Papulatus on the Cygnus Knights patch notes, I was so excited that we're having a new boss to kill, and this time as a guild.
Sadly, it's sort of became one of those pointless boss fights where the only aim is to farm EXP tickets and auto-battle tickets.
Papulatus was one of the fun bosses to fight back in MapleSea and I definitely expected more from this, not just some wooden doll.
Hoping to have more expeditions in the future.
---
Related articles:
MapleStory M: Royal Style Sets For Every Month
Best Equipment For Blaze Wizard And Bishop
MapleStory M: Best Equipment For Wind Archer And Bow Master
MapleStory M – Cygnus Knights (KOC) Release
What Can You Get From Golden Apples – MapleStory M
MapleStory M – Which Jewels To Use And Best Jewel Set
How To Defeat Mu Gong – MapleStory M
MapleStory M – Should You Rank Up Or Fuse Your Equipment?
MapleStory M – Zakum And Horntail Guide (Expedition)
Which Star Force Field To Use – MapleStory M