Gold leaves are a scarce and very important resource in this mobile game known as MapleStory M.
They are used mainly to buy important ingredients that are needed for crafting. For instance, you can buy rank up stones for your equipment or weapon, or even a silver scissors of karma for epic items.
That said, they are hard to get in this game. Here are some ways to farm and get more gold leaves in MapleStory M.
1. Complete expeditions daily (both Zakum and Horntail)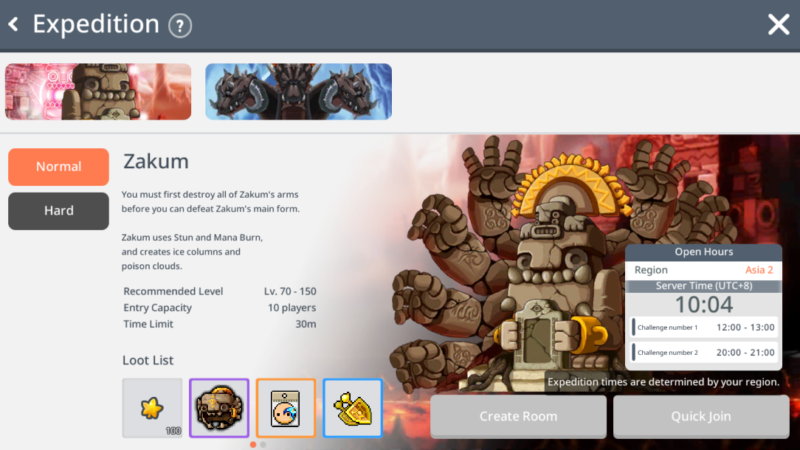 If you have succeeded against either one of them before, you should notice that they give out gold leaves throughout the map after they get defeated.
Zakum (normal will do) gives out 8 gold leaves per icon and while I'm not sure how much you get in total, I heard it was around 400 per round. I didn't count it myself but it was 8 gold leaves per drop and they were lining the floor of the map.
Horntail on the other hand gives a much lower amount of just 2 gold leaves per icon / drop / symbol. This means Zakum probably gives out 4x more than Horntail at the moment, which is absurd considering that Horntail is tougher.
Regardless, you should complete both expeditions and do it daily (since they allow twice a day generally). That should give you about 1,000 gold leaves a day if you defeat them twice a day. Sometimes they have events where you can do it three times a day.
2. Do Nett's Pyramid daily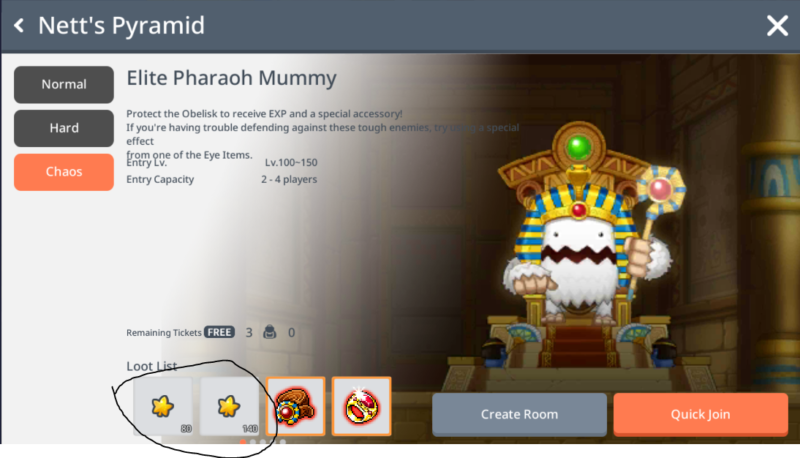 Another dungeon worth doing daily is Nett's Pyramid, and usually not because of the gold leaves you can potentially get.
Most people aim for the Immortal Pharaoh Belt and the Immortal Ring which gives an overpowered set bonus.
If you're doing the chaos mode, you may get 80 or 140 gold leaves in a round. It's either gold leaves or some equipment. Either way, you only get one item.
You can do Nett's Pyramid 4 times a day (3 free tickets plus 1 if you complete all 3). You can also get a ticket if your guild reaches an attendance of 25 people.
More often than not, you may receive the 80 gold leaves as prize.
3. Extract gold leaves from equipment
If you have not noticed yet, there's an "extract" button in your inventory. You are allowed to extract your equipment, meaning sacrifice your equipment for a small amount of Occult Cube and/or Gold Leaf.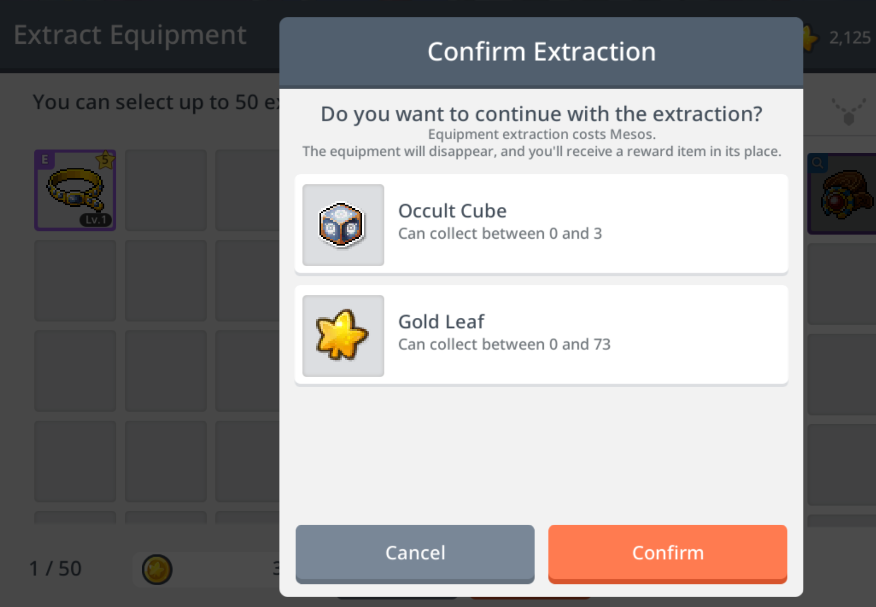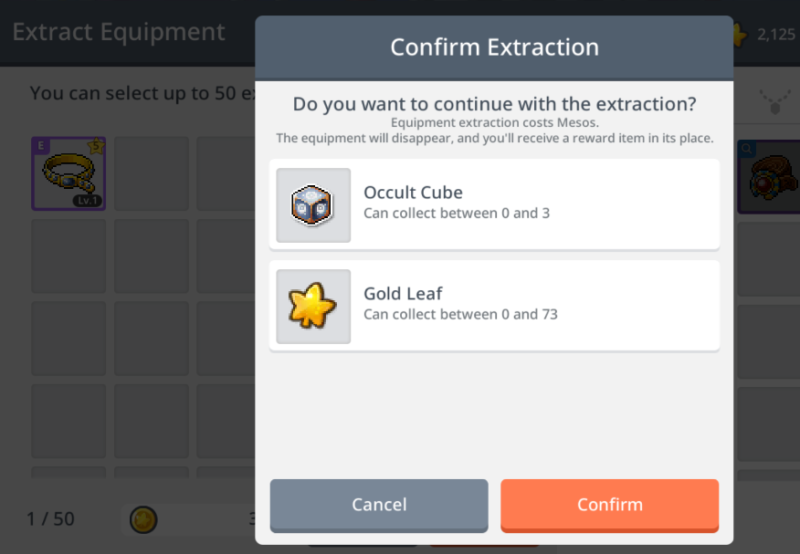 You can either get a few gold leaves or a few Occult cubes or a combination of both.
That said, you won't receive a substantial amount. How many gold leaves you can get depends on the rarity of the equipment you are extracting.
The one in the screenshot above is an epic item, and I don't think enhancements affect the amount. If you extract a normal equipment, you're likely to get less than 10 gold leaves.
This option is more for those who are desperate or are super rich. Some even buy equipment from the Trade Station just to extract which is super expensive.
4. Complete weekly missions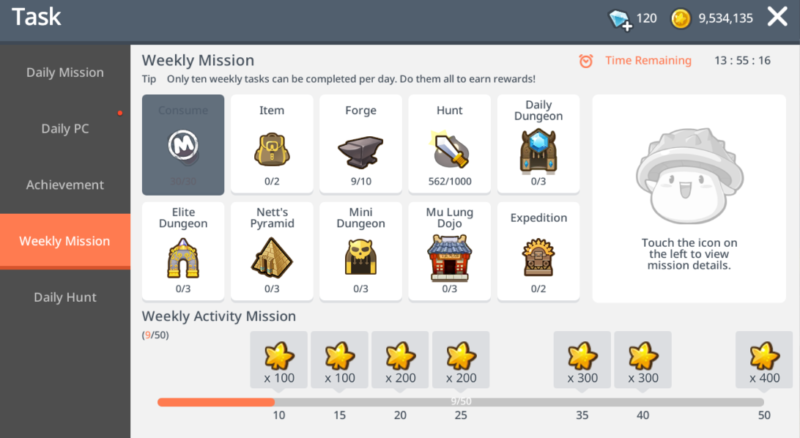 Keep doing daily tasks like hunting monsters and dungeons to get more gold leaves.
As you can see in the screenshot above, you can get some gold leaves on this weekly mission tab. It's not much but it's better than nothing.
5. Keep unlocking achievements
Last but not least, you can also get Gold Leaf from achievements.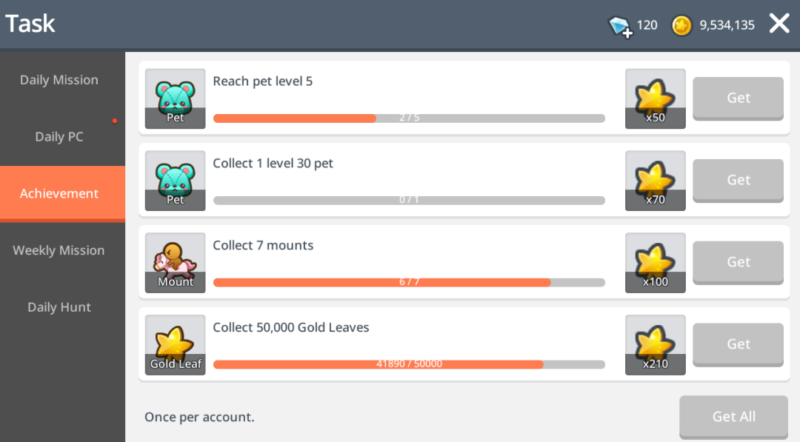 These achievements are only once per account. If you happen to unlock one, use your main character or the character that needs the gold leaves to press "Get".
Otherwise, it's such a waste if you use it on your alt and the gold leaves can't be transferred.
In a nutshell
There are various ways to farm for more gold leaves but they are still pretty scarce.
It takes quite a bit of time before you get enough gold leaves to buy an epic or unique rank up stone.
Be patient and you'll get there eventually.
---
Related articles:
Beginner's Guide To MapleStory M
MapleStory M – How To Get Legendary Equipment
Use An Emulator To Play MapleStory M
MapleStory M – Which Is The Best Class
Where To Find Mythic Equipment In MapleStory Mobile
MapleStory M – How To Get More Weapon And Armor Refining Powder
How To Farm For Mesos In MapleStory M
15 Best Minecraft Gifts To Buy For Your Kids Or Friends
Best Multiplayer Horror Games – 8 Different Games To Check Out Today