With the latest introduction of the Cygnus Knights in MapleStory M, many are now playing high DPS classes like Night Walker and Wind Archer.
Of course, other classes are pretty cool as well, but there's no doubt many chose the DPS route over flashy skills in this game.
Here are some of the best equipment for Wind Archers and Bow Masters. I lumped them together since they're both similar.
Best Equipment And Set For Wind Archer / Bow Master (DPS)
There are two ways to go for this. You either choose a pure damage set or an evade set. If you were a Night Lord, I would definitely recommend pure damage since you have invincibility skills.
These two bow-wielding classes do not. Nevertheless, I'm favorable towards both builds. This equipment set is for high DPS.
1. Hat

No doubt, the best in slot helmet for all classes right now is the Zakum helmet. I'm referring to the unique rank helmet from Hard Zakum, not the epic version.
However, there was an error in MapleStory M yesterday that revealed a Chaos Zakum expedition with a legendary rank Zakum helmet as one of the rewards.
That should be the best in slot, whenever it releases anyway.
2. Outfit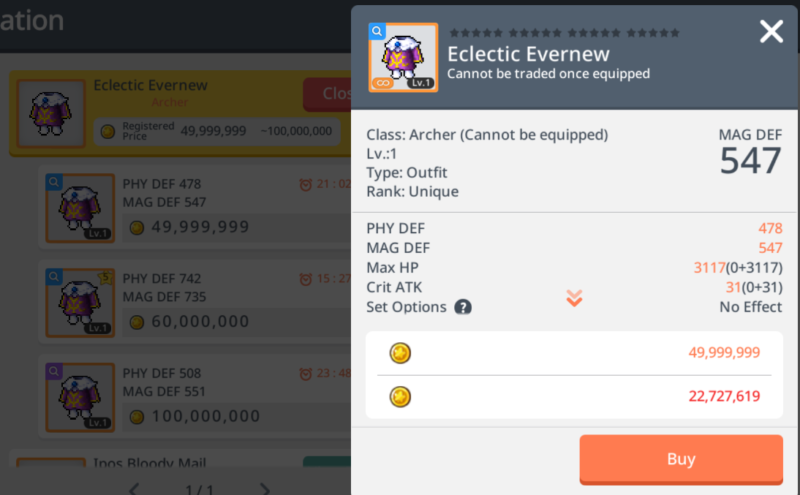 For pure damage, the Eclectic Evernew is the best outfit for a Wind Archer or Bow Master. It adds critical attack.
3. Gloves

As for gloves, I would go with the Muspell Archer Gloves. Muspell gloves are the norm in all classes because it's the only equipment here that adds a lot of accuracy, apart from Rising Belt.
If you max level it, the accuracy should be much higher, somewhere in the 500s. It goes up more when it hits legendary and mythic.
The logic is simple. If you can't even hit the mobs, you can't do good damage. It's also very useful for Mu Lung Dojo since most of the bosses require high accuracy.
4. Shoes

For critical attack, I would go with the Eclectic Rontano shoes.
5. Cape

As for Wind Archer's cape, Sirius Cape is the crowd favorite as it adds critical rate. The contender is of course Bloody Cape which adds evade, and that's for the other build.
6. Shoulders

For a Bow Master or Wind Archer's shoulders, the decision is clear. Noble Shoulder is the best as it gives you critical attack.
Other shoulders do not add anything useful for DPS in my opinion.
7. Belt

The best in slot (BIS) for belt right now is the Immortal Pharaoh Belt (unique rank). It's only the best if you have the Immortal Pharaoh Ring (unique) equipped as well.
The set bonus is insane, which adds 200 physical and magic attack with equivalent defense.
8. Best Bow For Wind Archer
Weapons on the other hand depends on the other equipment. Most players may opt for the Jaihin as it gives a huge amount of critical damage, especially when it's mythic rank.
I won't even consider Utgard as it only gives extra EXP. The other two are also commonly used, i.e. Briser and Halphas. Briser adds boss attack while Halphas adds critical rate.
The logic for choosing Jaihin is that you're always able to buy buffs that add critical rate or boss attack (from Mu Lung especially). This means you will have high critical damage, boss attack and critical rate during expeditions.
Briser is also good for the boss attack increase, but it's only good for bosses and not mobbing.
Best Equipment For Wind Archer (Evade Route)
I'm not going to repeat everything all over again, as only a few equipment should be changed.
If you're going for the high evade build, you have to change the shoes, outfit and cape. The rest can stay.
You may also notice that the evade gear is more expensive, probably because it's the popular option now.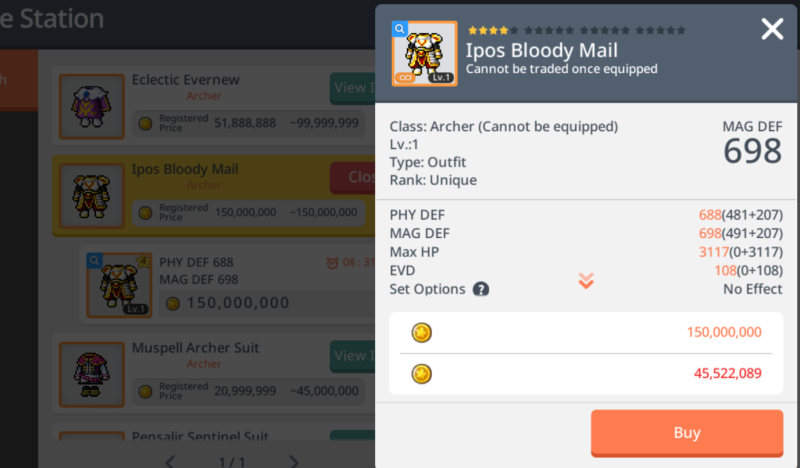 For outfit, you have to use the Ipos Bloody Mail which adds evade. The higher level and rank your equipment is, the much higher the evade stat.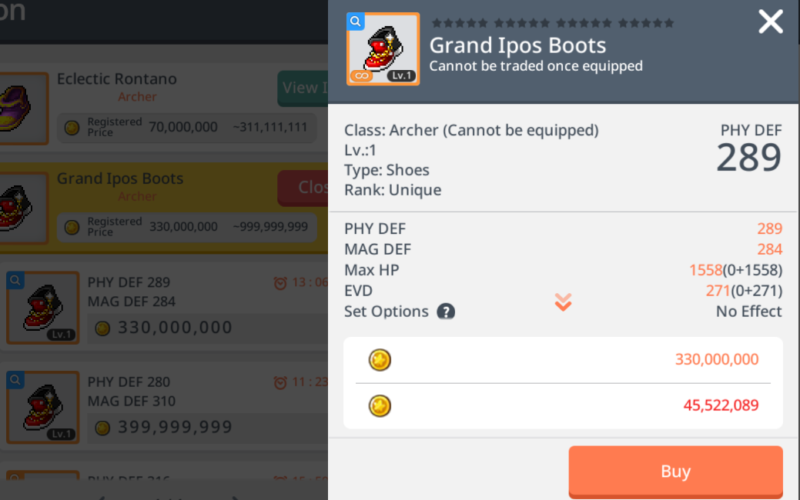 Similarly, use the Grand Ipos Boots. I would avoid prioritizing set bonus, so feel free to mix and match (between Eclectic / Grand / Muspell).
These boots add a lot of evade, more than the outfit.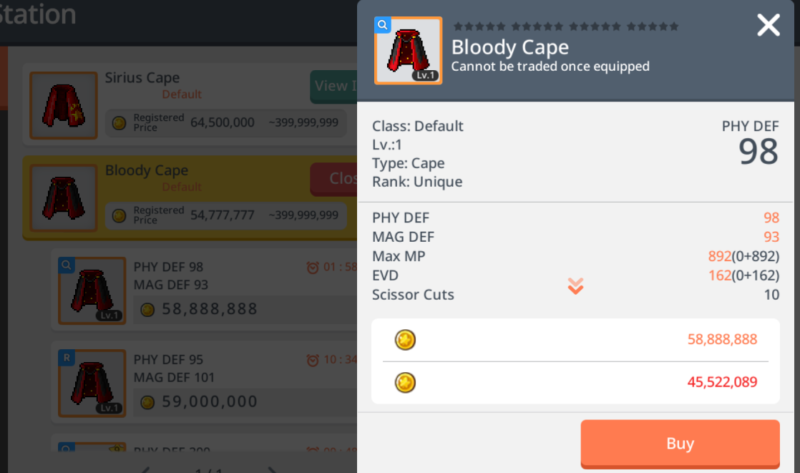 As for cape, Bloody Cape is the version that adds evade stats. Keep leveling the equipment with the evade stats, and you'll see your evasion climbing up the charts.
Best Jewel Set For Wind Archer / Bow Master
If you hate knockbacks, get the yellow set. You can either go with the EXP increase jewels, drop rate jewels or the knockback resistance jewels.
All of them are yellow, and when you have a set of 5 jewels of the same rank, you will get the set bonus.
The bonus for rank S yellow jewels adds 100 knockback resistance, among other things. That's something you should aim for.
If you want pure damage, go with the physical attack jewels (red color). The set bonus adds even more physical attack.
Here's a video of my Wind Archer (lvl 100).
---
Related articles:
MapleStory M: Best Equipment For Thunder Breaker And Corsair
MapleStory M: How To Increase Your Damage
Best Equipment For Dark Knight And Dawn Warrior
MapleStory M: Golden Apples – New Gachapon System
Best Bishop Equipment In MapleStory M
MapleStory M: Immortal Guild Dungeon And Papulatus Guide
Best Places To Grind (MapleStory M) – Which Star Force Field To Use
MapleStory M – Zakum And Horntail Guide (Expedition)
MapleStory M – Should You Rank Up Or Fuse Your Equipment?
Best Royal Style Sets – MapleStory M
MapleStory M Fusing Guide – Frequently Asked Questions