There are all kinds of gaming mice nowadays as the competition among gaming mouse manufacturers intensify. I'm sure most of you would have heard of Razer, SteelSeries or even Roccat for their range of gaming mice. How about Logitech? It's a well-known and trusted brand for regular mice and keyboards. For those who do not know by now, Logitech has (for quite a long time now) their own series of gaming mice. I've personally tried one of them, i.e. the Logitech G402 Hyperion Fury gaming mouse.
As I'm writing this post, I'm still using my Logitech G402 gaming mouse for all sorts of activities, e.g. browsing the internet, social media, and even using Microsoft Word. A gaming mouse is not necessarily for gaming alone although that's the main purpose.
I haven't had much time for gaming lately, yet this Logitech gaming mouse is very useful even for day-to-day activities.
Review of Logitech G402 Hyperion Fury
What sort of features does this mouse have?
Features
Fusion Engine High-Speed Tracking – It has a combination of an optical sensor featuring the Logitech Delta Zero technology and an exclusive Fusion Engine hybrid sensor. It enables tracking speeds that are really high, i.e. in excess of 500 IPS.

It comes with 8 programmable buttons – As you can see in the image, the Logitech G402 has many buttons, 8 to be exact, and all of them can be programmed according to your whims and fancies. For e.g. if you're playing a First Person Shooter (FPS) game like CS GO, you can program your button to quickly access your inventory or to equip your weapon or whatnot. The buttons are placed nicely so as to fit your finger movements.
DPI Switching (On-the-fly) – What does it mean? You can instantly switch through 4 DPI (dots per inch) settings. DPI in gaming is basically how fast your cursor functions. For e.g. you use a low DPI to target an enemy with utmost accuracy, and normally a high DPI to move around quickly. As the Logitech G402 Hyperion enables on-the-fly DPI switching, it is very easy to react quickly in games.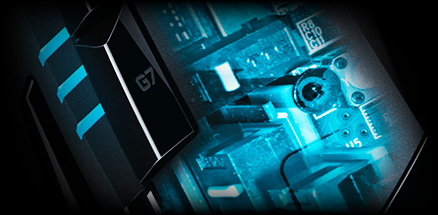 32-Bit Arm Processor – It has a built-in ARM processor which powers the Fusion Engine to enable tracking speeds that are incredible and it also allows you to save and play back the macros of your choice. With the Logitech software, you can simply craft and assign macros which can be accessed from the Logitech gaming mouse easily.
1MS Report Rate – It comes with a report rate of just 1 millisecond! You don't have to worry about lags as your movement of the mouse is communicated via USB at really high speeds.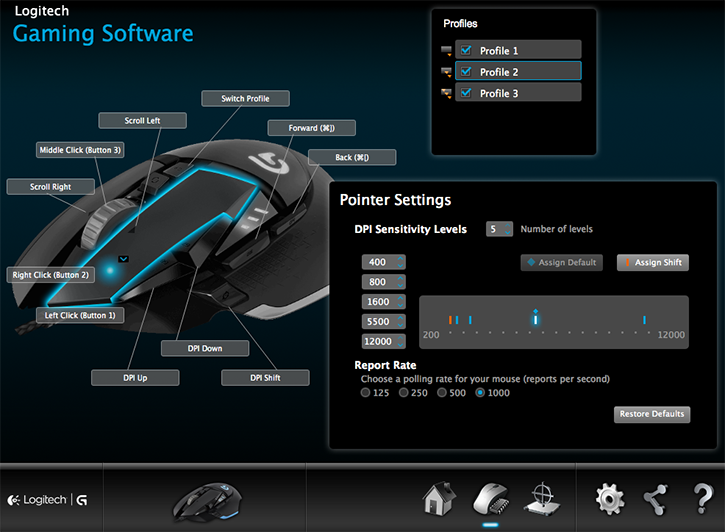 Ergonomical design – The shape and design of this gaming mouse is very ergonomical which ensures that your gaming sessions can last as long as possible. It uses a combination of lightweight materials and also rubber grips. You won't feel tired easily with this mouse.
High Speed Clicking – It is extremely responsive which gives you the gaming edge over others. High speed clicking is essential in all types of games, especially FPS games and also Multiplayer Online Battle Arena (MOBA) games like Dota 2. The left and right main buttons on the mouse are super responsive and very effective for FPS gaming.
Technical Specifications
8 programmable buttons.
DPI Switching (on-the-fly).
32-bit ARM processor.
1 millisecond report.
Fusion Engine hybrid sensor.
High speed clicking.
Full-speed USB.
Tracking Resolution: 240 – 4000 DPI.
Max acceleraion: >16G.
Max Speed: >500 IPS.
USB Report Rate: 1000 Hz.
Microprocessor: 32-bit.
Durability (left/right buttons): 20 million clicks.
Height: 5.4 inches.
Width: 2.8 inches.
Depth: 1.6 inches.
Non-technical Specifications
It comes with a 2-year limited hardware warranty.
It requires at least Windows 8, Windows 8.1, Windows 7 or Windows Vista.
It has a powered USB port.
You need an internet connection and at least 100MB hard drive space for downloads.
For a full list of features and specifications, kindly refer to their official website.
Personal Review of the Logitech G402 Hyperion Fury Gaming Mouse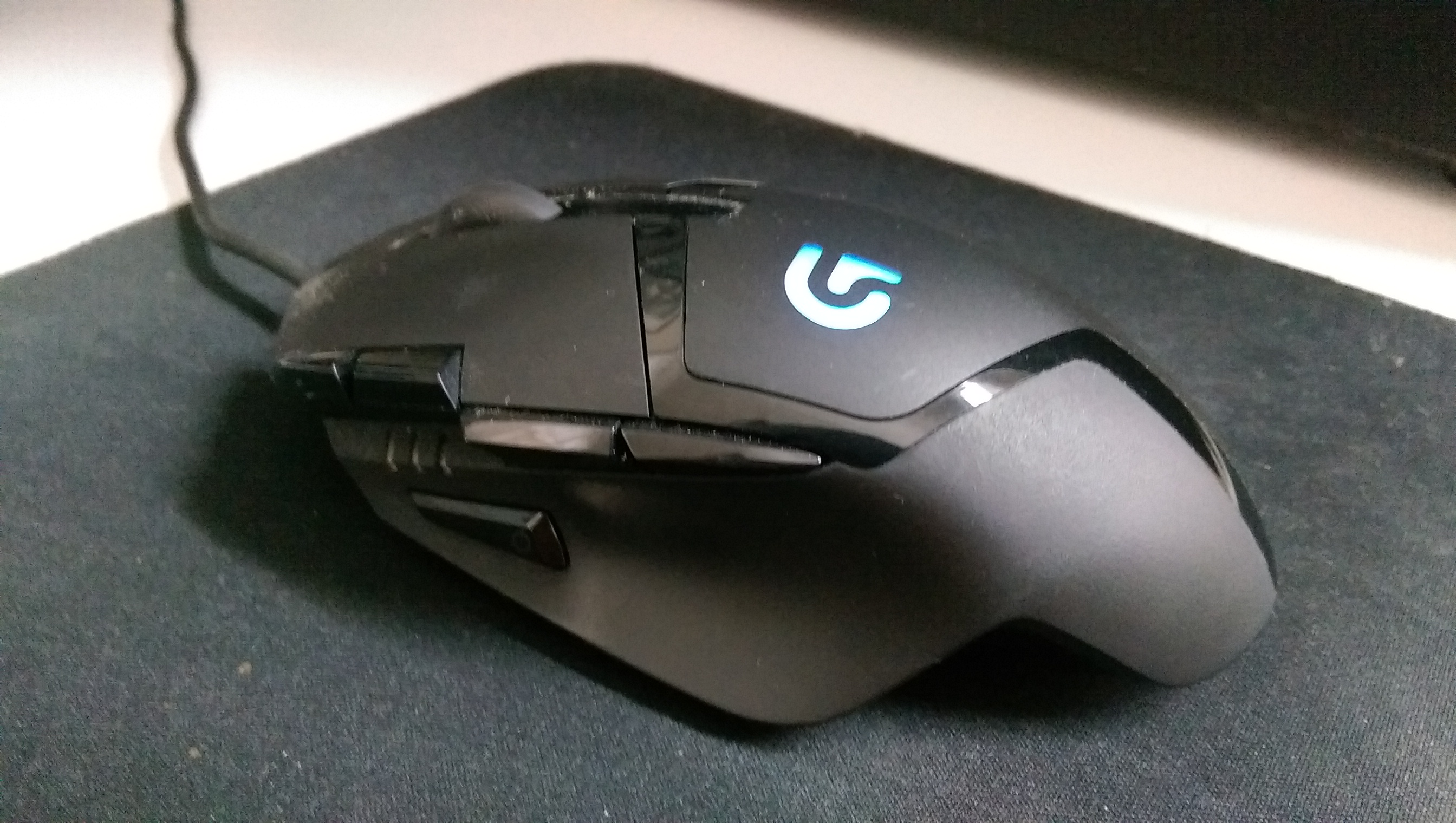 I have used and am still using the Logitech G402 Gaming Mouse for my personal desktop computer.
On first impression, the design is a little bit different from my previous Razer Imperator (which stopped working in less than 2 years). Prior to this, The only Logitech mouse which I have used is the regular office-type Logitech mouse. They were long lasting for sure. I wasn't sure whether this was the right choice at first but I was persuaded by my peers to give it a shot as it had good reviews.
I trusted Logitech as a brand and it paid off tremendously. I can't be happier with this gaming mouse for a few reasons:
It's cheaper than my previous Razer Imperator. My previous Razer gaming mouse was very flashy and beautiful from the outside but it had defects (e.g. double-clicking) after a couple of months.
It hasn't shown any defects yet and is still going strong.
The design is quite ergonomical and I don't feel tired using it for hours.
What are its disadvantages?
If I really had to flaw the Logitech G402, I would say that the side buttons are a bit sensitive. You might accidentally click it from time to time but it rarely happens.
I would also have preferred if it was given a cooler and more memorable name!
Verdict on the G402 Logitech Gaming Mouse
This Logitech G402 Hyperion Fury gaming mouse is so far one of the better gaming mice that I've tried, in terms of durability and ergonomics. If you want a long lasting gaming mouse at an affordable price, then this Logitech mouse is the right choice for you.
If you're interested in getting one, you can buy it directly from Amazon (affiliate link).
---
Related articles:
Best Gaming Microphones – Some Recommendations
Top 5 Best Gaming Gloves To Check Out
Best Keypads For Gaming For Amateurs And Pros