Kingdom of Corona is possibly the 4th world that you may enter in Kingdom Hearts 3.
This is the place of Rapunzel and other Disney characters. Sora, Goofy and Donald resumes their journey.
Here's a walkthrough and guide of Kingdom of Corona in KH3.
To get to the Kingdom of Corona, you can embark from Twilight Town or some other world.
Read also: Kingdom of Corona – All Lucky Emblems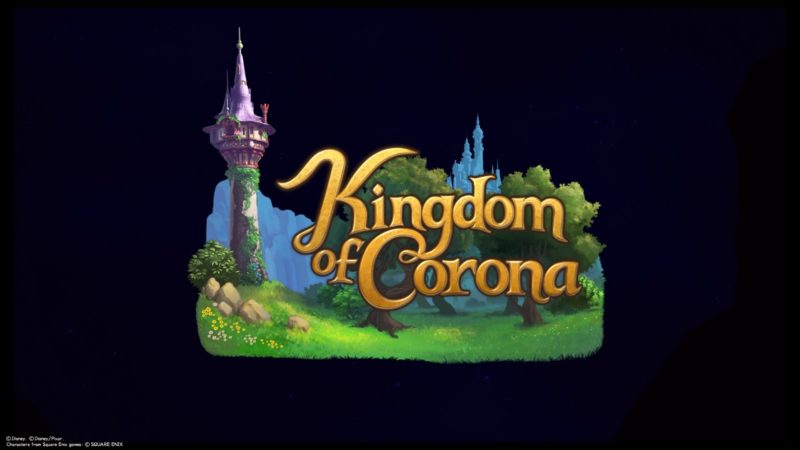 The story begins with Flynn Rider running away from the Heartless.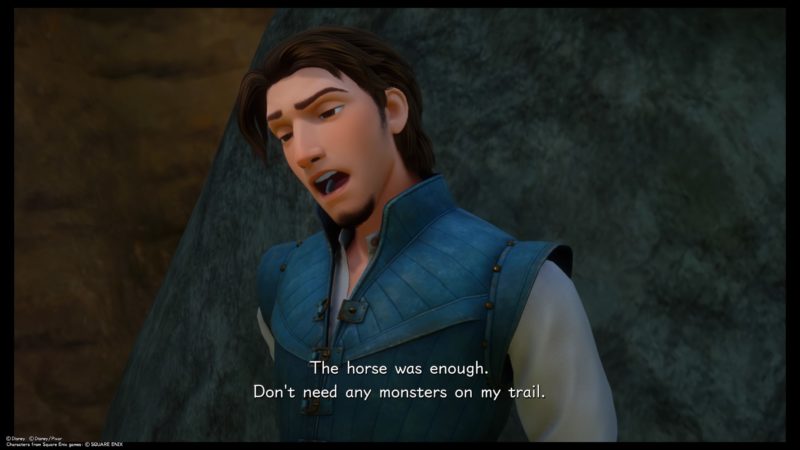 Take out the Heartless
Like other worlds, your first mission is to take out all of the Heartless.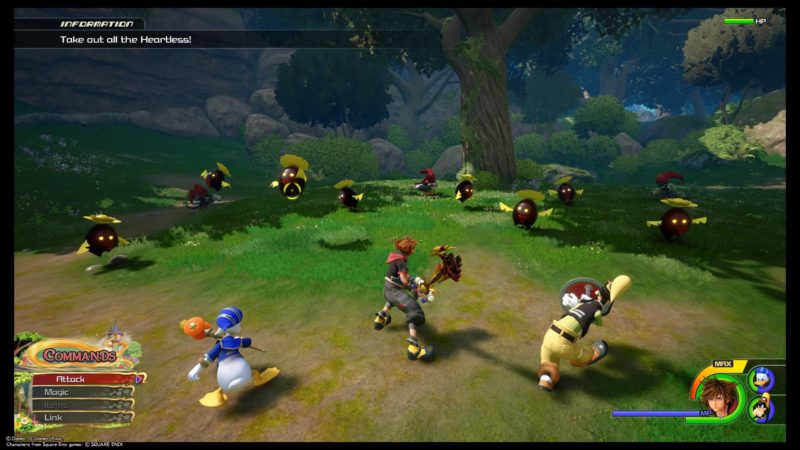 Once you're done, you need to look for Flynn.
Look for Flynn
This place is called The Forest.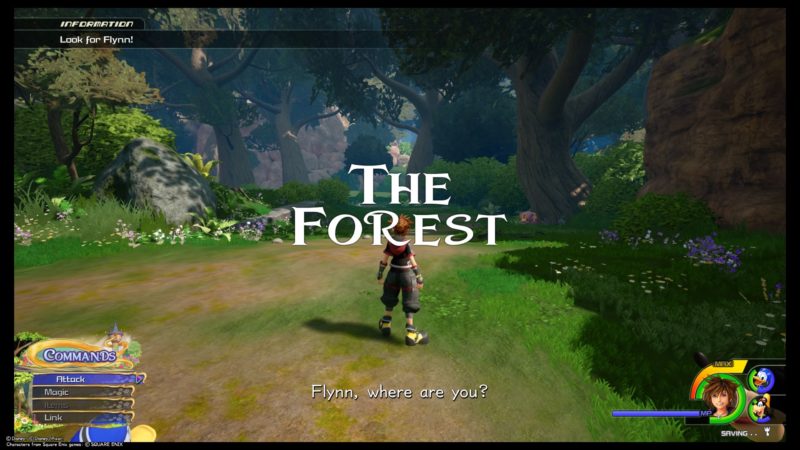 Nearby, you should find a treasure chest. It will give you the map to The Forest (part 1). Definitely find for this map first, as it comes in handy.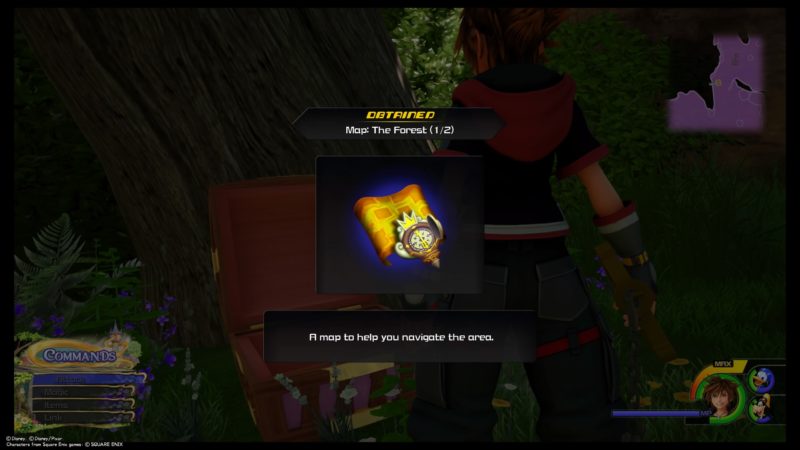 As you proceed further, a cutscene will load. Sora, Goofy and Donald will stumble upon a hidden tower.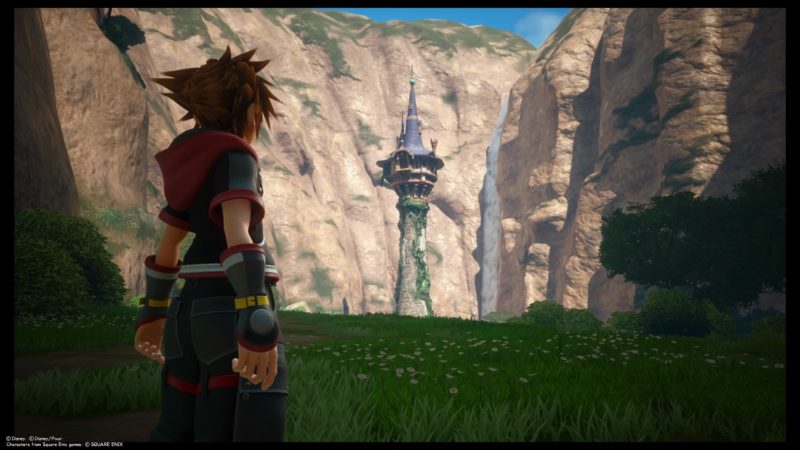 Inside the tower, Flynn was already captured by Rapunzel and tied to a chair.
He ran away from the Heartless and climbed onto the tower.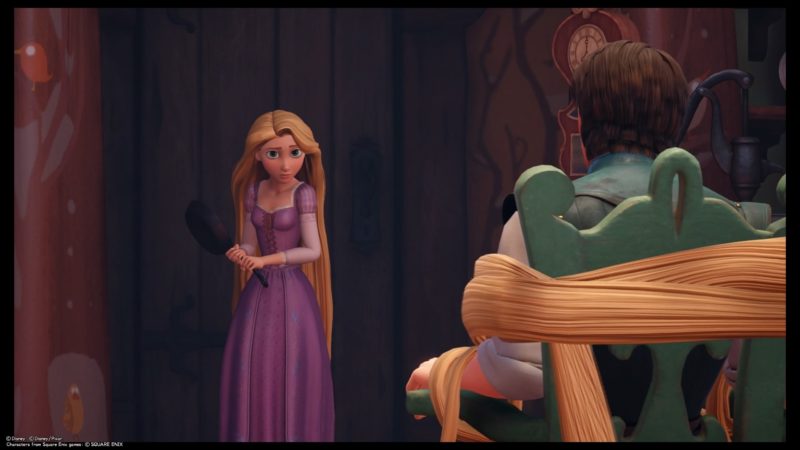 During the cutscene, Flynn will negotiate with Rapunzel. He will take her to the city and Rapunzel has to give him the satchel back.
He uses Sora and the rest as his "sidekicks" for the journey due to the Heartless obstacle.
Get to the tower
After the cutscene ends, walk towards the tower. There'll be a save point and a shop here.
You have to defeat Heartless on the way there.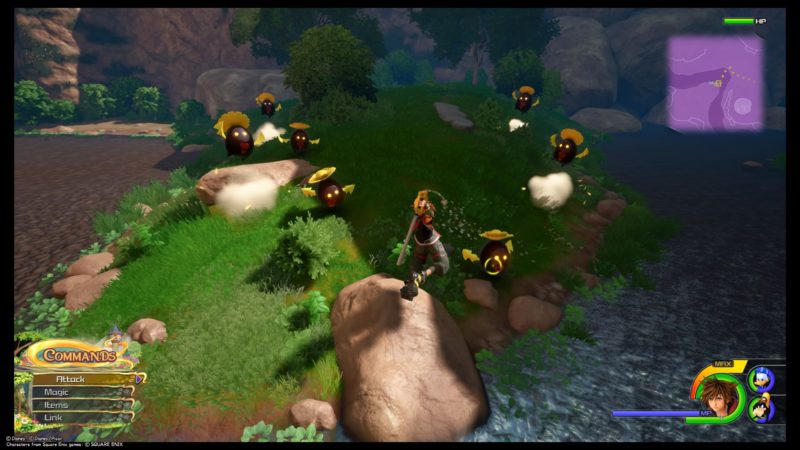 Once you approach the tower, the cutscene loads again.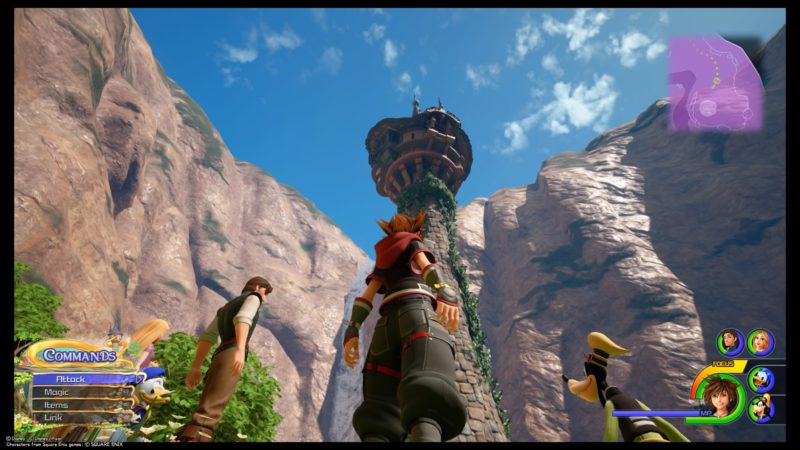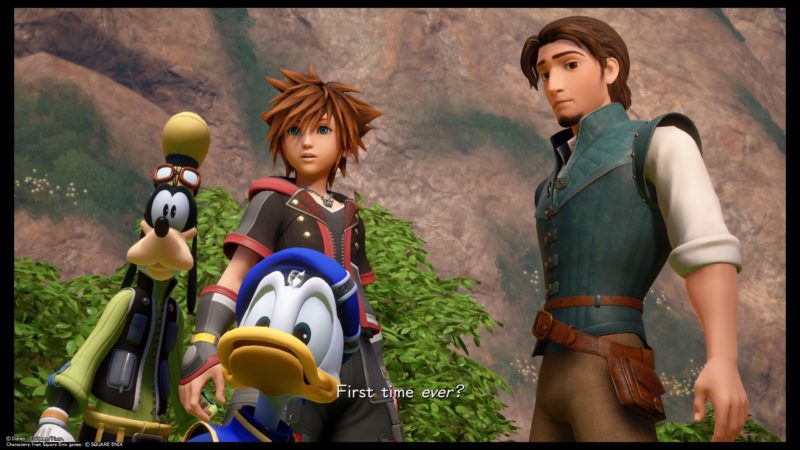 Guide Rapunzel to the Kingdom
Your main objective now is to bring Rapunzel to the Kingdom.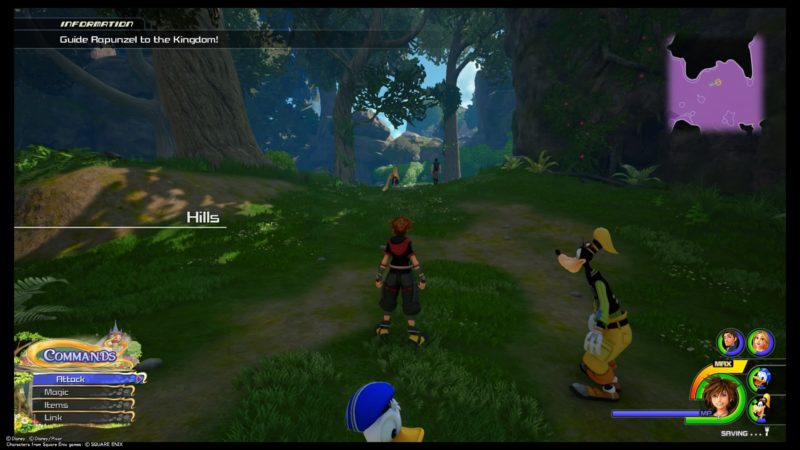 You should find a chest on the way that gives you this mini game "Camping Out".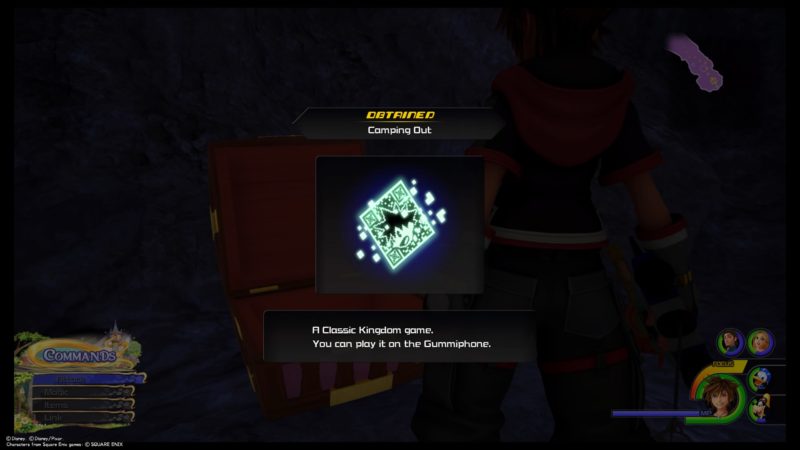 Take out all the Heartless
During your journey, you will stumble upon many types of Heartless.
Take out all of them.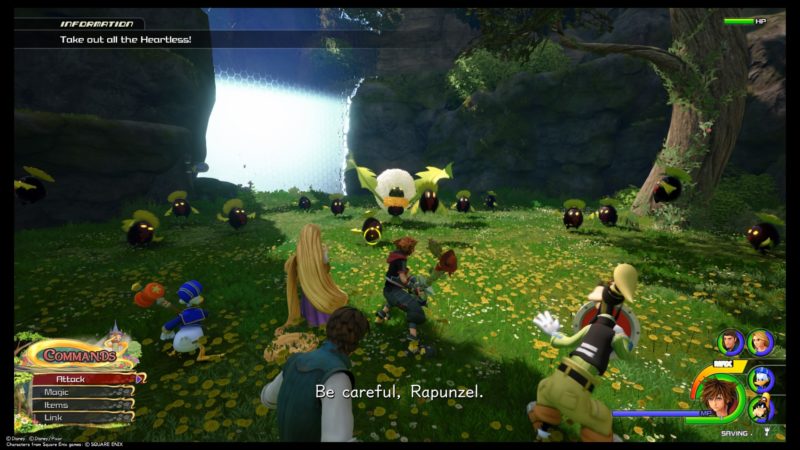 On a separate matter, Mother Gothel went to the tower only to find Rapunzel missing.
Marluxia appears and apparently makes a deal with her to get Rapunzel back.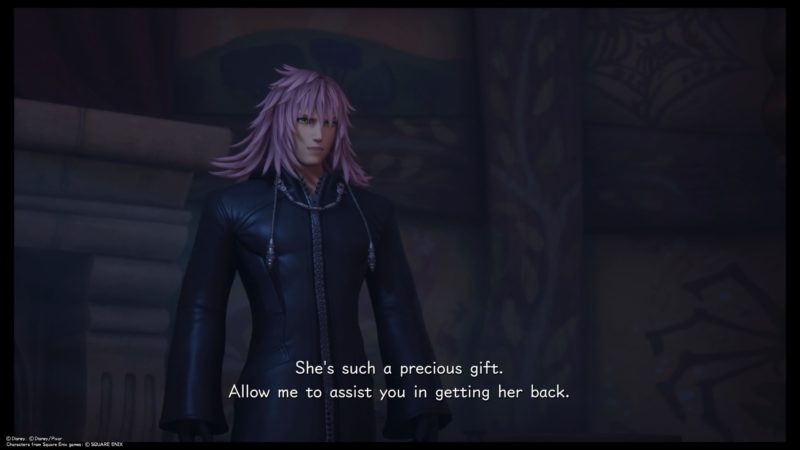 Continue on your journey
You will find plenty of Heartless, treasure chests and some lucky emblems on the way. I usually write a separate post on lucky emblems, so do check it out.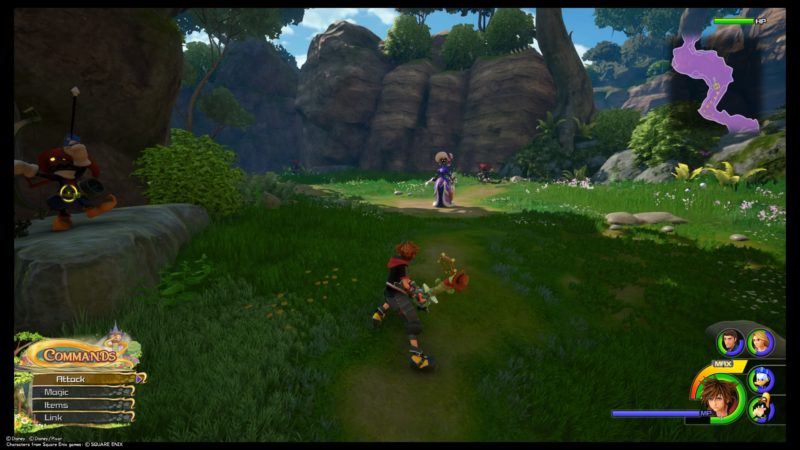 At one point, Rapunzel wants to play with the dandelions.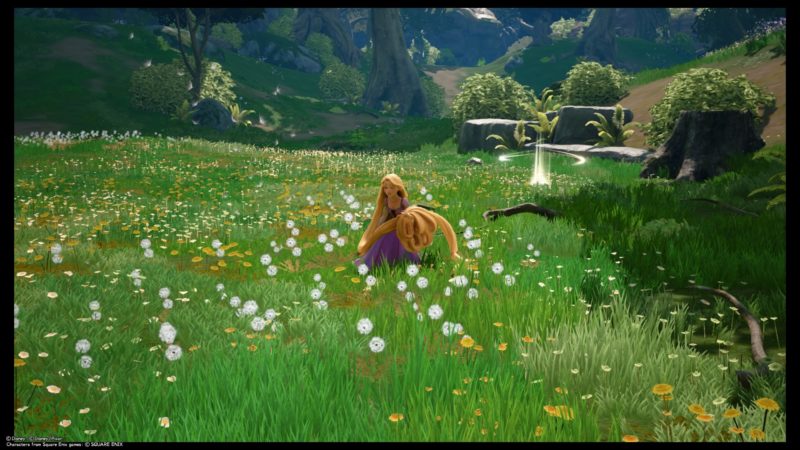 Use your "aero" magic to blow the dandelions up.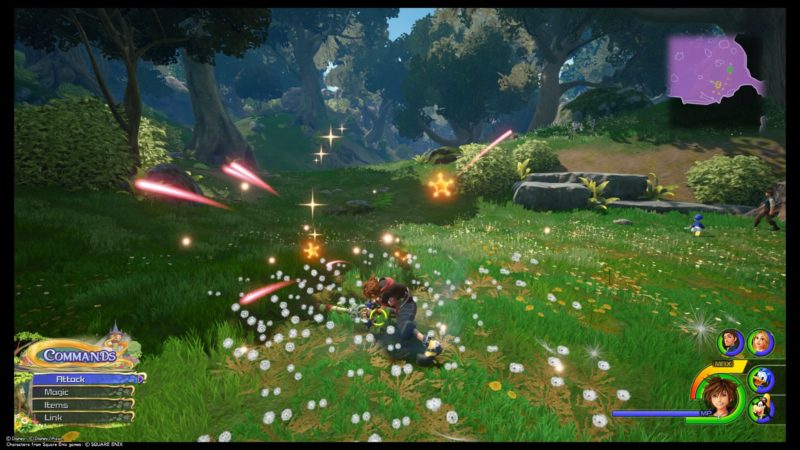 Nearby, you will also find a pond here. You can splash water with Rapunzel here.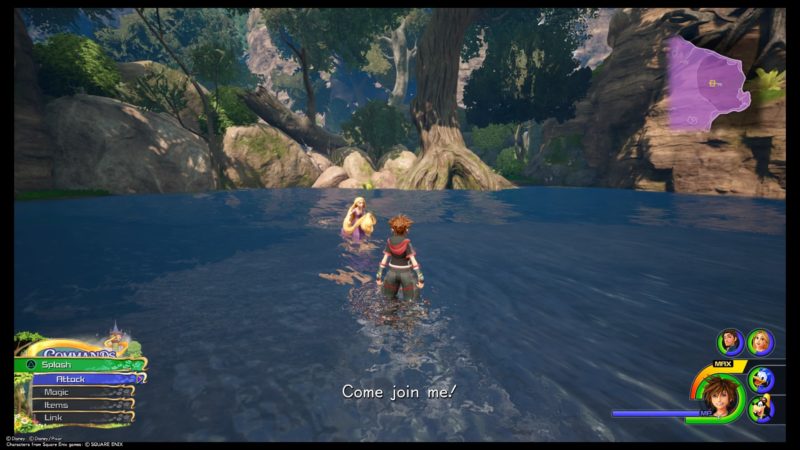 Once you're done, get back on your journey and defeat more Heartless.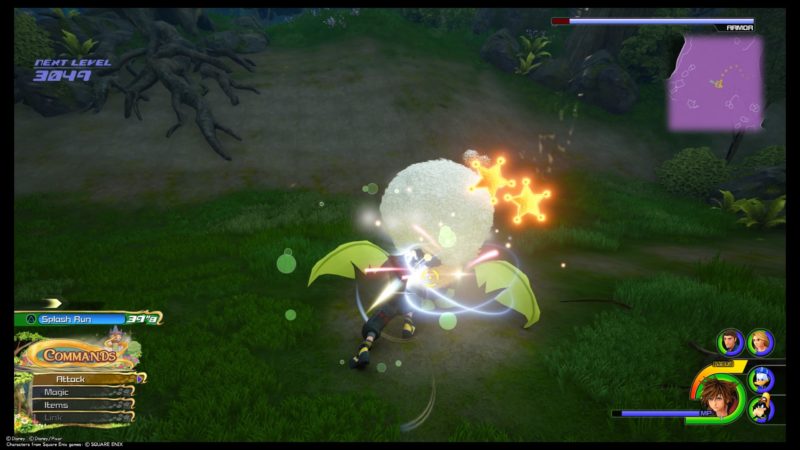 Follow the rabbits
Next, Rapunzel will find some rabbits. You need to defeat the Heartless that spawns.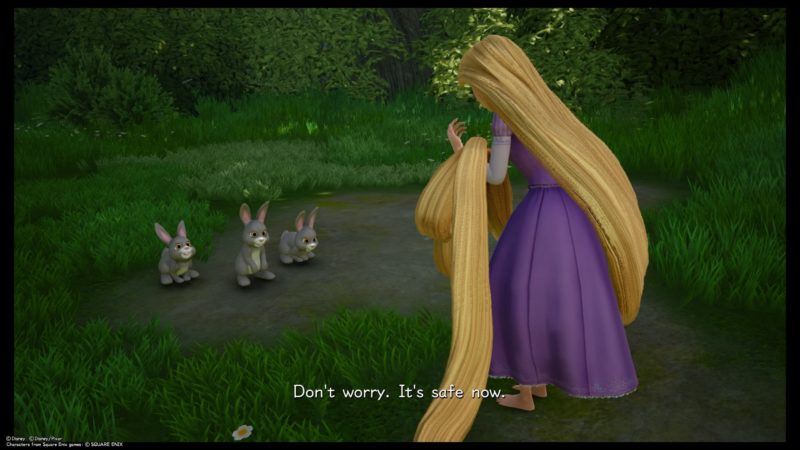 Once you're done, follow the rabbits into a secret place.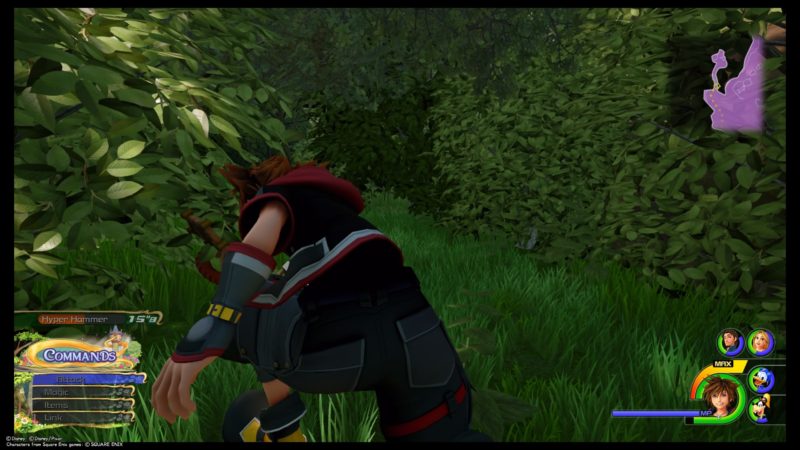 They will lead you to a treasure chest and you can get a Bronze Amulet here.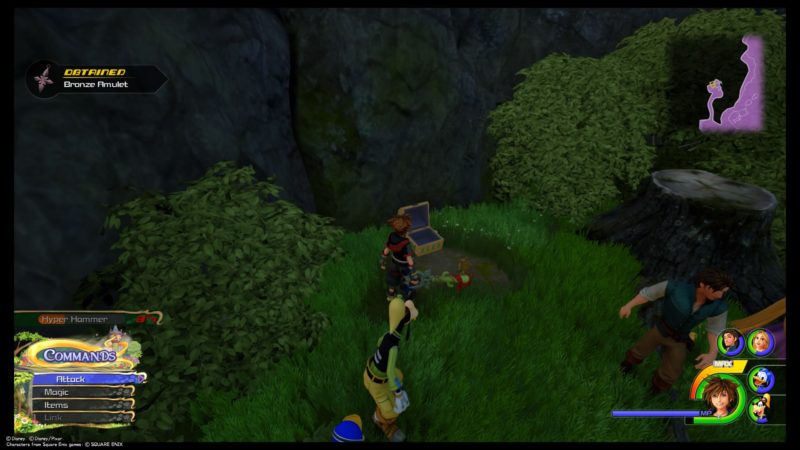 Take out the Nobodies
Proceed further. You will encounter some Nobodies on the way.
They are definitely stronger than Heartless and are controlled by the Organization.
Rapunzel and Flynn will run away. Defeat the Nobodies.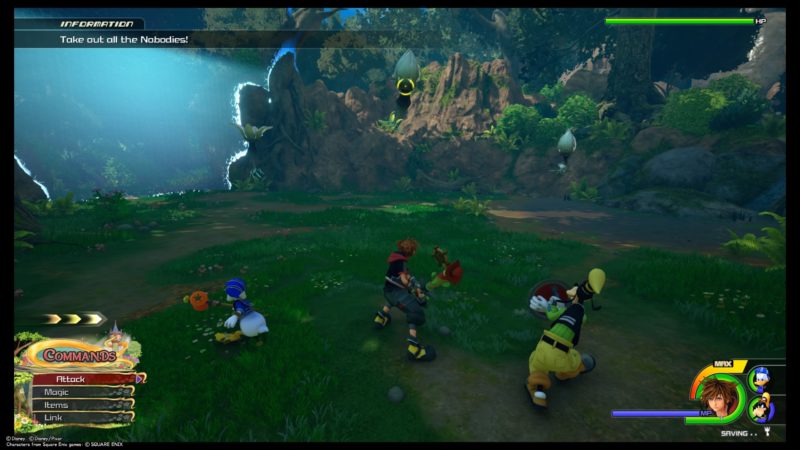 Once you're done, a cutscene loads and Marluxia appears.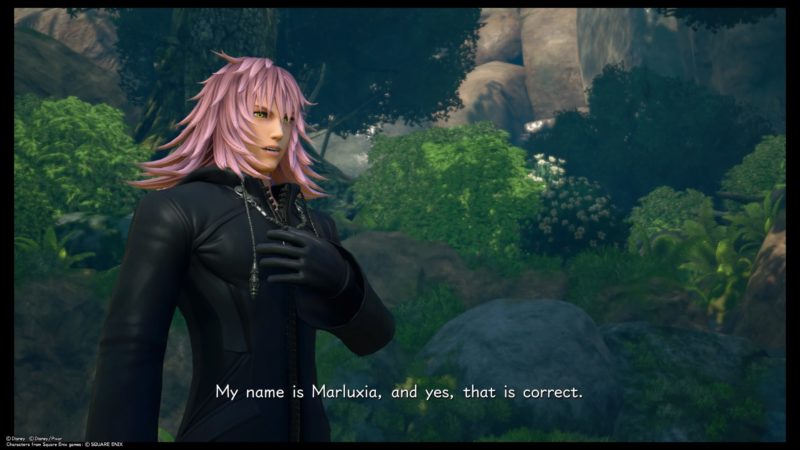 He will warn Sora and the rest again about protecting Rapunzel.
Track down Rapunzel and Flynn
After the cutscene, look for them.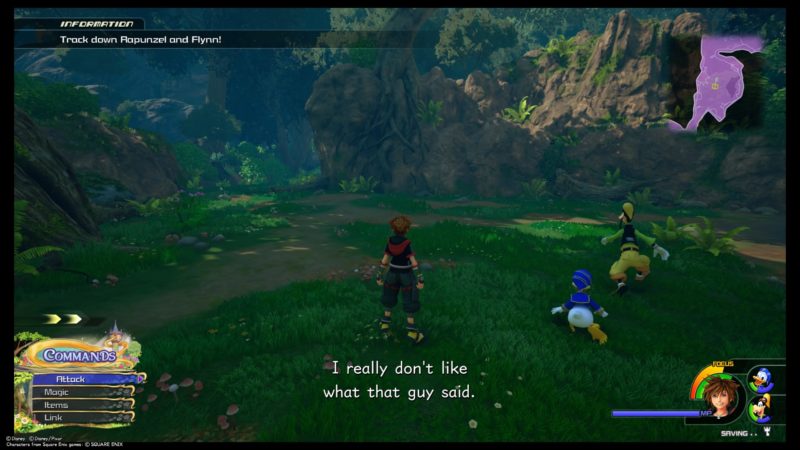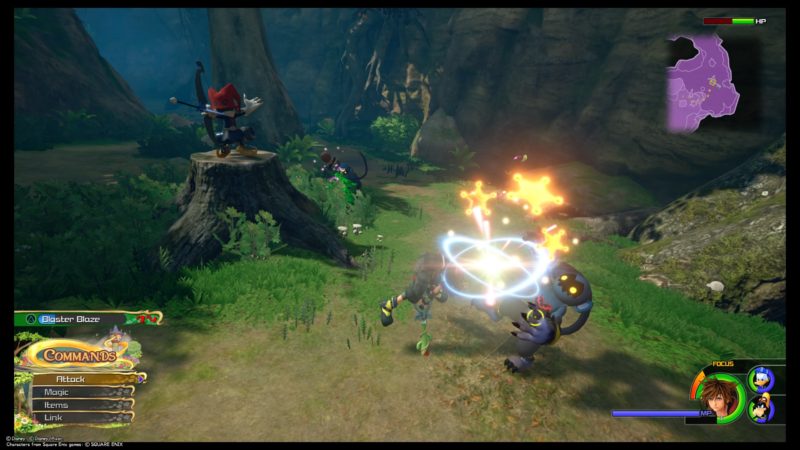 The further you go, the darker it will be. You will reach a place called the "Marsh".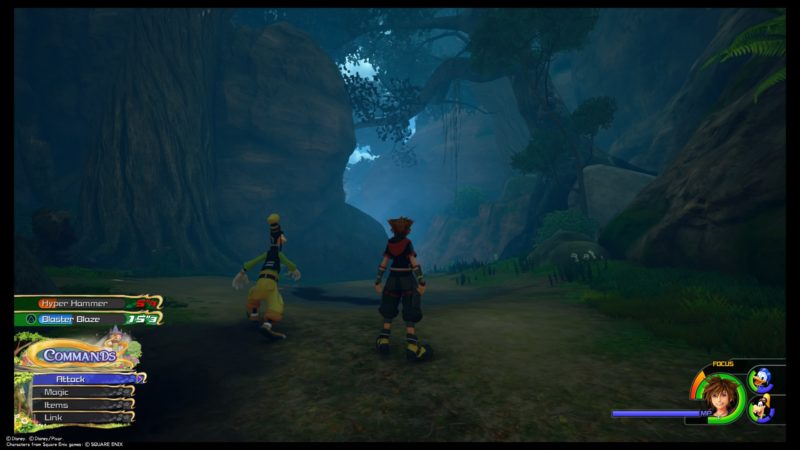 Another cutscene will load and you will meet Mother Gothel.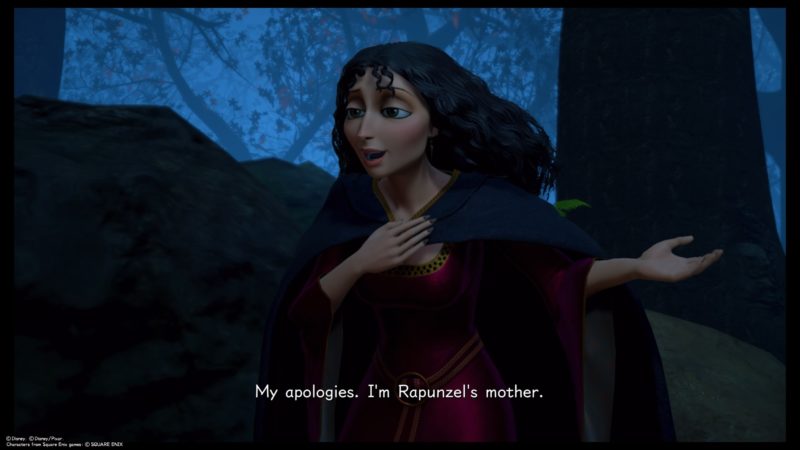 As you don't know where Rapunzel is, she ignores you guys and leaves.
Defeat the Nobodies
Inside this swampy area called the Marsh, you will meet plenty of Nobodies, in all corners of the map.
You can either defeat them or just run away. There's also a lucky emblem here on the right side.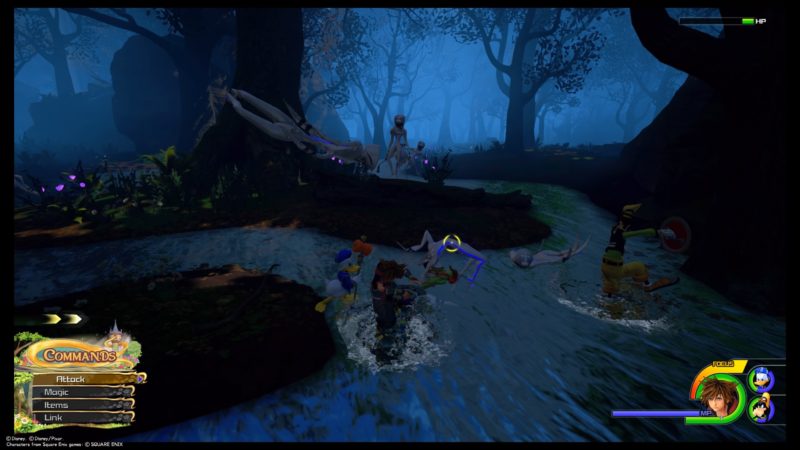 Most importantly, you should find a treasure chest in the middle that gives you part 2 of the map.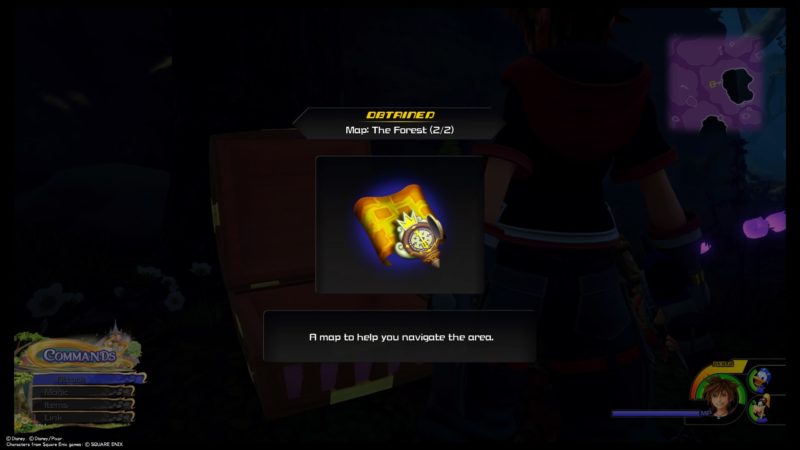 As the Marsh is really dark, the map is pretty useful.
Continue your journey
Keep going ahead and you should see the image below.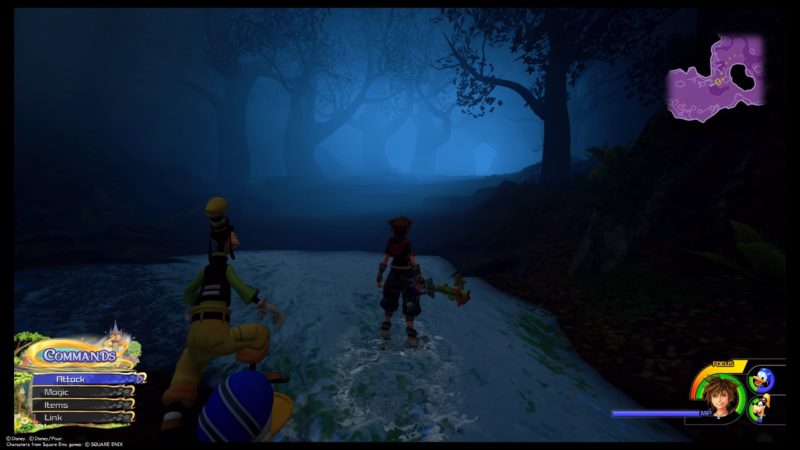 At the end of the place, you have to climb up. You will notice more Heartless here.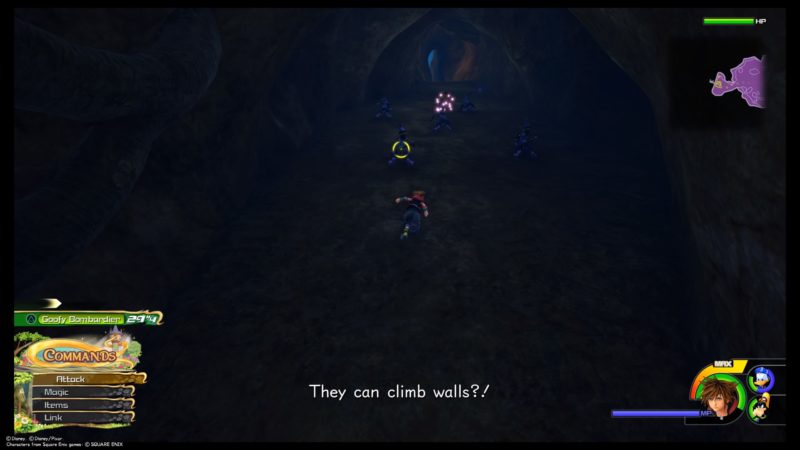 Keep going up until you see bright light again.
There'll be more Heartless here on the walls. Defeat them.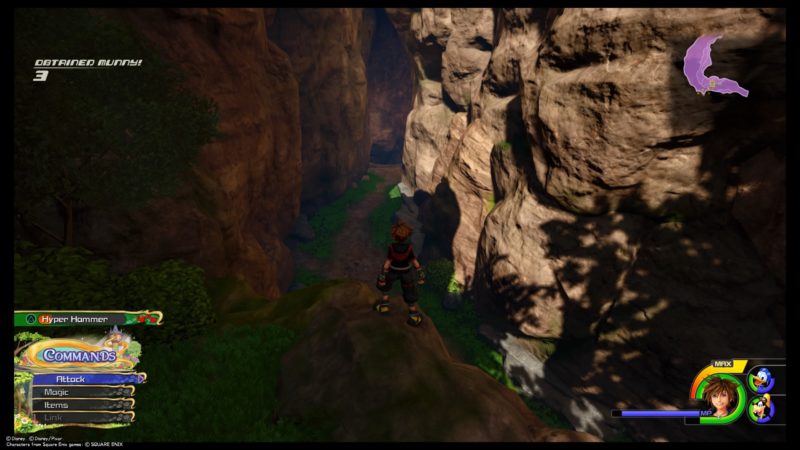 After some time, a cutscene will appear and you will meet up with Rapunzel, Flynn and Maximus (the horse).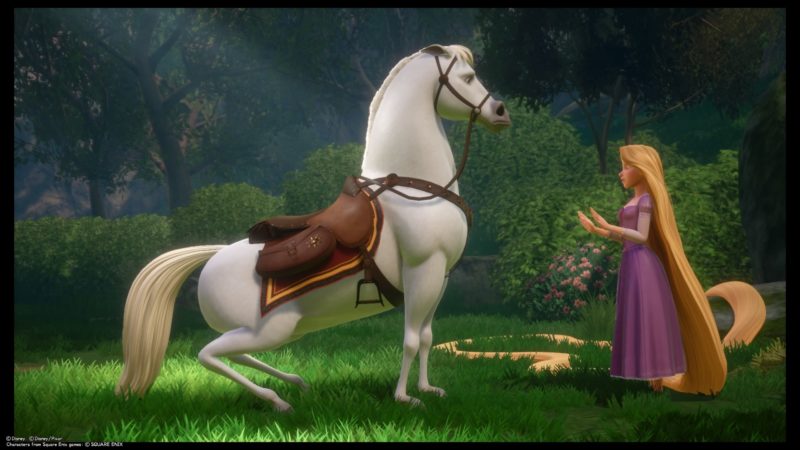 Make your way to the Kingdom
Now that you've reunited, proceed to the Kingdom.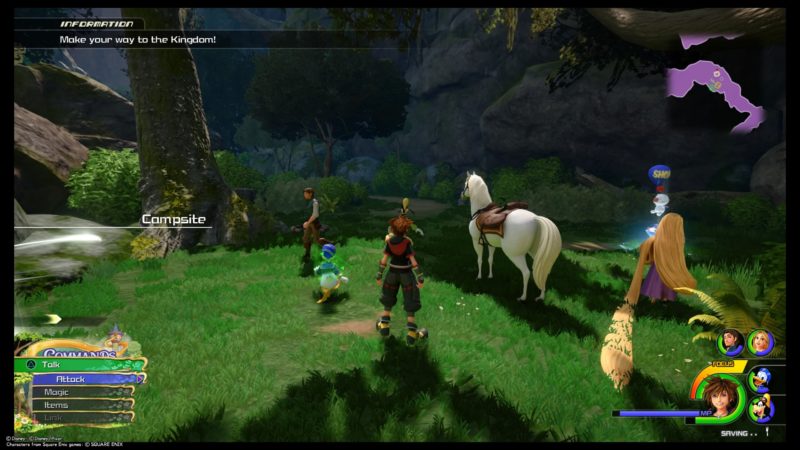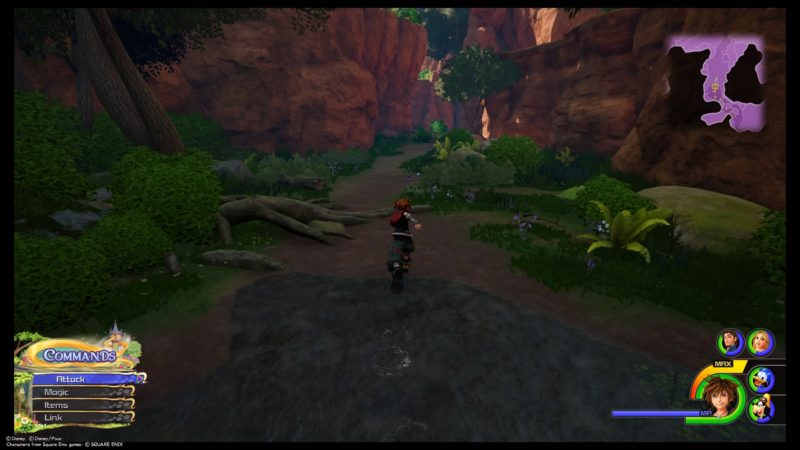 Keep going until you reach an area where you have to keep climbing up.
Get to the tree and Rapunzel will ask you to come.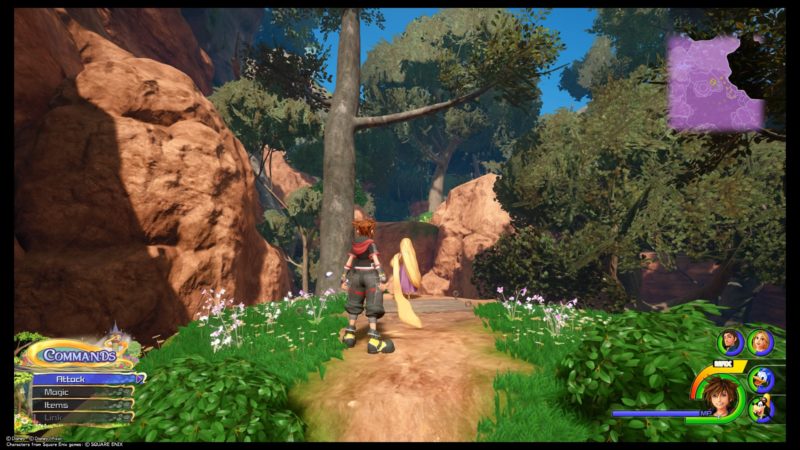 Press "Triangle" to swing with her to the next platform.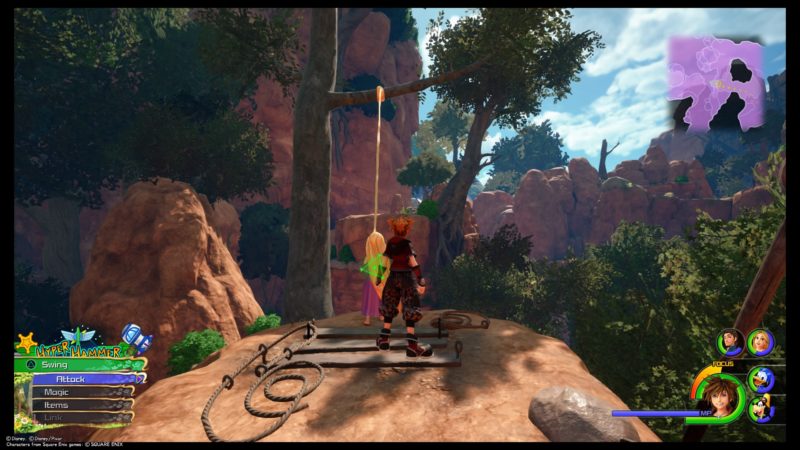 You will come across this mining area. There's an emblem here as well.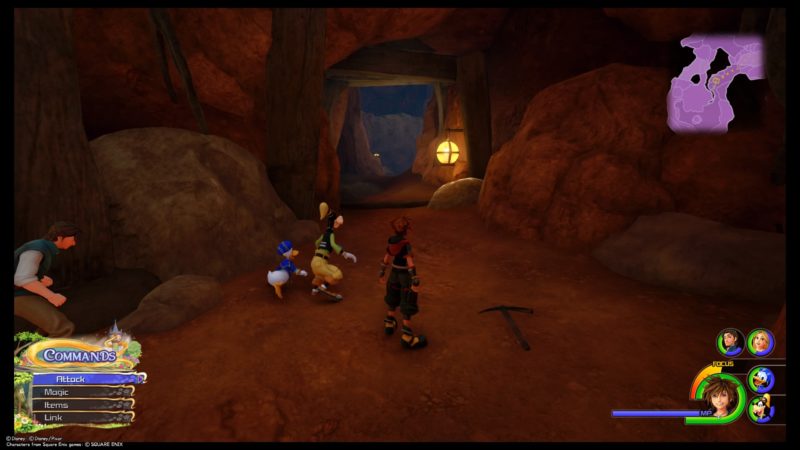 More Heartless will be waiting inside.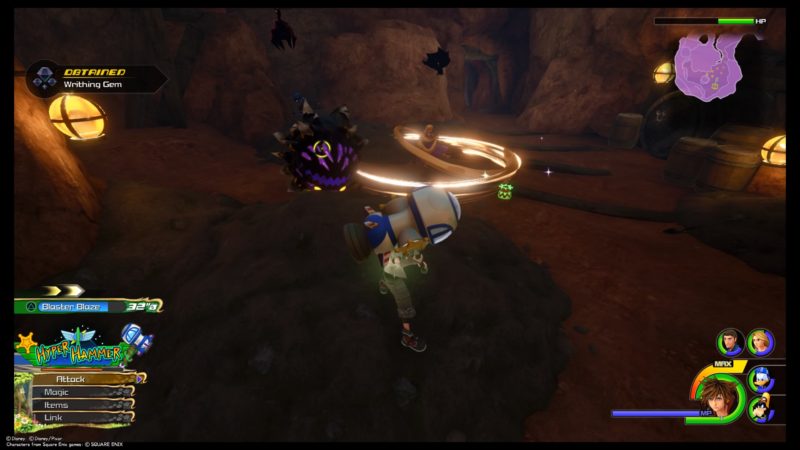 Get out of the area via the other entrance and you will reach another platform. Once again, swing with Rapunzel to the next area.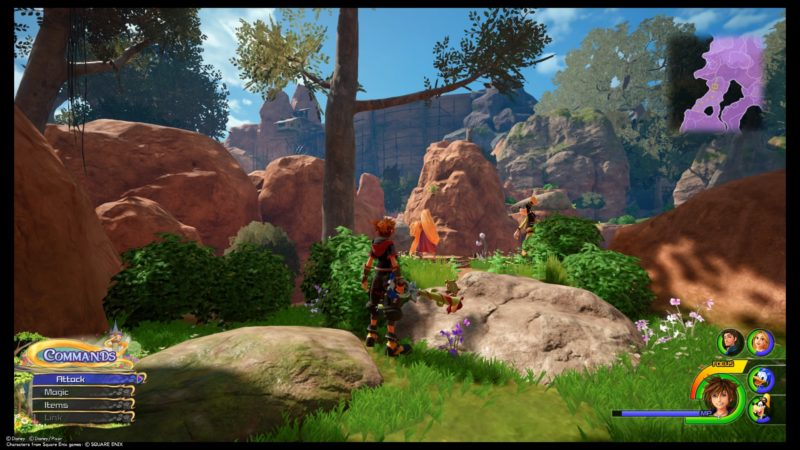 Take out the Heartless
You will now come across more Heartless. This mini boss takes the form of a horse Heartless.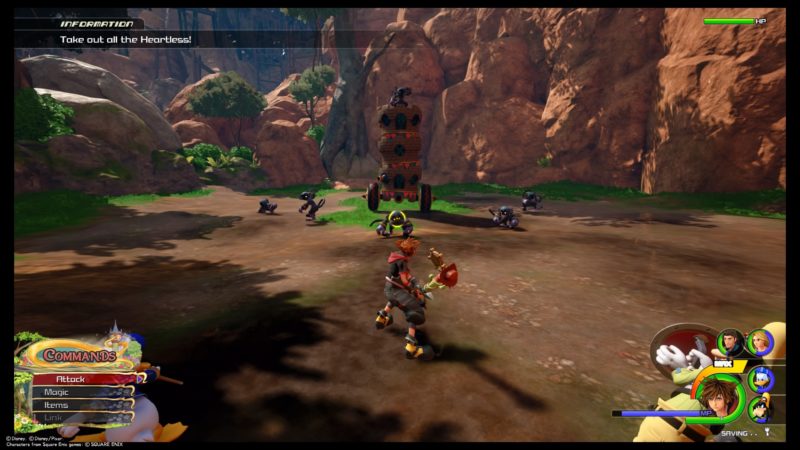 It's quite strong, as it has three layers of body. It charges towards you like a horse and you'll be sent flying.
Keep attacking its head when it's not moving. Once you've defeated it, it will become two layers, and the fight starts again.
This means you'll have to destroy 9 health bars in total (if I'm not mistaken).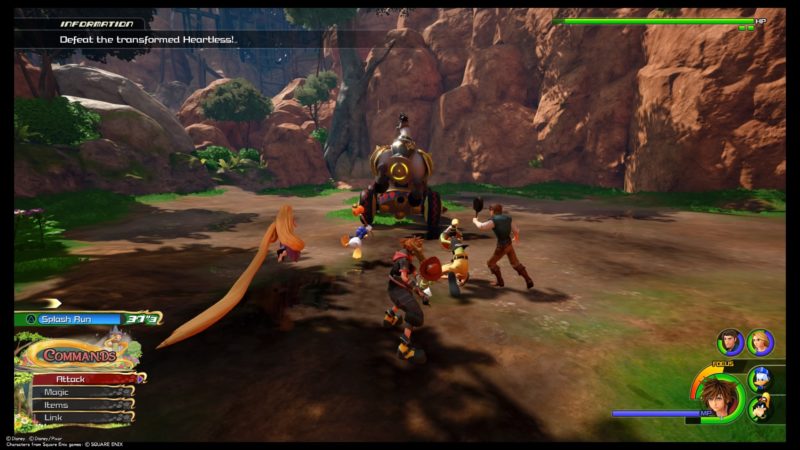 Make your way to the Kingdom
Continue your journey up again. You can use that wall in front of you to climb up.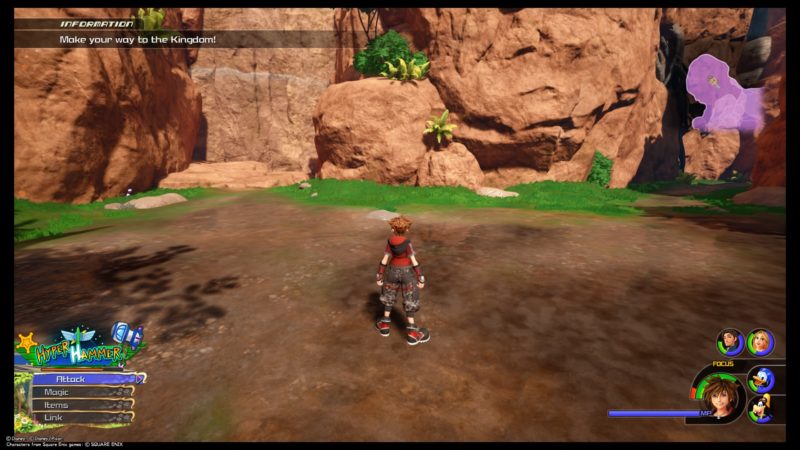 When you're up there, Goofy will mention that it's a good place to dive.
At the bottom where you first came from, you should have noticed a rock that requires destroying by diving.
Jump from the top and as you reach the rock, hit "X" to attack.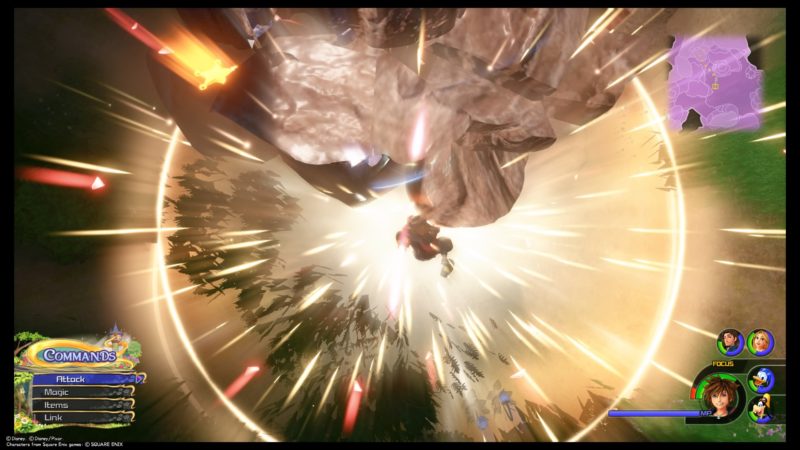 You will find a treasure chest, and it gives you an Aero Cufflink.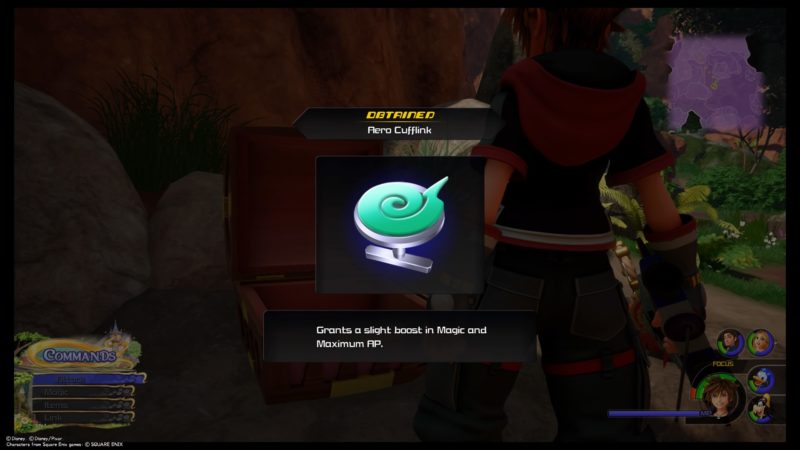 Now, you need to climb back up the same way (swing using Rapunzel's hair, etc.).
Once you're back where you dived from, proceed further. You will find a chest that gives you another mini game.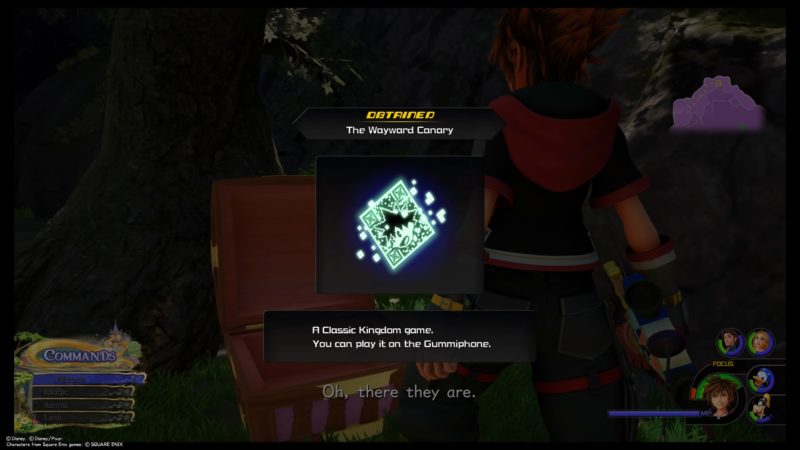 Now, you should reach an area that lets you slide all the way down.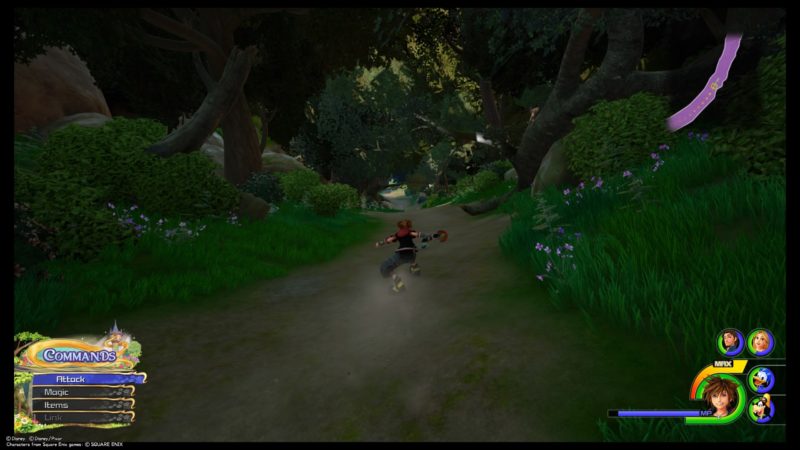 A cutscene loads, and you guys are at the Kingdom's doorsteps.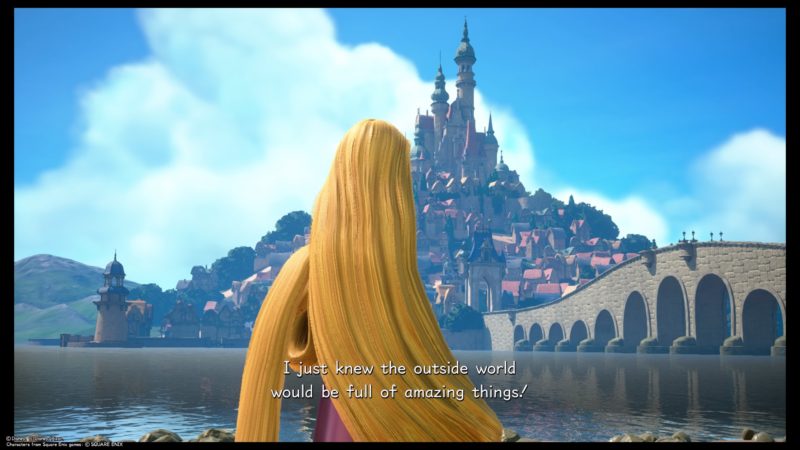 Explore the Kingdom
Now, you have to explore the Kingdom for treasure chests, lucky emblems (most of it are here) and continue the mission.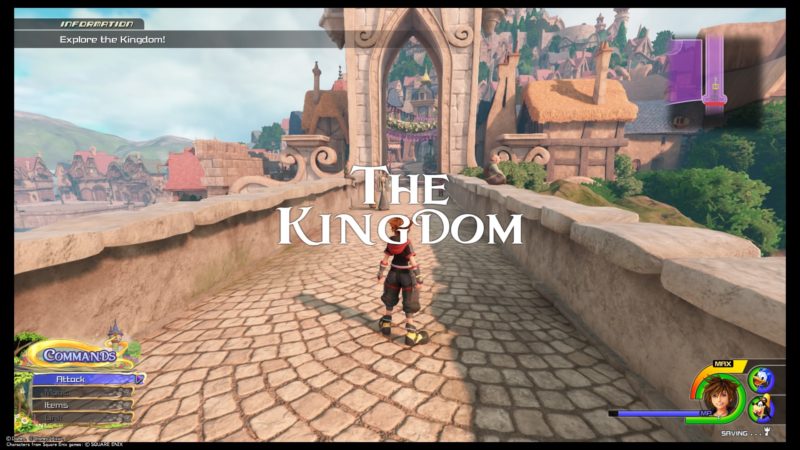 You will reach a marketplace filled with ingredients to loot and some treasure chests.
You will get another mini game.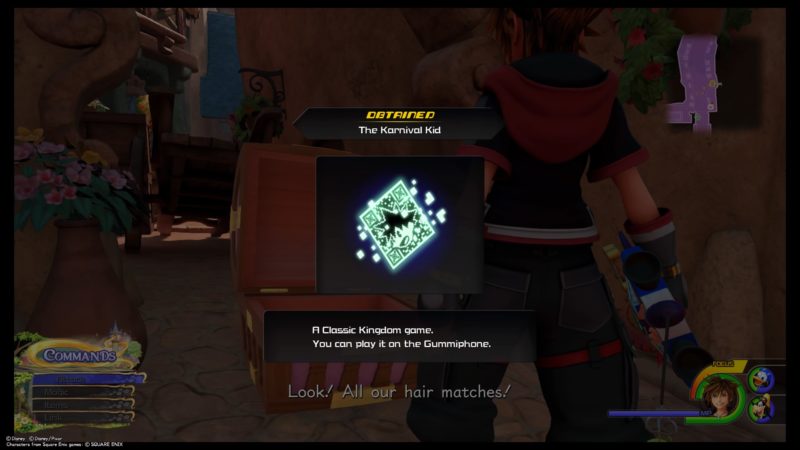 If you wish to look more, don't go through the arches after the marketplace. You can always go down the pier first and explore the area.
Once you're done, get back to the market and go through the arches. A cutscene will load.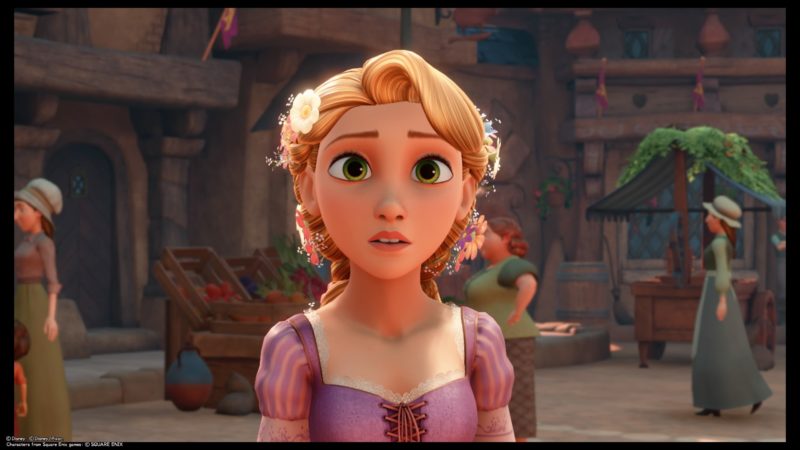 Dance with the townsfolk
Now, you can just enjoy dancing with everyone around you.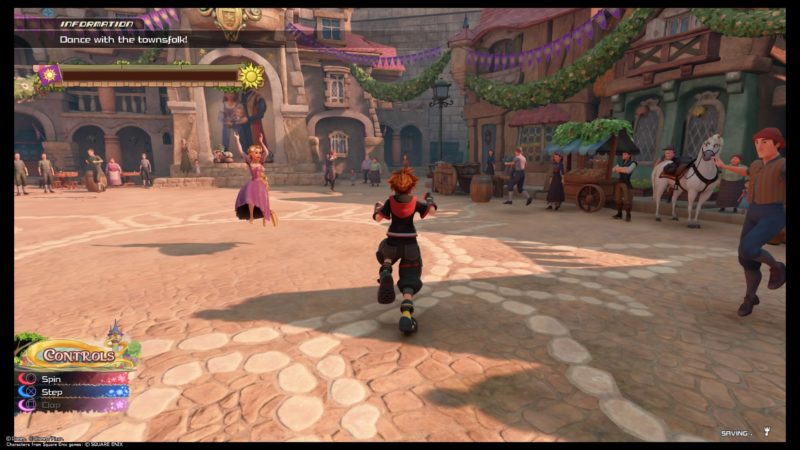 The game will teach you the moves on how to dance and join others.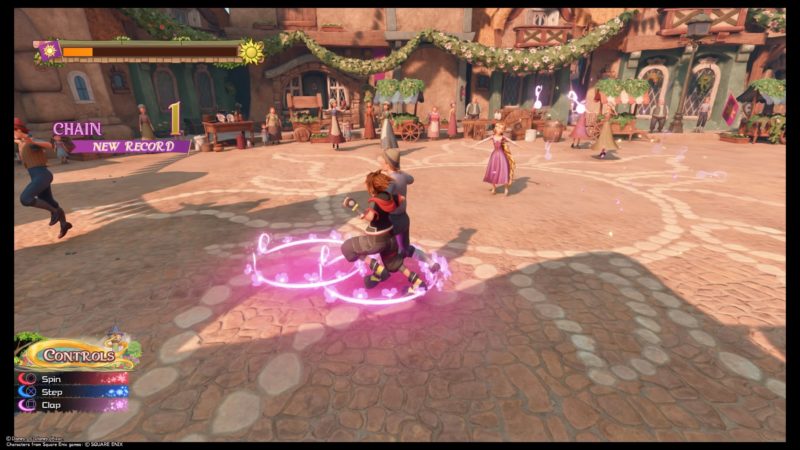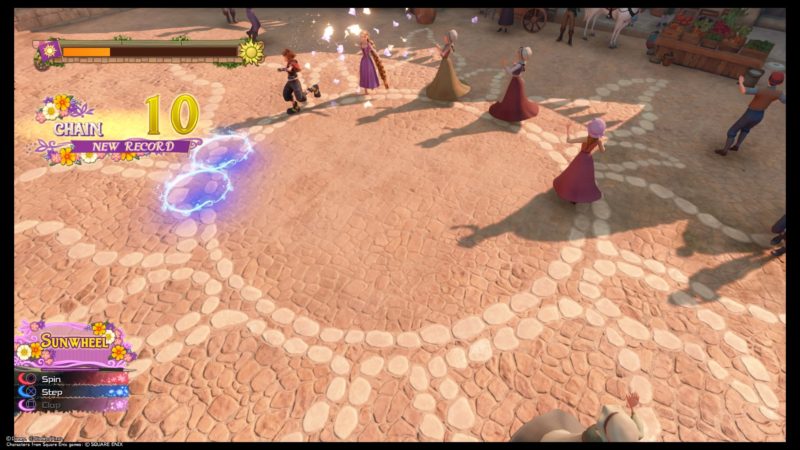 The Lanterns
After the dance is over, a cutscene appears again. This time, it shows Eugene (Flynn Rider) and Rapunzel together.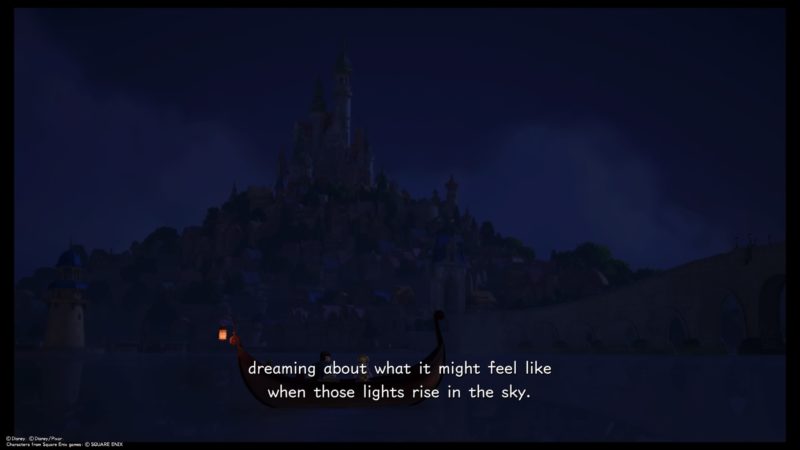 They're on a boat, waiting for the lanterns to show up.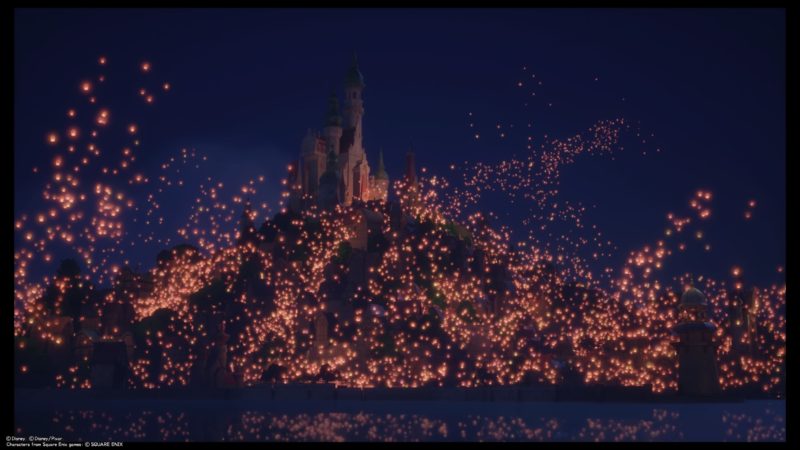 This part is typical Disney. Just enjoy the show. She gives him the satchel back (with the tiara).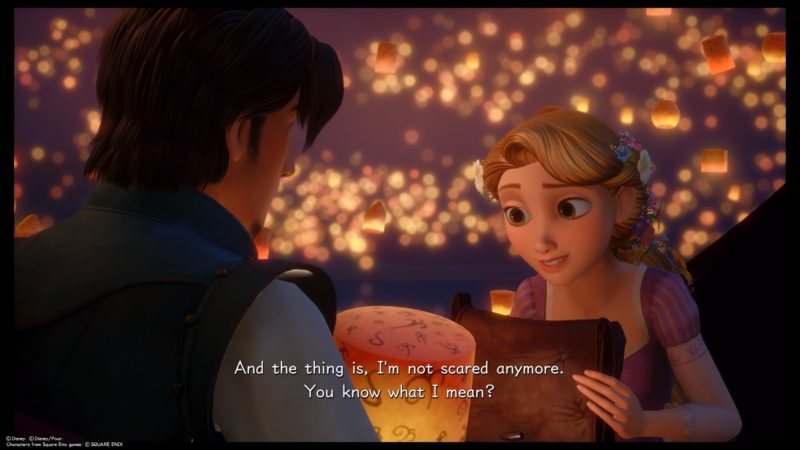 Take out all the Nobodies
After the cutscene is over, you have to defeat the Nobodies who are interrupting your show.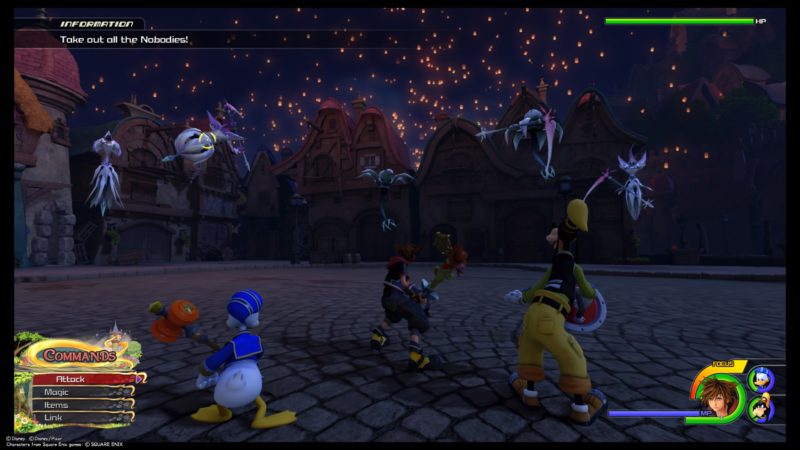 Flynn disappears and was captured. He is then tied to a boat, to make Rapunzel think that he is leaving her behind.
Marluxia appears to make things worse.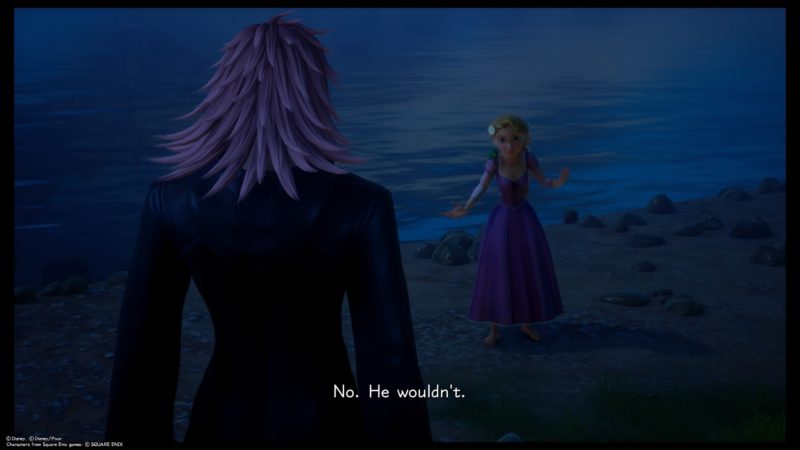 Mother Gothel also shows up to bring Rapunzel back.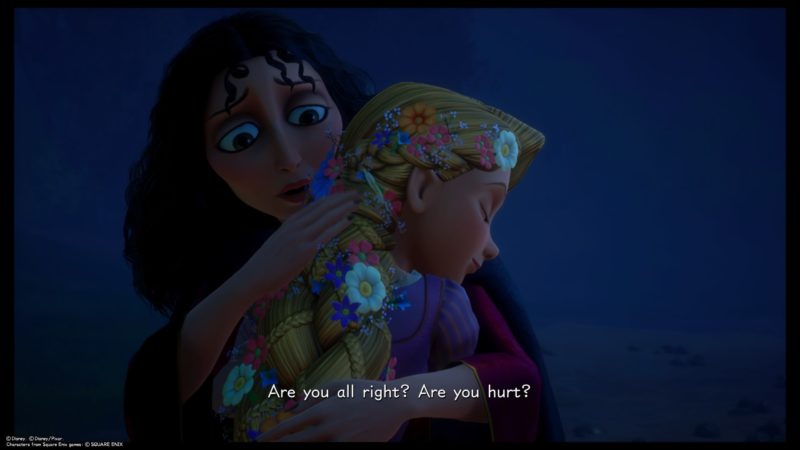 Marluxia then confronts Sora, Goofy and Donald.
He puts a sleeping spell on Sora.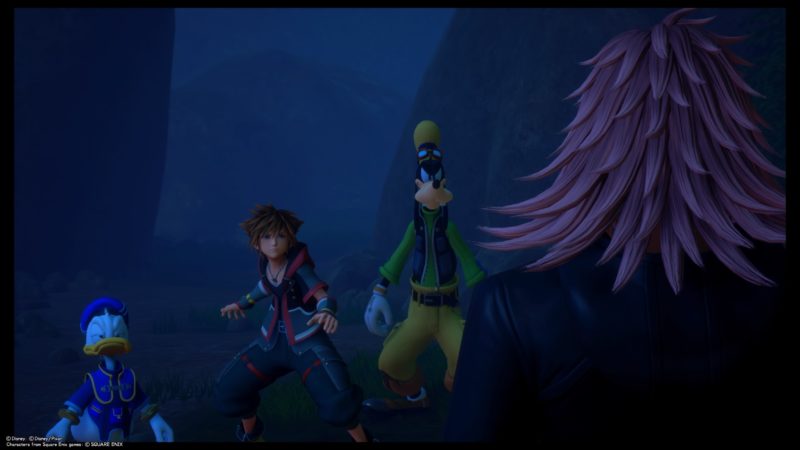 In the next scene, Rapunzel is back at home, and she realizes that she's actually the lost princess.
She then rebels against Gothel.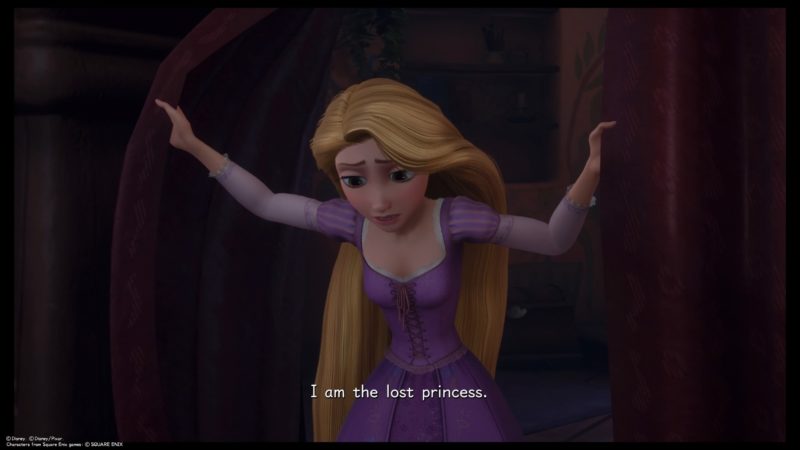 Back to Sora and he's still asleep. Flynn and Maximus shows up. Sora wakes up after Max licks his face.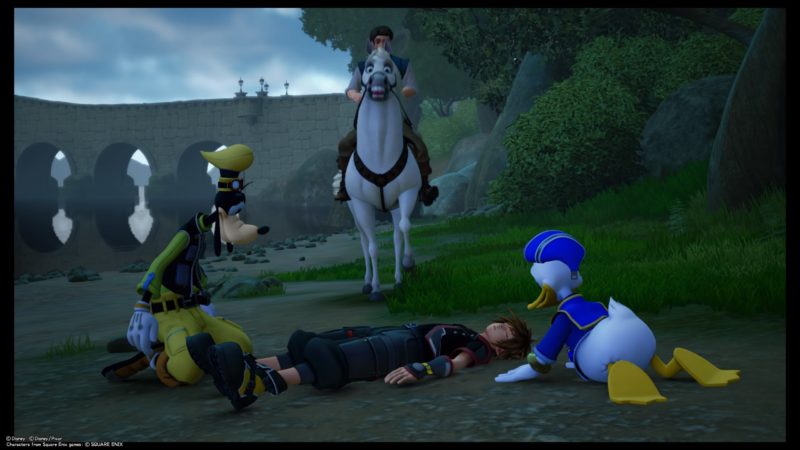 Race to the tower
All of you will then go back to the tower to save Rapunzel. Flynn and Max goes first.
There'll be plenty of Nobodies on the way. You don't actually need to fight them. Just run away and it will be fine.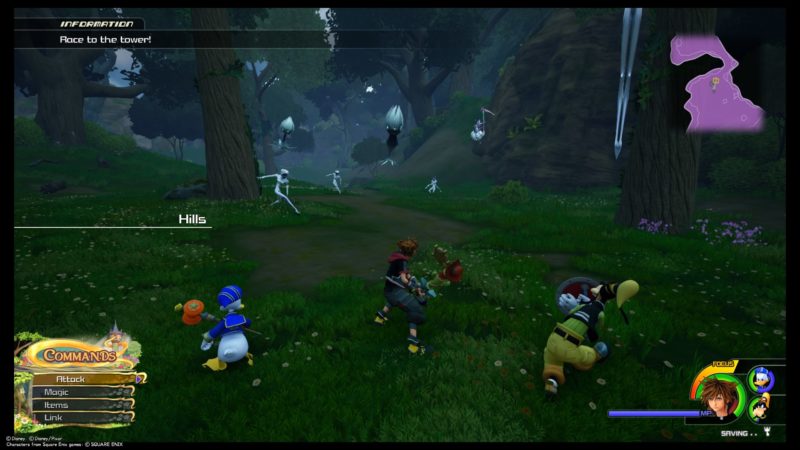 Get back to this secret entrance.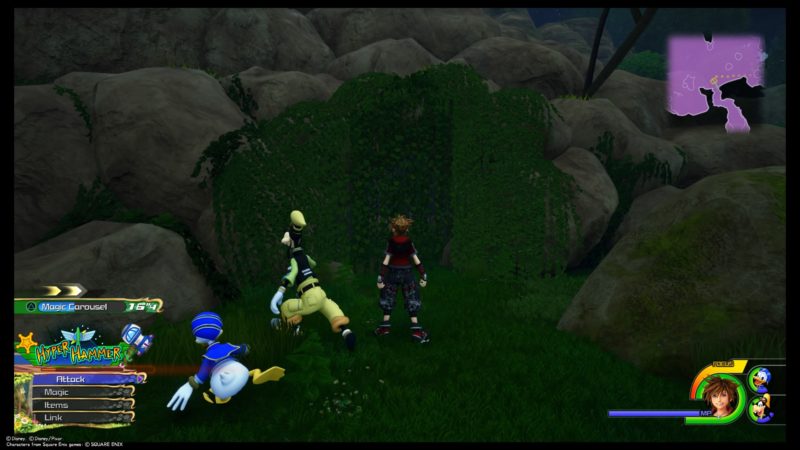 Take out the Heartless
Once you're in, you need to defeat the Heartless. I don't think you can run away from this fight.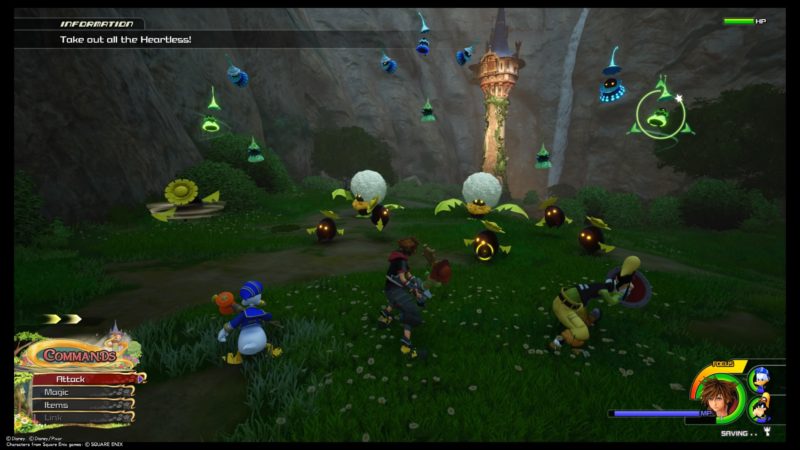 After defeating them, a cutscene loads. Flynn was stabbed by Mother Gothel.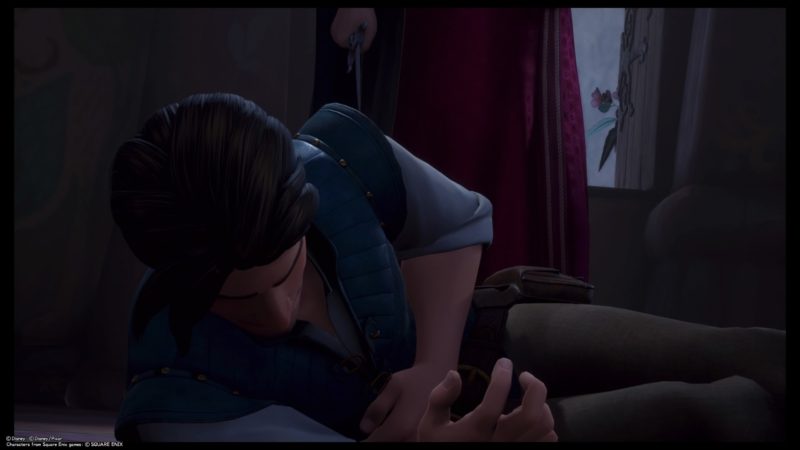 Rapunzel wants to save him and she promises to follow Mother Gothel for eternity in exchange for that.
Head to the tower
Get towards the tower to continue. You can save the game first and stock up on potions.
It's the final boss after this.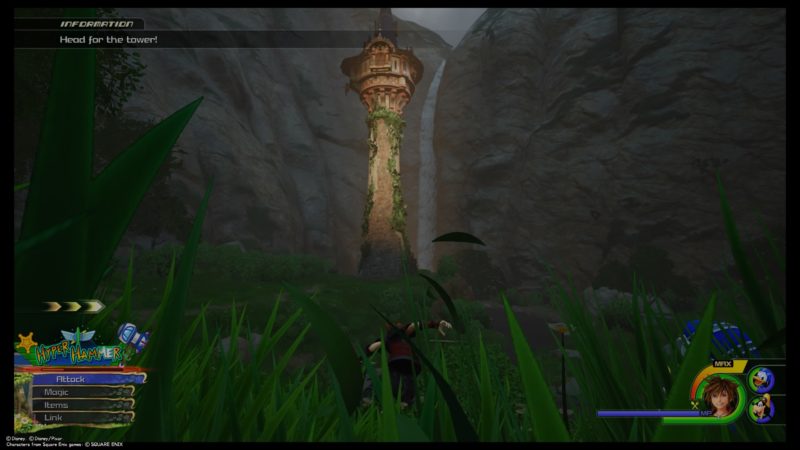 As you walk there, it's a cutscene again. This time, Flynn cuts off most of Rapunzel's hair. Her hair turns brunette, and Mother Gothel grows old and weak.
The special healing power disappeared.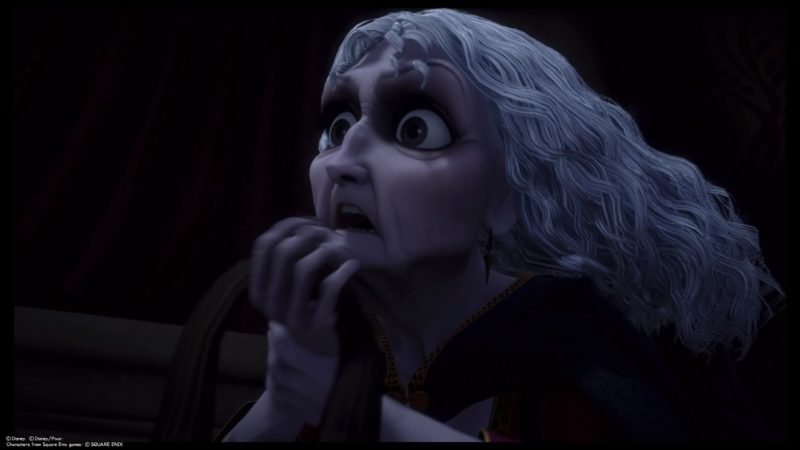 Defeat Mother Gothel's Heartless
Marluxia then transforms Gothel into a Heartless.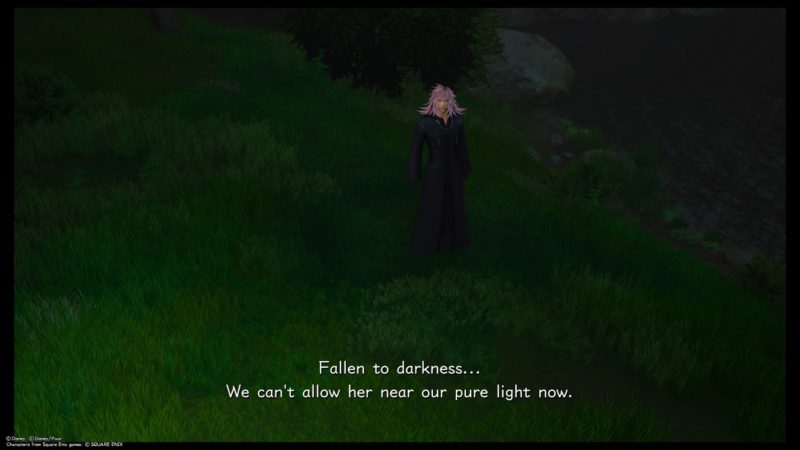 She's sort of a weird lizard-tree combination monster.
Mother Gothel has 12 health bars, which makes the fight longer.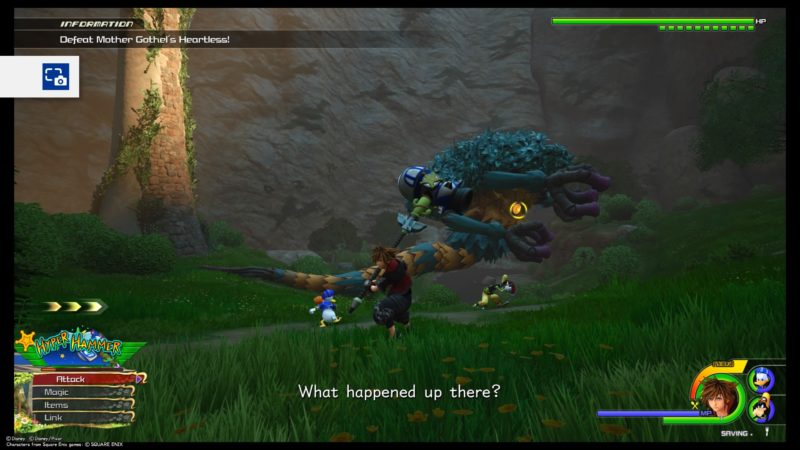 Keep hitting her at the front of her face.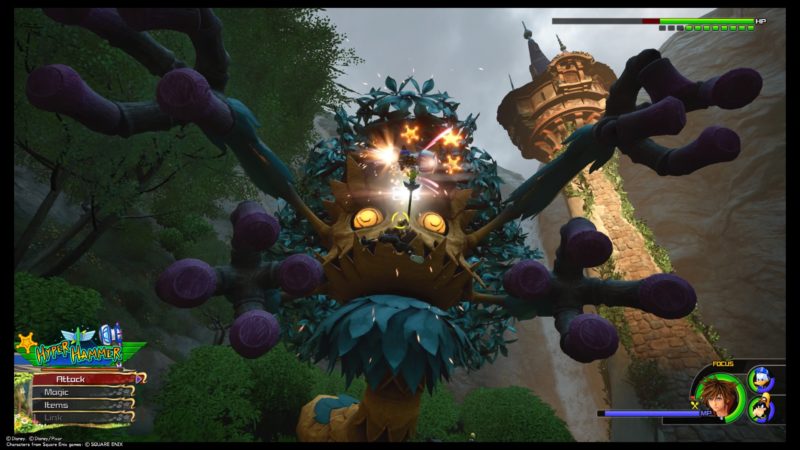 She has several different moves. One is that she charges towards you and slams her head on the ground.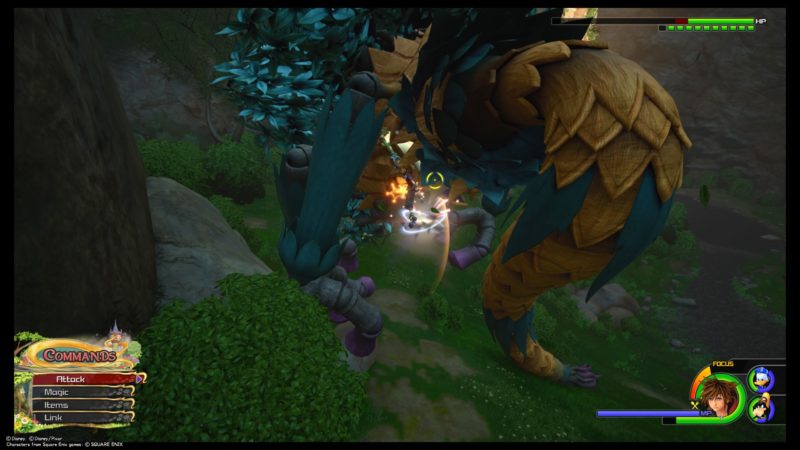 The most annoying skill she has is this cage move. You'll know when she does this because she'll jump on the tower.
She will trap you in a cage with only a small exit point where you can jump out.
After jumping out, another cage appears. Simultaneously, many fireball-like attacks will fall on you.
The trick is to keep jumping out but get closer to her each time. Go towards the tower.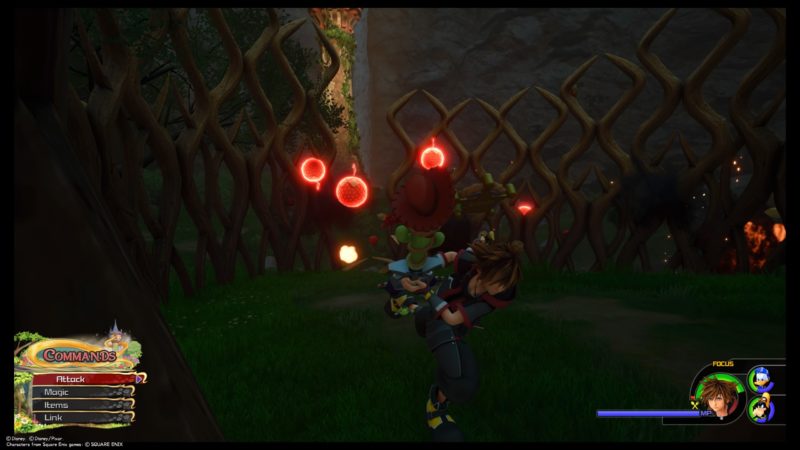 As you get closer, the cage will stop appearing.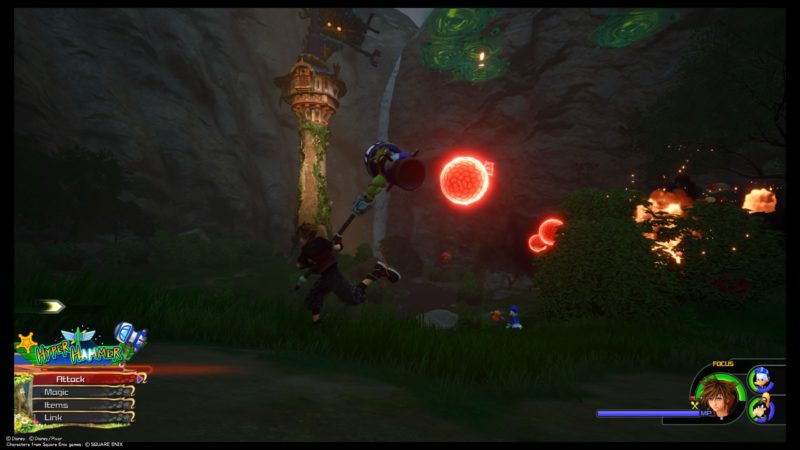 Climb up the tower and attack her on the roof.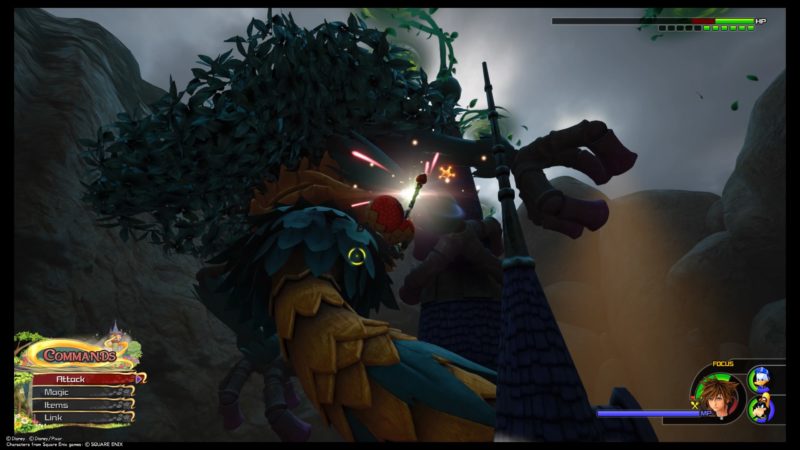 Rinse and repeat until you win.
Happy Ending?
Once you're done, a cutscene appears. Rapunzel's tears healed Eugene (Flynn) completely.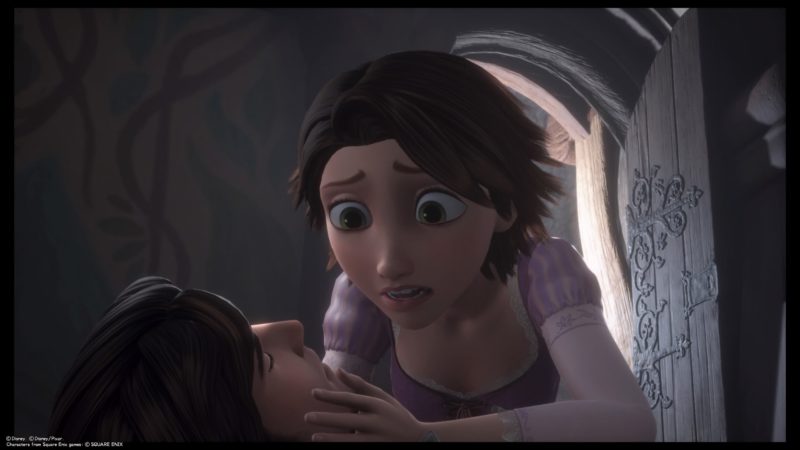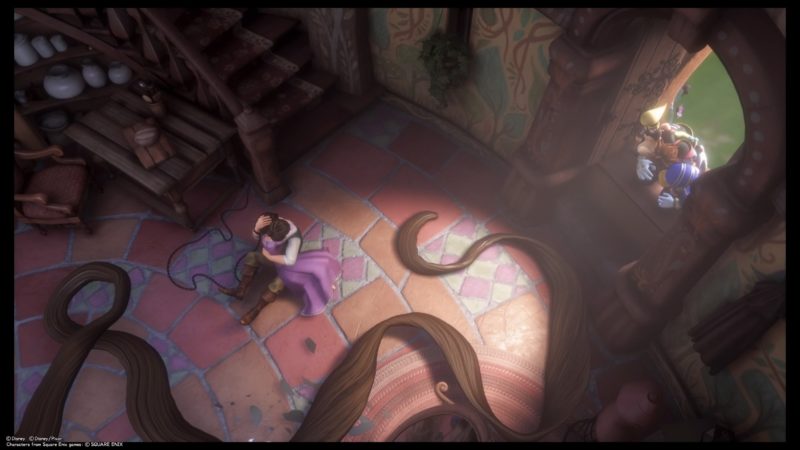 They will then go back to the Kingdom as Rapunzel wants to meet her actual family after a long time.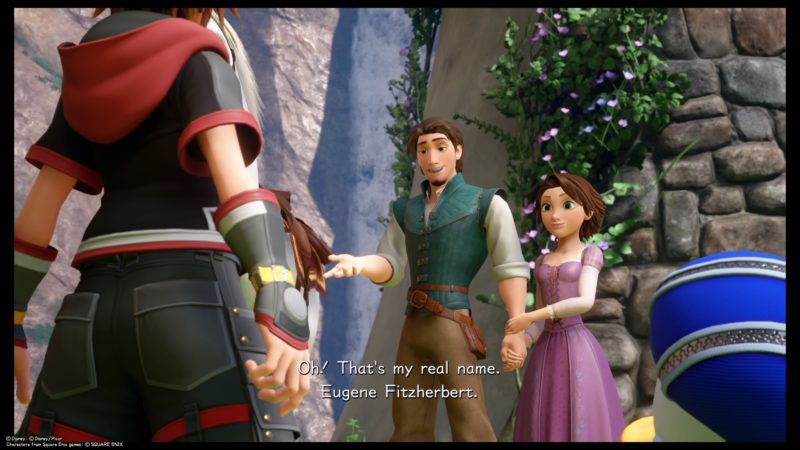 The main story of this world ends here.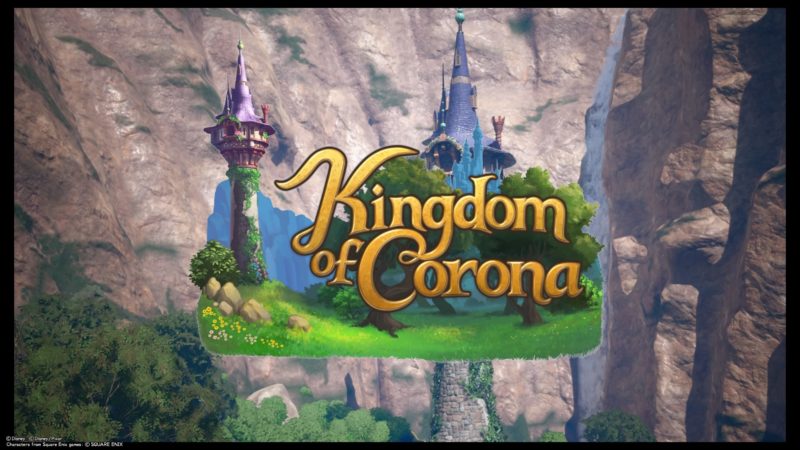 Like other worlds, you will get a new keyblade upon completing the story.
This time, your keyblade is Ever After and its emphasis is on magic abilities.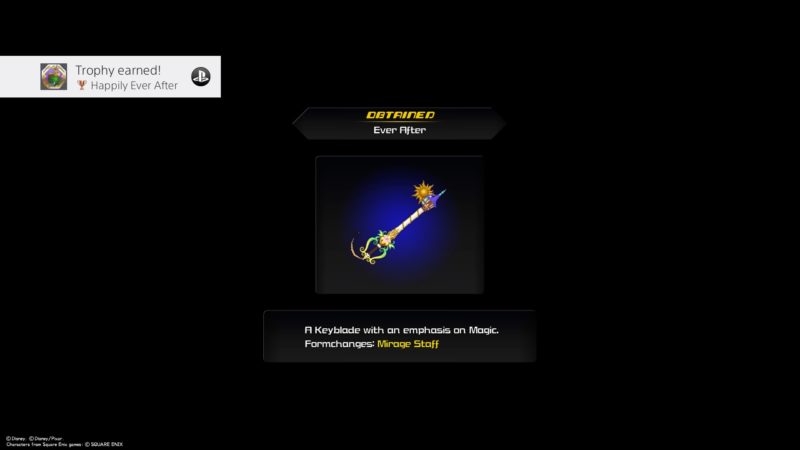 Hopefully this walkthrough on Kingdom of Corona in KH3 is useful.
---
Related articles:
Kingdom Hearts 3 Monstropolis: All Lucky Emblem Locations
Kingdom Hearts 3: Arendelle (Walkthrough And Guide)
KH3: Monstropolis (Walkthrough And Guide)
Kingdom Hearts 3 Toy Box: All Lucky Emblem Locations
Kingdom Hearts 3: Toy Box (Walkthrough And Guide)
Twilight Town (Walkthrough And Guide) – KH3
Kingdom Hearts 3 Twilight Town: All Lucky Emblem Locations