Early on in the game Kingdom Hearts 3, you may have noticed that there are photo missions.
These photo missions can be found at the Moogle Shop, under "Workshop".
There are about 20 photo missions altogether in KH3. Here's a guide on all of the photo missions in Kingdom Hearts 3 and the locations where you can take these photos.
1. Hercules Statue
Photo Mission: I can't get over those chiseled muscles, kupo.
Reward: Cosmic Ring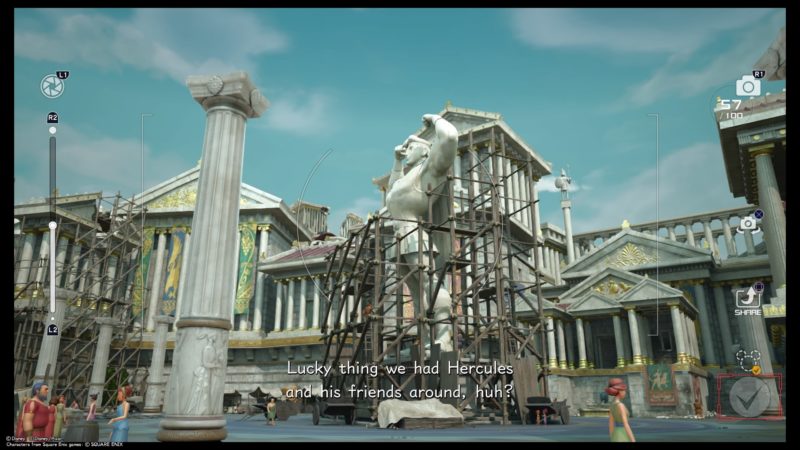 The Hercules Statue is one of the easiest photo missions. Get to Olympus, specifically the Agora in Thebes.
If you come back after you've completed Olympus, you'll notice that the Hercules statue has been rebuilt. Take a photo of it.
The angle below will do.
2. Fire Core
Photo Mission: I need oven mitts to handle that hothead, kupo.
Reward: Firefighter Rosette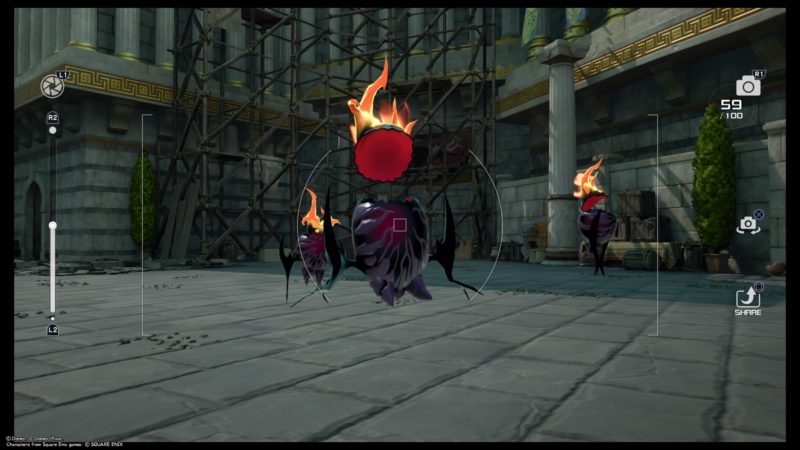 Fire Cores are those Heartless that you can find in Olympus. You need to take a photo closer to it for the photo mission to complete.
In any case, any time you correctly photograph one of the missions, you will be notified immediately. If nothing pops up, then the photo is probably not right.
If you're coming back after you've completed Olympus, the easiest place to find the Fire Core is by using the Overlook save point. Walk down the stairs and you will reach a quadrangle area.
These fire cores will spawn there.
3. Zeus
Photo Mission: "King of the gods" to some. "Dad" to others, kupo.
Reward: Thunder Chain
For this photo mission, you just need a photo of Zeus. Use the save point that leads directly to the highest point in Olympus.
You will find Zeus standing in front of the gate.
4. Fire in the Forge
Photo Mission: It takes a hot fire to forge lightning bolts, kupo!
Reward: Fire Chain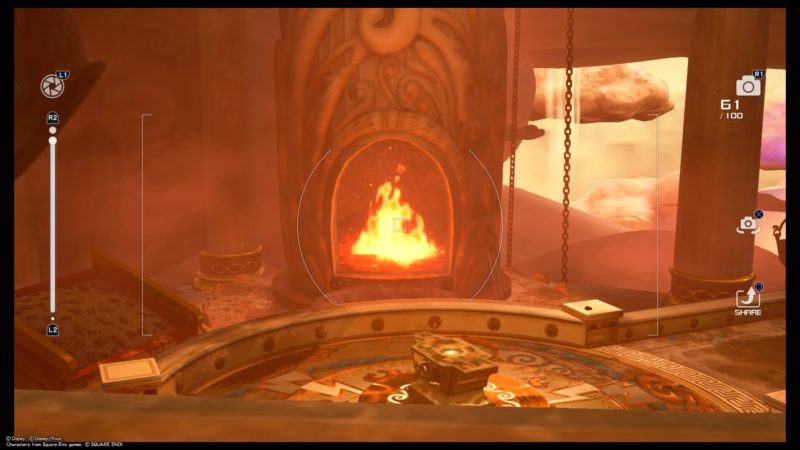 Get to the Realm of the Gods save point. Walk until you reach the area which branches into two lanes of moving water.
Use the one on the right and it should lead you to the Forge (after falling down from the waterfall).
Take a photo of the fire right in front of the anvil.
5. Water Core
Photo Mission: That fiend keeps getting my pom-pom wet, kupo!
Reward: Umbrella Rosette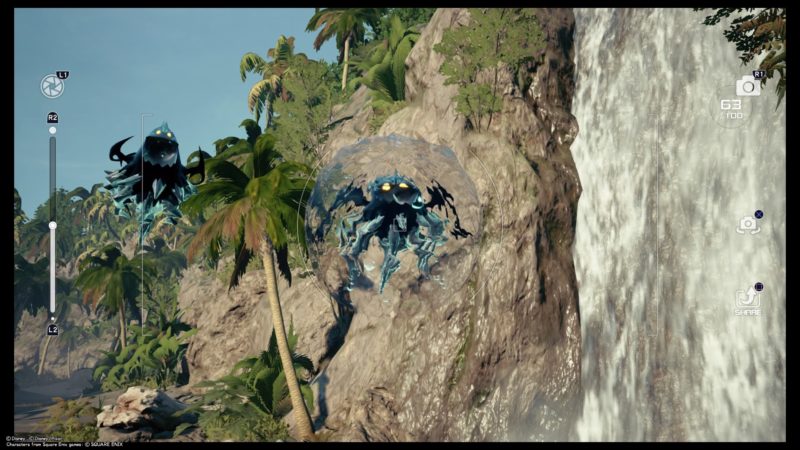 These Water Cores are similar to the fire ones, except that they look like liquid.
You can find them in various worlds, but the easiest for me personally is to go to The Caribbean.
Use either the Settlement or the Fort save point in Port Royal. In between the Fort and the Settlement, there's a waterfall.
Go to it and Water Cores will spawn there.
6. Waterfall
Photo Mission: Stay by the falls to beet the tropical heat, kupo!
Reward: Aqua Rosary
As mentioned above, there's a waterfall in between Port Royal: Fort and Settlement (in The Caribbean). Take a photo of it and you're done.
7. Tram
Photo Mission: I love watching the tram go by at twilight, kupo.
Reward: Draw Ring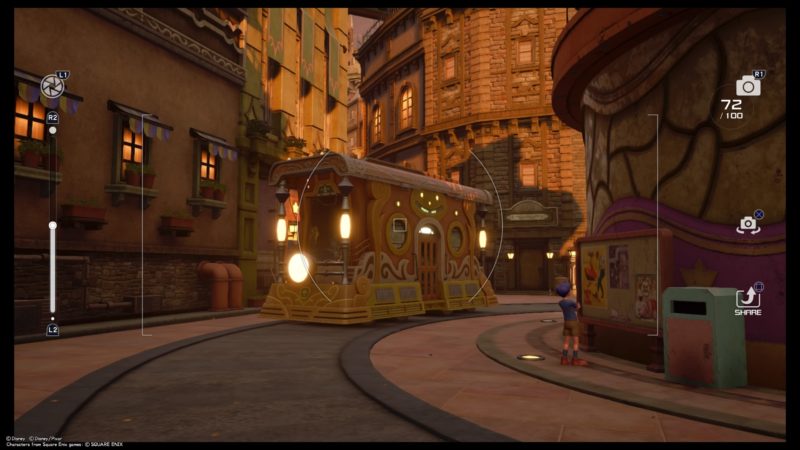 This tram is located in Twilight Town. As you spawn in the first save point, you should already find a tram near the area.
Take a proper photo of it. You will be notified that you have completed one photo mission. Certain photo angles doesn't seem to work.
8. Cactuar
Photo Mission: Wait, kupo… That green guy looks familiar, kupo!
Reward: Fencer's Earring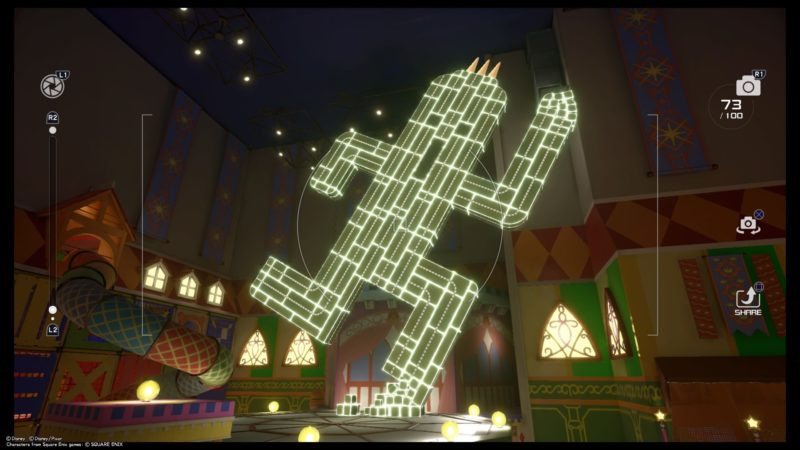 This Cactuar is unmistakable. Use the save point Kid Korral in Toy Box. Jump down from the vent and the Giant Cactuar is right there.
Go further and take a full body shot of the Cactuar.
9. Beasts and Bugs
Photo Mission: Mechasmasher's busting through the wall, kupo!
Reward: Soldier's Earring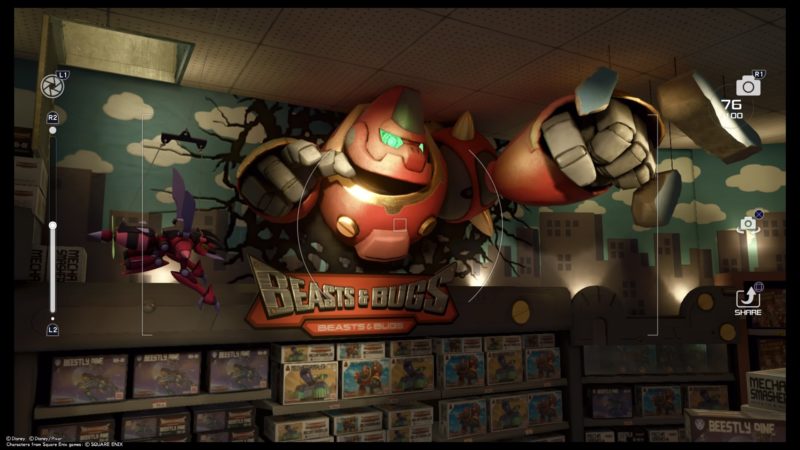 This Beasts and Bugs poster is located in the Action Store in Galaxy Toys. The Store is located on the 2nd Floor of Galaxy Toys.
Enter the Action Store and go towards the end. Take a photo of the poster from another high platform.
10. Rapunzel's Tower
Photo Mission: Who built that tower in the forest, kupo?
Reward: Mage's Earring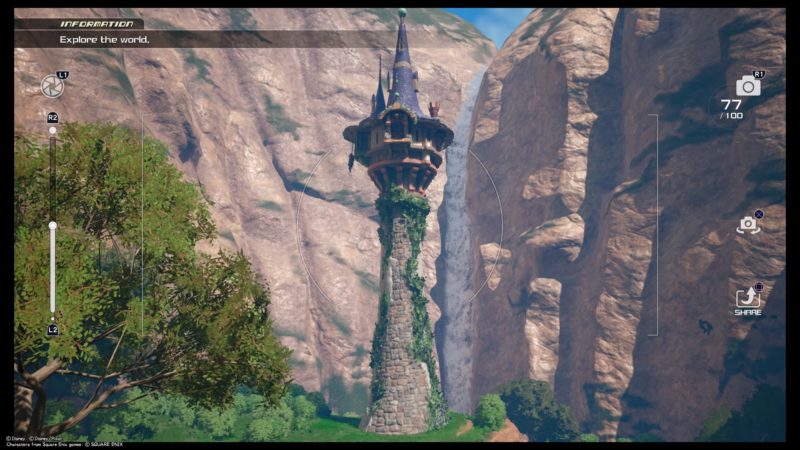 This one is really simple. Spawn at Rapunzel's Tower's save point and take a photo of the tower right in front of you.
11. Chief Puff
Photo Mission: Fluffy doesn't always mean nice, kupo!
Reward: Mask Rosette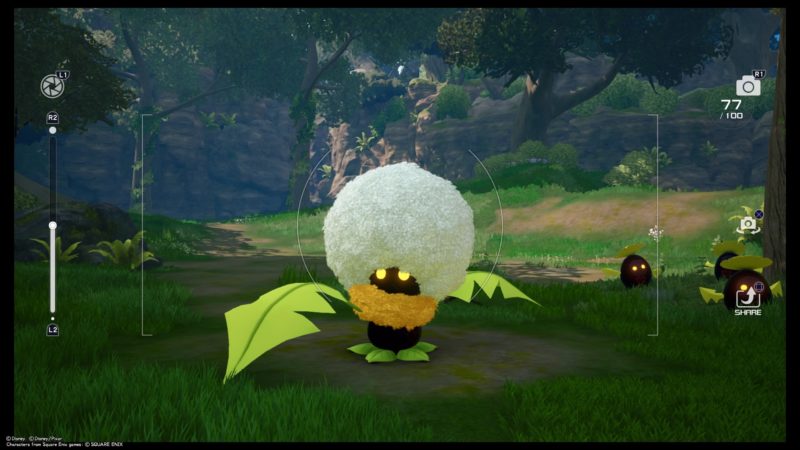 Chief Puff is the enemy that looks like some sort of dandelion. You can use the save point Forest: The Hills.
Walk forward and this Chief Puff will spawn not long after.
12. The Festival
Photo Mission: Wish I could ditch work and see the festival, kupo.
Reward: Moon Amulet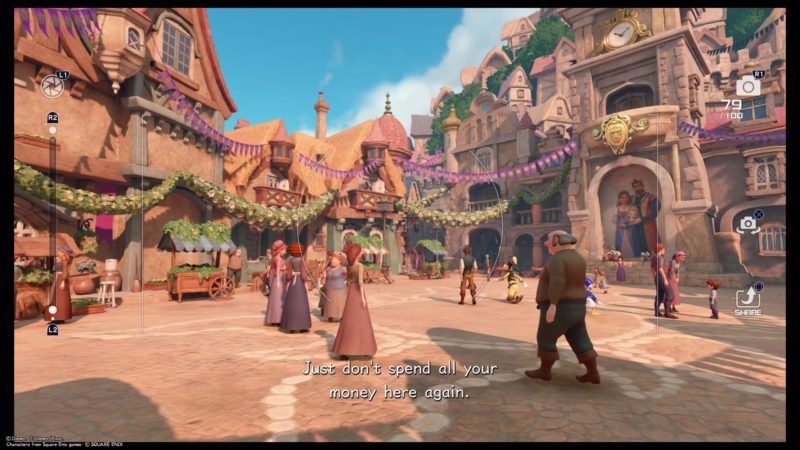 The Festival refers to the Thoroughfare area of Kingdom of Corona. Get towards the dance area and take a general photo of the place.
13. CDA Agent
Photo Mission: Give that hard worker in yellow a raise, kupo!
Reward: Rubber Rosette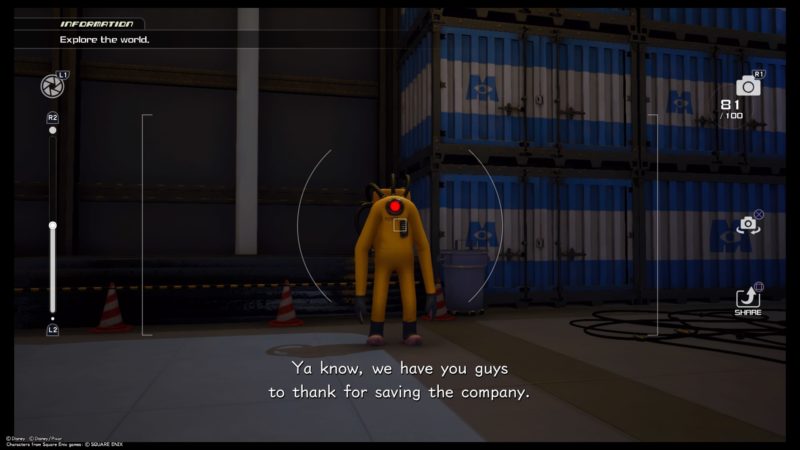 This CDA Agent can be found in Monstropolis. Use the Tank Yard save point and this agent is right in front of you.
He is standing in front of the containers.
14. Demon Tower
Photo Mission: Show me a creepy, shadowy swarm, kupo!
Reward: Dark Chain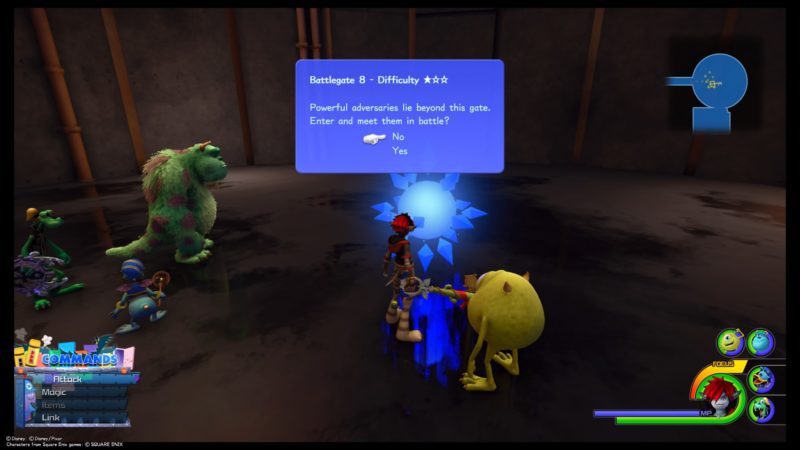 You can find the Demon Tower if you go to Monstropolis. From the Tank Yard save point, walk outside and you should see those blue pipes on your left, that you used in the story.
Slide on the pipes and you will reach the inside of a cooling tank. You should see this Battlegate 8 (unlocked after Keyblade Graveyard).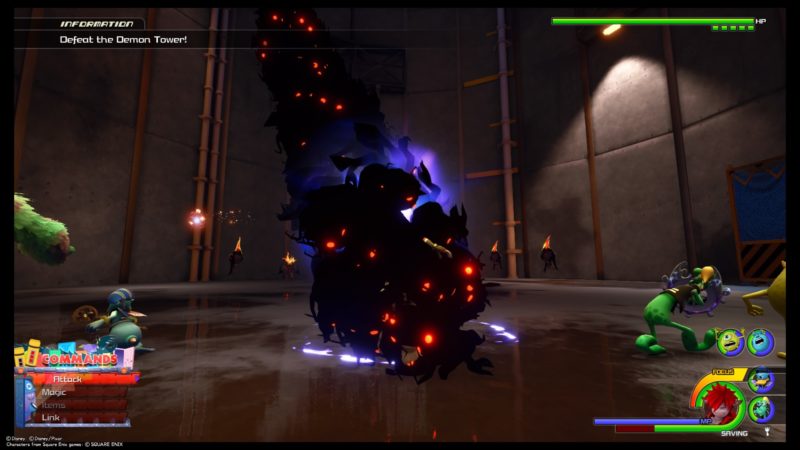 Enter it and you will meet the Demon Tower. Take a photo of it quickly.
15. Ice Palace
Photo Mission: Somehow I doubt that palace has a fireplace, kupo.
Reward: Blizzard Chain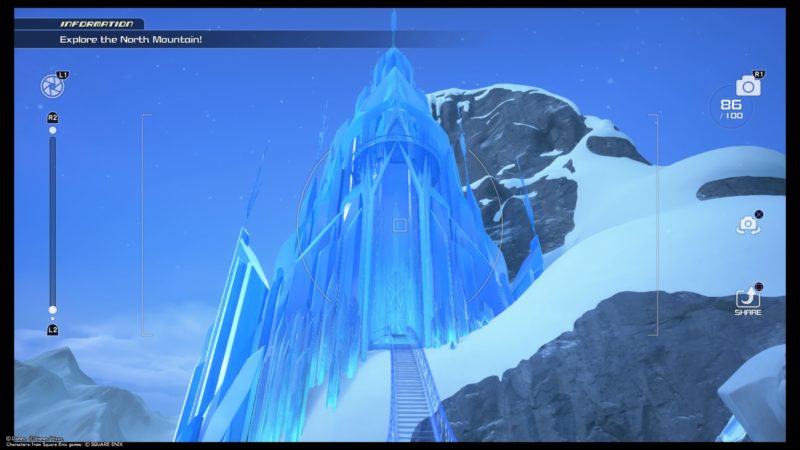 This palace refers to the castle Elsa built in Arendelle. Use the Mountain Ridge save point.
The ice castle is right in front of you.
16. Olaf
Photo Mission: I think I saw a walking, talking snowman, kupo!
Reward: Snow Rosette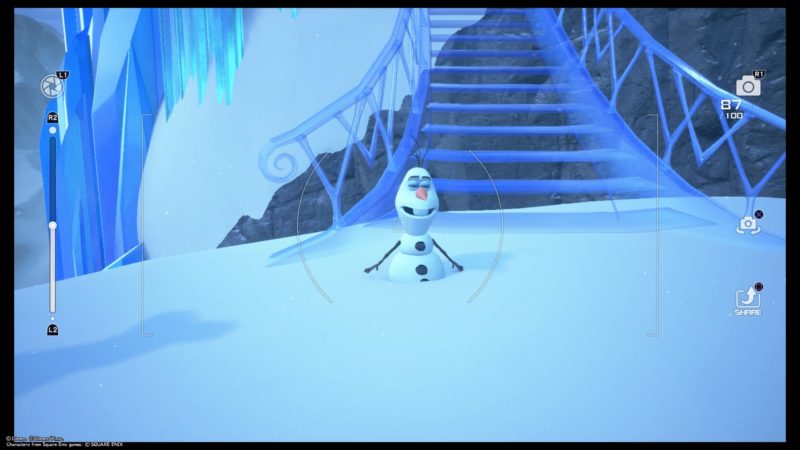 While you're here, take a photo of Olaf as well. He is standing in front of the stairs leading towards the ice castle.
17. Fish Balloons
Photo Mission: Those fish are swimming through the air, kupo!
Reward: Aero Brace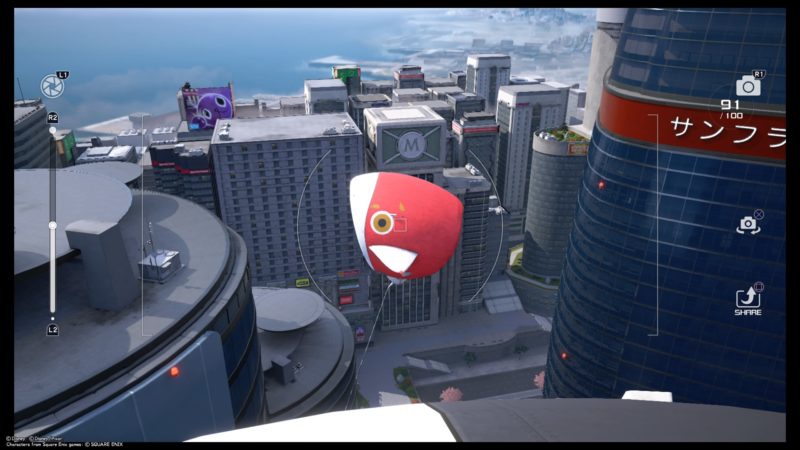 Next, go to San Fransokyo. You will see plenty of these fish balloons in the sky. Climb up any of the skyscrapers.
Take a photo of any of these fish balloons and you're done.
18. Night Star
Photo Mission: There it is, kupo. My lucky star, kupo!
Reward: Star Charm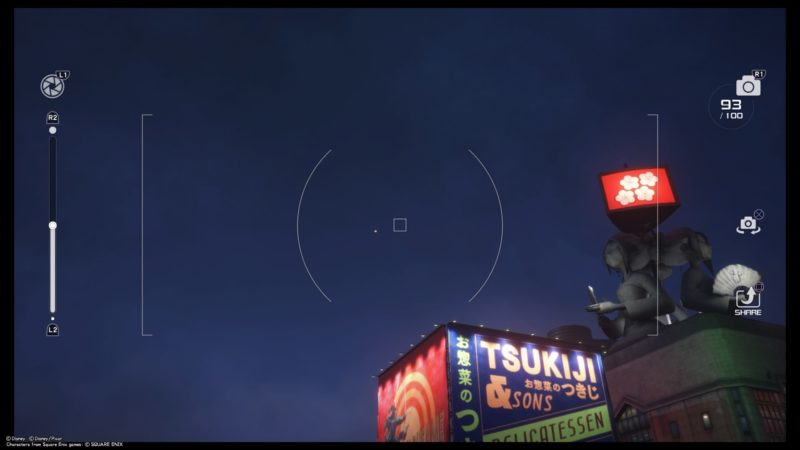 For this photo mission, you need to use the save point South District: Night in San Fransokyo.
Climb up on any of the tall buildings. Look up in the sky and search for that one star. Take a photo of it.
19. Scarecrow
Photo Mission: He helps keep the birds out of the fields, kupo.
Reward: Slayer's Earring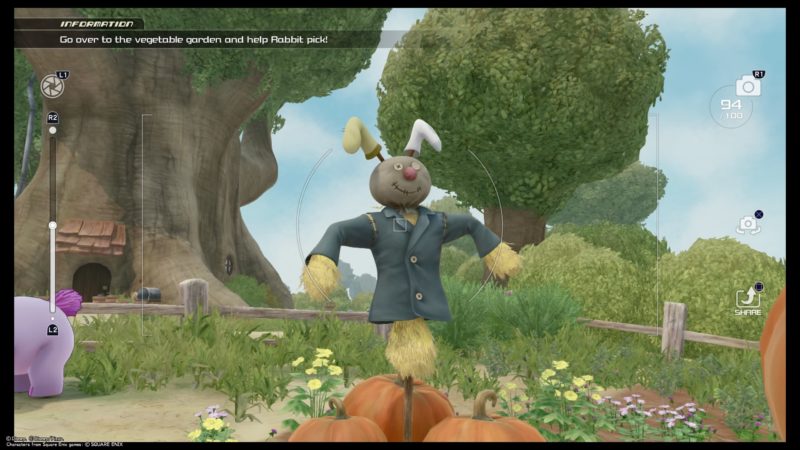 This scarecrow is located in the world 100 Acre Wood. You can access this world via Merlin's book in Twilight Town.
The scarecrow is very obviously placed, near the giant pumpkin.
20. Sora's Teammates
Photo Mission: I moogle-salute all your fierce friends, kupo!
Reward: Ribbon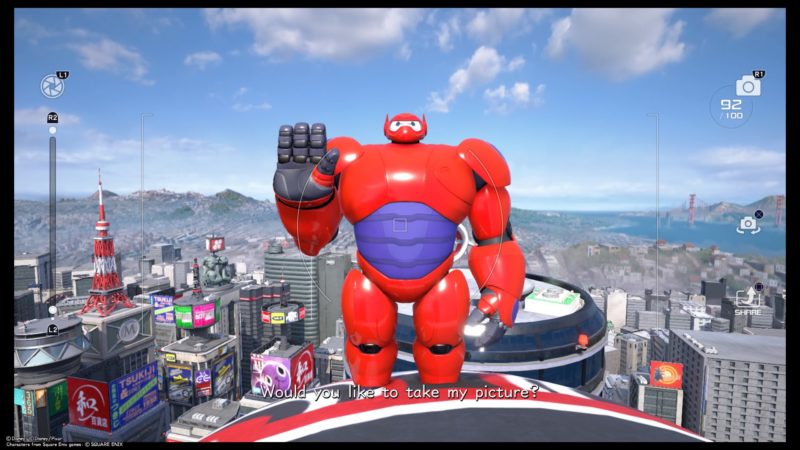 The last photo mission is to take photos of all 12 of Sora's teammates.
These teammates are all those that fight alongside you whenever you travel into their respective worlds.
Teammates:
Donald
Goofy
Hercules (Olympus)
Buzz Lightyear (Toy Box)
Woody (Toy Box)
Rapunzel (Kingdom of Corona)
Flynn Rider (Kingdom of Corona)
Sulley (Monstropolis)
Mike (Monstropolis)
Marshmallow (giant ice monster in Arendelle)
Jack Sparrow (The Caribbean)
Baymax (San Fransokyo)
In a nutshell
Hopefully this guide is good enough for you to find all 20 photo locations for the Moogle's Workshop.
Thanks for reading.
---
Related articles:
Kingdom Hearts 3: How To Get All Link Commands
100 Acre Wood – All Lucky Emblem Locations
Kingdom Hearts 3: Walkthroughs, Tips And Guides
Kingdom Hearts 3: All Flantastic 7 Locations (How To Find The Flans)
Games Like Kingdom Hearts 3: Top 10 Alternatives To Try
Top 10 Best Keyblades In Kingdom Hearts 3
All Of The Worlds In Kingdom Hearts 3
Kingdom Hearts 3: The Caribbean – All Lucky Emblem Locations