Judgment or also known as Judge Eyes is the latest game by the Ryo ga Gotoku Studio.
This is a spinoff of the popular Japanese series Yakuza and this time, you're playing as a private detective.
Here's a walkthrough / guide of Chapter 4 – Skeletons In The Closet in Judgment (Judge Eyes).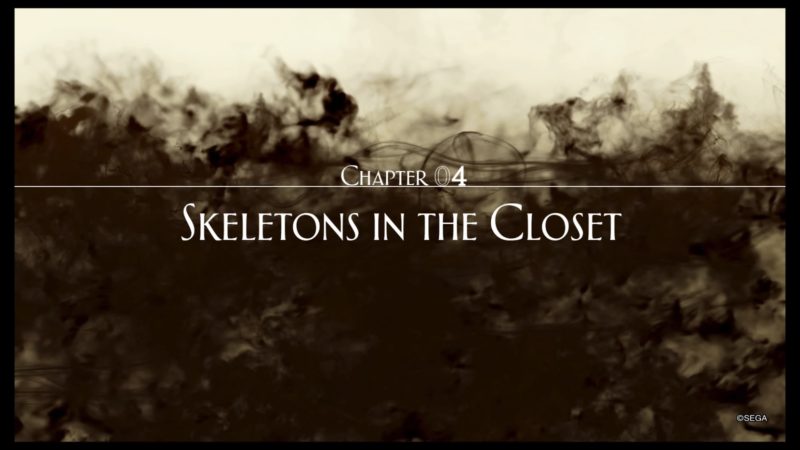 After the intro of this chapter, you'll get a cutscene showing some Kyorei guys killing Matsugane men.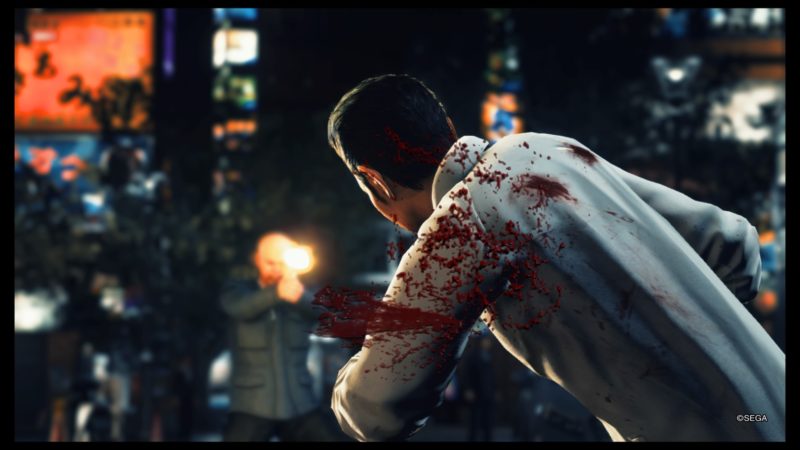 Meet with Higashi
Your first objective is to meet up with Higashi at the arcade.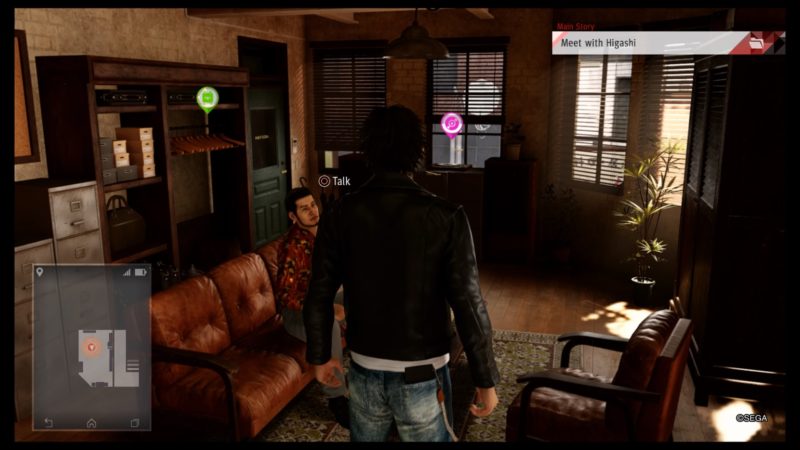 Head to Genda
After walking out of your agency, you will get a call from Genda's office. Head towards the office.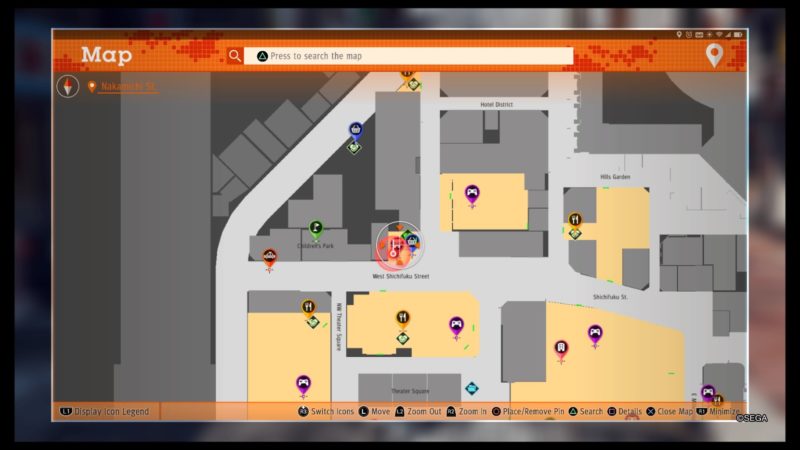 After reaching the office, you'll meet Hoshino who is accused by Saori of stealing her cake.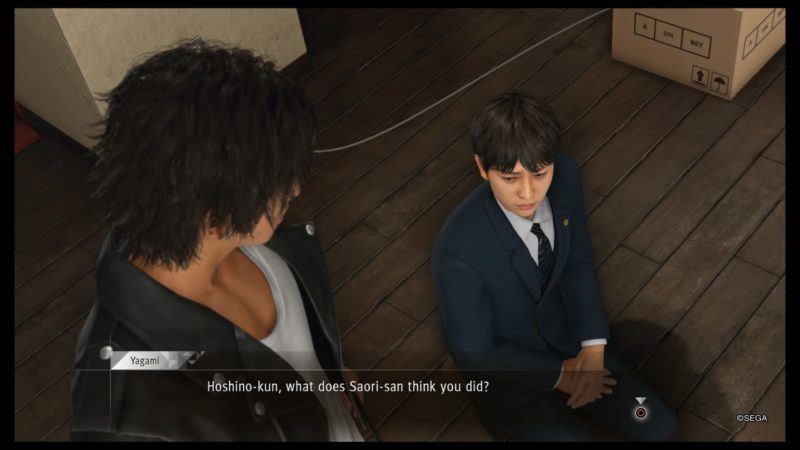 Clear Hoshino-kun's name
To clear Hoshino's name, you need to investigate the office. Examine the desk first.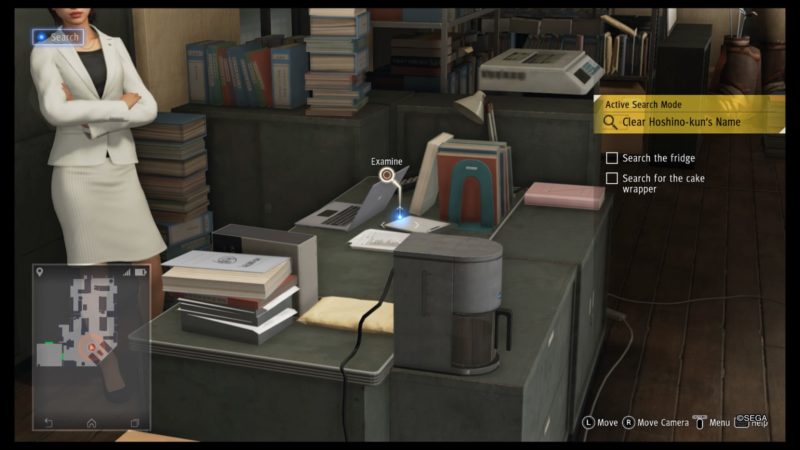 Next would be the fridge.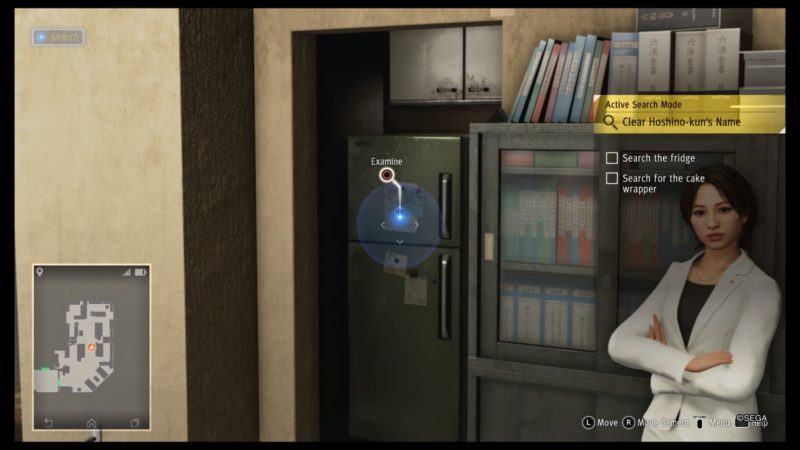 After that, the trash can near the sofa.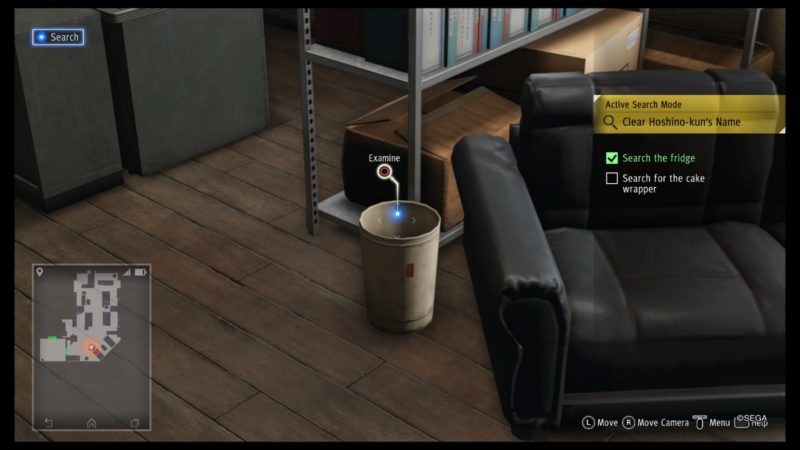 Next up, you have to search for the cake wrapper by checking out the kitchen.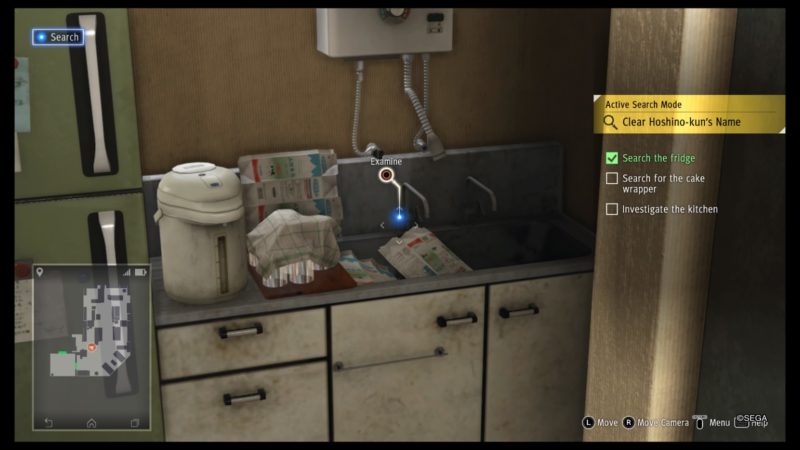 Apart from the above, there's also a stray cat if you look out the window. It's sitting near Club Sega's building.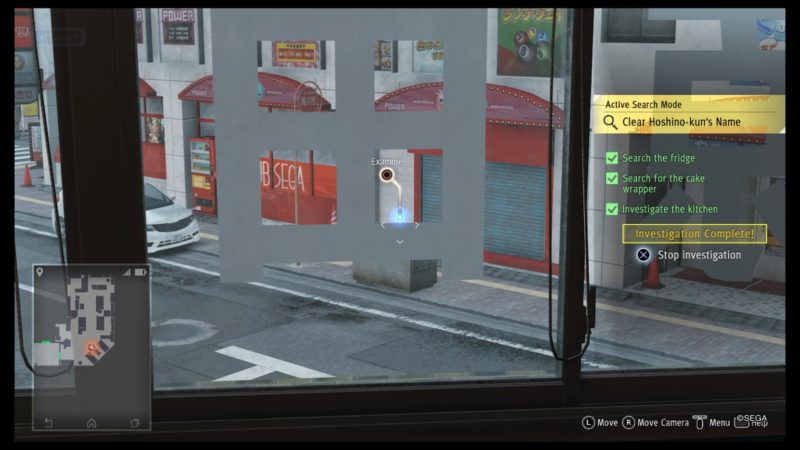 After gathering all the evidence, you have to present your claim. Use the trash can pic first.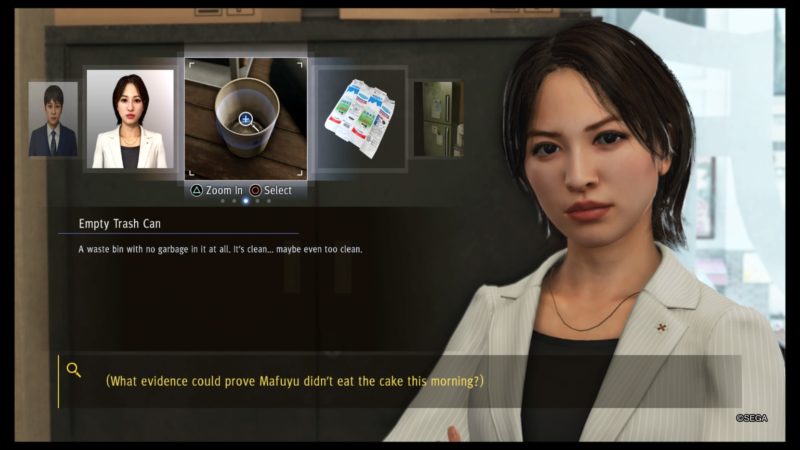 Next up, you have to object and say that Mafuyu is wrong in her deduction.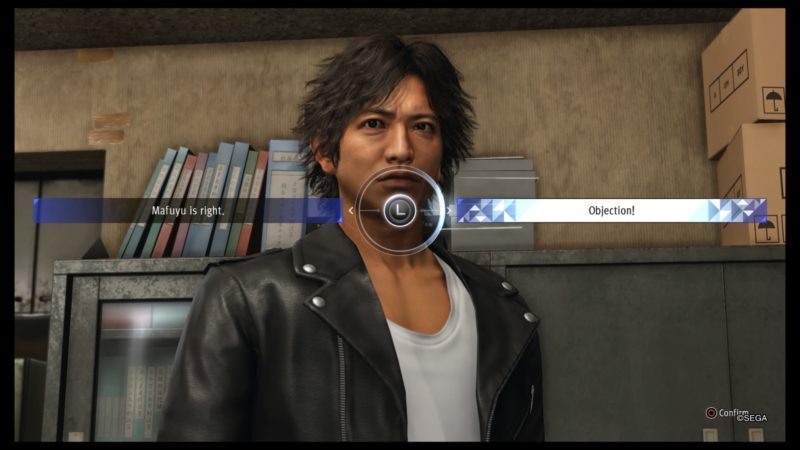 As evidence, use the three milk cartons that have been emptied and flattened out.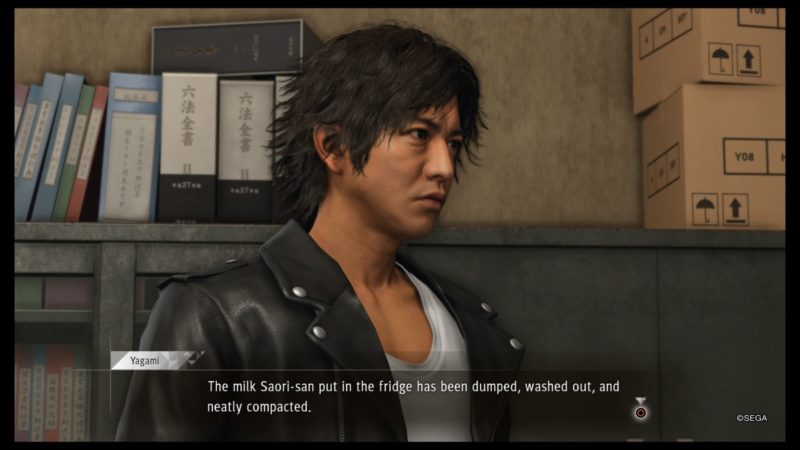 In conclusion, the real culprit for the cake-stealing is nobody. Due to a power outage, the cake got bad, and Genda threw it away during his rubbish duty.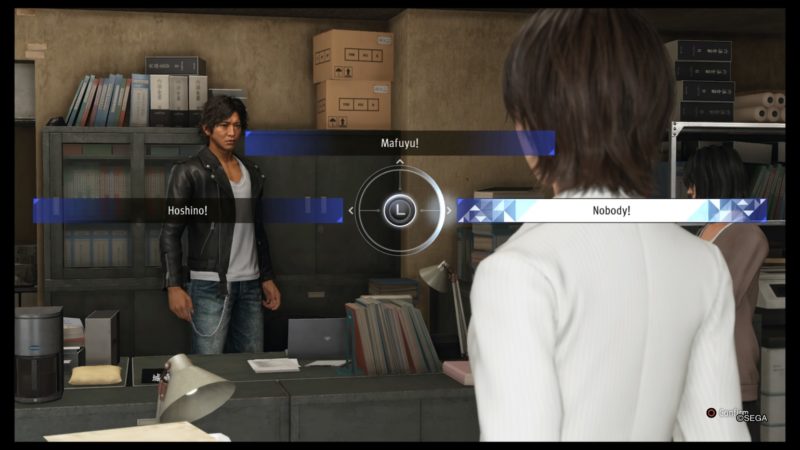 Meet with Higashi
Next, you have to meet with Higashi at the arcade.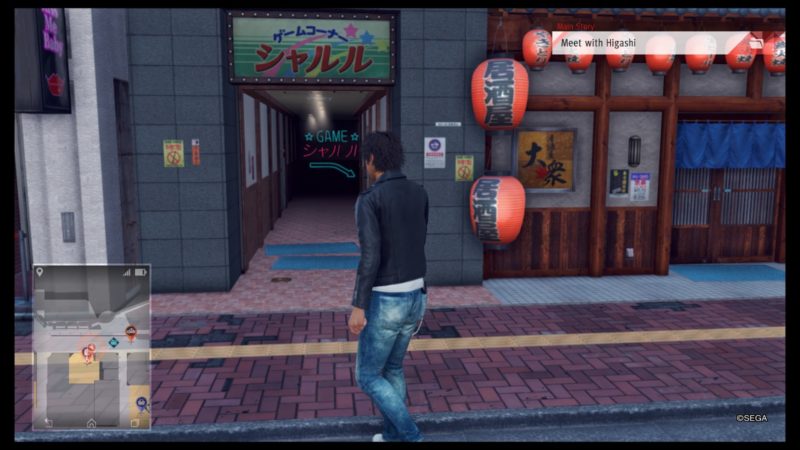 After coming out, you'll get a phone call.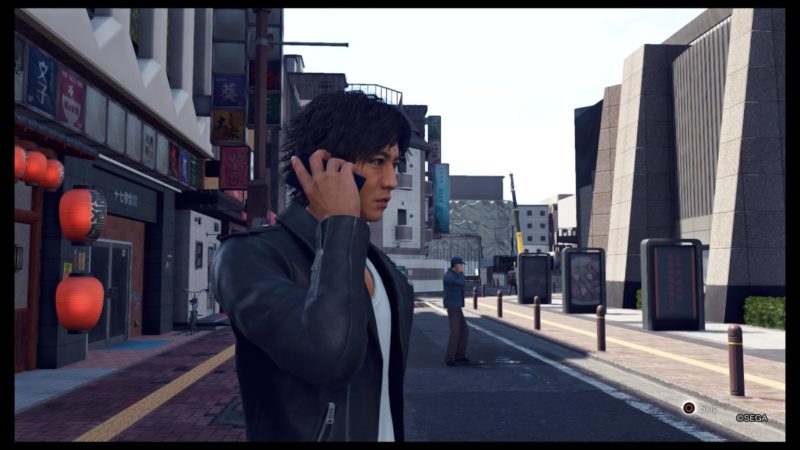 Head to the beef zone
Apparently Kim-san is attacked again.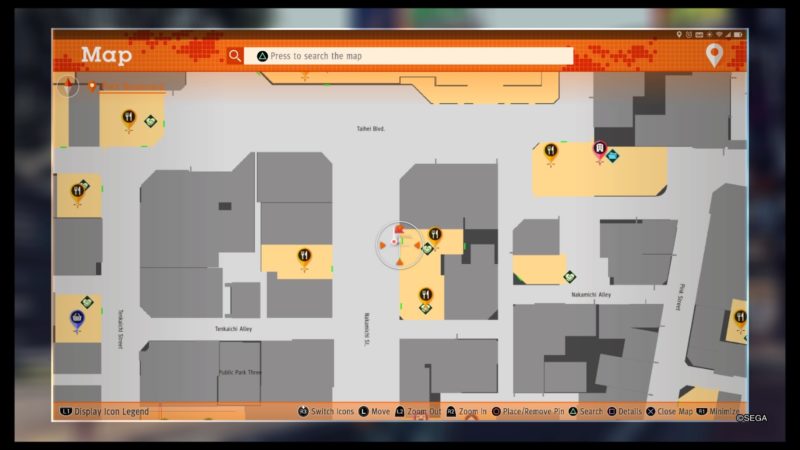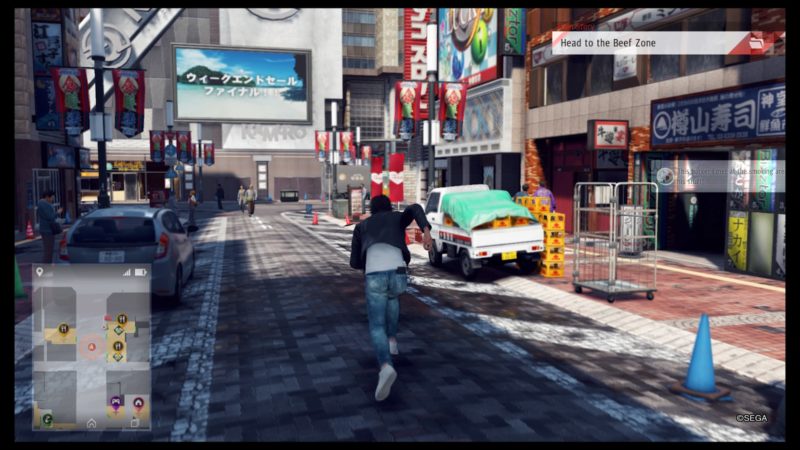 As you reach the area, you'll see some Keihin gangsters. You will also be introduced to a higher tier officer named Honda.
Defeat Honda
You have to defeat Honda in a fight.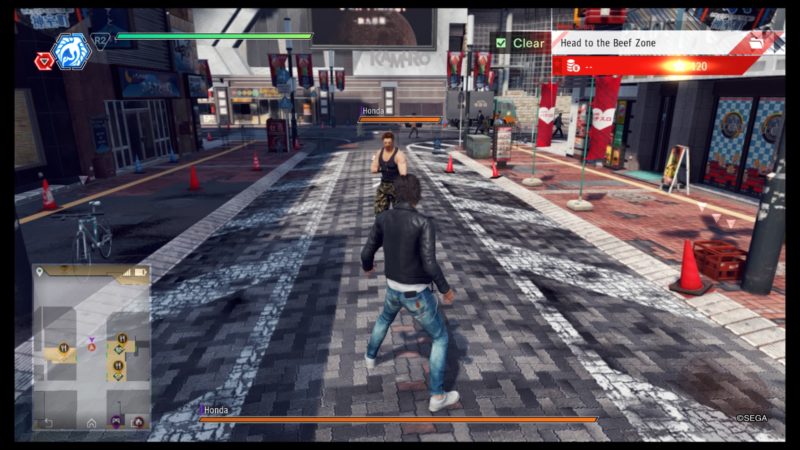 Warn Shintani
Later, you need to warn Shintani that he's probably under threat as he freed Captain Hamura.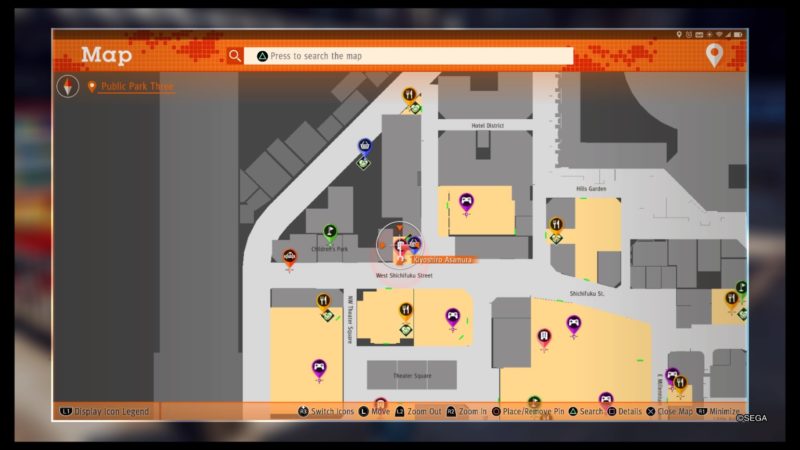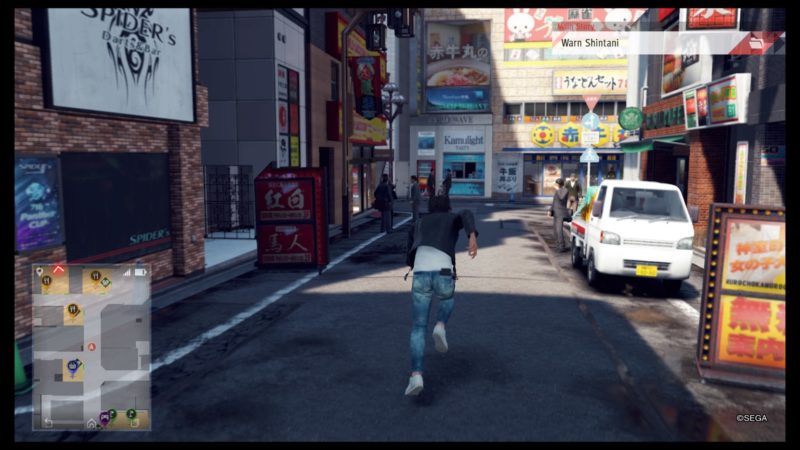 As you reach Genda's law office, you will get a new side quest (The Circle of Law) instead. Shintani is nowhere to be found.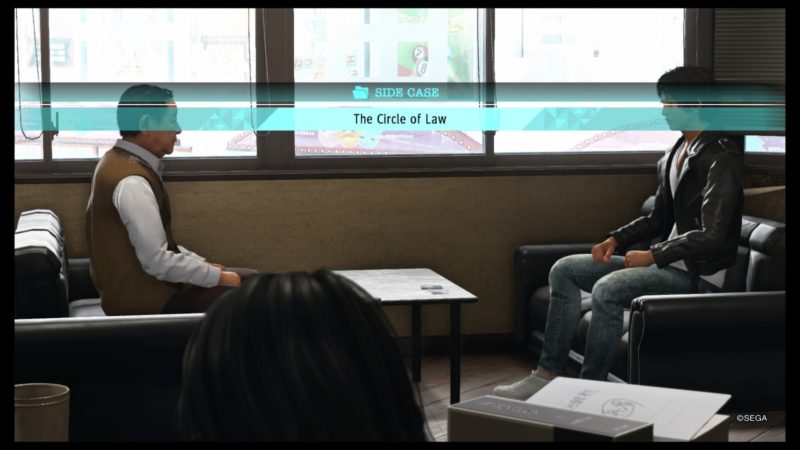 Search for Azusa Otaki
Your client will be Azusa who is probably shopping at Le Marche.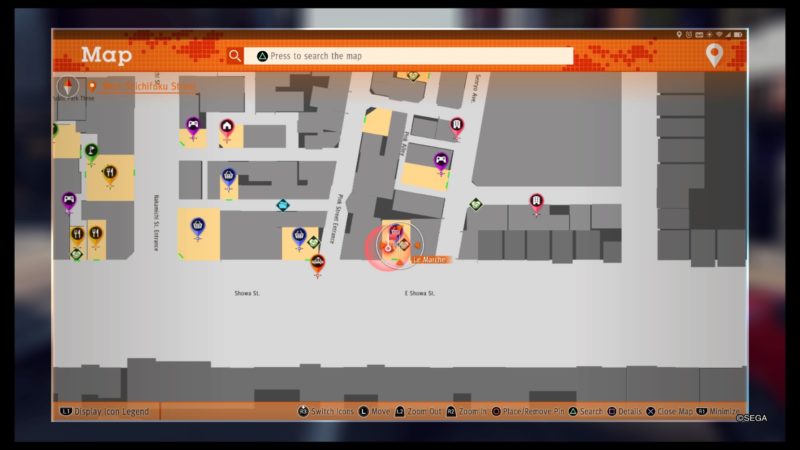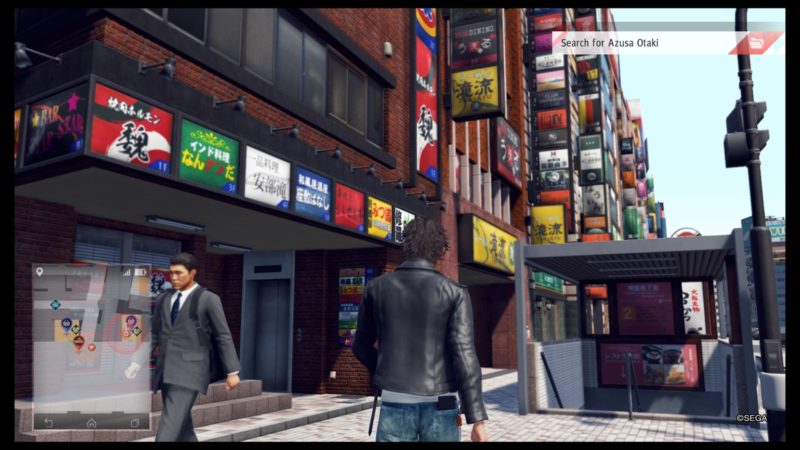 Get inside the building and a cutscene will load.
This time, Azusa will ask you to find Karin, her daughter who went missing.
Search for Karin
To look for Karin, you need to ask around. Talk to the lady outside of Le Marche.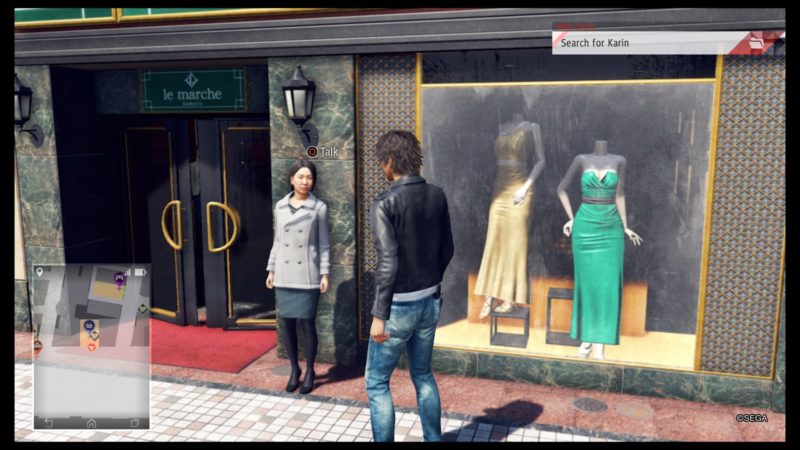 Head to Nakamichi Street
She'll give you a hint that the girl went to Nakamichi Street.
Go there and you'll see the small girl (image below).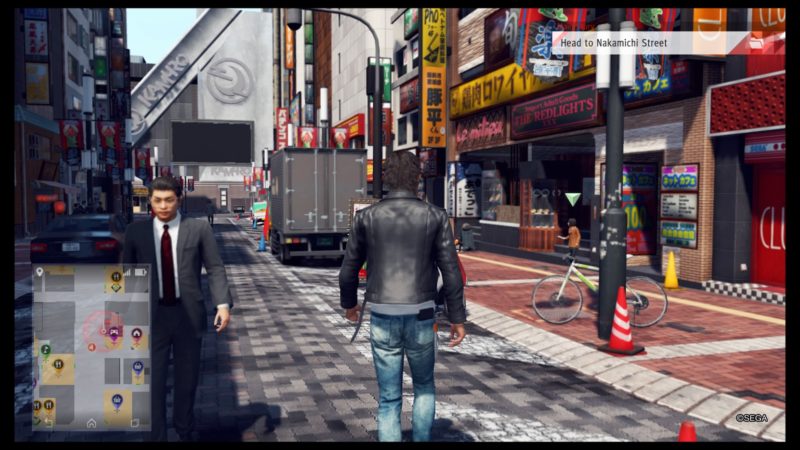 Return to Genda's law office
After the cutscene, head back to Genda's office.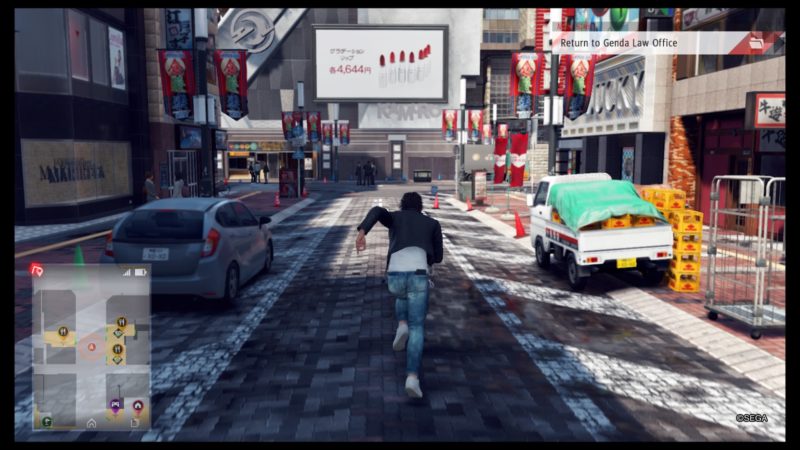 You now need to gather evidence that there's some foul play going on with the side case.
Head to the love hotel
You will see an area marked in red. Head towards it.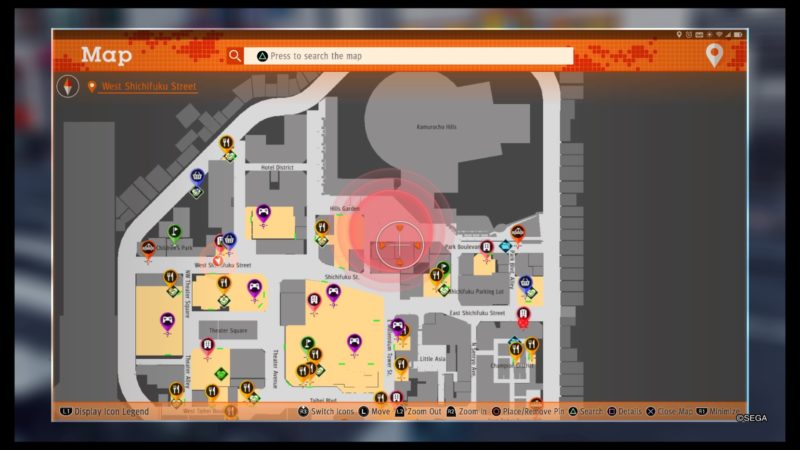 Look for this building with white tiles and this poster in front. Examine it.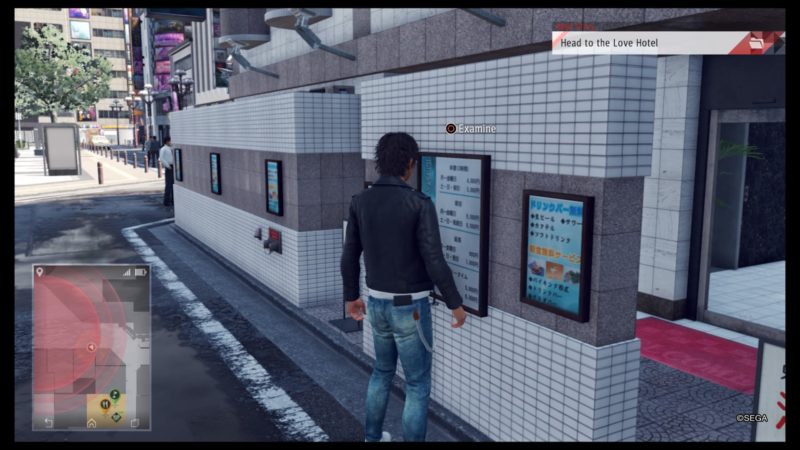 Defeat the street thug
You will then meet an accomplice of the crime (fabrication of evidence).
Defeat this thug.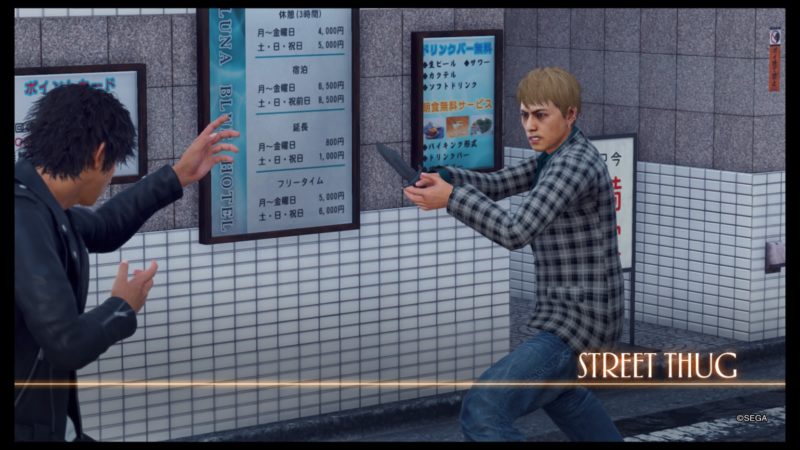 Investigate the security camera
Next up, look at the security camera and look for clues. You just need to examine the faces of the man and the woman.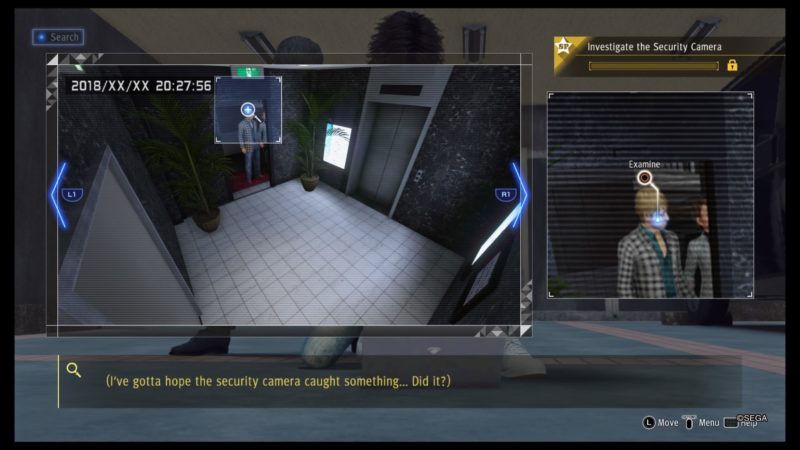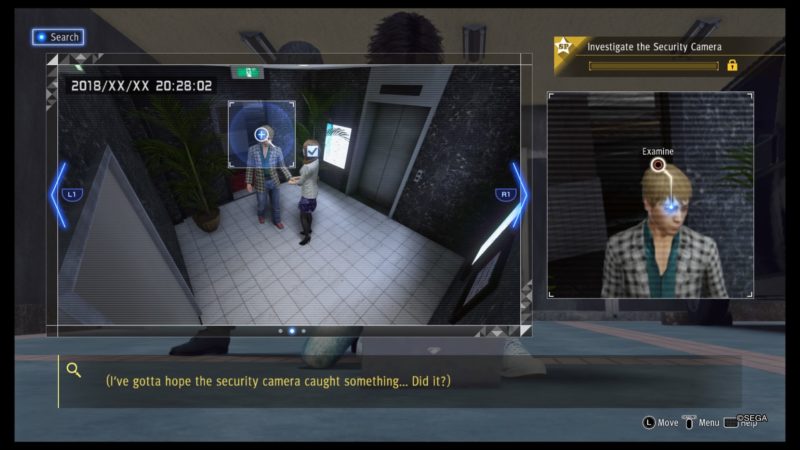 Do the same thing for all 3 photos.
A cutscene will load once you've found the evidence. Unfortunately, the thug came and destroyed the evidence.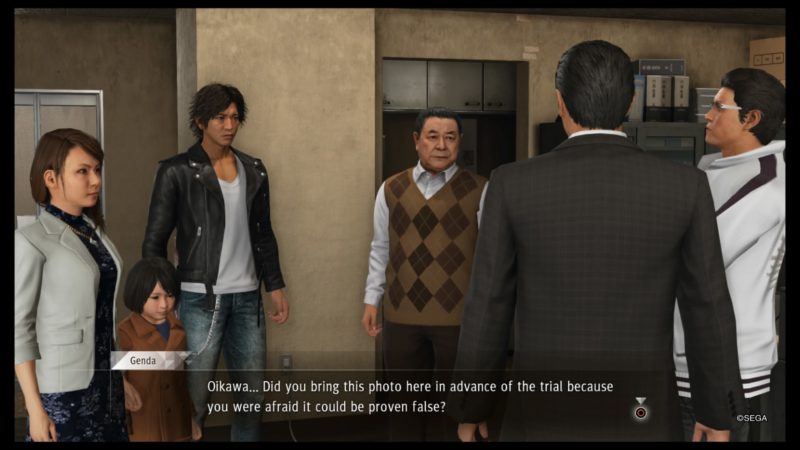 During the cutscene, you need to give evidence that proves Karin's feelings. Use the torn envelope and ticket.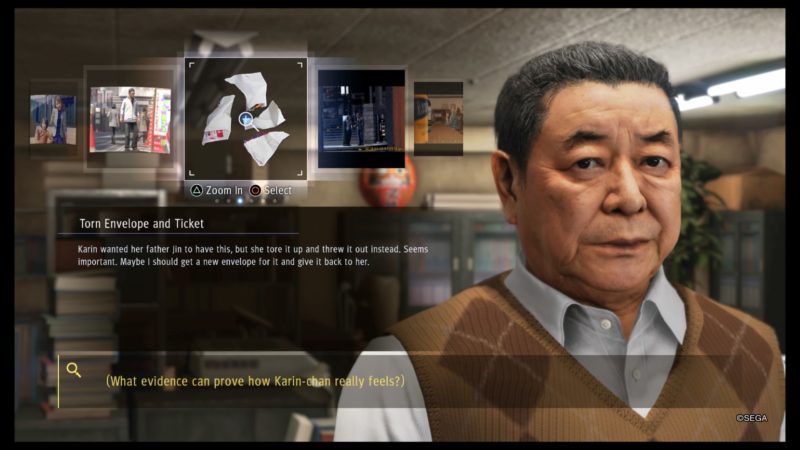 Not long after, the guy who owned the security camera came in to look for Yagami. You need to buy his backup copy of the tape for 100,000.
You probably can't refuse.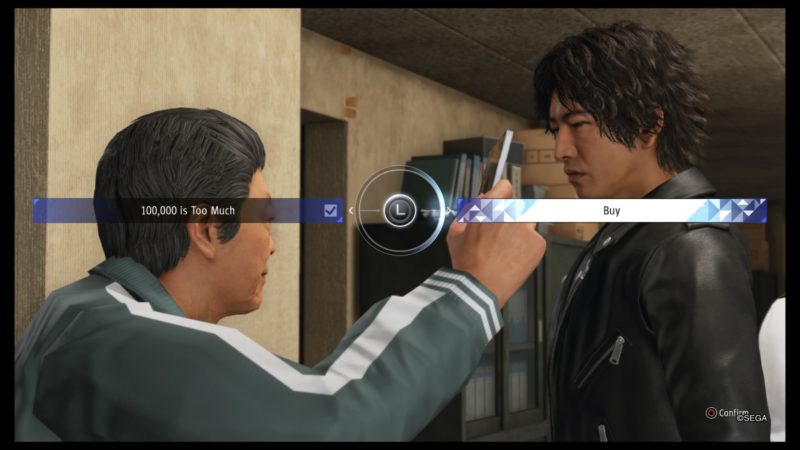 After this side case is solved, you will earn some money and Shintani appears in the office.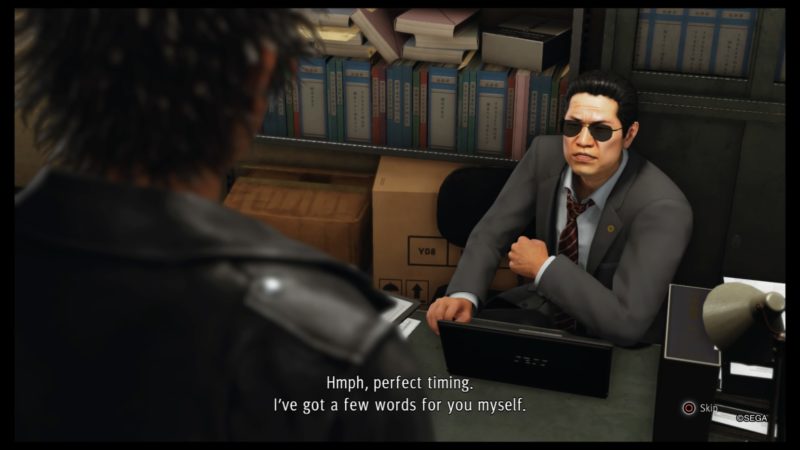 As usual, he refuses to tell you what he knows about The Mole.
Leave Genda's office
Get out of the office.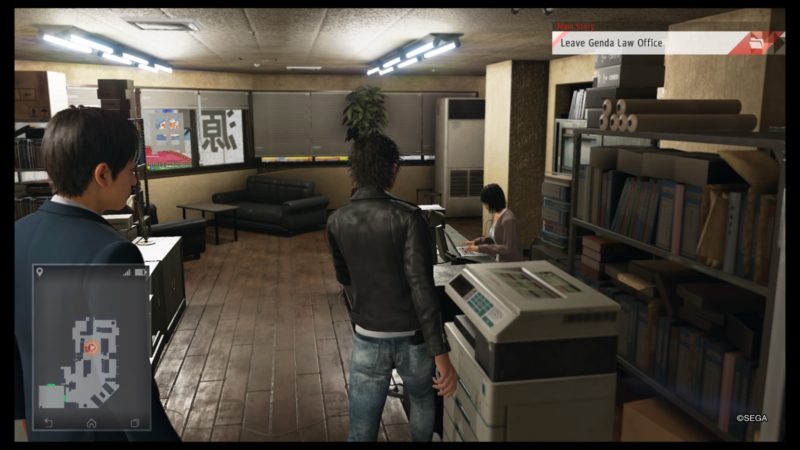 You will get a phone call after you leave.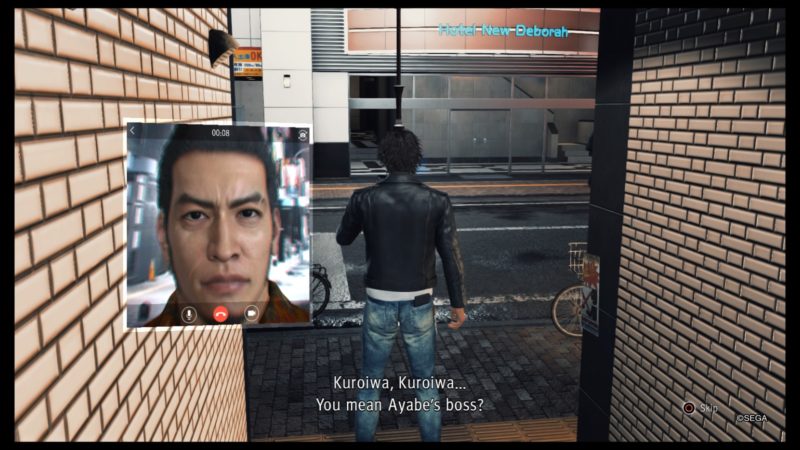 Head to Tender
Go to Tender to meet Ayabe and Kaito.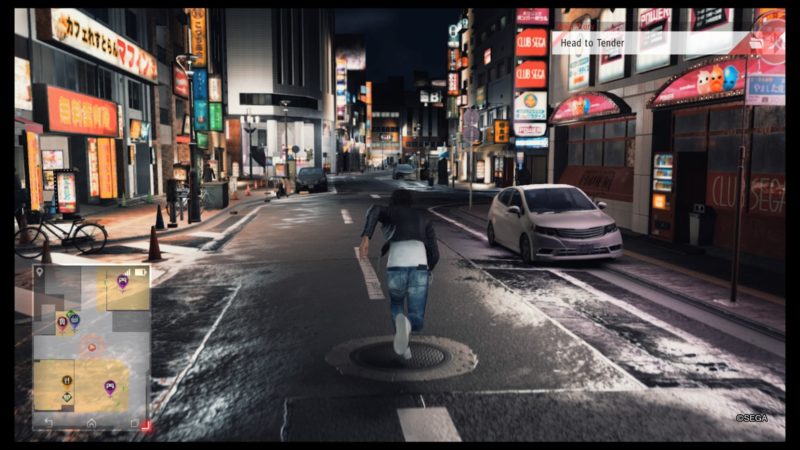 During the conversation, you can ask Ayabe some questions.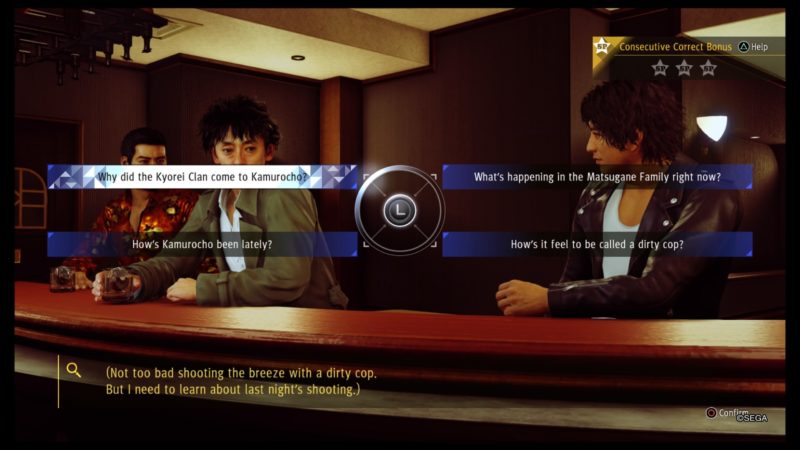 Not long after, the police head Kuroiwa comes into Tender as well.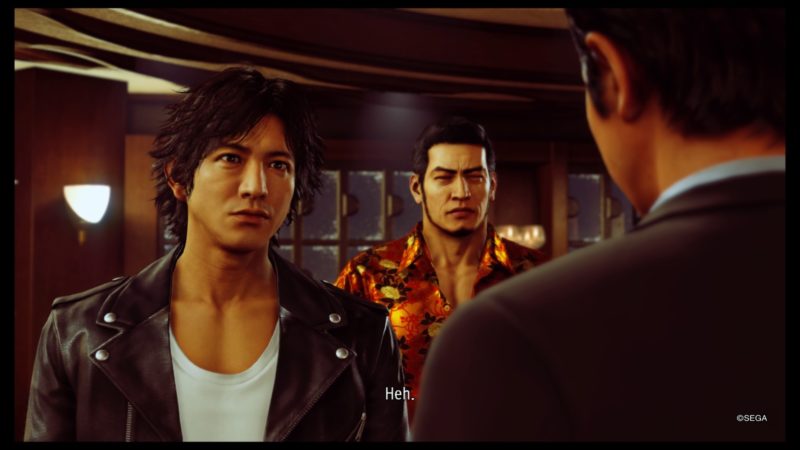 Head to KJ Art
To investigate more on what the Kyorei group is doing in Kamurocho, you need to go to KJ Art.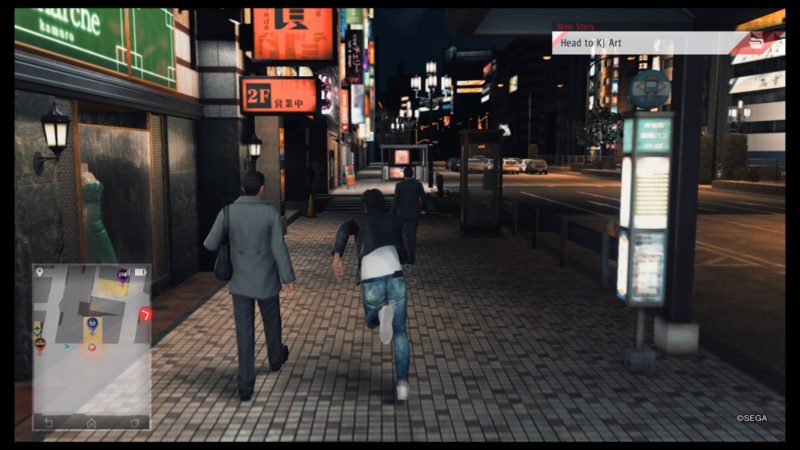 Follow Kaito up the ladder to the rooftop.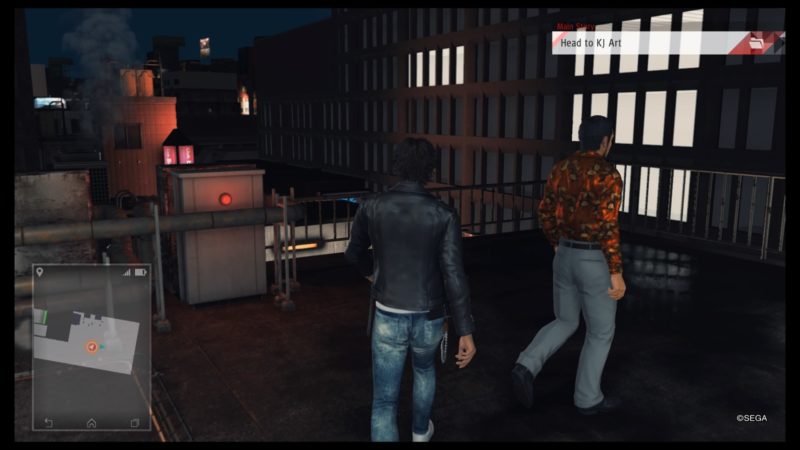 Use the drone
Go to your menu and start the drone. You need to look for Murase.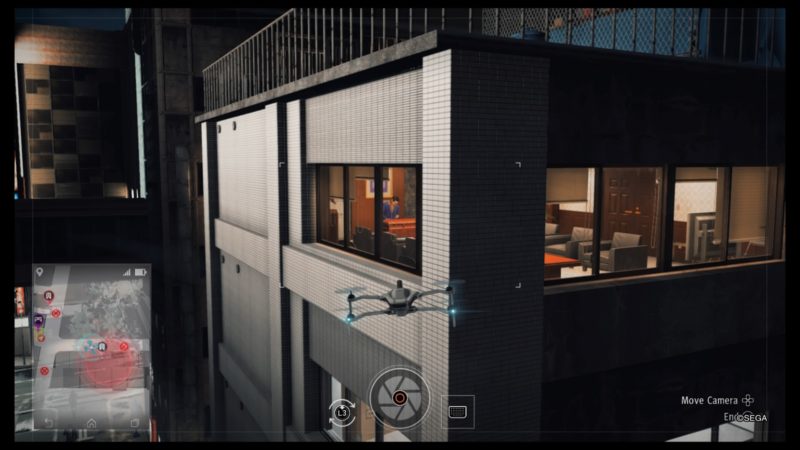 Head towards the top floor and you have to press "Look" when you get a clear view of Murase.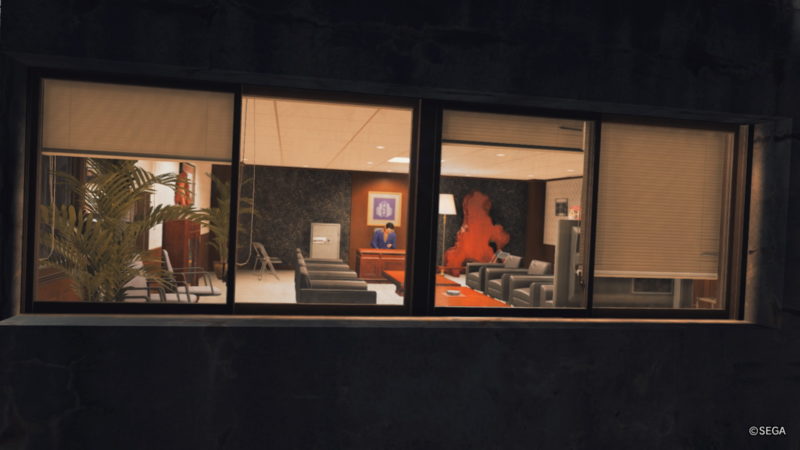 You guys will then get ambushed from behind by other Kyorei gang members.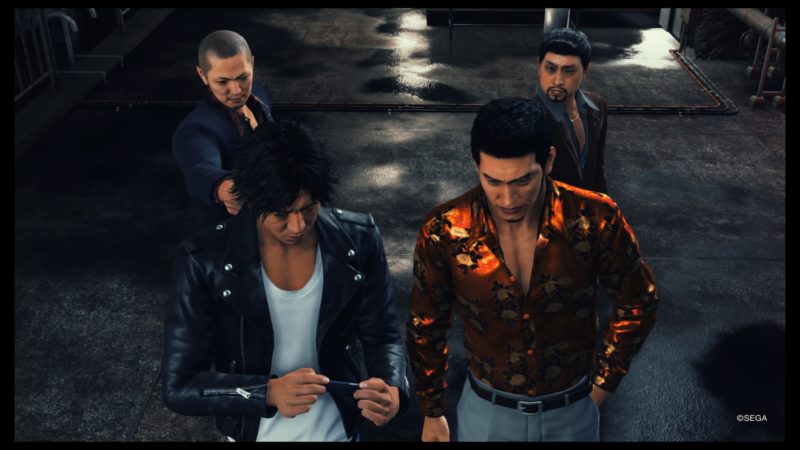 Defeat Shioya and the gang
Before Yagami gets shot, the Jester dude came back to save him.
This time, you need to defeat Shioya (chief of Kyorei) and his men. You will have Kaito and the Jester with you.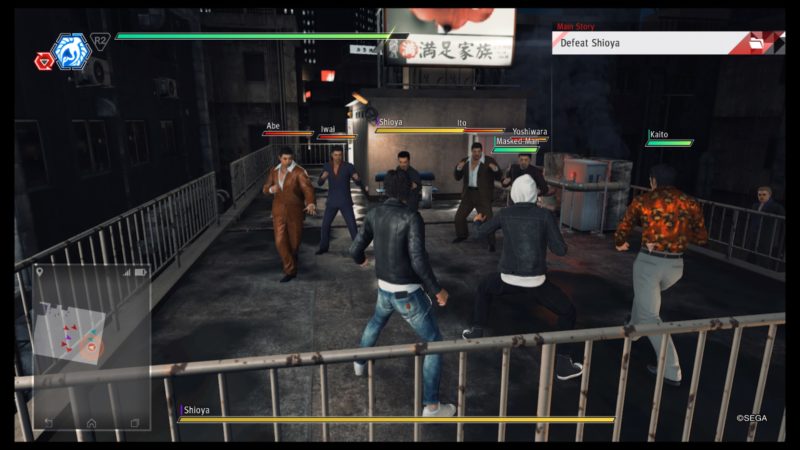 The fight will take some time as Shioya is pretty strong.
After defeating Shioya and the rest, you will get another side quest and a phone call.
That phone call requires you to go to Tender to play a guessing game.
Head to Tender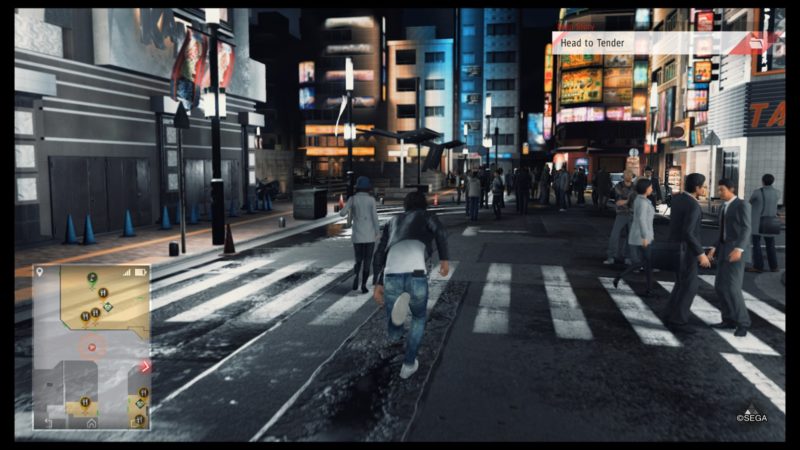 This part is just for fun where you have to guess this lady's occupation. Her name is Mari.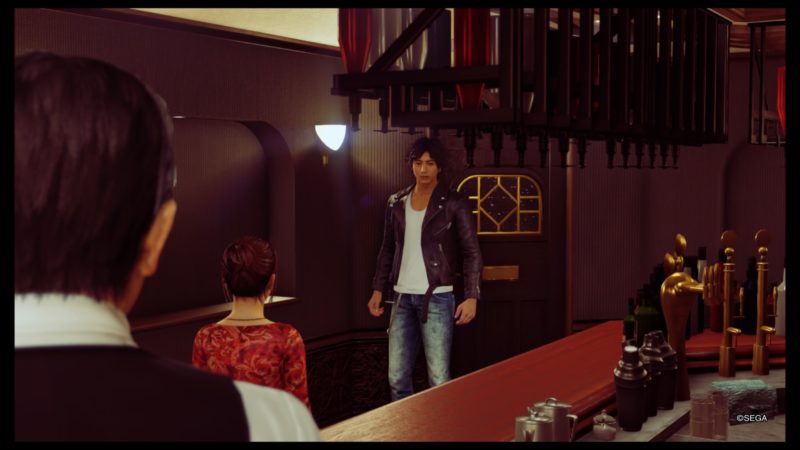 It's also a side case named The Socialite's Secret.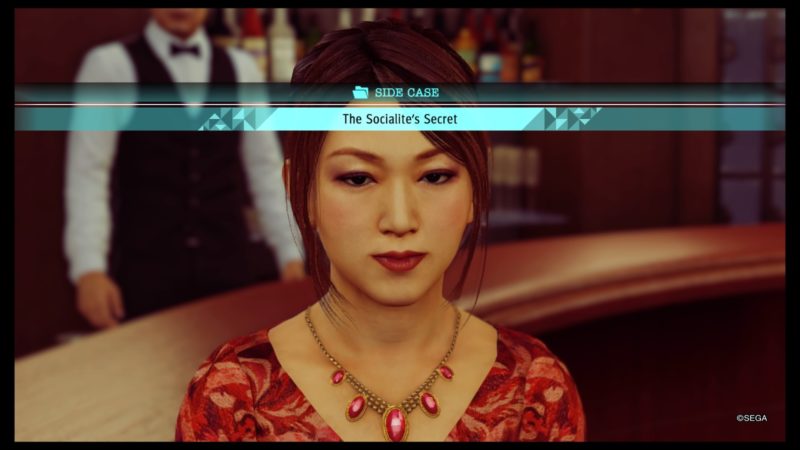 During the investigation, you simply need to hover above her and not anywhere else.
Look at her blouse, her necklace, hair, fingers and so on.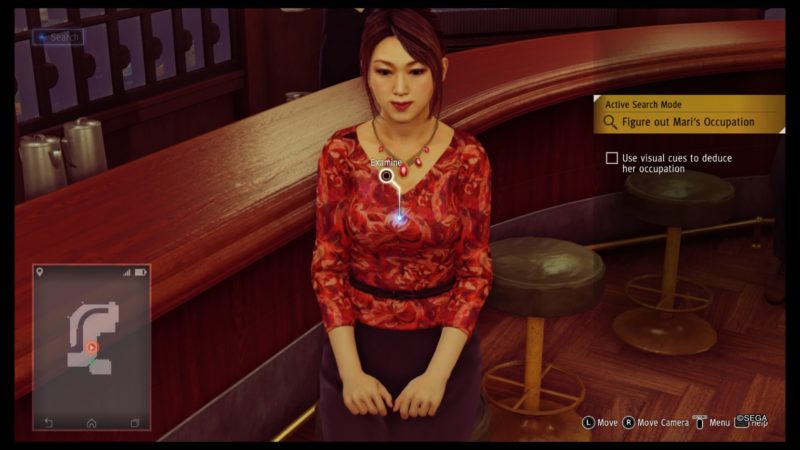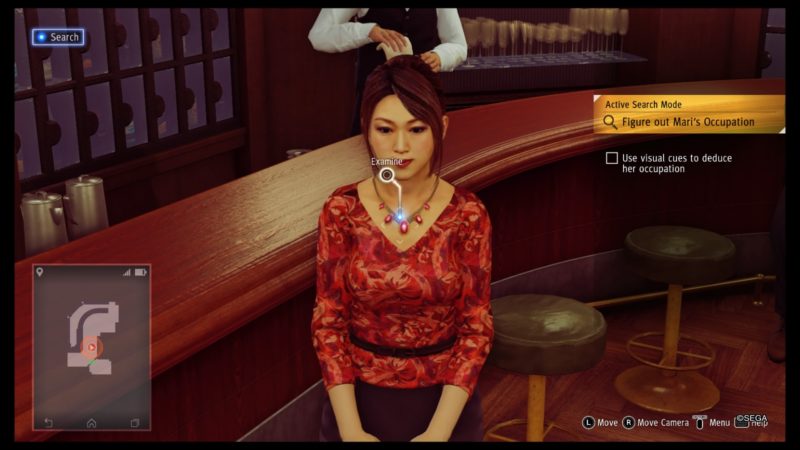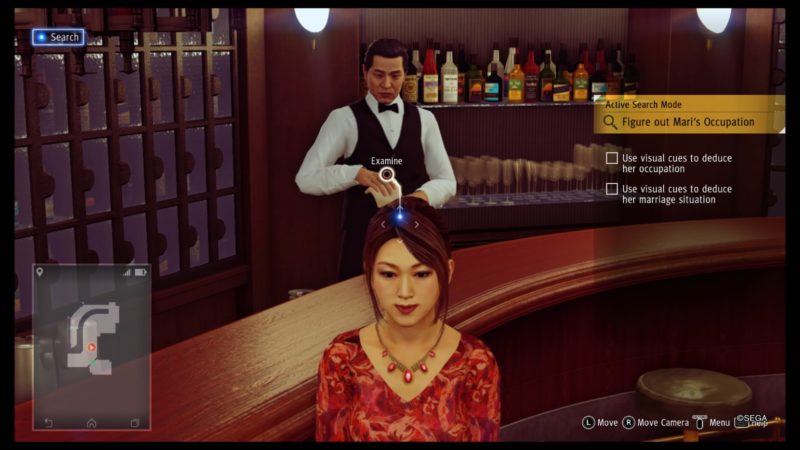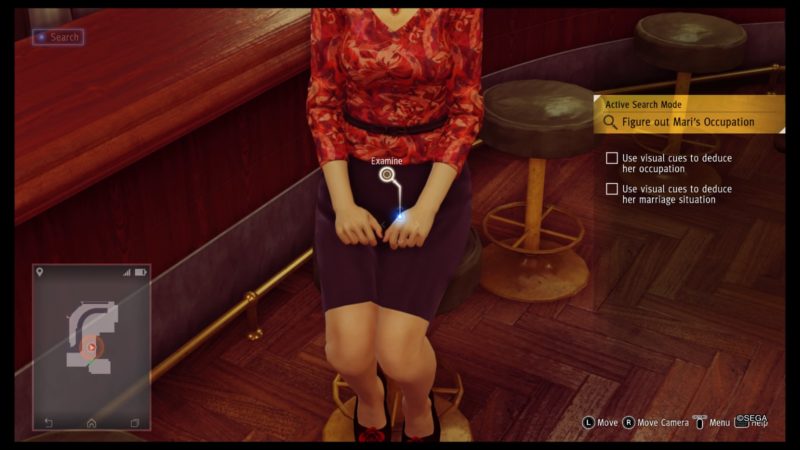 You then need to guess Mari's occupation. It's either an author, CEO's lover or a doctor.
All answers are wrong but you need to guess anyway.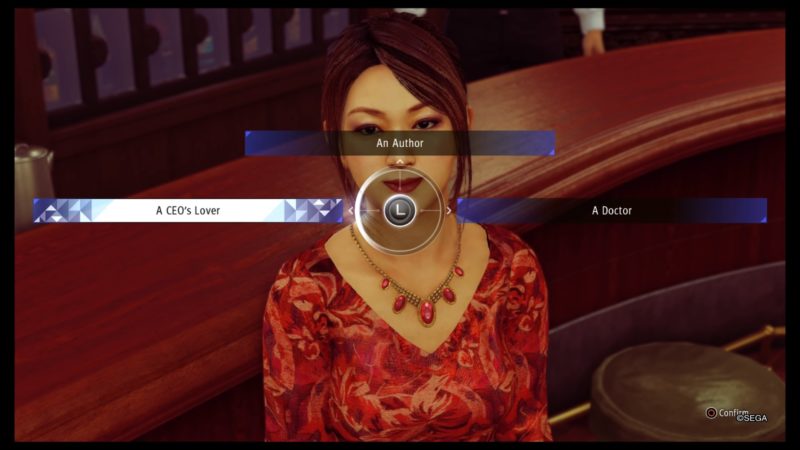 Tail Mari
As you had gotten it wrong, you will have to tail her to find out more.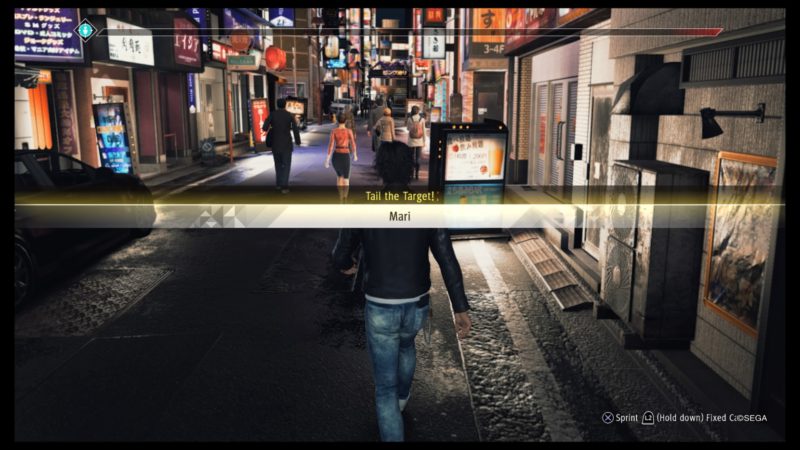 As usual, don't get spotted. After she stops at a soapland, she'll message you, knowing that you're tailing her.
Next, you need to get a disguise. You can use the Stakeout Style.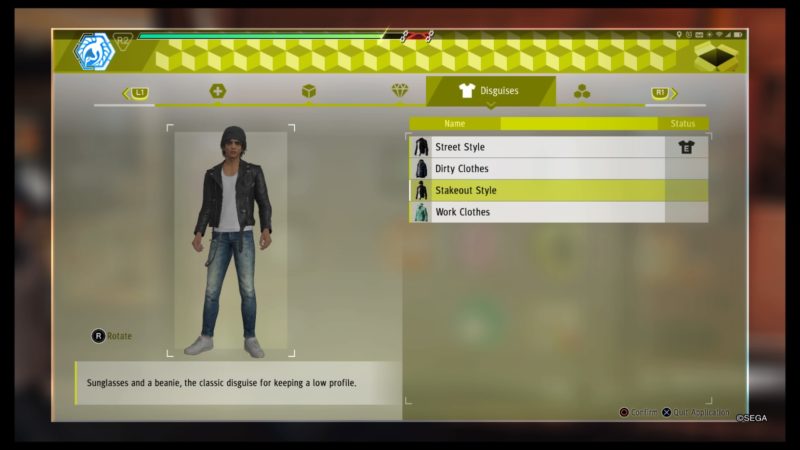 Continue tailing Mari.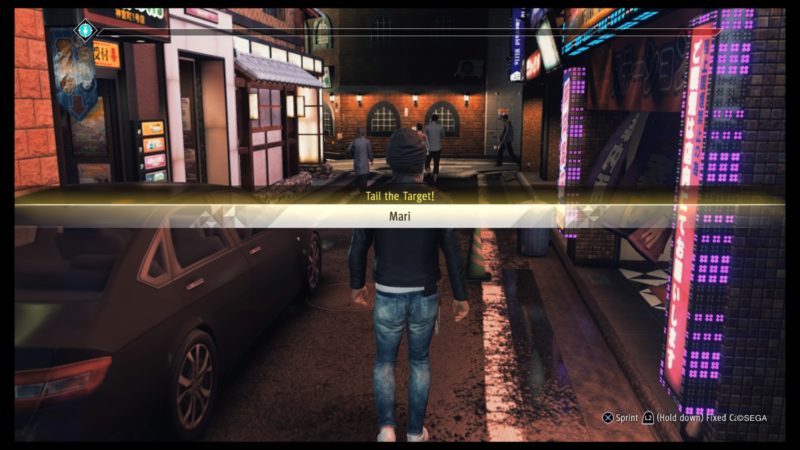 This tailing part can take some time as she turns back a lot.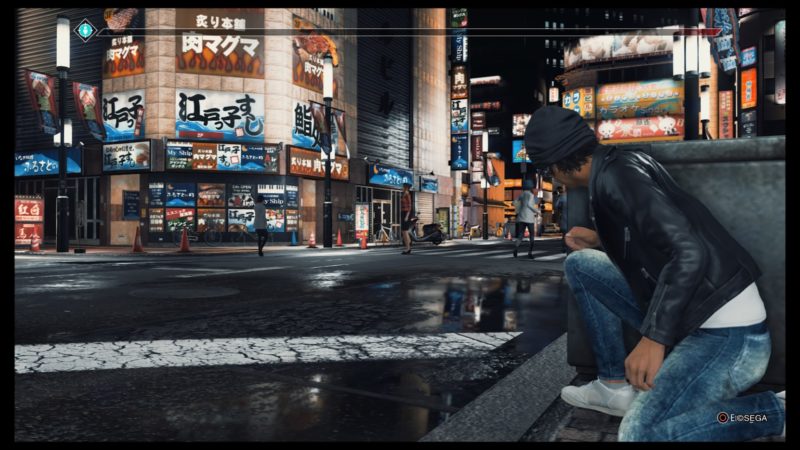 Find Mari's secret
She'll lead you to the Koi place, and she eventually entered the casino.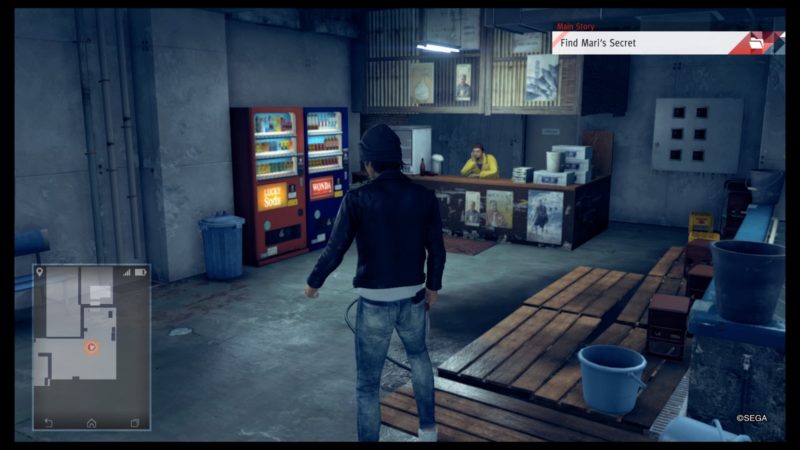 As you go down, she'll immediately call you as she knows you're following. Her real job is actually gambling.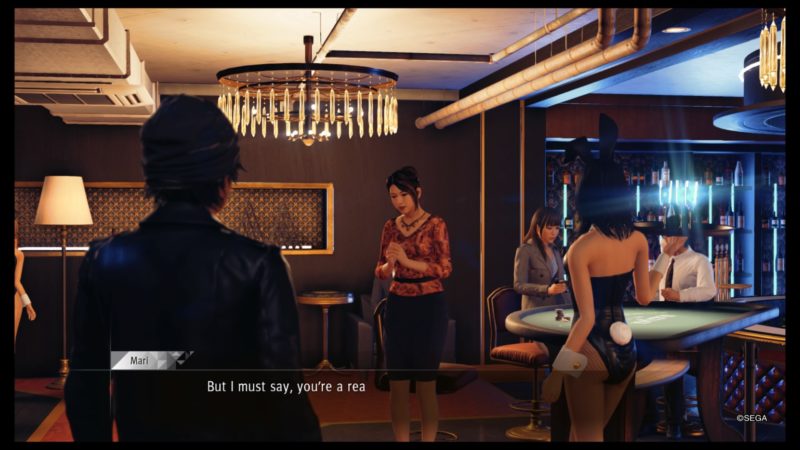 Return to the agency
Next, get back to the agency to finish this chapter.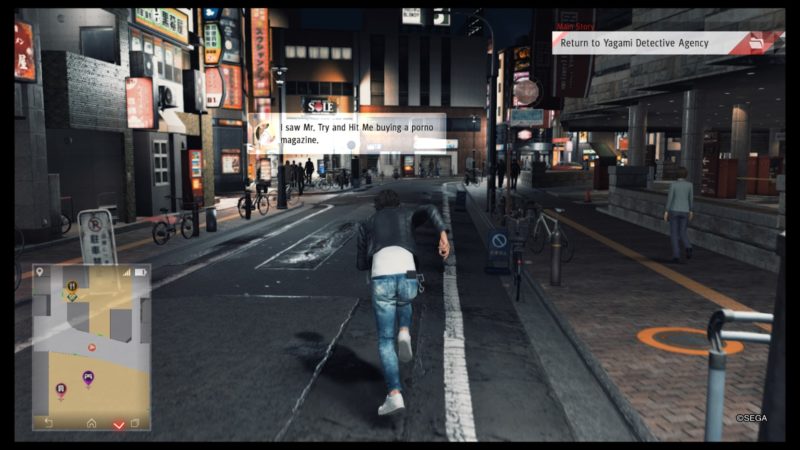 This Chapter 4 ends with Shintano's dead body inside Yagami's closet.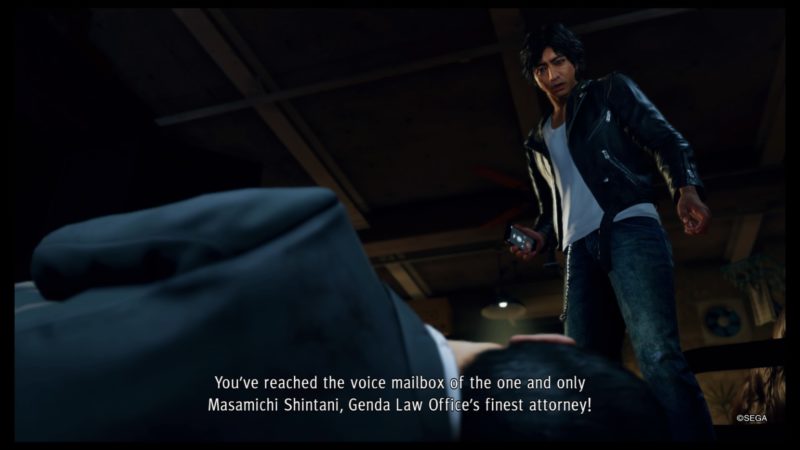 ---
Related articles:
Judgment (Judge Eyes) Chapter 7 – Limelight Walkthrough
Days Gone By Walkthrough – Judgment (Judge Eyes) Chapter 5
Judgment (Judge Eyes) Chapter 3 – The Stickup Walkthrough
Judgment (Judge Eyes) Chapter 2 – Beneath The Surface Walkthrough
Top 10 Best Dota 2 Heroes For Beginners