Judgment (or Judge Eyes) is another Ryu Ga Gotoku game which is a spinoff of the Yakuza series.
Here, you play as Yagami, a private detective who investigates highly dangerous cases.
This is a walkthrough of Chapter 12 (Behind Closed Doors) in Judgment.
Meet up with Kaito
After getting back to the agency, you'll meet Hattori at the front door. He asks you to meet with Kajihira.
Next, meet up with Kaito inside the agency.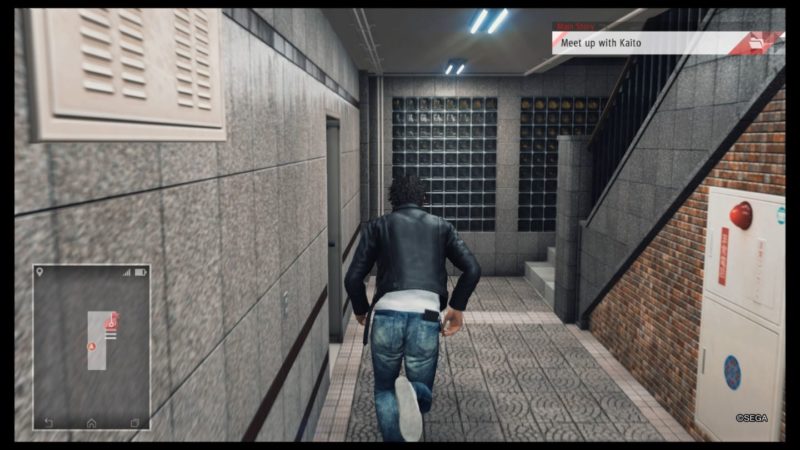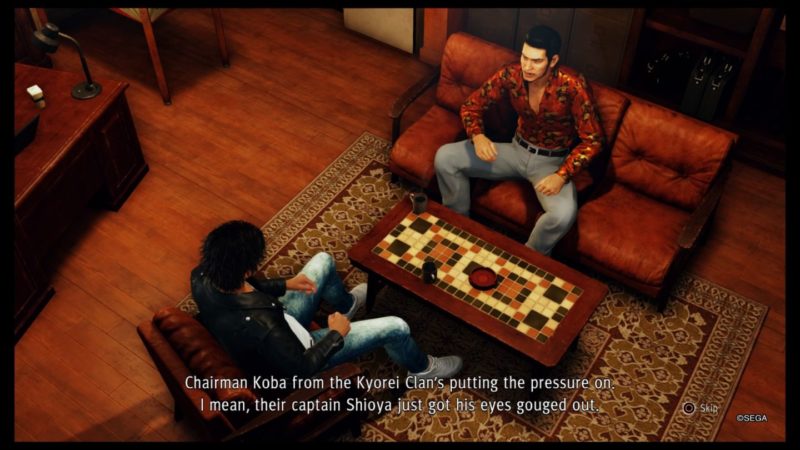 Head to Kamuro Kikunoya
Take any cab and go to Kamuro Kikunoya.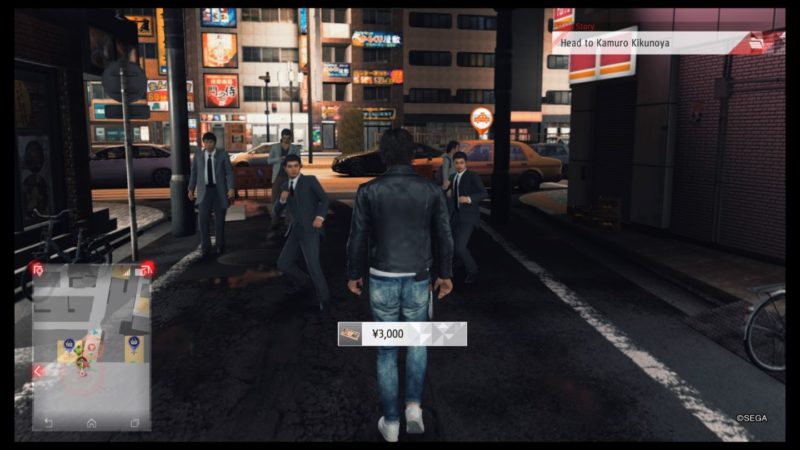 There, Kajihira will explain why he summoned you guys.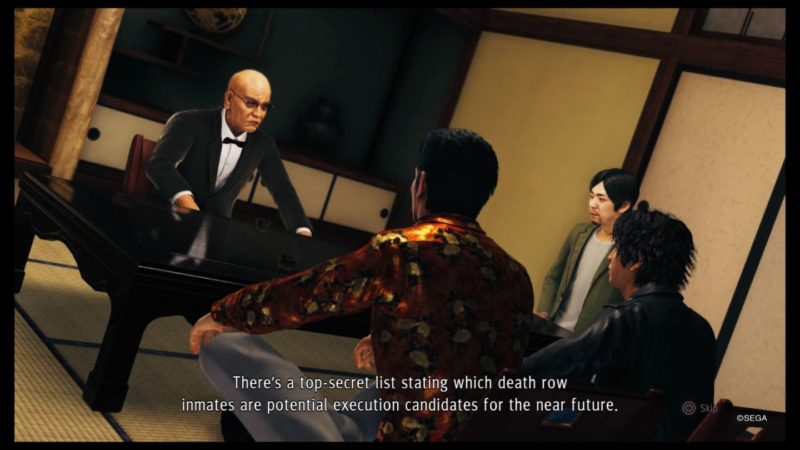 It is agreed that Director Kido is an easy target to get more evidence.
Rest up at the agency
Go back to the agency to continue.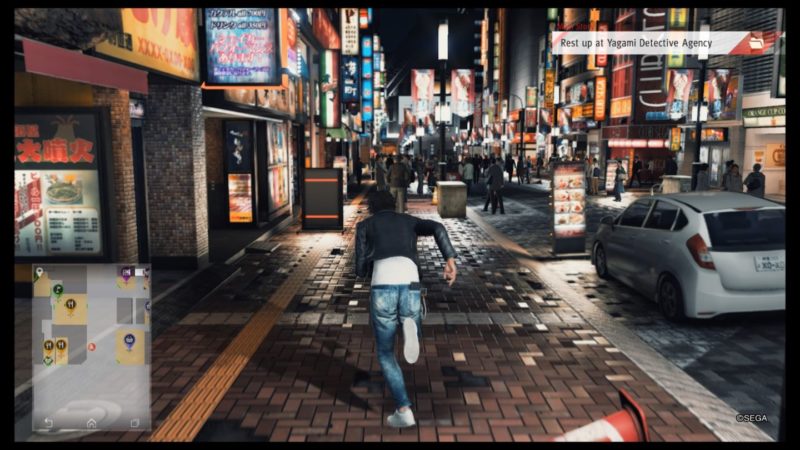 Recruit Saori again
To lure Kido, you need to find Saori's help. Go to Genda's office.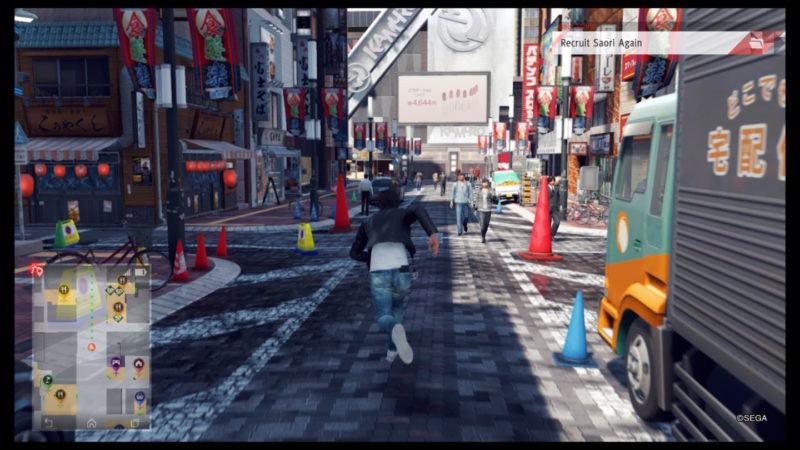 Talk to her
Start talking to her to begin the recruitment process.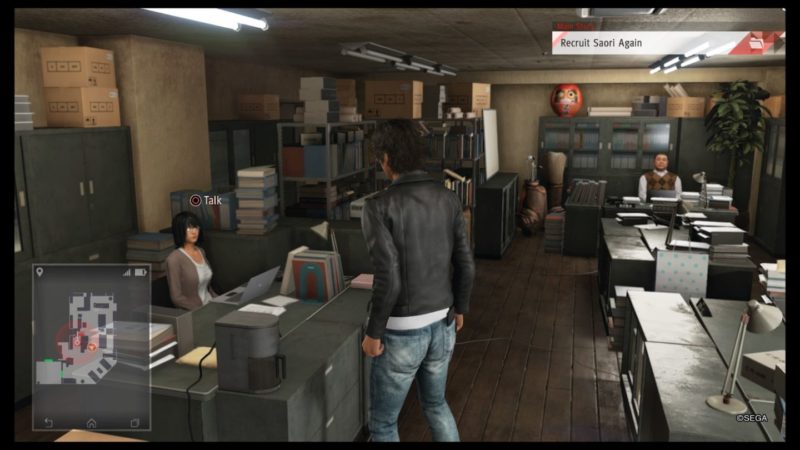 Next, you'll have to customize her makeup at Cherry's.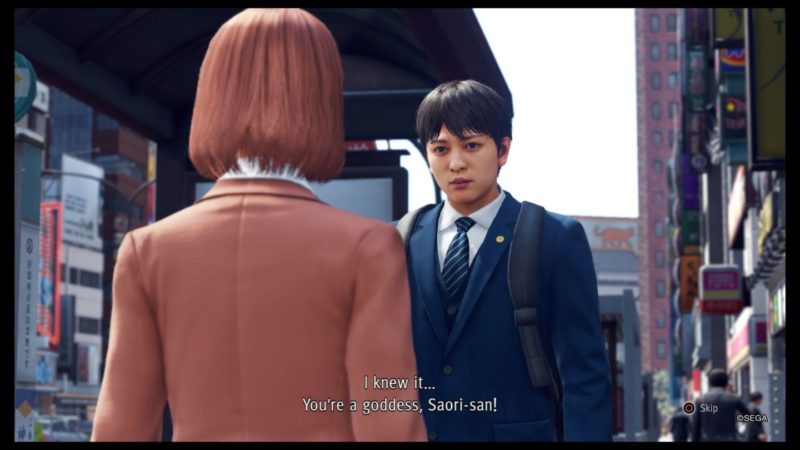 Saori will then proceed to ADDC to meet with Kido, acting as a journalist.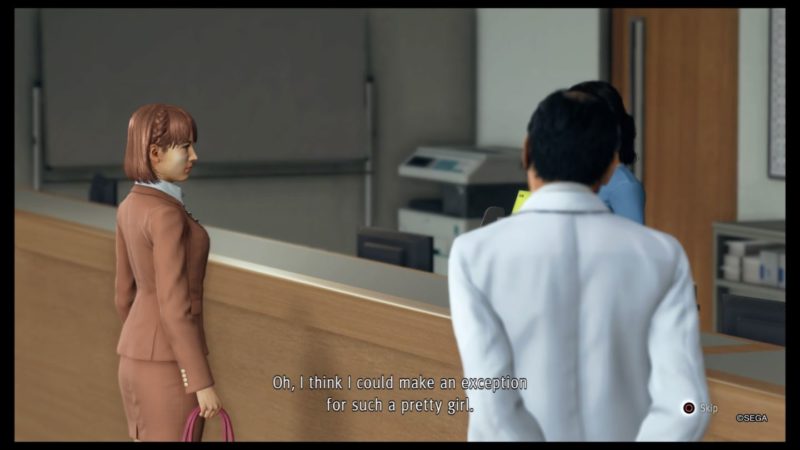 Choose the right words
In the next part, you have to use Saori to lure Kido into making some sexual harassment move and trap him.
The following are the right options to get the consecutive correct bonus.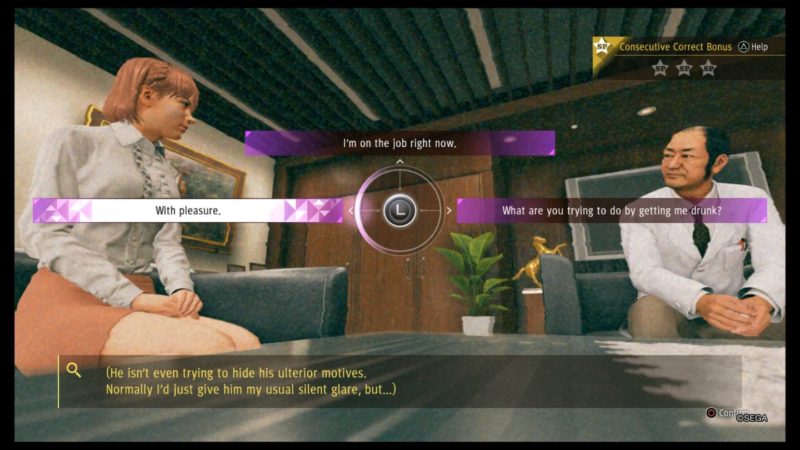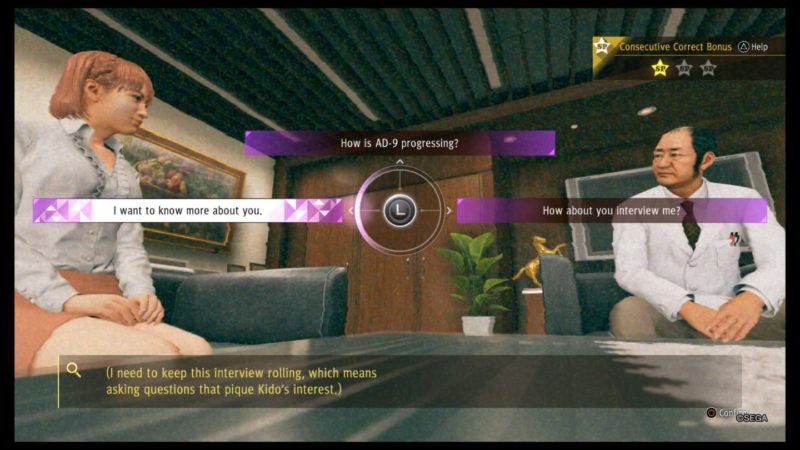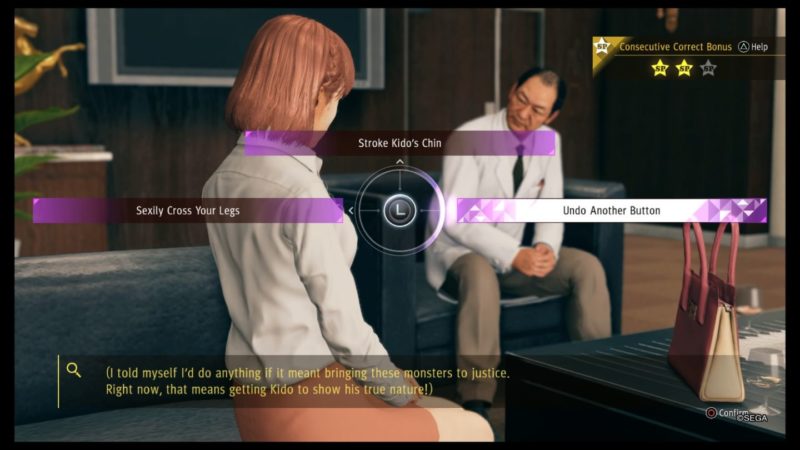 Meet up with Sugiura
After getting a video on what Kido did, meet up with Sugiura. He blackmails Kido into coming to Kamurocho.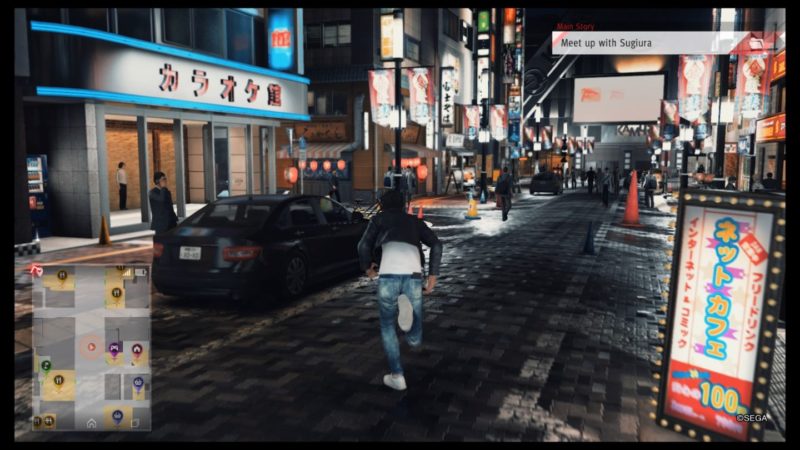 As you reach the baseball venue, Sugiura shows up in a van. Enter the van.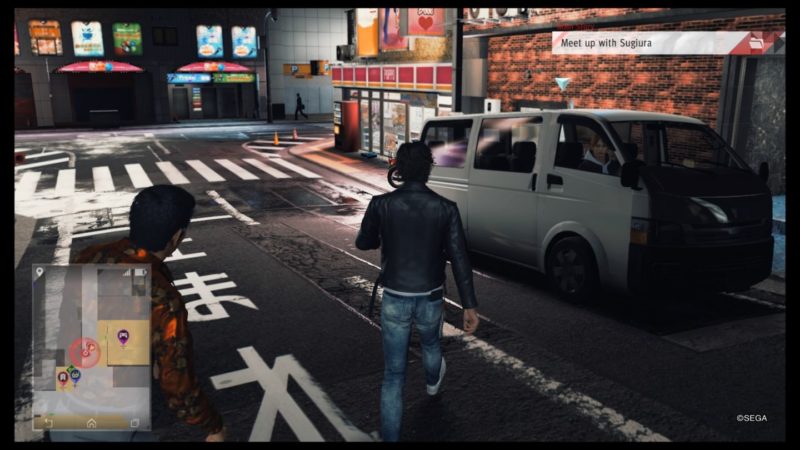 Next, Yagami and the gang will walk up to Kido.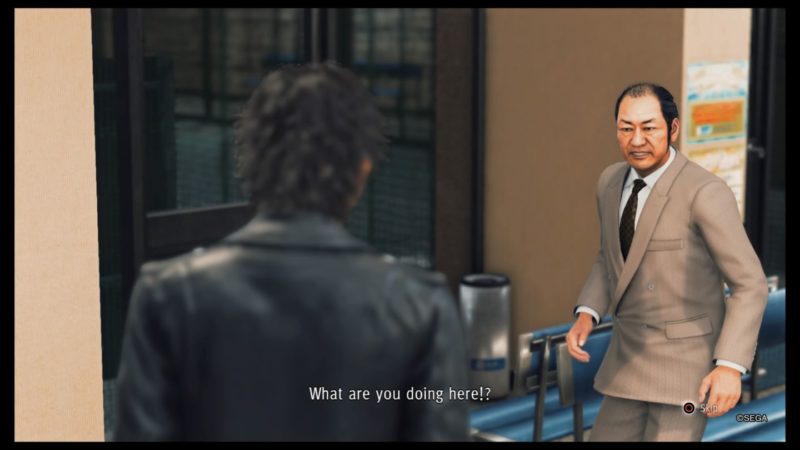 Defeat Kido and his men
He will then call his men (paid by the Ministry of Health) to stop you guys.
Defeat all of them.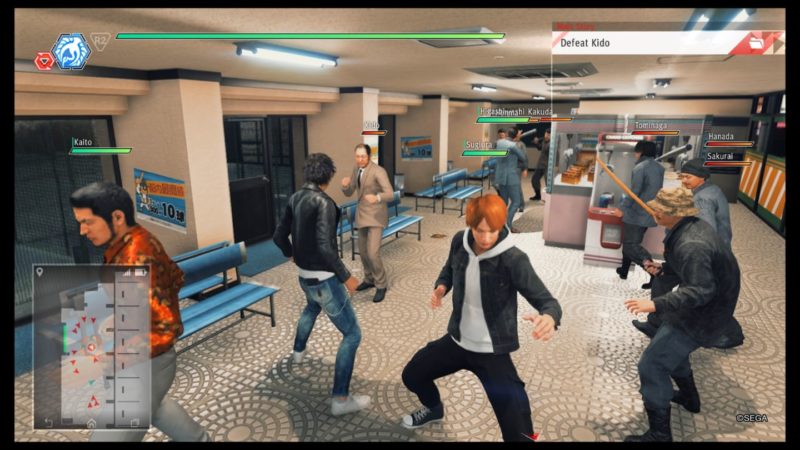 Question Kido
After abducting Kido to Charles, you need to question him on AD-9 and other stuff.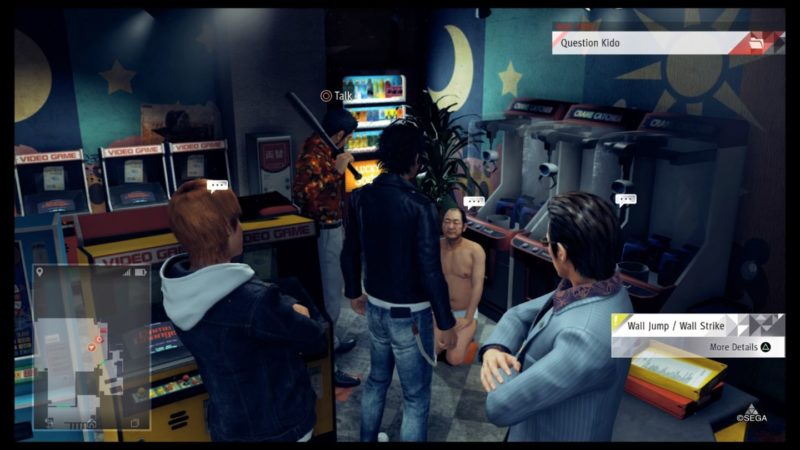 After the first round of questioning, go back into the place to question him again.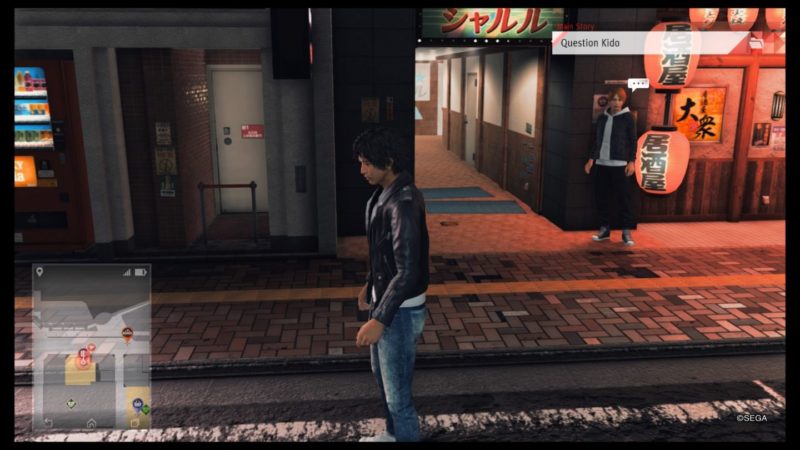 The right answer is Ichinose.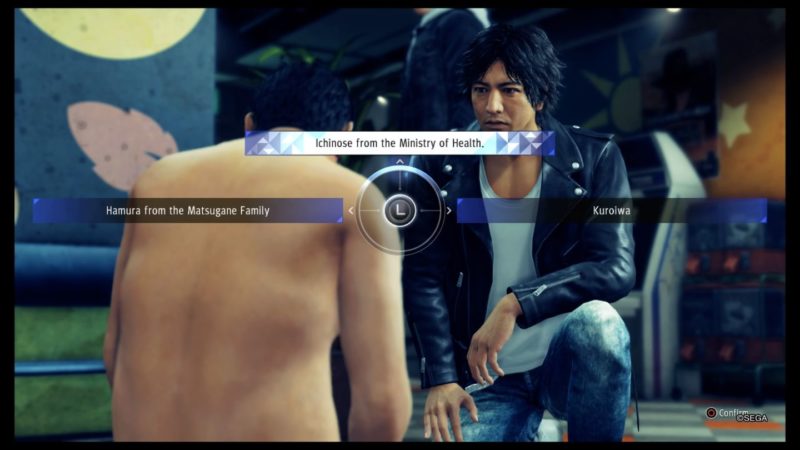 Head to the Millennium Tower
Next, you need to find Ishimatsu, the guy who probably knows where the secret lab is.
He works for Ichinose. Go to the Millennium Tower to look for him.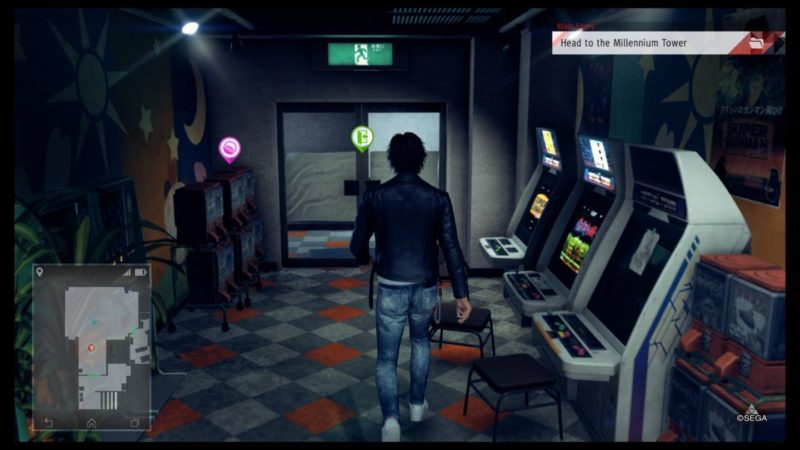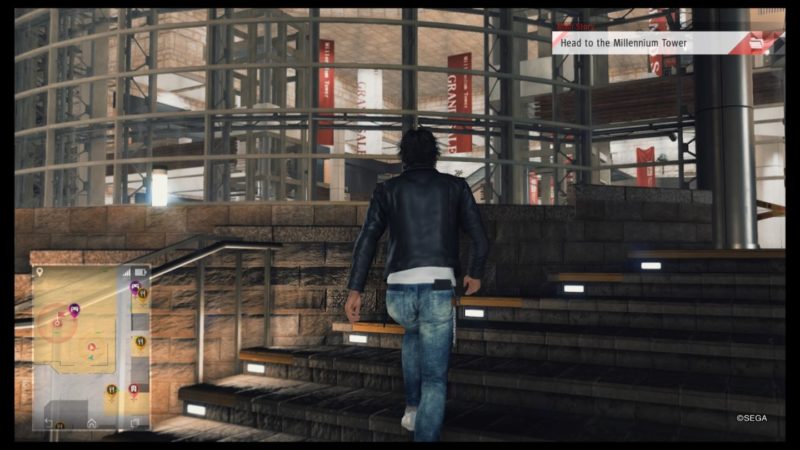 Once you're ready, talk to Sugiura to begin.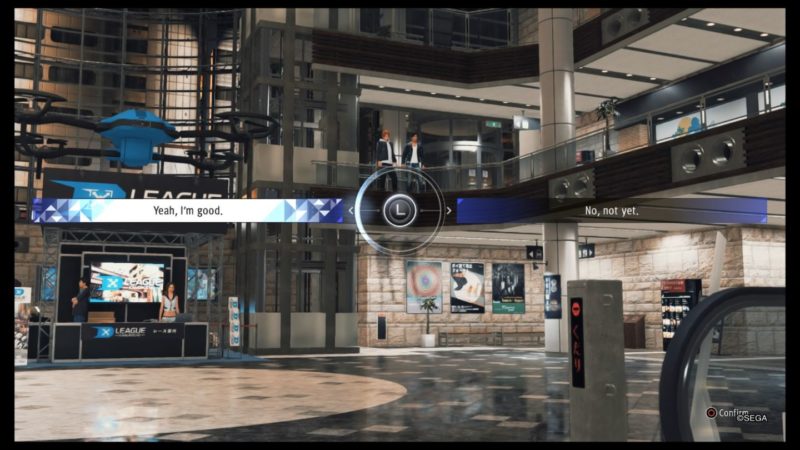 Find Ishimatsu
This part requires you to identify the target. Ishimatsu won't appear first as you need to examine the guy on your left, in front of the elevator.
After examining him, more men will appear in the building. Examine this guy in the image below.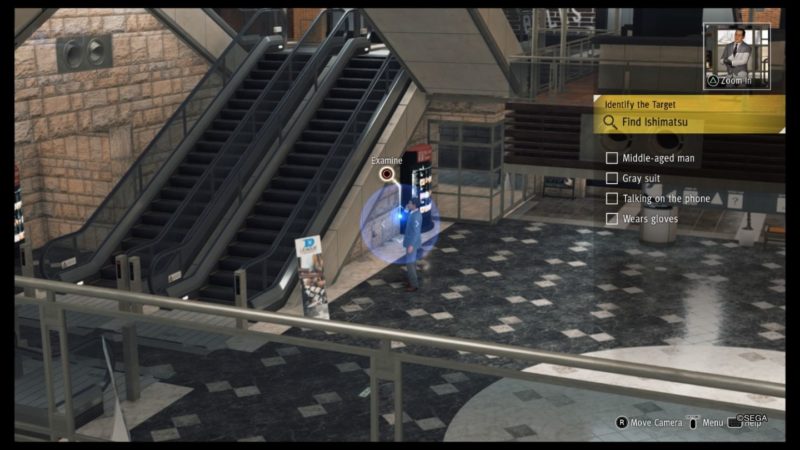 After this, Ishimatsu and a few men will appear. He's just opposite of you.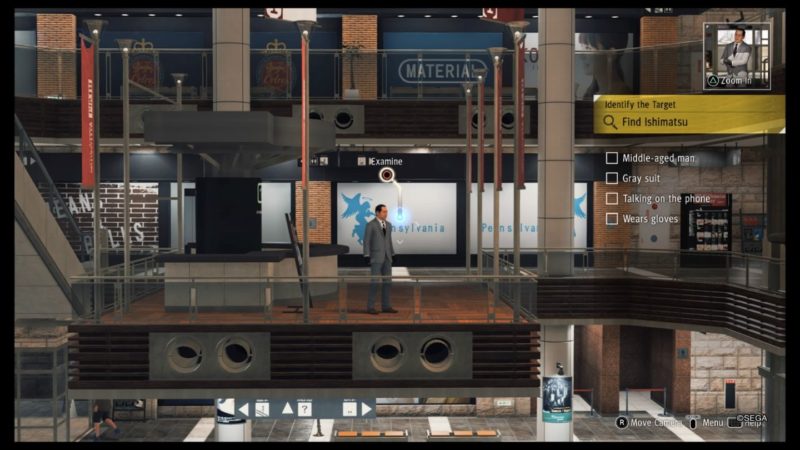 Tail Ishimatsu
Once you're done, tail Ishimatsu to the secret lab.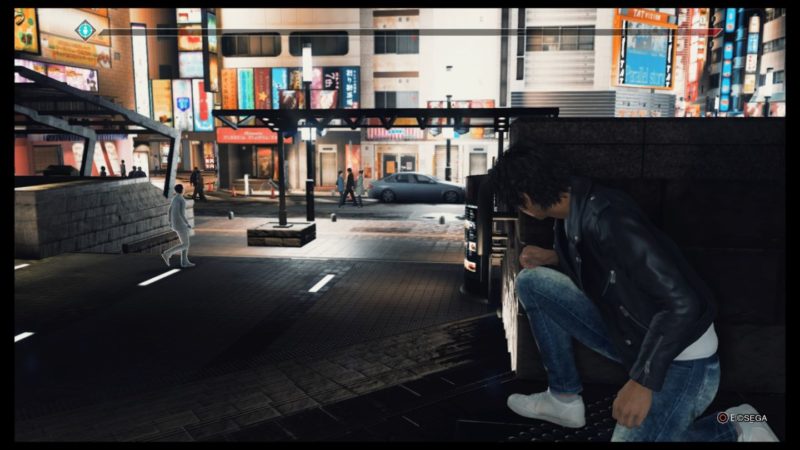 He's quite difficult because he turns around too often.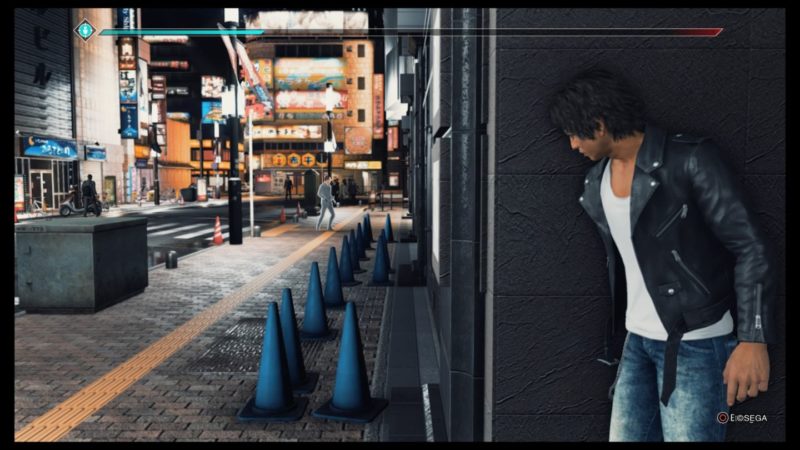 You can just hide behind pillars without the blue marker and he won't spot you. However, he may walk nearer to you, so you may need to run away first.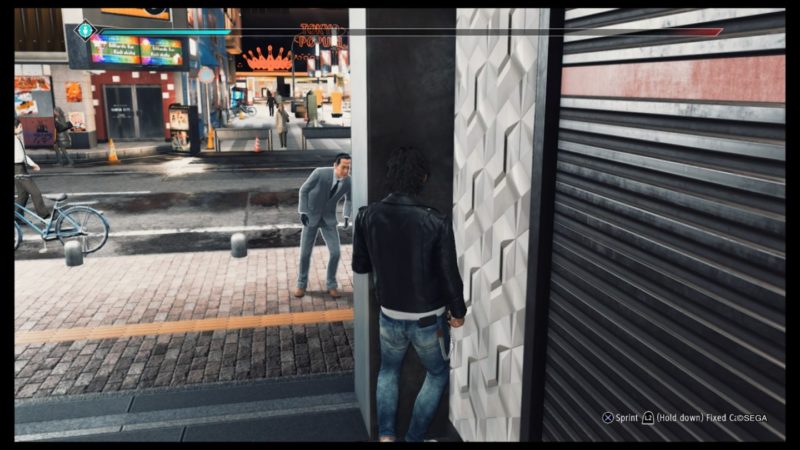 At one point, he even goes in a circle and runs.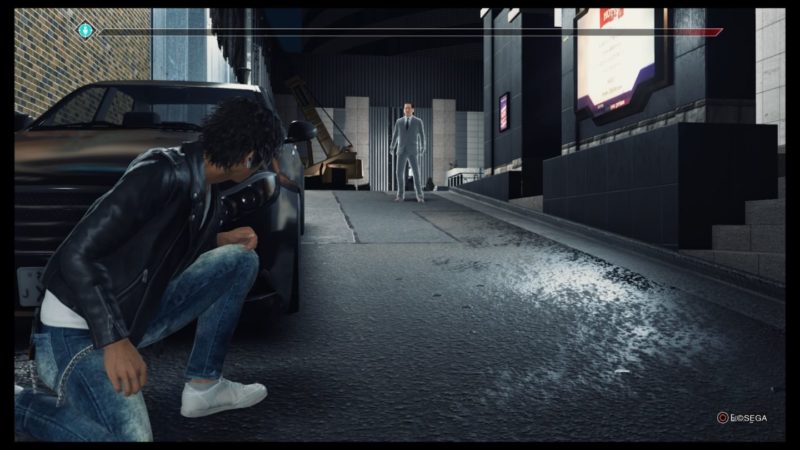 Keep following until he reaches the secret lab inside an abandoned love hotel.
Infiltrate Monsieur Lee
Enter the place.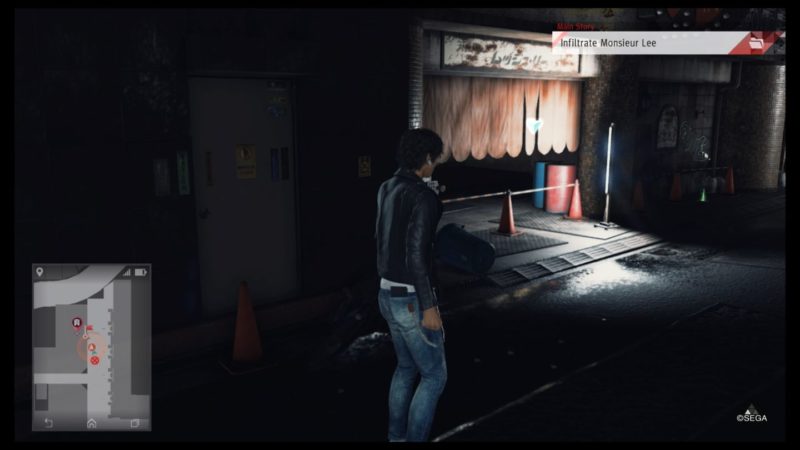 Defeat the guards
Inside, you'll meet plenty of guards. Take them all out.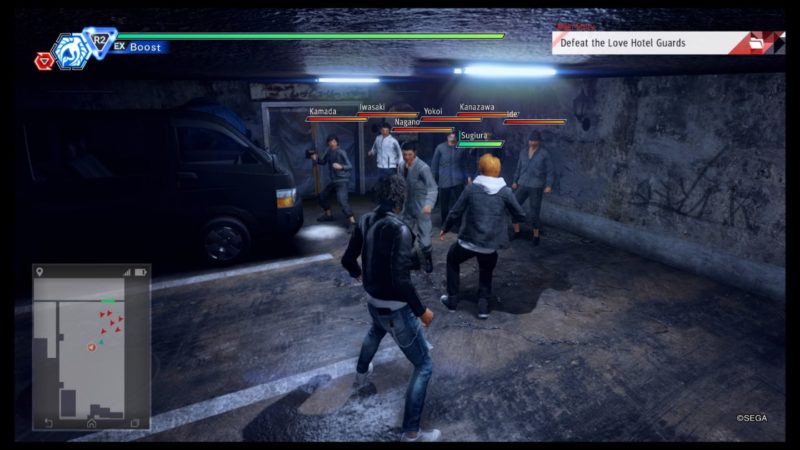 Find the secret lab
Go through the door.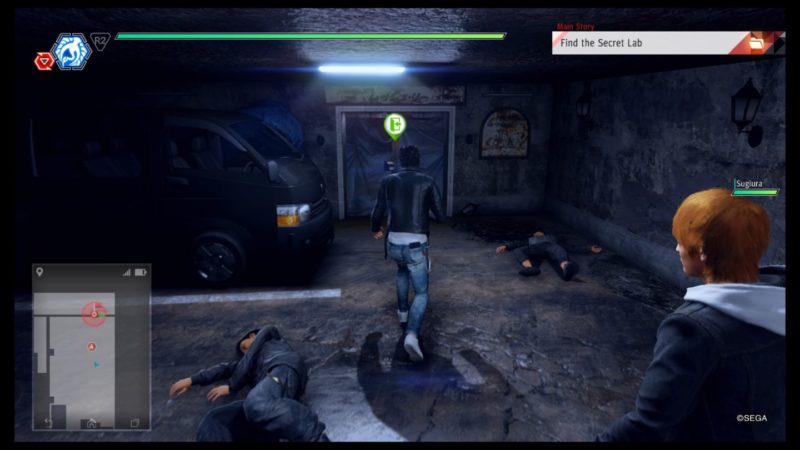 You will reach a darker area. Sugiura will be taken away without you knowing.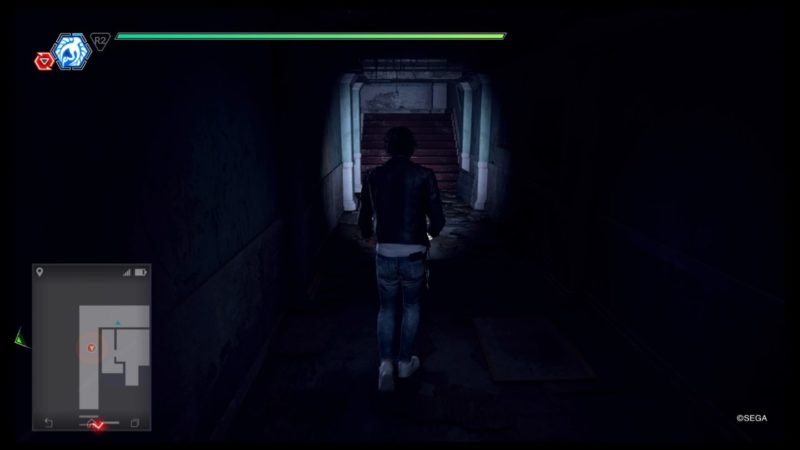 At one point, you will meet this 'monster'. Stay away from the grill or you'll lose some health. Ignore him first and go towards the other door at the end.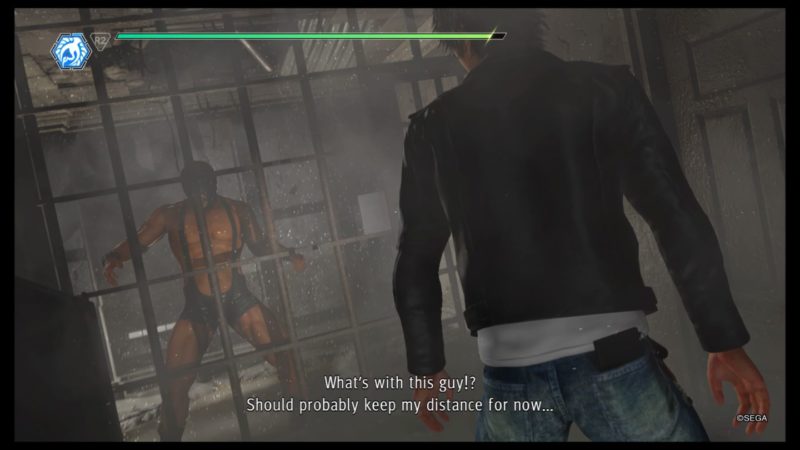 You will then come across some more men with Sugiura on the noose.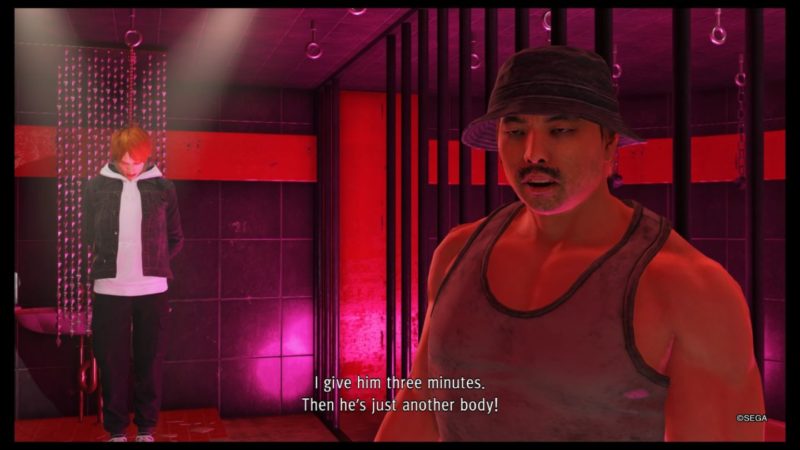 Defeat the thugs in 3 minutes
You only have 3 minutes to defeat the guys or Sugiura dies of suffocation.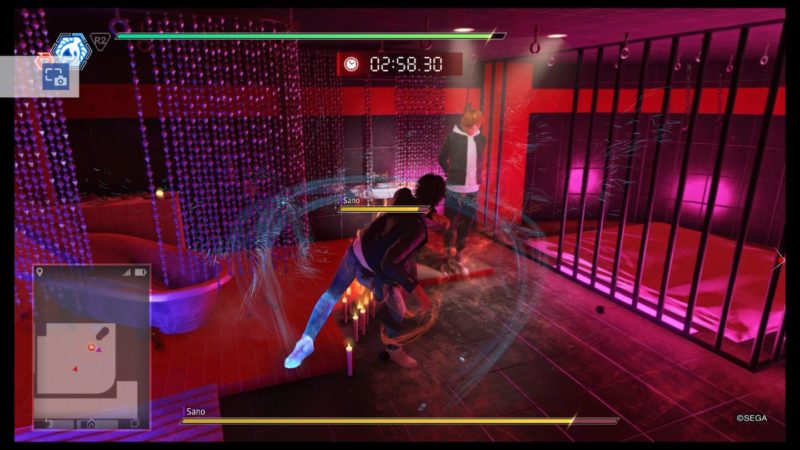 After rescuing Sugiura, go back to the 'monster'.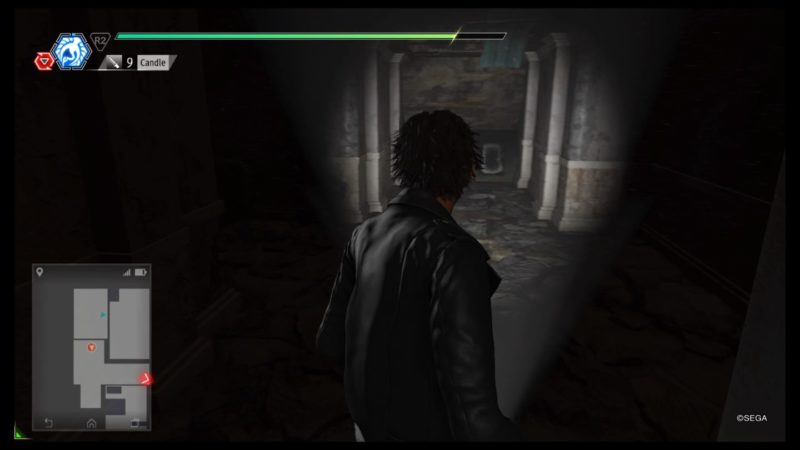 You need to grab an electric device first
To get through this guy, you need to first grab an electric item. It can be found inside a room on the ground floor, inside a box.
You'll see sparks flying out of the box.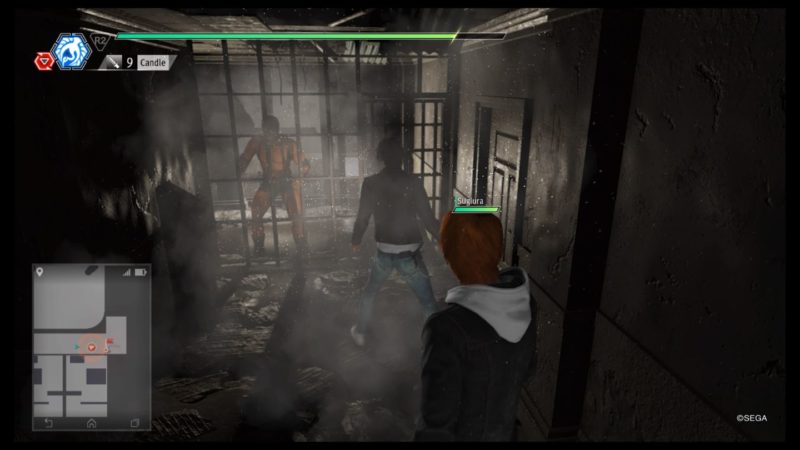 Once you're equipped, go back to this monster and Yagami will throw the device, electrocuting the monster.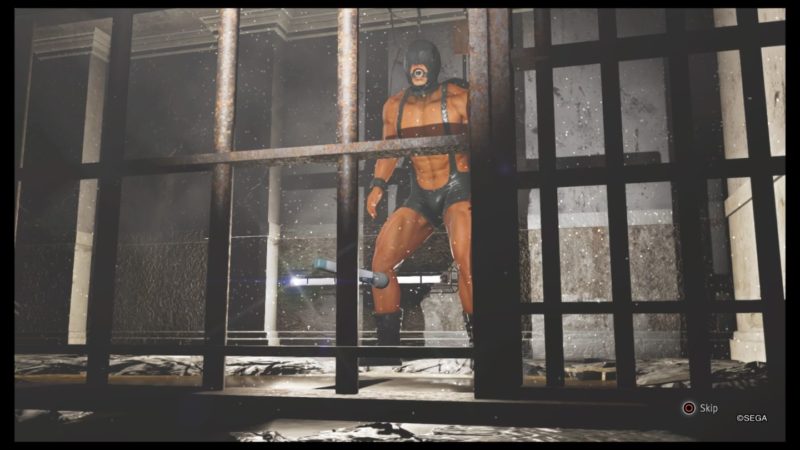 Defeat the guards
After passing through the gate, you'll meet another elite guard. Take him out.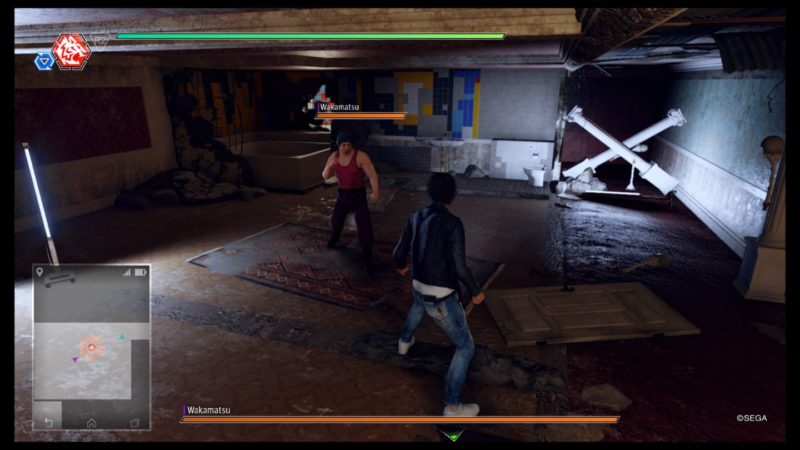 Next, the 'monster' comes back and you have to defeat him. He uses a sledgehammer.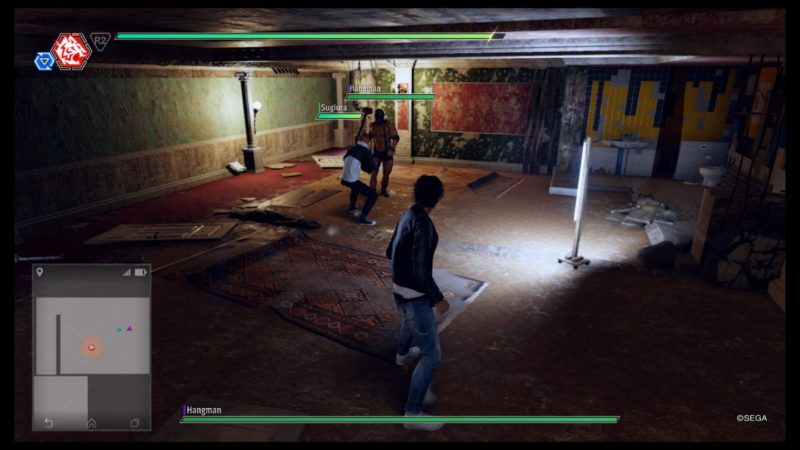 After taking him out, go to the secret lab.
You'll then find all of the equipment used in the murders. Apart from that, you'll also learn that Sugiura is actually Fumiya Terasawa, the brother of Emi Terasawa.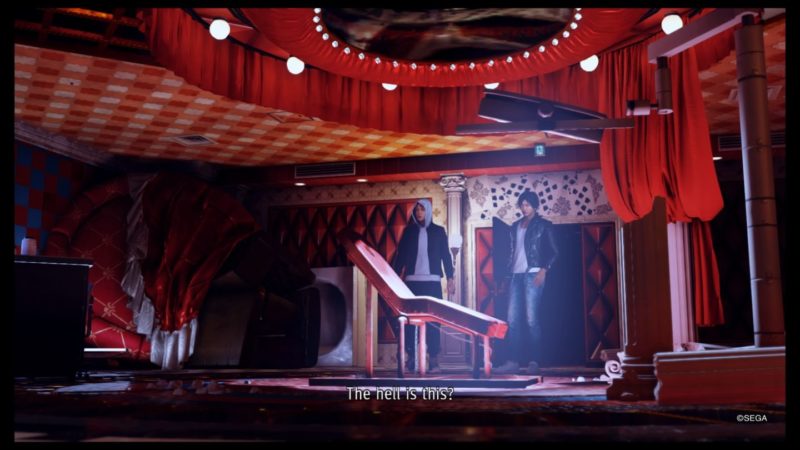 Mafuyu arrives with the cops and the prosecution. Vice Minister Ichinose is also here, but the chief prosecutor Morita refuses to help Yagami.
He's actually on the side of the AD-9, and asks Yagami to leave instead.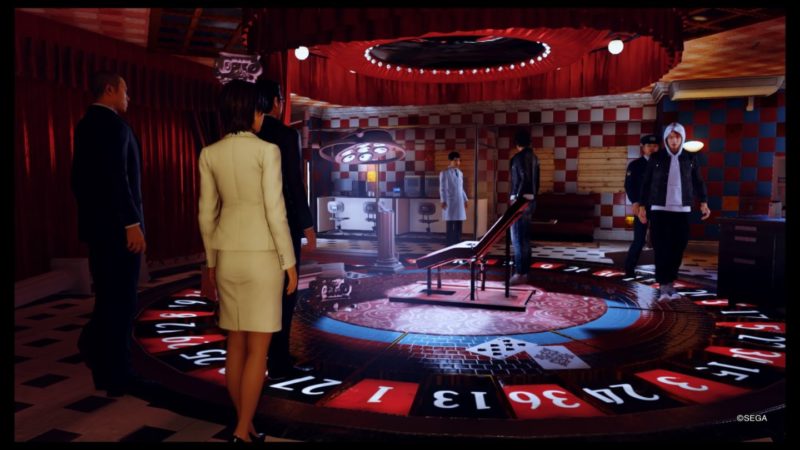 In another scene, Kaito and Higashi gets beaten up by Kuroiwa who rescues Kido.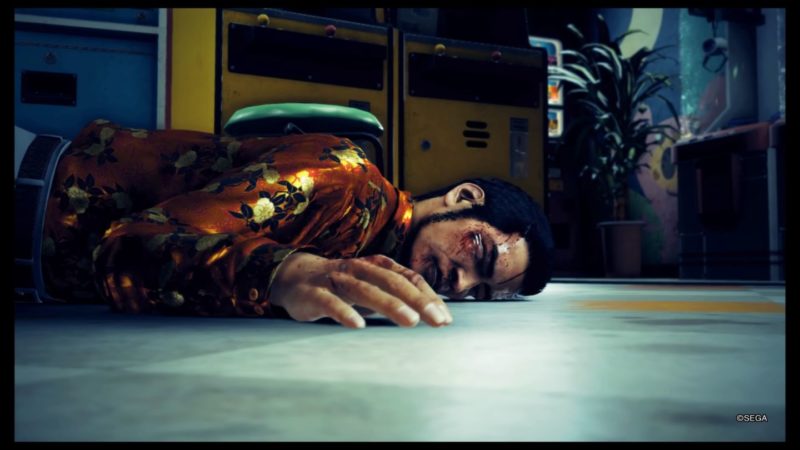 Chapter 12 of Judge Eyes ends here.
---
Related articles:
Final Chapter – Down Came The Rain – Judgment
Judgment (Judge Eyes): The Black Calamity Walkthrough
Judgment (Judge Eyes) – A Ghostly Request Walkthrough
Kenly Metro Station (Deployed Military Server) – Division 2 Wiki
Judgment (Judge Eyes) Chapter 11: Curtain Call Walkthrough
Judgment (Judge Eyes) Chapter 10: Chumming The Water Walkthrough