If you've stumbled upon this page, I can only assume you want to start a blog but don't exactly know how to.
Worry not, I've made this guide on how to start a blog in just a few steps!
For new bloggers, I recommend using WordPress for many reasons.
For starters, WordPress is very blog friendly and you won't regret picking WordPress in the long run. Once you get the hang of it, it's actually quite easy to use.
There is also a huge community of WordPress bloggers, which makes it much easier to get help whenever you encounter technical issues.
I once started with a free WordPress account before I knew that there was a difference between WordPress.com and WordPress.org.
If you want to know the differences, you can read my article on why I moved to a self-hosted WordPress blog.
Let's get back to the topic.
Disclaimer: Do note that there may be affiliate links.
1. Finding Your Blog Niche
The first thing you need to do is to find your niche (or not).
Whenever you make a search in Google or any other search engine on how to start a blog, chances are you will be asked to find a niche for your blog.
What's a niche?
A niche is basically a topic or category that is of interest to a particular audience. Examples of niches would be food recipes, finance, travel, lifestyle, product reviews or even golf.
A niche can be quite broad or even quite narrow. It can be as broad as finance as a whole. For instance, finance as a niche can cover lots of things, for e.g. saving money, how to make money, making money from home or even investments. If your niche is blogging, you can follow what I'm doing and write on how to blog, for e.g. how to start a WordPress blog in 2018.
A niche can also be as narrow as having a blog which has content only about coconut oil. That would be categorized as a micro niche. Your target audience is so much smaller but a small audience in a micro niche can also generate money because your readers already know what they are looking for. It's not easy to stumble upon a micro niche blog by a general keyword search.
Do find your niche first before starting a blog! It will affect your decision in naming your website.
2. Choosing A Domain
Now that you've chosen your niche, the next step on how to start a WordPress blog is to choose your domain.
For a new blogger, getting a custom domain name for $10 shouldn't be difficult. If a ".com" domain has been taken, you can always try ".net", ".us", ".online" and so on.
Where do you buy domain names?
I bought this domain and several others from GoDaddy. They are probably the most well-known domain registrar in the world. No worries, they are a legitimate site.
Otherwise, you can try other domain registrars as well, such as NameCheap and Sedo.
3. Choosing A Web Hosting Plan
The third step in starting a WordPress blog is to choose a web hosting plan.
What a web host does is that it keeps your website online.
There are so many web hosting companies out there! How do I find a good one?
I believe most of the more popular companies are quite reliable for beginners, for e.g. Bluehost or Siteground.
I'm sure there are complaints for each of these providers, but it's normal. No service is perfect for everyone.
When you have more traffic in the future, you'll probably get a dedicated hosting anyway (which is much more expensive).
Currently, I'm using Bluehost for this blog's hosting.
What are the perks of Bluehost?
It is the recommended web hosting for WordPress blogs and it also provides a one-click install for WordPress. No worries though, you can still use Bluehost even if you're not using WordPress as a website builder. It's basically a hosting company, so any website builder will do (e.g. Squarespace or Weebly).
It has a 24/7 support system. If you encounter any problems, you can contact their support team and you will get through within 5 minutes usually. When I had difficulties in migrating my blog from WordPress.com's server to Bluehost, they were really helpful.
If you're from the US, they even provide free $100 credit for Google AdWords, Bing and so on. You can advertise your blog (by setting certain keywords) on their search engines using their free $100 credit. This offer is not applicable in certain countries.
Their pricing is relatively cheap. You can get hosting for as low as $3 a month.
Pricing: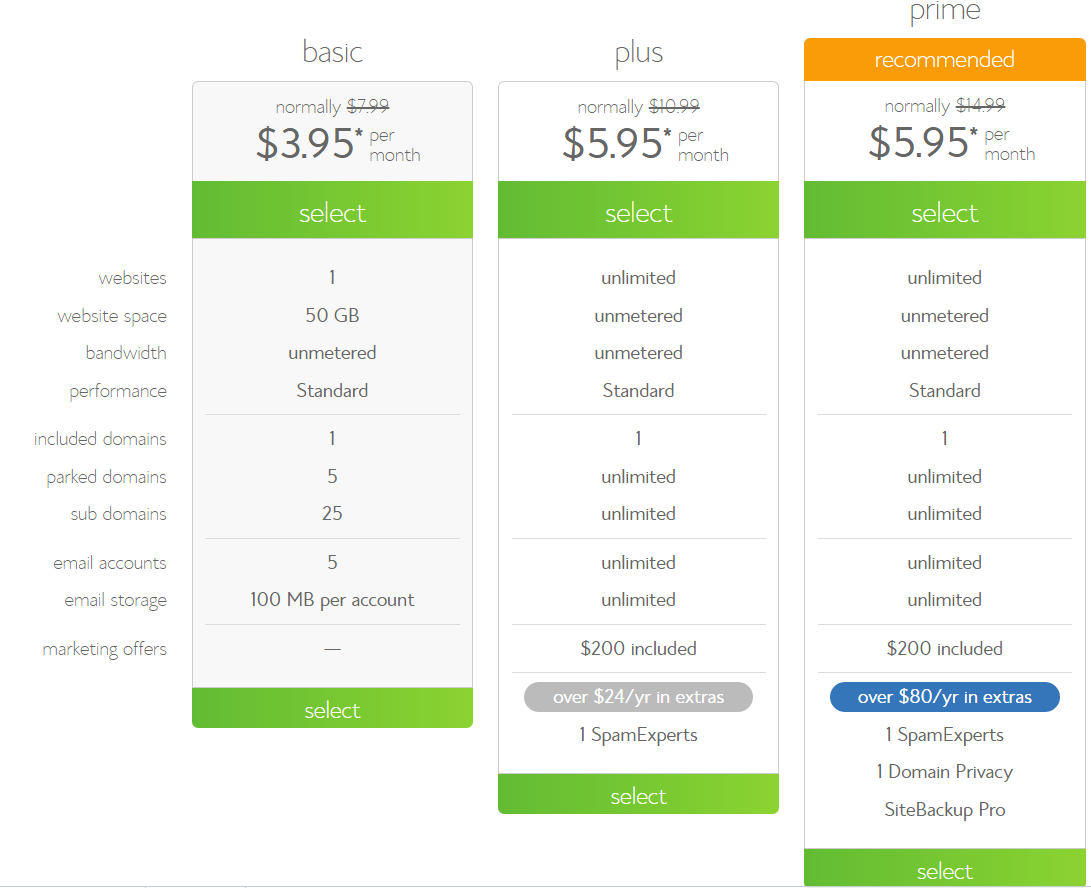 You can sign up for Bluehost here.
4. Installing WordPress
Now that you've chosen your web hosting plan, the next step is obviously to install WordPress.
I will use Bluehost as an example since I am using Bluehost for this blog.
This is the technical part, so bear with me!
Steps
1. When you first login, you will see this page below. Click on "website".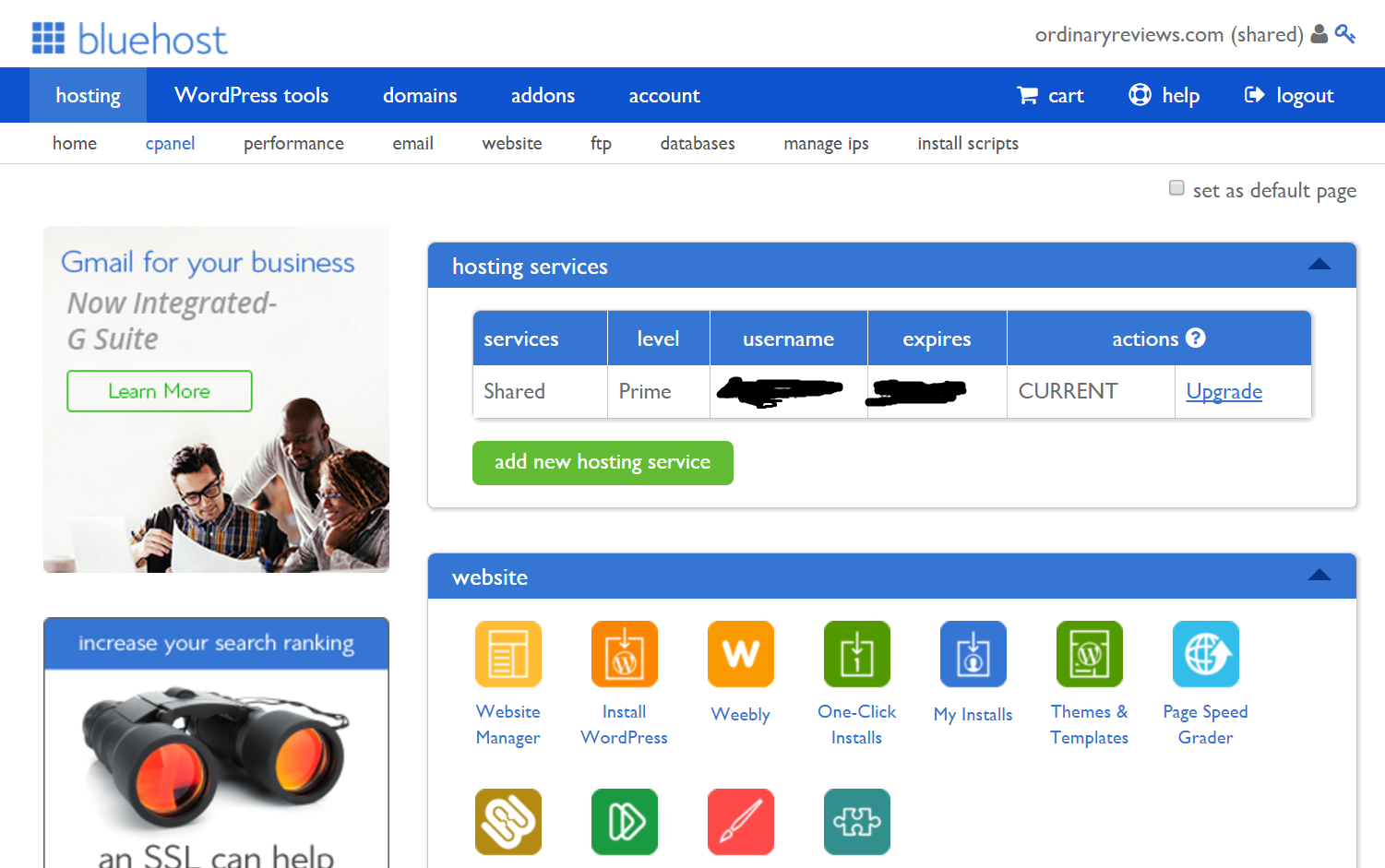 2. You will get to this screen. Click the "Install now" button.

3. Next, choose the domain name you want to install it to. In the field beside the domain, you can enter a subfolder such as "blog" or leave it blank if you want the site's main page to be the blog.
4. Read through the license and service agreements and tick the boxes.
5. Select the "Install Now" button. The whole process should take 5 minutes.
Note: The steps may not be identical. You can just follow the installation as it's quite direct.
6. Now that you've installed WordPress on Bluehost, go to "Email". Register an email, for e.g. admin@yourwebsite.com or administrator@yourwebsite.com.
7. Next, take a look at "WordPress tools".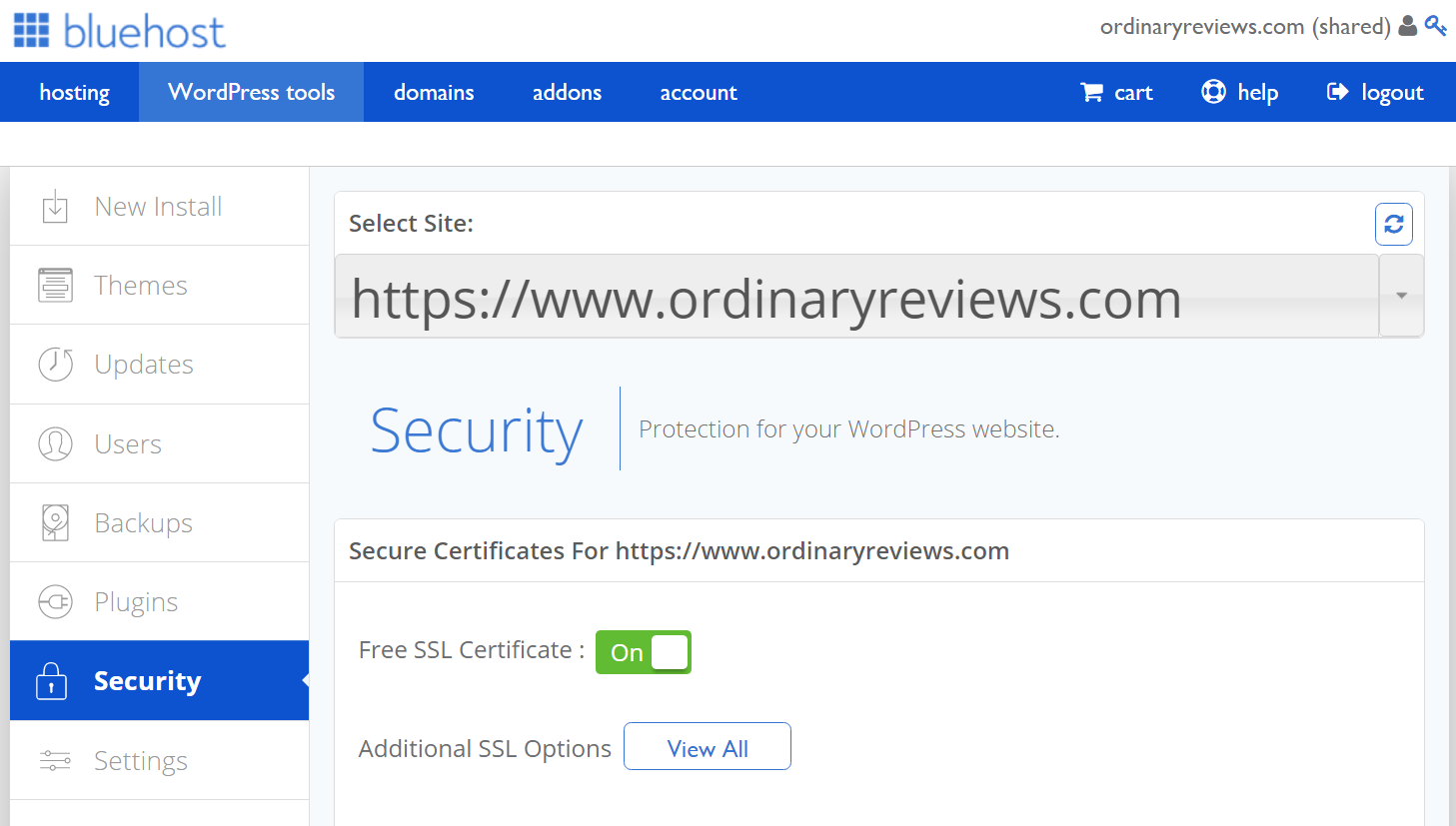 8. Once you've clicked on WordPress tools, you will reach this screen. Click "Security" and use their free 3-months SSL Certificate. If you have followed step 6 above, you would have an email registered by now. If you haven't registered an email with the name admin@yourwebsite.com or administrator@yourwebsite.com, do it before you send the validation code.
Why?
To obtain the free SSL Certificate, they will send a validation code to your email.
They don't allow you to key in your personal email, but only choose from a variety of options. Among the multiple options (maybe 6 or 7), two of them are 'admin@yourwebsite.com' or 'administrator@yourwebsite.com'. Either one will do.
Get the validation code from your newly registered email and validate it. Your SSL Certificate will be updated within an hour or so.
9. You're done with the installation. Not too confusing I hope. Some of the steps were not mentioned in other guides and are based from experience. The next step is to choose a theme.
5. Choosing And Customizing Your WordPress Theme
The first thing for you to do is to login to your WordPress dashboard.
There are two ways to do this.
The first way is to use Bluehost and go to "WordPress tools" as shown above. Click on "Users" and click on the login button next to the User.
An alternative way is to login directly. How? If your website's domain is www.website.com; you can simply add a "/wp-admin" which makes it www.website.com/wp-admin. You will be directed to the login page and you just have to key in your username and password.
Once you have logged in, the dashboard looks something like this: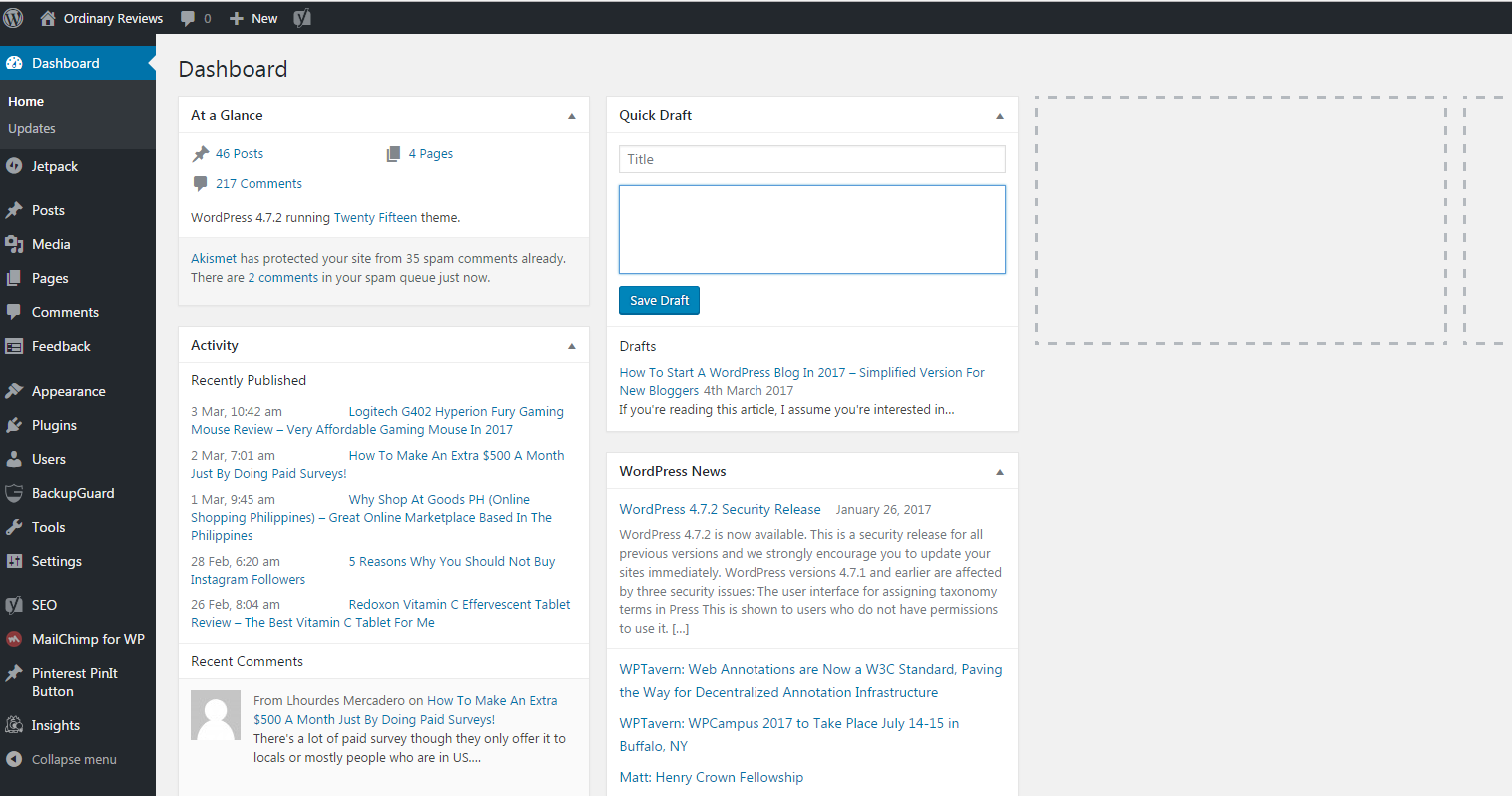 To choose your theme, go to "Appearance" and click "Themes".
Next, you can either use a pre-installed theme or you can look for hundreds of other themes. I'm currently using a premium theme, i.e. a sample theme of Genesis Framework which costs about $60.
Click "Add New" and you will be directed to many other themes for you to browse through. Some are free and some are premium themes which you have to pay for. A free theme is sufficient if your budget is low. You can even use the search bar to look for more themes.
Once you have chosen your theme, click on Install and then activate it.
Once activated, you can customize your blog. Go to "Appearance" once again and click "Customize". You can slowly customize the appearance of your blog, be it the color or even the widgets.
If you're done with customization, the next thing is plugins.
6. Choosing The Right Plugins
If you had recently migrated from a free WordPress blog, you've never had to choose which plugins to install as all of it had been done for you.
It might be daunting at first to decide which plugin will make or break your blog.
There are many bloggers who have written lengthy posts on which plugins to install.
I'm not an expert in WordPress but the following plugins have proven useful for me. To add plugins, just click "Plugins" and then click "Add New". Remember to activate your plugins after installing them.
Akismet Anti-Spam – This plugin is to prevent spam comments and it has worked well for me so far.
Yoast SEO – This is a must have for all WordPress users. Why? SEO is vital for your blog if you want your content to be ranked well on search engines. Yoast SEO is highly recommended as a SEO plugin and you can use it for free!
Once you've activated it, it shows you what you're supposed to do with your content, for e.g. keyword concentration, length of your title, inserting alt attributes for your images and so on. The keyword I'm aiming to rank for in this post is "how to start a WordPress blog" and you can see why I'm repeating this keyword in several areas.
Pinterest Pin It Button – This allows all of your images in this blog to be "pinnable". Pinterest is probably the best source of traffic among all social media platforms. Your visitors might pin your images and it really helps to grow traffic. This is especially useful if you have really beautiful images of food, travel and so on. Remember to pin this post in your Pinterest boards!
Jetpack – You can get this for free. This is the same plugin that you would have used if you had started off with a free WordPress.com blog. It comes with many features that are useful to your blog.
Wordfence – One of the best security plugins to prevent attacks from hackers.
Backup – This is vital because unlike your free blogs, a self-hosted blog doesn't automatically come with a backup plugin. You have to install it yourself.
WP Smush – This plugin helps you to reduce your image sizes and therefore improve the performance of your blog. If your image sizes are too big, it may decrease your website speed greatly and it affects SEO adversely. If your website takes too long to load, you will potentially lose a lot of visitors. Losing visitors = losing money.
W3 Total Cache or WP Super Cache – Any one of these plugins will do. They are extremely important if you want to increase your website speed. W3 Total Cache is slightly more difficult to use but very effective. I'm using WP Super Cache as it's easier for bloggers who do not have much technical knowledge.
Google Analytics by MonsterInsights – Instead of just relying on Jetpack's visitor stats, you can use Google Analytics through this plugin. It helps you to analyze many things, including where your visitors are from and the top traffic sources (e.g. Facebook, Pinterest or whatnot).
Ad Inserter – If you want to insert ads easily but you're not good with html, you can try this plugin. It allowed me to insert ads wherever I want, whether it's before the content or even after the first paragraph. You have a lot of freedom in choosing where to insert your ads.
Once you've installed and activated your plugins, the next step on how to start a WordPress blog is publishing your first post!
7. Publishing Your First Post
This step is the easiest.
Just go to "Posts" and click "Add New".
You will come across this screen.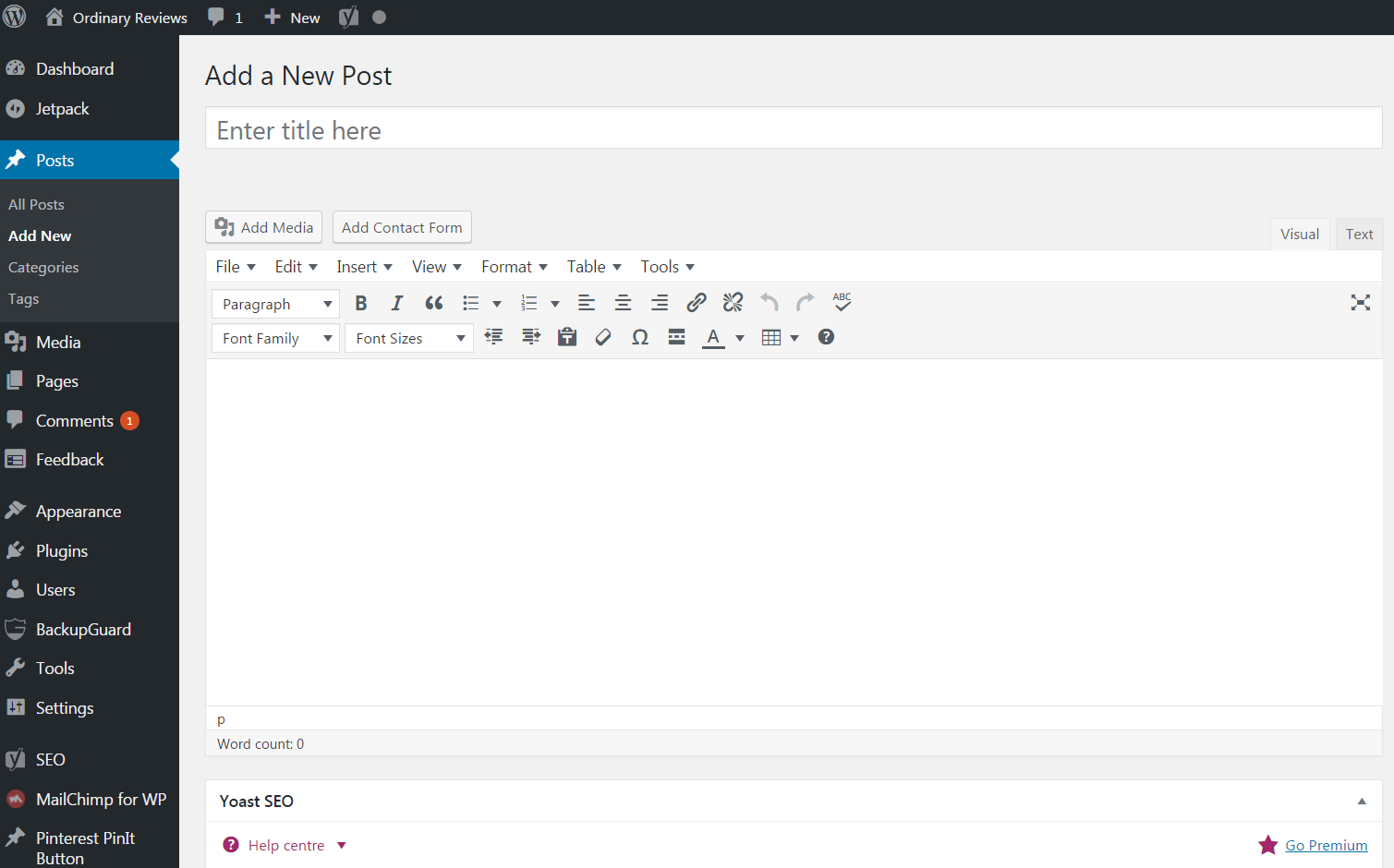 On the right side, you will notice "Visual" and "Text".
Visual is where most bloggers type their content.
Text is the html part for you to insert codes for advertisements or affiliate links.
To start off, just insert your title and you can start writing your content.
Do note the differences in title headings
If you noticed, the regular font size is called "Paragraph" and there are different sizes of headings, i.e. Headings 1 – 6.
Please do not use different headings simply because you want your font to be bigger. It will affect SEO adversely.
Your title is automatically Heading 1, and it's normal to use it only once in the post.
To use Heading 2 and so on, please organize it properly. Heading 2 has to come first before Heading 3 and so on.
If you use any headings, ensure that you have at least a paragraph or some content underneath it.
Using your "focus keyword" in your Heading 2 and other subheadings is good for SEO as well. "Focus keyword" is the long-tail keyword which you hope to rank highly for in the search engines.
For e.g. your focus keyword is "how to start a blog". You want your blog post to rank highly in Google when someone searches for "how to start a blog".
How do I increase my font size for emphasis then?
You can install the plugin TinyMCE Advanced which allows you to change your font and also your font sizes! It has other built-in functions as well to improve the presentation of your blog content.
That's about it for now!
Do note that this is just the beginning of your long journey. There are so many things for you to learn about blogging, promotion, SEO, social media and more!
If you need help with other parts of blogging, you can refer to some of my other articles:
Conclusion
Starting a blog is easier than it looks. Just sign up for Bluehost at only about $3.95 a month.
The hardest part is actually taking the initiative to start blogging. Once you've gotten all of these technical parts out of the way, you can relax and blog at your own pace.
If you have any questions, you can contact me via the Contact page. I'll try my best to help if I have the requisite knowledge to do so.
If my guide on how to start a WordPress blog does not suffice, you can try contacting your web hosting provider or WordPress.org's support for further assistance.
Otherwise, you may also contact me if you need help with migration to WordPress or starting a new self-hosted WordPress blog.
Don't forget to subscribe to our mailing list to get the latest blogging updates! You can use the subscription form on the sidebar.