Hey guys, did you know that you can actually make money with memes? And it doesn't take too much effort to generate a decent meme with meme generators and plenty of meme templates these days. How do you make money with memes? I know for sure 9GAG doesn't pay you for making memes.
That's where DMania comes in. DMania is a third party app hosted on the Steem blockchain. You may have heard of Steemit, but there are plenty of other sites hosted on the Steem blockchain, like DTube, DLive and so on.
Edited (6 May 2018) – DMania is closed.
What is DMania?
DMania is a website hosted on the Steem blockchain and it's the only site I know that allows you to make money with memes. You don't get paid in any local currency (fiat), but you get paid in Steem, which is a cryptocurrency.
Steem at the time of writing is worth about USD 2. It has gone up to USD 8 before, but that's a different story.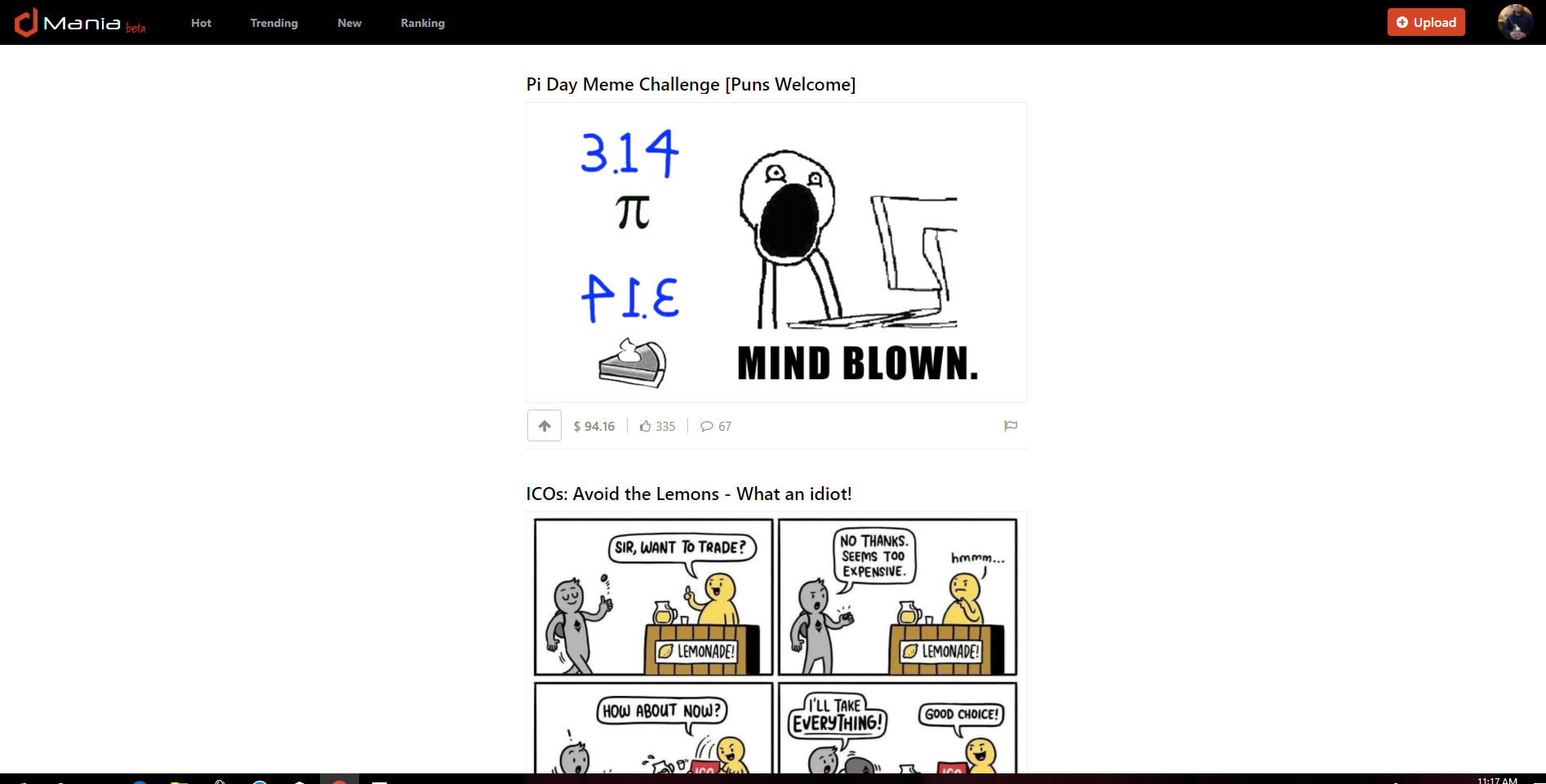 This is how the front page looks. It's still very new, so there's much room for improvements. It has a hot page, trending page, new page and also a ranking to see who has earned the most.
Like on Steemit, DMania is on the Steem blockchain. Hence, Steem is generated via upvotes.
To learn more on how voting works and how Steem is generated on the Steem blockchain, do read this article.
How do you get a vote from DMania?
Luckily for you, even if you don't have a whale (rich follower) following you, you can still earn on DMania. DMania has a bot that votes based on algorithm. The algorithm changes all the time depending on what is fair for the community.
The bot has a delegated Steem Power of over 600,000, and it gives out a 40% vote to a lucky recipient each hour. This means 24 votes are given out a day by this bot.
The current algorithm at the time of writing is this.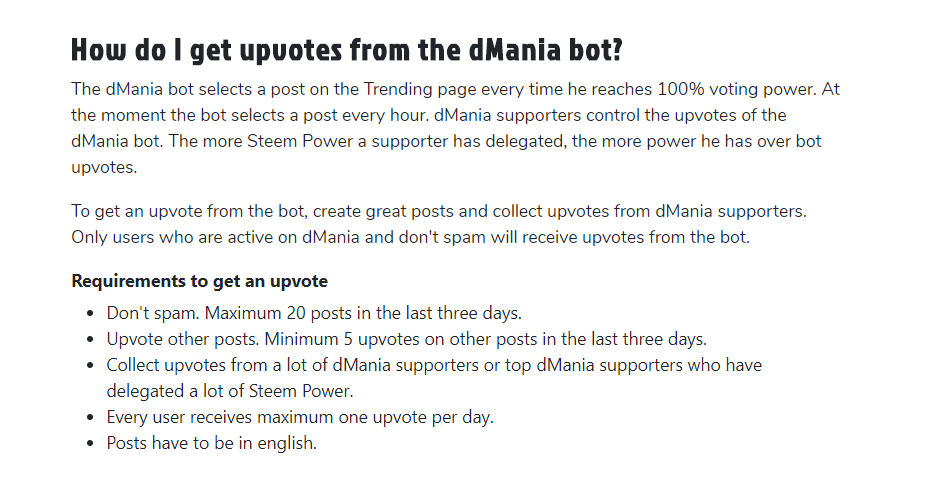 This was taken from DMania's FAQ page. Basically you have to fulfil all of the requirements above to be eligible for the bot's vote. This means if your meme gets voted on by DMania supporters who have delegated a significant amount of Steem Power, you have a good chance of getting a vote.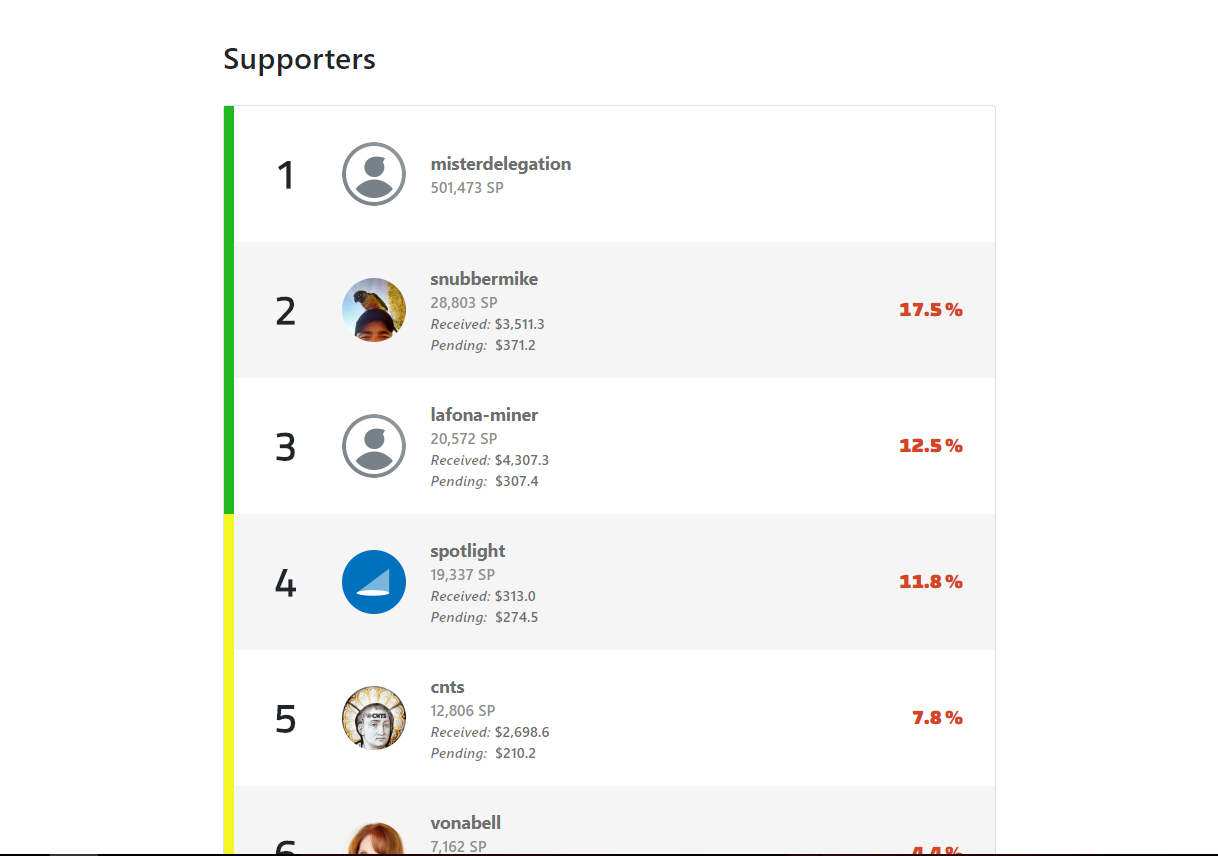 These are some of the supporters.
There's also a new update to reduce abuse by huge delegators of Steem Power. DMania supporters are now required to distribute their votes more, rather than just vote many times on the same people. This would reduce the amount of abuse on the platform.
Making money with memes is now possible
DMania and the Steem blockchain has made it possible for people to earn via memes, sometimes even more than some regular jobs. Absurd, I know.
Many would think it's a scam, but once they've tried it, they'll change their minds.
Thanks for reading.
Disclaimer: This is merely my opinion and is not to be taken as an investment or financial advice. Always invest what you can afford to lose and do your own research.
Do check out my other articles as well.
Does Discord – Chatting App For Gamers, Make Money?