In Borderlands 3, you may have stumbled upon a huge chest in Sanctuary that requires a golden key to open.
When unlocked, the chest will present to you high tier weapons, mods, grenades, artifacts and cosmetics.
Here's how you can get golden keys in Borderlands 3.
Sign up for SHiFT first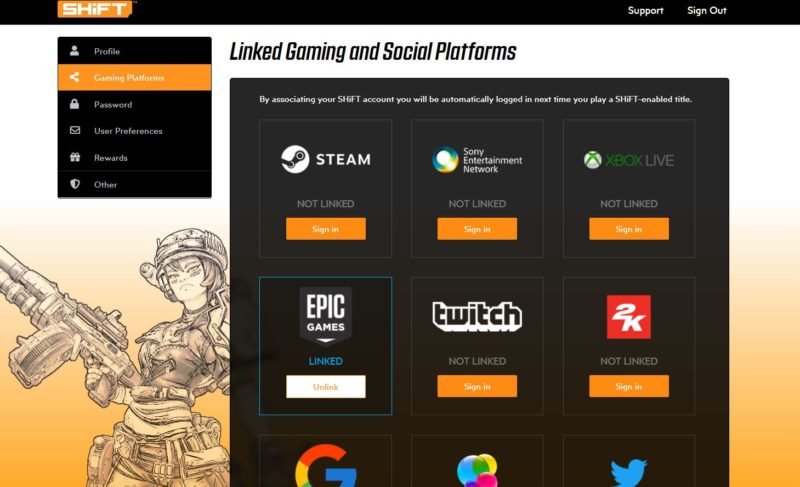 SHiFT is an out-of-game service that is used in the Borderlands series throughout the years.
What it does is that you can redeem codes (25-characters) to exchange for items; usually golden keys.
These codes are usually given out from time-to-time in social media promotions or from pre-order rewards.
Players can use the same code to redeem in-game rewards within a limited time period.
If you don't have an account with SHiFT yet, sign up for one using their official site.
It's pretty easy to sign up as you can use other platforms to register (e.g. Twitch, Twitter, Steam, etc.).
How to redeem SHiFT codes
After signing up for a SHiFT account, it's time to redeem codes.
You can redeem SHiFT codes through a few ways. One common way is through the "Social" section within the Borderlands 3 game itself.
It's between the "Mail" and "Matchmaking" section. Just key in the 25-character codes.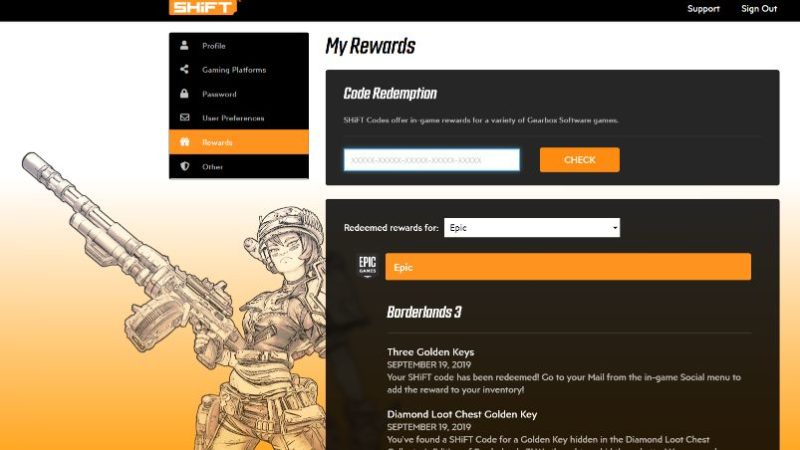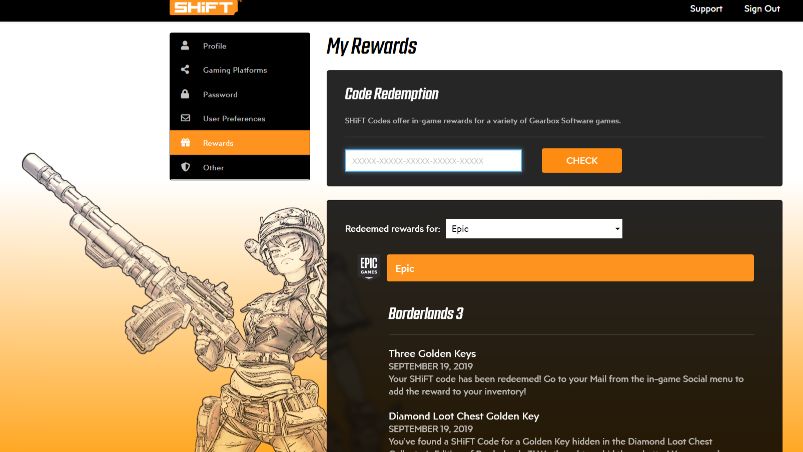 Another way is by using the SHiFT website itself. It's even easier to redeem the codes there.
Just copy-paste the code, press "check" and subsequently "redeem".
After redeeming them, you'll still need to get them from the mail as highlighted below.
List of Active SHiFT Codes
If you need a list of SHiFT codes that are still functional at the time of writing, here are some of them.
Follow Randy Pitchford's Twitter account to get updates on Golden Keys.
ZFKJ3-TT3BB-JTBJT-T3JJT-JWX9H – 3 Golden Keys
9FC33-5T9XX-K36KT-TTT33-TRJJJ – 5 Golden Keys
CHKJ3-SWBHT-ZWTWW-JJBTB-T9TRH – 1 Golden Key
CSKBT-B6J93-SCTWC-TJ3JJ-XBKWT – 1 Golden Key
KSK3T-SJJSB-Z5B5K-3TTBT-TX3TT – 1 Golden Key
ZFKJ3-TT6FF-KTFKT-T3JJT-JWX36 – 1 Golden Key
9XCBT-WBXFR-5TRWJ-JJJ33-TX53Z – 1 Golden Key
Z65B3-JCXX6-5JXW3-3B33J-9SWT6 – 1 Golden Key
ZRWBJ-ST6XR-CBFKT-JT3J3-FRXJ5 – 1 Golden Key
HXKBT-XJ6FR-WBRKJ-J3TTB-RSBHR – 1 Golden Key
Grab the golden keys from the mail
After redeeming the golden keys, there's a next step where you have to go to your in-game "Mail".
It's under the "Social" area. Manually accept all of the golden keys.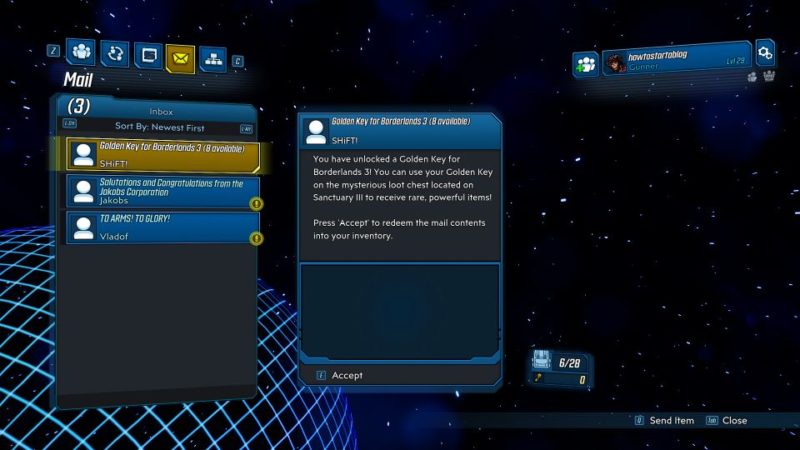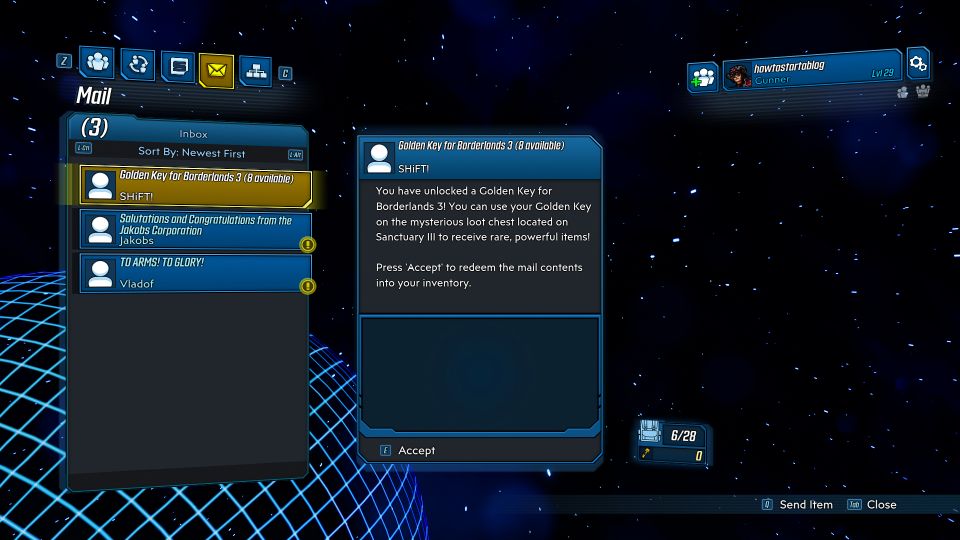 Where to use the golden key in Borderlands 3
After finally getting the keys, you need to find the relevant chest.
It's located on Sanctuary (your ship). The exact location is shown in the map below.
You will only be able to access it when you're done with the first chapter in Pandora.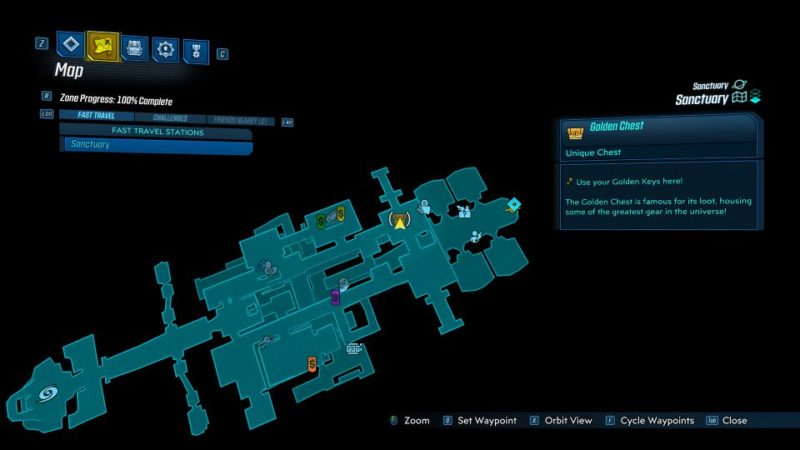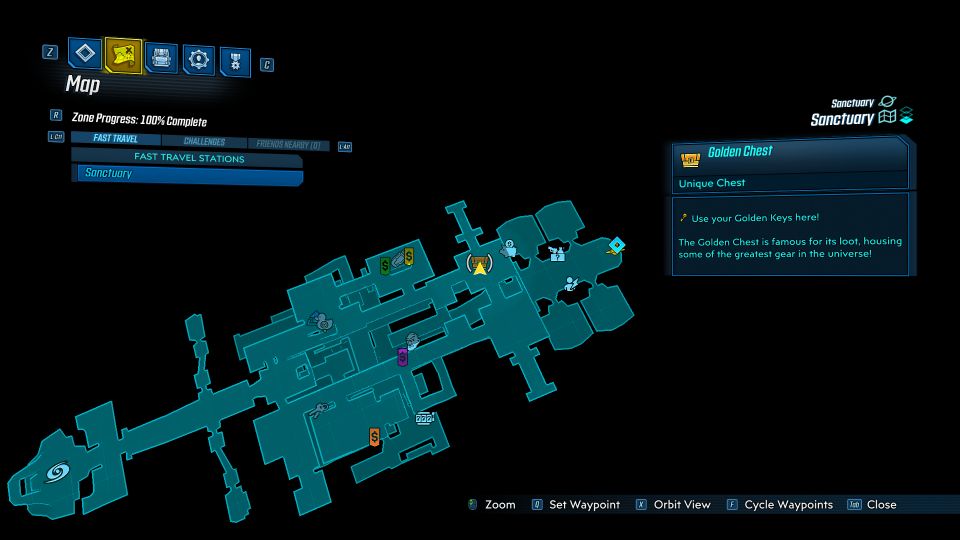 The chest is as shown below.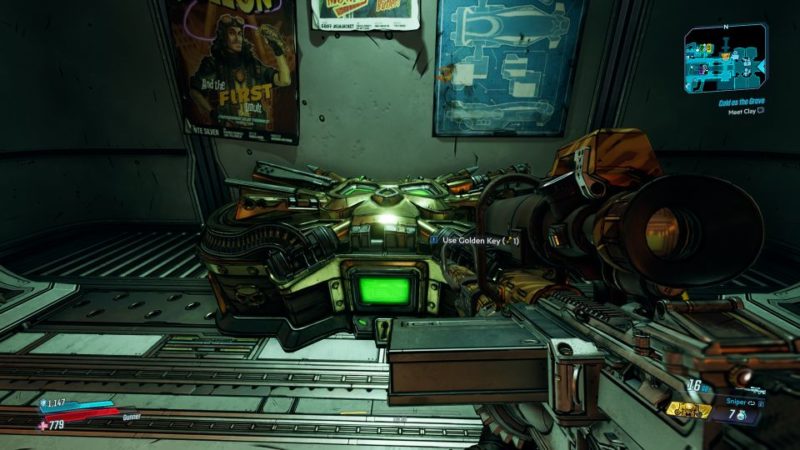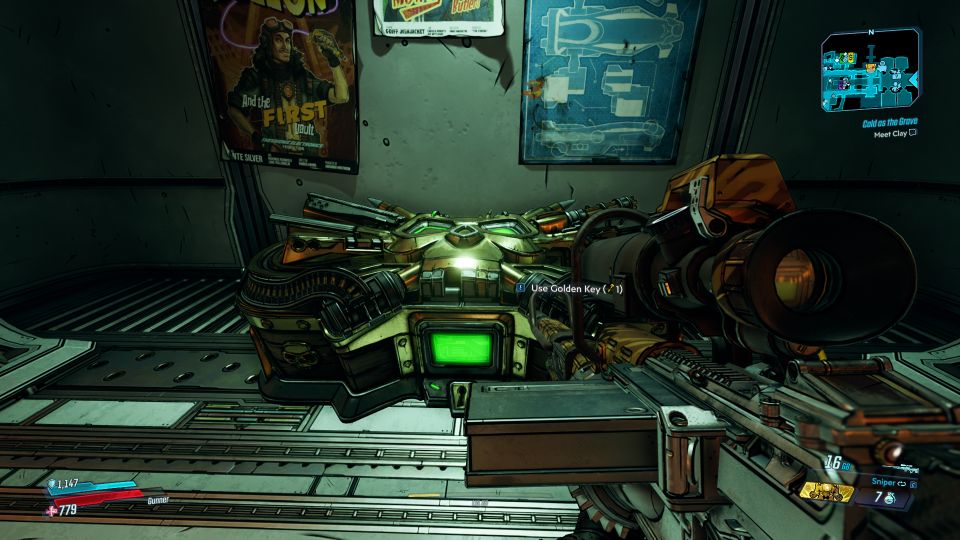 After opening it, you'll be able to get all types of high tier items, mainly rare and epic ones.
They can be weapons, mods, artifacts, grenades and other items.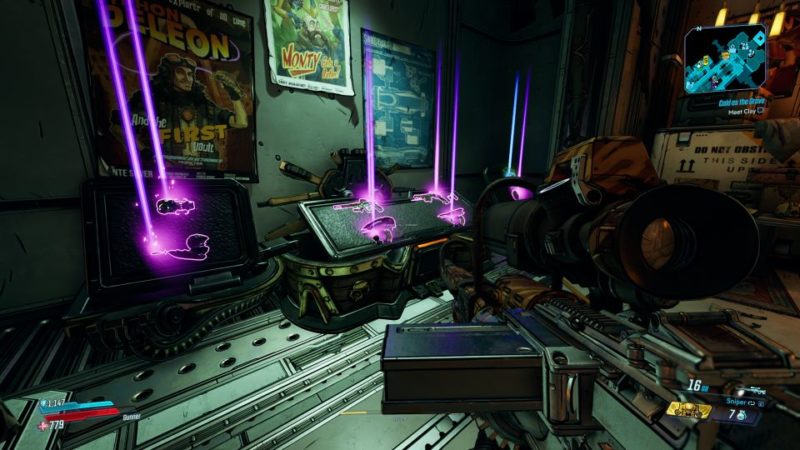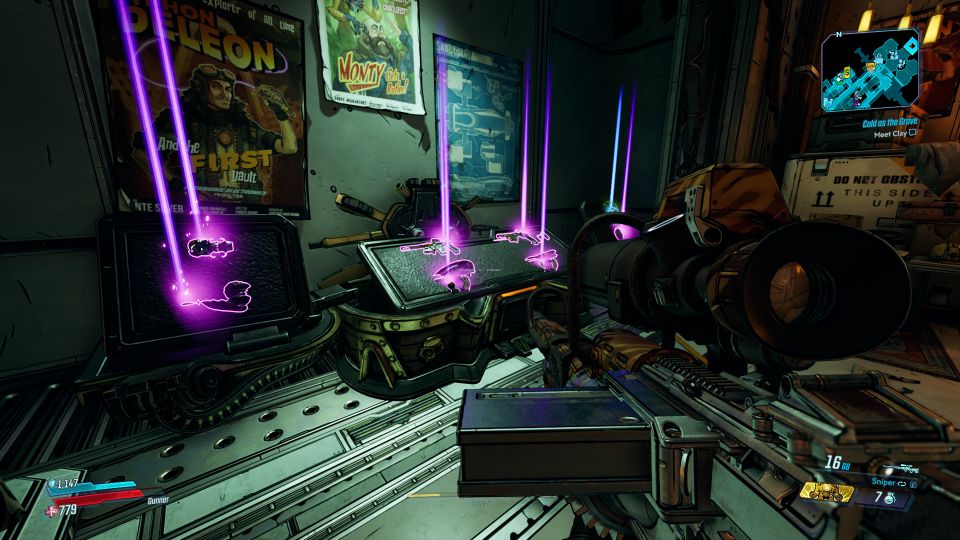 And this is how you obtain and use golden keys in Borderlands 3.
---
Related articles:
Under Taker Side Mission: Borderlands 3 Walkthrough
How To Respec Skill Points: Borderlands 3 Guide And Wiki
Raiders Of The Lost Rock: Borderlands 3 Walkthrough
Sell Out (Camera Or Trap): Borderlands 3 Walkthrough
Malevolent Practice: Borderlands 3 Walkthrough And Guide
Sacked: Borderlands 3 Walkthrough And Guide