New bloggers tend to have a lot of questions before they even start blogging. One of it is how often should you blog?
One thing's for sure. You have to blog consistently.
No matter how many times you choose to blog a week, stick to your posting consistency.
First, let's check out the benefits of blogging many times a week.
Do note that this is based on my opinion, and it may or may not be fully accurate.
Blogging more than 3 times a week or daily
What do you get for blogging many times a week? Or even a few times a day for the extreme?
Pros
1. Google bots will visit your website rather often
If you blog consistently and daily, it tells Google to send their bots to your site every day to wait for new posts.
What this means is that your blog post may get indexed fairly quickly. Take Forbes for instance.
They publish many articles a day and their posts always gets indexed immediately. They also rank high after indexing probably because of their domain and page authority.
Now, you can't compete with sites like that of course. What more if you're a lone blogger? How can you churn out so many articles a day?
If you have a lot of time each day, or if blogging is your full time job, you can post maybe once each day. It's not easy though.
2. You keep your followers busy
If you post many times a week on consistent schedules, your followers can always anticipate a new article every day or so.
You keep them engaged with your content and you keep them coming if your content is good.
3. More articles may lead to more traffic
It may not hold true always, but if you write more, you may get more traffic.
It depends a lot on whether you're writing quality content with all the on-page SEO and whether you've done your keyword research.
If you're just writing really short content everyday with keywords that nobody searches for, then this theory doesn't work.
If you can get 10 visitors a day per post, try multiplying it by the number of times you post.
Again, it depends greatly on the quality of your posts and whether you're using the right long-tail keywords.
If your posts don't rank at all, you will get ZERO search engine traffic.
Cons
1. You may run out of ideas really soon
Blogging every single day or many times a week is really tiring.
It's difficult to post every day even if you have a lot of passion in your niche. Posting every day means 365 or 366 posts a year.
Blogging is long term. Can you really write on the same niche for many years?
Sure, some may be able to do it. But most people can't.
2. It's unlikely that you can churn out quality content if you blog every day
Unless you're really good, it is highly unlikely that you can produce quality content every day.
You'll slowly run out of ideas and start adding in fillers.
Some bloggers might say that it's better to write less often and promote more.
It's really true though, especially for new bloggers. Nobody will come and read your content if you don't get it out there.
There are so many blogs these days that you have to hustle to stand out.
Blogging once or twice a week
What about the benefits of posting less times a week?
Pros
1. You're more likely to produce quality content each time you post
Again, this is very much dependent on whether you've spent your time researching for your post or whether you were just procrastinating.
Assuming that you put in a lot of effort for each post, you should be able to churn out great posts each time.
Even more so if you're only blogging once a week.
Neil Patel managed to grow his blog to 100,000 monthly visitors in 1 year plus with only one post a week.
This clearly proves that you don't need to blog every day.
2. You can spend more of your time promoting your posts
It's really crucial to spend at least the same amount of time you took to write, to promote your blog post.
As a new blogger, you probably won't get readers unless you promote consistently.
There are many platforms for you to promote your blog post.
This is an article that may help you in terms of promoting your posts.
If your post does well on social media or some other major platforms like Pinterest, it may actually send a social signal to Google.
As a result, Google may rank your post better.
Cons
1. Your posts may not be good even when you're posting less
If you're writing only once a week but you're only putting in an hour into your blog, obviously it affects the quality of your content.
Contrast this with someone who uses a few days to do a proper research on a given topic and writes more than 4,000 words with no fluff.
Clearly his or her article is going to do much better than yours provided a proper keyword research has been done.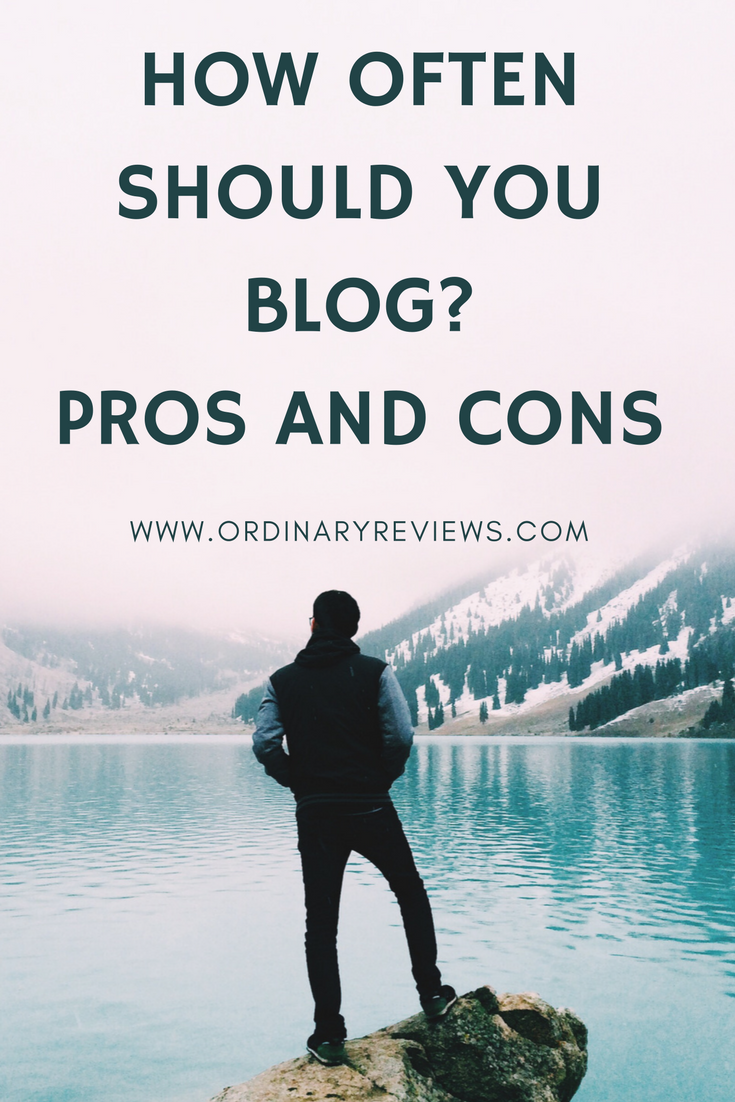 So how often should you blog?
I've listed a few of the pros and cons of blogging daily and blogging once a week.
Personally, I would prefer the latter as it's simply not realistic to blog every day and churn out quality content consistently.
I blog three times a week and I spend a lot of time promoting my posts as well.
I can do so because I have the time.
If I had blogged daily, I wouldn't have much time to focus on promotions.
Always remember that the time you take to promote should at least be as much as the time you took to write the post.
In any case, once you've chosen your posting frequency, stick to it.
Consistency is important and if you continuously churn out posts, Google will love your site. It shows that you have fresh content.
In a nutshell
Whatever you choose to do, stick to your schedule and blog consistently.
Do remember to subscribe to my blog for exclusive updates!
---
Related articles:
Fake Blog Income Reports – Why Do Bloggers Lie?
Is Blogging Dead? What Are Your Thoughts?