While there are many interesting games considered amazing by fans of the FPS genre, Team Fortress was unlike anything else before.
A team-based first-person shooter that introduced distinct classes of characters with unique skills and weaponry was like a breath of fresh air for a starved community that craved for fast-paced competitive shooters.
Team Fortress II is still a huge game with thousands of concurrent players and a huge community of modders backing it with unique content. However, the competition is fierce and delivers interesting games on a regular basis.
Sadly, for Team Fortress fans, the game is no longer the sole king of the hill and was significantly harmed by multiple new releases of games that try to compete against TF.
If you like the genre and want to find something fresh, you will find that there is an overabundance of options that are available to you at any given moment of time.
We decided to create a list of the best games like Team Fortress 2 that will most certainly interest any current players.
Read also: Top 10 Best Weapons in Team Fortress 2 To Choose From
1. Anthem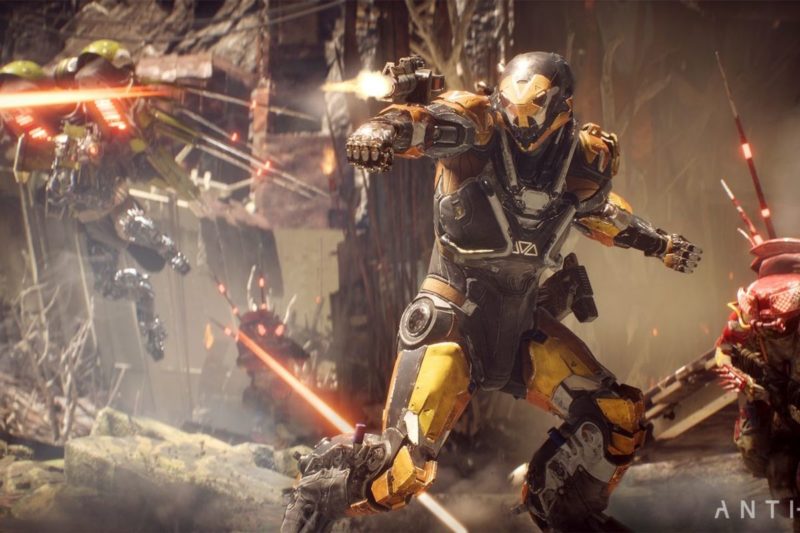 We cannot recommend the game due to its absence of endgame content and poor communication from the development team which is inacceptable for a game positioned as a live-service.
However, you can get it for a relatively low price at GameStop shops or wait for the release or when it goes F2P which it very well may judging how hard it was slammed by critics and players alike.
Anthem is not a good game for a $60 price tag. However, it is still much more polished than cheap first-person shooters.
Anthem is a game where you can pilot an Iron Man suit. It feels amazing to fly over thick forests and through cloudy canyons. The weaponry is versatile, each suit has its own unique quirks and special abilities.
Gunplay feels good and sound effects are quite convincing. The variety of monsters and robots is great. The only real problem is that the endgame content is way too thin for a game characterized as a "looter shooter." You can't enjoy the fullest extent of loot grinding due to the lack of missions and dungeons.
The most recent update brought a couple of new things to do in the game, but it is still far from being something worth of $60. Nevertheless, there are many game mechanics that may entertain you.
Flying in a huge mechanical suit equipped with advanced futuristic weapons is a great experience. All battle zones are beautiful. The sound design is also great.
Even the story, which many consider quite forgettable, can bring you a couple of hours of enjoyment.
2. Overwatch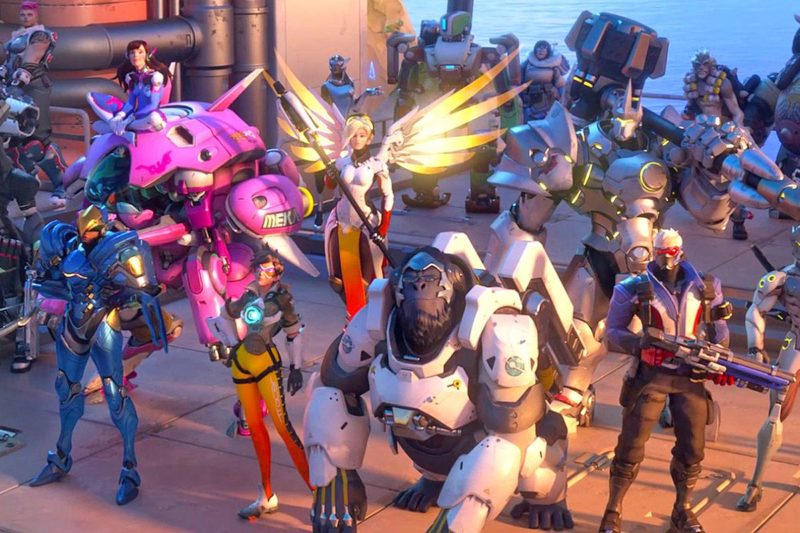 The main direct competitor of TFII is Overwatch. Developed by one of the most beloved devs in the industry Blizzard Entertainment, the game was supposed to be the new king of the hill which it was for a brief moment of time.
The game is a battle arena where different heroes with diverse skillsets fight against each other to complete objectives. There are usually defending and attacking teams comprised of both heroes and villains.
The game was praised for its fast pace and colorful graphics as well as complex teamplay. However, many noticed that it was way too overtuned in terms of graphics. Due to the overabundance of VFX, clarity was not the biggest selling point of the game.
In fact, earlier versions of spectator clients for e-Sports were not ready to handle the action in a way that would be clear enough for a mainstream broadcast. To be completely honest, the cybersports scene is not at the level it was suspected to be when Blizzard started their e-Sports franchise.
Overwatch is a great game that has a ranked mode, multiple heroes with specializations, great visual style, and lots of game mods. If you want something close to TFII, Overwatch is a great choice!
3. Battleborn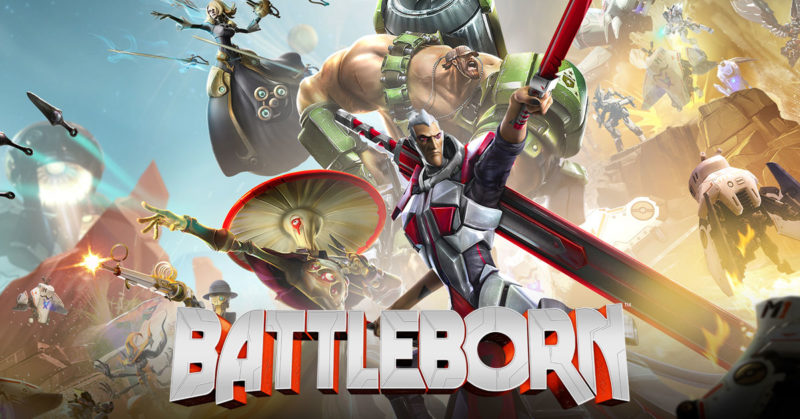 It may not be as flashy and polished as Overwatch, but it still offers a wide variety of interesting game mechanics and a memorable visual style that will impress you! It is a game where you control a hero in a big battle against other powerful heroes.
You will be using a diverse set of weaponry and fly over the battlefield when necessary. Each hero has a unique set of skills useful in specific scenarios. At the same time, the game is fast-paced and forces players to enjoy every single moment of action!
Battleborn is often compared to both OW and TFII due to some gameplay similarities. However, the gunplay feels different and the pace is slightly different. Obviously, some skills and game mechanics are borrowed from other titles.
It is still a very unique game that has a distinct feel and charm to it. What makes it different is that it is closer to SMITE and League of Legends in terms of battlefield rules. It is a MOBA game that plays like a first-person shooter.
It may be a little bit less impressive than AAA FPS games, but the freshness of mechanics makes it interesting and memorable.
4. Warframe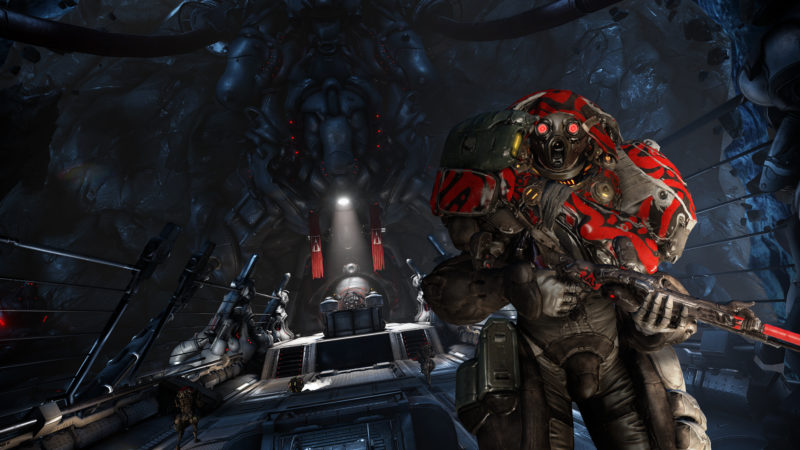 If you like futuristic settings, battle suits, and hi-tech weaponry, you will most certainly fall in love with this game that offers you a variety of FPS mechanics while giving you an opportunity to use skills and special weapons to decimate your opposition.
Warframe is praised for its fast-paced gameplay, unique movement options, and monetization model (it is free-to-play).
The game instantly hooks you up with the idea that you can be a flipping ninja in a cybernetic costume. You will be tasked with different objectives and missions.
While multiplayer modes are the ones that attract the vast portion of the player base, the co-op mode and singleplayer missions are quite fun and can be a source of positive emotions for any fan of skill-based third-person shooters.
Warframe is a game that Anthem wished it could be. While some people were saying that Warframe would be forgotten after Anthem launched, they had to take their words back since the game is still one of the most popular multiplayer shooters and the player base seems to be very loyal.
Even during the launch of Anthem the number of concurrent players of Warframe did not budge!
5. Gigantic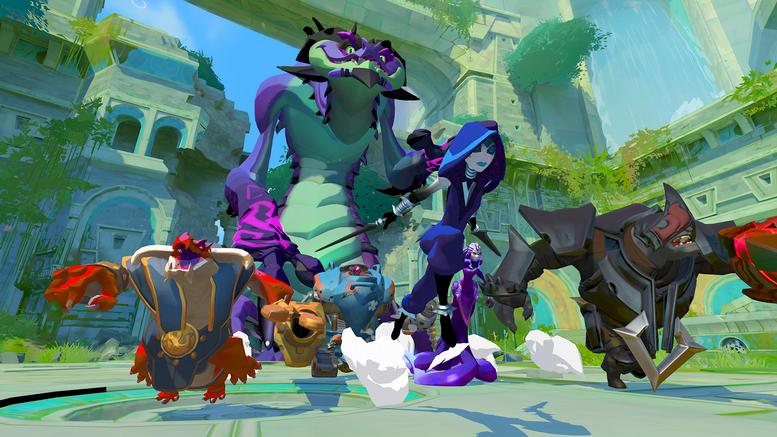 The game is exclusive to Microsoft-owned platforms. You can get it for your XBOX or Windows 10. While it is not supposed to compete against the best games in the market, it doesn't have to.
Players who own these gaming platforms will buy Gigantic to take the full advantage of their game systems. Other gamers may not be interested in buying or upgrading their hardware to play this game.
One of the biggest selling point of the game that makes it unique compared to the competition is that it has colorful graphics and amazing character design. A ton of fun and unique heroes with great abilities will most likely entertain any veteran of online shooters.
Again, it is not something that you should get no matter the cost, but you won't be disappointed if you buy it. Gigantic quickly turns into a mess of explosions, special effects, and eye-candy but you still can understand what is happening on the screen.
All in all, a good third-person shooter for those who own either an Xbox or Windows 10 PC.
6. Loadout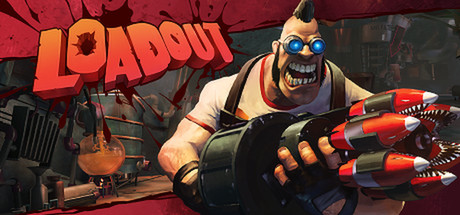 If you are looking for a direct clone of Team Fortress II with slightly different mechanics and something fresh, you should definitely check out Loadout which is a game that has so many similarities with TFII that many people call it a rip-off.
Loadout is an arena shooter and FFA matches are quite popular amongst players. However, the game also offers different types of battles and provides you with a rich selection of playable characters each with their unique skills and weapons.
Loadout looks like TFII as well. The visual design is so close to TF that you may confuse the two. Weaponry can be customized which is the main advantage of the game. You will be able to create unique guns with interesting effects and power levels.
Create your own gun and test it on a variety of enemies in a fast-paced arena battle. If it doesn't work as intended, scrap it and start again to make an even more powerful gun that would destroy the opposition.
While many other competitors do not want to create revolutionary features in fear to be different, Loadout decided to be Team Fortress with blackjack and frivolous women! The creators purposefully did not address balance in the way that would limit players in their ability to create new and fun guns.
Fight broken with broken is the moto of the devs. So far, it has been working wonderfully.
7. Apex Legends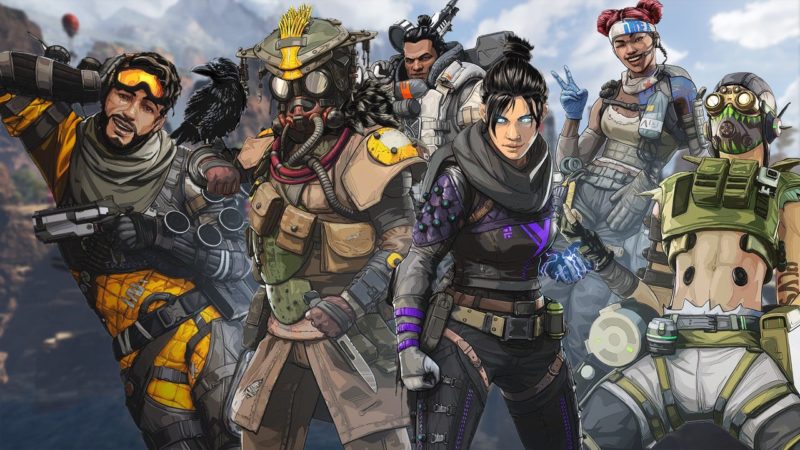 An overnight sensation in the world of first-person shooters with the King of the Hill mode. The game is one of the best in the genre and definitely offers a wide array of interesting gameplay mechanics and options to any player.
The popularity of the game is on a downward trend, but it is still a great title that you should check out if you like games with unique characters and fun gunplay!
Apex Legends is also by the same people behind Titanfall 2.
Hopefully you guys enjoyed this list of the best games like TF2.
This article was written by a freelancer.
---
Related articles:
Best Classes In Team Fortress 2 (Ranked From Best To Worst)
Games Like Angry Birds: Eight Alternatives To Check Out
Games Like Faster Than Light: 12 Alternatives To Check Out
Top 10 Best Dota 2 Heroes For Beginners
The 10 Best Games Like Portal If You Love Puzzles
10 Best English Dubbed Anime Series