IMVU is one of those virtual worlds which was really popular back then and it was established in 2004.
Like Zwinky, it's also a platform where you can meet other people from around the world, much like a social network except that you use 3D avatars.
That being said, IMVU is well known for its largest and most extensive virtual goods catalog of more than 30 million items. These goods are mostly created by actual users which is really cool.
If you wish to check out another virtual world, here are 10 games like IMVU that you can play as alternatives.
1. OurWorld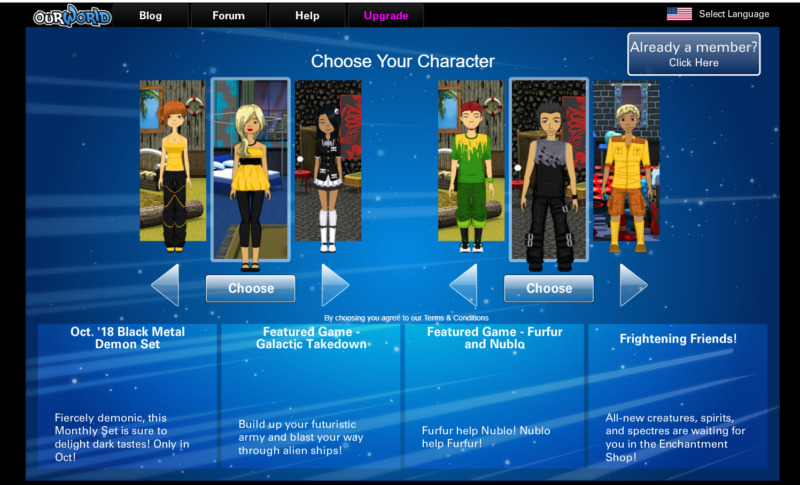 OurWorld is another popular virtual world which allows you to play online mini-games and also do activities with other players. It's a game mostly for the teenagers.
This game uses the currency called Flow and it can be earned by different ways such as playing games or even dancing. This currency can be traded for coins or even EXP.
OurWorld also uses microtransactions like many mobile games these days, which means you need to pay real money if you wish to get access to gems. These gems are used in purchasing in-game items like furniture, accessories or even clothing.
There are a couple of cool features in this virtual world, including marriage and adoption.
2. Habbo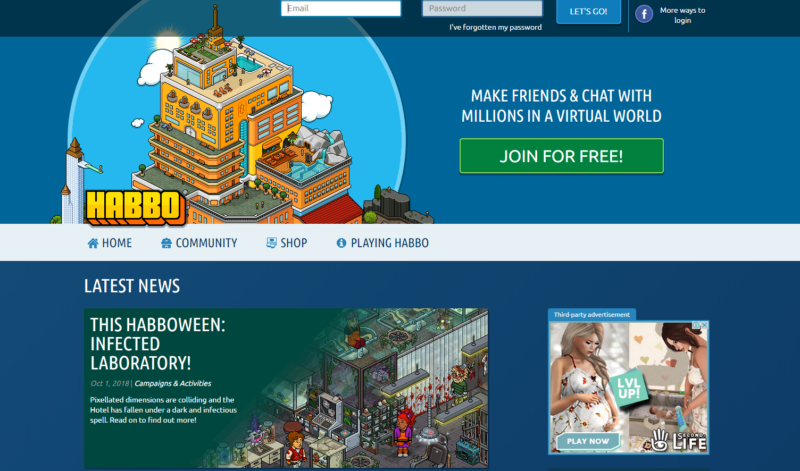 Next on the list of top games like IMVU is Habbo which was previously known as Habbo Hotel. It's definitely a familiar name for many if you were from that generation.
At one point, Habbo even had around 5 million unique visitors every month and most of the players are teenagers. You also use avatars in this game and you're able to meet other people from around the world, chat with them, get virtual pets and even play games together.
Like many other existing virtual worlds, Habbo has a mobile version to keep up with the smartphone trend, so you can play it on your iPhone or Android phone. This game is well known for its hotel feature, which means there are various rooms in the game such as restaurants and dance clubs.
You can also create guest rooms in the hotel which is fully customizable and only those you invited can get in.
3. Lady Popular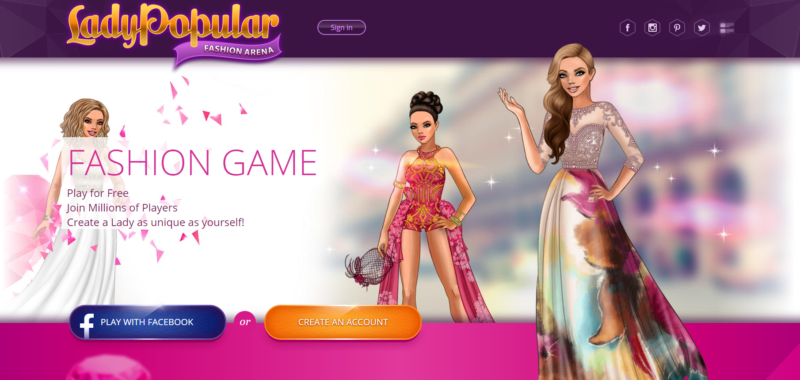 If you're looking for a virtual world exclusively for the ladies, try Lady Popular. Since the avatars are all female and it's more like a dress-up game, the players are mainly girls.
Each player uses an avatar called Lady and you can customize the appearance in terms of makeup and hairstyle or even create clothes. In this virtual world, you can also rent an apartment plus decorate it, join up with players to do missions or even take part in duels at the Fashion Arena.
As far as navigation goes, you can use the City dashboard to enter the mall, club, furniture shop, beauty salon and so on. Sounds like a lady's paradise doesn't it?
4. Second Life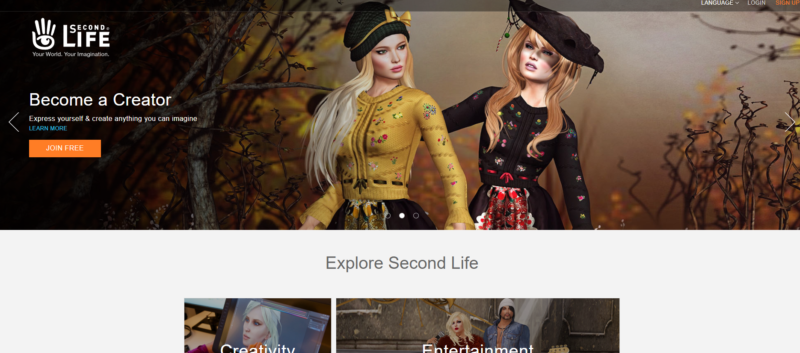 In any virtual world article, Second Life is pretty likely to appear. It was created by Linden Lab and they don't call it a game, but just a virtual world and it mimics the real world quite accurately.
You basically create your own avatars and you can do so many things like socializing, participating in activities, creating your own business or even sell virtual property for real money. They have an exchange built to allow you to sell in-game currency or items for real money. How cool is that?
This virtual world is meant for those above the age of 16 and most players are pretty much adults. It seems to be a getaway platform for those who aren't very satisfied with real life and prefer an escape to the virtual world, or just people who love mingling online more.
5. Touch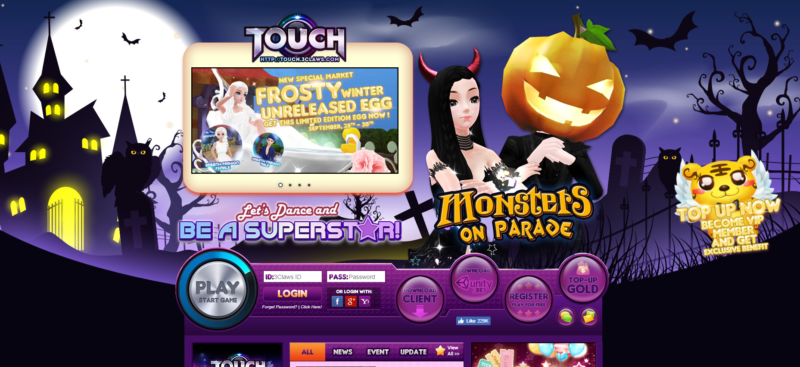 Touch is a dance game and there are many variants of this game. If you just do a Google search you will see different websites with the word Touch in it. They are rather similar and it involves K-Pop dancing.
If you love to play games of this genre with other players in the world, then Touch is for you. It's like one of those games where you have to press the right buttons as they "fly through". Think of Guitar Hero.
Furthermore, it's catered towards the Korean pop fans from around the world and given how trendy this genre is right now, the game's likely to be popular.
6. WoozWorld

Next up is WoozWorld, another virtual world that's popular on mobile. It can be described as a fashion virtual world, and the game involves a lot of personalizing your avatar's looks with new clothes every week.
Yes, it's more like a dress-up game with thousands of different clothing to choose from. That being said, there are other things to do like hosting parties, starting your own business and selling clothes, chatting with other players or even trading your items.
This game is aimed towards the younger audience (probably teens) and if that interests you, maybe you should check it out.
7. Entropia Universe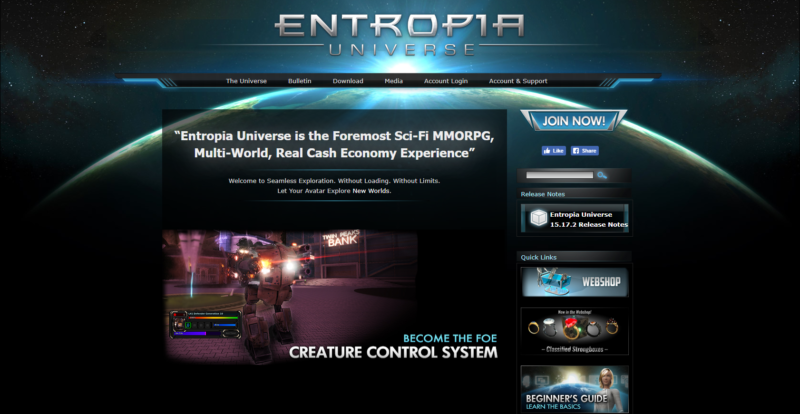 Another alternative to IMVU but for the adults is Entropia Universe. It's similar to Second Life but the setting of the game is rather different. This game also allows you to trade in-game items for real world money like Second Life.
Established in 2003, Entropia Universe started with Planet Calypso but has expanded and there are over six planets by now.
Entropia is more towards hunting, crafting and mining, rather than just socializing with others. You have to buy weapons, ammunition, mining equipment and so on. That said, you can still open shops to sell in-game items and socialize like in a virtual world.
Entropia Universe is well known because the most expensive virtual goods sold (a club) was from this game. It was sold for over $600,000.
8. Twinity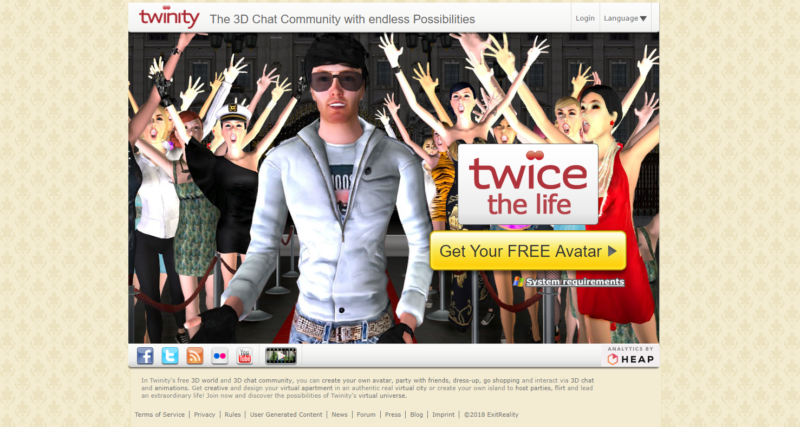 Another 3D virtual world on this list is Twinity and users in this world are called Twinizens. They are known for using replicas of large cities from the real world inside this virtual place. That being said, they started introducing new environments based on fantasy rather than real life.
It's rather similar to Second Life and Entropia Universe in a way. Players use their own names and faces in the game. The avatar is created by using your real uploaded photo and the app Photofit then generates the avatar. Of course, some will use different photos for the game just for fun.
This world uses the currency called Globals and players can buy furniture, clothes and even an apartment using this currency. You can of course buy the in-game currency with real money.
9. Club Cooee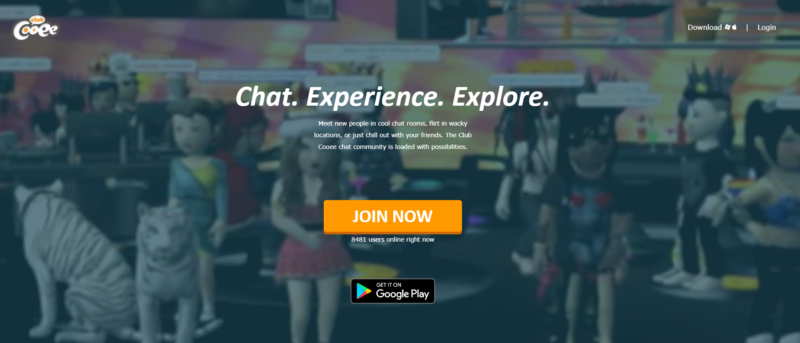 Next on this list is Club Cooee, also a 3D chat world which was created by a German company. You have your own avatar which is customizable from head to toe using all kinds of accessories and clothes. The rooms are rather linear, and is just meant for chatting.
Unlike the other virtual worlds, Club Cooee is not open world and the rooms are pretty small. That said, the whole purpose of this virtual world is to chat with others.
10. Avakin Life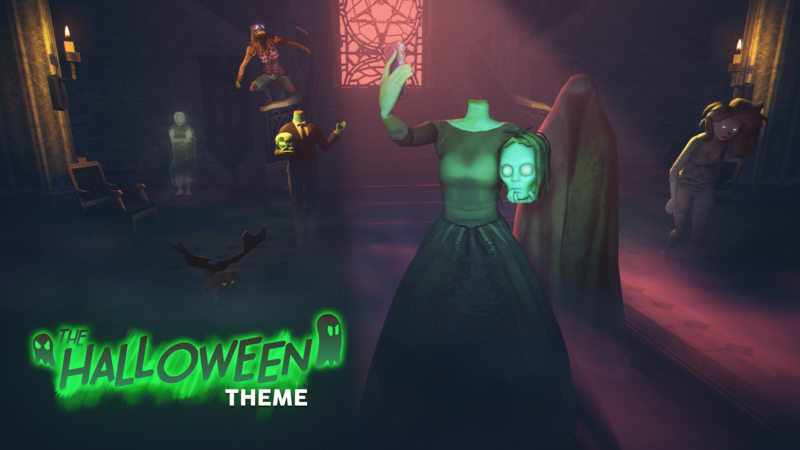 Last but not least, another alternative to IMVU is Avakin Life which is a 3D virtual world too. You get to use your own avatar which is of course customizable with over 1,000 different styles of clothes.
The in-game apartment can be built and customized by yourself meaning you can decorate it according to your own preference. With the amount of players in the game, you can make lots of new friends online.
Do give it a try if you loved playing IMVU in the past.
Best games like IMVU?
We have listed ten alternatives to the virtual world of IMVU, and hopefully this list has been helpful for you.
If you do know of other games that are worth mentioning here, do leave your comments below.
---
Related articles:
Games Like Civilization: Top Ten Alternatives
Top 10 Alternatives To Red Dead Redemption
Games Like World Of Warcraft – Ten Alternatives To Try
Best Gaming Mouse Pads In 2018
Games Like Clash Of Clans – Top Ten Alternatives To Play
Best Games Like Left 4 Dead 2 – Top 7 Alternatives
Games Like Minecraft – Top 10 Alternatives To Play