Unless you've been living under a rock, you've probably played Cards Against Humanity many, many times. This living legend of a party game pits friends against each other, seeking to create the best and most insane response based on highly politically incorrect question and answer cards.
There's no way to "win" the game – winning or losing is determined by how much fun you have and whether or not you can get a friend to wet themselves laughing. Okay, it's possible we made up that last part – but trust us, it's a great way to play!
Cards Against Humanity was groundbreaking, and has legions of fans. But, just as you probably don't want to eat pizza for every meal (if you do, more power to you!), you most likely don't want to play the same game at every party.
Along those lines, we've chosen our top 10 games like Cards Against Humanity (CAH), satisfying that hysterical-laugh urge with a twist. We can't guarantee that you'll find a replacement favorite for CAH, but we're fairly certain that you'll have fun.
10. Joking Hazard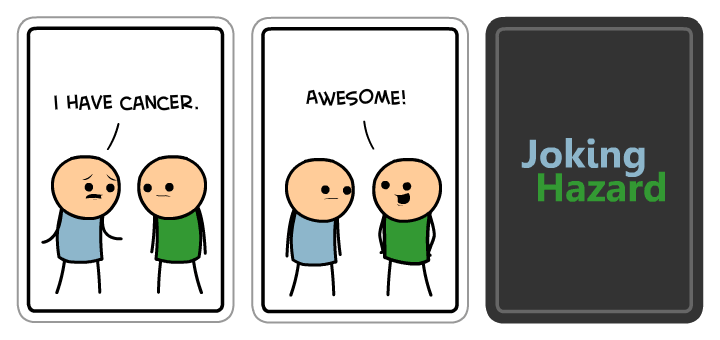 From the people who brought you Cyanide and Happiness and their hilarious Random Comic Generator, Joking Hazard will be very familiar to those who have used the RCG to create awesomely bad comic panels. The game is quite simple gather at least three of your favorite un-offendable friends and deal them each seven cards. We're sure that the game – like virtually any card game – can be adapted for fewer people if necessary. Making up your own rules is fun!
A "judge" is chosen, who flips the first card off the top of the draw pile. If the card is black, another card is drawn, creating a two-panel comic strip. If a red card is drawn, each player needs to add two cards instead of the usual one.
Each player adds one or two cards (depending on red or black) to create a three-panel comic. The judge decides which one is funniest, and the player who created it gets a point. Or a cookie – we endorse alternative scoring methods. The game continues until you reach a certain number of points (your choice, although three is recommended). This is a great one to play at parties, and the visual aspect of the cards adds another level of hilarity.
9. Mind Job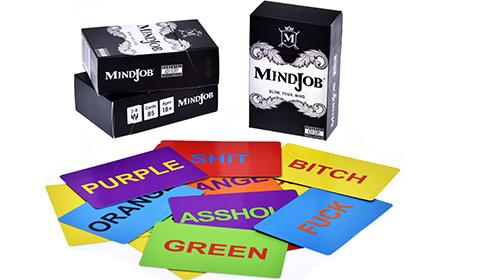 Combining psychology with searing strings of cussing, Mind Job could be called the thinking person's party game. Not that it's safe for work to begin with, but the game comes with alternative NSFW and drinking game rules. Implement at your own risk.
For a game which is designed to bring about strings of profanity, this one is based on some really interesting science. First off, the basic rules.
You are faced with three possible types of cards. Those with black text require that you say the background color – NOT the word printed on the card. If the card has colored text, you must say the color of the text – NOT the printed word. If you get a card with a cuss word printed on it, you must say the cuss word. Simple, right? Not even close.
Our brains are hard-wired to read words in front of us. Shifting this by saying the color is harder than it sounds, especially when playing this fast-paced game. The result? Outbursts, mangled responses and a lot of cussing. Oh, another rule? You cannot, under any circumstances, say F@#K. Again, sounds easy, but in reality it's so very, very hard. Another great one for parties, pre-game gatherings, and family reunions. Whoops! Scratch that last one! Keep Grandma far, far away from this one. Actually, keep her away from this entire article and everything in it. Strokes are not fun.
8. Search History: The Adult Party Game of Surprising Searches (NSFW Edition – Safe Search Off)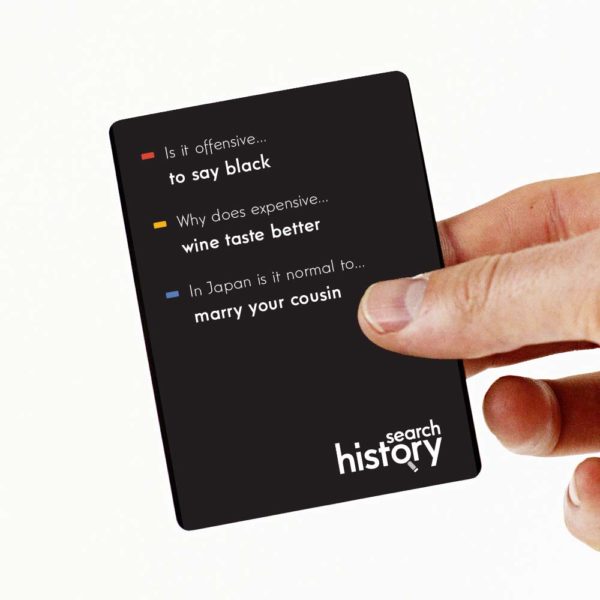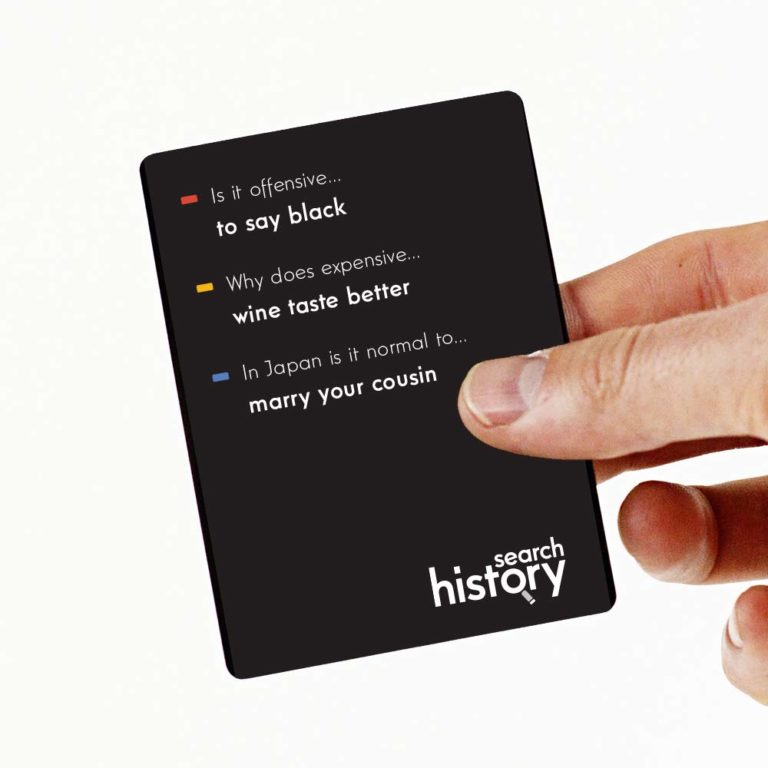 Don't freak out – this game does not involve letting your friends in on your actual search history. Your attempts to figure out that weird rash are completely safe – although if we were you, we'd delete that just in case.
No, this game involves reading a prompt, then attempting to guess what the most popular search is based on that prompt. You need to guess what the most popular search is for that prompt. For example, a prompt of "Do ghosts…?" could turn up a billion different answers, but it's your job to guess the most popular one searched online. In this case, it's "Do ghosts fart?" Yeah…we're not sure who's all that curious about the bowel habits of the dearly departed, but hey, it's a reasonable question!
7. Disturbed Friends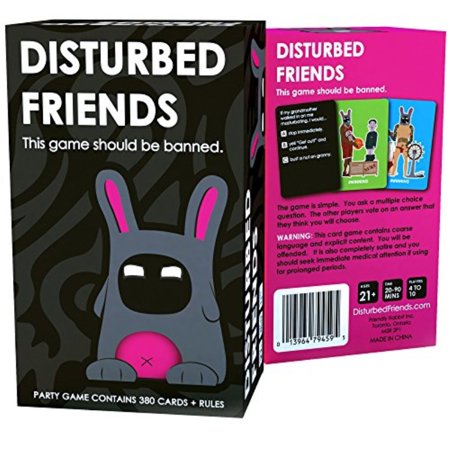 Want to find out how disturbed your friends really are? Better still – want to discover just how disturbed your friends think you are? Then this is the game for you. You pull cards with questions on them like "I would die of embarrassment if…" with three answer options.
Reading the card out loud, your friends write down what they think your answer would be. Simple, easy and one of the quickest ways to offend the delicate. Win-win! We would give you some real sample questions here, but we'd like this to remain in the SFW category.
6. Unstable Unicorns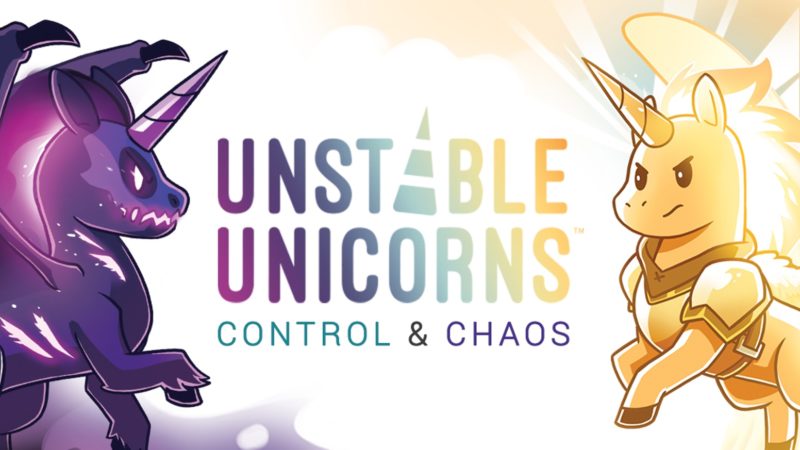 Raising over 1.8 million on Kickstarter, Unstable Unicorns is a game combining your favorite magical creature with brutal destruction. You begin with one baby unicorn, which you'll upgrade to add different powers. Additional rules involve attacking your friends' stables, preventing them from upgrading, sending the whole game into disarray and other fun and destructive activities.
Weirdly addictive and featuring unicorns (hey – that can't be stated enough), this game is sure to become a fast favorite among your magical group of friends.
5. Utter Nonsense: Naughty Edition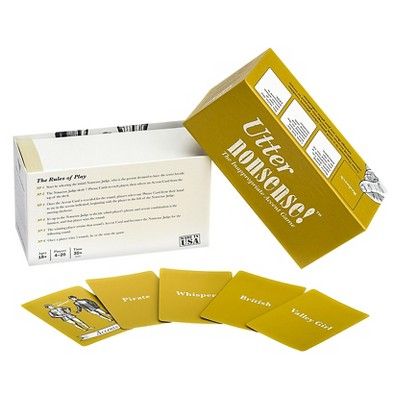 If you're fond of games which don't require a lot of deep thought but will leave you holding your sides in the throes of painful laughter, this is your pick. We know it's one of our favorites. The rules are simple. A selected judge (which changes each round) deals seven phrase cards to each player, and picks an accent card from the top of the deck. Each player must say one of their phrases in the chosen accent.
The judge picks the funniest, that player scores a point and becomes the next judge. Simple, easy and possibly the only chance you'll ever have to hear somebody say "Uncle Jerry sure loves his Bob Marley brownies" in a Deliverance-style redneck accent. Unless you're acquainted with the paternal side of our family. We like this pick because it's not too horribly dirty, which makes it great for that cool uncle to play without the next holiday being really weird, but still dirty enough to crack up your dirty-minded friends.
4. That's What She Said: The Party Game of Twisted Innuendo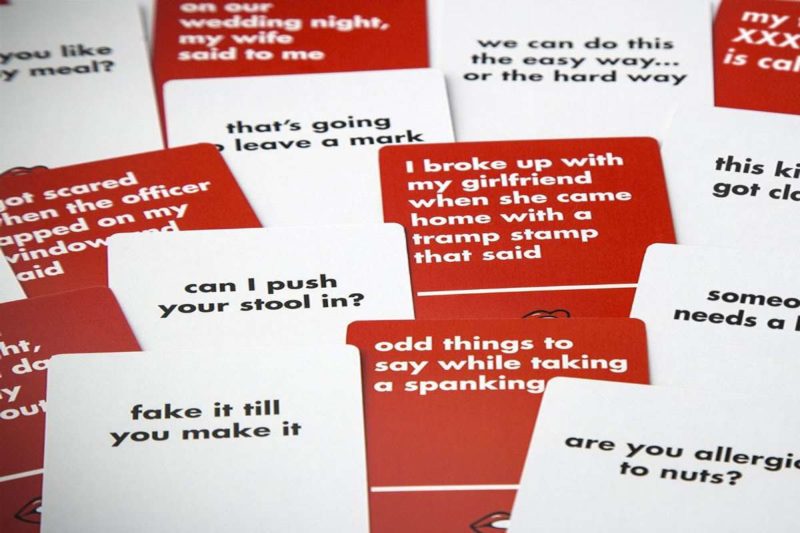 We're fans of any game in which the kinkiest person in the group is automatically the first judge. Billed as a dirtier version of CAH (is that possible?), this game is won by selecting the most wildly inappropriate and hilarious answer to a judge-asked question. The game is as dirty as the minds of those playing, which means you'll get totally different results playing with your buddies as you would playing with your book club – keep in mind that, depending on the nature of your book club, this game may get you kicked out. Fair warning.
We actually like the freak factor of this game, because it means that you can actually play it with the easily offended without overloading their delicate sensibilities. They'll blush and possibly spit out their drinks laughing, but the non-kinkiness of their innocent minds will keep things from getting so dirty they get up and walk away. Unless, of course, you spike the group with one or two filthy-minded friends. We leave that choice entirely up to you.
3. Drunk, Stoned or Stupid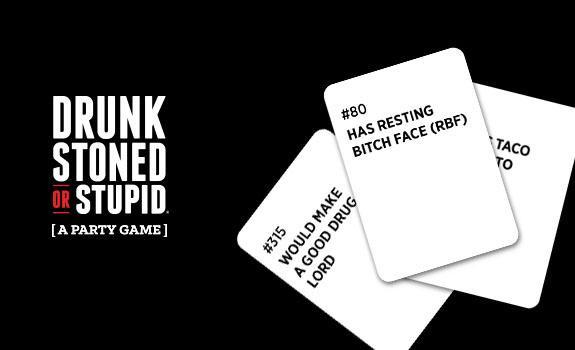 A great way to – once again – find out what your friends really think of you, this game is as simple as it gets. A card is drawn with a statement on it. A real-life example is "Uses 'dude' as both a statement and a question."
In this scenario, everybody would ideally point to your stoner-surfer buddy Billy. If the judge agrees that Billy is, indeed the one who overuses "dude" the most, he is tagged with the card. The first player to collect seven cards is the loser. There are no winners, unless you count those hysterically laughing. Which we totally do. This one is only mildly dirty at its absolute worst, which makes it open to a broader range of people. It's still funniest, however, when played with people your own age and who share your sense of humor.
2. Loaded Questions: Adult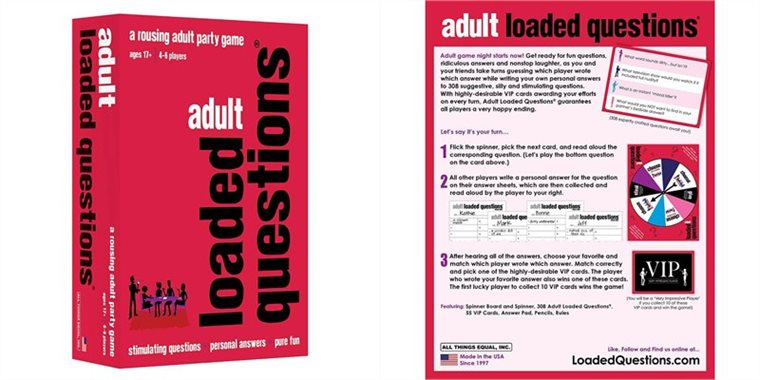 There are other, cleaner versions of this game. We like this one. You flick the spinner and pick the next card in the deck, then read the question on the card which corresponds with the spinner. Each player writes down their answer, and they're all read out loud. Players have to pick who said what, with VIP cards awarded for guessing correctly and writing down the judge's personal favorite. Collect eight VIP cards to win the game!
This one is fun because while it's Adult, it's not filthy, which is way more inclusive and makes for better office-Christmas-party fun. Or…maybe that's not a good idea. Depends on your corporate culture.
1. Urban Dictionary: The Party Game of Slang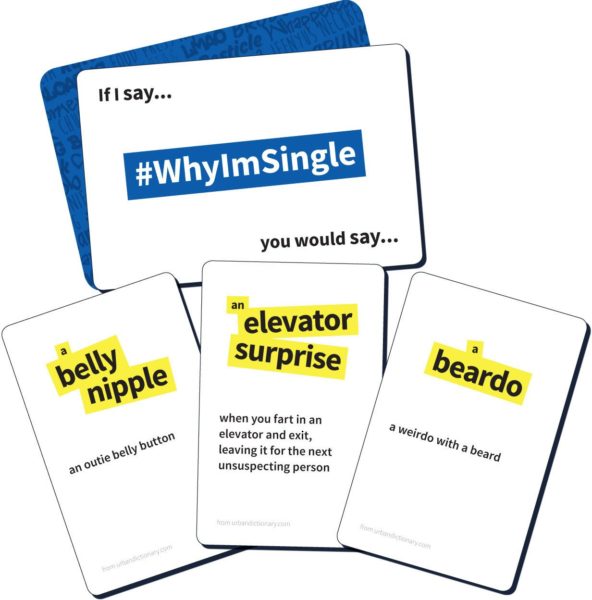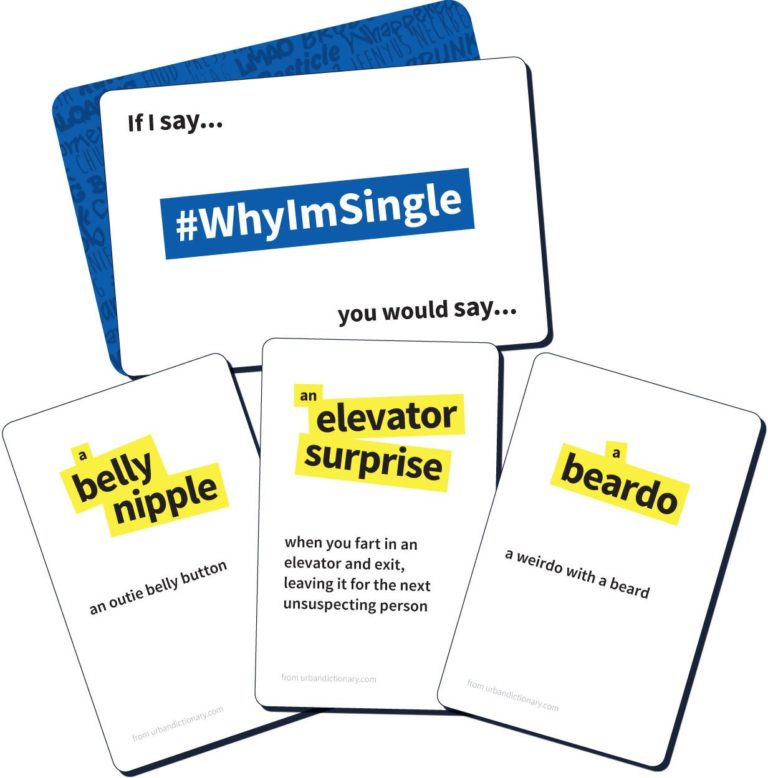 There's no need to be a walking dictionary to win this game. The terms are explained for you, and players win by putting forth the best or funniest answer (Urban Dictionary definitions) to a prompt card. For example, a prompt card that says "First comes love, then comes…" could be answered in a million different hilarious ways. The most hilarious wins. We love this one because it's not too filthy, allowing many different age ranges to enjoy it.
It also has the option of players acting out or drawing their answer, which brings in several different aspects and makes the game endlessly re-playable with no danger of getting bored or repeating your answers. A great pick for virtually every type of party and every different group of friends, this one automatically customizes itself based on the mindset of the people playing.
Best games like Cards Against Humanity?
We hope we've helped you pick out a few new games to try out – game night needs to be fun, after all, and repeating the same game (even one as awesome as CAH) can get old. Try out as many as possible; we think they're all winners (and we're not above horrible puns)!
Remember that almost all of these games have expansion packs and additional versions available, so if you strike gold, check out the extras. Happy gaming!
If you do have other suggestions on games that are similar to CAH, do leave your comments below.
This article reflects the opinion of the freelancer.
---
Related articles:
Games Like Destiny 2: Top 10 Alternatives To Try Out
Games Like Resident Evil 2: Top 10 Alternatives To Check Out
Games Like Apex Legends: 10 Alternatives To Check Out
Top 10 Games Like Kingdom Hearts 3
Best Gaming Chairs – Top Ten Picks
Top AMP in WarFrame: The Prism, The Scaffold And The Brace