For some weird reason, some people do not consider mobile game true games. Yes, in the vast majority of scenarios these games are just monetization schemes that want to make as much money as possible from people addicted to gameplay and various reward systems implemented in the game.
However, many mobile games are not only fun and cute, but also entertain people beyond the amount of money they pay for the entertainment.
Angry Birds is one of such games. It was a simple arcade puzzle when it was first released, but over the course of several months it became a worldwide phenomenon with a massive following.
Currently, Angry Birds is not the behemoth it became in a matter of a year, but it is still a very respectable franchise that continues to bring joy to millions all over the globe.
Some people are really happy about the game and want nothing more but to launch angry birds into pigs to destroy their peaceful settlements. However, you may be inclined to find a new game with similar mechanics.
We doubt that there is a title that could compete with Angry Birds in terms of cuteness and artistic originality, but there are certainly cool games with similar mechanics that will be interesting and entertaining for anyone.
Here's a list of 8 games like Angry Birds that are worth checking out today.
1. Fling Monster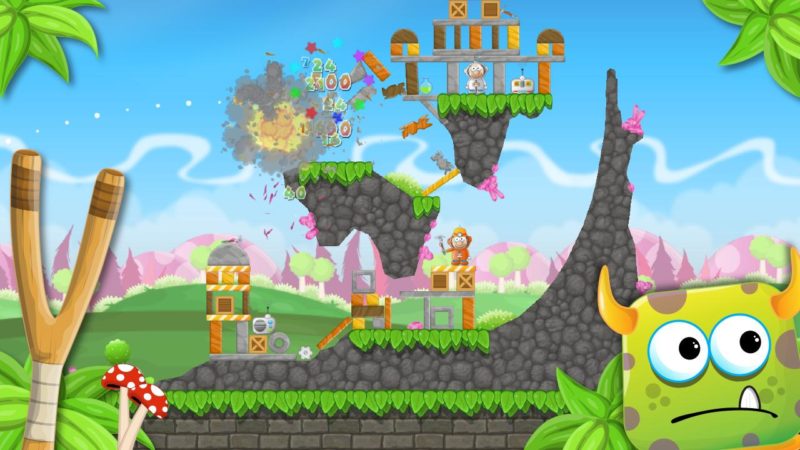 The game is available for both Android and iOS users. It is a puzzle game where you need to destroy some parts of the level to release fellow monsters trapped in cages.
You have to be creative and choose trajectories smartly to make sure that you can save your brethren. While it is not as flashy and memorable visually as Angry Birds, Fling Monster has unique mechanics and great level design meaning that you can always solve a level without breaking your head against the wall IRL.
The visual design is where the game falls flat. While it is colorful and has some cool visual elements to it, there is just not enough kick in the art department. Animations may look choppy and characters just do not feel unique enough to be something that would draw players in.
It is a nice puzzle to have on your phone if you want to kill some time. You will be more than happy to enjoy flinging monsters into paper-thin walls and weird constructions that imprison your brethren!
2. Fragger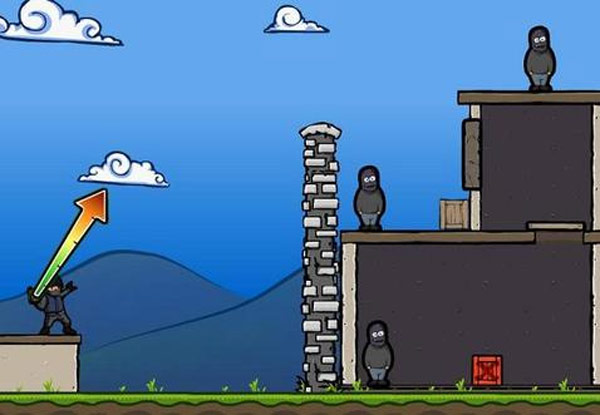 Another game where you need to launch projectiles to destroy environment. However, this time, you will be using frag grenades.
Visually, this game packs a punch due to its backgrounds, interesting level design, and lots of cool skins for the main character who throws around grenades.
In terms of gameplay, you will be offered a certain number of explosives to clear a level. Sometimes, levels will have additional explosive objects such as crates with dynamite and red barrels.
Each level will have an objective. Usually, you will need to reach another character hiding in a seemingly impenetrable building. By using all well-placed grenades, you will destroy every single wall and door on the level and clear it. If something goes south, you can always reset and try again.
Fragget is a game with fun visual design with some elements looking quite silly. However, it looks a little bit more grounded and simpler compared to other titles and especially Angry Birds.
3. Blosics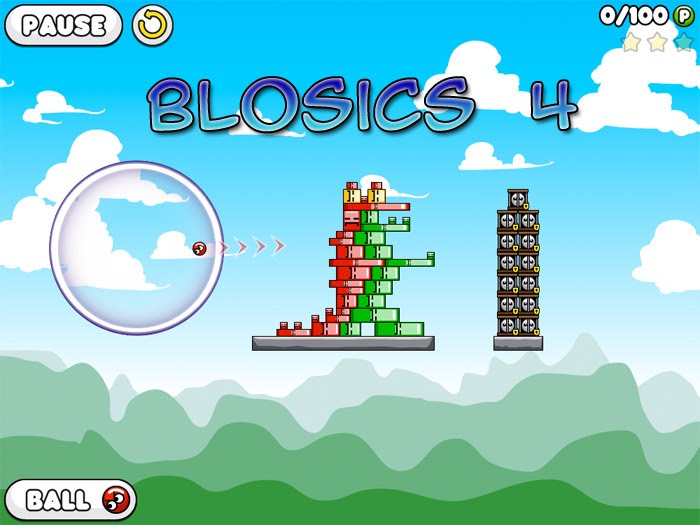 Blosics is another game that tries to utilize physics and ensure that you can clear a level with projectiles. These projectiles behave differently depending on the environment. For example, they will move slower and lose momentum quicker under water.
Each level has a very simple design: there is a wall on the opposite side of screen; you need to destroy it. However, various types of blocks used to build the wall and other obstacles will make the task quite difficult.
While the game requires a certain amount of skill and practice to master, it is a great entertainment for those who spend a lot of time commuting. It feels much like Angry Birds, but with a dark blob instead of birds.
Gravity fields, teleportation holes, explosive objects, and all sorts of walls make each level feel fresh and unique.
4. World Of Goo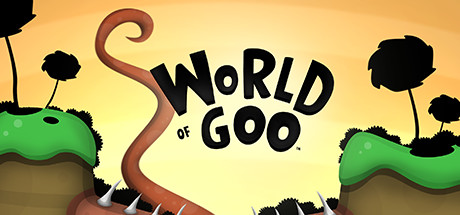 There are millions of little puzzles out there, but only chosen ones reach the status of a standalone feature-complete game. World of Goo is one of those puzzle games that made it to mainstream and managed to captivate hardcore gamers.
The main focus of the game is on physics of liquids and how various objects interact with each other. You will need to build bridges from one point of the level to another. You will use goo blobs as the material.
World of Goo has amazing art style and has a distinct visual flair that you cannot really confuse with anything else. It is a great game with a rich assortment of levels that you need to clear.
Each level is a weirdly shaped set of obstacles and traps that you must avoid while building your shaky bridge. There are different types of blobs. Some of them are tougher but more rigid, some allow you to use different physics to clear the level.
The versatility of gameplay tools and creativity of level designers make this game outrageously addictive and memorable. The game is regularly updated and has a bunch of cool levels to choose from! You will love it!
5. Cut the Rope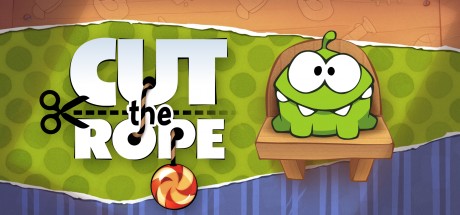 Another puzzle game that also made a name for itself by being cute and addictive. All levels are just hard enough to give you a challenge but also easy enough to allow you to break through them if you think hard enough.
Each level is a set of obstacles put between your favorite monster pet and its snack. All you need to do is deliver the snack to your pet and feed it. The satisfaction experienced when the tiny monster starts chewing on the candy is something out of this world.
Cut the Rope and the sequel are both very addictive puzzle games.
You can download additional levels for each game after you finish all of them. It takes a lot of time to clear the game, but you will always want more!
The art style is very clean and purposefully targets children. It is ironic that very often making cute little pets as main heroes of the game make adults fall in love with the game!
6. Plants VS Zombies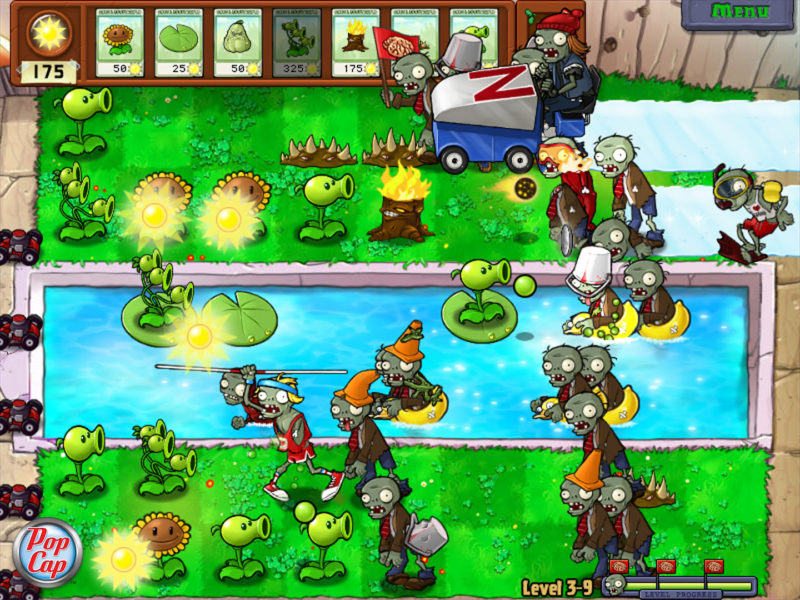 While this game is closer to tower defense games than puzzles, each level still feels like a complex puzzle that you need to beat. Again, the game was praised by players and critics for its amazing art style and interesting game mechanics as well as memorable character design.
In this game, you live in a post-apocalyptic world where zombies are wondering Earth searching for brains. For some reason, they just love brains.
The only obstacle between these hungry zombies and your house is a garden. Thankfully, you can grow battle plants that will use the power of sun (or moon) to shoot various projectiles at zombies protecting your house from the creations of Dr. Zomboid who caused the apocalypse.
Slowly, you will move from your garden to backyard, to the roof. The game was so popular it was ported to mobile platforms and has a sequel and a multiplayer team shooter.
7. Siege Hero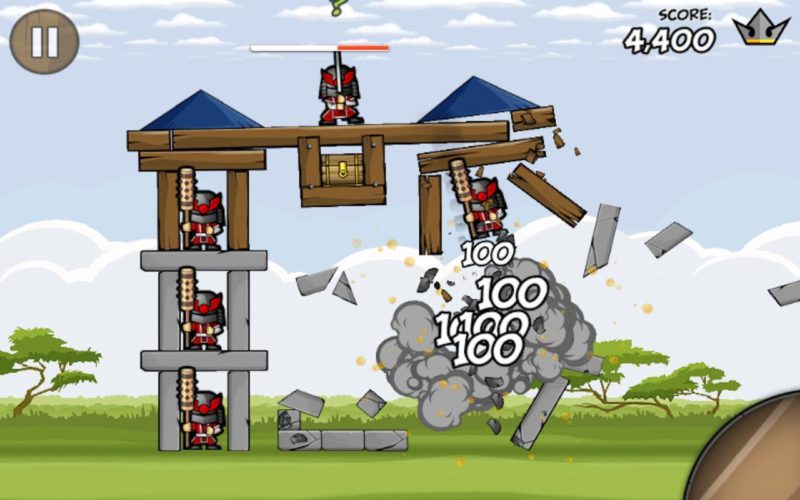 Another great puzzle game that requires you to have agile fingers. You will have to launch projectiles at castles where enemies are trying to hide from your wraith behind thick walls and robust doors.
Thankfully, you have all necessary equipment and mastery to destroy every single castle and defeat your enemies! Siege Hero is often called a clone of Angry Birds despite having many distinct differences including art style, some fundamental mechanics, and point of view.
For example, you will be aiming at castles just like you would in a first-person shooter. Aim at the castle, charge the catapult, and launch a heavy stone directly at your enemies! It is a lot of fun.
Sadly, the game has a limited number of levels and about 63 different castles in three different historic periods.
If you like destroying environments and solving puzzles with violence, this game might be just what you are looking for to calm the itch for Angry Birds!
8. Pandas VS Ninjas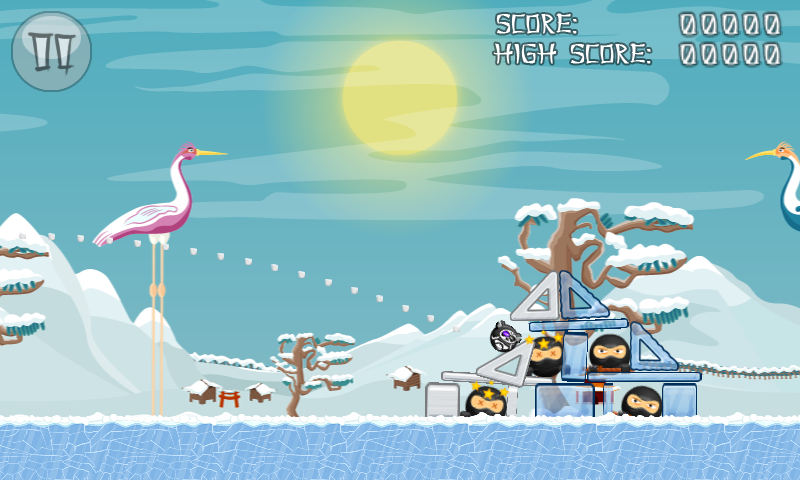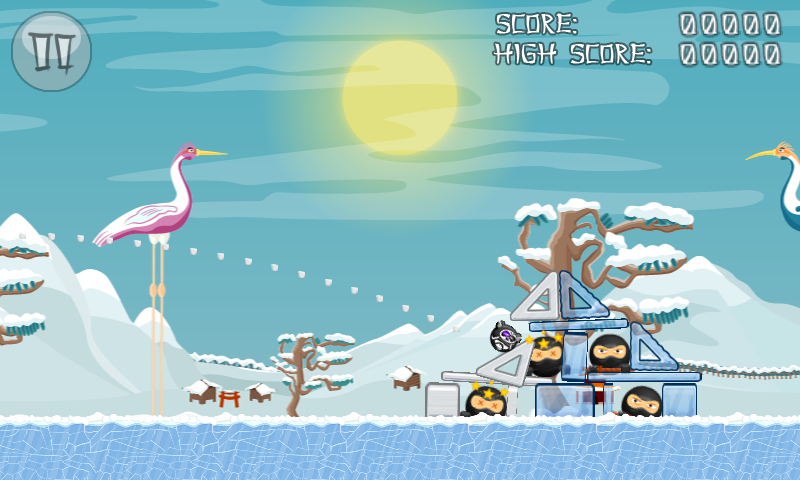 While Siege Hero may feel like Angry Birds, it is far from a blatant copy. Then, you have games like Pandas Vs Ninjas which is the exact copy of Angry Birds in terms of gameplay.
The only distinct difference here is that you will be launching cute pandas at malevolent ninjas who are trying to… kill pandas? Steal their eggs? We don't really know why.
Again, it is a full, shameless copy of Angry Birds meaning that you will a couple of new levels to play and new puzzles to solve.
If you are a fan of Angry Birds, you will be able to play just little bit more of the game while waiting for a new level pack!
This article was written by a freelance writer.
---
Related articles:
Games Like Quake: Seven Alternatives To Check Out Today
Top Games Like Total War: Six Alternatives To Check Out
Games like Wizard 101: Ten Alternatives To Check Out
8 Best Fortnite Players Of All Time To Watch Out For
Top 10 Best Dota 2 Heroes For Beginners
Top 8 Best Yu-Gi-Oh! Cards Of All Time