Game of Thrones is without a doubt the most popular HBO show right now, despite being heavily criticized lately.
The 'writing is awful' is the number one problem right now for the show, especially since they ran out of GRRM's material from season 5 onwards.
Nonetheless, fans still watch the show loyally, wanting to know how it all ends, and whether it's worth re-watching the series.
There has been some legitimate leaks so far, especially on Reddit. The episodes in this season have been predicted correctly by some of the leakers.
Here's are potential episode 5 and 6 leaks for season 8 of Game of Thrones.
Note: Do not read below if you wish to not get spoiled. These leaks may turn out to be true after all. You have been warned.
---

Episode 5 and 6 plot leaks
These leaks have been circulating around Reddit for a couple of weeks (if not mistaken) and they may be true after all. This leak was compiled by the mod in r/freefolk using different sources.
The previous episodes were correctly predicted, even in episode 4, where Rhaegal's and Missandei's deaths were pointed out rightly.
This means the other predictions may turn out to be accurate. Then again, they did film multiple endings, so we're not sure about how it really ends.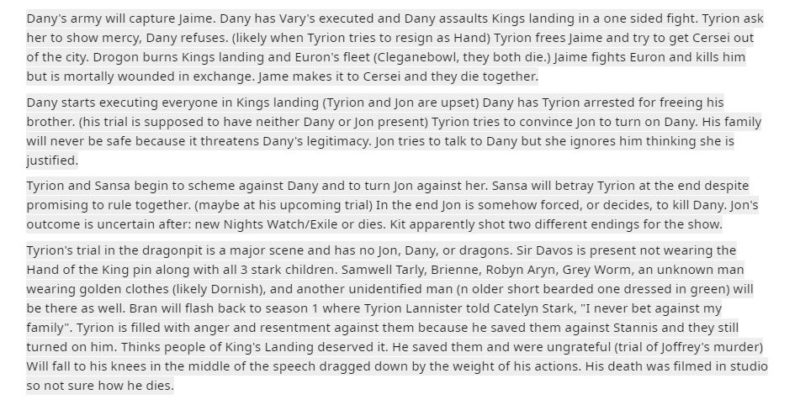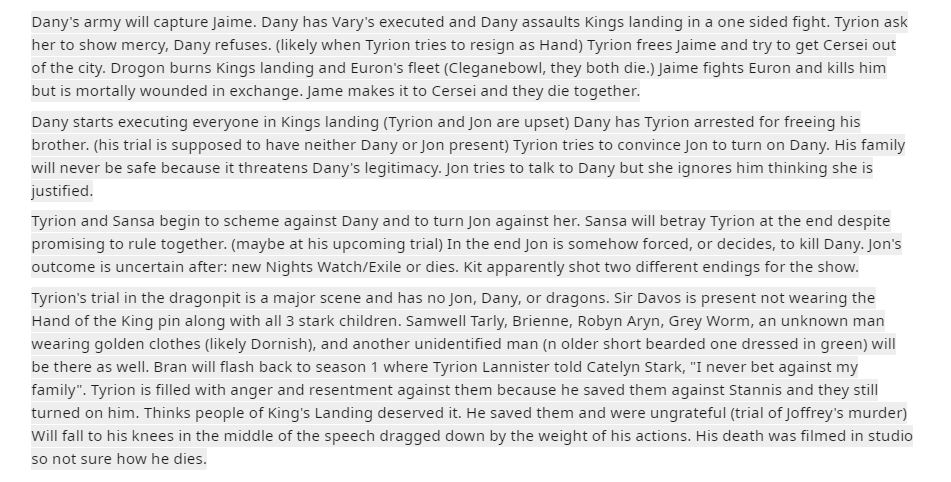 Summary if the image isn't clear:
Dany's army will capture Jaime.
Varys is executed (possibly for treason as hinted in episode 4).
Tyrion possibly resigns as Hand, and tries to free Jaime and get Cersei out of King's Landing.
Drogon burns the city and Euron's fleet.
Cleganebowl happens where both The Hound and The Mountain dies.
Jaime kills Euron, but gets badly wounded.
Jaime eventually finds Cersei and they die together.
Dany executes everyone in the city, upsetting Jon and Tyrion.
Tyrion is captured for freeing Jaime.
Tyrion tries to convince Jon to go against Dany since his existence is a threat to Dany.
Dany ignores Jon when he tries to talk sense to her.
Tyrion and Sansa schemes against Dany, to pit Jon against her, but the Tyrion will be betrayed by Sansa.
Jon is forced to kill Dany.
Tyrion's trial is one of the important scenes, but Dany, Jon and Drogon are missing.
Ser Davos, Sam Tarly, 3 Stark children, Brienne, Robin Arryn, Grey Worm, Dornish guy and another man are present at the trial.
Tyrion probably dies from execution.
Apart from the leaks mentioned, there's another leak saying that Bran will become the ruler of the Seven Kingdoms, as voted by the remaining main characters.
Apparently Jon may have gone up north (or he's dead), leaving Bran as a potential king.
Once again, these are potential leaks that may well end up to be true.
Thoughts on potential leaks
If you had told me that this was going to happen seasons ago, I wouldn't have believed you.
But judging by how things have gone down this season, anything's possible. Especially after the Night King's death. I don't think common sense and consequences play a major part anymore in this series.
Just look at episode 4 alone. We still did not get any explanation on where Bran warged off to in the previous episode. The Dothraki were clearly almost entirely decimated, along with the Unsullied, and in this episode, the current Dothraki leader says "we still have half of our men". Makes sense?
Also, the Starbucks cup sums up the season so far.
Bronn was just awkward in the scene with Jaime and Tyrion. Arya manages to kill the Night King against all odds, but they didn't even use her for any battle plans.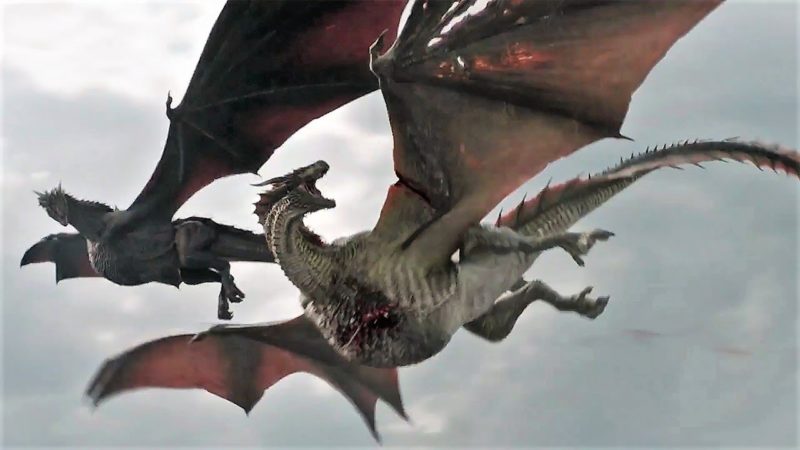 Rhaegal gets killed from above in three hits out of three attempts, and later Drogon doesn't get hit at all. Did the aimbot stop working? And how did Dany not even notice a fleet of ships, when they can see her clearly?
So Euron then attacks Tyrion and the rest on their ships, and only Missandei gets captured? He could have finished the job and killed everyone else.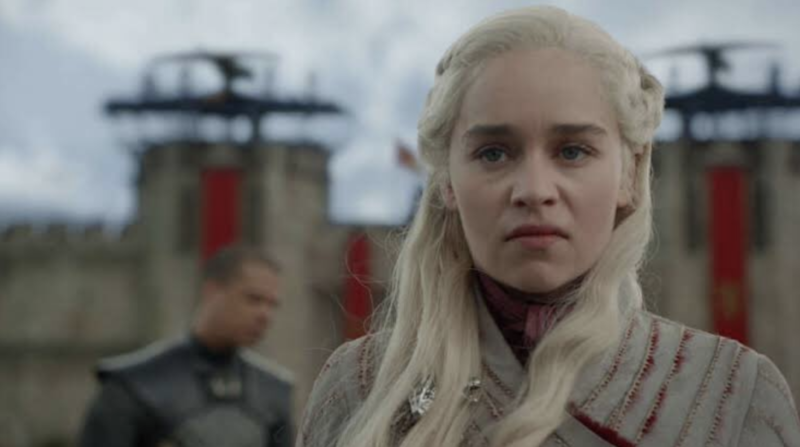 Then Dany and a bunch of Unsullied marches towards King's Landing with Drogon (which is now a desert?), and is clearly surrounded by so many Scorpions and archers at the fortress. If this was the same Cersei back in the days, she would have killed everyone on the spot. Drogon would have died easily as there were plenty of Scorpions. Missandei could have just brought Cersei down with her as well.
It seems like the logic (and character development) that was present in the first few seasons aren't important anymore.
Based on all that has happened in season 8, it seems like the potential leaks can be true after all. They're obviously trying (in a rushed way) to build Dany into a "mad queen".
---
Related articles:
Games Like The Last of Us: 7 Alternatives To Try
Game Of Thrones S8E2 Recap: A Knight Of The Seven Kingdoms
13 Shows Like Black Mirror You Can Watch Today