With the growth of internet usage over the years, having a TV set is not the only way to follow your favorites TV series and movies.
The various website permits you to watch these TV programs without breaking your pocket. However, some are not legally licensed while others scam you to sign up for a fee; and others will attempt to lure you into adding malicious extension and software to your browser.
If you are not vigilant, some quarks sites demand that you download other software's which eventually affect your computer.
Well-known sites to watch movies online in most cases charges a fee; not everyone will prefer parting away with their hard earned dollar.
Here is a list of websites for streaming movies and shows for free. Although most listed here are legal, there are a couple in the grey area.
1. Crackle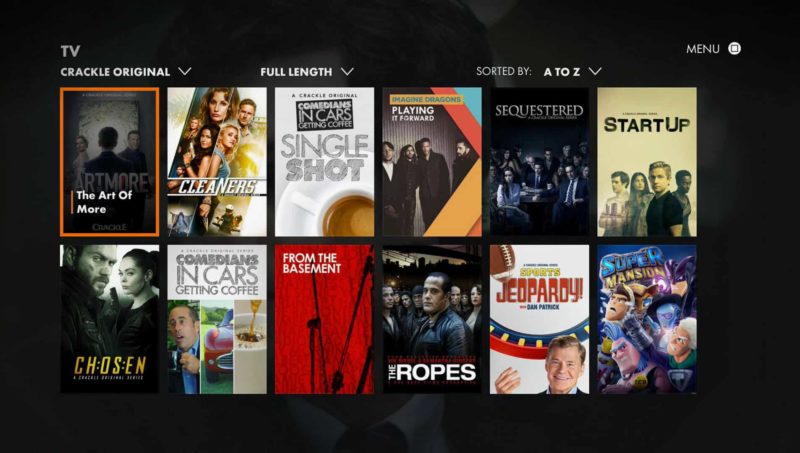 Crackle is a showbiz platform that allows you to watch movies without paying any subscription fee. The website is owned by Sony; making it trusted in terms of quality and reliability.
It also has a wide collection of renowned television shows such as Firefly and Seinfeld. The collections are properly arranged and furnished with a search bar to assist you to explore more.
The platform doesn't limit you on the number of videos you can watch. Another outstanding feature with Crackle is that it offers free Android and IOS apps to watch your favorite movies on the go. It also enables you to stream episodes across various devices such as smart TVs.
Although the movies are 100% free to watch, they are not entirely ad-free.
Advantages of using Crackle
Hosts around 40-50 TV series and more than 150 full-length movies
Stream videos across multiple devices
Free Android and Ios apps available
2. Yahoo View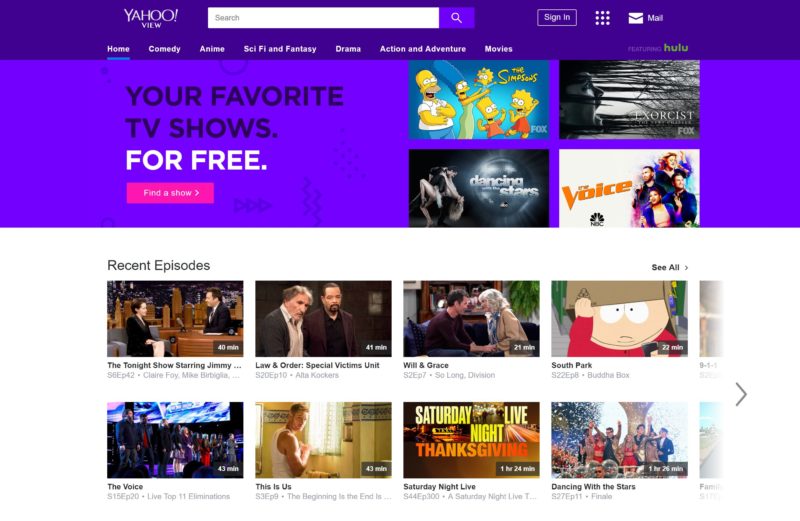 A few years back, Hulu halted its famous movies stream package. Afterward, Yahoo inked a deal with Hulu; enabling it to launch Yahoo View. The site broadcast most of the content that was available on Hulu.
Yahoo View has a wide collection of free shows across various genres such as comedy, reality shows, drama, and documentaries among others.
The channel also streams kids programs such as the Powerpuff Girls. The animated movie lovers are not left behind as the channel broadcast animal movies such as Fullmetal Alchemist and Naruto.
The only setback with this channel is that not all movies are in one category. However, the channel is equipped with a directory to enable you to view all the content in one page.
Why use Yahoo View?
For watching both current and classic TV shows
3. Retrovision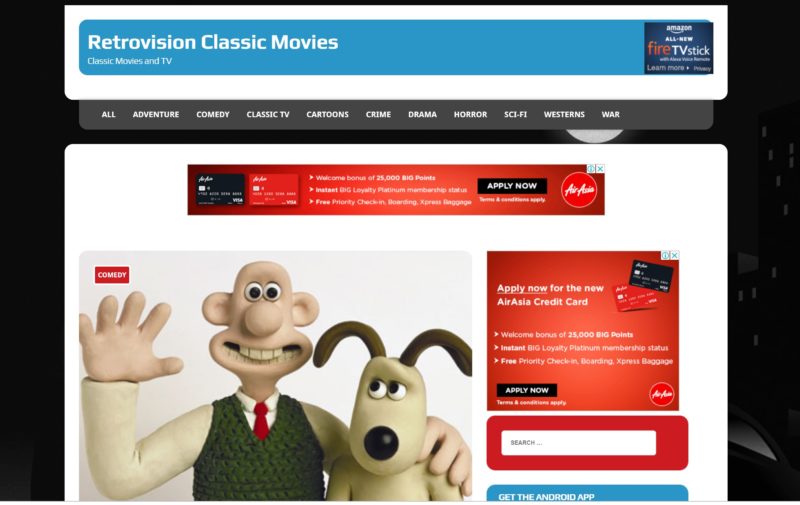 By performing a Google search and clicking on this site, you will have a wide collection of both classic and downloadable TV shows.
The most outstanding aspect with this website is that it has an Android application known as Classic UHF; which is the main sources of the classic content found on the website. Retrovision has genre specific menus which aid in searching for content easier. The content is arranged thanks to its genre-specific menus, searching for movies on Retrovision is very simple.
The website splits its content into different popular categories like Adventure, Comedy, Crime, Cartoons, Sci-Fi, Horror, War, Drama, and Westerns.
If you want to view the content in one page, just click the ALL button located at the topmost menu bar. It also features tags at the left side which help you navigate the website easily.
If you would like to be notified whenever new content is uploaded on the site, you can opt to sign up for their newsletter.
4. Popcornflix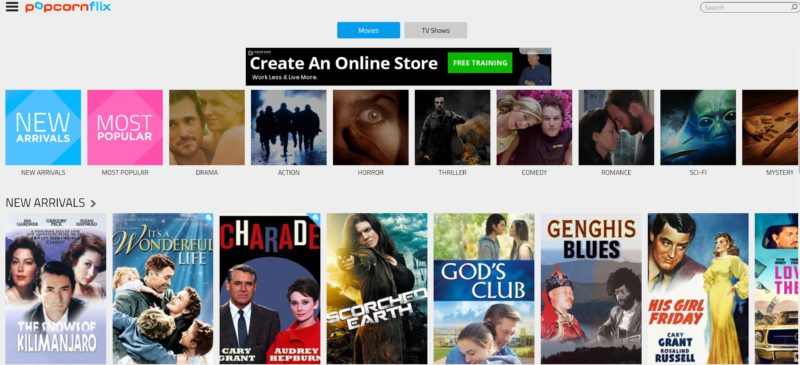 Popcornflix allows you to stream TV shows legally. The website has a ton of content across various genres such as action movies, drama, and comedy, documentaries and horrors.
The most amazing thing is that you can watch them across multiple gadgets. Individuals born in the '90s and looking for their childhood episodes can access them through Popcornflix's classical collections like The Legend of Zelda and The adventure of Super Mario Bros among others.
Another interesting part with the site is the "staff picks" section which has several collections of most-wanted TV programs.
Why use Popcornflix for streaming shows?
Clean interface and well-categorized sections
Watch TV shows and movies without signing up
Free Android and iOS apps available
5. 123MoviesHub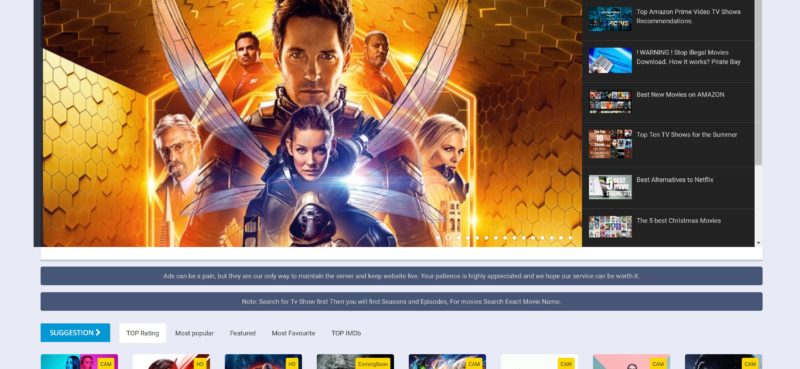 123MoviesHub also known as Gostream, Gomovies or 123movies put together an amazing design with a fully loaded Netflix alternative.
The website has various free loaded online movies across various genres and documentaries. You can also search for your movie title by sorting it by country. It is one of the sites where you can easily search for your favorite movie.
A powerful feature uses fast loading images and descriptions via informative boxes. Thank you to the many fans that pointed out this innovative piece of functionality, making this one of the best free movie sites in our list.
6. CartoonHD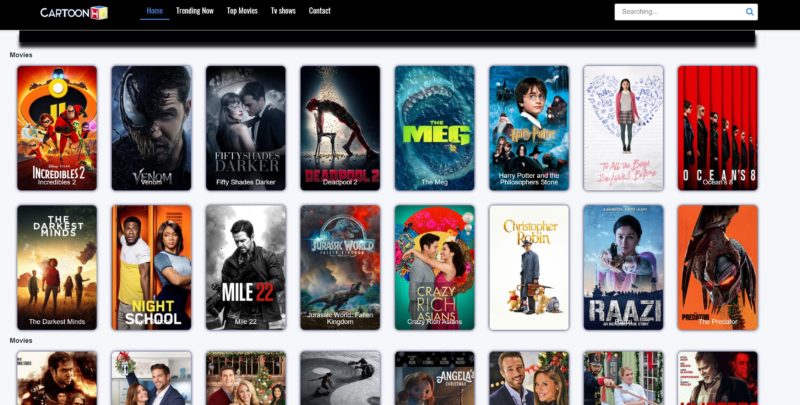 This channel is among the best for watching cartoon movies as well as TV series. You can literally search for any TV program and watch it online without any subscription.
The website has a wide collection in it database hence you can easily find your favorite shows and movies. In addition, you can use the search bar to easily navigate the website. If you love cartoon themed movies, then CartoonHD is certainly the best bet!
7. YouTube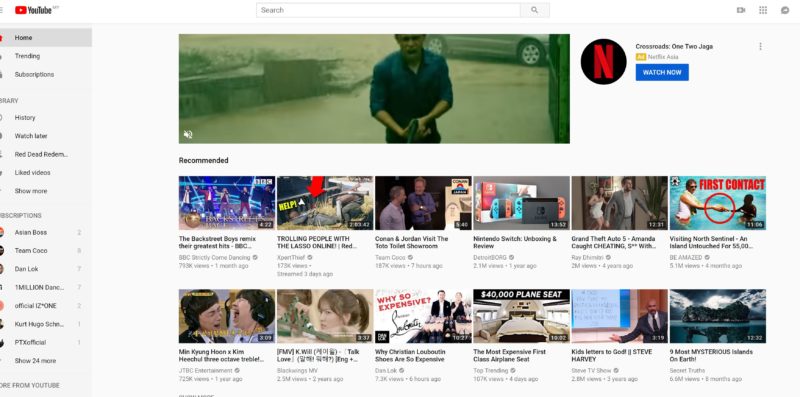 YouTube is a widely known site to watch and download free content. It features a wide collection of videos, music, TV shows, news, and documentaries, among others.
It also enables you to watch your favorite videos online without necessarily downloading it. Another feature that makes YouTube popular is its ability to save videos in an offline format.
You can also use the search bar to quickly navigate the site. However, due to privacy terms, some of the content may not be available.
Nevertheless, YouTube is a genuine site to watch graphic content without registering or subscription.
8. Snag Film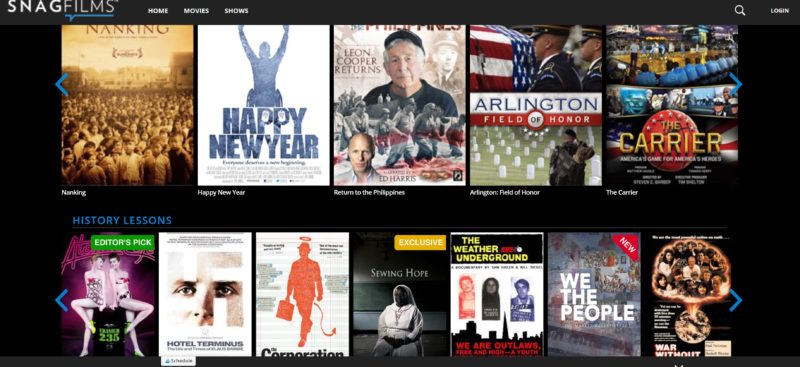 Snag Film allows you to stream independent movies such as classics and other well-known genres. The site does not require any registration or subscription.
With a HD-quality supported, free-error streaming and a wide collection of TVs show, you can bet on this site.
The only drawback with the website lacks mainstream titles and you will rarely find the lasted collection of Hollywood blockbusters. The website is among the oldest and most respected movie database.
On the homepage, you will find categories such as political battleground, immigrant stories, and climate change and history lesson. Hence, the content found on the site can be very educative.
When it comes to indie documentaries, this is certainly one of the finest free movie streaming sites.
9. CmoviesHD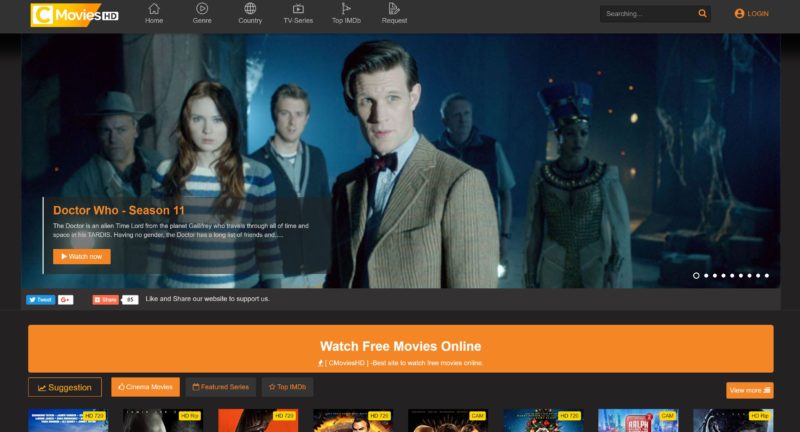 CmoviesHD, as the title put forward, contains free streaming shows. This is one of the platforms that has never let their viewers down in terms of the content they are able to stream.
Another pronounced feature is the top-notch video player selected by default all over the pages. This allows subtitles (cc), tremendous smooth loading, and an array of video feature settings.
Advantages of CmoviesHD
No ads interfering like with other places
Boundless video player offered site-wide
The recommended movies are to a certain extent decent
Stress-free to get a quick outline of each film
Best websites to watch movies or TV shows?
We have listed nine free sites to stream movies online and they are free for the most part (unless you're going for premium subscriptions).
If you do know of better platforms, do leave your comments below.
This article was written by a freelancer.
---
Related articles:
Top 10 Stand Up Comedy Specials On Netflix
Top 10 Best YouTube Alternatives For Streaming Videos
17 Websites Where You Can Watch Free TV Shows
Pokemon Let's Go Eevee: Pallet Town Walkthrough
Netflicks Review – Wait, Did You Mean Netflix?