Flower of Evil finally ended when the last episode (16) was released over a day ago.
The drama has been intense and exciting from the start to finish, and probably one of the best dramas this year.
Here's a brief recap of episode 16 (ending) of Flower of Evil.
Episode 16 Recap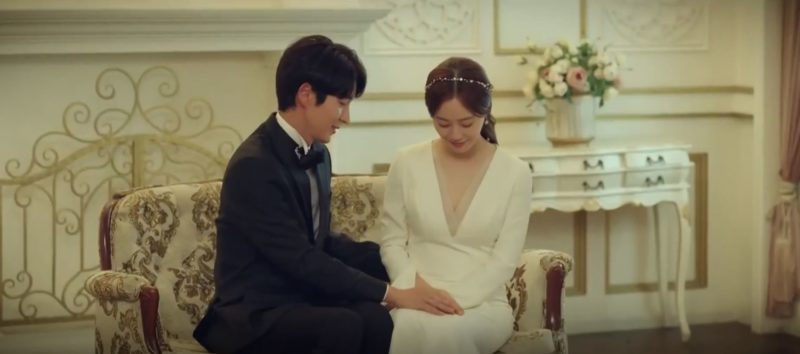 The last episode begins with a flashback when Ji-won and Hyun-soo took their wedding photos. Ji-won felt upset that Hyun-soo's parents (fake ones) do not wish to attend their wedding. Hyun-soo justifies it saying the wedding is just a formality.
In the present, Ji-won talks to Hyun-soo in the witness room four months after the latter was shot. He doesn't seem to remember Ji-won much after his skull injury. We then see what happened four months ago, where Hee-sung was killed by Ho-joon.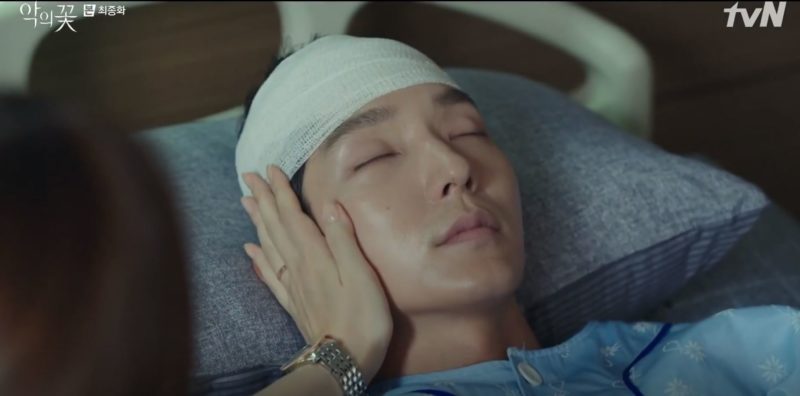 Hyun-soo woke up a month later without his memory of Ji-won but he seems to get glimpses of her in his dreams. He felt like he woke up right after the accident that happened 15 years ago. He walked past Ji-won and notices that it's the lady from his dreams. Hyun-soo then ran away, eventually stopping at the hospital's lobby as reporters all swarmed the area.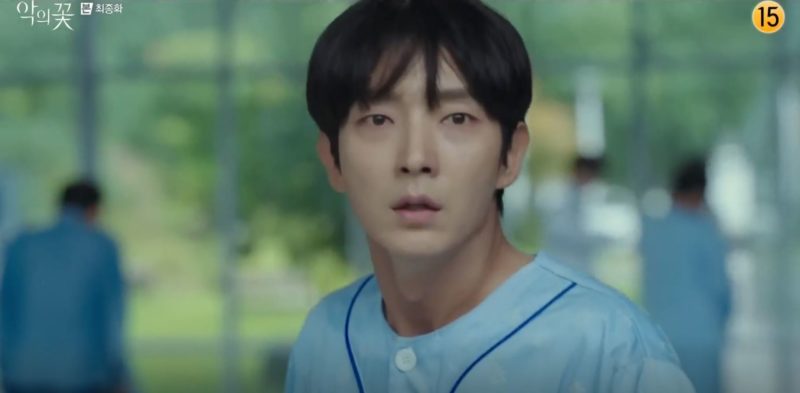 Back to the present where he is with Ji-won in the witness room, he is still seen wearing their wedding ring. Ji-won wanted to ask him why he's still wearing it, but then decided not to.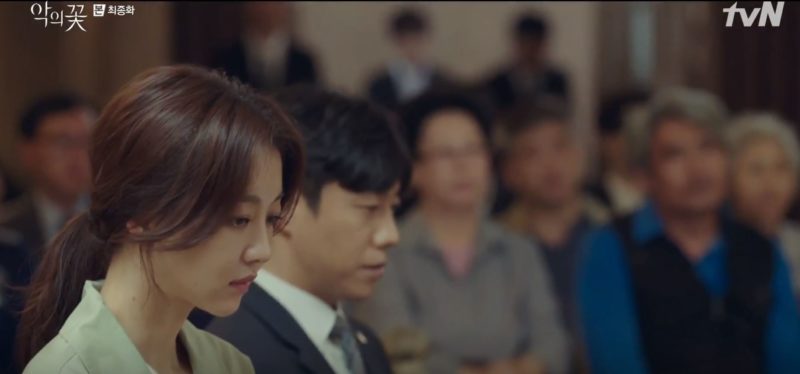 Hyun-soo then testifies as a witness for his sister's trial over the village chief's murder. They try to establish self defense as they attempt to win over the jury, saying that Hae-soo was depressed when Hyun-soo was dragged for exorcism by the chief daily.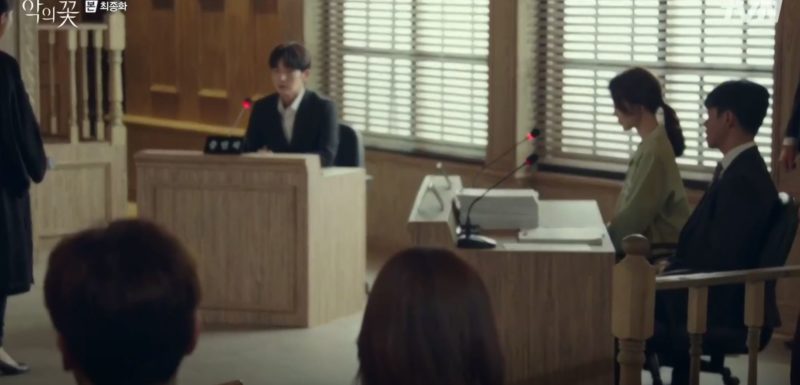 The prosecution however tries to discredit Hyun-soo, saying he doesn't feel any emotions and has deceived his wife. Hyun-soo however couldn't reply the prosecution as he looked at Ji-won. He says "I love you" in his heart when he looked at her, without knowing why as he lost most of his memory. The trial was then reconvened for the next day.
As Hyun-soo walks out the court, Moo-jin asks him why he didn't say as practiced. Hyun-soo replied saying he went blank after making eye contact with Ji-won.
Ji-won then talks to Jae-sub over the phone and the latter tells her about the village chief's nephew. Ji-won then asks Hyun-soo to follow her to ask the nephew to testify. The chief's nephew knows that the village chief actually wanted to get money from Do Min-seok's inheritance and used Hyun-soo as a way to get it. He withdrew more money than needed for the exorcism and pocketed the rest.
Moo-jin visits Hae-soo at the detention center as the latter's still on trial. He tells her about the plan to get the chief's nephew to testify in court.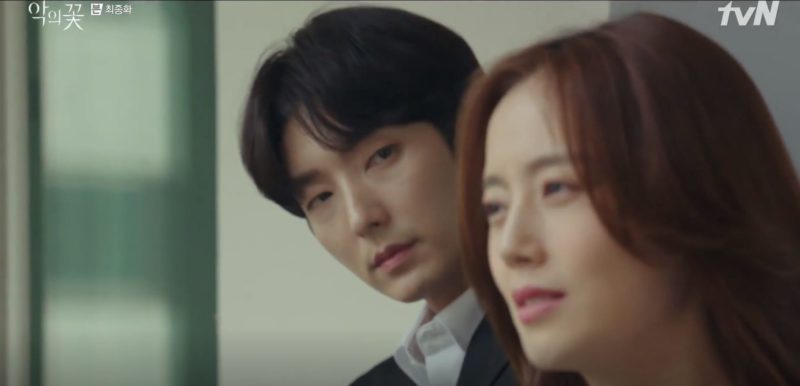 When Hyun-soo and Ji-won reached the nephew's place, he can't be contacted as he switched off the phone. The nephew later messaged Ji-won, saying he won't testify. Ji-won asks Hyun-soo to wait together until the nephew comes. It starts raining and Hyun-soo watches Ji-won enjoying the rain, as he recalls some of his memories. He then smiles at her without her knowing. He also recalled saying Ji-won only believes what she wants to and is easy to manipulate, and he stopped smiling after that.
In the next scene, Eun-ha is seen drawing with her grandmother. Her grandmother then asks her why she doesn't draw daddy, and Eun-ha replies saying her mother cries every time she sees daddy in the drawing.
Ji-won asks Hyun-soo why he's still wearing the ring, and the latter says the ring provides balance to his hands when he's doing metalwork.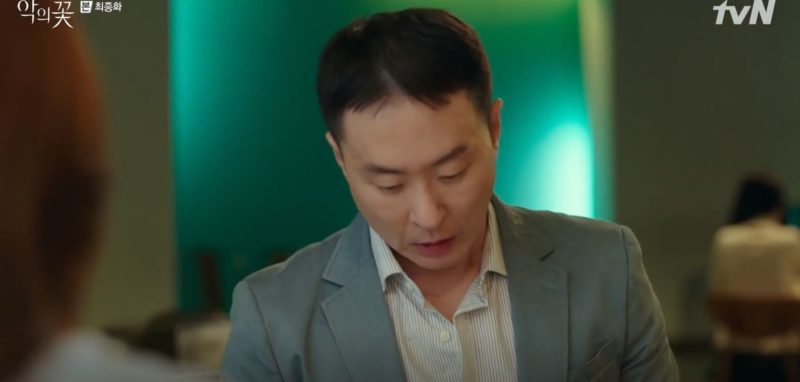 They finally found the nephew and got him to talk at a cafe, and the conversation was recorded.
The nephew admitted to killing a chicken every night and spreading false rumors that Hyun-soo did it, to help his uncle. However, he doesn't wish to testify as he might lose his job as a teacher. Hyun-soo says he forgives the nephew and hopes he thinks about it again.
Ji-won fetches Hyun-soo back and during the journey, Hyun-soo says he lied to the nephew and wanted to actually kill him. The nephew then calls him agreeing to testify the next day.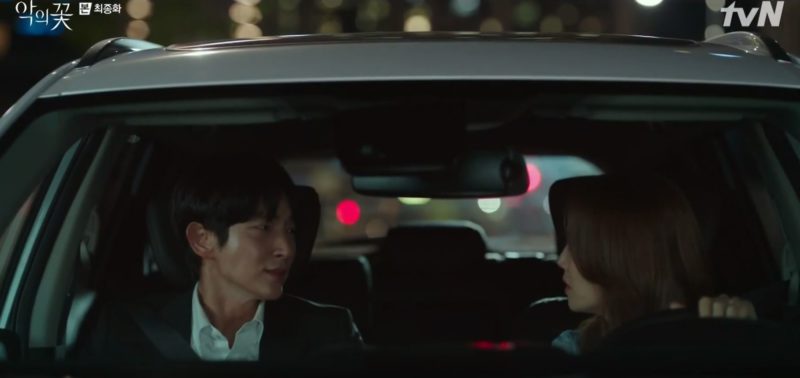 Hyun-soo then tells Ji-won he knows what she's hoping for; that she hopes Hyun-soo remembers and says he loves her. She hopes that the man who was inside him will come back. However, Hyun-soo said he hates the man inside him and isn't curious about the guy. He also says that the two of them are trapped in the past, as they both cried in the car.
As Hyun-soo returned, Moo-jin asks him why he stocked so much food in the fridge. Hyun-soo doesn't know why but he bought those egg tarts every time he saw them (for Eun-ha). He also tells Moo-jin that the nephew has agreed to appear in court.
Hyun-soo then says he doesn't want to see Eun-ha and confuse her later. He also wishes to give his inheritance to her.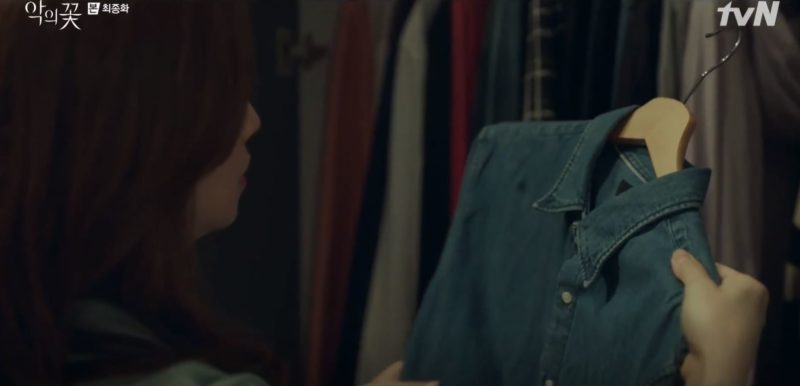 Ji-won is then seen looking at Hyun-soo's clothes at home and she cries after smelling them, remembering the good days. She also listens to the recorded interview with the nephew earlier, and cries as she hears Hyun-soo's voice.
Eun-ha then asks her mother whether they are are divorced. Ji-won says they're not but can't tell Eun-ha why her father isn't coming back. She tells Eun-ha she hopes daddy finally gets to live life as he wanted.
Ji-won talks to Hae-soo and thanks the latter for protecting Eun-ha and her family. Hae-soo however said finally felt like she's doing something right in her life. Ji-won also decides to let Hyun-soo go.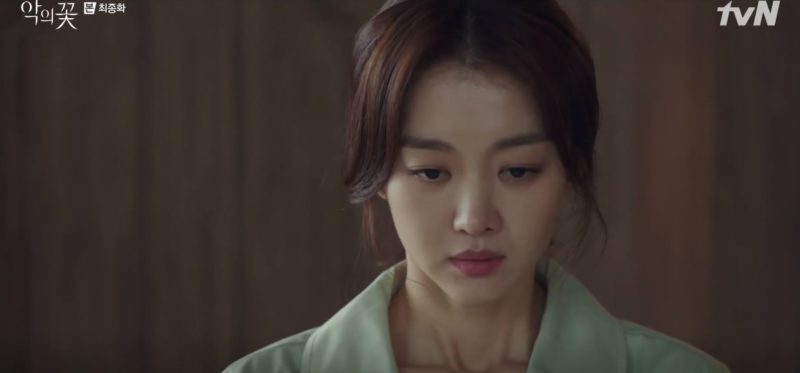 Back in the trial, the court decided that Hae-soo killing the village chief was in self defense. The bench (judges) did not agree but because Hae-soo was a minor and it was late at night, they won't punish her. Jae-sub, Captain Lee and Ho-joon all jumped for joy after hearing the news.
Hyun-soo then visits Mi-ja and asks her how he treated Ji-won in the past, as he's curious whether he was good to her. Mi-ja asked him whether he visited Man-woo already, and he did. Man-woo seems to have lost his mind as he sees Hyun-soo as Hee-sung instead. Mi-ja then tells Hyun-soo that in the past, he didn't bring Ji-won to meet them often as he really cared for her.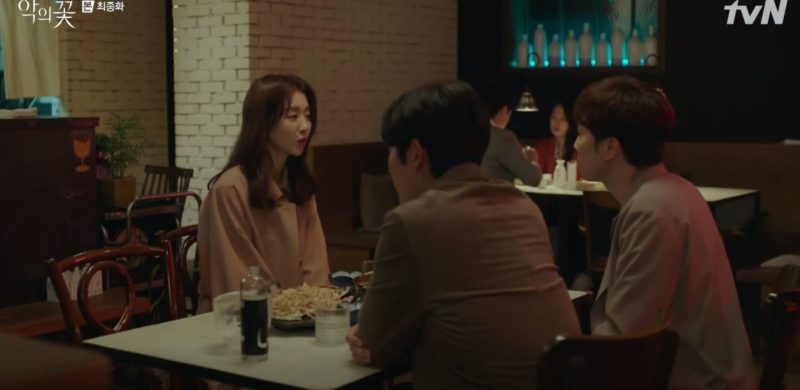 Moo-jin then goes to Hae-soo's place. There's a flashback however, showing that Hae-soo is finally free but she decides to go overseas to start a new life. Hyun-soo then consoles Moo-jin as he's upset about her leaving. In the present, Moo-jin talks to Hae-soo who is already overseas, as they still keep in touch with one another.
Hyun-soo also remembers a flashback where he talked to his sister before she left. His sister says he should also start his life anew.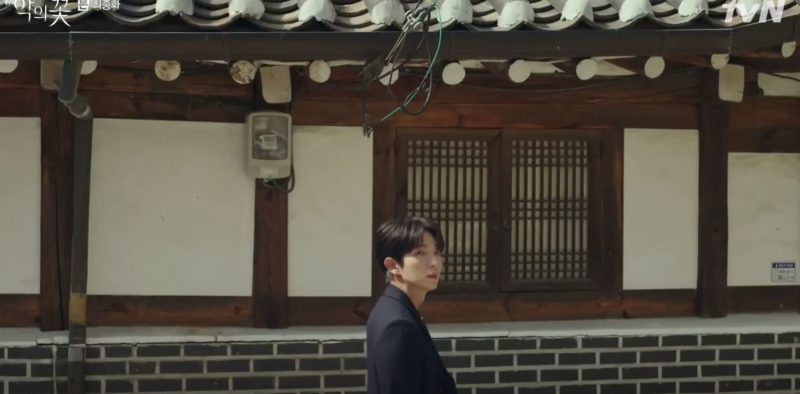 Hyun-soo then visits the place he had his first date with Ji-won, and recalls them being trapped in the train. A real estate agent then calls him, saying they found the property he described.
He then reaches the property which is his own house and workshop. Hyun-soo enters the workshop and starts looking at the things in the shop, and recall some things in the past. He tells the real estate agent that he'll observe the place alone. The agent left him alone and said she'll call the owner of the property.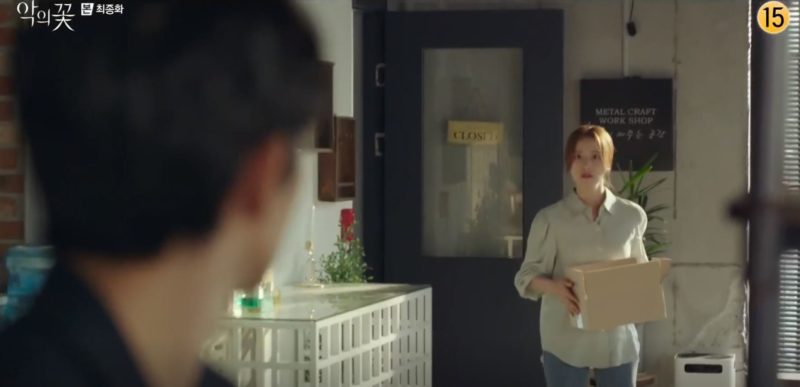 He also found a notebook where he wrote some of his observations about Ji-won. Ji-won appears and tells him not to read the book. He turns around and Ji-won is surprised to see Hyun-soo there. Ji-won says she was cleaning up the place and Hyun-soo can take whatever is inside except the notebook as it's all about her.
Hyun-soo then asks her if he was the one who came up with the workshop's name. He asks her if she knows what it means, but she doesn't as he never told her.
Hyun-soo then talked about Hephaestus, a god in the Greek and Roman mythology. He was hated because of his personality and spent most time in the workshop. However, Hephaestus had a wife he loved called Venus (the planet). Another name for it is "the morning star", which is the name used for the workshop.
Hyun-soo tells Ji-won she was always in his mind when he was in the workshop. Ji-won however tells him she's joining the task force in Busan. Hyun-soo asks her if she's leaving and the latter replied she's going somewhere new to start afresh and not run into him.
Hyun-soo who is upset then asks how is it that she's running away after he finally took a step towards her. Ji-won says she keeps getting her hopes up and eventually let down, and she can't do it anymore.
Hyun-soo asks whether she can change her mind and that he'll be good to her and will like her for real. Ji-won remembers those lines as she said them to him long ago, before they were married. Hyun-soo also says "let's look for the person you're looking for, together". He has finally become curious about him.
Ji-won asks him why his hand has many bandages, and he replies saying he gets hurt whenever he takes off his ring. She then hands over his wedding ring back to him, and places it on his finger.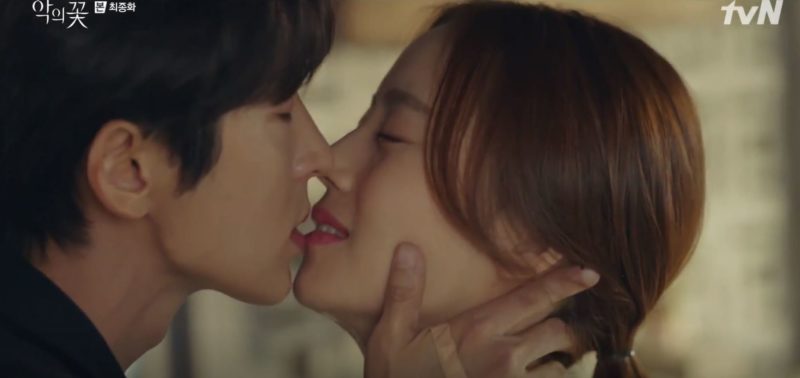 Hyun-soo says he feels nervous whenever he's around Ji-won and feels afraid he'll make a mistake. Ji-won replies saying she feels the same. Hyun-soo eventually gets close and they finally kiss.
Ji-won then says she has to pick up Eun-ha and asks if he wants to go. Hyun-soo then asks whether Eun-ha will like him and Ji-won laughed.
Hyun-soo is then seen standing nervously at the kindergarten waiting for Eun-ha. Eun-ha finally sees her father and calls him. She hugs Hyun-soo and the latter naturally bends down to hold her. He also has a flashback of Eun-ha as a baby.
Eun-ha says she misses him and Hyun-soo is still seen taken aback for a moment. Eun-ha asks if he brought a gift but he forgot. She then says it's okay, as he is her gift, and she likes him more than anything. Hyun-soo replies saying "me too".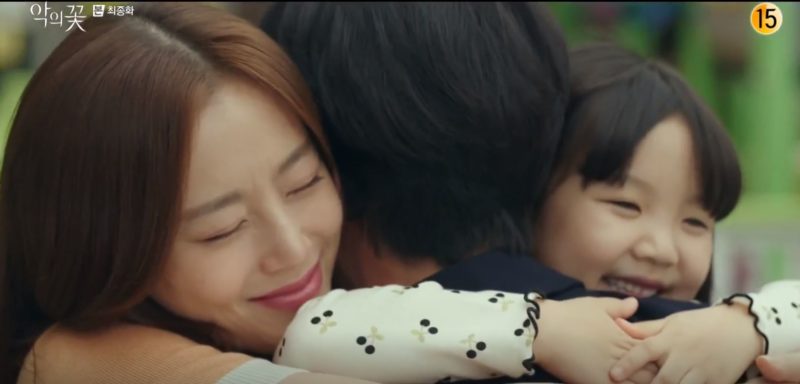 The episode ends as Hyun-soo, with tears in his eyes, hugs both Eun-ha and Ji-won.
Conclusion
Flower of Evil has been an amazing drama from start to finish, with no boring episodes.
As more were revealed, we learn that Hyun-soo is just a victim of his terrible family background and has been mistreated all his life. However, he met Ji-won to turned out to be the best thing that has happened to him, alongside Eun-ha.
It was fun to see how Hyun-soo who was portrayed as the criminal in the beginning is the total opposite as the show ends.
We're glad that the drama actually ended on a happy note, as Hyun-soo reunites with Eun-ha and Ji-won. He may not recall everything but his memory is coming back.
What are your thoughts on the ending?