Finding One's Voice is a quest under the final Lost Tales of Greece series in AC Odyssey.
Your task is to talk to Pythia and later find the student who's hiding in a tomb.
Here's a walkthrough of Finding One's Voice in Assassin's Creed Odyssey.
This quest is recommended for level 68 and above, but it differs according to your level.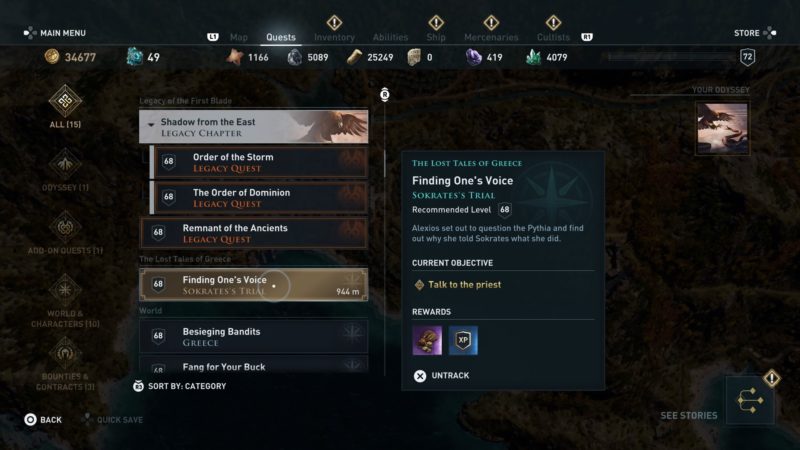 Talk to the priest
The first thing you need to do is to talk to the priest.
The exact location is shown in the map below, marked by the quest symbol.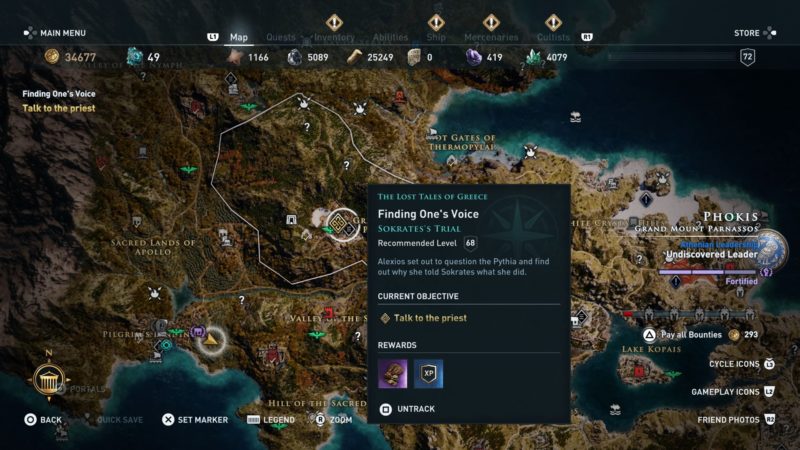 You will see him standing with two guards in front of the Temple of Apollo.
Talk to him.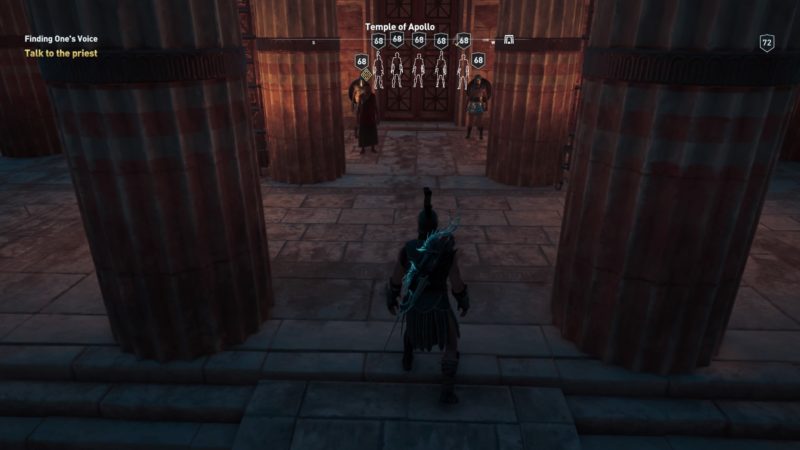 Defeat the guards
After entering the temple, you need to immediately kill the guards as they will attack you.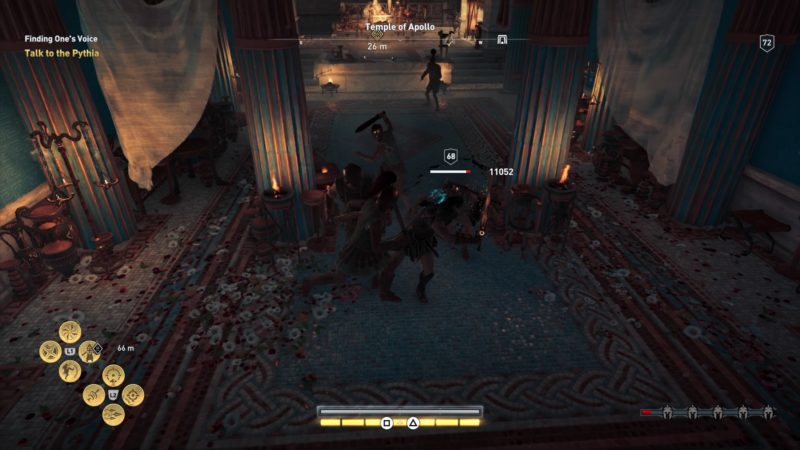 Talk to the Pythia
Once the guards are dead, head to the front and find the stairs going downwards.
You will find the Pythia here.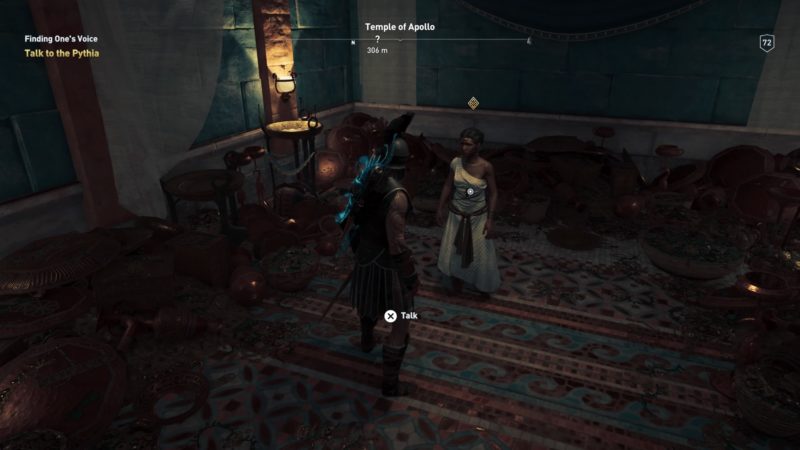 During the conversation, I chose the neutral option.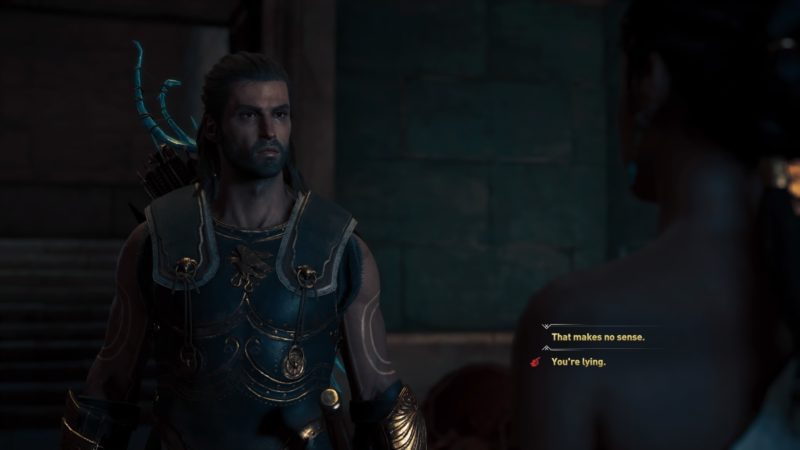 She'll tell you about Sokrates' student who went into hiding and her own intentions with Sokrates.
Find Sokrates' student
Next, head to the Tomb of the First Pythia.
The exact location is shown below, marked as the quest symbol.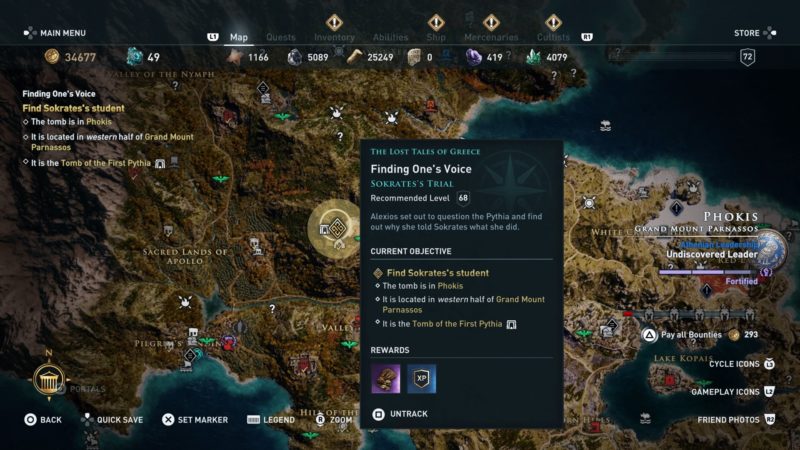 Once you're close, use Ikaros to pinpoint the exact location.
Below is how the entrance looks like.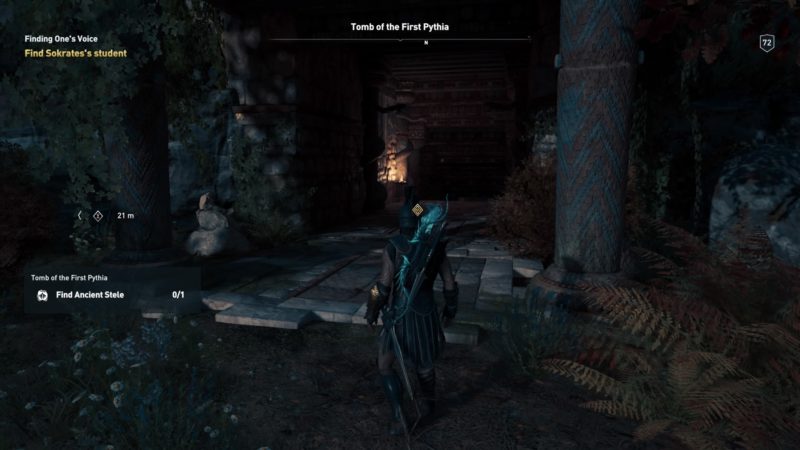 You will then come across three pathways (front, left and right). If you go to the front, you will reach some loot but nothing else.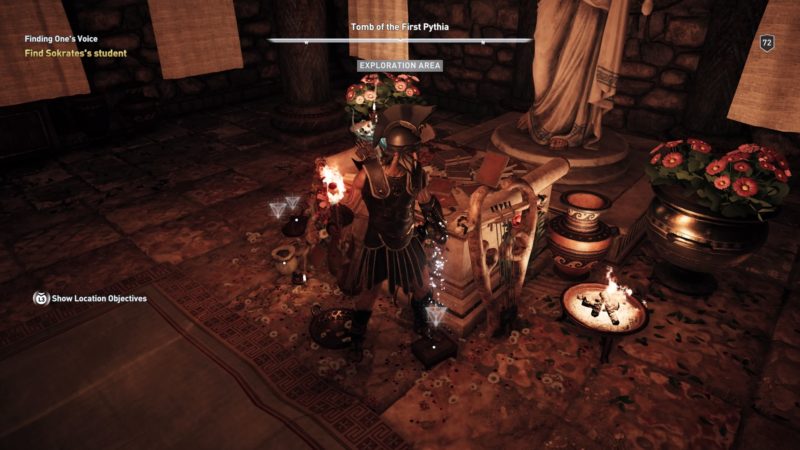 The left is blocked.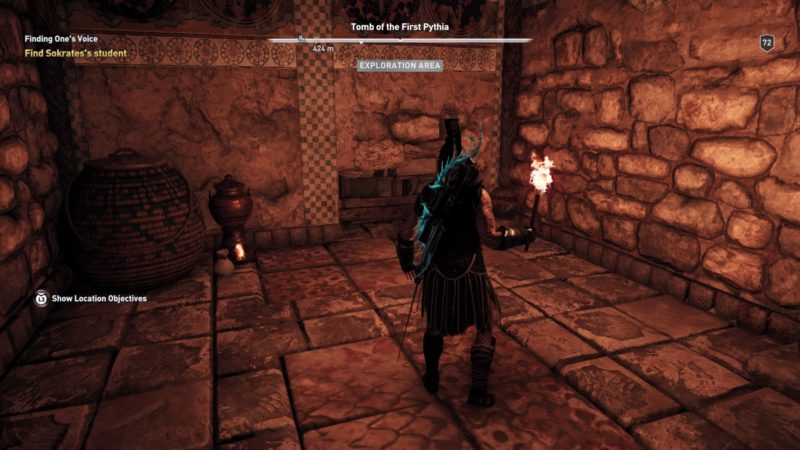 Go to the right where the pots are. Break the pots and you will find a way to go under.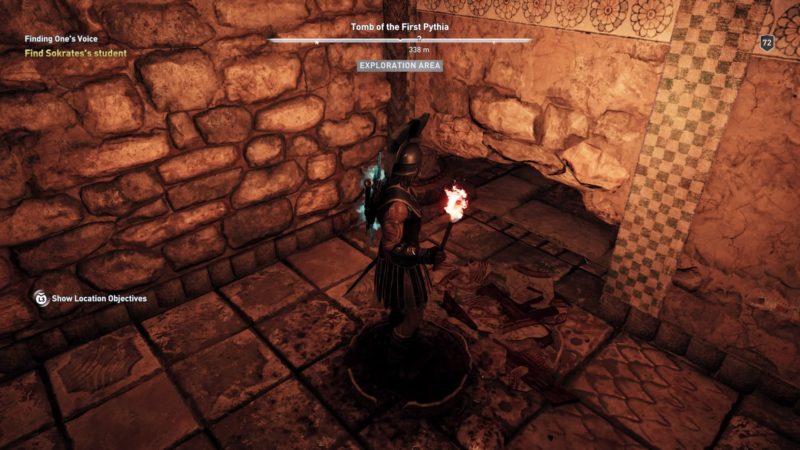 Keep going all the way (past the traps and snakes).
Get the Ancient Stele (optional)
You will finally come across a wall that is breakable.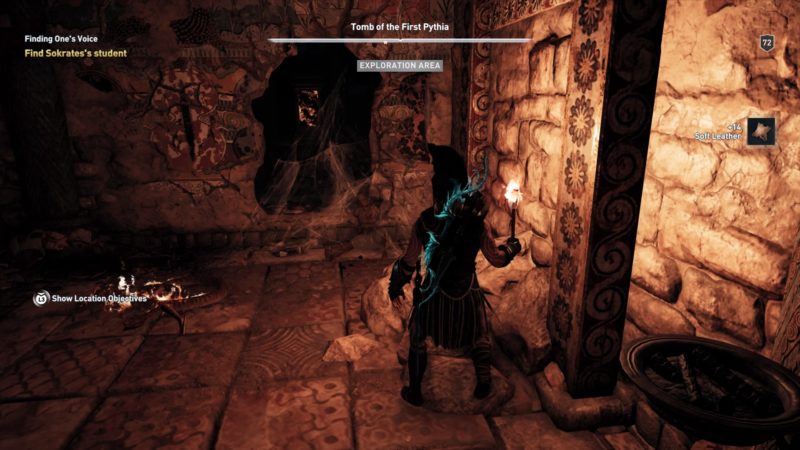 Go through the hole and you will reach the Ancient Stele.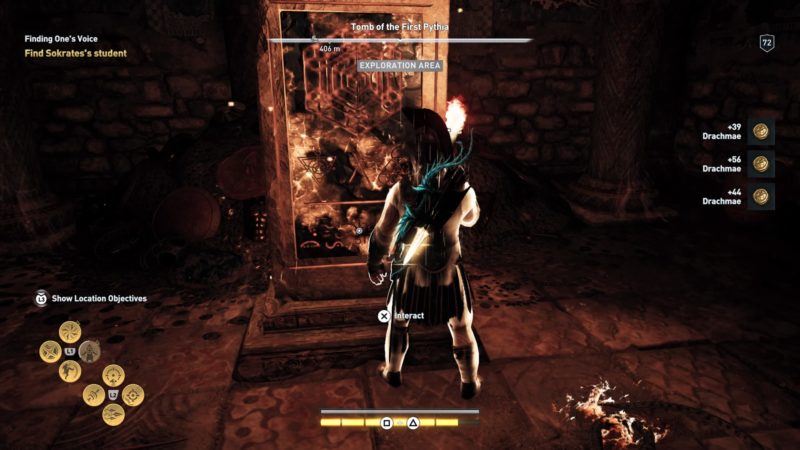 Talk to the student
After grabbing the Ancient Stele, get back out of the hole and continue following the stairs up.
You will meet the student almost immediately. Talk to him.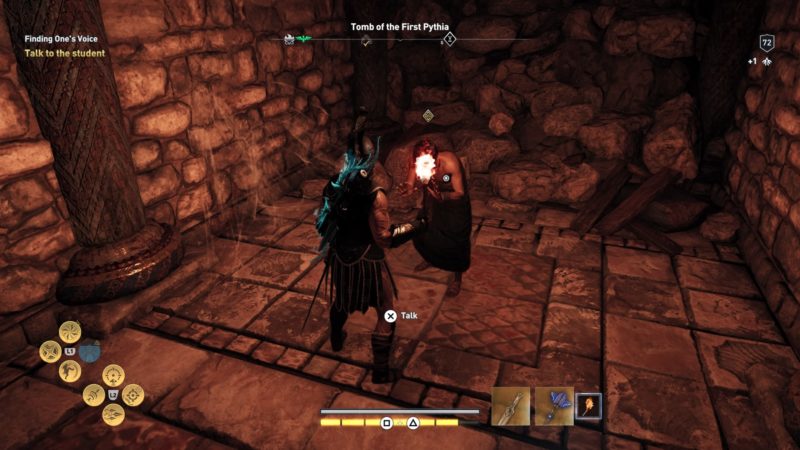 The quest completes here. You can move the shelf to get out of the tomb quickly.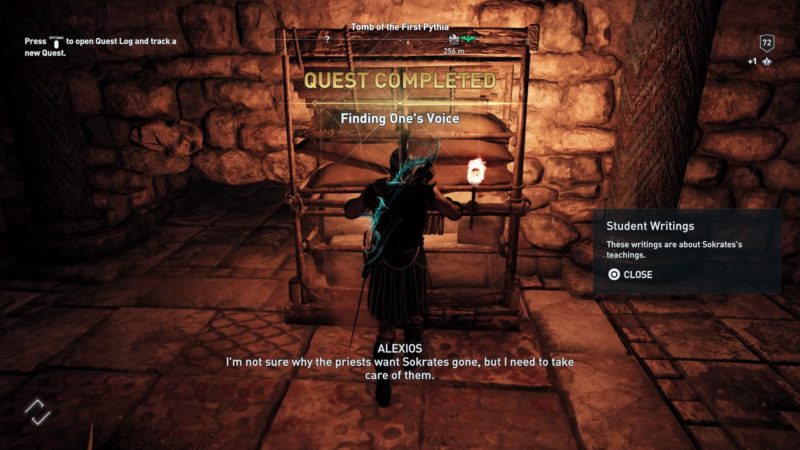 ---
Related articles:
Deposition Opposition: Assassin's Creed Odyssey Walkthrough
Persuasion Check: Assassin's Creed Odyssey Walkthrough
A Night In Tegea: Assassin's Creed Odyssey Walkthrough
Unplanned Parenthood: Assassin's Creed Odyssey Walkthrough
The Fate Of Atlantis (Final Boss): Assassin's Creed Odyssey Guide
How To Increase Isu Knowledge: Assassin's Creed Odyssey Guide