Hi guys, if you noticed the title, you would know that the earnings have dropped immensely.
Why did this happen? Why the huge drop of more than 50%?
It's because my articles on cryptocurrencies are getting much lesser traffic for several reasons. The main reason is probably that the search trend has decreased substantially on the search engines, due to the drop in prices. Also, many may have read my article already. Those are two reasons I can think of.
What are blogging income reports for?
Many bloggers write income reports and it serves as a great way to motivate other bloggers and to show that making money via blogging is real. Many people think bloggers don't make enough for a living and while most bloggers don't, some of us do.
The big difference between those who actually make money and those who don't is how they treat their blogs. Is it a business or is it a hobby? Some do not know how to monetize their blogs as well. All of those can be learnt and it takes a lot of persistence to get it right.
Another reason for such reports is because it helps bloggers to make more affiliate sales. They inspire people by their huge figures and the flexibility of working anywhere you want in the world. Readers then sign up for blog hosting and other products via their affiliate links and they make more money.
While I probably can't inspire you because I don't make that much, it should at least prove that it's possible to make money as a blogger.
Do note that I do have affiliate links in this article as well.
Blog Income In February 2018
So here it is, my blog income for the month of February.
It is the measly $787.21 due to the huge drop in traffic.
Nonetheless, Mediavine still maintained a pretty good RPM of $15 and above. Big thanks to them!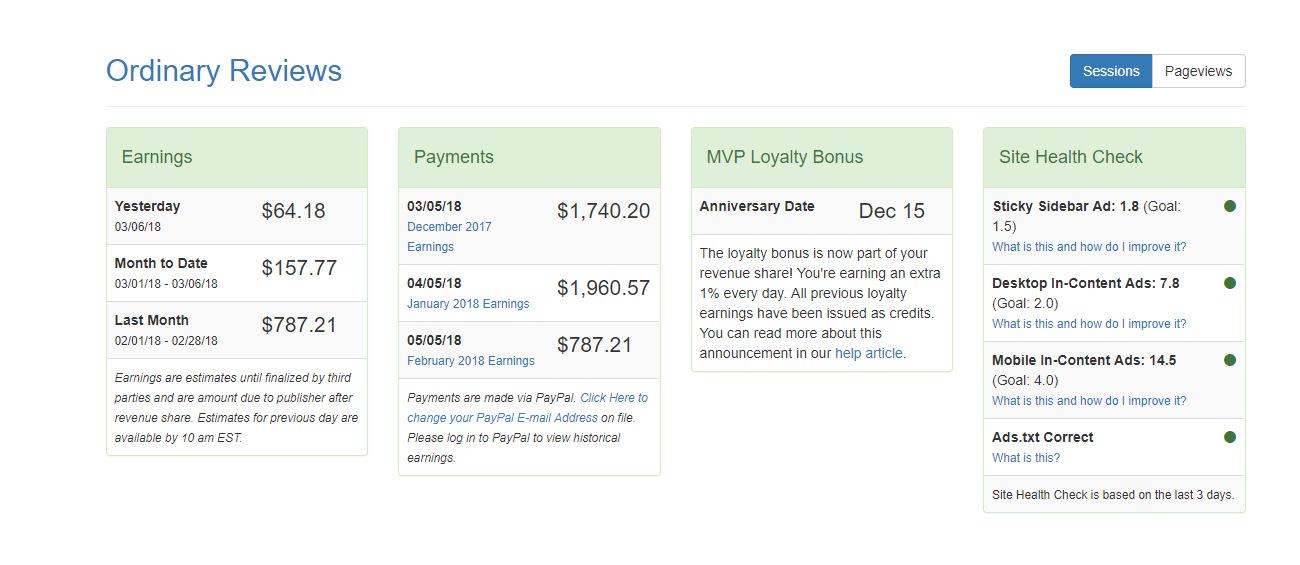 Want to start a blog?
If you wish to start blogging (as a business) like I did a year ago, you can check out my free email course to get you started. It's basically a 7-day thing. If you prefer something faster, you can look at my guide on how to set up a blog and ways to make money blogging in 2020.
Thanks for dropping by! For any questions, you can use the comment box.