The Great Escape is a story mission in Far Cry: New Dawn involving Nick, who is Kim Rye's husband.
Your task is to look for Nick and rescue him from the Highwaymen using a plane.
Here's a walkthrough of The Great Escape in Far Cry New Dawn.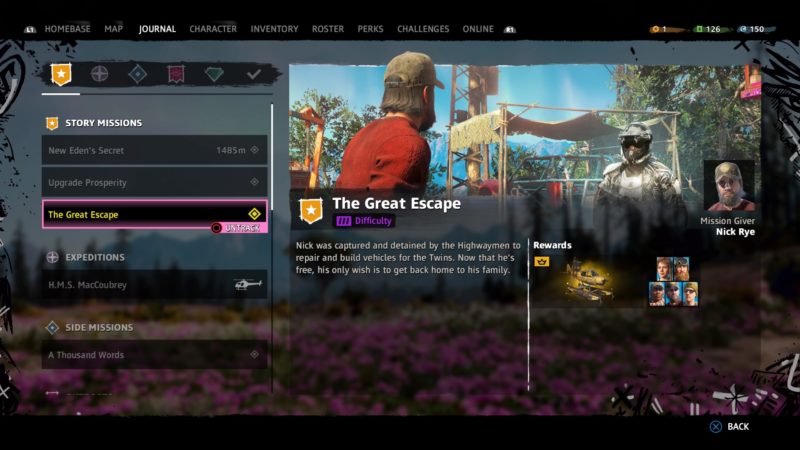 The level of difficulty for this mission is the highest, i.e level 3. The hard part is probably trying to escape with a plane on water.
Look for Nick Rye
Before you can begin the mission, you need to look for Nick Rye first. His location is shown in the map below.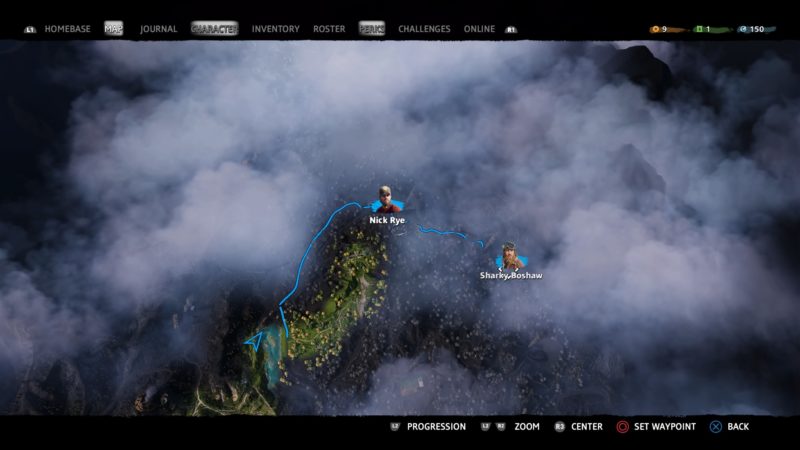 Kill the Highwaymen
When you get there, move in slowly. You will notice a group of Highwaymen keeping Nick hostage.
They are all in heavy armor, so it takes quite a lot of shots to kill them.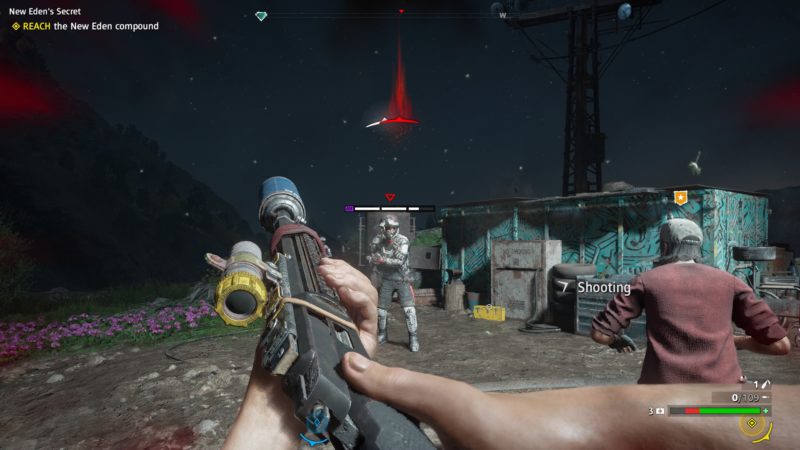 Try to use a shotgun if possible, and pack some molotovs. Fire seems to kill them much quicker.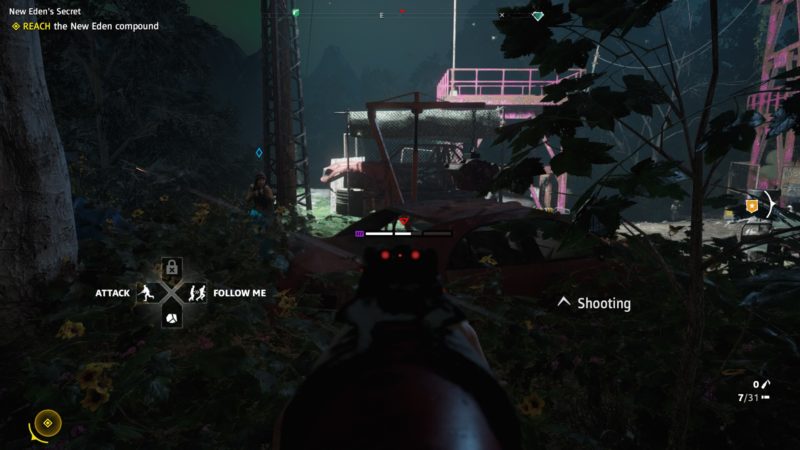 Once they're dead, talk to Nick Rye to start the mission.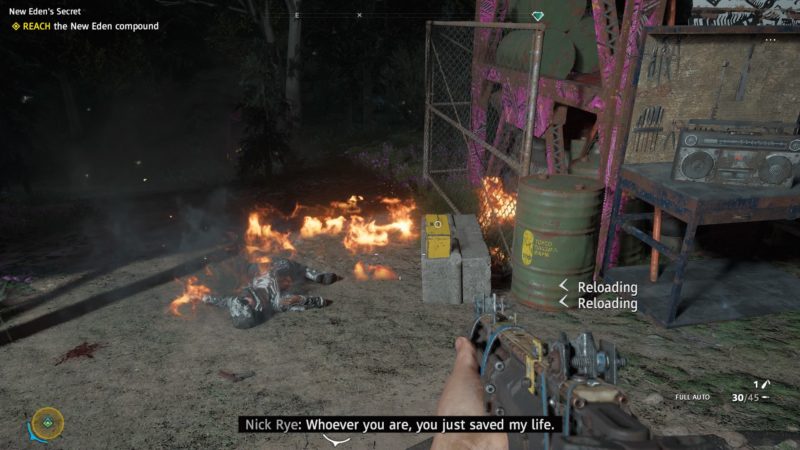 Follow Nick Rye
Now, you need to follow Nick to a small plane. Just escort him at this point.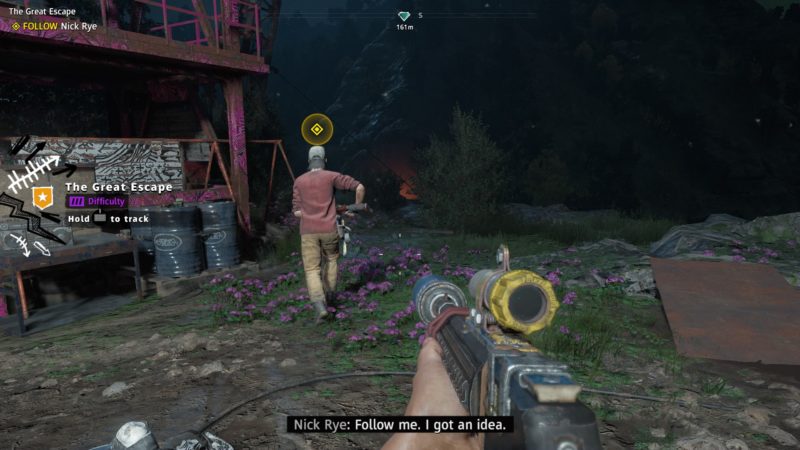 Use the zipline to go down.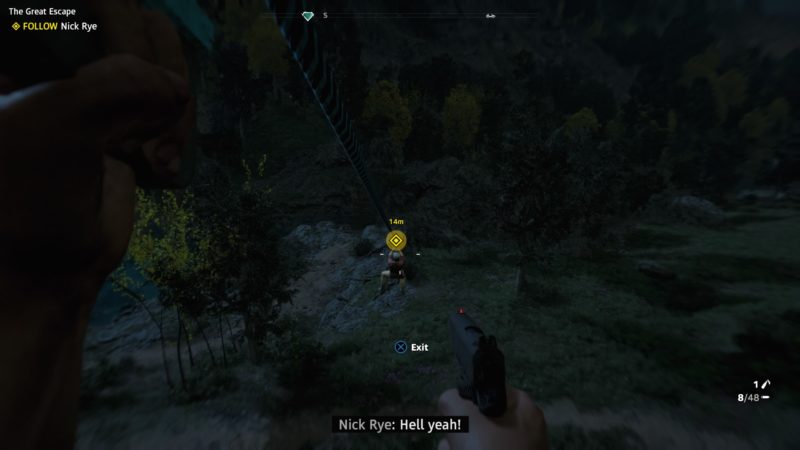 Continue following him. There shouldn't be any enemies along the way.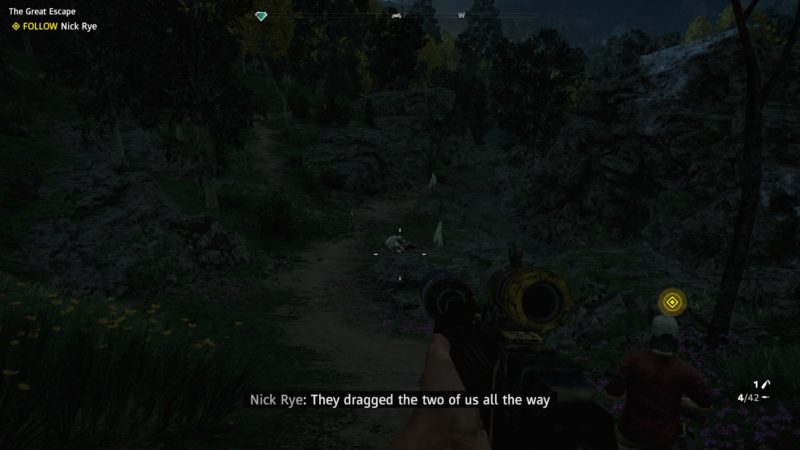 You will finally reach a small shack with a mini plane inside. It's one of those water planes.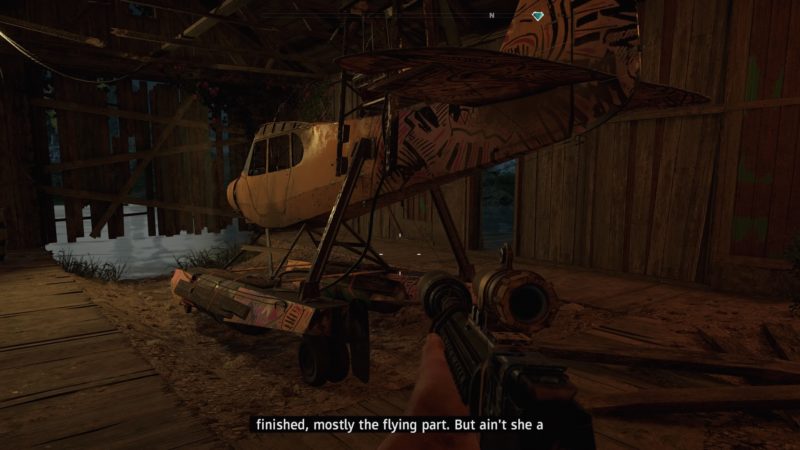 Deliver Nick Rye's vehicle
Now, you will be the pilot of the plane. Get into the plane and check the controls first. Wait for Nick to enter the plane.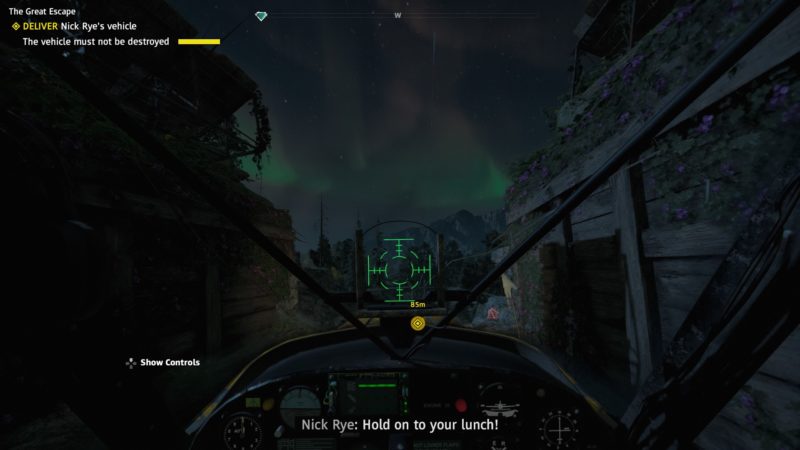 Once you're ready, shoot the wooden wall in front of you before you leave. You won't actually be flying in the air; instead, you'll be driving it on the ground and water.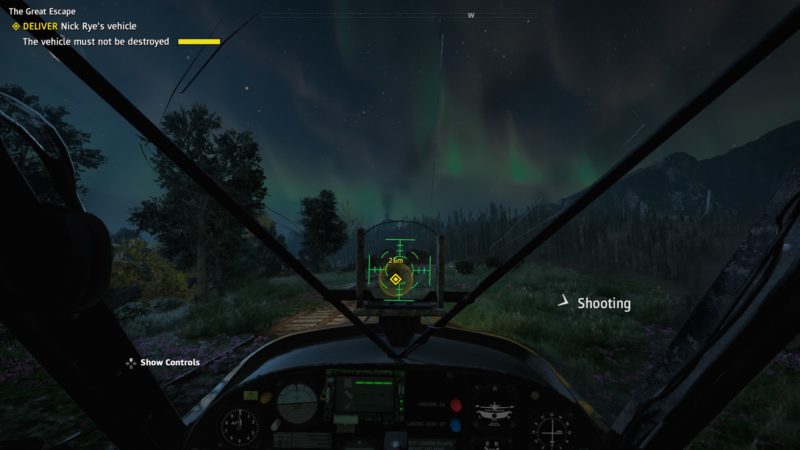 This mission is pretty easy to fail, so avoid any explosives. You will lose immediately if the plane explodes, or if the damage is too much.
The bar on the upper left hand of the screen indicates the plane's health.
You will also encounter some Highwaymen on water and on ground. In some instances, you need to shoot them as they're blocking your pathway (especially boats).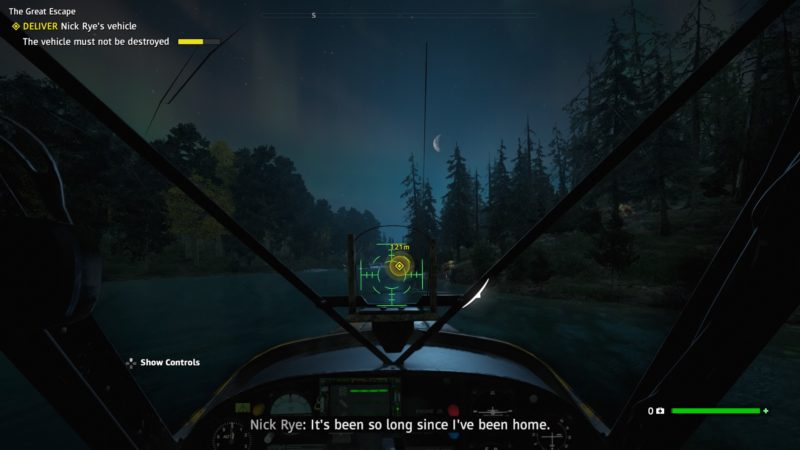 After you've passed all of the obstacles, park the plane inside a small shack. Slowly drive in.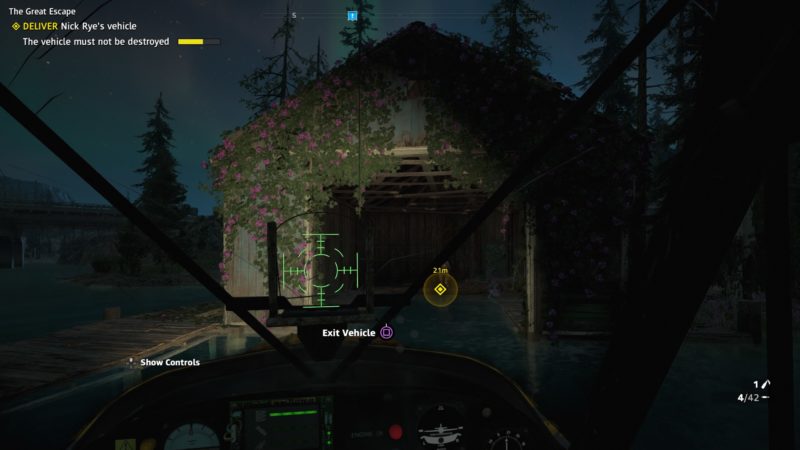 A cutscene will load once you've successfully parked the plane.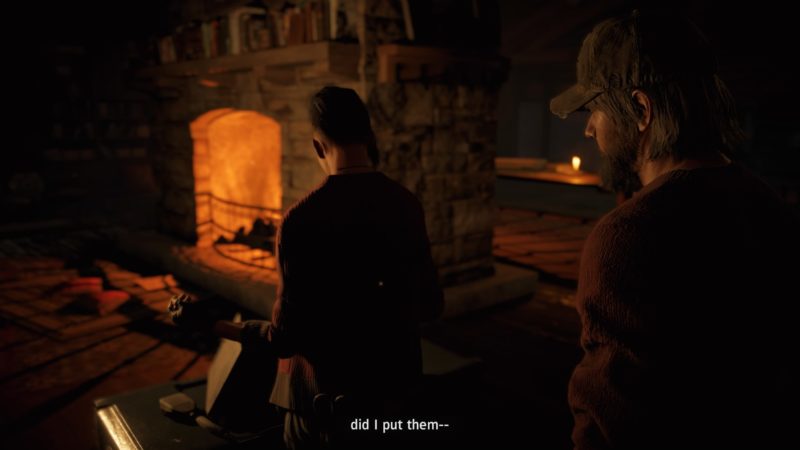 Nick is reunited with Kim Rye and his daughter Carmina.
The mission The Great Escape completes here.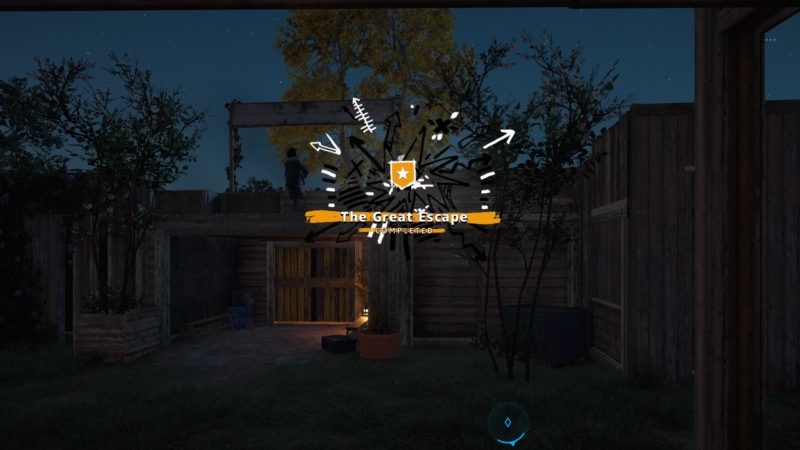 ---
Related articles:
Best Weapons In Far Cry: New Dawn
Burning Souls (Treasure Hunt Guide) – Far Cry New Dawn
Far Cry New Dawn: How To Liberate Outposts For Ethanol
Far Cry New Dawn Expedition: H.M.S. MacCoubrey (Walkthrough)
Man Eat Dog World (Timber) Walkthrough
Far Cry New Dawn: Buzz Kill (Grace Armstrong) Walkthrough