Man Eat Dog World is a side mission in Far Cry: New Dawn to acquire Timber as your pal.
Your task is to help Timber free his other dog friends from the Highwaymen.
Here's a walkthrough of Man Eat Dog World in Far Cry New Dawn.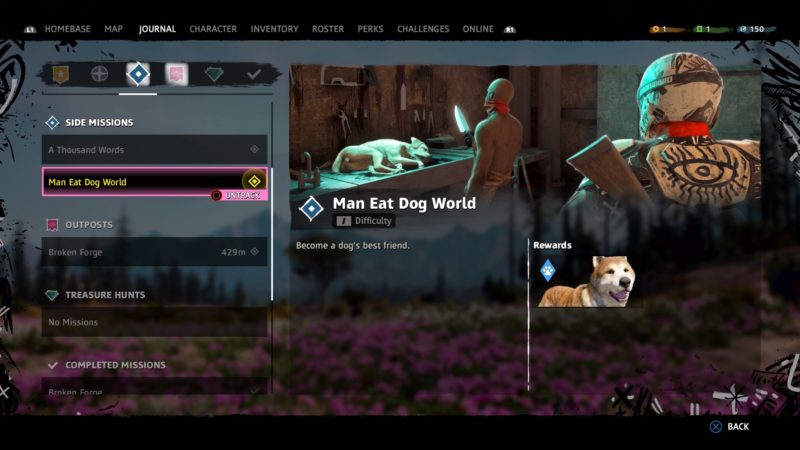 To unlock this mission, you need to get to the location shown in the map below (cursor).
There's a woman you can talk to, and she'll tell you about the dogs that are getting eaten.
The difficulty is only level 1.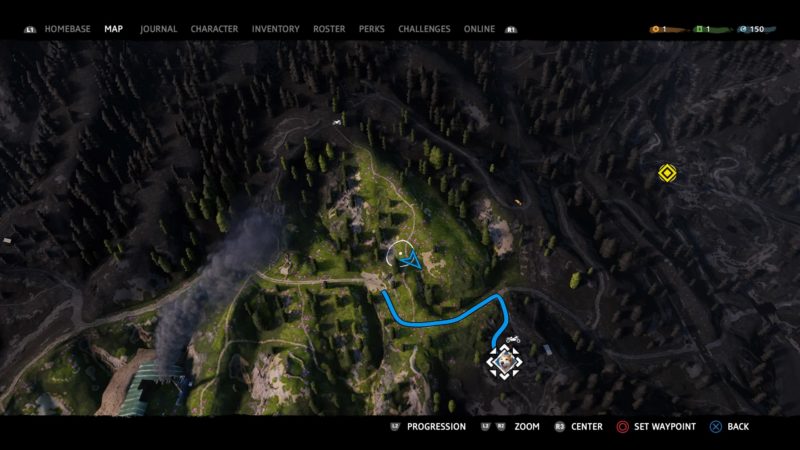 Find Timber
Now, look for Timber at the exact location shown below.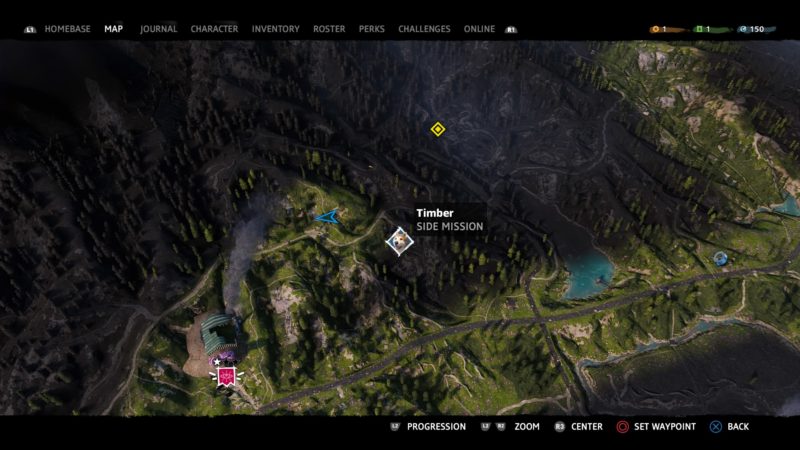 You will reach an abandoned building.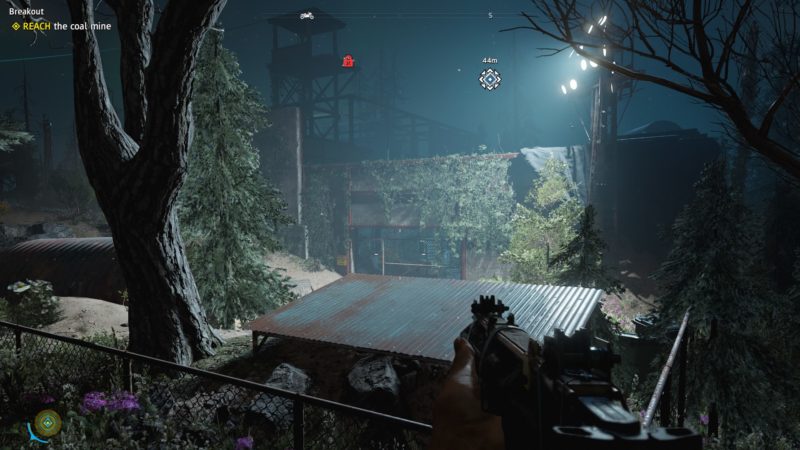 Kill the Highwaymen
You will find maybe five gunmen inside the building. Kill all of them first.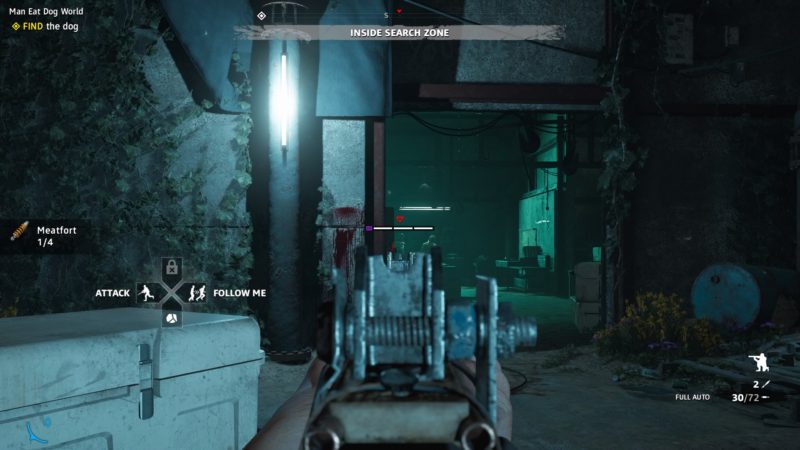 Some will come from the other rooms, so do anticipate them. Your sidekick Carmina will let you know.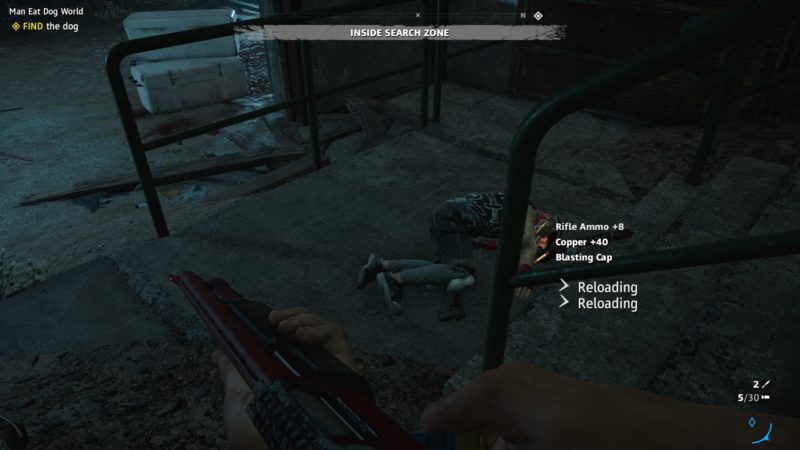 Pet the scared dog
Once the coast is clear, get to the dog cages. You will find Timber there. Pet him.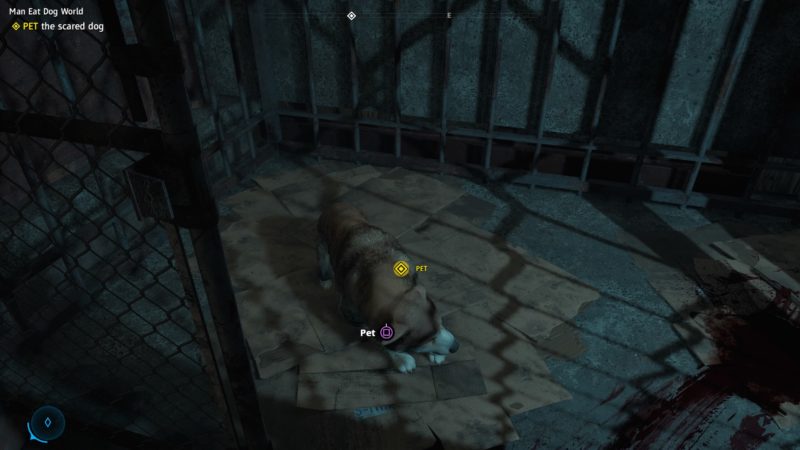 Now, there are two options to choose from. The aim is actually to get keys to open the cages for dogs that are still alive.
If you already have the lockpick perk, it's much easier for you.
Option 1: If you don't have a lockpick
Without a lockpick, you can go find a key. Follow the dog. He will point you to the right direction.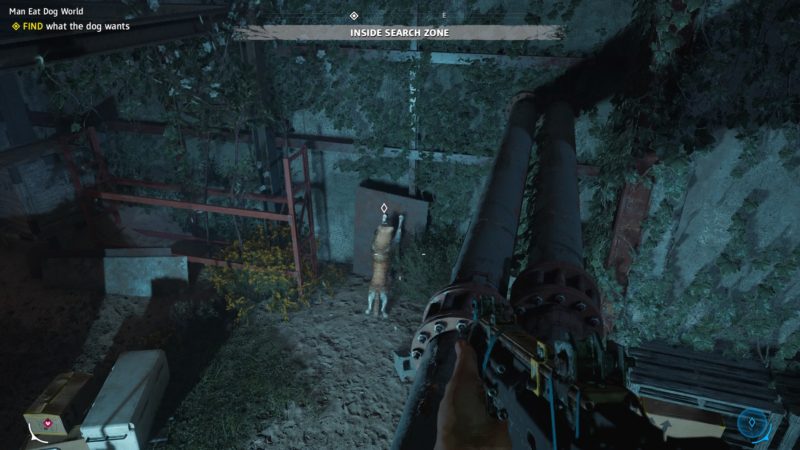 You need to slowly climb up the building according to where he points to.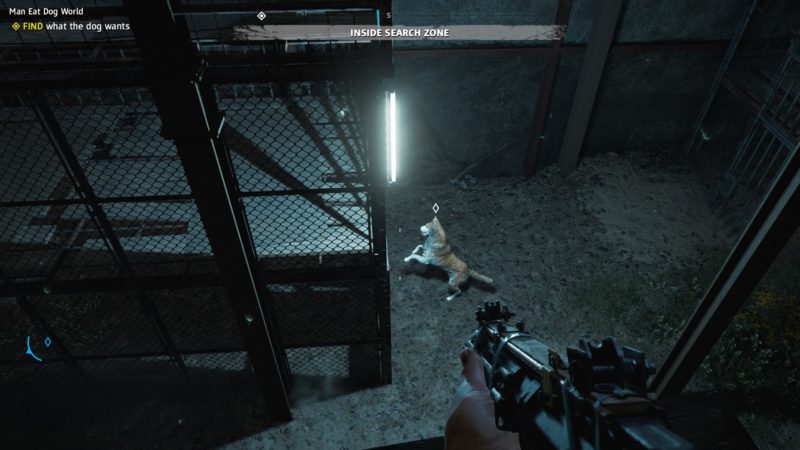 Finally, you'll reach an area where you have to jump and get to the next platform.
The key is in that area.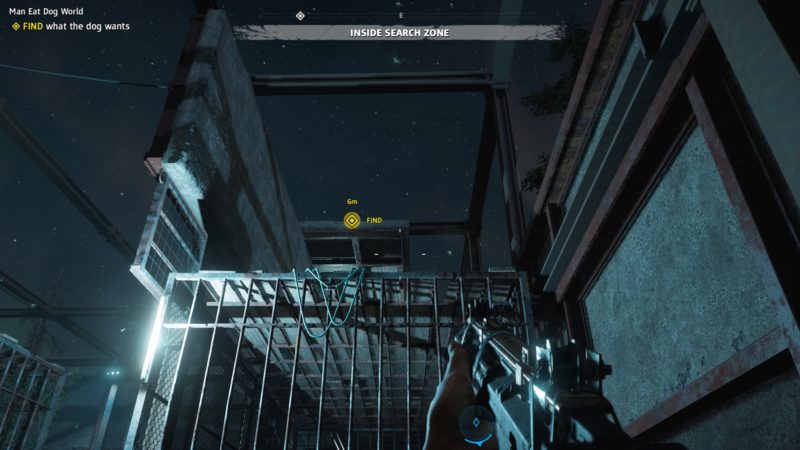 Option 2: Open the cage directly with the lockpick perk
The second option is the easiest.
The dogs are in the cage right beside where you found Timber. Just pick the lock and you're done liberating them.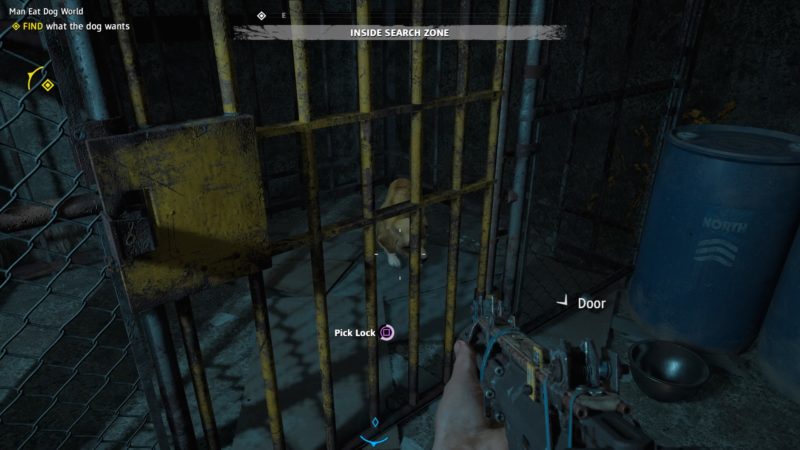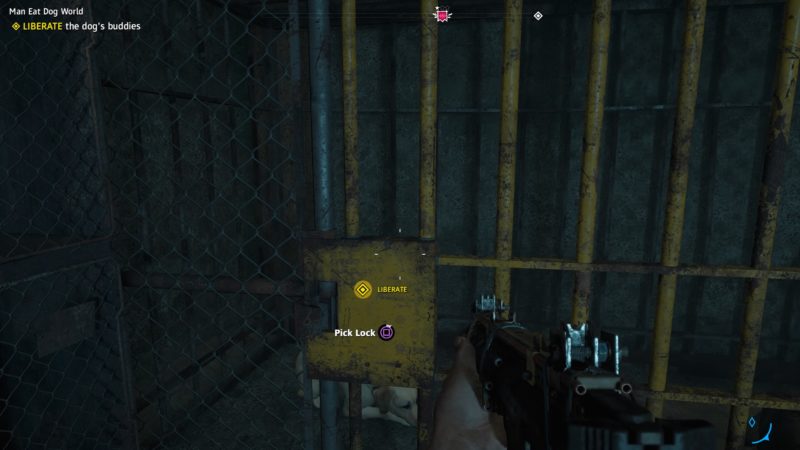 It's quite handy to have the lockpicking perk here as there are cages with items inside of them.
You can also find a safe here with Titanium.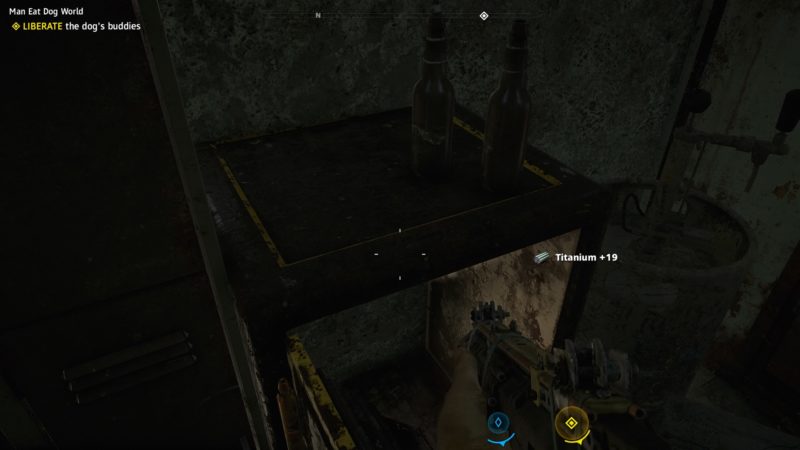 Pet the dog
Once you're done liberating the dogs, pet Timber.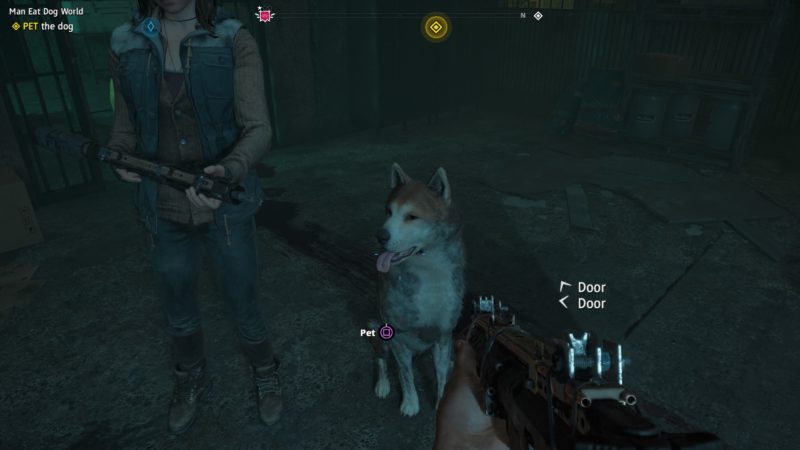 The side mission Man Eat Dog World completes here. You can now use Timber as your sidekick apart from Carmina.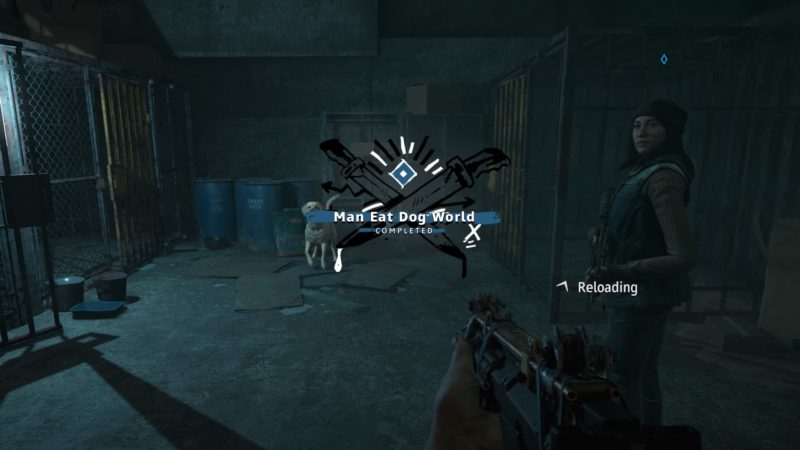 You will see more Highwaymen coming after you've completed the mission.
---
Related articles:
Far Cry New Dawn: How To Liberate Outposts For Ethanol
H.M.S. MacCoubrey Expedition (Walkthrough) – Far Cry
Far Cry New Dawn: Buzz Kill (Grace Armstrong) Walkthrough
Far Cry New Dawn: Deep Dive (Walkthrough And Guide)
Losing Streak (Walkthrough And Guide) – Far Cry
Far Cry New Dawn: Find Hope (Walkthrough And Guide)
Far Cry New Dawn: Crawling From The Wreckage (Walkthrough)