Crow's Feet, Eagle's Eyes is a side mission in Far Cry: New Dawn involving an old woman.
This mission is mainly about testing your shooting skills in four different rounds.
Here's a walkthrough of Crow's Feet, Eagle's Eyes in Far Cry New Dawn.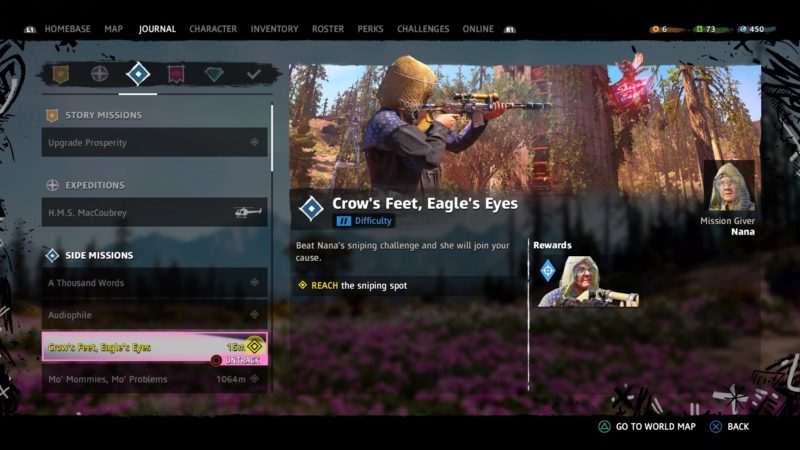 The level of difficulty for this side mission is level 2.
Look for Nana
The old woman is called Nana and you have to find her before starting the mission.
Her location is shown in the map below.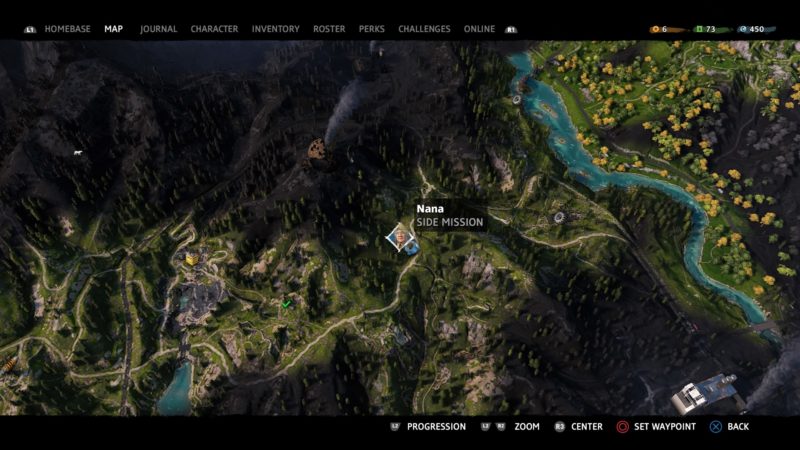 Talk to her to begin the mission.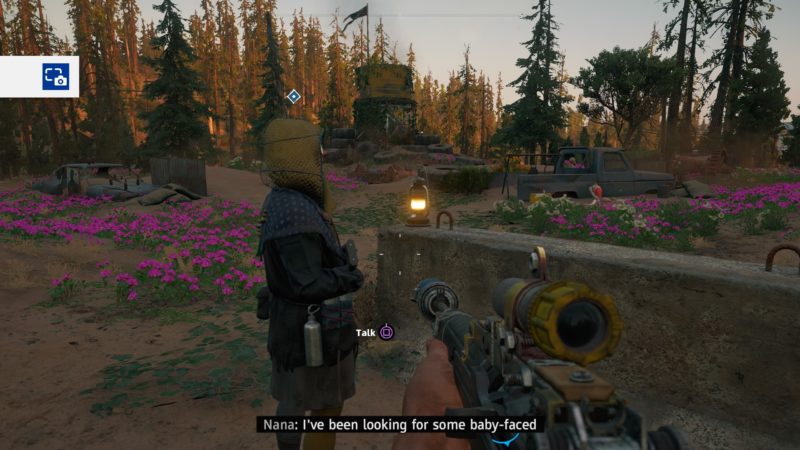 Reach the sniping spot
To begin, get to the sniping spot marked on the screen. There's a sniper rifle there should you choose to use one.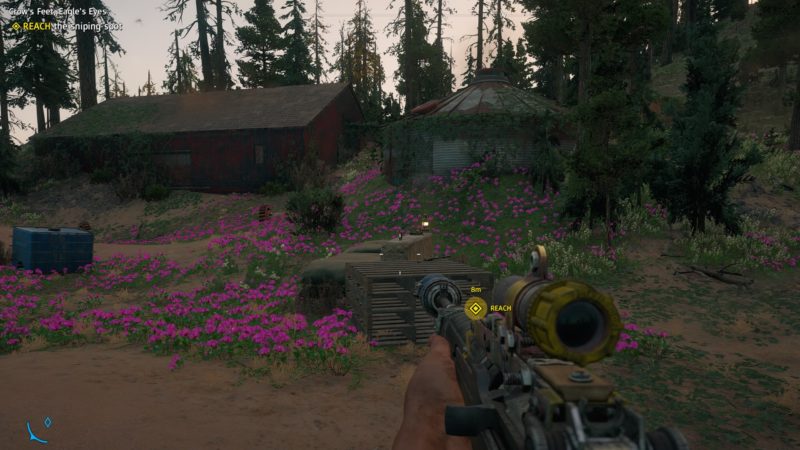 Shoot the helmets (Round 1)
For the first round, there are 10 helmets to shoot and they are not moving at all.
These are fixed targets and you have 60 seconds to clear all 10 of them.
To start the mission, you need to shoot any helmet. This means you should choose to shoot the hardest target to start the mission, and you'll be left with only 9.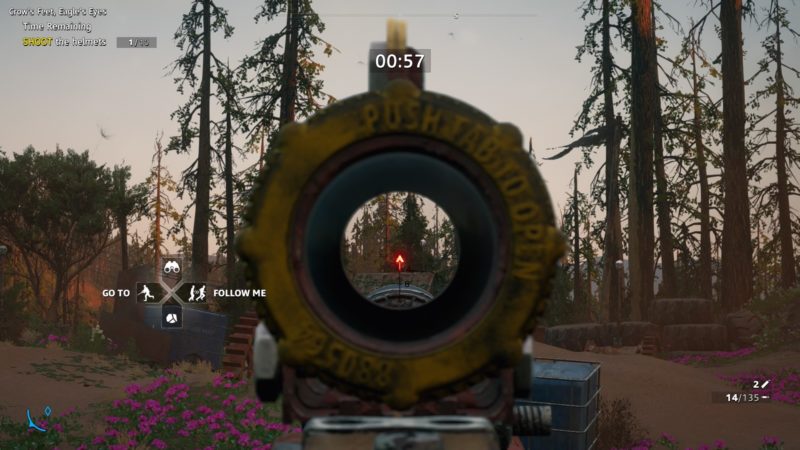 You don't really need a sniper rifle to clear this shooting mission. You can use a scoped assault rifle.
Shoot the helmets (Round 2)
For the second round, you are given more time to clear, but the helmets are moving up and down.
Like the previous, you need to shoot any helmet to start the round. Aim for the hardest one; maybe the furthest one behind the roof or elsewhere.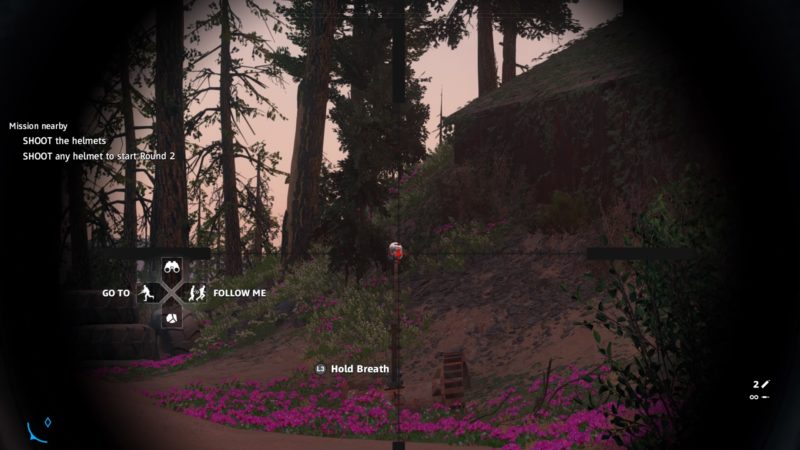 The best way to clear this is to aim at a spot and wait for the helmet to reach it. The helmets go up and down only, so you can predict their movements.
Remember to hold your breath (R3) to maintain a more steady aim.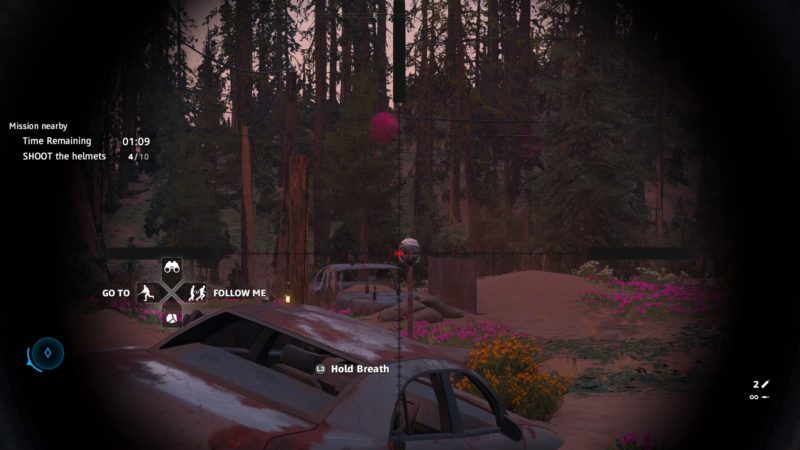 Talk to Nana
After clearing the rounds, talk to Nana again.
She will have harder challenges for you.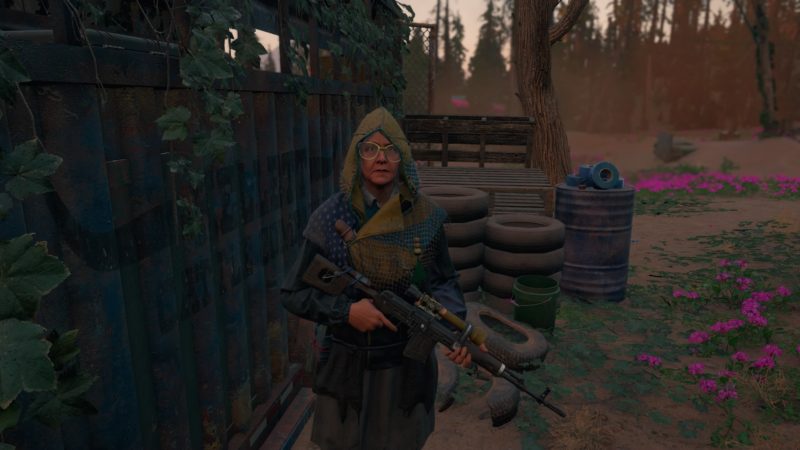 Reach the 2nd sniping spot
Now, get to the tower following the marker. It's the 2nd sniping spot.
Nana will also walk there, so you can just follow her.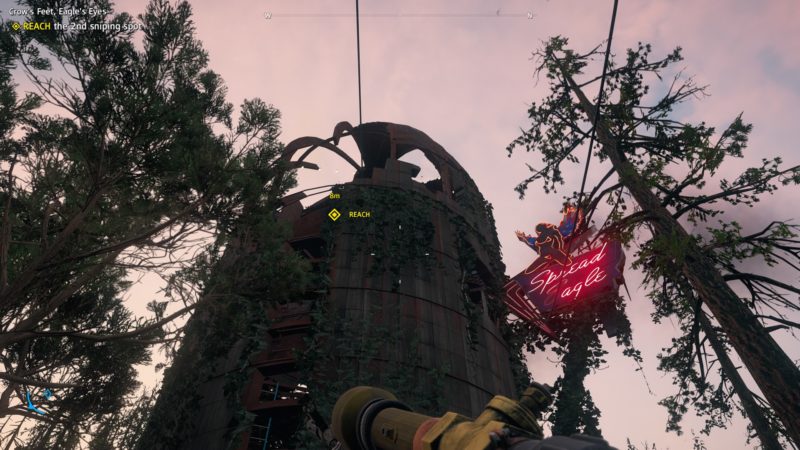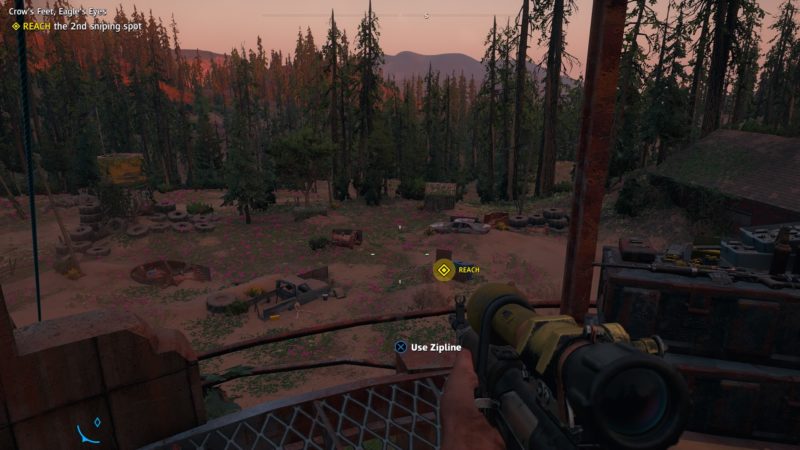 Shoot the balloons (Round 3)
Once you're ready, you can start the 3rd round. You need to shoot the balloons that are constantly rising up.
Shoot at any balloon to start the round.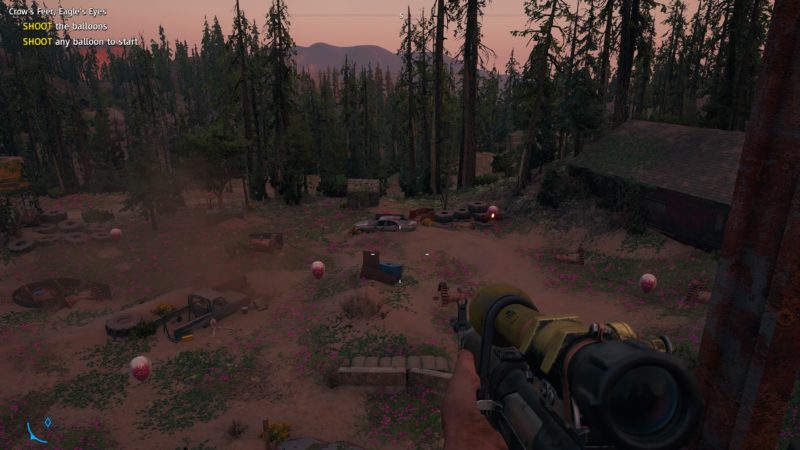 Like the others, you have 10 balloons to shoot in total, but the time is even more limited.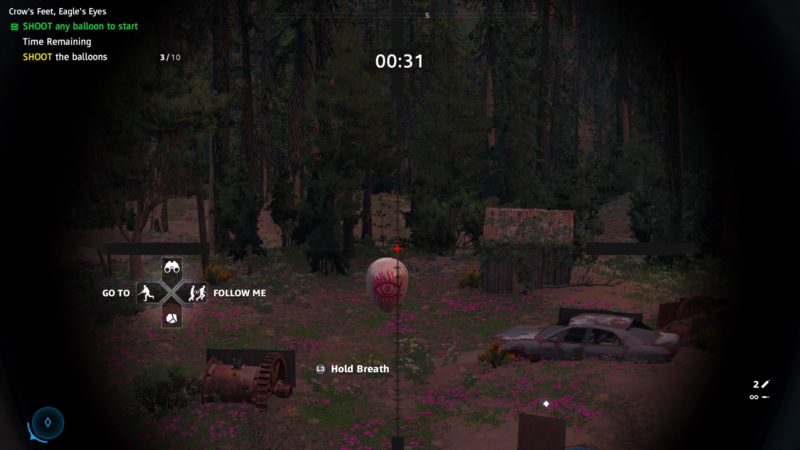 Once you've completed it, talk to Nana again.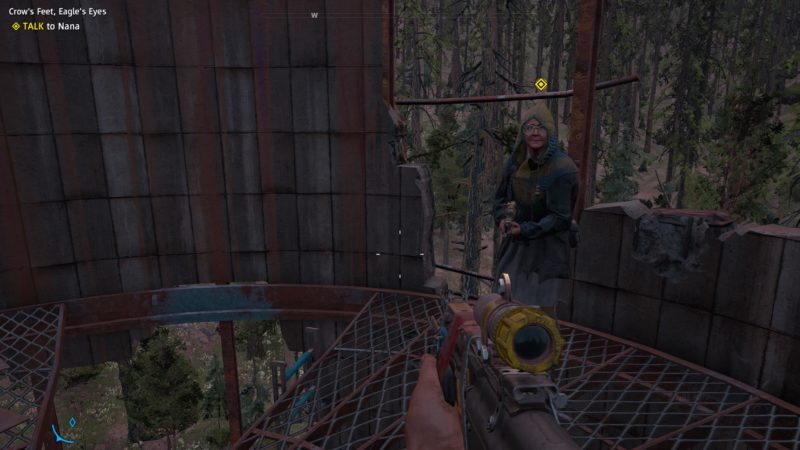 Survive the incoming attack (Round 4)
For the 4th round, Nana will use a flare gun to attract attention from the Highwaymen.
You need to kill all of the Highwaymen who will be coming in their vehicles.
There will be a few waves of them.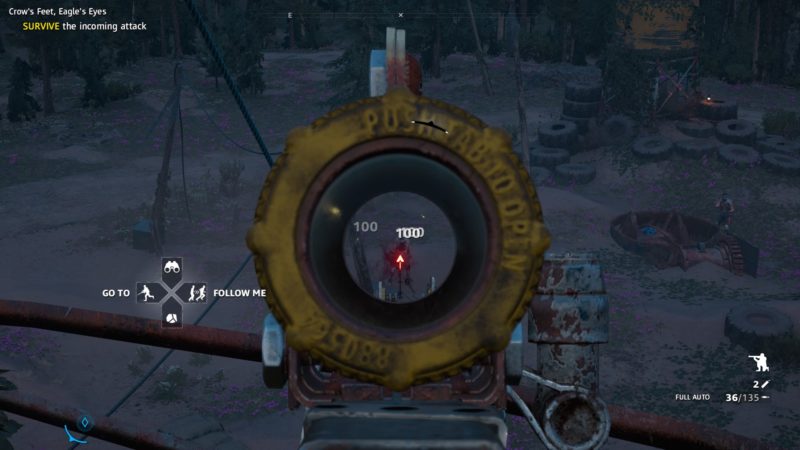 I personally used a scoped assault rifle for this.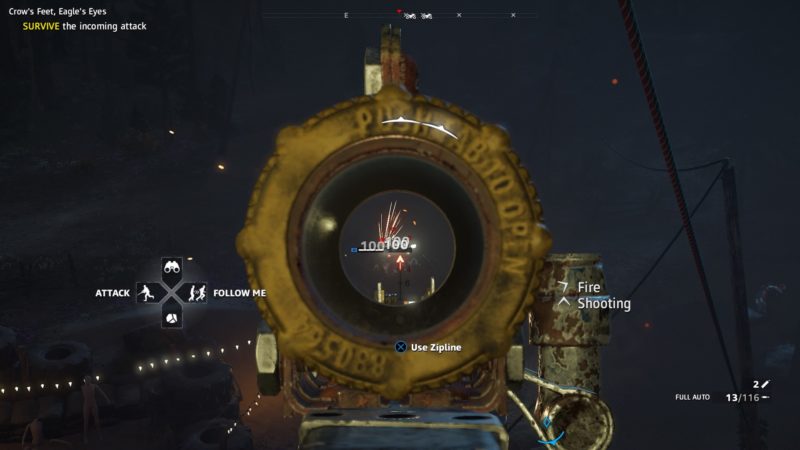 Once they're all dead, talk to Nana again.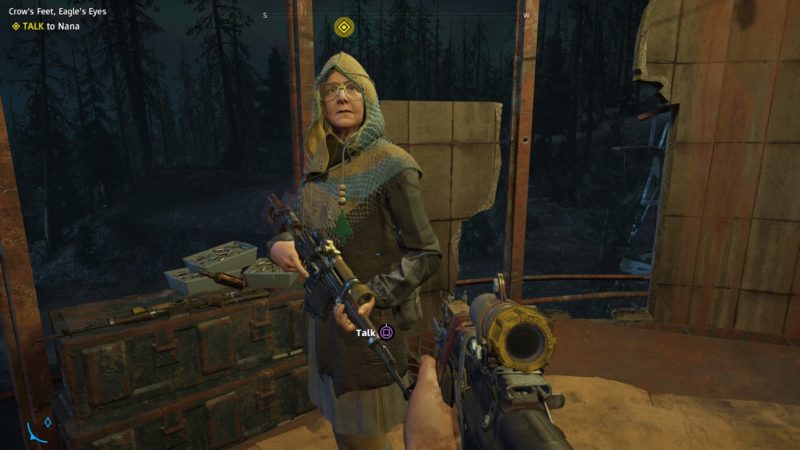 The mission Crow's Feet, Eagle's Eyes completes here.
Nana will then join you on your roster.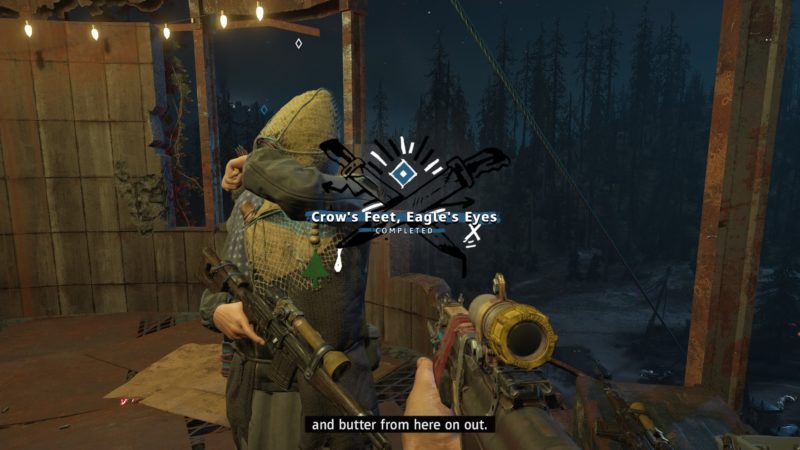 ---
Related articles:
Far Cry New Dawn: Mo' Mommies Mo' Problems (Walkthrough)
Expedition: Navajo Bridge (Walkthrough) – Far Cry New Dawn
Far Cry New Dawn: Jerome Comes Home (Walkthrough)
Far Cry New Dawn: Joseph's Secret (Walkthrough And Guide)
Into The Bliss (Walkthrough And Guide) – Far Cry New Dawn
Far Cry New Dawn: Eden's Fire (Walkthrough)