Like hacking, lockpicking is also a crucial skill to have in Fallout 4. You will find many boxes, safeties or even some doors that require lockpicking to access the materials inside of it.
More often than not, you can find valuable items or weapons inside these boxes, so you should know the basics on how to lockpick a box or a gate / door.
Here's a short Fallout 4 lockpicking guide for newbies, including a short video and some images.
Perks needed for lockpicking
Before we start, you should know that there are different levels of lockpicking required on different locks.
It's divided into novice, advanced, expert and master. For novice locks, you don't need to rank up any perks and you can just do so with a Bobby pin. A Bobby pin is what you use to pick locks in the game.
Bobby pins can be acquired either from the shop or even by scavenging items.
For locks rank advanced and above, you need the Locksmith perk. Here's a table on the requirements and what each rank unlocks.
| | | |
| --- | --- | --- |
| Rank | Requirement | Description |
| 1 | Perception 4 | You can pick advanced locks |
| 2 | Perception 4, Level 7 | Expert locks |
| 3 | Perception 4, Level 18 | Master locks |
| 4 | Perception 4, level 41 | Your bobby pins won't break during lockpicking |
As you can see in the table above, you can only rank up the Locksmith perk when your level is higher and achieve the maximum rank at level 41.
If you don't wish to have this perk, you can get Cait as your companion as she has a lockpicking skill. Nonetheless, it is still recommended to get the Locksmith perk as one of your main perks in Fallout 4.
How to lockpick in Fallout 4
Whenever you try to pick a lock you'll see the screen below.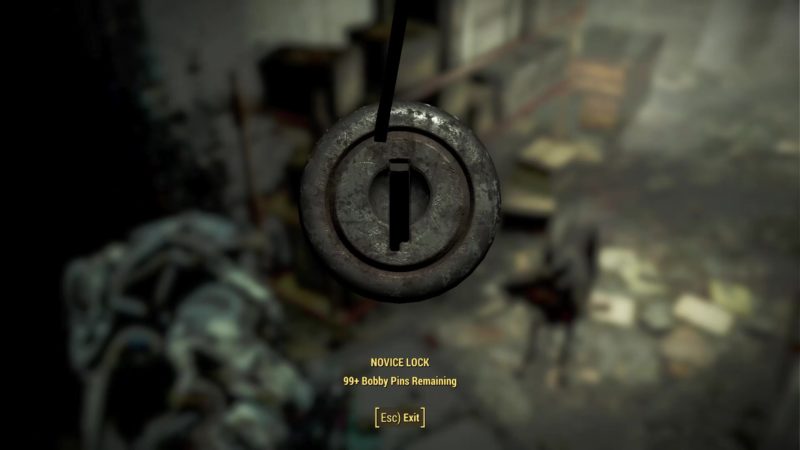 It shows the level of difficulty and how many Bobby Pins you have left.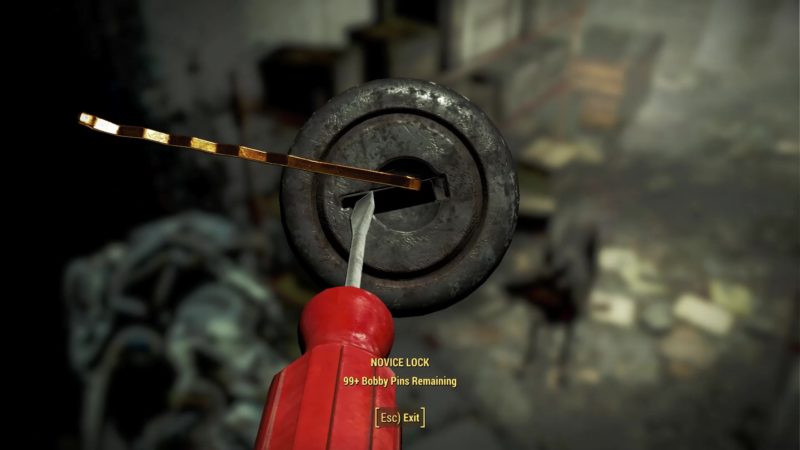 If you're on a PC, you can adjust the location of your Bobby pin simply by moving your mouse. It should be similar on the console.
Once you've chosen a location, hold the key or relevant button that allows you to turn the keyhole. If it stops immediately, don't overdo it or your Bobby pin will break (unless you have rank 4 Locksmith Perk).
It means that you're not even close. The closer you are, the more you're able to turn clockwise. To unlock it, you should be able to turn it almost 90 degrees clockwise.
Anything that stops before that means it's not right.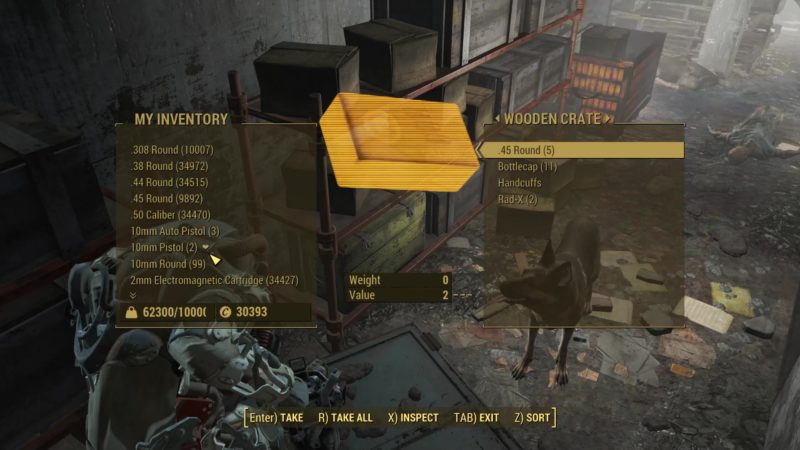 Once you've successfully picked the lock, you should get access to all of the materials in it, like those shown in the screenshot above.
Here's a 17-second video personally recorded on how to lockpick a storage box to gain invaluable items. Hopefully this guide has been useful to you.
---
Related articles:
Fallout 76: First Contact (Walkthrough And Guide)
How To Get Invited To Play Fallout 76 Beta
Fallout 4's Best Companion Perks
Games Like Banished – Top Ten Alternatives To Play Today
Fallout 4: Best Sniper Rifles In The Game
Best Multiplayer Horror Games – 8 Different Games To Check Out Today
Games Like Terraria – Top Ten List [Updated Today]
Best Steam Games Under $10 [Updated 2018]
Persona 5 – How To Increase Guts (Social Stats)