Hacking and lockpicking skills are often needed in Fallout 4 and here's a short guide on how to hack into terminals in Fallout 4.
To be clear, hacking only refers to accessing terminals that are located many places throughout the Fallout 4 map. The terminals look like old versions of desktop computers.
There are also different levels of hacking, i.e. novice, advanced, expert and master. Here's a short explanation together with some screenshots for illustration.
How to hack into terminals in Fallout 4
You'll encounter a terminal early on in the game, for e.g. when you first meet Preston Garvey.
There's a terminal on the ground floor of that building, one which gives you access to a fusion core that you have to use for a power armor on the rooftop.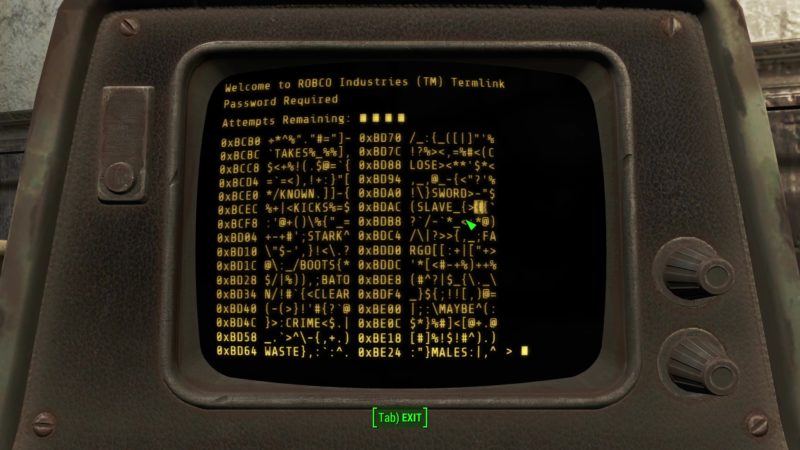 This is an example of a terminal, not the one in the quest. It's only used as an example.
This is the kind of screen you will see whenever you attempt to hack into a terminal. You'll probably notice lots of weird numbers and special characters on the screen.
Ignore them. Just focus on the five-letter English words that clearly makes sense. For e.g. you should see "KNOWN", "CRIME", "BOOTS" and so on. The words are different each time, but the style of solving is the same.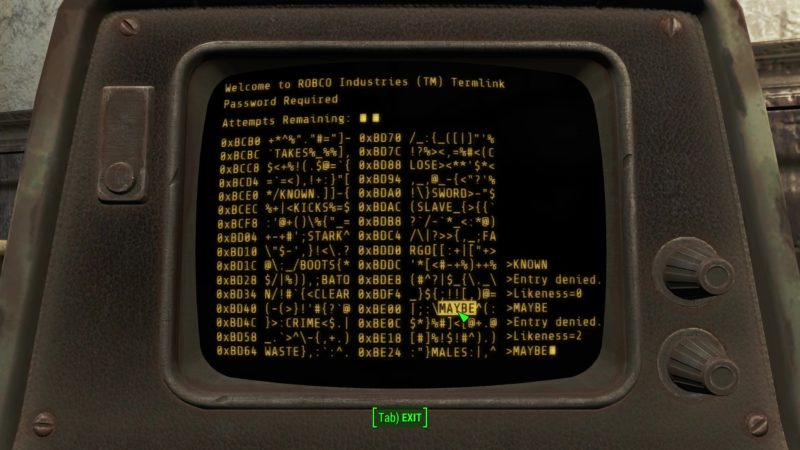 You have four attempts before the terminal locks you out for a couple of seconds. Click on one of the words. If you're lucky, you may even get right the first attempt.
Otherwise, they will tell you Likeness = [0 – 4]. It refers to how many letters of the word is actually similar to the right answer.
For e.g. if you choose the word "MAYBE" and the answer is "MALES", the likeness should be 3, with letters M, A and E being the same.
You should guess the right answer based on the Likeness clue.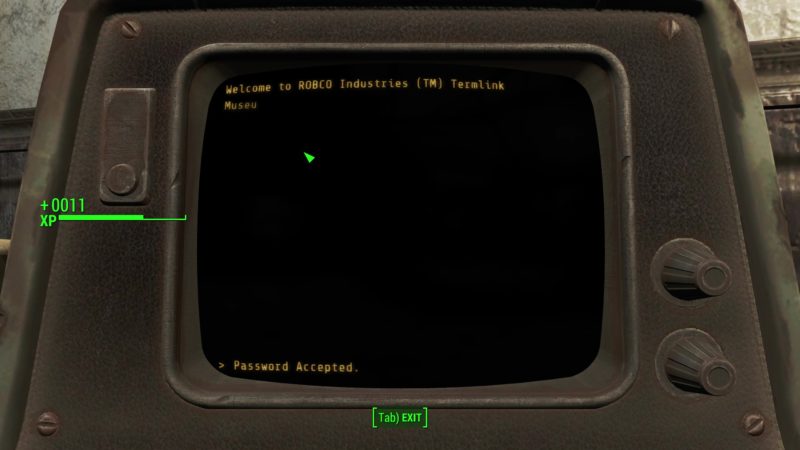 If you fail to solve it within 4 attempts, the terminal will probably lock you out for a couple of seconds. However, if you have rank 4 Hacker perk, you won't get locked out at all.
You just have to attempt to do it again. As mentioned earlier, there are different levels for terminals like Advanced and Expert. Your ability to hack into these terminals depends on your Hacker perk rank.
Here's a table to explain it. You don't need a Hacker perk for novice level terminals.
| | | |
| --- | --- | --- |
| Rank | Requirement To Obtain Perk | Description |
| 1 | Intelligence 4 | Advanced terminals |
| 2 | Intelligence 4, Level 9 | Expert terminals |
| 3 | Intelligence 4, Level 21 | Master terminals |
| 4 | Intelligence 4, Level 33 | You will never get locked out for failed attempts |
Hacking is pretty simple in Fallout 4. Just remember how the system works, especially on the Likeness part. Also, you may want to add the Hacker perk as higher ranks allow you to hack higher level terminals.
Here's a video we personally recorded if you're interested to see how hacking looks like in Fallout 4.
---
Related articles:
Fallout 76: First Contact (Walkthrough And Guide)
Top 10 Overwatch Alternatives To Play
Fallout 4 Most Useful Companions And Perks
Fallout 4 : Best Sniper Rifles
Best Melee Weapons In Fallout 4
15 Best Medieval Games To Play [Updated 2018]