There are many times in Fallout 4 that you wish to just kill your enemies from a distance, especially crazy mutants.
That is where sniper rifles come in. However, if you're indoors or in close quarters, perhaps the best options would be melee weapons or combat shotguns.
Otherwise, here are some of Fallout 4's best sniper rifles that you should get your hands on. They are not organized according to damage.
As some rifles are rather weak in long distances, we've sorted out this list mainly based on range. Range refers to how far your bullets can go. If it goes out of range, your damage reduces drastically. We included long-range energy rifles too.
1. Gauss Rifle

First up on the list is the Gauss rifle, which has even higher damage than the .50 hunting rifle if it's fully charged. It uses magnetic induction to release a projectile at a devastating speed. You can charge your shots by holding the trigger to maximize your damage.
Although it has a long range, it may not be really accurate and is probably not the best sniper rifle in this top ten list. That said, it deals a pretty good damage that can even destroy almost all power armor pieces if you have a rank 5 Rifleman perk.
You can combine this weapon with the Ninja perk to boost sneak critical damage and together with the Rifleman perk, it becomes a deadly weapon.
Gauss rifles can be found in many places, including Skylanes Flight 1981 and 1665. It is also in Teagan's shop on the Prydwen. Weapon vendors sell them too when you have reached level 25. If you're doing the quest Battle of Bunker Hill, Gauss rifles are usually carried by Railroad and Brotherhood troops.
Stats of the Gauss rifle:
Damage: 110
AP: 40
Fire Rate: 66
Range: 191
Read also: Best Perks In Fallout 4
2. Tinker Tom Special

Tinker Tom Special looks just like the ordinary sniper rifle you see in most games. In Fallout 4, it's only available to Railroad members and the name may have been taken from the person who modified this rifle.
It is only available in one location, i.e. in the Railroad Headquarters where it's sold by Tinker Tom himself. This weapon also has a legendary effect (Stalker's) that gives you 100% increased VATS accuracy if you're not in combat yet, but it costs more AP.
Stats of the Tinker Tom Special:
Damage: 37
Fire Rate: 3
Range: 185
3. Reba II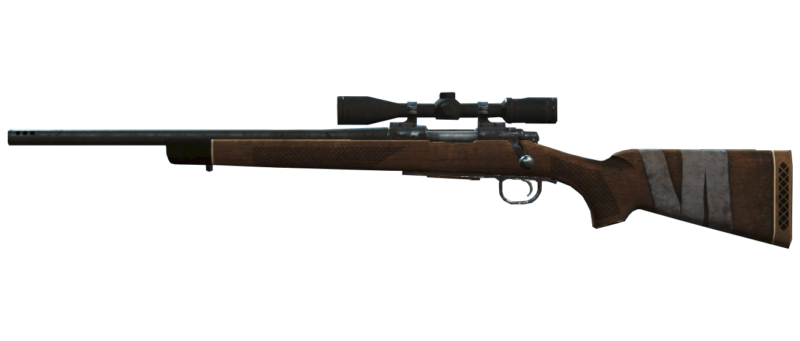 Next up is the Reba II, which also resembles an ordinary hunting / sniper rifle. It comes with the Exterminator's effect where you get an additional 50% bonus damage against bugs and mirelurks.
Reba II comes with a scope equipped although other mods are randomly generated. The owner of this weapon is Barney Rook.
This sniper rifle can be found within the town of Salem, specifically in the Rook family house. It's in the basement where there's a locked room. You can get it either by completing the Gun Run quest, or by stealing the basement key from Barney, or even by killing Barney and looting the gun.
Occasionally, Barney may enter the room to access the weapon's bench and you can just grab the Reba II.
Stats of the Reba II:
Damage: 37
Fire Rate: 3
Range: 131
Read also: Fallout 4 – How To Hack Into Terminals
4. The Last Minute

The Last Minute is actually a variant of the Gauss rifle mentioned above, which is why it looks kinda similar. This weapon comes with the Crippling effect which gives you 50% additional limb damage.
It also comes with a night vision scope, compensator mods, capacitor boosting coil and a shielded barrel.
You can buy this rifle from Ronnie Shaw at the Castle after you've done the Old Guns quest.
The Last Minute actually has one of the strongest base damage among these sniper rifles.
Stats of The Last Minute:
Damage: 192
Fire Rate: 66
Range: 203
5. The Problem Solver

The Problem Solver resembles the AK47 but it's listed here as it has a long range capacity befitting of a sniper rifle. It also comes with the legendary effect (Furious) where your damage increases for every consecutive hit on the same target.
However, if you plan to use this rifle, you may need to get some perks like Rifleman or Commando for much better use.
As its damage increases for each consecutive hit, it can be pretty lethal, making it one of the best sniper rifles in Fallout 4. This weapon can only be obtained through unique means.
You need to have enough Charisma and pass Mason's check for the quest An Ambitious Plan. You must also use the right-hand dialog options for the entire conversation. Once you fail, there is no second chance unless you re-load the game.
Stats of The Problem Solver:
Damage: 57 (but increases with Furious)
Fire Rate: 59
Range: 185
Read also: Fallout 4's Best Power Armors
6. Reba

Reba is probably the most ordinary hunting rifle in this list and it spawns with random mods depending on your level when you meet Barney Rook. It doesn't have any legendary effects.
Variants of this weapon are the Hunting rifle, Reba II and the Tinker Tom Special, all mentioned on this top 10 list. Reba can only be found carried by Barney Rook.
Stats of the Reba:
Damage: 37
Fire Rate: 3
Range: 131
7. Hunting Rifle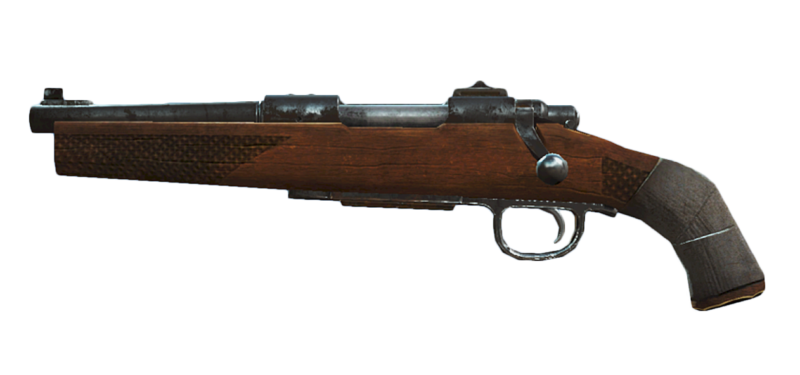 The hunting rifle looks pretty heavy and is actually a left handed bolt-action rifle. It is a viable weapon especially in the beginning to the middle of the game.
It is also useful in later stages of the game only if you manage to get modifications to it or even getting a legendary variant. Without the use of mods, it's just an ordinary rifle.
This weapon can be found in many places including at the top of a kiosk at College Square, the Old North Church, Kendall Hospital, Mass Pike Tunnel and so on. Gunners, Raiders and even super mutants may be carrying this weapon.
Stats of the hunting rifle:
Damage: 37
AP: 20
Fire Rate: 3
Range: 131
8. Wazer Wifle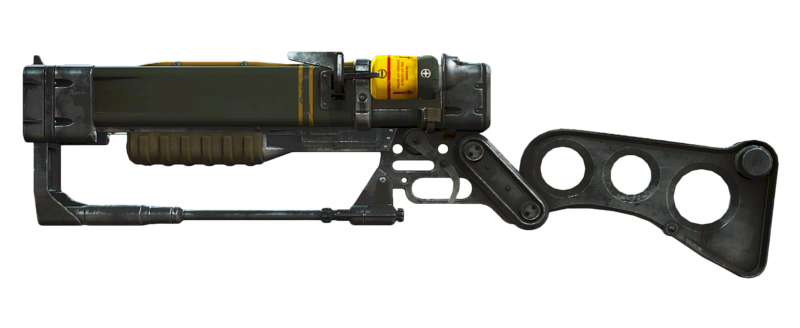 The first laser weapon on this list is the Wazer Wifle. It is a laser rifle that has the Never Ending effect, which means you get an unlimited magazine capacity without the need to reload. However, you still need to have some ammunition to use it.
This weapon comes with certain mods, including full stock, standard sights, improved long barrel and an overcharged capacitor. It is known as the energy equivalent of a hunting rifle.
The Wazer Wifle can be acquired by doing at least 3 unmarked quests for Shaun, and only after you've ended the main quest regardless of faction.
Stats of the Wazer Wifle:
Damage: 55
Fire Rate: 50
Range: Approximately 302
Read also: Fallout 4's Companion Perks
9. Virgil's Rifle

The Virgil's Rifle is also one of the best sniper rifles in Fallout 4 but it's energy based. It comes with the Mutant slayer effect, which means it's an awesome gun against super mutants, dealing an additional 50% damage.
Some mods are also already equipped (like the Wazer Wifle), such as gamma wave emitter, full stock, medium night vision scope and improved long barrel.
Virgil carries this rifle and you can acquire it by stealing it or by convincing him to commit suicide during the Virgil's Cure. However, if you choose not to give him the serum and make him attack instead, it can't be acquired.
Stats of the Virgil's Rifle:
Damage: Approximately 29
Fire Rate: 66
Range: 227
10. Overseer's Guardian

Last but not least, is the Overseer's Guardian. This gun comes as either a long barrel or short barrel combat rifle. It is normally seen with the Two Shot effect, which shoots one additional projectile per shot. The extra shots do not affect the ammunition count.
This rifle also comes equipped with mods, including the short night vision scope. It's actually a pretty powerful weapon, since the damage is quite good and the fire rate is high. Furthermore, if it has the legendary effect Two Shot, the damage is doubled.
Some players actually use this rifle as their main sniper rifle in Fallout 4. You can acquire this gun at Vault 81 where it's sold by Alexis Combes (a vendor).
Stats of the Overseer's Guardian:
Damage: 55
Fire Rate: 90
Range: 119
Best Sniper Rifles In Fallout 4?
We have listed some of the best sniper rifles in the game and it even includes some energy based guns.
Do you have other recommendations (sniper rifles) that should have been on the list?
Leave your comments below.
---
Related articles:
Fallout 76: First Contact (Walkthrough And Guide)
Games Like Harvest Moon – Top Ten Picks
Persona 5 – How To Raise Proficiency
Best Steam Games Under $10 [Updated 2018]