Edited: Only a few of these coins did well in the previous bull run but most of them fared badly during the bear market. What we learnt is that people tend to buy new shiny coins each bull run so maybe bagholding isn't the way forward.
Cryptocurrency is definitely a popular topic these days especially since Bitcoin just reached an all time high of $20,000 per coin. The question is, which cryptocurrency should you invest in 2018? Will there be another coin that peaks as much as Bitcoin? Will we miss the opportunity yet again?
Ethereum was the second breakthrough after Bitcoin, with their awesome smart contracts feature. There are currently at least 1,000 different types of coins as listed on Coinmarketcap. Which one will prevail? Or rather, which group of coins will survive?
Nobody knows for certain, but we normally look at certain traits to see if a coin has potential or not. Here are some factors that you should consider:
Who is the team that developed the coin? Are they highly reputable?
How active are they in maintaining and improving on the coin?
Do they actively communicate with their investors?
What is the technology behind the coin? Is it blockchain-based?
What is the total number of coins that will be issued and how many are in circulation?
How much are these coins worth now?
How much of these coins were premined and can you mine them?
How many exchanges are these coins traded on?
There are many factors to consider before purchasing cryptocurrencies. Don't take people's opinion as gold. Similarly, don't follow my advice simply because I wrote about it. Always, always do your own research and make your own decisions. This is because cryptocurrencies are very volatile and you may lose all of your money if something happens. Never invest more than you can afford to.
Now that we've gotten that out of the way, here are a few coins I would recommend buying. Don't take it as an investment advice. It's merely my opinion.
1.
Steem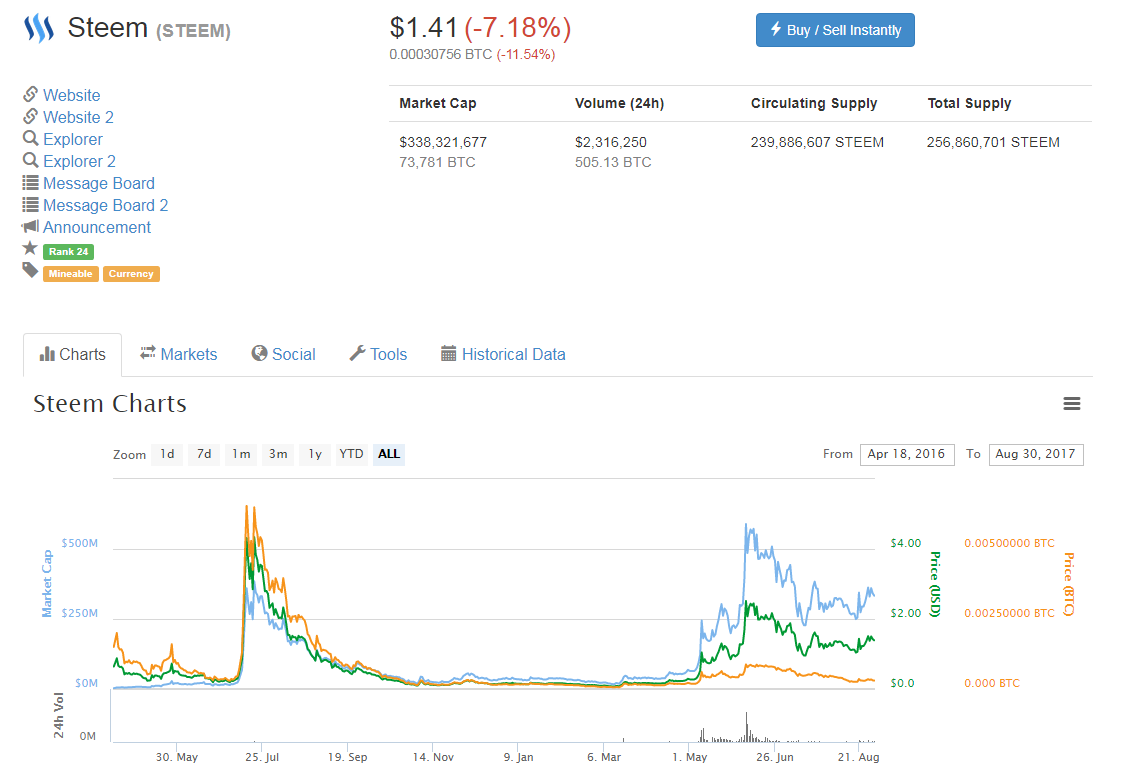 Steem is a token that is used on Steemit (an incentivized social media cum blogging platform). It comes with Steem dollars as well, meaning there are two different cryptocurrencies on that platform. However, Steem dollars is pegged to $1, unlike Steem which depends on market forces.
I think it has value because of Steemit itself. When you look at social media platforms like Facebook and Twitter, they are not incentivized. There's a better chance that you'll need to pay them to use the platform, than to make money from it. Steemit on the other hand, allows you to make money in the form of Steem and Steem dollars, simply by posting quality content. This means that you can actually blog for money on Steemit, although how much you earn depends on who upvotes your content.
On Steemit, you can power up your Steem into Steem power. Your amount of Steem power decides how much your vote is worth. For instance, if I have 1,000 Steem power (equivalent of 1,000 Steem), my full upvote is worth $0.20. However, when you have 500,000 Steem power, your full upvote can be around $100. See the big difference? In other words, you are encouraged to put your money into Steemit.
Furthermore, if you want to withdraw money, you need to wait 3 months for the power down to fully complete. This discourages people from moving money away from Steemit, and therefore maintains the value of Steemit. To make a lot of money from Steemit, you should network well with all sorts of people, including those with a high amount of Steem power, a.k.a. whales.
Currently, Steemit only has about 300,000 registered accounts and slightly above 10,000 active daily users. Imagine if it becomes mainstream like Facebook.
Furthermore, Steemit is introducing Smart Media Tokens soon. What's that? Think of Steem becoming a network like Ethereum and allowing anyone to create their own tokens. All of these tokens will be based on the Steem blockchain!
To add to that, Utopian.io which is a new initiative that rewards open source projects is now on the Steem blockchain. Think of GitHub but a version that actually pays contributors.
Will the value of Steem rise tremendously? We'll see.
2.
Ark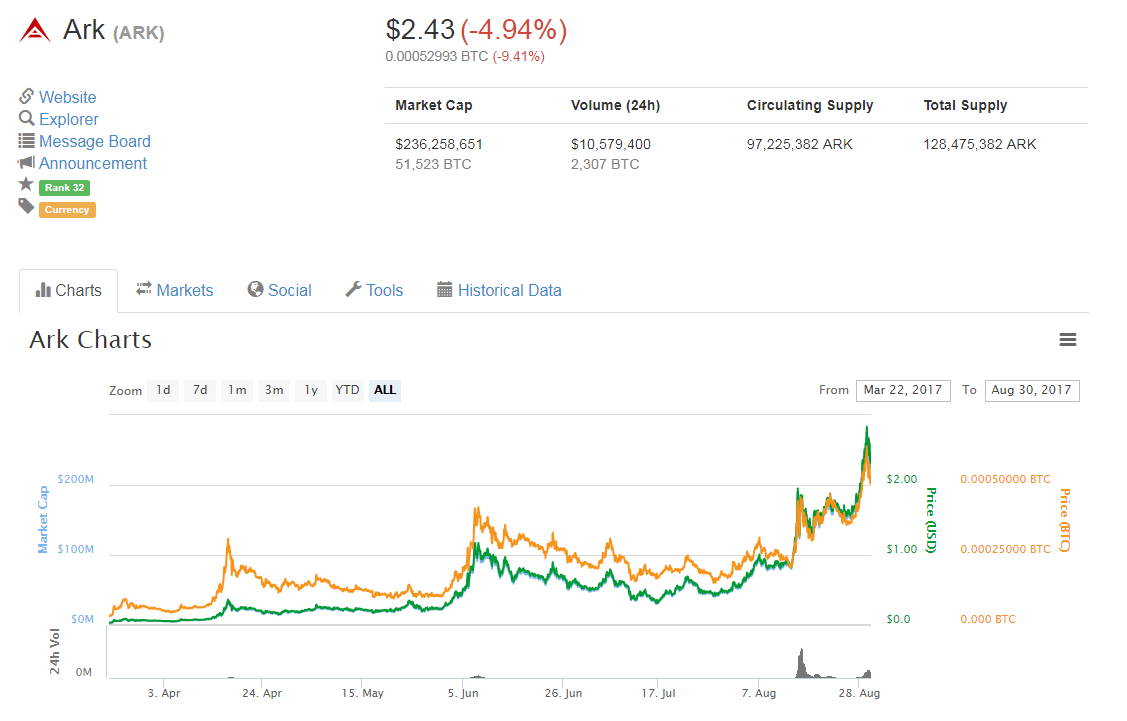 What is Ark? As extracted from its official page, it "provides users with innovative use cases through the development and integration of technologies that power the blockchain universe. Highly flexible and adaptable, ARK is a secure platform designed for mass adoption and will deliver the services that consumers want."
Ark is basically known for their SmartBridge technology. What's that? It basically allows for the linking of different blockchains through the bridging method. Imagine linking the Ethereum blockchain with the Lisk blockchain. Sounds very advanced to me.
They seem to have a competent team as well. Some of them even developed Lisk and Crypti, which shows that they have experience. They have other features that are good as well, including their fast transaction speed, optional privacy, physical card system and an interplanetary file system. It seems to be a well-rounded coin that may increase in value soon.
3.
Siacoin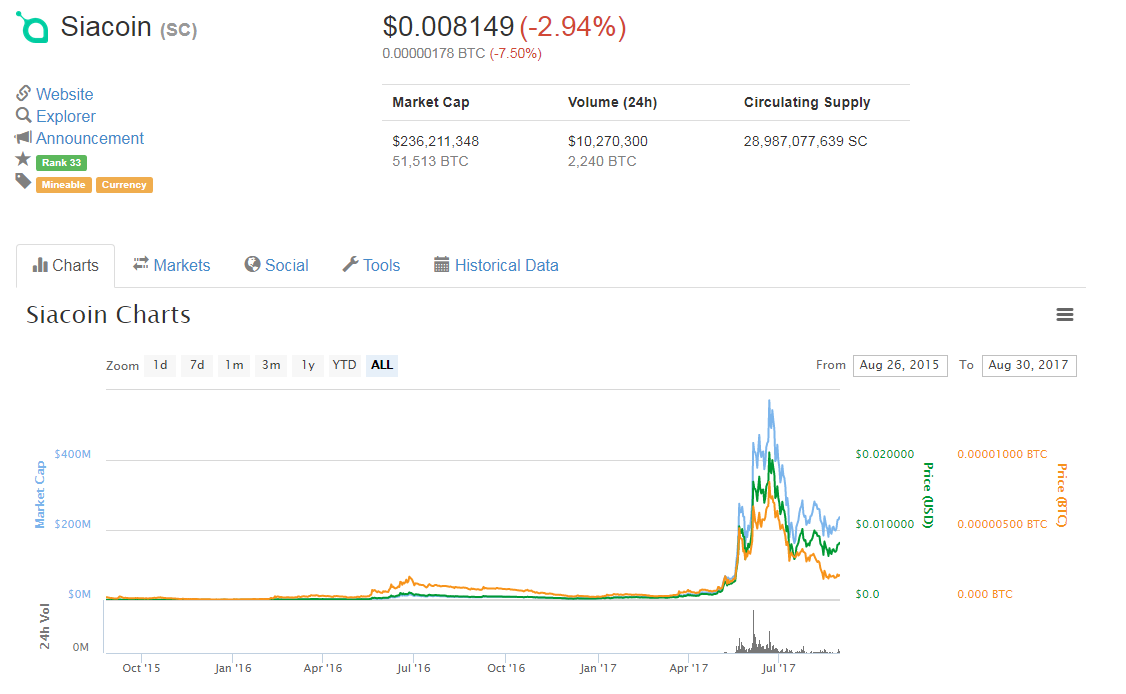 Siacoin is currently ranked in the Top 40 of all coins based on the market cap of slightly above $200 million dollars.
There are about 28 billion Siacoins in circulation and it will hit the cap of over 40 billion soon enough.
It has value because it's one of the few cryptos that has a real product. It provides a decentralized storage space, that should be quite safe from hackers, compared to mainstream cloud services. It will probably compete with cloud storages offered by Amazon S3, Microsoft Dropbox and Google Drive, at a cheaper price. The price will be determined by market forces (you and me).
Imagine paying so much lesser for cloud storage. That's what Siacoin wishes to achieve.
Basically, you need to have at least 2,000 Siacoins to use the service and you can also rent out storage space to others for a fee. Since the storage and the amount of coins in the market is limited, I predict that the value should go up further.
It has competition nevertheless, in the form of MaidSafe coin and Storj coin. It's interesting to see which one will succeed in the end.
4.
Monero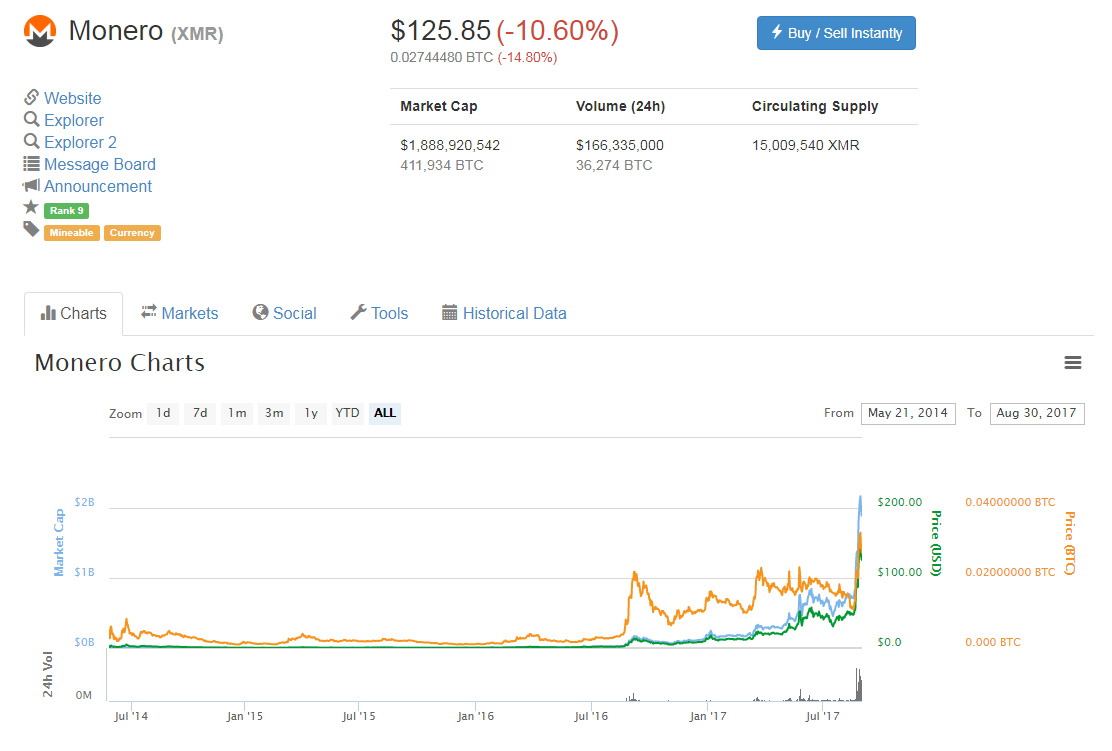 People generally think that Bitcoin is truly anonymous, which is false. Anonymity is definitely Monero's best feature, which is partly why it went up from $50 to $125 in just a few days.
The main benefit of investing in Monero is its unparalleled user anonymity. It uses a number of really intricate and sophisticated methods to bring about exceptional privacy. It can be broken down into a few methods.
Firstly, it has stealth addresses. When you trade with other coins, you'll normally see the destination address, meaning others can track you. Unlike Bitcoin and other coins, Monero only displays a cryptographic hash of the destination address to the public. The sender and the recipient are the only ones who can decipher the hash.
They use separate transaction units as well. For example, if you send 100 XMR, it will be delivered in separate sums of 20, 50 and 30 XMR. They are separately recorded which makes tracking so much harder. It also uses ring signatures to mix transactions and make anonymity possible.
You can call this the best coin if you trade in the black market.
5.
Ethereum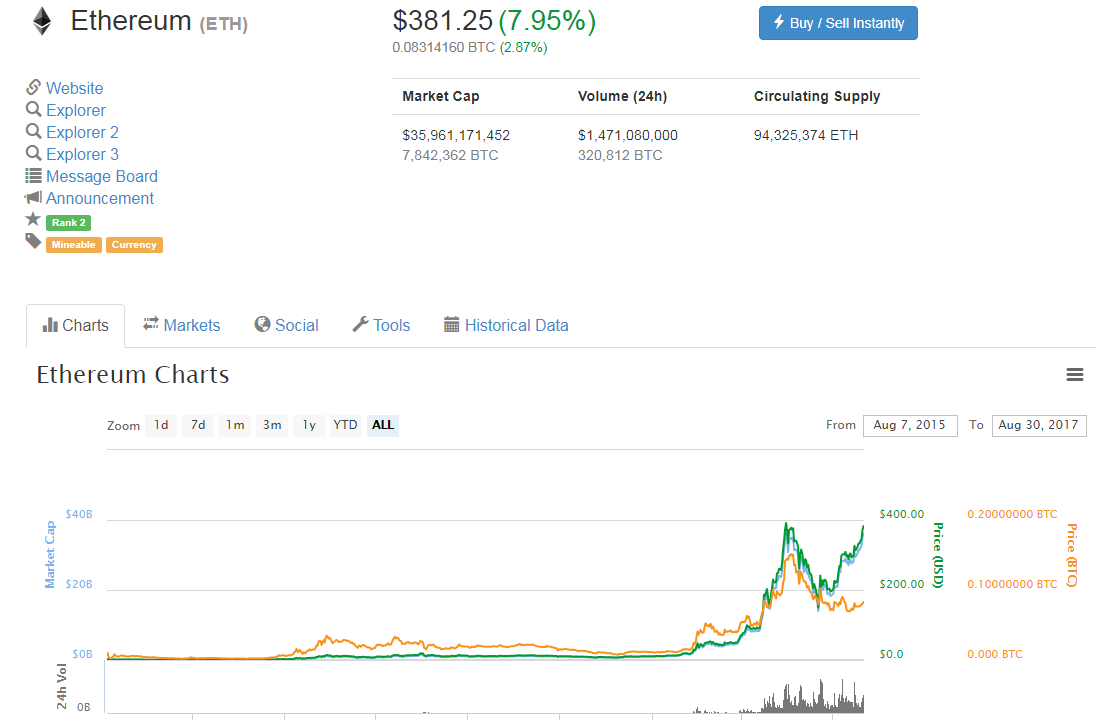 Ethereum is dubbed to be the best Bitcoin alternative and it's reflected in its price. It trades at $380 at the time of writing.
The reason why Ethereum is amazing is because it introduced an Ethereum network, in which other coins can be based. It made programming on blockchain so many times easier, which is why many of the popular coins are based on Ethereum. Look at OmiseGo and Golem.
Another reason is the introduction of smart contracts by Ethereum. Bitcoin also has a very simple smart contract, i.e. the sending and receiving of coins. But that's about it. Ethereum's smart contract system is at a different level. It allows people to manage agreements between each other, and ensures that payment is made upon the performance of the agreement.
It has a lot more flexibility than Bitcoin and I foresee it to be the next big thing. It's already pretty popular, but it may surpass Bitcoin some day.
6.
OmiseGo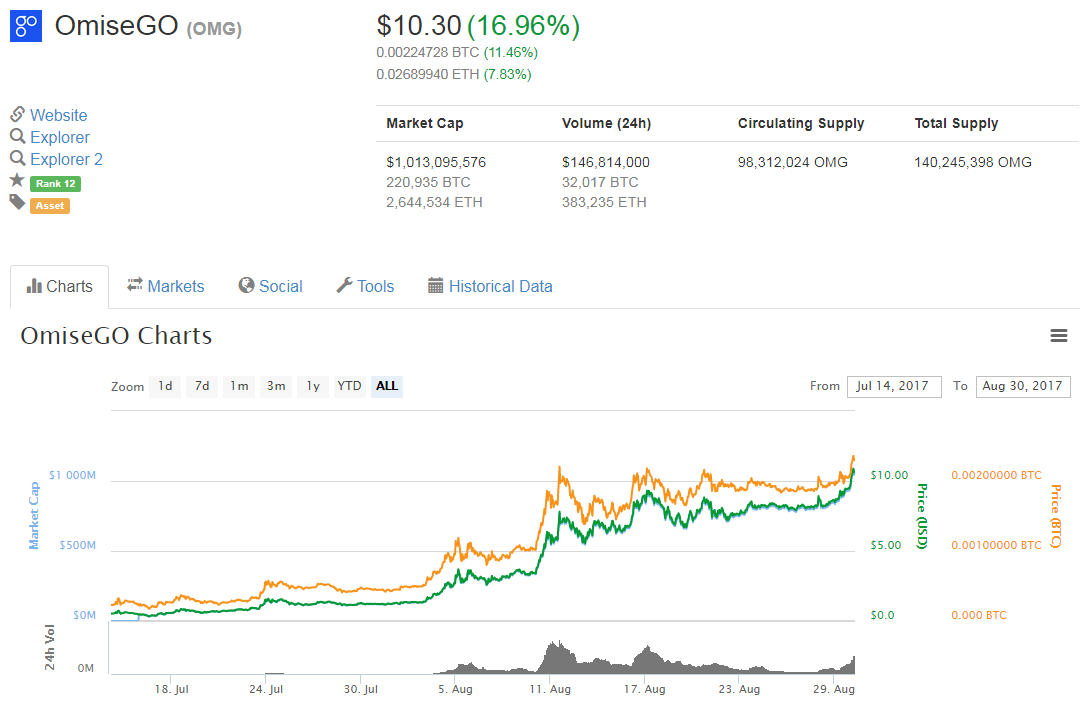 Omise Go (OMG) is based in Thailand and it basically provides Stripe-like payment features in Southeast Asia. It's based on Ethereum's network and it enables real-time value exchange and payment services across jurisdictions. It allows the exchange of both fiat currency and cryptocurrency.
Token holders of OMG will make money by way of transaction fees. Hence, the more transactions there are on Omise Go, the more money token holders will make. As a result, the price of OMG will go up.
Their selling point is of course their financial transactions, i.e. remittances, loyalty programs, payments, business to business commerce and so on. Most importantly, they are done in an inexpensive way. Furthermore, their team seems pretty competent as well.
7.
Iota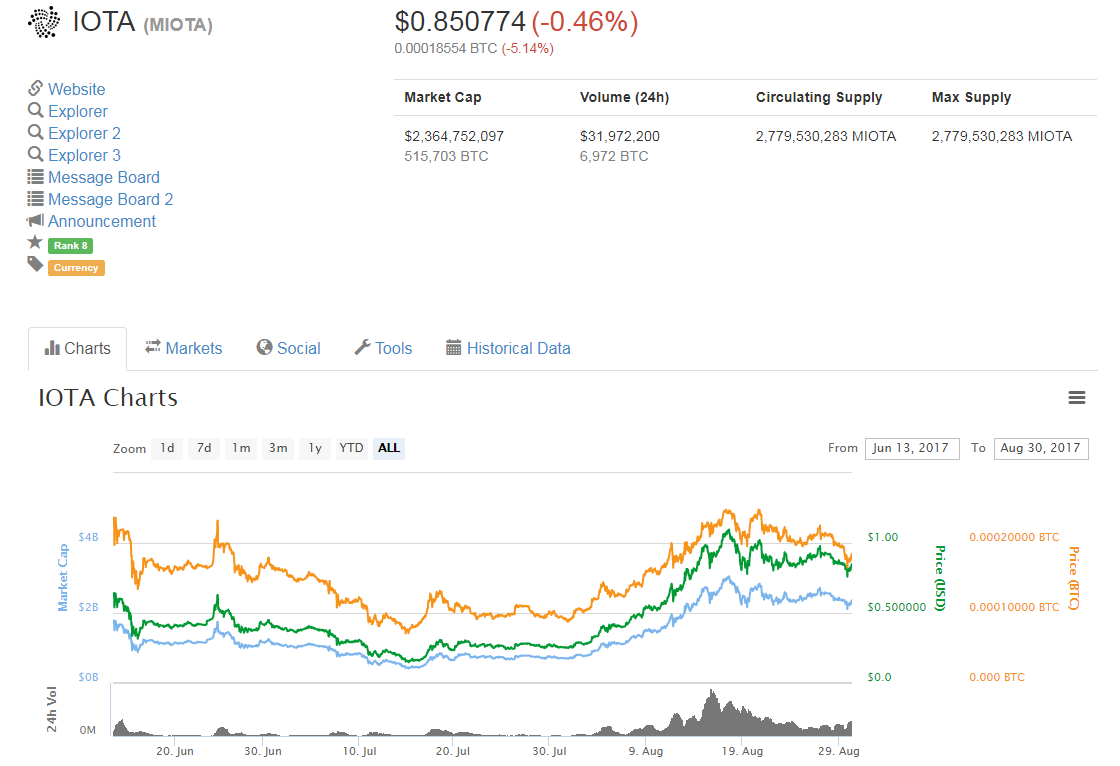 Iota seems to be the only mainstream cryptocurrency that is not based on blockchain technology. It's a revolutionary new transactional settlement and data transfer layer for the internet of things. It's based on a different distributed ledger called the Tangle, and it's supposed to overcome the inefficiencies of blockchain.
It has zero fee transactions (theoretically), no miners and an unlimited transaction rate. This means that scalability is not a problem at all. It also allows for small nanopayments. Furthermore, it is not forkable, meaning you can't split a coin like Bitcoin did.
UPDATE (22 Dec 2017): It seems like all of the cryptocurrency prices have gone up quite a lot. It doesn't matter which altcoin you bought. All should have gone up and you should have made some profits, since the rise affected every coin in the top 100 at least. I still believe these altcoins may go higher in the future. I'm still holding them and I'm not selling yet.
So which cryptocurrency should you invest in?
To be honest, nobody knows for sure. It's always a high risk when you invest in cryptocurrencies /altcoins as it's extremely volatile. Your $50 coin may be worth $0.50 the next day. Hence, do your own research, make your own decision and don't invest more than you can afford to. Don't put your livelihood at stake.
This article is not to be taken as investment advice, as it's just my own speculation. It's just my opinion and I did invest in most of these altcoins.
Thanks again for reading this article!