Ever since the advent of online video platforms, YouTube has been one of the most visited platforms in the industry. The America-based company is currently owned by Google after purchasing it from its founders, Chad Hurley, Steve Chen and Jawed Karim, in 2006.
It ranked as the second most visited website in the world on Alexa in August 2018. It continues to grow in user database and content. YouTube, just like any other online video platform, basically allows its users to upload and watch videos. Other YouTube features include video subscription and a user-review system.
Users and media outlets use online video platforms for numerous purposes such as advertisement, educational purposes, short clips, movie trailers, live streams, documentaries, TV shows, music videos and lots more.
Despite YouTube's dominance in the sector, some users have complained about its policies while some expressed dissatisfaction over annoying and unavoidable ad commercials which are being displayed before viewing videos.
YouTube is said to have a distracting user interface and some other people have complained of its auto-play feature. A large fraction of users is currently unhappy and they are looking to find new alternatives.
There are numerous alternatives and competitors to YouTube, though not popular. They have fantastic features that are worth checking out. Below are few popular alternatives:
Best YouTube Alternatives
1. Vimeo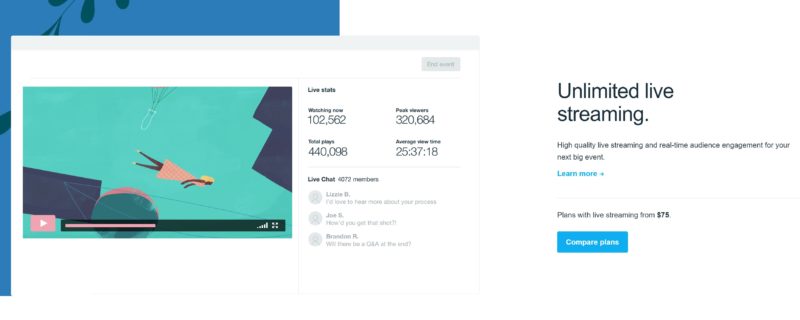 Vimeo is one of the most popular video sharing website. It was founded in 2004 and it is the first platform to support High Definition videos.
It is a popular platform for content creators because it is quite easier to understand, to novice and the best for amateurs. It boasts about 900 million users around the globe.
It has a simple and "sweet" user interface, completely ad-free and its users do not get stuck with "timed-ads" as in YouTube.
Worried about privacy? Vimeo offers password protection feature for your files.
On the downside, Vimeo restricts its users to a weekly upload threshold of 500MB and a 5GB upload limit for premium users paying a monthly fee.
However, the paid 5GB upload limit is still small.
2. Dailymotion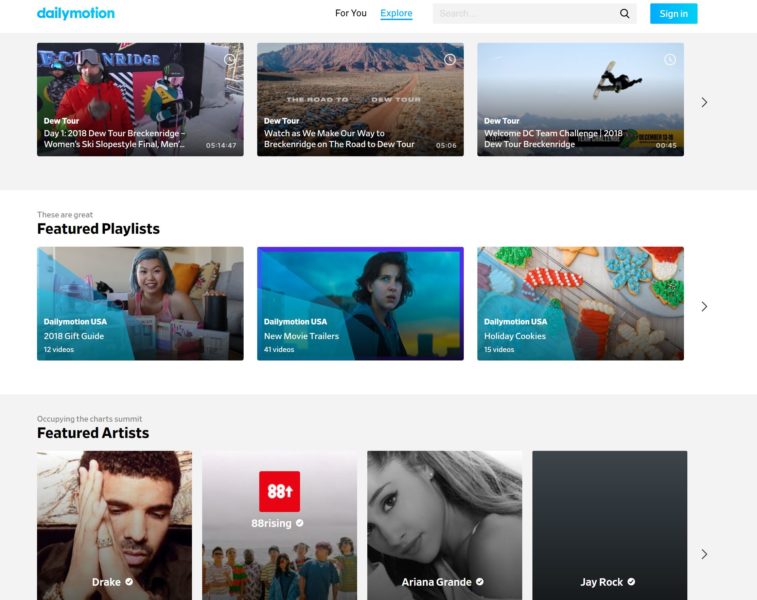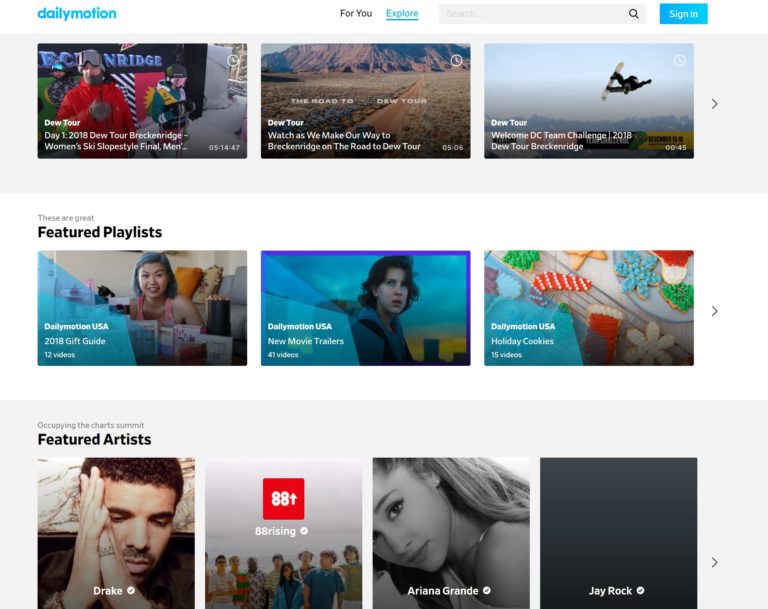 Dailymotion is a very popular and close alternative to YouTube. Founded in March 2005, it is currently available in over 16 languages and it enjoys a large number of unique visitors of about 300 million monthly.
Since it has a similar interface as YouTube, it is quite easy for a YouTube user to adapt to its interface and navigate its categories. Social features such as subscription, adding friends and "follow" are also available on the website.
Sharing is quite easy with the embedded player feature where users can easily integrate videos into their sites and blogs. It does not have strict policies like YouTube.
The platform is available on iOS, Android and Windows devices. However, its High Definition upload feature is available only to premium users with a 4GB upload limit and the length of video is limited to only 60 minutes.
It also allows a maximum video resolution of 1080 pixels. Unfortunately, this platform is not accessible to Kazakhstan.
3. Metacafe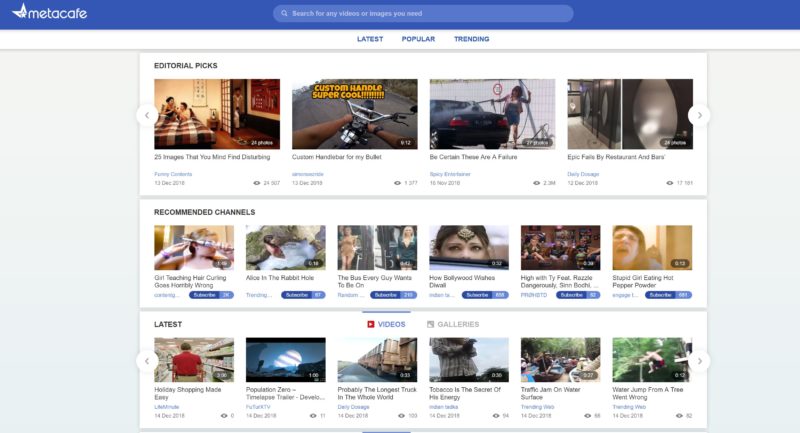 Metacafe is one of the oldest video sharing platform mostly used for entertainment contents such as funny clips. It is a very good alternative to YouTube, due to its impressive streaming speeds. It has a lot of categories to suit the varying needs of its users.
Being a good catalogue for humorous contents, it has more than 40 million unique viewers. Most times, it is used to serve community based contents. Despite the aforementioned positives, the 90-minute video length restriction is a big limitation to its usage. It, certainly, would not an option for users looking for longer-video upload platforms.
4. Vevo
Looking for a good music video repository? Vevo is the website to bookmark. Founded in December 2009, it offers endless amount of music to all music lovers even with high definition quality.
As a good alternative to YouTube, its swift and mind blowing streaming speed literally brings a large supply of music to your doorstep. You can keep track of latest releases and view official music videos of popular artists like Drake, Beyonce, Rihanna and so on.
With its simple interface, you can surely manoeuvre the website with ease even on your first time of visit. It is also available on devices powered by iOS, Android, Windows, Fire OS.
Unfortunately, you might be disappointed on your first visit as it does not offer diversified content like Youtube. It is strictly music videos.
5. DTube
DTube is a potential rival of YouTube following its arrival in 2016. It is based the latest technology in town, blockchain, same as cryptocurrency platforms like bitcoin and ethereum.
A notable benefit of the application of this technology is that the platform, DTube, operates as a decentralized system. In terms of user interface, DTube is almost similar to YouTube and new visitors may not find it hard navigating the website.
Users have the option of saving videos and viewing them later alongside an option to check trending videos via a list of tags. A major advantage of DTube over YouTube is its ad-free service while offering access to all users without paying a dime.
Another interesting feature is that, for every uploads and reviews made, the user gets rewarded with cryptocurrency (Steem & SBD) if he / she gets many votes. This is certainly a way to attract prospective users. However, DTube is an infant video sharing platform with a smaller video repository compared to YouTube.
6. IGTV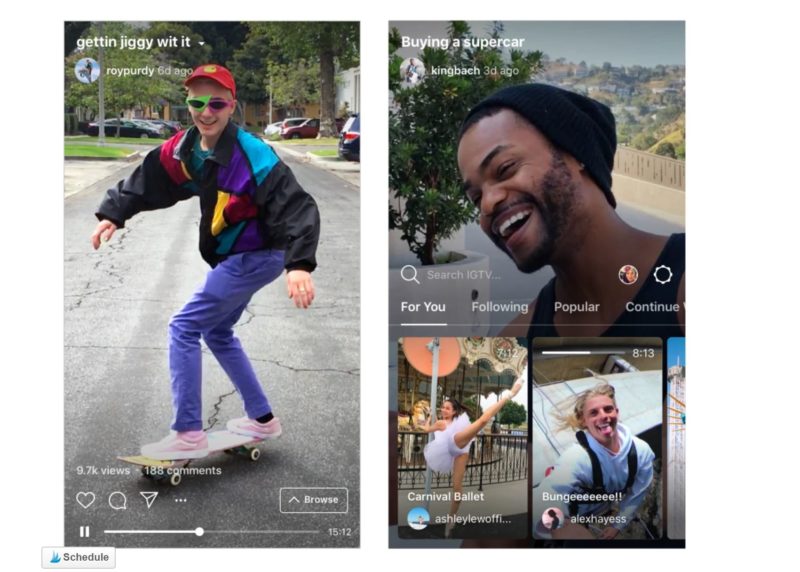 IGTV, also known as Instagram TV, is a new video platform which is set to rival YouTube. It was launched in June 2018 and it is currently available in over 30 languages. Offering a lot of vertical videos which are quite lengthy makes it different from other platforms.
It allows users to upload videos of up to 10 minutes with a file size of 650MB for normal users and 60 minutes with a file size of 3.6GB for verified or popular accounts. Probably the owners were considering smartphone users, the videos were created to be viewed on smartphones.
To view or watch videos, you can only do that through its ad-free application although uploads can be done via desktop devices. You can start watching videos immediately if you have an Instagram account. Due to its affiliation with Instagram, content creators can be rest assured that their content will definitely reach a large audience.
7. The Open Video Project
Unlike a well-diversified YouTube, this website is well known for its huge repository of interesting educational videos. It was launched as far back as 1998. Most of its videos were given by the governmental agencies in the United States such as NASA.
It appears more like a digital library containing 195 video segments and offering videos of documentaries, educational and historical materials with an over simplified interface. No payment is required to access its videos and users can easily filter videos based on specific time duration, sound and video formats.
8. Veoh
Veoh is another good alternative to YouTube. It was founded in September 2005 and is based in California. Just like YouTube, it lets you search, watch and customize your viewing experience.
Asides its clean user interface which makes it capable of attracting potential millions of users, it possesses several social features which enables you to add contacts, create groups, message and also share various contents with friends.
Fans of longer videos will definitely love this platform as it allows users to upload and share several videos of unlimited length. If people get to like your content, your popularity increases. Users will be able to view several movies, animations and series with ease. However, some countries such as Macao are blocked from using the website.
9. PeerTube
PeerTube is a free, decentralized, peer-to-peer video streaming and sharing platform that is also capable of serving as a replacement to YouTube should the latter "die off".
The entire user interface is simple and neat. Aside being ad-free, navigating the website is very easy and users can easily view newly added videos as well as trending ones.
This platform is relatively safe for content creators to display their contents with less worries of being censored or banned. There is absolute freedom to upload any videos to the platform without paying a fee.
Unfortunately, just like new platforms, PeerTube does not have enough content compared to YouTube.
10. Flickr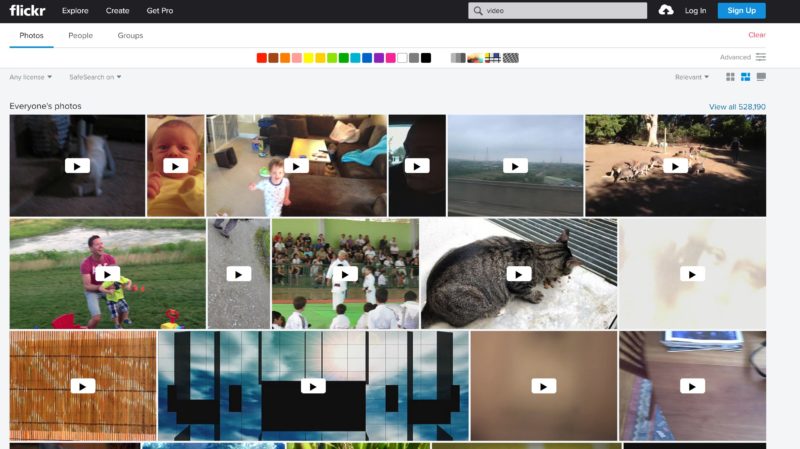 The last online video platform on the list, Flickr, was founded in 2004. Just like other platforms, it allows users to upload videos, however, video size is limited. It also features an image hosting service on its website.
Flickr grants users free access its features but an account is required to upload content. Each account is restricted to uploading videos with time length of 90 seconds i.e. only short videos are allowed. Furthermore, a time limit of 90 seconds is placed between uploads.
Users of the website are content creators looking to embed images and videos in various blogs and social media. It runs mobile apps on iOS and Android powered devices.
Despite several alternatives to YouTube, most alternatives can not completely replace YouTube. However, users in need of quality experience can combine the various alternatives mentioned above to suit their needs.
Best alternatives to YouTube?
We have listed 10 alternatives to the current giant, YouTube, where you can stream all kinds of videos.
If you do know of other better platforms, do let us know.
This article was written by a freelancer.
---
Related articles:
Top 10 Most Anticipated Netflix Shows In 2019
Top 10 Stand Up Comedy Specials On Netflix
9 Free Websites To Stream Movies And TV Shows