Far Cry: New Dawn is a much simpler game when you have the best weapons. There are also different tiers for the weapons.
The guns and melee weapons are divided into four tiers, i.e. ranks 1 to 3 and the elite rank which is yellow in color.
Here are the best weapons in Far Cry New Dawn, divided into different categories of guns.
Best Pistol
We start off with the handguns. There are different pistols or handguns on different tiers.
The most powerful one is probably the DIY D50. It's on the elite tier and it packs a crazy damage of 400, even before upgrades.
If you can't afford the elite tier, try rank 3 magnum pistol which packs a damage of 385.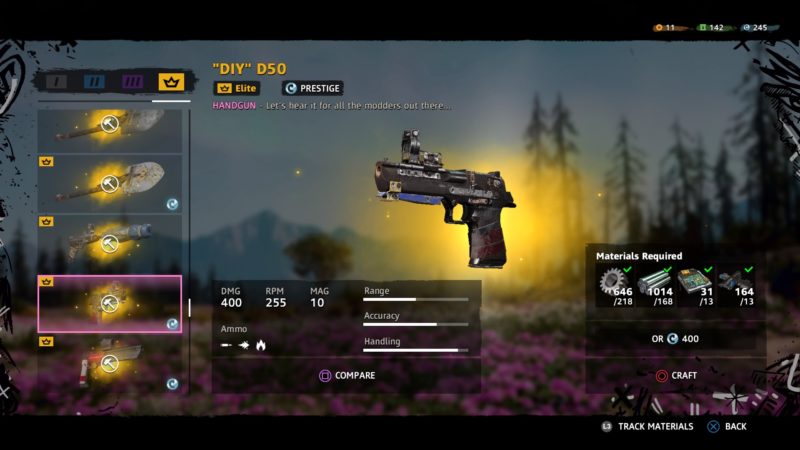 It's good enough to take out armored Highwaymen, but you can't pack too many bullets.
Best Assault Rifle
The assault rifle is probably a must-have balanced gun for most players, as it carries a decent amount of bullets, plus you can still increase it through your perks.
There are two assault rifles with the same amount of damage, but the difference lies in the RPM and magazine space.
This Rock-Paper-Scissors assault rifle packs a damage of 155 per hit and it has a pretty high RPM of 900.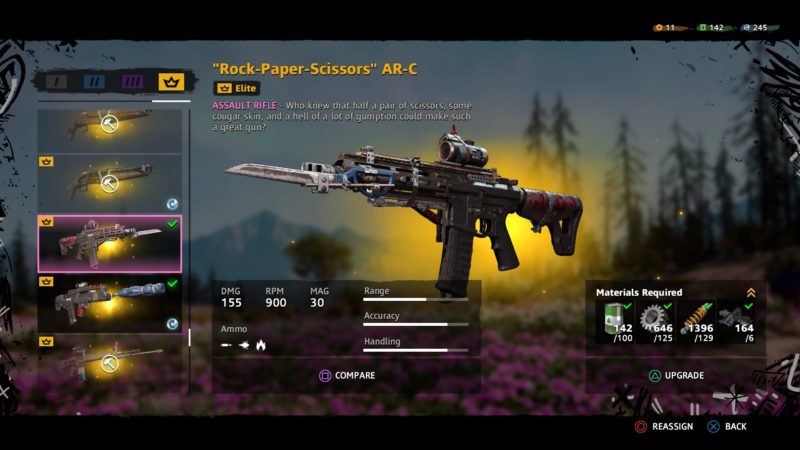 On the other hand, the Radiation Pink rifle which is also an elite tier rifle packs the same damage, but with much lower RPM.
Having said that, it compensates with the higher magazine space.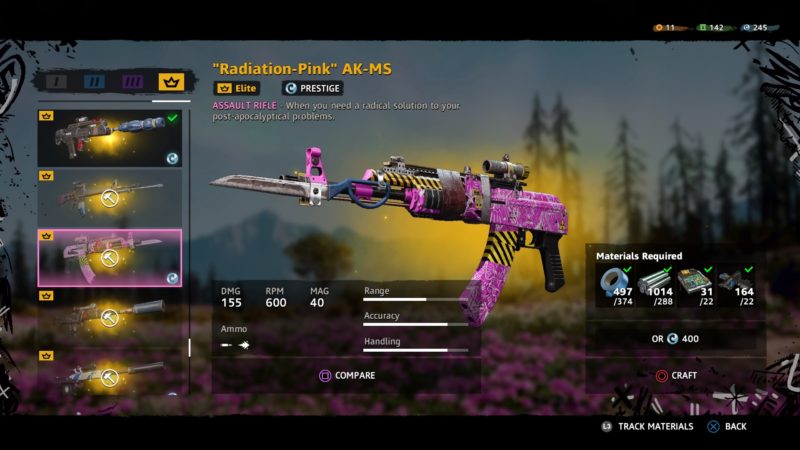 Using either of those rifles are good enough for the end game. If you prefer a silent choice like myself, use this stealth assault rifle called The Works BP-2.
Personally, I use this gun the most. The damage may be slightly lower than the two rifles above, but the stealth mode compensates for it.
Although it only gives a damage of 147, the speed is fast and you'll probably nail the opponent in burst shots of three hits.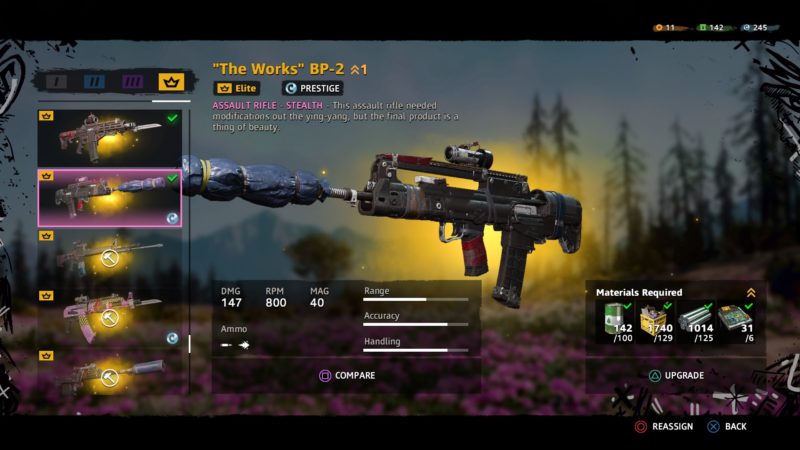 Best Shotgun
Next up would be the best shotgun in New Dawn. Once again, there is more than just one choice, even in the elite tier.
There are two D2 shotguns that are similar in stats, but they differ in looks. You can use this "Such A Boar" D2 which packs a crazy high 945 damage per shot.
Unfortunately, the range and accuracy is crap.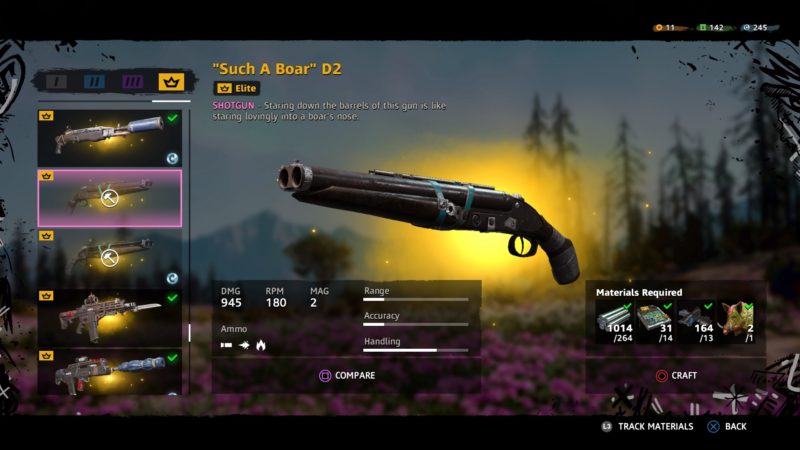 If you prefer higher accuracy and range for a shotgun, try this Spraypaint and Pray SPAS-12.
It's also a stealth shotgun. The big disadvantage is its much lower damage of only 398.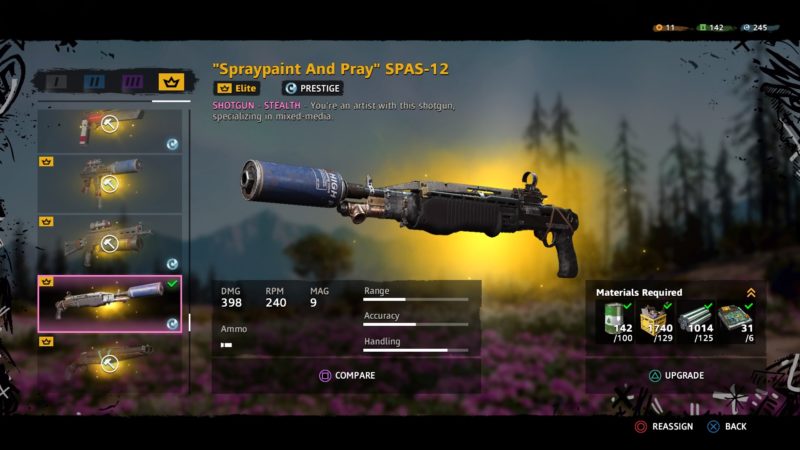 Best Sniper Rifle
Sniper rifles are really useful in Far Cry New Dawn especially in liberating outposts for ethanol. You may need them to disable the alarms in the outpost, to prevent the Enforcers from coming in and to get a bonus of ethanol for disabling alarms.
The best sniper rifle seems to be the Space Force SA-50. It's on par as far as damage is concerned, with the Guerilla Gear MBP .50.
However, this Space Force has a slightly higher RPM than the MBP.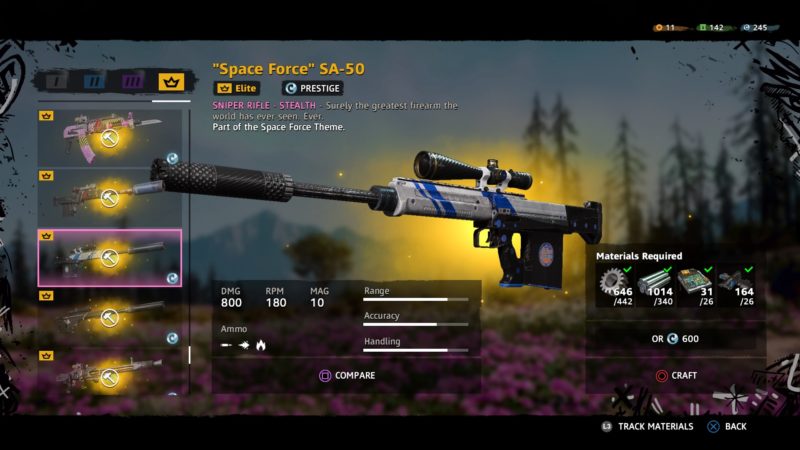 That being said, the difference of 15 in RPM may not be too crucial in actual gameplay.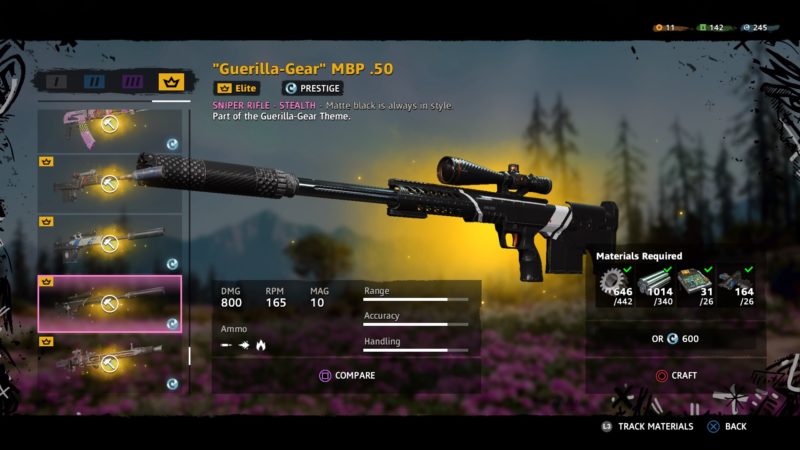 Best Bow
If you love playing stealth, maybe a bow would be good for you. There are a couple of really good bows, but the best one is probably the Lucky Shot Compound Bow.
This compound bow has the same damage of 1,200 with the Blood Dragon Recurve Bow, but it has a higher accuracy than the latter.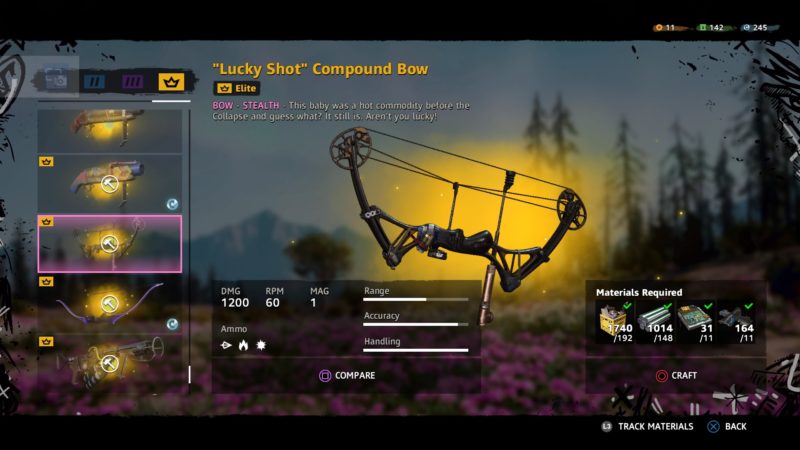 That said, as far as damage is concerned, any of these bows will be good enough for your stealth missions.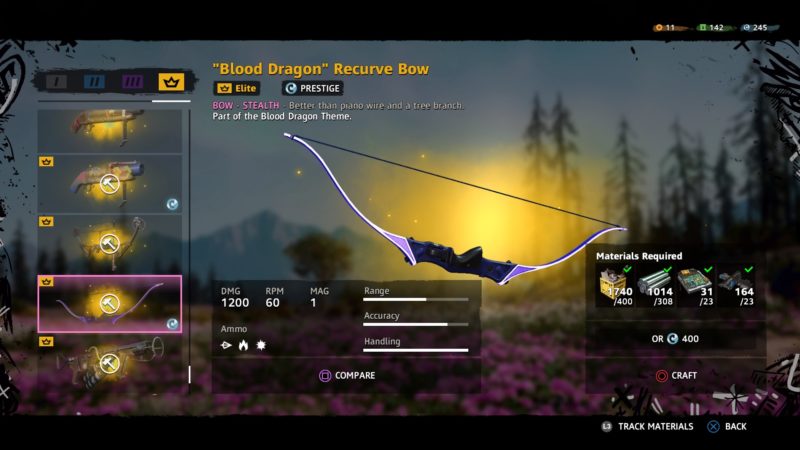 Best Grenade Launcher
Next up would be the grenade launchers. There are two M-79 grenade launchers on the elite tier, and they are both tied in stats.
The Color Spray and the Bison Burger launchers both come with a 700 damage.
All you have to do is to choose the best design based on your own preference.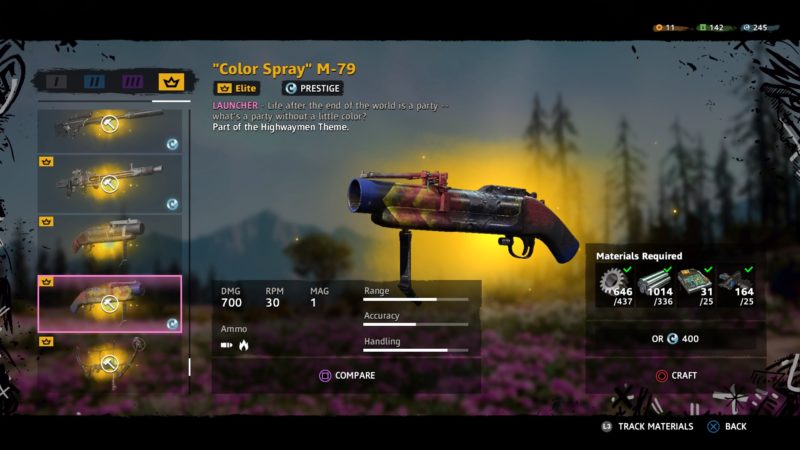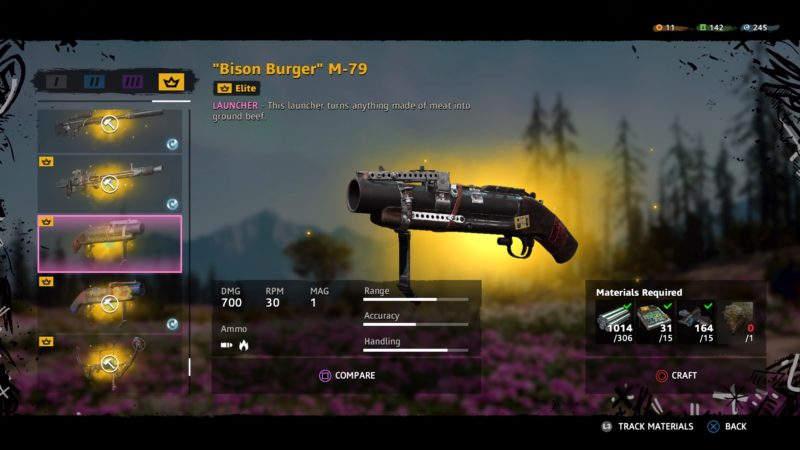 Best Flamethrower
If you're a flamethrower guy, there are also options in the elite tier market.
Both of the flamethrowers come with the same damage, i.e. 250 at an RPM of 20.
In terms of looks, maybe the Unicorn flamethrower is the best, as it fits the general environment colors of the game.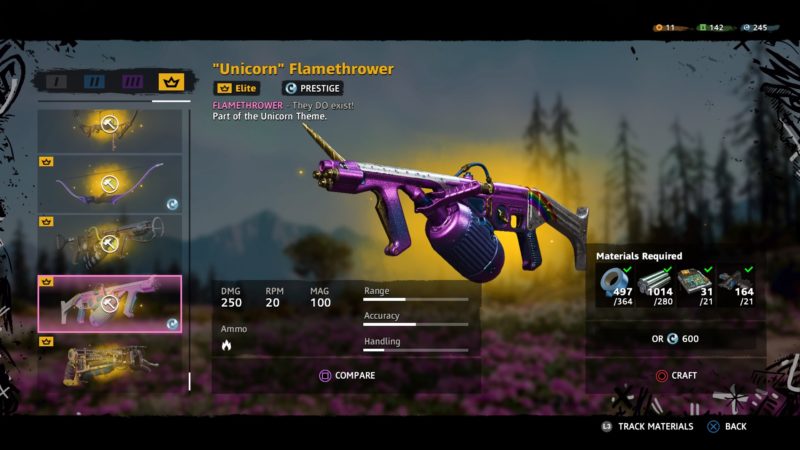 Best Saw Launcher
Saw launchers are similar to bows, in that it kills the enemy quickly with a high damage. However, saw launchers have a higher magazine capacity.
It's really useful if you plan to go stealth all the way. The best saw launchers come with a damage of 1,200.
You can try the Bear With Me Saw Launcher V.3 if you love stealth plays.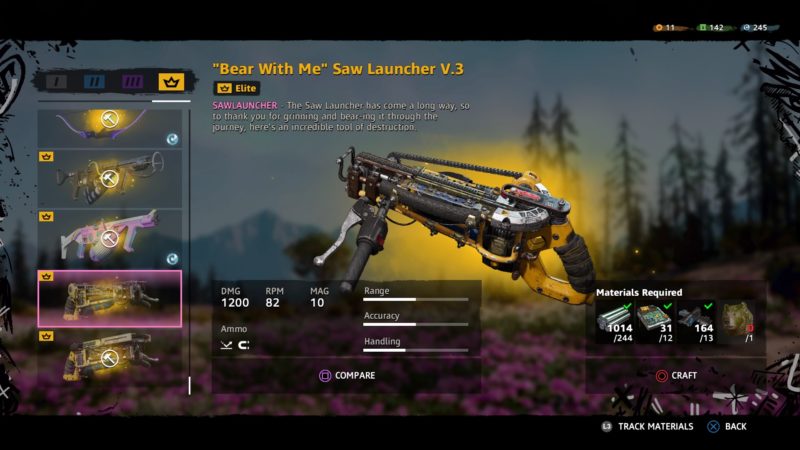 Best Light Machine Gun
Last but not least, you can also go with a light machine gun if you plan to play Rambo style.
There's only one light machine gun on the elite level, i.e. the Blunderbuss MG42.
It comes with an okay damage of 115, but a really high RPM of 1176 and a magazine capacity of 200.
When used against big crowds, it turns into a deadly weapon.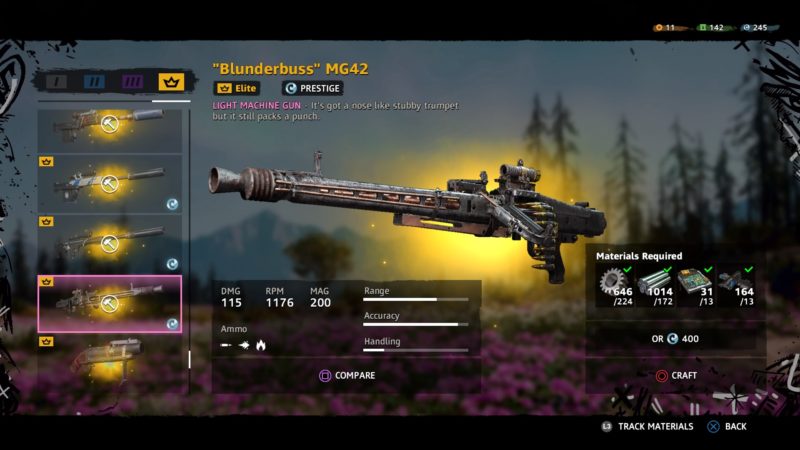 Best guns in Far Cry New Dawn?
We have listed some of the best weapons that are available in the game, and they are mainly unlocked towards the last part of the game.
Also note that these elite tier guns can still be upgraded if you have ethanol.
What are your favorite guns? Do leave your comments below before the comment box closes.
---
Related articles:
Top 10 Best Weapons In Borderlands 2
Far Cry New Dawn: High Art (Treasure Hunting Guide)
Top 10 Best Games Like Cards Against Humanity
Stardew Valley: How To Do Fishing (Guide And Walkthrough)
Far Cry New Dawn: The Great Escape (Save Nick) Walkthrough
Far Cry New Dawn: A Thousand Words – All Photograph Locations
How To Unlock Fast Travel In New Dawn
Far Cry New Dawn: Walkthroughs, Guides And Tips