If there's one thing that you can rely on in any of the Borderlands games, it's that you're going to gain access to guns — lots and lots of guns.
With Gearbox Software releasing Commander Lilith & the Fight for Sanctuary DLC for Borderlands 2 in preparation for the upcoming Borderlands 3 sequel, the franchise is at the forefront of every shooter fans' attention once again.
With the new DLC, however, means new content. This includes the introduction of "rainbow" weapons, otherwise known as "Effervescent" gear, which far exceeds the capabilities of the previously top-tier legendary gear.
Right now, a lot of Borderlands 2 players are desperately trying to get their hands on the latest set of top-tier weapons and gear.
With that said, we decided to take the time and round up the best weapons in Borderlands 2 right now, all of which are included in the game's latest DLC.
We also included tips on how you can get your hands on the said weapons so you don't have to worry too much about upgrading your gear.
10. The Electric Chair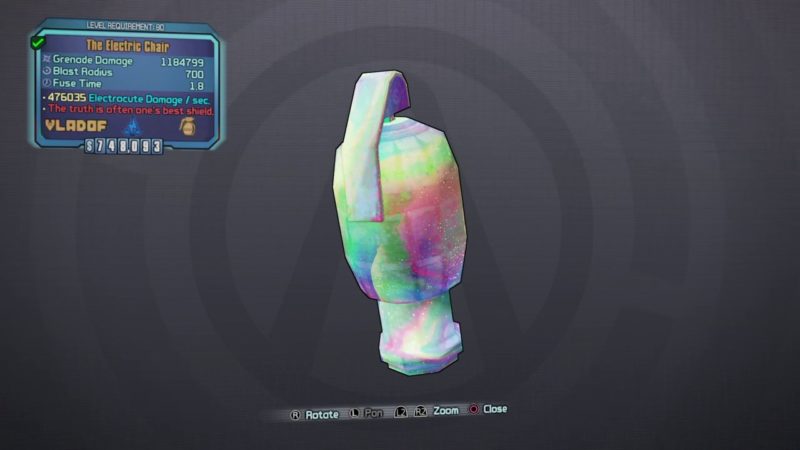 Let's start things off with one of the hardest gears to get your hands on in our list.
To get your hands on this "effervescent" grenade mod, you have to beat Uranus, a boss added to Borderlands 2 along with the latest DLC.
With a measly 10% drop rate and a boss that's definitely no slouch, The Electric Chair will make you sweat to get it.
But, once you do get your hands on it, you'll be able to use the grenade mode to launch eight smaller grenades that creates a shock explosion within the range of the deployment point.
9. Unicornsplosion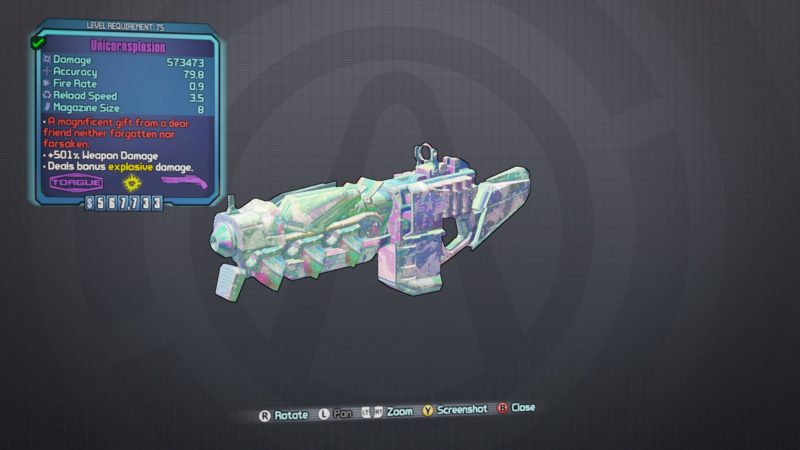 Another weapon that's going to make you work, the Unicornspolosion is like the original Swordsplosion shotgun from Borderlands 2, but only on steroids.
Embodying the peak insanity of Borderlands 2, the Unicornsplosion shoots out full-sized unicorns that explode on impact into rainbows, dealing a lot of damage to whoever is unfortunate enough for it to be aimed at.
So, yeah, like I said, peak Borderlands 2 insanity.
To get your hands on this hilarious shotgun, you'll have to feed Butt Stallion while you're wearing the Mysterious Amulet.
You can get the Mysterious Amulet from a randomly-spawning mission within the Lair of Infinite Agony on the Dragon Keep DLC by taking it from a certain Mr. Miz when prompted.
Getting it is a lot easier than it sound and will only require you to do a lot of travelling. But, once you do get your hands on it, your efforts will definitely not be in vain.
8. Amigo Sincero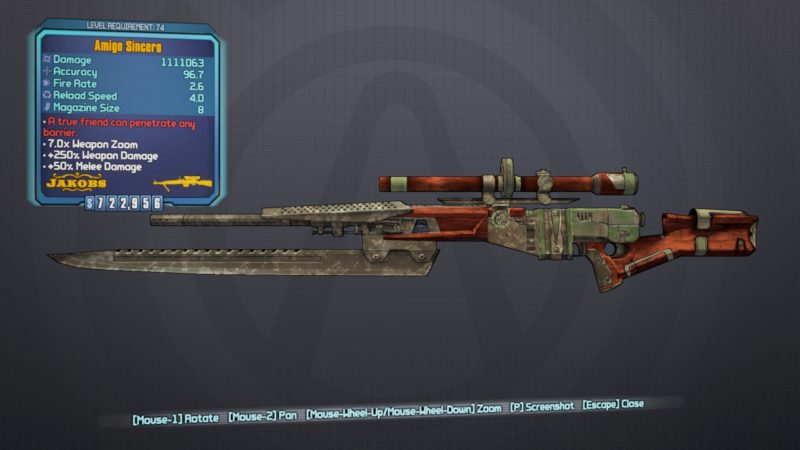 Literally translating to "sincere friend" in English, the Amigo Sincero is anything but sincere nor a friend.
Easily the best sniper rifle in all of Borderlands 2, the weapon is an upgraded version of the already-overpowered Tresspasser, which means that it can bypass enemy shields and hit enemies where it hurts the most — their health pool.
The Amigo Sincero also spawns with two attachments in a scope and blade, making it even deadlier of a weapon.
To get your hands on the Amigo Sincero, you simply have to complete the BFFFs mission.
7. Nirvana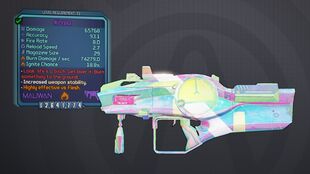 Don't let the slightly reduced bullet damage and accuracy fool you, the Nirvana packs a whallop.
With a higher magazine size compared to other SMGs in Borderlands 2 and capable of dealing elemental damage and an elemental chance to deal 50% more elemental splash damage, the Nirvana is the sort of gun that you'd want to have at your disposal in a long drawn-out firefight.
Stack enough fire damage onto a single target and you can rest assured that they'll burn to the ground much faster than you or they will ever realize.
To get your hands on the Nirvana, you simply have to keep on farming Infected Badass Sprouts in the new DLC.
6. Infection Cleaner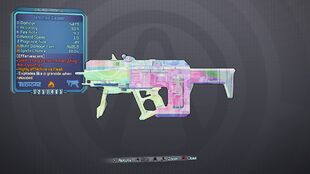 Just like the Nirvana SMG, to get your hands on the Infection Cleaner, you'll have to keep on farming New Pandora Soldier enemies until it finally drops.
And just like the Nirvana, the Infection Cleaner is well worth the effort.
This "effervescent" SMG differs from the Nirvana in that, it relies on pure raw power to take down enemies.
With higher damage capabilities, as well as an increased magazine size and critical hit damage, the Infection Cleaner will help you take care of all of your problems, and then some.
5. World Burn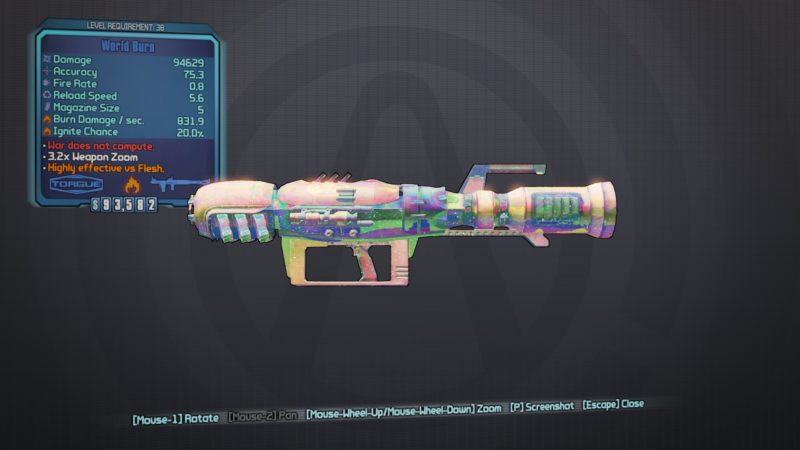 An upgrade to the insanely powerful Nukem, the World Burn is arguably the most powerful rocket launcher in all of Borderlands 2.
Capable of firing rockets in a heavy arc and dealing a ton of area damage when it lands, there are very few enemies in Borderlands 2 that can take a direct hit from the World Burn and live to tell the tale.
But, keep in mind, using a weapon this powerful does not come with zero drawbacks, as you might want to keep your distance while firing. Otherwise, you might end up taking a lot of damage yourself as well.
To get your hands on the World Burn, you'll have to defeat Lt. Bolson in Dahl Abandon.
The New Pandora group lieutenant has a 20% chance of dropping the World Burn when defeated.
4. Hot Mama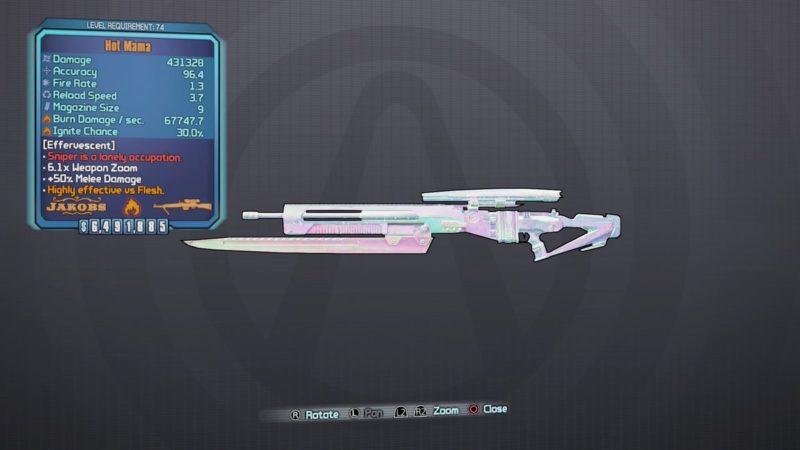 If the Amigo Sincero isn't doing it for you, or you just want to try something different, the Hot Mama should be an awesome alternative.
A bolt action rifle and a sniper rifle in one, the Hot Mama also has an elemental capacitor that allows it to deal a ton of damage. Also, when zoomed in, the Hot Mama has perfect accuracy, making it the perfect weapon for certain situations.
As an added bonus, this effervescent sniper rifle can talk, keeping you entertained as you take down everyone in your path.
You might want to equip a Dahl stock though. The huge recoil can be hard to ignore.
To get your hands on the Hot Mama, you just have to beat Lt. Hoffman in the Mt. Scarab Research Center.
3. Peak Opener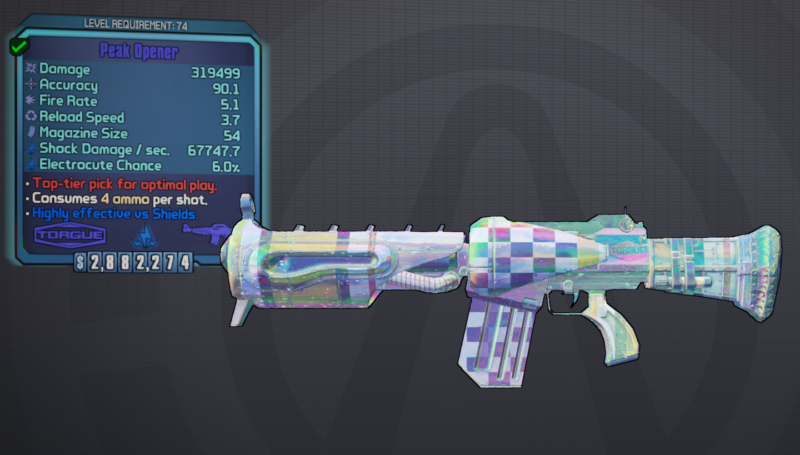 Arguably the most brutal weapon in Borderlands 2, the only problem with the Peak Opener is that its part of the Digistruct set, which means that it's only at its most destructive when used in Digistruct Peak.
Outside of it, the Peak Opener remains a capable weapon with exceptional shock damage and can also drop 3 child grenades with its rockets upon impact.
The Peak Opener can consume ammo like crazy, so try not to get too trigger happy when you're using it.
It also has a chance to be dropped from one of the chests that spawn after defeating Haderax the Invincible, who is a sandworm raid boss that can be found in Writhing Deep.
2. Toothpick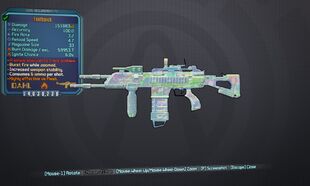 100% accuracy.
That's the most important thing that you have to know about the Toothpick.
This mind-blowing stat is only tip of the iceberg, because the Toothpick is also always incendiary and can fire 10 shots in 2 rows of 5 that almost always never miss in close, as well as mid-range combat situations.
Finally, the Toothpick can even be made more powerful when the Mouthwash is equipped, as it is part of the Writhing Deep set.
To get your hands on the Toothpick, you'll have to keep on farming Sandworms until they drop one.
1. Overcompensator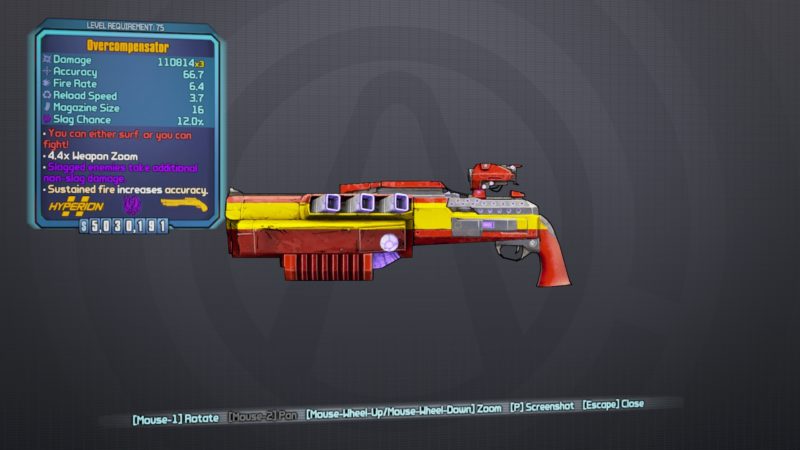 If you like getting up close and personal in combat, there is no better gun in Borderlands 2 than the Overcompensator.
The perfect shotgun, the Overcompensator can deal tremendous amounts of damage in close range and has a random chance of auto-refilling its magazine, which occurs often enough to make you not have to reload as often and be as trigger happy as much as you want.
Plus, the Overcompensator also talks, which helps prevent things from getting too monotonous.
The Overcompensator is a reward from completing the Chief Executive Overlord mission in the latest DLC.
Final Thoughts
And there you have it.
The 10 most powerful weapons in all of Borderlands 2, all of which were introduced along with the game's latest DLC.
There should be enough variety in Borderland 2's latest set of "effervescent" weapons that you should be able to find one that fits your playstyle and preferences.
Also, with all the weapons available in Borderlands 2, don't be afraid to mix things up and experiment.
If you haven't booted up Borderlands 2 in a while and think that your "legendary" gear is powerful enough, you might want to play the game against. There's a huge chance that the new DLC will make you want to go looting and completing all the best weapons that Borderlands 2 has to offer.
Considering that the new Commander Lilith & the Fight for Sanctuary DLC is available for free for all owners of the original Borderlands 2, there's literally no reason for you not to hop into the game and start looting.
So, what are you waiting for? Play Borderlands 2 today!
This article was written by a freelancer.
---
Related articles:
Cult Following: Borderlands 3 Walkthrough And Guide
Top 10 Best Weapons in Team Fortress 2 To Choose From
Games Like Angry Birds: Eight Alternatives To Check Out
Top 9 Best Guns In Counter-Strike: Global Offensive
Top Games Like Borderlands – 10 Alternatives To Check Out
Best Carnival Games: 8 Great Carnival Ideas To Choose From
Best League Of Legends Champions For Beginners
Top 10 Shows Like Westworld You Can Watch Today