Family trips are fun, but with little children, you may require more planning. You need to get the right gear to make it easier to move the kids around.
A travel stroller is one of the most important items for family trips. Why should you get a travel stroller and not a regular baby stroller?
This review will highlight the best travel strollers as well as some tips to look out for when searching for one.
This article may have affiliate links.
Top 7 Best Travel Strollers
Below are some of the top strollers for travel.
1. Summer Infant 3D Lite Stroller
This stroller is lightweight as the name implies. Also, it comes at a lower cost while offering many features of a heavier stroller. The frame is aluminum and is easy to fold.
It serves as a diaper changing and nap area as well since the seat reclines flat.
When it comes to pushing and steering, it is easy to use. The stroller is also well positioned to fit parents of all sizes. It weighs only 13 pounds and doubles as a storage device.
Furthermore, it has a cup holder, a rear pocket and more. It also has a 5-point safety harness that adjusts to three different height positions to suit your growing child. There is an extra padding as well to ensure that your baby is comfortable during the trip.
Pros
Cons
Legs may dangle for taller children

2. Besrey Airplane Stroller
If you're a frequent flyer, the Besrey stroller may be ideal. It fits into all overhead bins of trains and planes. The stroller has a unique 2-step folding design that allows it to collapse to 22" x 12" x 11" in size.
When folded, the stroller sits upright with its wheel on the ground. It can serve as a chair and this comes in handy while you wait at the train station or airport.
It also has a handle on the outside that allows you to carry it onto the plane. The outstanding features of this stroller include a large canopy, rear storage basket and more.
However, the stroller is only suitable for children who are aged 6 to 36 months. The 5-point safety belt, as well as the comfort pads, can be readjusted to fit the child securely as he/she grows.
Also, it weighs only 10.8 pounds and is easily steered with one hand.
Pros
Cons
Not ideal for kids under 6 months of age

3. Pockit Lightweight Stroller
The Pockit stroller is one of the lightest in the world. It weighs 9.5 pounds and has been recognized as a compact stroller. The gear folds down to 11.8" x 7" x 13.8".
This means that it can fit in your backpack, under your seat or the overhead compartment of a plane. Despite being so light, the stroller can hold kids who are above six months. You can steer it with one hand as well.
Like most gears in this review, it also has a 5-point safety harness that can be adjusted as the child grows to maintain comfort. It does not have the conventional reclining seat or large canopy like regular strollers.
However, it may be ideal for trips that do not require the constant use of a stroller but you want to have one in case of an emergency.
Pros
Has front-wheel locking mechanism
Cons
No canopy or reclining seat

4. Kolcraft Cloud Lightweight Stroller
If you want a travel stroller that offers more storage than usual, then the Kolcraft stroller may be ideal for you. It weighs 12 pounds and comes with a large storage basket, a parent tray, a removable child snack trap, cup holders and an extra pocket for storage. The stroller folds easily and can be done with one hand.
It has a three-tier canopy that helps protect the child from UV rays while allowing the parent to keep an eye on the baby through the peek a boo window.
The stroller is budget-friendly with a 5-point safety harness and a reclining seat. It is suitable for kids who weigh up to 50 pounds.
Pros
Cons

5. Jovial Portable Baby Stroller
Babies spend a huge chunk of their time sleeping, so a comfortable travel stroller would be a great investment for parents who wish to travel.
The Jovial Portable travel stroller offers full recline so the baby can lie flat. It is compact and lightweight, and can be handled with one hand.
Some notable features of this gear include a storage bag to keep it in the car or check it in at the airport, under-seat basket, large retractable canopy and more. This stroller may be ideal because your child can use it until he/she is 3 years old.
Pros
Comfortable for long trips
Serves as a diaper changing table
Cons

6. Babyzen Yoyo + Stroller
If cost is not a consideration, and you want a sturdy design with more features, the Babyzen Yoyo travel stroller may be ideal. It comes with a reinforced frame which can carry up to 40 pounds.
The extra storage is quite impressive. It has a storage pouch with a larger basket. The suspension system helps smoothen the ride and the canopy is extendable to provide better shade.
This travel stroller also comes with a carry strap, a rain cover, and extra seat padding. It is compatible with infant car seat adapters as well. The sturdy build makes it ideal for daily use.
It weighs only 12.8 pounds and can be taken on board a plane. Kids from 6 months can use it and it holds 40 pounds of weight.
If you want to use the stroller to carry a newborn, get a car seat adaptor for an extra cost.
Pros
Sun protection canopy + UPF 50
Cons

7. Graco Breaze Click Connect Baby Stroller
This travel stroller is also sturdy and can carry kids who weigh 50 pounds. The Graco Breaze travel stroller is easy to fold with one hand. It is also attachable to a car seat to make it suitable for babies below 6 months of age.
This seat can be purchased separately. It also provides comfort for longer trips.
The stroller seat reclines so the child can sit or nap comfortably. Other interesting features of the gear include an extra-large UV 50 canopy, removable parent cup holder, front swivel wheels, suspension, large storage basket among others.
The stroller comes in handy during sightseeing trips on a family vacation.
Pros
Multiple positions reclining seat
Front wheels have a suspension mechanism
Cons

What to Look Out For When Buying A Travel Stroller
Travel strollers need to be compact so you can take them on trips while travelling with your little one. They need to be comfortable since the child will spend more time in it during the trip.
Here are some things to look out for before selecting a travel stroller:
Collapsible into a compact shape
Adjustable seats and machine washable covers
Why you Need A Dedicated Travel Stroller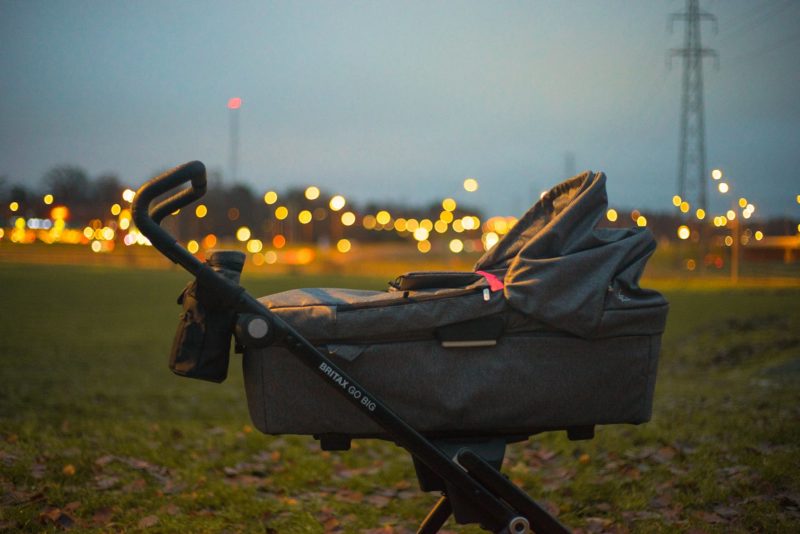 Traditional strollers are used for every activity, including travelling. Having travel strollers eases this process as they are lighter, compact and can fit into trunks, overhead compartments and more.
You would not want to burden yourself or your travel companions with dragging heavy strollers around.
Here are some things to consider while deciding on the best type of stroller for travel:
Traditional stroller: the regular strollers may look more attractive and cost-effective as they offer more features. These strollers have larger storage spaces, trays, cup holders, as well as large canopies. Others have wheels that are ideal for different terrains and can fit a car seat. The cons of this type of stroller for travel include weight and space. They are heavier and bulkier, and this can make storage a nightmare.
Umbrella stroller: these types are basically bare-boned and lightweight. However, they lack other features that ease their use. These strollers don't contain a cup holder and adjustable seats. Their canopies are skimpy with minimal seat support and cushioning. Lastly, they are foldable, but cannot fold small enough for overhead compartments. These factors make them unsuitable for travel. Rather, they are good for quick strolls.
Travel strollers: these strollers are known as lightweight strollers. They are the perfect balance between the umbrella and traditional style stroller. Travel strollers are lighter, easier to fold and also compact when collapsed. In the same vein, they have large storage baskets and sun canopies that traditional strollers have. Some other amenities include trays, extra cup holders and more.
Lots of parents have seen that travel strollers work as well as traditional strollers for daily use as it offers the lightweight advantage. Some other travel strollers are easily modified to fit car seats.
Conclusion
Going on a trip with your infant will be less stressful if you pick a good travel stroller. Whether you're going on a road trip, flight, or camping trip, a lightweight stroller comes in handy.
From the reviews above, you can make an informed decision and pick a good travel stroller that is tailored to your needs, budget or design.
This article was composed by a freelance writer.
---
Related articles:
Top 7 Best Vitamix Blenders To Use Today
Best Treadmills For Home Under $500
Top 13 Attractions To Visit In Danang, Hoi An & Hue (5 Nights)
18 Best Gifts For Photographers – Whether Professional Or Amateur
20 Best Gifts For Coffee Lovers [2019 Update]
Top 9 Types Of Food To Eat In Bali
81 Best Travel Quotes – Inspirational Travel Quotes To Live By