Traveling for most of the ladies is not an easy affair. I know, you have to pack loads of luggage to rock a trip. Because either on vacation or a formal business tour, you want your looks on point every single time.
And I can guess what scares you the most? Not picking the handy and compact styling tools to fit in your travel bags. On any trip, none of us want to whine about messy hair or a bad hairstyle. A hairdryer is an excellent buddy for stressed out hair on a trip.
Why should you accompany a compact and handy hairdryer with yourself? Because, you cannot bet on the hairdryers given by the hotel for styling hair, neither you could fit your heavy-duty hairdryers in your smart travel bag.
But don't worry, you can invest in a handy, compact, and a go-to hairdryer. Let's check out the latest and best travel hair dryers.
Note: This article may contain affiliate links.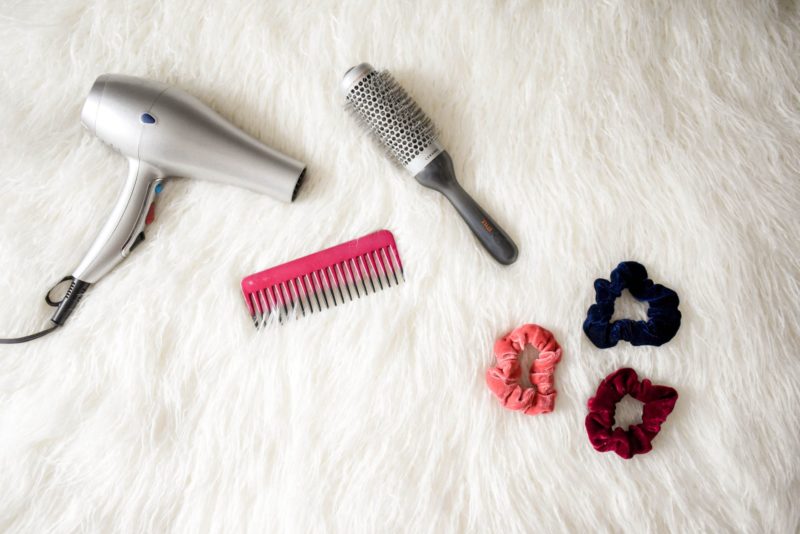 1. Revlon Compact Travel Hair Dryer
Revlon knows that it had given us a lot of mind-blowing products and it takes pride in its compact travel hairdryer as well. And why Revlon shouldn't give a pat to itself when most of its peers are loading their hairdryers with 1600-1850w motors. Revlon uses a 1875w engine in its travel hair dryer to stand out in the market.
A somewhat unique copper look of the Revlon compact travel dryer may not appeal to you. However, you will be head over heels to see your perfect bouncy and voluminous hair.
Revlon travel hair dryer contains triple ceramic coating along with the technology of ionic propulsion. Besides, it has two heat and speed keys with a cool shot. Its airflow condenser helps to a quick blow-dry.
At such a steal price, can you ignore this travel-friendly beauty? Not at all. Let's have a look at the fantastic features of Revlon Travel Hairdryer quickly.
Removable nozzle for a customized blow-dry
Foldable and compact handle
Inclusion of dual voltage technology
Airflow condenser for voluminous blow-drys

2. Philips 3-Speed Essential Travel Hair Dryer
Philips is undoubtedly one of the most beloved brands for hair styling tools. 3-Speed Essential Travel Hair Dryer by Philips also offers all the latest features you could ask in a compact dryer.
Its powerful 1600w motor creates a balanced airflow to produce terrific results at a faster pace. Have you seen those YouTube beauty blunder videos where girls burn off their hair while styling their hair?
That could happen with you too, but Philips gifts you with ThermoProtect technology.
By using Philips 3-Speed Essential Travel Hair Dryer, you will never burn off your hair due to optimal drying temperature function. Here are some of the attractive features of this terrific hairdryer.
Soundless hair drying experience due to the aerodynamic style of the nozzle
ThermoProtect role for hair health
Cool shot and low or no sound
Folding handle, easy to fit in the luggage
8m long electric cord with 1600w motor

3. Remington Compact Ionic Travel Hair Dryer, D5000
Our list of best travel hair dryers cannot be completed without Remington D5000 in it. This eye-catching hair dryer is lightweight and very easy to use.
Remington's latest ionic technology sways away the frizz from your hair even, in a humid environment.
This superb hair dryer has a powerful 1876w motor and a highspeed fan to work efficiently. Remington's D5000 is also energy efficient along with efficient performance.
By using the eco-mode, you can save energy while working on the beautification of your hair.
With all these excellent features, Remington also gives you a 2-year warranty. Here are the functions of Remington Compact Ionic Travel Hairdryer, D5000 at a glance.
Energy conserving eco-option
Ion Technology for hair conditioning
1876w motor for efficient output
Compact design for traveling
Three heat and 2-speed settings with a bonus feature of cool shot

4. Babyliss Pro Nano Titanium Travel Dryer
The Babyliss Titanium Hair Dryer has a foldable handle and a dual voltage technology which makes it a fantastic choice as a part of travel gear. It contains all the excellent qualities you would look in a reputed brand like Babyliss.
It has Nano Titanium technology with a 1000w motor with a natural ion flow to give your hair natural shine.
What does that titanium have to do with Babyliss' travel hairdryer? Titanium is one of the most durable elements, which is good news for you.
Your titanium-made Babyliss hairdryer is going to accompany you on your trips longer than expected.
Besides that Babyliss Pro Nano Titanium travel hairdryer is designed to give a super quick bouncy finish to your hair. Let's get to know the salient features of our beloved Babyliss PRO Nano Titanium Hairdryer.
Latest Nano Titanium Technology
Two options for heat and speed

5. Professional Ionic Hair Dryer by the Chic Republic
The Chic Republic may not be a big brand in the hairstyling world, but this hairdryer looks a lot promising due to its features.
This hairdryer offers all the fabulous features you need to create fantastic looks. Chic Republic hairdryer claims to leave a natural shine in hair. Besides that, you don't need to look at a usual scale to know the temperature of the airflow.
The Chic Republic hairdryer has an LED light indicator that enables you to check airflow. The blue light indicates cold air which seals moisture in your cuticles, making your hair lustrous and shiny.
It is designed to give an efficient blow-dry at a high-performance airflow that, doesn't damage the natural structure of the hair. Using modern technology, it comes in a compact size with two diffuser nozzles.
You can use these nozzles to customize your styling needs while it's precise design makes it your best travel hairdryer. You can style, straight, and dry your hair to complete your look. Let's see what else it offers to the chic ladies.
Handy and lightweight, excellent for traveling
Chic Republic's guarantee

6. JINRI Foldable Hair Dryer
Jinri's foldable hairdryer is a space saver in your travel bag. It has a foldable body with a dual voltage power to give high-performance blow-drys.
"All good things come in cute and compact packages," inspired from a classic saying should be Jinri's tagline for this travel hairdryer.
Equipped with a DC motor of 1875 watt, and a lightweight folding body, this fantastic hairdryer will transform your hair from stunning to perfect in seconds.
Jinri travel dryer has a ceramic-Tourmaline air outlet grill to tame down the curly hair. You don't need to be afraid of humid weather to frizz away from your hair. What else could you want in one package!
With all these features, Jinri's dryer would make its way to your bag, but an unhappy customer can also claim a refund or replacement directly from Jinri.
It gives a one-year straight replacement and a 2-year warranty claim to the customers. Let's check out all the exciting features in Jinri hairdryer quickly.
1875w High-power DC motor
Two heat setting options; 125V and 250V
Ceramic-Tourmaline passage for airflow
Detachable air concentrator

7. Conair Compact Folding Handle Hair Dryer
Conair Folding Hair Dryer is specifically designed for the travel bugs. It's easy to transport, handy and has a dual voltage power to style hair effortlessly.
Conair blow dryer can be folded to use less space in your suitcase or purse. It has two heat and speed options to enhance your hair styling experience. This hair dryer has also attached a 5′ ft cord to use it with complete ease.
Unlike the other high-priced branded variants, Conair folding hairdryer does not has fancy features, but it offers a steady performance. Let's check out the main features:
Lightweight and compact, perfect for outings
Dual voltage for efficient performance
Two setting options for heat and speed
5'ft cable wire for easy usage

8. Andis 1875 Watt Fold-N-Go Hair Dryer
Andis Fold-N-Go is one of the highly recommended travel hair dryers due to its negative ion hair conditioning technology. It has a sleek, compact, and lightweight design which justifies its Fold-N-Go claims.
With the inclusion of high-end technology, Andis has also focused on Fold-N-Go chic design. Black and silver body with foldable can smoothly go with your chic accessories. Let's check out the animated features of Andis Fold-N-Go travel hairdryer.
Retractable electric cable with folding handle
1875w and 250 volts energy consumption
Tourmaline and negative ion technology
Cool shot to seal the hairstyle

It is so fascinating to see a long list of fantastic travel-friendly hairdryers. But it's up to you what hairdryer will make its way to your backpack.
You can choose your traveling stylist by comparing the features of all these hairdryers. Hopefully this list of best hair dryers would be useful for you.
This article was written by a freelancer.
---
Related articles:
Best Laptops For Streaming And Buying Guide
Top 8 Gifts For 10-Year-Old Boys: Buy Some Cool Presents Today!
Top 8 Gifts For Writers – Best Presents For Writers Today
18 Best Gifts For Photographers – Whether Professional Or Amateur