Malacca is one of the better towns in Malaysia to actually have a food trip. There are lots of good food in Melaka but they may not be in obvious places.
Here are some of the best food in Malacca that you should try based on personal opinion. By the way, Melaka and Malacca is the same thing, but recently the state wants 'Melaka' to be the official use.
This list of food to eat in Malacca is not exhaustive, and mainly covers what I've personally tried.
1. Daily Fix Cafe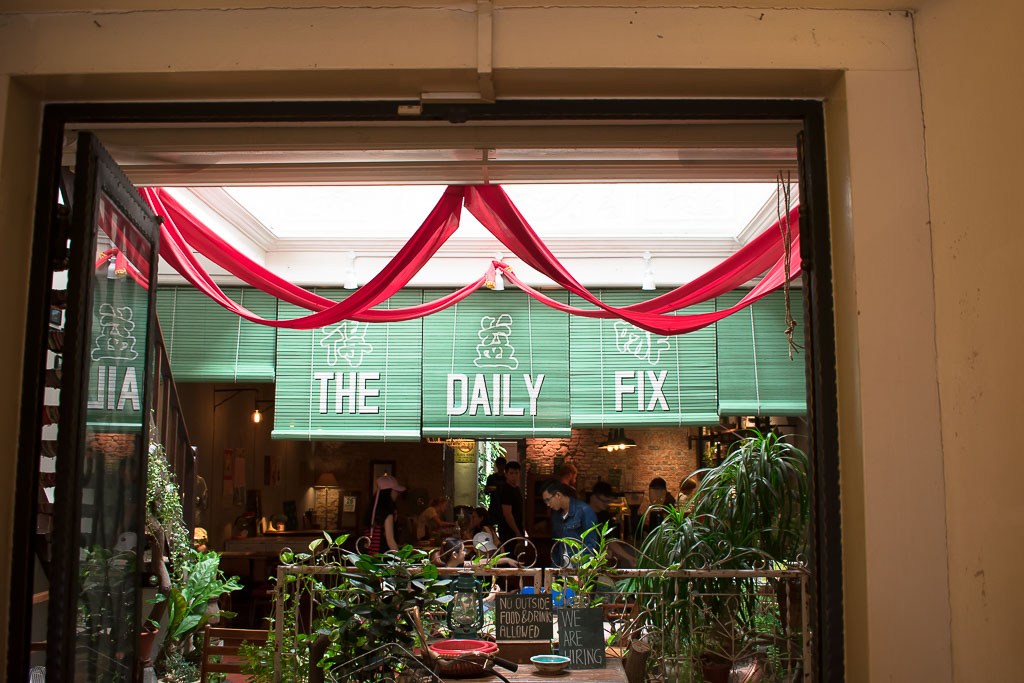 Daily Fix Cafe is rated one of the top food places on Trip Advisor and it's not surprising. It's a cafe located on Jonker Street but the entrance isn't that obvious. You have to enter a souvenir shop and it's located at the back of it.
The decor is pretty awesome and definitely good enough to be on your Instagram feed. The food is also quite good and they specialize in their pancakes.
Their pandan pancake with gula melaka and their banana pancake is really good. Fluffy and just right. They also have main courses like all day breakfast that are quite delicious.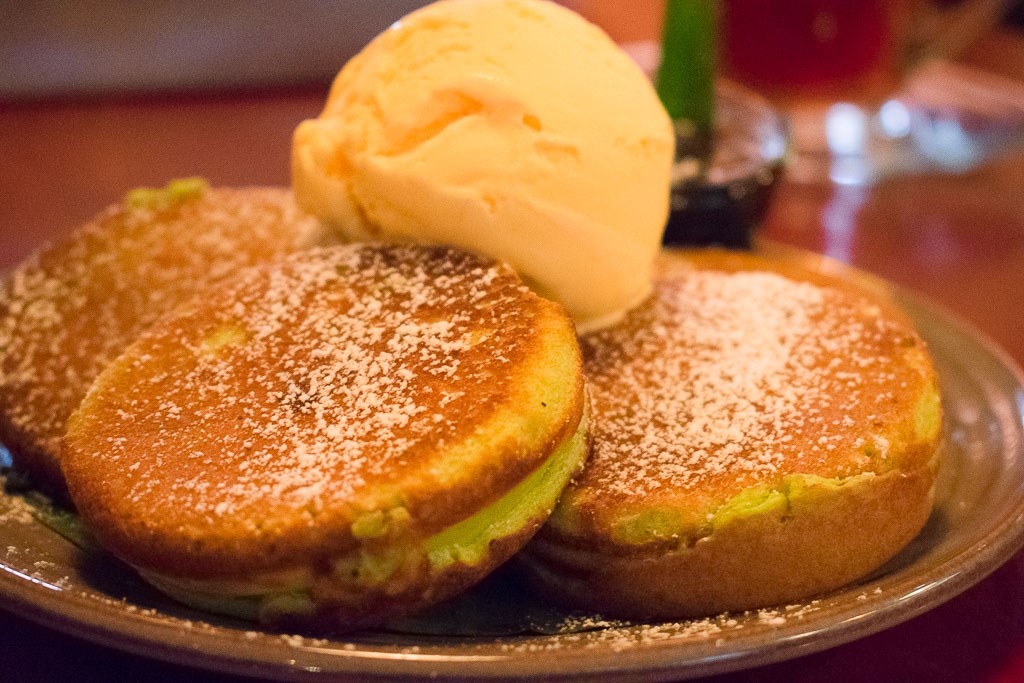 I actually wrote about The Daily Fix Cafe here.
Location: 55, Jalan Hang Jebat, 75200 Melaka
2. Tong Sheng Restaurant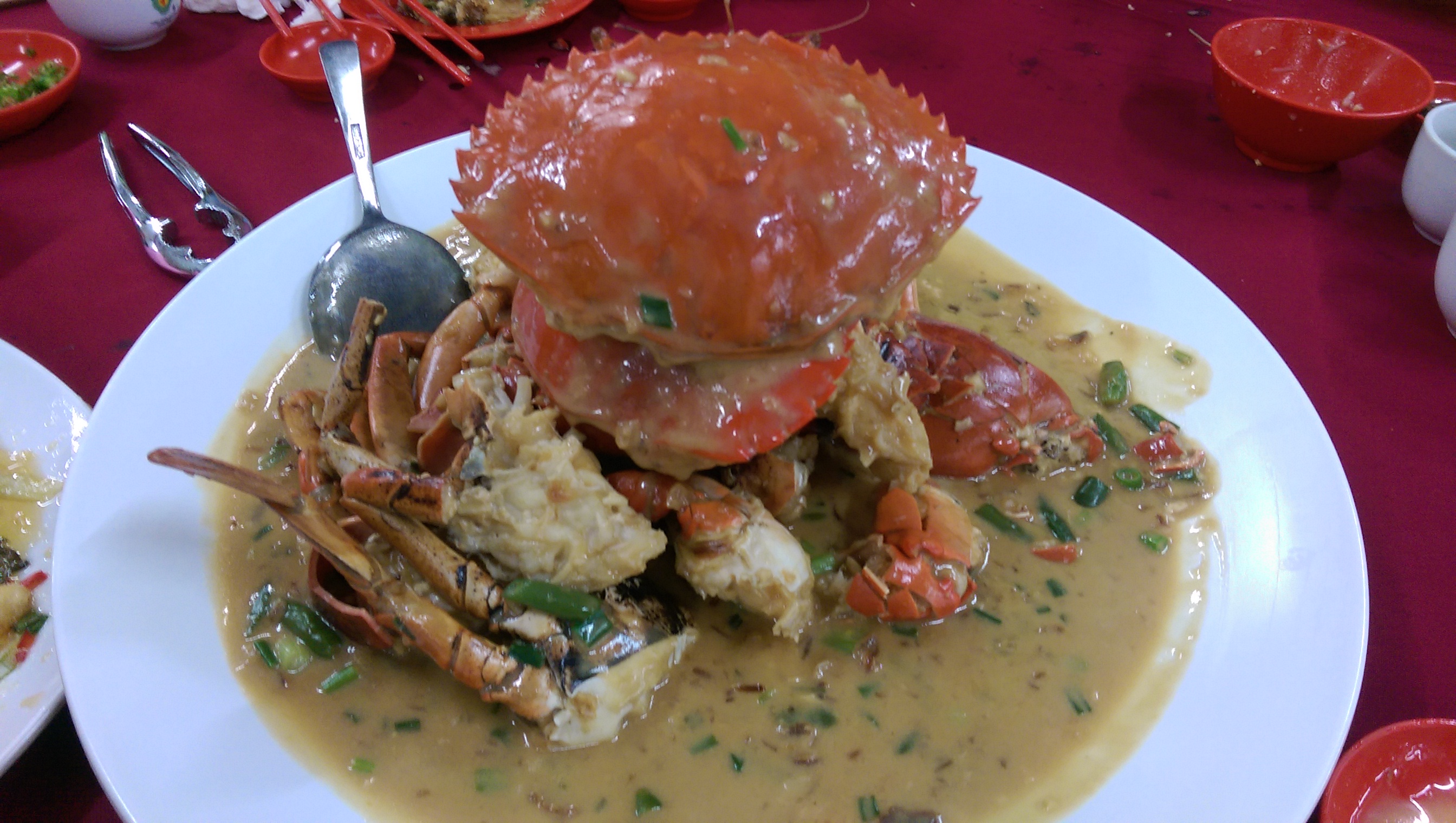 If you've been to Melaka Raya and see the long queue, you may have seen Tong Sheng restaurant. They specialize in their crabs and cheese beehoon with big prawns. They have a few other great dishes as well.
You normally have to queue a long time before you get to actually sit down, and probably wait again before your food arrives. It's definitely one of the better food places in Melaka.
Location: No. 377 & 378, Taman Melaka Raya, 75000 Melaka
3. Modern World Restaurant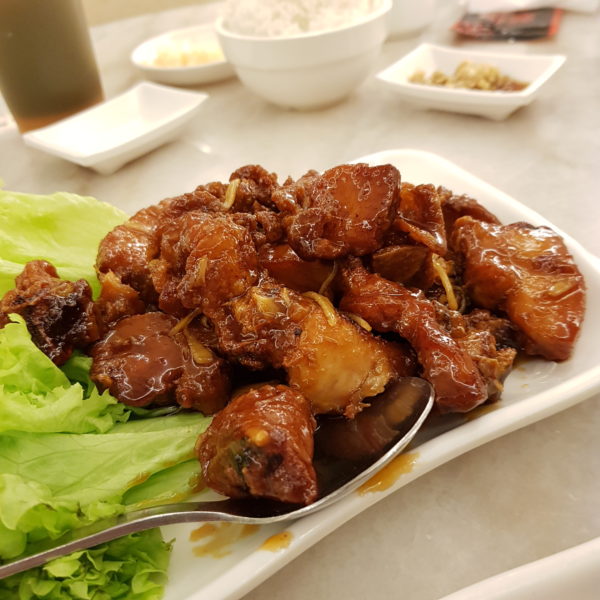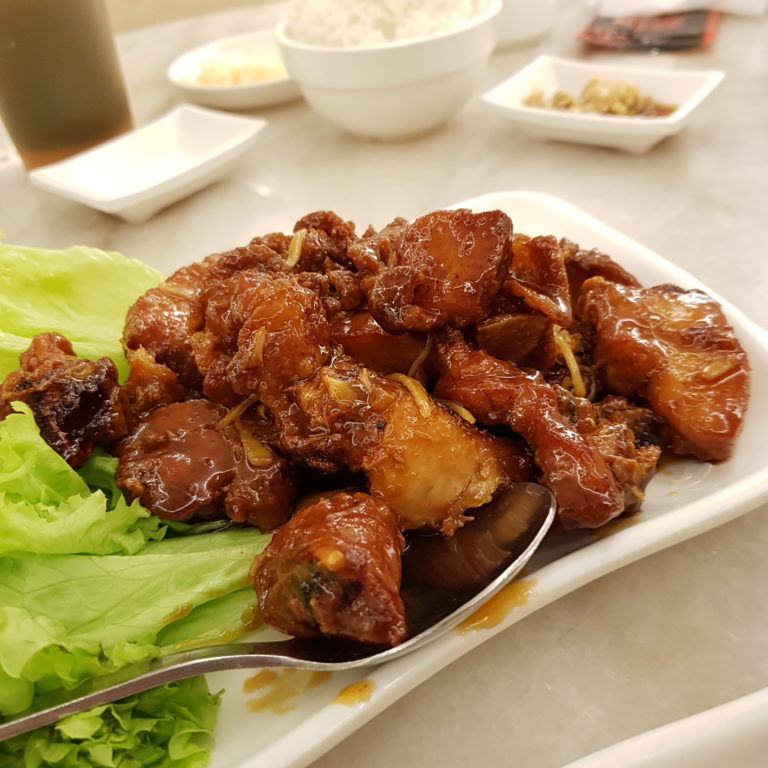 Modern World Restaurant specializes in Chinese food and they are located on the same row as Simply Fish, Siam Recipe and Ichi Zen.
The food is generally more expensive but the quality is definitely there. Do give it a try if you're in Melaka.
Location: No 12, Jln KSB 1, Taman Kota Syahbandar, Melaka
4. Ban Lee Siang Satay Celup
You never really visited Melaka if you never tried satay celup here. There are 2 popular ones, mainly Capitol satay celup and this one. I think it's easier to get a seat at Ban Lee Siang satay celup, so I chose to feature this one instead.
It's located at Ong Kim Wee road, and you'll see two stores both under the same name. They're actually different, i.e. they're owned by different brothers. Apparently they were together once but have now split up and operate separately. I would think both stores are equally good.
Location: 45-E, Jalan Ong Kim Wee, 75200 Melaka
5. Hee San Cafe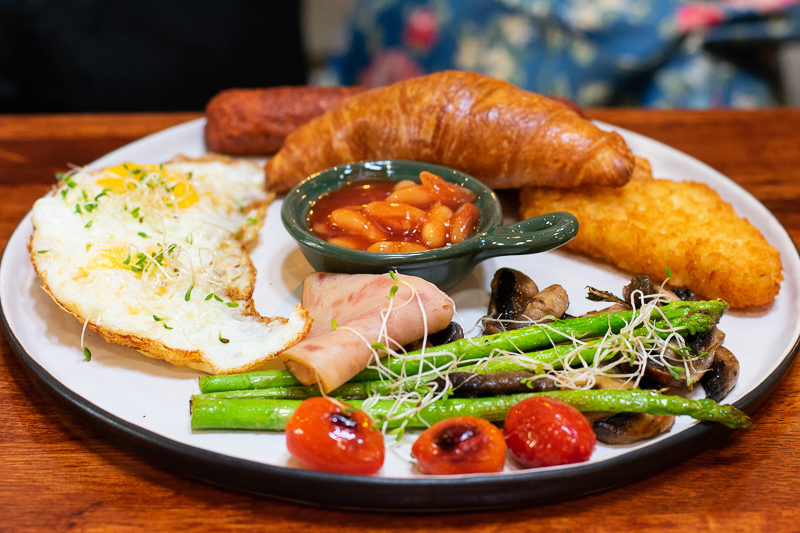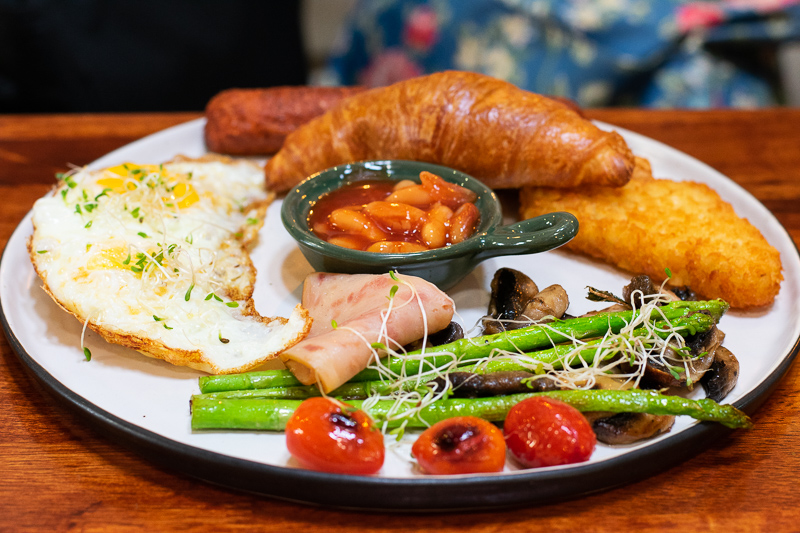 From the owners of Backlane Cafe, came Hee San Cafe. It's located on Jonker Street, pretty close to Daily Fix.
The decor of the place is actually quite nice and is suitable for taking photos.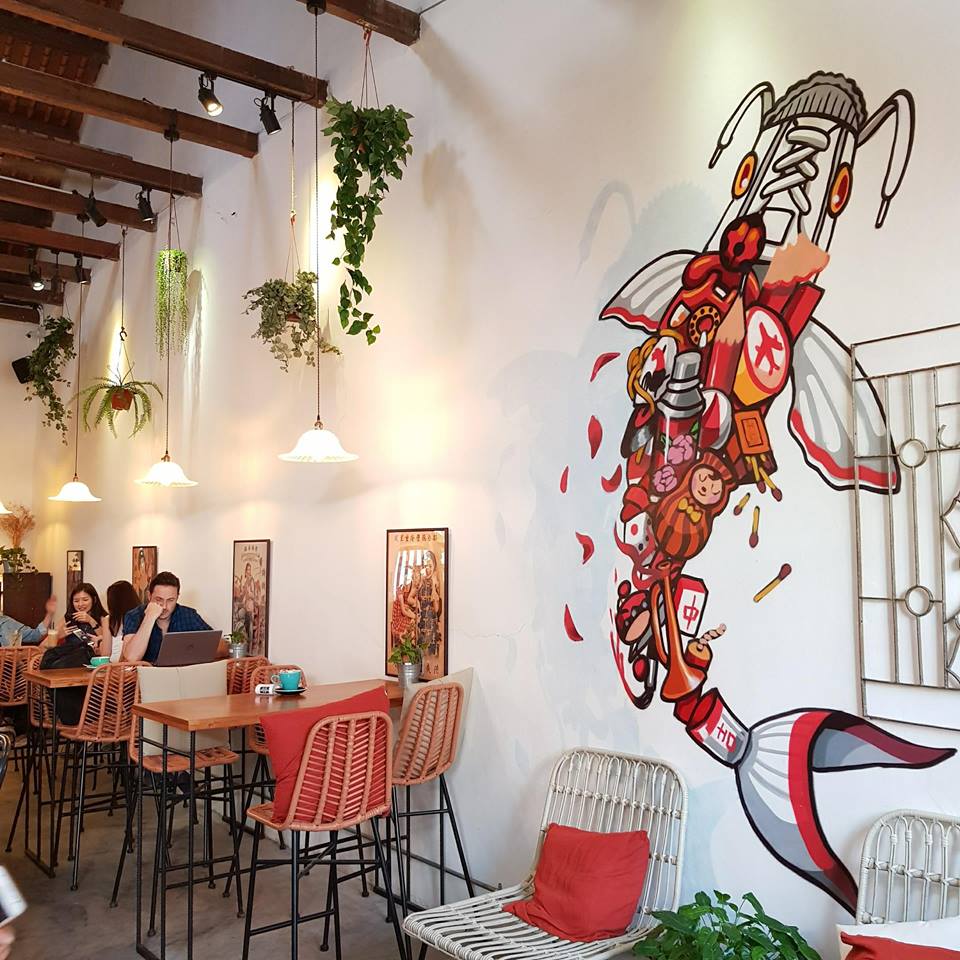 They have an extensive food menu, unlike their other cafe, and the food presentation is not bad as well. It's one of the few cafes I would recommend in Melaka right now.
Location: 100, Jalan Hang Jebat, 75200 Melaka
6. Donald and Lily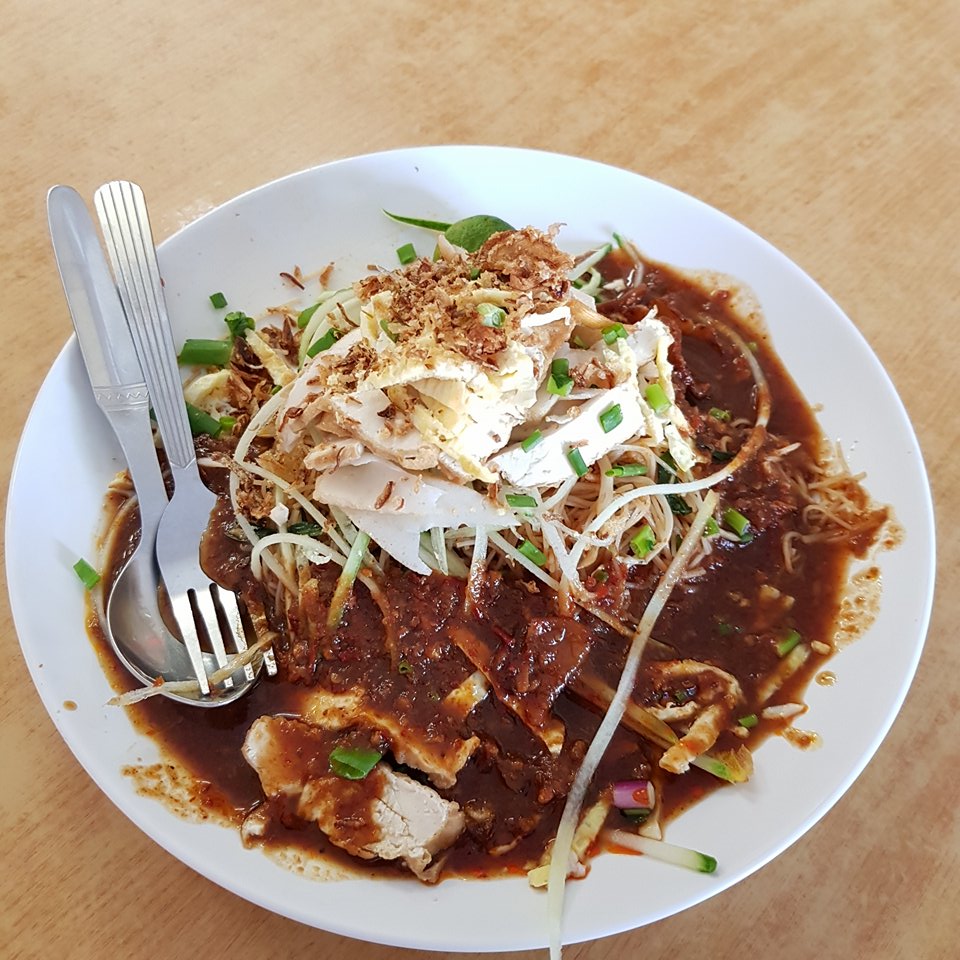 Donald and Lily is a Nyonya restaurant / cafe that specializes in their one-dish meals. Their nasi ketuk with chicken is pretty awesome, not forgetting their mee siam and cendol.
If you go on weekdays, the crowd should be okay. Weekends are a different beast altogether. You may have to queue sometimes.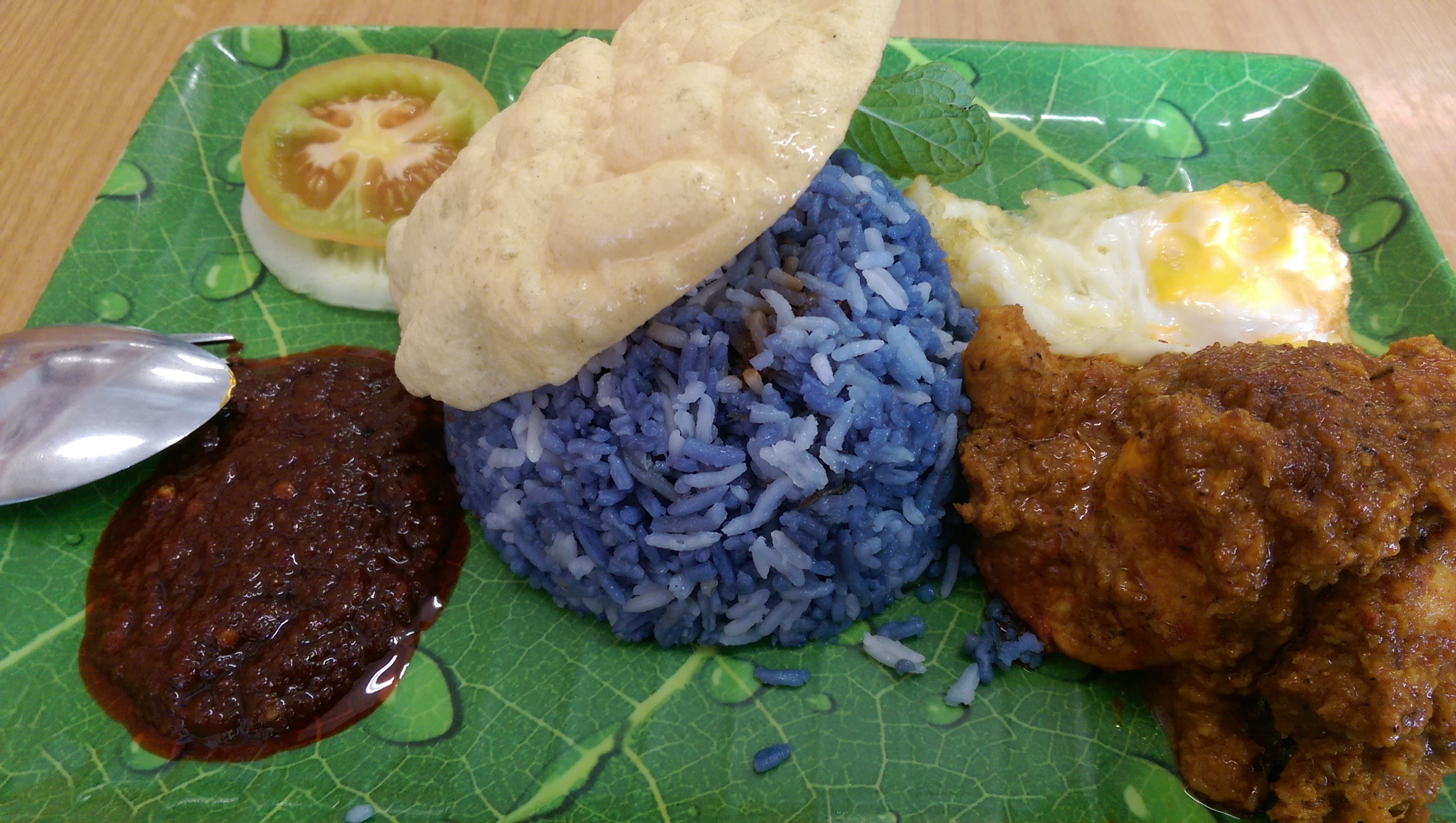 They used to be located at the back of Heeren Street but have since moved to Kota Syahbandar. It's near Simply Fish and Ichizen.
Location: No. 16 Ground Floor, Taman Kota Shah Bandar 75200, Jln KSB 1, Malacca
7. Pak Putra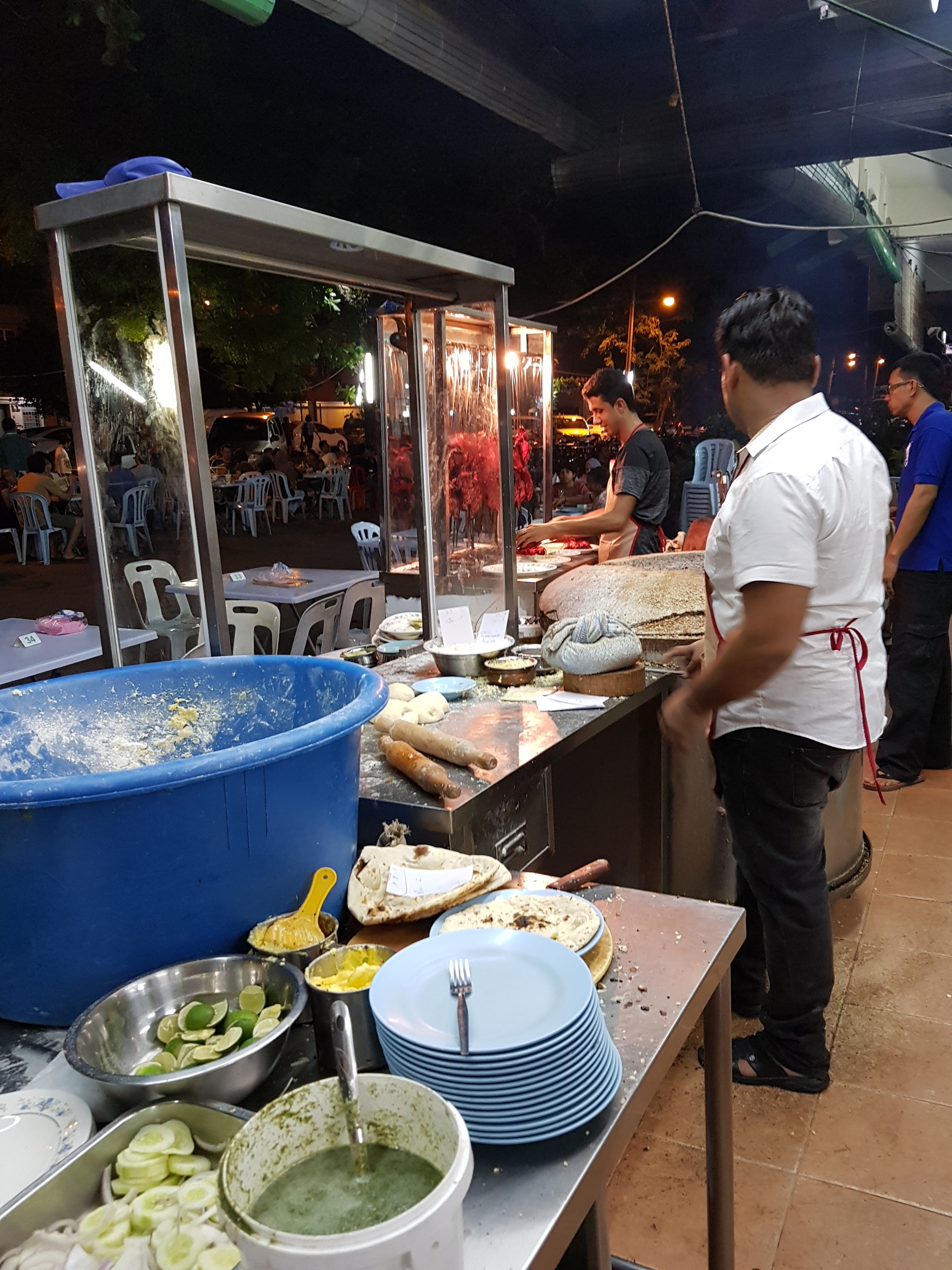 Pak Putra is my favorite on the list and the place I frequent the most in Melaka. It's also one of the most popular food places in Melaka. Whether it's a weekday or a weekend, it will always be crowded and it's only open in the evening till midnight.
They are famous for their naan and tandoori which is moist and delicious. They also have a spread of other dishes including Palak Paneer (spinach), Chicken Pasanda, Bombay Chicken and Fish Koliwada. It's a must-eat place in Melaka.
Location: Taman Kota Laksamana, 75200 Malacca
8. Hakka Zhan Restaurant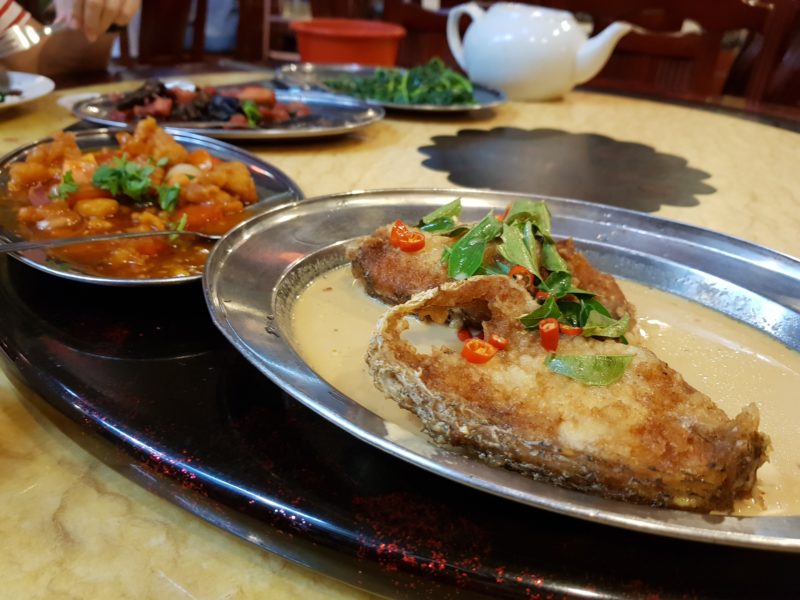 Not far from Pak Putra, you'll find a Hakka restaurant called Hakka Zhan. They probably have 2 or 3 branches in Melaka and their food is actually pretty good. They specialize in good soup (perhaps pork / beef / innards) and their butter milk fish is to die for.
It doesn't have many tables so it can get crowded pretty fast. Generally their food is pretty delicious.
Location: 76, Jalan Laksamana 5, Taman Kota Laksamana, 75200 Melaka
9. Soon Hiong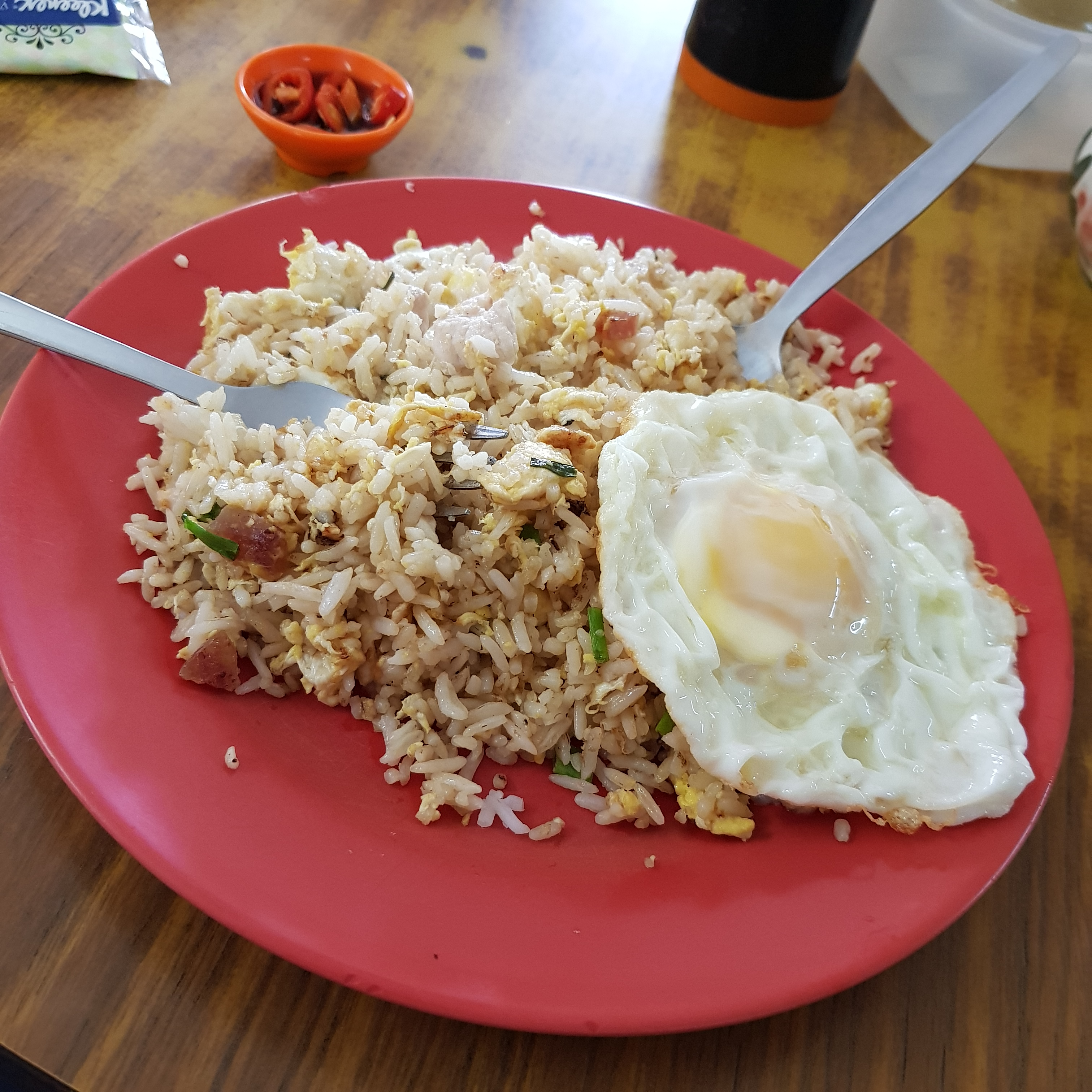 Opposite of Hakka Zhan, you'll find a restaurant called Soon Hiong. It looks a little old but the food is still good. Their fried rice with egg, vege rice and kaya butter toast is delish. It's only open in the morning and in the afternoon.
You'll find a lot of office workers or blue collar workers eating there. If you can tolerate the sometimes sub-par service, then the food is definitely worth it.
Location: 112, Jalan Taman Kota Laksamana 6, Taman Kota Laksamana, 75200 Melaka
10. Toast n Toast Cafe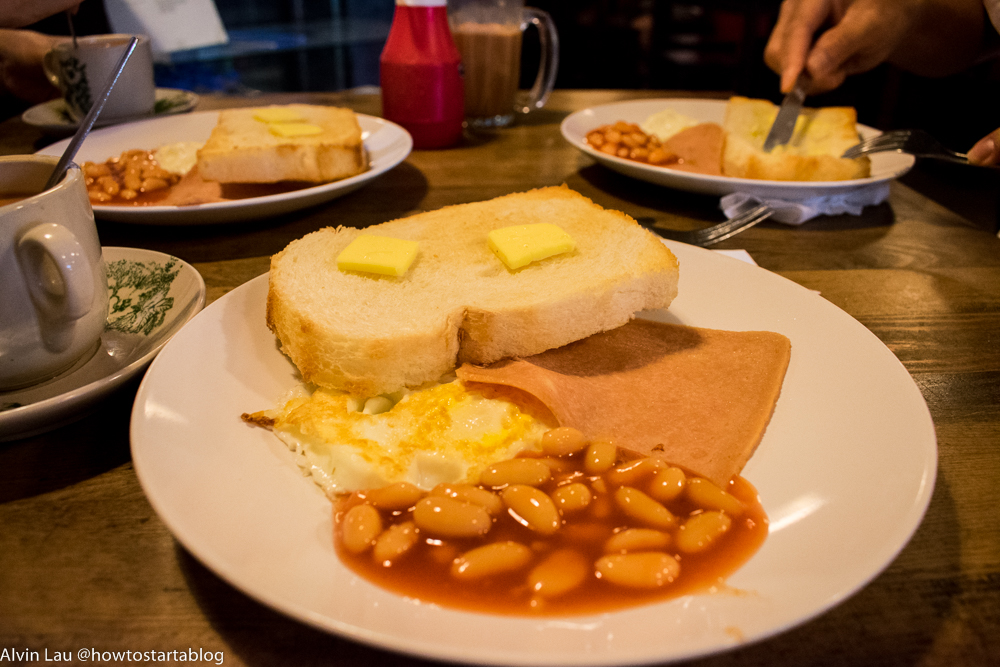 Toast N Toast is an ideal place for breakfast food. They serve many variants of toast, like curry bread with toast, scrambled egg toast, milo toast and all kinds of different styles. They also have fried stuff, like fried rice and mee siam if you don't like to have toast in the morning.
They have a branch in Melaka Raya and another at Batu Berendam.
Location: 513, Jalan Melaka Raya 12, Taman Melaka Raya, 75000 Melaka
11. Limbongan Chicken Rice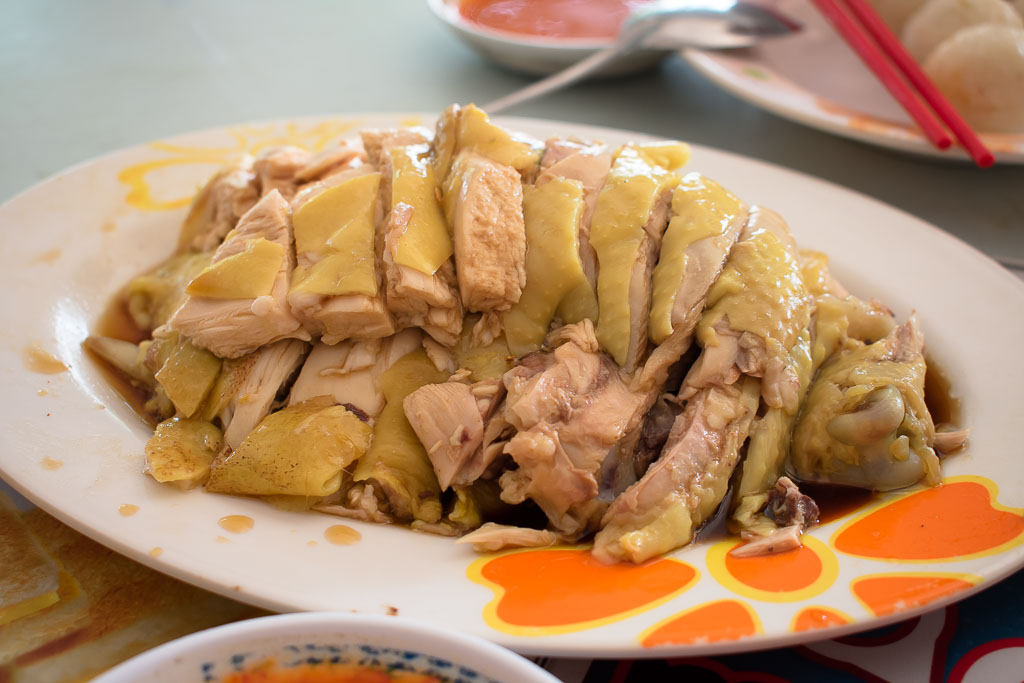 One of the top breakfast food in Melaka is probably chicken rice balls and you can find them at Limbongan. This stall is already very popular and is crowded on most mornings. It's actually a stall in a food complex.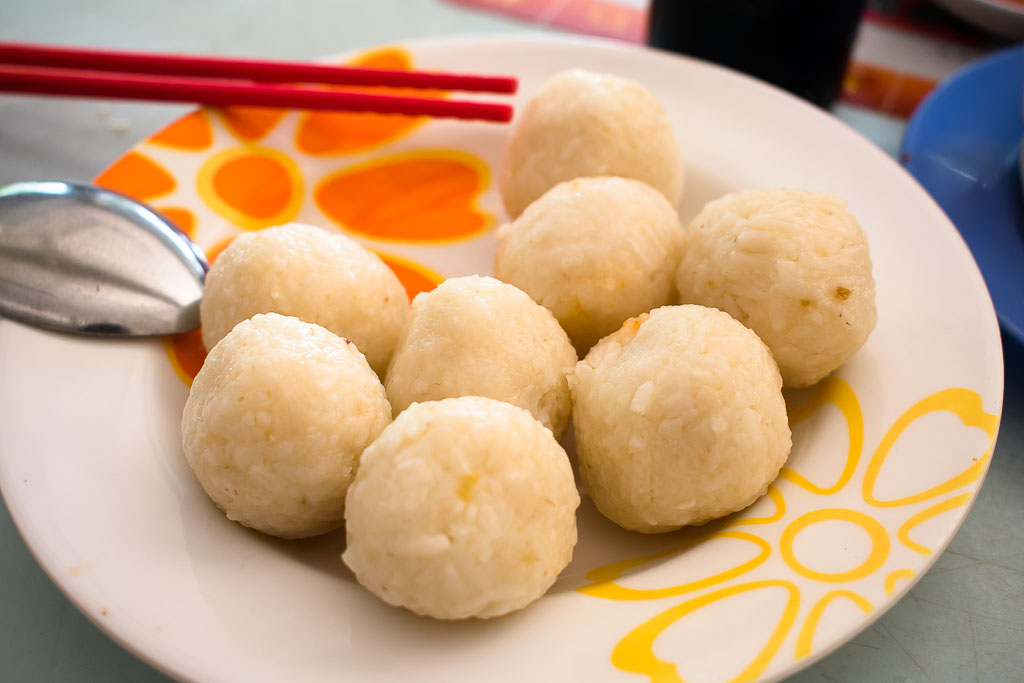 Their chicken is pretty tender and the chicken rice balls aren't as big as those in Muar.
Location: 3123C, Jalan Limbongan, Kampung Limbongan, 75250 Melaka
12. Limbongan Roti Canai
Right beside the chicken rice ball stall, you'll see the roti canai stall. The roti canai there is one of the best I've tried in Malacca. It's crispy if you get the newly made ones, but even if it's not, it tastes better than most roti canai.
Their side dishes are fish curry (siakap or pari), kambing (goat) and sotong (cuttlefish).
Unfortunately for you, you can't order from both stalls. If you sit at the chicken rice ball side, you can only order from the stalls there, and if you sit at the roti canai side, then it's only roti canai.
Location: Same as above
13. Sid's Pub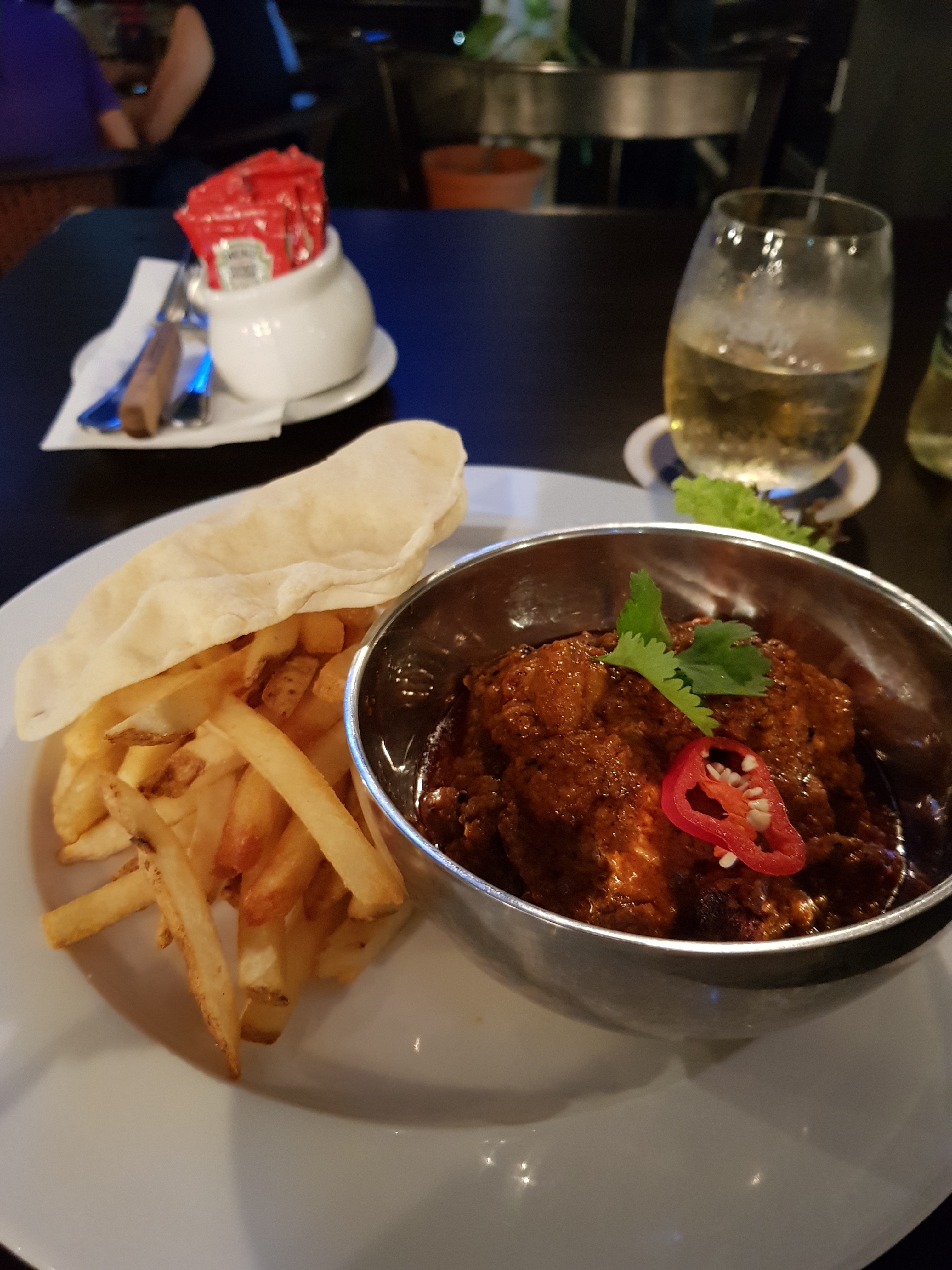 Sid's Pub is located at where Harpers used to be. It's facing the Melaka river and it's basically at the doorstep of Jonker Street. It's on the same row as H&M Jonker.
Sid's Pub serves English food and since Indian food is common in the UK, it also has Indian food on the menu. It's a good place to hang out with your friends over some beer or other alcohol. The food isn't cheap, but I guess you're paying for the ambience.
Location: 2, Lorong Hang Jebat, 75200 Melaka
14. Wazen Japanese Restaurant
Wazen is probably the top or one of the best Japanese restaurants in Malacca. Their food is quite affordable and the quality of the food is definitely there. Value for money is all I can say.
With good food comes the issue of needing to make a reservation for most nights. Their restaurant is always crowded so you gotta make a reservation earlier. They are also partners with S-19 Mixx, so you can go to S-19 and try some of their sushi, but it's a limited menu.
Location: 38, Jalan Melaka Raya 15, Taman Melaka Raya, 75000 Melaka
15. Asam Pedas Claypot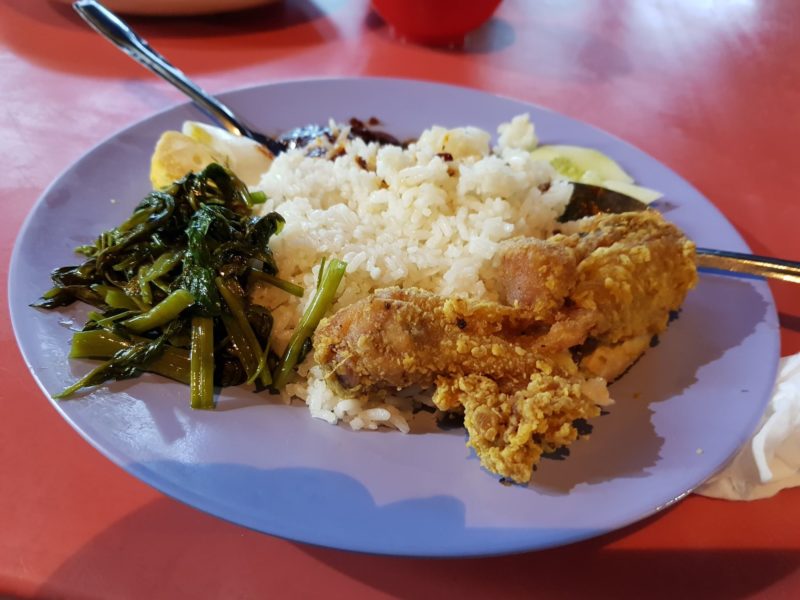 If you want some Malay food, then hop over to Asam Pedas Claypot. It's located near Hakka Zhan and it's pretty huge so you won't miss it. They pretty much occupy the street.
They have asam pedas of course, and other types of food like roti john, roti canai, chicken rice and otak-otak. If you're not a fan of asam pedas, maybe you can try their nasi lemak with chicken. It's quite good.
Location: 86, Jalan Laksamana 5, Taman Kota Laksamana, 75200 Melaka
16. Ikan Bakar Alai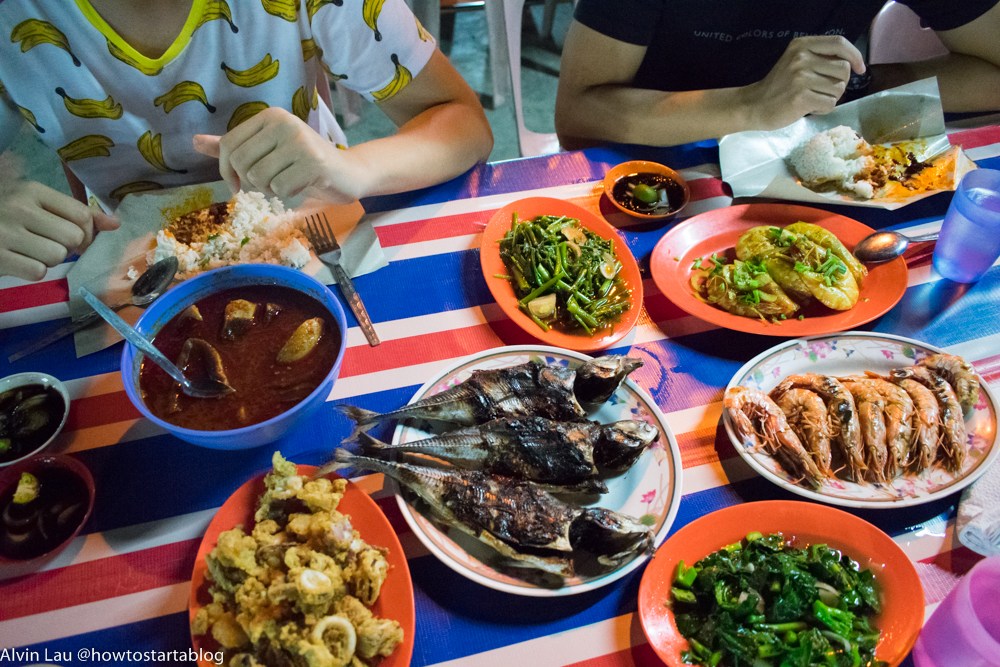 If you want some good ikan bakar, you may have to go to Alai. It's a little far from town but it's worth the journey. Basically you have to pick which seafood you want and what style you want them to cook the seafood.
There are plenty of ikan bakar stalls at Alai and I find them rather similar. The sotong goreng tepung is definitely one of my highlights there. You can check out the full post here.
Location: Mukmin Ikan Bakar Alai, Jalan Alai Perdana 8
17. Res Porridge House
What's nice at Res Porridge House is more of the dishes rather than the porridge itself. Their deep fried fish, pork and seafood yu char kueh are really good.
They are usually crowded though, so you may have to wait for a seat.
Location: No.129, Jalan Melaka Raya, Taman Melaka Raya, 75000 Melaka
18. Simply Fish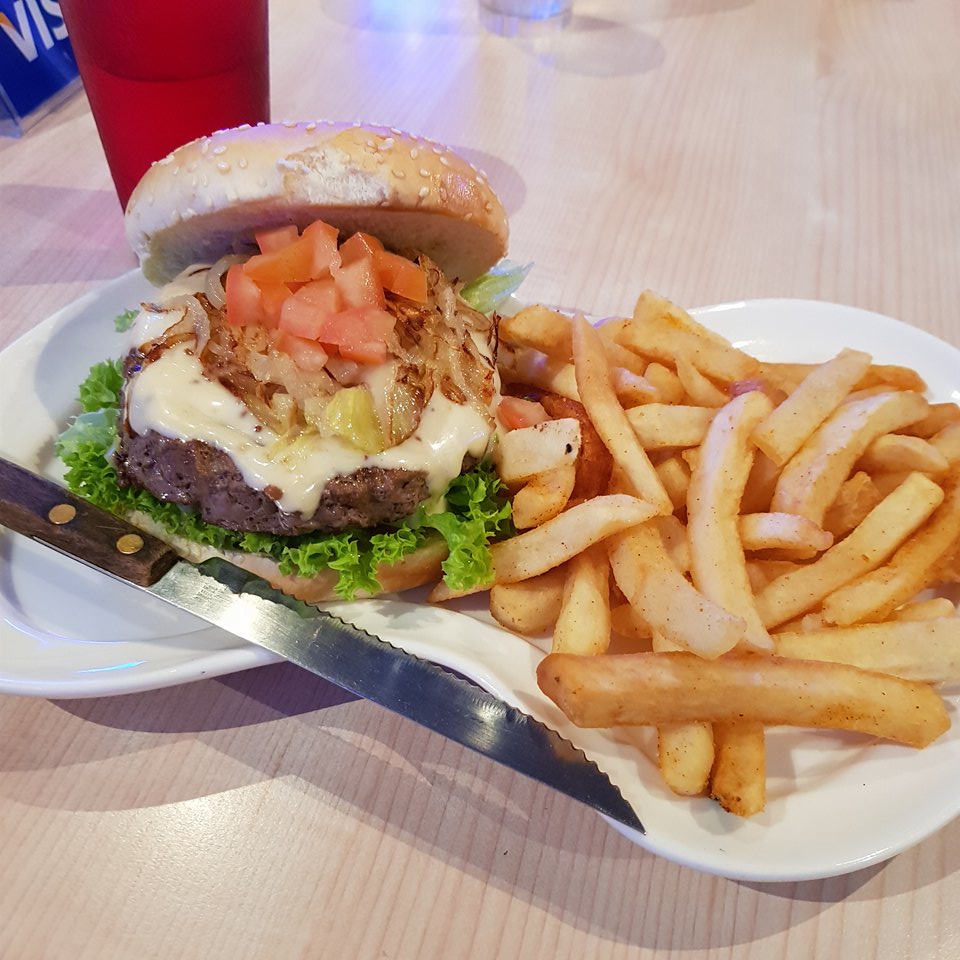 If you're looking for Western food in Melaka, maybe Simply Fish might be suitable for you. As the name suggests, it has quite a lot of seafood dishes. Their classic fish and chips is pretty good.
They also have non-seafood items and personally, I like the Bistro burger. You can find them at Kota Syahbandar and Melaka Raya.
Location: Jln KSB 1, Melaka
19. Morganfields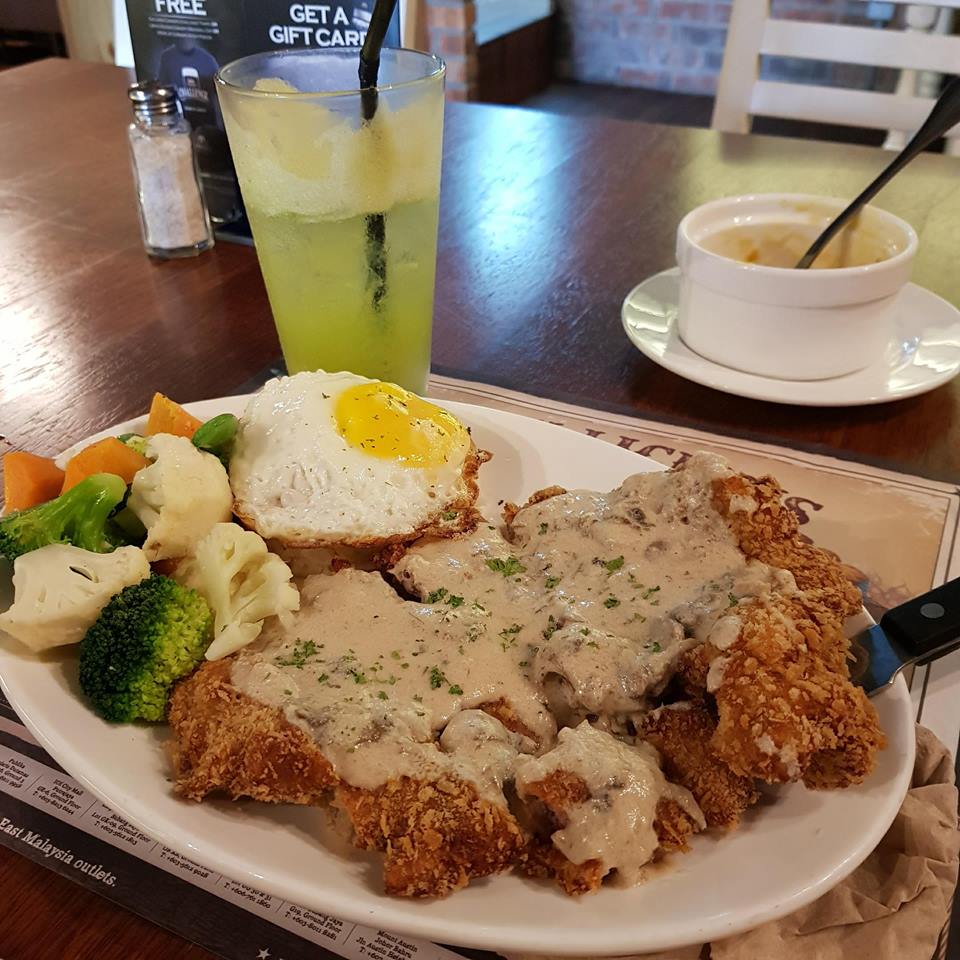 I think Morganfields Malacca needs no explanation. It has plenty of branches all over Malaysia and it's obviously non-halal. They serve a lot of pork and are well known for their huge platters.
The portion is quite big but I think it's worth the money. They have one branch in Melaka, i.e. at Kota Syahbandar. It's near Movida if you know where it is.
Location: Jln KSB 12, Melaka
Edit: This joint may have closed down in Malacca.
20. Klebang Coconut Shake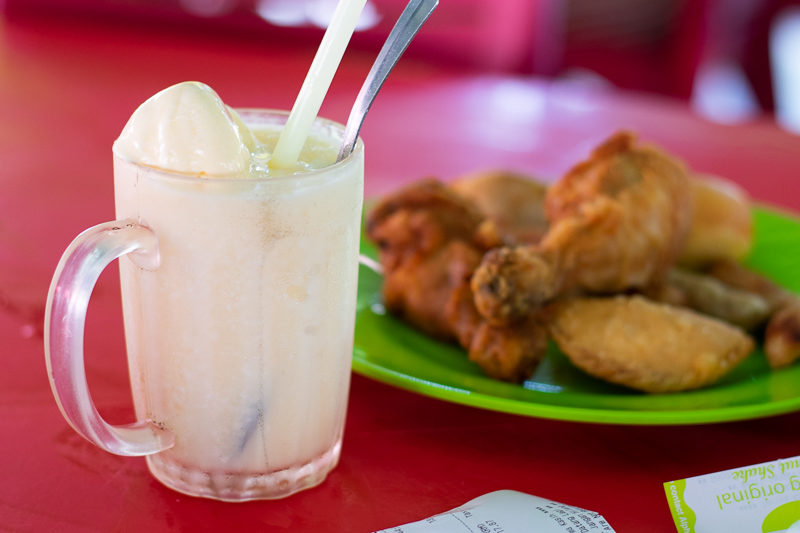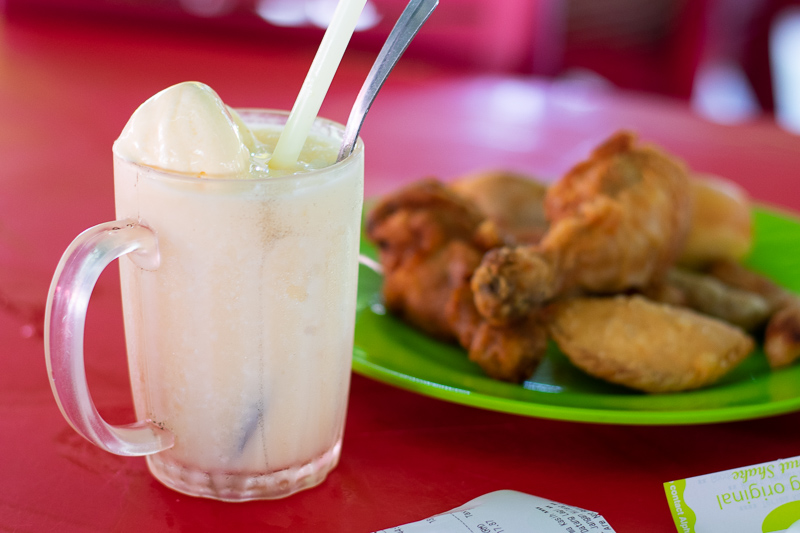 Coconut shake is a highly popular drink in Melaka for the past few years. At Klebang Original Coconut Shake, you can have the regular coconut shake or the special with extra ice cream. I think what's great is that they sell all kinds of food as well.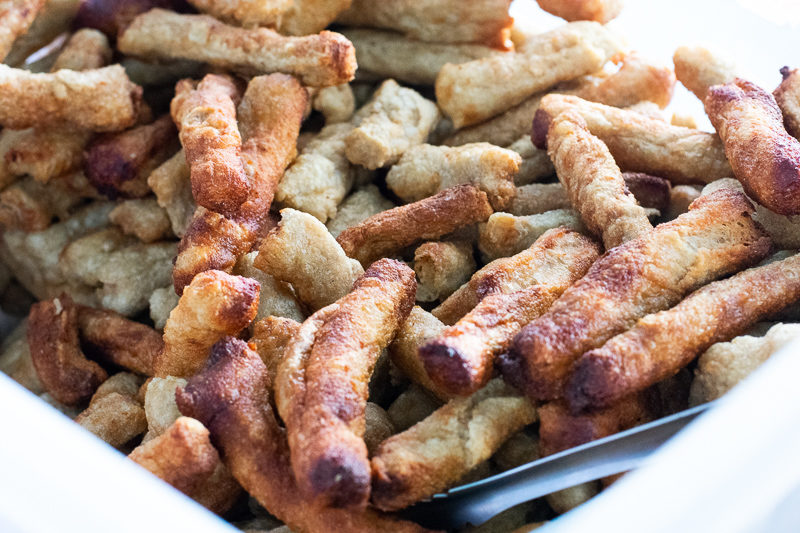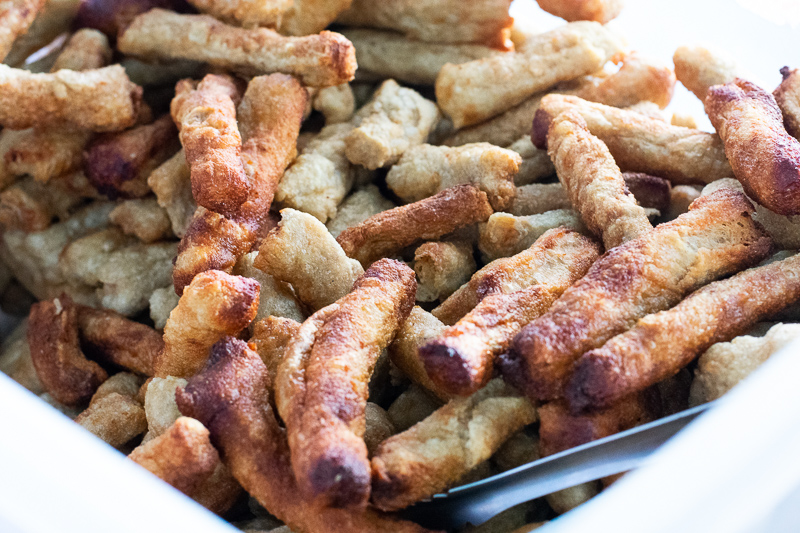 This is their keropok lekor.
Most of them are light eats like kuih and nasi lemak. It's pretty crowded on weekends.
Location: Lot 130 Solok Kampung Bahagia 75200 Melaka
21. Bei Zhan Restaurant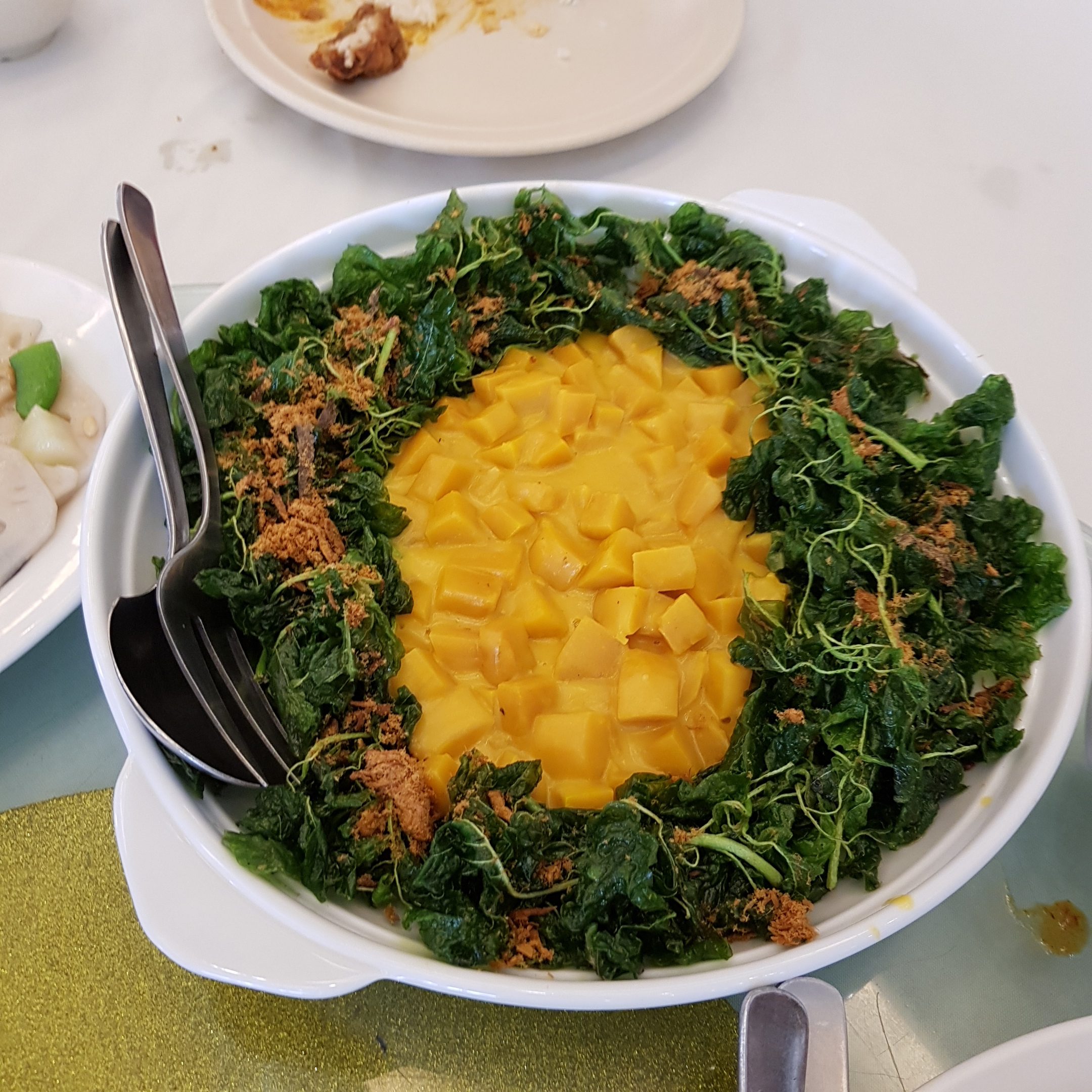 If you're looking for decent Chinese food in a nice ambience, then Bei Zhan is for you. It's located at a big cross junction before you cross the bridge to Melaka Raya. So you won't miss it.
The place is quite huge and decorated well. The food is also quite decent and I can say that for all of the dishes I've tried.
Location: No. 43 Jalan Kota Laksamana 2/17, Taman Kota Laksamana Seksyen 2, 75200 Malacca Town
22. Ramada Plaza Zest Restaurant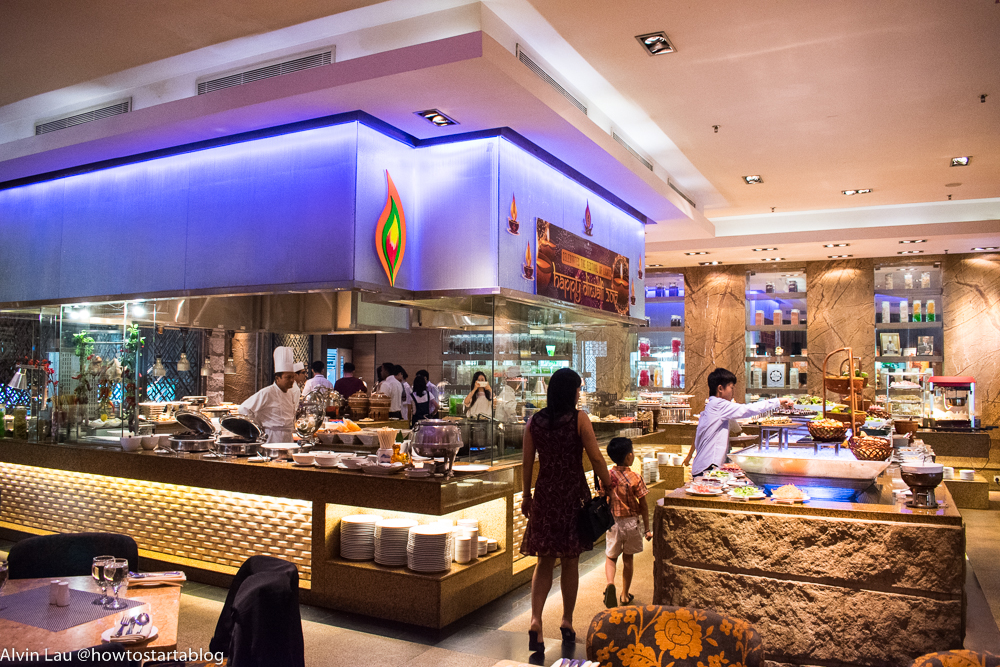 This one is different from the rest as it's a hotel buffet. I think Ramada Plaza has the best hotel buffet in Melaka but I may be wrong. You can find great seafood here on a Friday night and it's more expensive of course.
Location: Jalan Bendahara, 75100 Melaka
23. Nadeje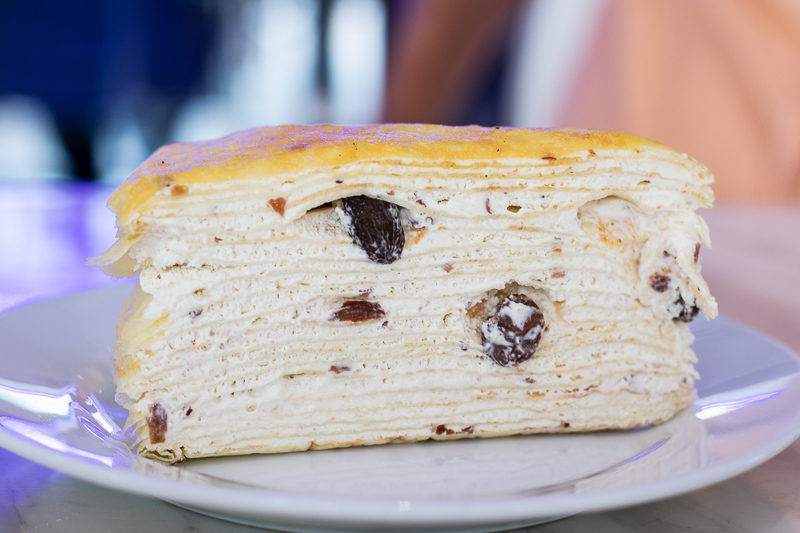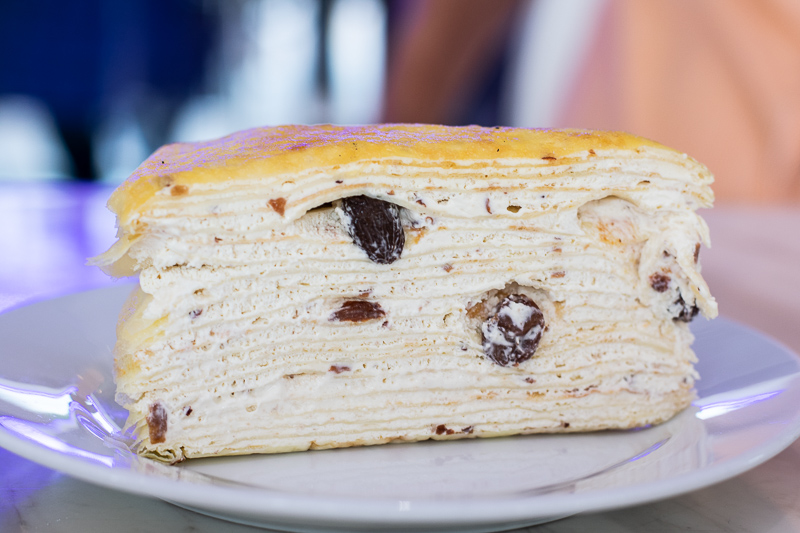 Yes, Nadeje started in Melaka at the Plaza Mahkota area but has since branched out to KL as well. They are popular for their thousand layered cakes (sorta like crepes) and they learnt it from Japan if I'm not mistaken.
They also serve main courses in the Mahkota Parade branch, so it's not only about cakes.
Location: Mahkota Parade, 75000 Melaka
24. Bonani Restaurant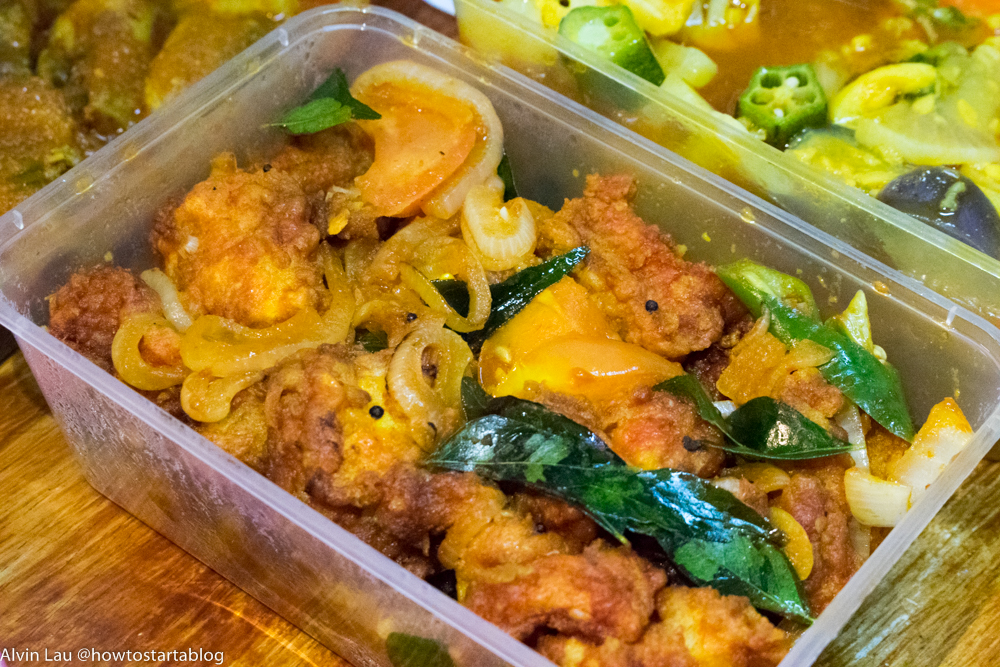 Bonani is one of the most underappreciated Indian restaurants in Melaka. The quality of food there is easily better than most Indian restaurants I've ever patronized.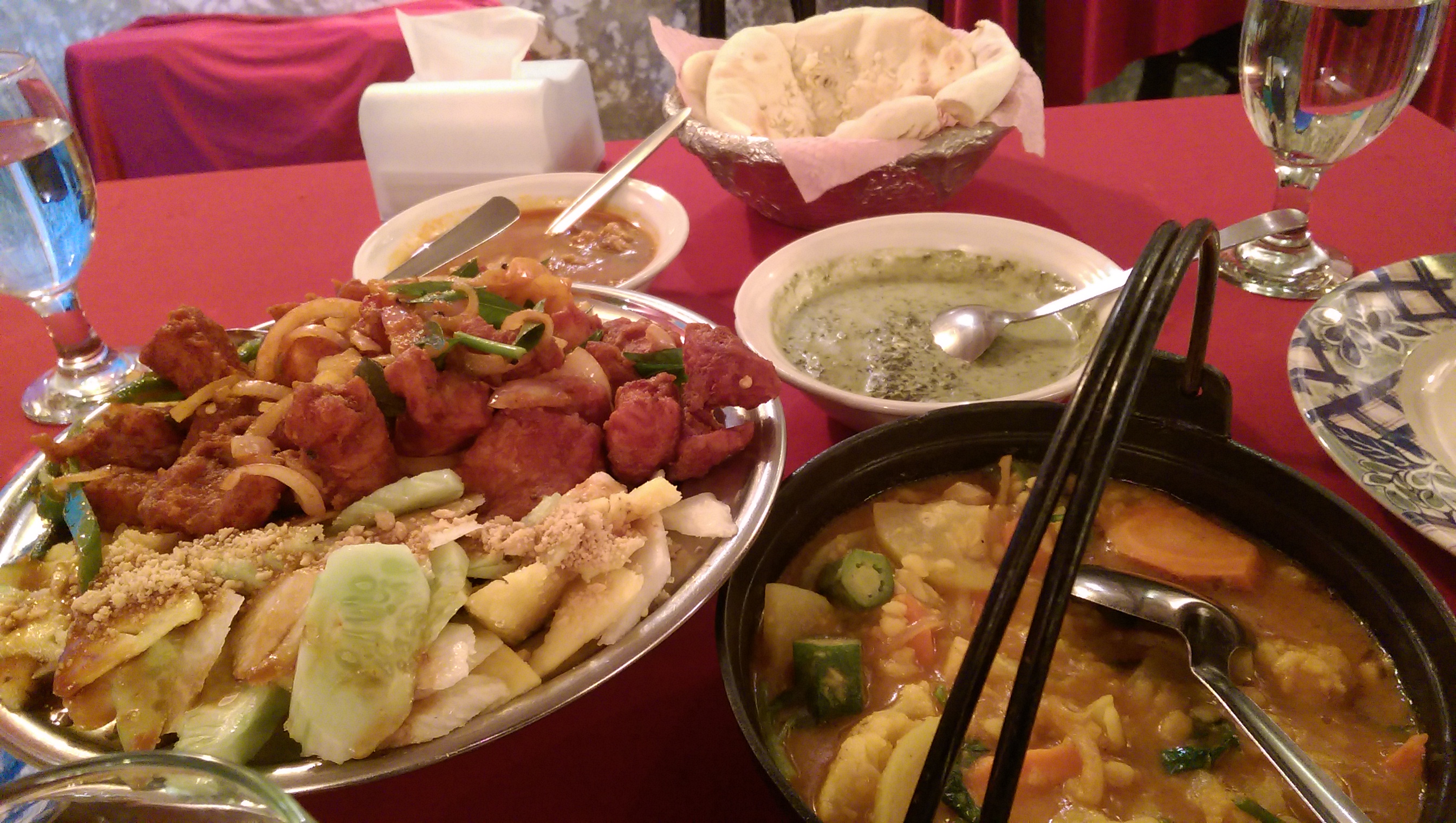 They used to be located at Melaka Raya but has since shifted near Bukit Cina. The location isn't very tourist friendly but the food may be worth the visit.
Location: 48, Jalan Laksamana Cheng Ho, 75000 Melaka
25. Wok and Pan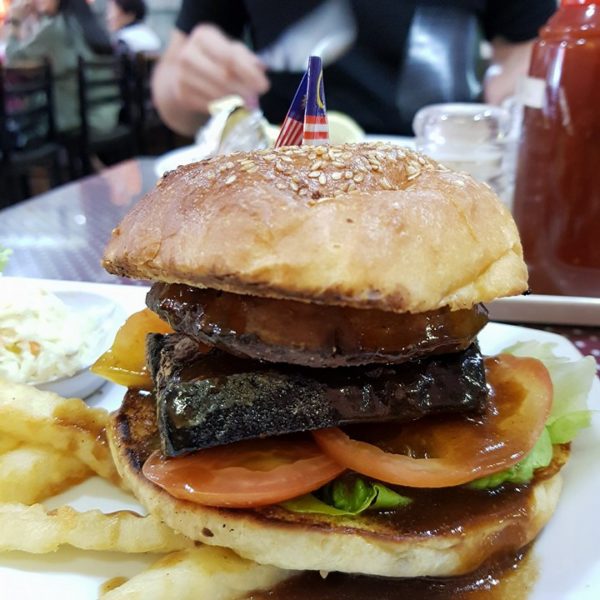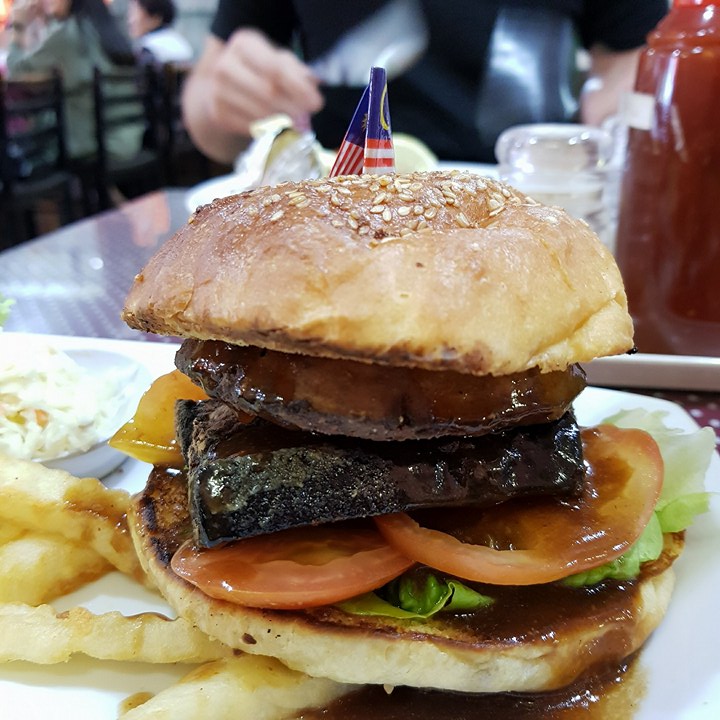 Wok and Pan is basically an east meets west kind of cuisine. They have both Western and Asian food. I particularly like their Western food and it's not too pricey as well.
However, they may have increased the prices lately. Do give it a try!
Location: 22g, Jalan Merdeka, Taman Melaka Raya, 75000 Melaka
Bonus: Best Places To Eat In Malacca
I decided to extend this article on what to eat in Malacca to accommodate more eateries.
Turns out, there are a lot of good food here in Melaka but I never tried a lot of them before.
26. Racha Cafe
Edit: This shop may have closed (not too sure).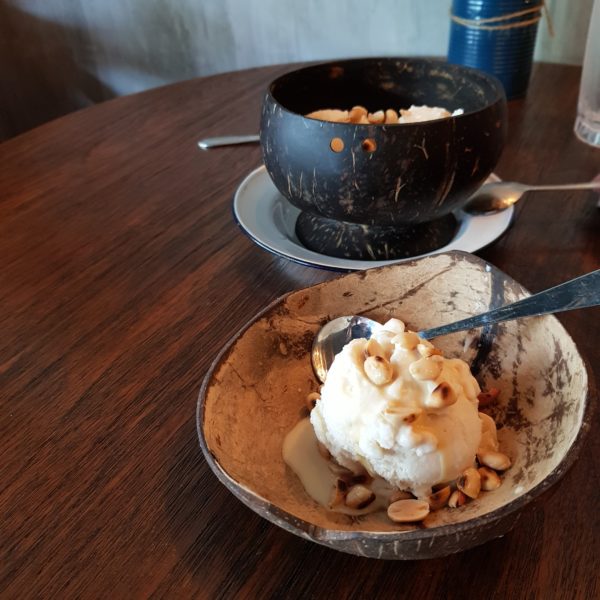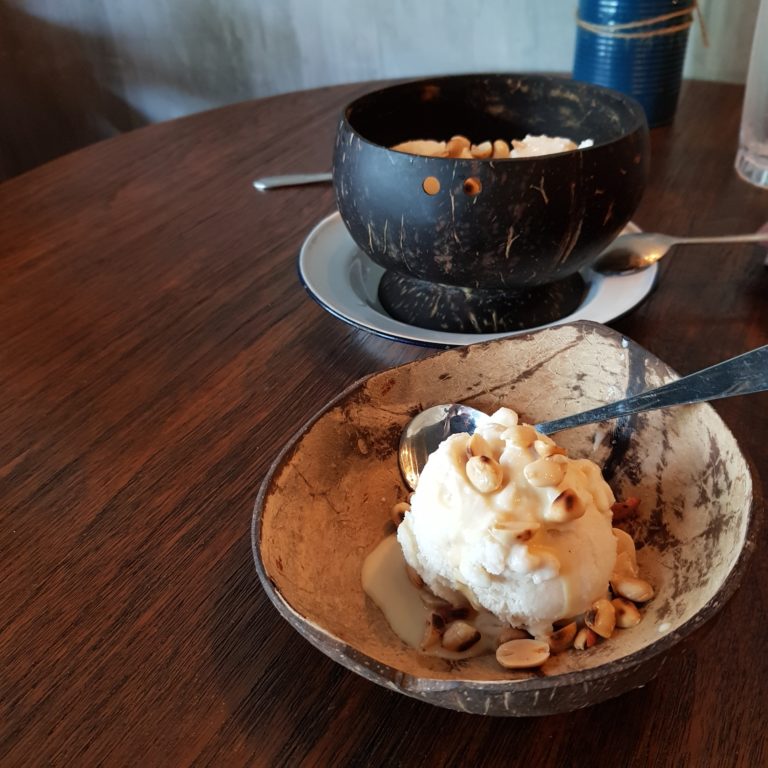 Racha Cafe is located beside Kuay Tiaw Zabb and has some awesome Thai desserts.
They serve Thai food as well, but their strong point is their roti, which is like the Malaysian roti canai, except that it's super crispy.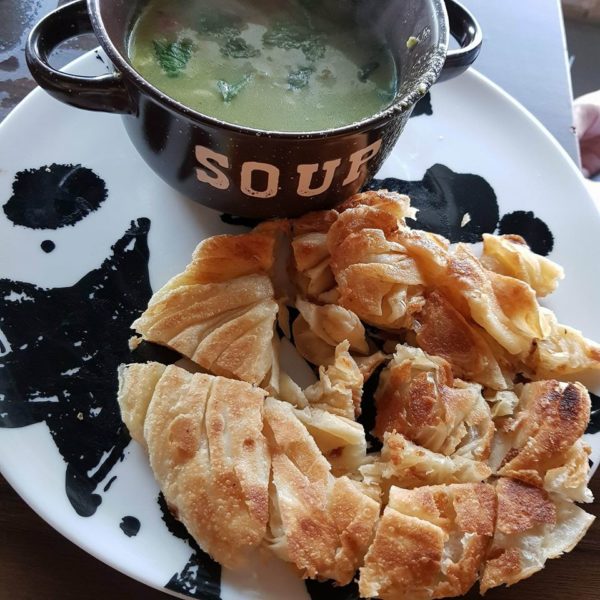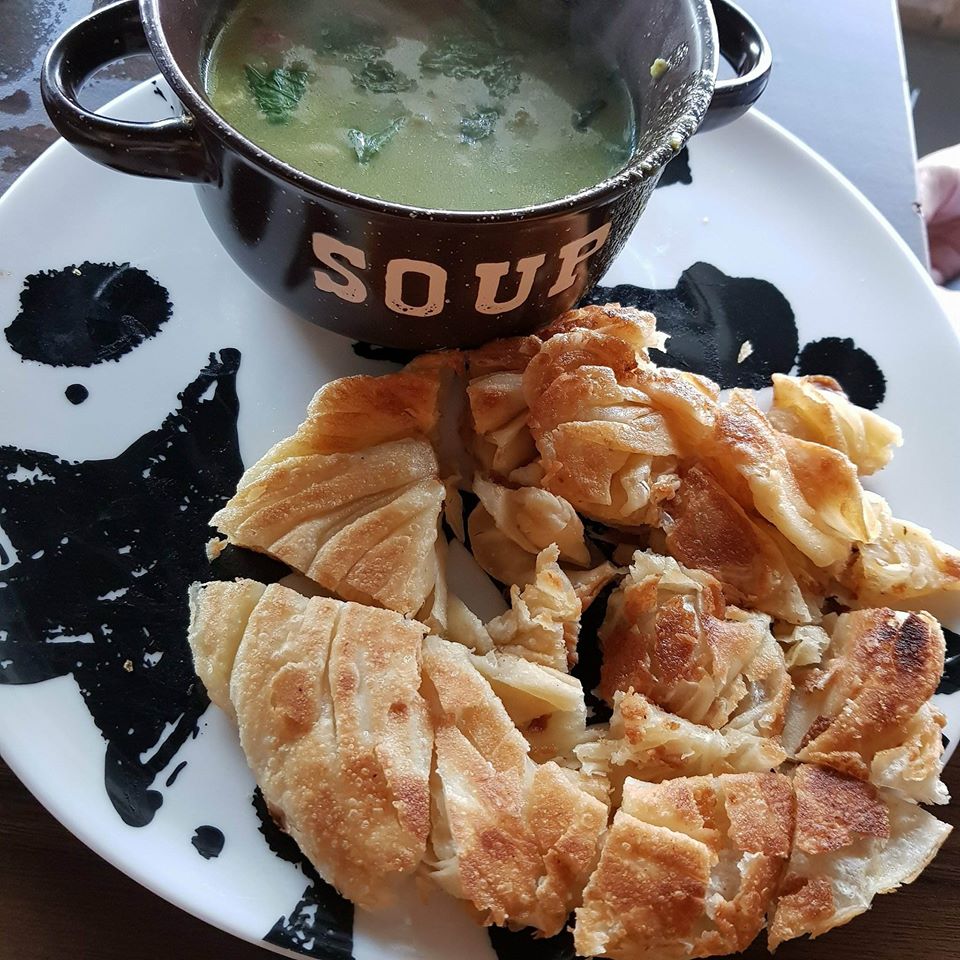 They even have roti served with green curry, which is the bomb!
Imagine super crispy roti canai with Thai green curry. It's quite common in Bangkok, but not so in Malacca.
Another must-try is probably their dessert, i.e. roti with condensed milk. Don't forget the coconut ice cream too.
Location: Jalan KLJ 1, Taman Kota Laksamana Jaya, 75250 Malacca
27. The Old Mark Cafe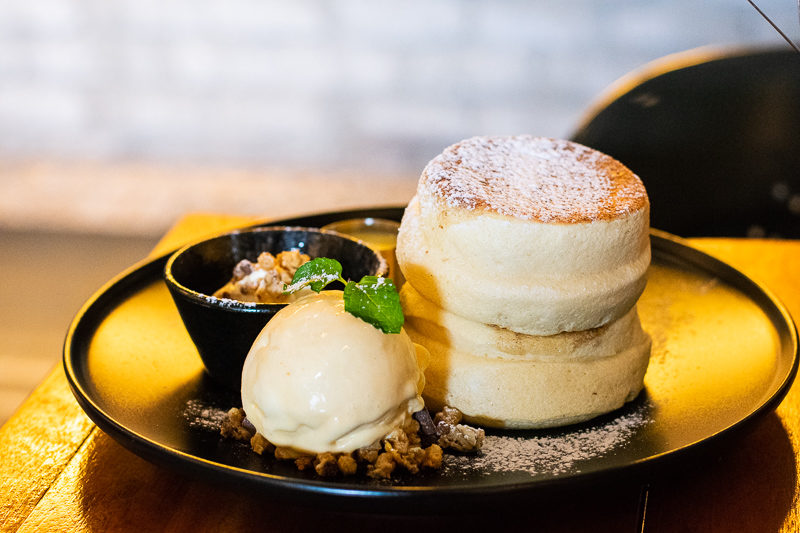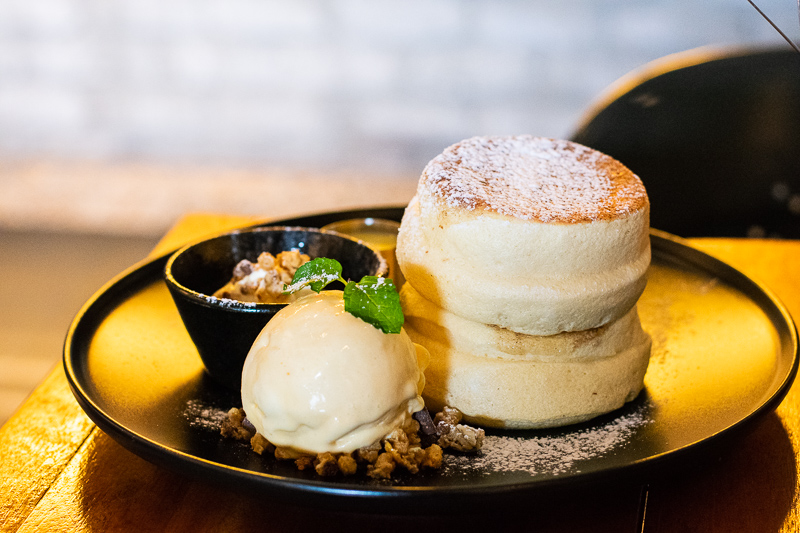 Not sure what else to eat in Malacca? The Old Mark Cafe is an awesome cafe located at Kota Syahbandar Melaka. They do serve all kinds of main courses like burgers but their strong point is this desserts.
They serve really great souffle pancakes and you have a variety of 3 or 4 types to choose from.
I ordered the one with white chocolate sauce and it was amazing. The souffle pancake is so airy and fluffy that you can tell it's just quality stuff.
Location: No.39, Jalan KSB 11, Taman Kota Syahbandar, 75200 Malacca
28. Olio Italian Restaurant – Ramada Hotel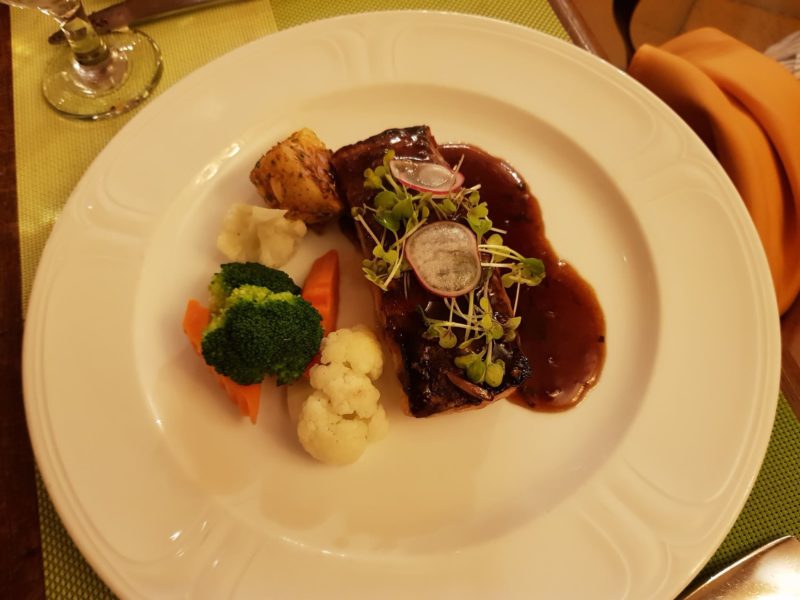 Olio Italian Restaurant is undeniably one of the best places for dinner in Malacca.
It's part of Ramada Plaza Hotel and it typically serves Italian food. That being said, they now have a small menu for Spanish tapas as well.
The price is of course not that cheap, but it's definitely worth it for what you get. Olio also has a pretty good ambience, especially for dates.
Location: Jalan Bendahara, 75100 Melaka
29. Sharing Plates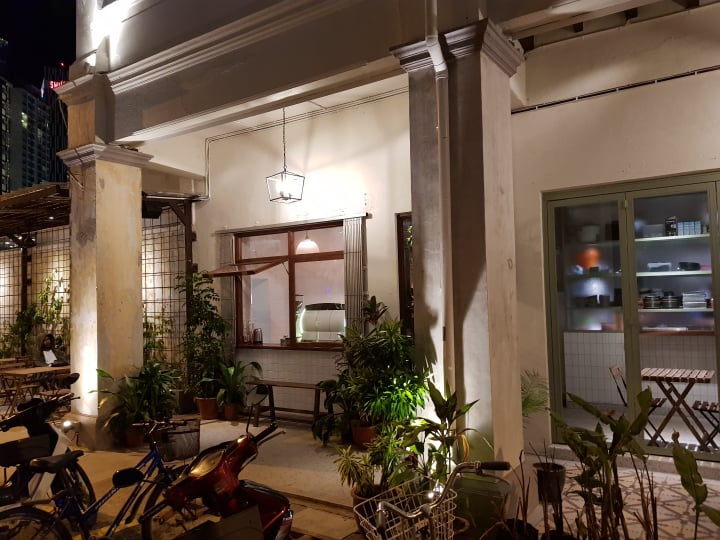 Sharing Plates Cafe is the latest cafe opened by the people behind Daily Fix (also on this list).
The menu is pretty similar but they do have some unique dishes during lunch. Their signature pancakes are also available the entire day.
Location: Opposite Ramada Plaza Hotel
30. Beer Factory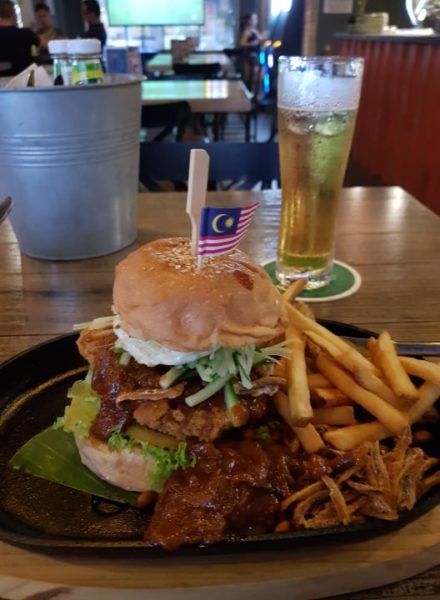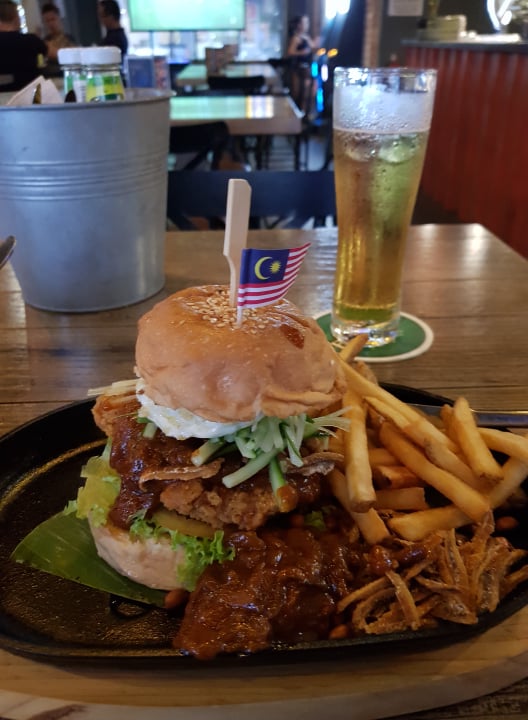 This place is not just a place to hangout and drink; they also serve quite an array of food.
You can find both western food (e.g. pizza, burgers, pasta and sizzling food) together with some local food (fried rice).
On Fridays, you'll get live music as well. It's not a bad choice for dinner here.
31. Ichi Zen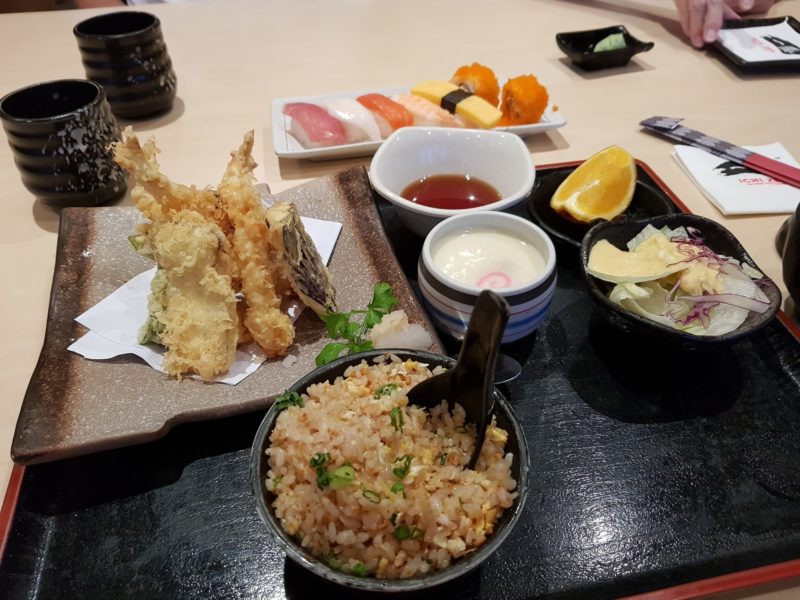 Ichi Zen can be said to be one of the top Japanese restaurants in Malacca at the moment (non-halal).
Their menu is really extensive and covers almost everything you'll find in a Japanese restaurant, be it sushi, soba, set meals or even pasta.
As they're known for having better Japanese food in Malacca, you can expect a crowd but on regular weekdays, you should be able to get a seat.
So what's the best restaurant in Melaka?
It really depends on your personal preference and many awesome food places have been left out from this article. Keep exploring and you may find a hidden gem in Melaka.
I'm sure there are plenty other food that would have made this list, but I couldn't (or out of laziness wouldn't) fit them all into one.
Some places listed are without images as well because I couldn't find them in my storage. I may have to patronize those shops soon!
---
Related articles:
8 Bubble Tea Places In Malacca That You Can Check Out
The Old Merchant Malacca – Great Ambience And Drinks
Attractions In Malacca For Tourists
What To Eat For Dinner In Melaka – 9 Places You Should Try
What To Eat For Lunch In Melaka