Throughout the decades of K-Pop's existence, there have been hundreds of idol groups. Many were quickly disbanded nugu groups who never saw much in the way of fame. Some enjoyed a year or two of prominence before dropping into obscurity. Others were at the head of the pack in their generation before a new wave of K-Pop dethroned them.
And then, there are the groups that are the cream of the crop. The groups that have cemented their legendary status with years of massive popularity, influence, and iconic songs. And those are the groups that we will be talking about today.
Now obviously, any all-time greats list will be extremely subjective and the subject of debate. And that's fine! Everyone is entitled to their own opinion. As long as the music makes you happy and connects with you, that's all that really matters.
With the preamble out of the way, let's get down to the top 10 best K-Pop boy groups of all-time!
10. 2PM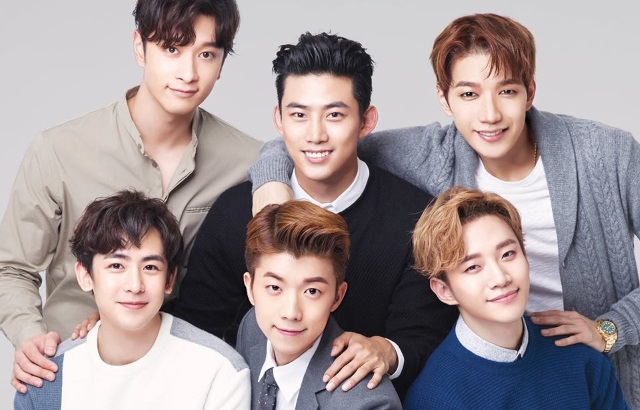 Rounding out our list at number ten is the idol group that is 10 Points Out of 10, 2PM!
Formed by JYP Entertainment, 2PM and 2AM started out as one big idol group called One Day, before splitting off into separate groups. 2AM focused on ballads while most of 2PM's discography centered around electronic and dance music.
Known for their flashy and acrobatic dance routines (With the routine for their hit single Again and Again being considered one of the hardest choreographies in K-Pop back in the day), 2PM made their debut with the single "10 out of 10". The group quickly achieved success with their hit "Again and Again" in 2009 which reached the top of the charts.
Controversy hit the group later that year, when leader Jay Park was accused of insulting Korea due to old comments he made on his Myspace page (comments which were taken out of context and misinterpreted). Jay Park eventually left the group and 2PM took some time off from promotions.
Despite the controversy, the group would come back strong as a six-man team, and with their single Heartbeat would earn their first music show win and Triple Crown. 2PM's fame continued to rise from here on out, with hits like Without U, Hands Up, A.D.T.O.Y, I'll Be Back, and Go Crazy. The group also enjoy a healthy amount of success in Japan as well with Japanese versions of some of their hit Korean songs, as well as original Japanese singles.
2PM's discography would mature significantly in later years, especially with their last Korean album Gentlemen's Game, but the group has solidified their status as icons with consistent quality music.
No matter the year, 2PM will always have songs that will get a party jumping. Most of the members are currently serving in the military, but fans eagerly await the day when they reunite and release new music.
9. F.T. Island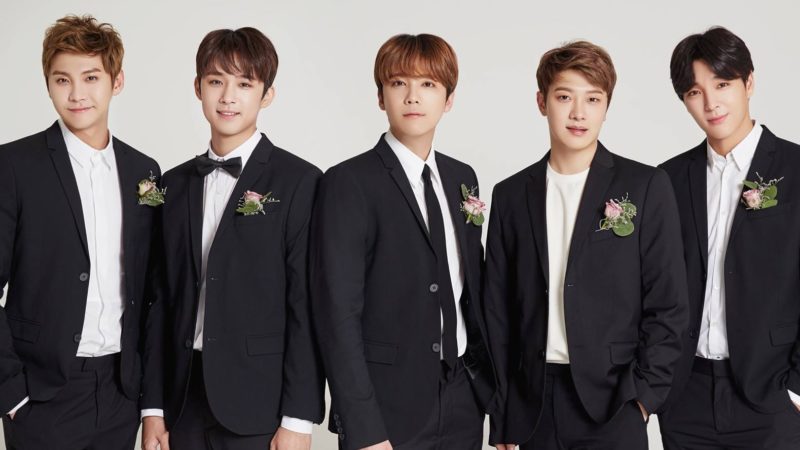 Taking our ninth spot is the premier idol band F.T Island!
Formed in 2007 by FNC Entertainment, F.T. Island is credited with being K-Pop very first idol band and achieved an immense amount of success. Front lined by singer/songwriter Lee Hong Ki, well-known for his throaty and passionate singing voice, F.T. Island is easily one of the strongest idol groups of the second generation.
The group saw immediate success, with their debut album Cheerful Sensibility being one of the best-selling albums of that year, and Love Sick topping the charts. The group's success in both Korea and Japan continued to grow from there. Some of F.T. Island's most well-recognized songs include Missing You, I Wish, Bad Woman, Severely, and Hello Hello.
Longtime member Choi Jong-hoon has departed from the group due to alleged involvement in the Burning Sun Scandal, which may put a damper of F.T Island's future promotions.
F.T. Island's time at the top of the K-Pop pile has passed, but their legacy remains. It is thanks to F.T. Island that other idol bands, such as FNC label mates CNBLUE and N.Flying were able to see mainstream success.
8. BTS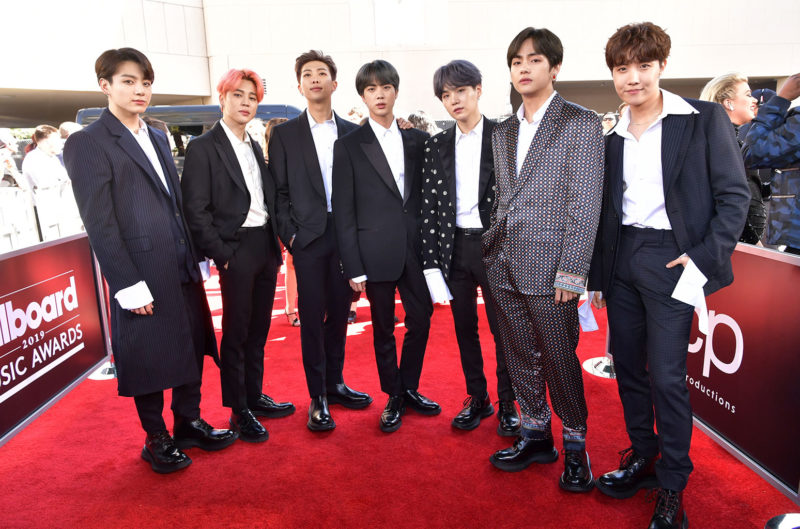 You know these guys had to be on this list. Coming in at 8th place is the Bangtan Boys!
Formed by Big Hit Entertainment in 2013, BTS is easily one of the greatest and most inspirational K-Pop success stories. Big Hit Entertainment took a big hit (pun intended) due to the scandal surrounding GLAM, and they really needed a win with BTS.
BTS started up with a heavy hip hop theme, with strong lyrics filled with social commentary such as opposing Korea's education system, pursuing your dreams in the face of adversity, and the struggles of school youth.
BTS had a lot of great early day songs like No More Dream, We Are Bulletproof Pt2, N.O, Boy In Luv, Danger, and Just One Day, but failed to see much success.
It wasn't until 2015, when BTS released their album The Most Beautiful Moment In Life, Part 1 that BTS achieved superstardom. With diversification in their musical style, and smash hits like I Need U and Dope, BTS finally earned the recognition they deserved.
Since then, BTS has established themselves as the leaders of the new Hallyu Wave, and one of the best-selling K-Pop group of all-time. 8 of the top 20 most viewed K-Pop videos on all-time are BTS videos. The group has performed on American talk shows like Ellen, and for American Music Award shows. They've won Top Social Artist three times, beating out megastars like Justin Bieber and Ariana Grande. BTS even has an emoji on Twitter.
The star of BTS is shining bright, and it is sure to not go out anytime soon. It's possible these guys may go down in history as the greatest K-Pop group ever. Only time will tell!
7. SS501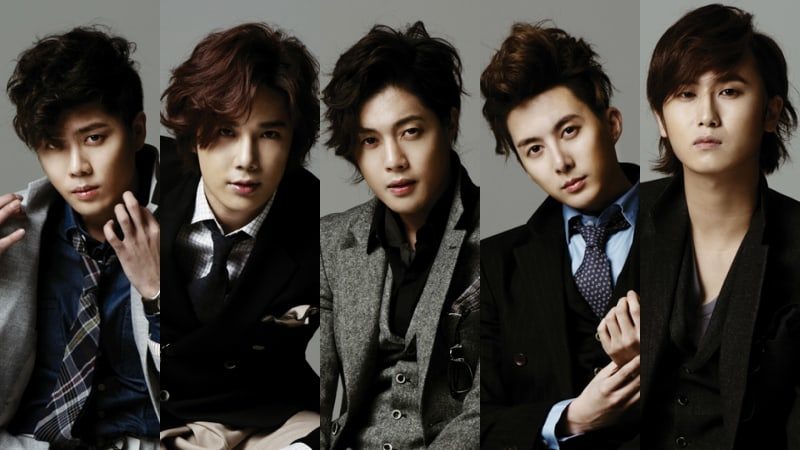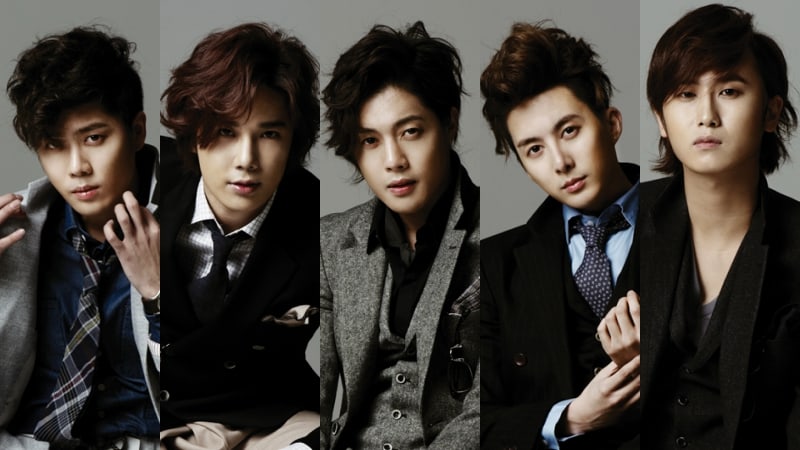 Our number seven pick is the idol group SS501!
Formed in 2005 by DSP Media, SS501 is one of the first groups at the start of the second generation of K-Pop to see immense success. Their debut EP Warning, saw immediate success as did the single Never Again. The group quickly made their debut in Japan in 2007 and became the first Korean music act to win Best New Artist at the Japan Gold Disc Awards.
SS501's discography is filled with excellent songs like UR Man, Love Ya, Love Like This, We Can Fly, and Song Calling For You.
Unfortunately, SS501 is one of many idol groups that DSP Media dropped the ball on, and since the group's departure from the label, releases have been in short supply. 3 of the members of SS501, Heo Young-Saeng, Kim Kyu-jong, and Kim Hyung-jun, have been promoting since 2016 as Double S 301 under CI Entertainment.
All of the members of the group promise that they will never disband, so there is always hope that the full group will make a glorious comeback someday.
6. Beast/HIGHLIGHT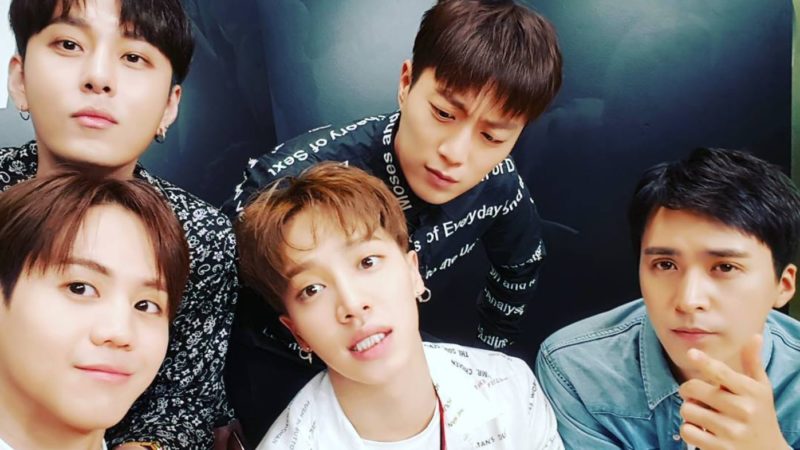 The boys of the east are standing tall at our number six spot!
BEAST emerged on the K-Pop scene with their debut single Bad Girl, which is widely considered to be one of the best debut songs in K-Pop. The group went on to enjoy moderate success with singles like Shock and Soom, Beautiful, and I Like You The Best.
In 2011, with the release of their album Fiction and Fact, BEAST blew up. The album and lead single Fiction would go on to win a myriad of awards in 2011. Fiction remains BEAST's most popular song and one of the most iconic songs in K-pop.
From 2011-2016, BEAST was one of the biggest names in K-Pop achieving all-kill, after all, kill, and winning many awards. Some of their most popular hits from this time period include Will You Be Alright, Midnight, Beautiful Night, 12:30, Good Luck, and Butterfly.
BEAST was dealt a major blow in 2016 when member Jang Hyun-Seung chose to leave the group over musical differences. His departure would it nigh-impossible for the group to perform their older hits.
Shortly after Hyunseung's departure, BEAST ended up leaving Cube Entertainment and formed their own label Around Us Entertainment. They were unable to perform under the stage name BEAST anymore and started calling themselves HIGHLIGHT.
Despite the loss of Hyunseung, the group continued to see much success as a five-man team. However, the group was struck another blow in 2019, when rapper and songwriter Yong Jun-Hyung left the group after a revelation that he had viewed illicit adult videos linked to the Burning Sun Scandal.
With Hyunseung and Jun-Hyung departed from the group, HIGHLIGHT will never be the same. But at the very least, BEAST/HIGHLIGHT have left us a beautiful discography to enjoy.
5. The Pioneers: Seo Taiji & The Boys, g.o.d, Shinhwa, and Sech Kies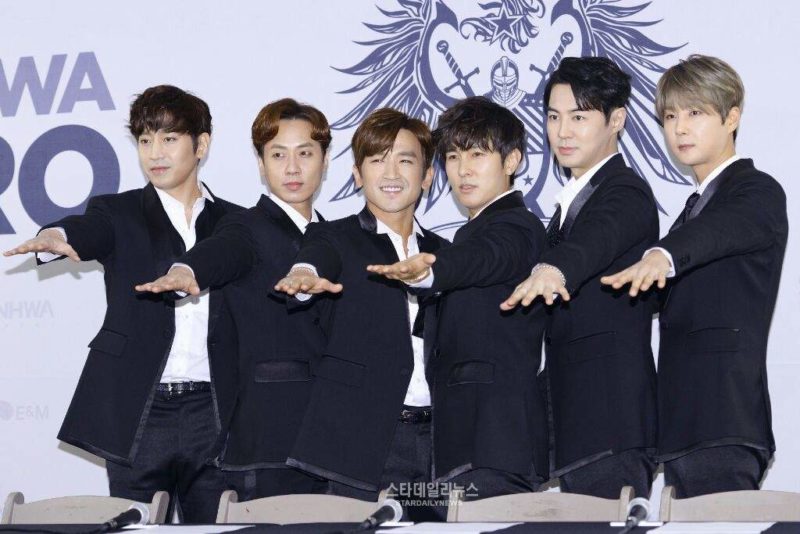 Yes, we know that this spot is taken up by three music groups, but that's because their placement on the list is for the same reasons.
K-Pop wouldn't be at the place it is today if it wasn't for first-generation groups like Seo Taiji and The Boys, Shinhwa, g.o.d, and Sech Kies leading the way. The idol groups were massively popular back in the day, before the Digital Era of YouTube and digital downloads.
The guys are considered legends of Korean music for a reason, and they deserve our respect. Seo Taiji & The Boys have remained in retirement (With member YG spending most of his time running YG Entertainment), but Shinhwa, g.o.d and Sech Kies have both made recent comebacks. You may have missed their heyday, but these legends still got it!
4. Super Junior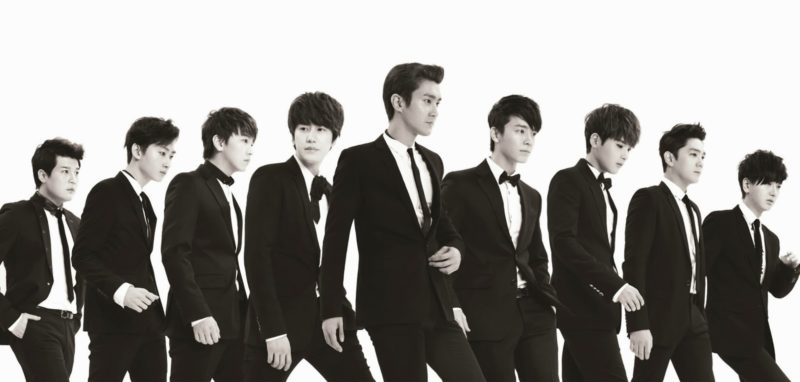 Coming in at number four is Super Junior!
Formed by SM Entertainment, the wheels for one of K-Pop's most iconic idol groups actually began in 2000, during the first generation of K-Pop. It wasn't until 2005 that Super Junior finally made their debut with the single Twins (Knock Out).
Super Junior achieved their first notable success in 2006, with the single U. It was in 2009 that Super Junior really blew up with their iconic song Sorry Sorry. Sorry Sorry was the best-selling K-Pop album of 2009, and the single remains Super Junior's best-selling song as well. It was here that Super Junior's reign as Kings of K-Pop began.
The group also decided to expand into the Chinese market with the sub-unit Super Junior-M around this time as well, which is still extremely rare for an agency to do. Most K-Pop agencies will break into Japan, but very few groups break into the Chinese market.
For years, Super Junior was the best-selling K-Pop group in Korea. With classics like Bonamana, No Other, Mr. Simple, and It's You, their dominance was undeniable.
Super Junior has lost a few members over the years, but the group remains strong and continues to release great music on a consistent basis. These legends of K-Pop will continue to shine as some of the biggest stars of Korea for years to come.
3. SHINee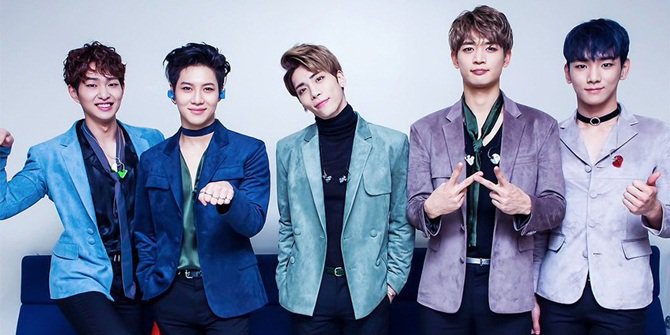 Taking home the bronze is SM Entertainment idol group SHINee.
The idol group made their debut in 2008 with the single Replay (Noona Neomu Yeppeo) which stands as one of K-Pop's greatest debut songs. SHINee generated notable buzz and success with follow up songs like Juliette, and Love Like Oxygen, but really broke out in 2009, with the release of their classic Ring Ding Dong, which received a Popularity award.
SHINee's success continued in 2010 with the release of their songs Lucifer and Hello. Lucifer, in particular, cemented its status as an iconic song for both SHINee in particular, and K-Pop in general.
More hits, such as Dream Girl, Sherlock, and Everybody were released in the years that followed. All of the members of SHINee branched out into other avenues such as acting and fashion, all achieving notable success. Jonghyun and Taemin, in particular, enjoyed the most success in their solo music efforts.
Unfortunately, SHINee legend entered a dark chapter in 2017, when main vocalist Jonghyun fell victim to his battle with depression. His passing shocked the world and served to highlight how important mental health issues in South Korea are.
Jonghyun stood out in K-Pop as one of K-Pop's best vocalists, and as the first SM Entertainment artist who really had any degree of control over the creation process of his idol group's music. SHINee themselves are icons of not only music but also fashion and dance. To date, many still consider SHINee to have the most difficult dance routines.
The remaining members of SHINee have continued on, and like Jonghyun, continue to do well for all of their fans around the world.
2. Big Bang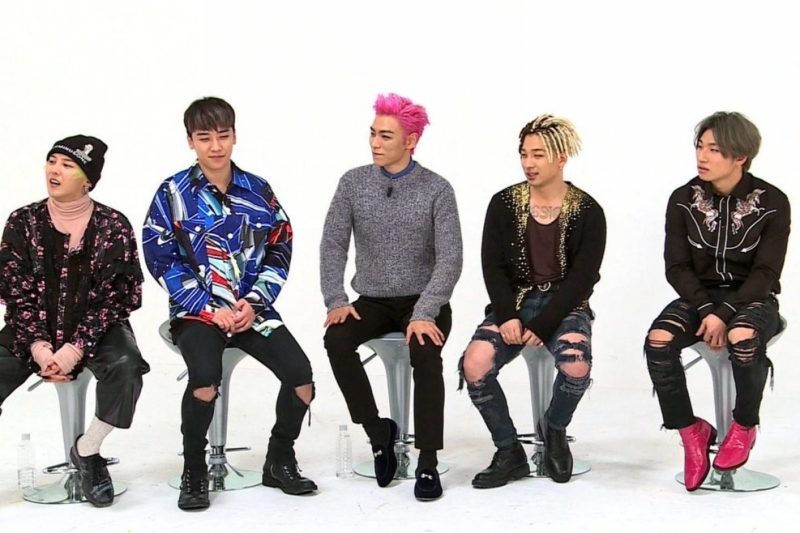 Our pick for second greatest Korean boy idol group of all-time is none other than Big Bang!
Big Bang needs little explanation, but since we love these guys, we will do so anyway.
YG Entertainment's biggest and greatest idol group made their debut in 2006. Their early years saw the release of great songs such as A Fool's Only Tear, We Belong Together, and Forever With You but these songs didn't get them much traction.
It wasn't until the release of their song Lies, that the K-Pop world began to pay attention to Big Bang. Lies is the song that put Big Bang on the map, and the group followed it up with Last Farewell. Last Farewell achieved a great deal of success, topping the Melon charts and staying there for 8 consecutive weeks. However, it was the release of Big Bang's next lead single that made them Kings of K-Pop. Enter: Haru Haru.
Simply put, if you don't know Haru Haru, then you're still a padawan of K-Pop. Easily one of the most iconic songs of K-Pop, Haru Haru is Big Bang's greatest hit and a timeless classic. After its' release, Big Bang achieved legendary status.
The number of hits since Haru Haru is more than we can list. Big Bang, which has majority creative control over the music they release, have done exceedingly well both as a group and as solo artists. Leader G-Dragon is widely considered to be one of the most talented idols in the business.
Unfortunately, Big Bang's legacy has been stained by the Burning Sun Scandal, of which member Seungri is a primary suspect. Since the scandal broke out, Seungri left Big Bang, had his contract terminated by YG Entertainment, and has retired from the entertainment industry entirely. It's doubtful that a reunion would ever be possible given the severity of the crimes that Seungri is suspected of committing. Which means a full Big Bang concert experience will likely never be experienced ever again.
It may be hard for some fans to separate the art from the artist, but if you can, you'll see why Big Bang is considered to be one of the greatest Korean Music Groups of all-time.
1. TVXQ/JYJ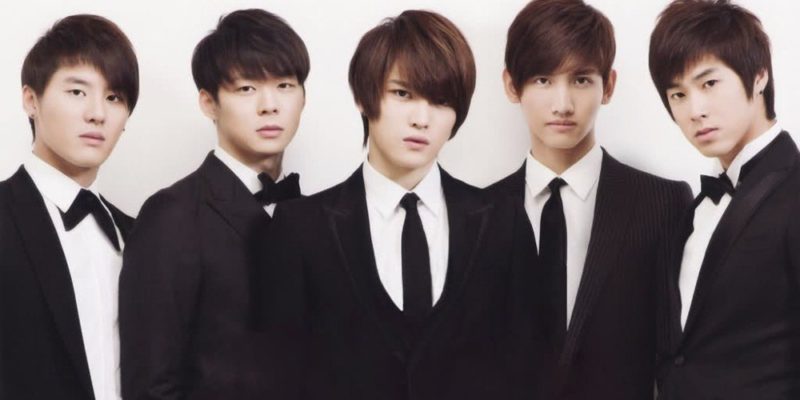 And the award for greatest K-Pop idol group of all-time goes to none other than TVXQ/JYJ!
Formed in 2003, the group's music was somewhat hit and miss, with some songs being well-received and other songs being mostly forgotten.
TVXQ's luck changed in 2006 with the album "O"-Jung.Ban.Hap. which was the best-selling album in South Korea in 2006. In 2008, the kings of K-Pop were born with the release of Mirotic. The eponymous title track was a massive success and would go on to be one of the best-selling songs of all-time in Asia, as well as TVXQ's biggest hit.
It is also recognized as one of the greatest K-pop songs in history. The song also further cemented TVXQ's reputation as one of the best dance groups in K-Pop with notoriously difficult choreography.
Mirotic made TVXQ gods, but their time as five gods didn't last long. In 2009, a long and bitter lawsuit battle began when members Junsu, Yoochun, and Jaejoong filed to terminate their contracts with SM Entertainment. The three successfully got out of their contracts and formed a new trio group called JYJ. The remaining two members Yunho and Changmin would continue TVXQ as a duo.
Despite the regrettable breakup of the OT5, both TVXQ and JYJ continued to enjoy massive success in Korea and Japan. TVXQ would go on to release hits like Catch Me and Keep Your Head Down, and JYJ hits like In Heaven and Back Seat.
TVXQ have been more musically active than JYJ, and due to a recent scandal, JYJ is now a duo as well. Park Yoochun recently tested positive from drugs after which his contract was terminated and Yoochun abruptly retired from the entertainment industry. It is unknown if JYJ will continue.
TVXQ was not able to enjoy the throne as a quintet for as long as we would have liked, but in the short time that we had with an OT5 TVXQ, they made an everlasting impact on K-Pop as an indisputable leader of the Hallyu Wave in the second generation. If you didn't know TVXQ before, you need to know them now.
This article reflects the opinion of the freelance writer.
---
Related articles:
Top 10 Best Running Man Episodes Of All Time
Top 15 Cartoon Shows of All Time [Updated 2019]
The Most Powerful Superheroes In The Marvel Cinematic Universe
Top 10 Best K-Pop Girl Groups Of All Time
Best Korean Dramas On Netflix – 7 Choices To Check Out