Travelling entails packing all essentials into compact luggage. Oftentimes, travelers are on the lookout for a great carry-all that can fit all necessities (and other add-ons) one will need to make their journey more comfortable.
Clothing, footwear, toiletries, medication, and gadgets are the most typical items in the must-pack list and it is always a challenge to fit them all together and keep them safe at the same time. When flying or traveling by sea, luggage is often collected and stacked together.
We do not fully know what happens behind the scenes after check-in, but we can always assume that these bags bump or are pressed together with other luggage.
Fortunately, hard shell luggage companies are able to address these concerns and apply safety measures and new technology to keep luggage safe and sturdy to withstand constant use.
This is where the sturdiness of hard shell luggage comes into play. Unlike soft shell luggage where packing all your stuff means seeing a lump on your bag and countless worrying if your things are in good condition, hard shell luggage offers a hard and rigid alternative that keeps the form of your luggage sturdy and your things intact.
This is the best time to switch to a hard shell luggage. Below are the best hard shell luggage you can get today.
This article may contain affiliate links.
Best Hard Shell Luggage Comparison Chart
| | | | |
| --- | --- | --- | --- |
| PRODUCT | FEATURES | ADDITIONAL FEATURES | CHECK PRICE |
| COOLIFE Luggage Expandable Suitcase | ABS+PC hard plastic shell, spinning wheels, aluminum telescoping handle | 2-year warranty, built-In TSA lock for safety | Check Price at Amazon |
| American Tourister Moonlight Expandable Hardside Luggage | ABS/PC Printed, spinner wheels, Push-Button Handle | Expansion on All Sizes, smooth marble texture | Check Price at Amazon |
| DELSEY Paris Helium Aero Hardside Luggage | double spinner wheels, expands up to 2 inches, large enough compartments | 100% Polycarbonate | Check Price at Amazon |
| Samsonite Winfield 2 Hardside Luggage | Spinner wheels, TSA-lock, push-button handle, and multi-level handling | 10-year limited warranty, bushed patterns hides scratches or dents | Check Price at Amazon |
| AmazonBasics Hardside Spinner Luggage | ABS material on its hard side finish, double spinner wheels | 15% expanded allowance, Shiny finish | Check Price at Amazon |
Best Hard Shell Luggage Review
Here's a list of the top hard shell luggage to check out.
1. COOLIFE Luggage Expandable Suitcase with Spinning Wheels
This is a great option for a hard case as it is made from ABS+PC hard plastic shell which means it is hard enough to withstand manhandling from airport or customs personnel and full packing.
It comes in classic colors too, which means one can continue to use this sturdy luggage over the years.
Special Features
ABS+PC hard plastic shell
built-In TSA-approved lock
3-level 100% pure aluminum telescoping handle
Pros:
fully lined interior to keep clothes clean and safe
multi-use organizational pockets
Remains hard-sided even when carried throughout a new place or surface
Cons:
Comes in different sizes 20 inch, 24 inch,28 inch, but only the 28-in is expandable up to 15% of the space
Users commented on zippers not working as they should
Handle not going all-the-way up to its 3-level make

2. American Tourister Moonlight Expandable Hardside Luggage with Spinning Wheels
American Tourister prides with its Moonlight travel line and its features that make it the best against travel elements. At the same time, it is also designed with colorful prints that make your luggage stand out and easy to spot anywhere.
The ABS/PC construction promises durability, offering to make each travel as smooth as the first. It is built with a lightweight finish, highly-favored telescoping handles and spinning wheels that make it easy to push and pull around.
Special Features:
Color Assortment and patterns to choose from
Push-Button Handle and telescoping feature
Expandable up to 1.5 inches
Pros:
Lightweight and easy to fit in the overhead compartment
360 spinning wheels, easier to maneuver
Lower priced compared to counterparts from other brands
Cons:
Scratches do not come off easily
Some users comment on the chemical smell from the luggage
No TSA-locks or other built-in locks

3. DELSEY Paris Helium Aero Hardside Luggage
Delsey can be considered a top-of-mind brand for luggage. It is known for producing durable pieces that can withstand rough handling and maximized packing.
It is also said to be easy to maneuver thanks to its double spinning wheels that carry the weight well. Large capacity is also a plus with its double compartment (though it has to be laid out flat to properly unpack or get things from the bag).
Delsey is also one of the higher-end brands for luggage, but the brand assures customers that the price tag comes with commendable quality.
Special Features:
100% Polycarbonate material which is durable and strong against breaks or cracks
Large capacity which can expand up to 2 inches
Pros:
Two full compartments for packing most of your must-brings, so the luggage opens flat
Double-wheel spinning wheel
Classic colors and timeless look
Cons:
62-inch international size allowance does not cover wheels and handles, so it is bigger than allowed

4. Samsonite Winfield 2 Hardside Luggage
The Winfield 2 Hardside Luggage is Samsonite's answer to a piece of lightweight and durable luggage that can be anyone's go-to travel buddy. Its polycarbonate material makes it absorb impact and keeps its form even after stress.
When weight is pressed on it, this luggage is said to revert to its original shape to minimize dents. This is ideal for people looking for classic-looking luggage with a modern twist as seen on its surface details.
Special Features:
TSA-Compatible Combo Lock
Telescoping aluminum handle
Made of full polycarbonate material
Pros:
Brushed patterns to help mask light scratches or minor dents when traveling
360 Spinner Wheels for easy handling
Cons:
Users report wheels to not be fully heavy-duty
Reports on zippers giving out after multiple uses
20-inch version may not fit into the overhead compartment

5. AmazonBasics Hardside Spinner Luggage
For a more affordable and cost-effective purchase, choose the AmazonBasics Hardside Spinner Luggage. It features the essential elements people look for in luggage such as hard shell exterior, fully lined interior, dividers, sizeable pockets, telescoping handles, and spinner wheels.
This handy piece is also a good option as it will not break the bank.
Special Features:
Telescoping Handle & Securely Mounted Short Handle
Pros:
Four Double Spinner Wheels which provides a smooth ride
Cons:
Faulty zippers shared by users

Some FAQs on hard shell luggage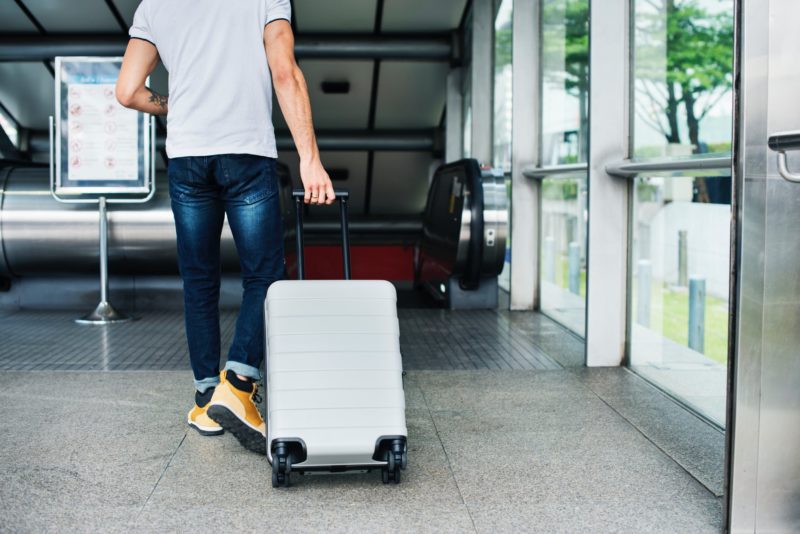 Should I switch to hard shell luggage?
It is a great switch for people who travel often or for those who wish to secure their things in a hard, durable shell of luggage.
Those who still use soft-shelled or fabric luggage should switch to hard-shelled luggage to ensure higher cost-per-use as luggage such as these are expected to be durable in the long run.
How much are hard shell luggage?
Depending on the brand, 20-24 inch luggage can start from 30 USD (AmazonBasics) up to 123 USD (Delsey). Prices vary per brand due to materials used, capacity, or the design.
Which of these luggage is lightweight?
Most modern luggage is made with surprisingly lightweight material and construction. This is to ensure that travelers can maximize the space and properly pack all their goods as allowed by airline or freight weight measurements.
All the luggage mentioned above are lightweight.
Do they fit the 62-inch luggage allowance of airlines?
The luggage featured for Coolife, American Tourister, Samsonite can all fit in the standard 62-inch luggage allowance. Delsey marketed its luggage to fit this requirement but some users recommend measuring the whole luggage including the wheels to ensure it fits.
As for carry-on measurements, Samsonite and AmazonBasics are a bit too big for the allowance.
Do they have a warranty?
They have a warranty for varying periods. Best to contact the provider first as some warranties require customers to shoulder shipping fees to their warehouse or office to return faulty products.
Conclusion
There are many options for hard shell cases and luggage for customers to choose from. However, one thing is for sure, should they opt for this durable luggage, they can look forward to more worry-free days as these will definitely hold their ground against the various stress and battery from traveling and airport transfers.
Whether for long-haul flights or domestic ones, hard shell luggage is one of the travel must-haves that can keep your things safe and packed from the beginning to the end of the trip.
When choosing, just make sure to keep your priorities in order (whether it is a brand name, price, material, locking system, capacity, or others), before adding-to-cart and purchasing.
This article was composed by a freelance writer.
---
Related articles:
Best Travel Hair Dryers To Buy Today
Top 8 Gifts For Writers – Best Presents For Writers Today
20 Best Gifts For Coffee Lovers [2019 Update]
18 Best Gifts For Photographers – Whether Professional Or Amateur
Best Gaming Chairs – Top Ten Picks [Updated 2019]
Best Zero Gravity Chairs – Top Five Picks [Updated 2019]