If you are an avid golfer, you know that a rented set of golf clubs can never feel the same as your own. Thus, when you travel, you want to bring your golfing gear along, for the love of the game!
And you need not worry that you will break your clubs. It won't happen. Not if you pack them in one of the best golf travel bags.
You can buy a golf bag or a golf travel case, which can fit a full golf bag. Whatever you buy, make sure it is of excellent quality.
Note: there may be affiliate links below.
Best Travel Golf Bags Buying Guide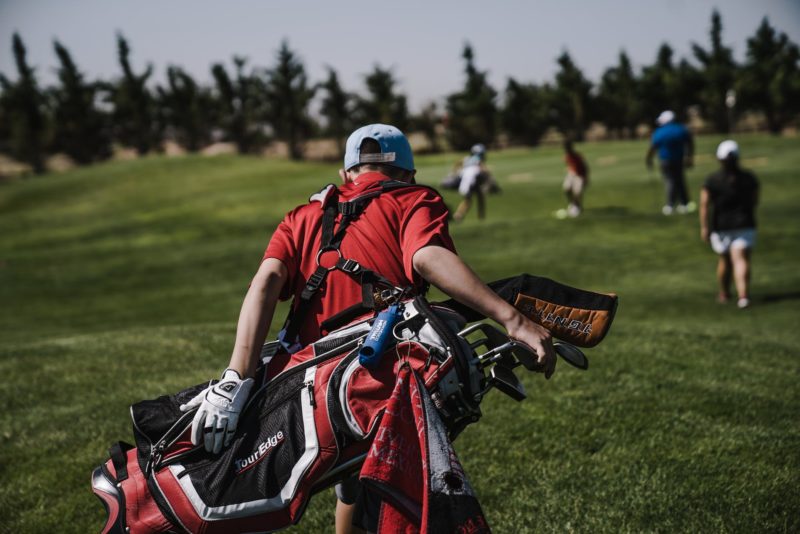 Do not buy the first travel bag that you come across. Consider the following factors:
Wheels
A good travel bag should be wheeled. Golf gear can be heavy, and you will still bring other luggage with you. Thus, a wheeled golf travel bag is the best option for you. A carry travel bag is good if you do not have plenty other gear, but it will sap some of your energy.
Also, the best golf travel bags have wheels and padded carry straps. That way, if you have to carry it, your shoulders will not feel too stiff.
The shell
The shell should be of high quality since the bag will be used for carrying bulky items. Thus, you do not want a shell that will crack or start peeling at the first contact with water.
A high quality shell will cost you more, but it will be worth it. Travel cases can have hard polyethylene shells. These will be heavier, but they are worth it.
Weight capacity
Since this is a travel golf bag, you want to keep the weight limit to what the airlines allow. If you can find a golf bag with a 50-pound capacity, it will be good enough for most airlines.
It will also fit all of your drives and clubs.
Extra pockets
These are important for sneaking in the small golfing and other items. For example, you can keep your gloves, shoes and other small things in the pocket to keep them safe from the golfing clubs.
Make sure the side pockets have lockable zips.
Safety and security
Hauling a golf bag through security, through airports, bus stations and train stations is no easy feat. Thus, to secure your items in the bag, get one with built-in locks or one that has been designed to be locked with padlocks.
Transportation Security Administration-approved locks are the best.
Top 5 best golf travel bags
Here are some golf travel bags to consider.
1. Sun Mountain ClubGlider Travel Cover
This is a golf bag cover. It will fit your golf bag pretty well and accommodate some other small items too. At 52 inches long and 14 inches wide, the volume is quite good.
The trendsetting feature is the four wheels. They make pushing it in and around the airports such a thrill. The padded design also makes it extra safe for your clubs.
However, always wrap your golf clubs with something like a towel or tape before packing them. It also has two storage pockets for the small items. It can fit 47-inch clubs comfortably.
Inside the Sun Mountain ClubGlider, you will find a strap for securing your golf bag. This keeps the golf bag secure so there is no movement around the case.
It also has two hand carry straps. With its narrow and sleek design, this is without doubt one of the best golf travel bags.
Pros
Has two extra wheels that have a 360-degree swivel
Stable on the four wheels even when unpacking
It has a sturdy and durable construction
Cons
Does not have a shoulder strap

2. Club Champ Golf Travel Bag
Sometimes, you may be looking for a golf travel bag that will not cost you as much as the SunGlider that we reviewed above. If you are looking for such, your search stops with the Club Champ golf bag.
It has a high quality build and at the same time, it costs an affordable amount of money. It will fit all of your golf gear, including the 47-inch drivers.
In addition, it has two inbuilt wheels that make it so easy to push around airports and train stations.
You will also love the extra padding on the top that gives extra protection to the things that you have packed inside.
When you are not using the bag, it is collapsible so you can pack it easily for storage.
Pros
No need to lean it anywhere, it stands upright on its own
Keeps the clubs safe from damage
Much lighter than hard shell bags
Cons
Should have a handle at the top for pulling

3. IZZO Travel Golf Case
With a height of 50 inches, the IZZO travel golf case is good enough for your golfing items. It is made of high quality material and it is going to last you many miles of flight. The best golf travel bags do not have to be costly. This one is quite affordable.
The base has extra padding, which makes it last quite a good time. Besides, the padded base offers extra protection to all of your items.
Please note that this bag is meant to be used on short plane hops, and the price completely justifies that.
While this bag lacks wheels, it comes with a comfortably padded carry strap. They will not cut into your shoulders despite the weight. When you are not using this bag, it will collapse to a small and more compact size of 7 inches.
t also weighs light when empty at 2 pounds only. That should make storage very easy.
This bag is also water resistant. When you are caught in a light shower between trains, it will keep the water out.
However, please note that it is not waterproof, so you should be careful not to be caught in a drench.
Pros
You can carry it on your shoulder without feeling stiff
Padded to keep your clubs safe
Cons
Might not fit drivers bigger than 47 inches
No wheels, you have to carry it

4. CaddyCaddy CDX-10
CaddyCaddy says that this bag is covered by a warranty of one year, even if the damage is caused by airlines! That is quite awesome, but it is not all there is to it.
It has enough features to make traveling with your golf tees such a thrill. For example, the inbuilt skate wheels (nine of them) make it easy to push and pull around airports.
This is a travel cover. It is going to accommodate your golf bag. The heavy construction with the 600D nylon makes it a durable cover to invest in. If you would like an all-weather golf travel bag, get this one.
The top is also well padded so that your club heads can get extra protection.
For extra storage, you get two side pockets. They also have lockable zips for security. In fact, all the zips of this cover are lockable, so you do not have to worry about the safety of your items when in the hands of airport bag handlers.
When you are not using the case, just collapse it into a smaller size for easier storage. With cinch straps, you are going to keep your golf clubs secure.
Even with the vigorous handling at airports, your clubs will not budge.
Pros
Lockable zips offer good security for your items
Inexpensive considering all the features
Will stand upright and not fall over
Cons
The pockets are added for shoes, but they are small

5. SKB 2SKB 4814W DeLuxe ATA Golf Bag
Why buy a travel bag when you can buy a golf travel cover that will fit your golf drives and clubs in their bag? With superb construction of polyethylene, this is a high quality case.
It is stiff and it will withstand all the vigorous handling that it will get at airports. This material is also easy to maintain and keep clean. It is weatherproof, it is awesome for the stand and carry bags.
The SKB DeLuxe ATA is also the best golf travel bag because of its easy maneuverability. It has built-in skate wheels that can last a long time and they make movement so easy. You will be happy that you can secure your golf items in the case tightly.
The bag has a TSA-approved lock, which is very reliable. TSA means Transportation Security Administration lock, which will never open accidentally. Although the locks are made of plastic, they are still quite efficient.
For the frequent plane hopper who loves to play golf, this is an excellent bag. It also fits many staff bags, so you can use it for regular traveling.
The main downside though is that the bag is heavy – comes with the material – at 18 pounds. The other features compensate for that.
Pros
Has a warranty cover of a million miles from manufacturer
One of the strongest, most durable travel bags in the market
Resistant to water and dust
Quite secure with TSA-approved locks
Cons
Loose items can get lost easily

Final Verdict
Just because you are traveling, it does not mean that you should leave your golf gear behind. With the best golf travel bags and cases that we have reviewed here, it is easy to take your clubs and drives with you.
Just choose a bag that meets your style, your budget or needs. If you are a regular traveler, it would be better to pay more for better quality.
If you are doing a short plane ride, a simple cheap golf bag should suffice.
This article was composed by a freelance writer.
---
Related articles:
Top Lawn Sweepers For Your Home
Best Gaming Laptops Under $600 You Can Buy Today
Best Travel Hair Dryers To Buy Today
Top 6 Best Travel Jackets For All Sorts Of Weather
Top 7 Best Travel Strollers To Use During Your Holidays