Knowing someone who's passionate about photography has many perks and one of them is having a professional to take photos of you.
Whether it's for a birthday, Christmas, anniversary or any occasion at all, you'll never go wrong with these best gifts for photographers.
Note: This article may contain affiliate links.
1. Tickets to a photography event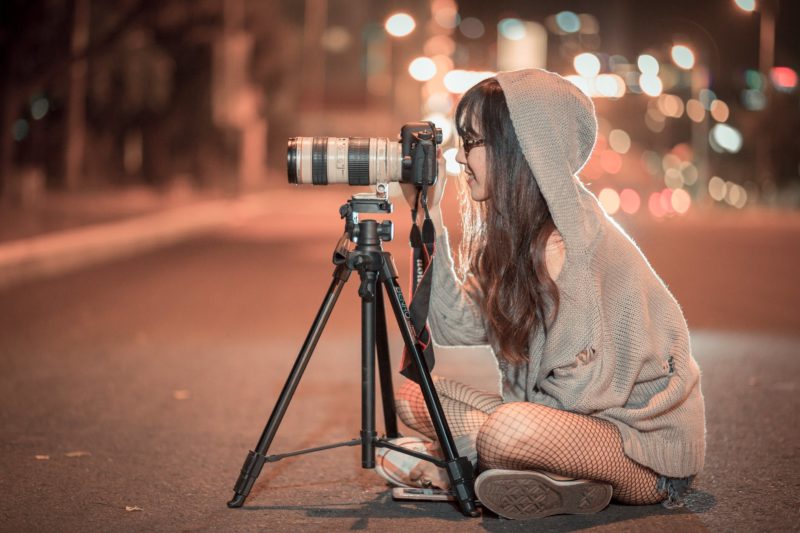 The best thing to give a photographer friend without having to do a lot of research in the depths of photography is a ticket to a photography event. Many professional photographers offer workshops, lectures, and presentations on photography for any skill level.
Your photographer friend will have a great day meeting new friends who enjoy the same craft as they do without you having to figure out what a cold shoe is used for.
2. Custom Camera Strap
Any artist loves custom gear. You can give your photographer friend a custom leather strap to personalize just for them.
Companies like RSVP Handcrafted make bespoke leather straps of different sizes and designs. RSVP Handcrafted offers this service starting at $44.99.

3. National Geographic Magazine Subscription
Photographers are always looking for that next source of inspiration. Photography books are excellent at providing just that.
The National Geographic magazine has been a leader in photographs, articles, and stories since 1888.
A basic subscription of 12 issues costs $12. More issues and other magazine titles under the National Geographic line-up can be added at an additional cost.
4. Humans of New York
The Humans of New York photography book is another excellent source of inspiration for photographers. Photographer Brandon Stanton's humble blog turned into a worldwide phenomenon, resulting in two photography books.
It frames the real lives of everyday people in beautiful detail. The Humans of New York and Humans of New York: Stories hardcover books are available on Amazon.

5. Bottle Cap Tripod
Sometimes, great shots can happen when your photographer friend isn't fully prepared. Maybe they don't have all of their gear along, as photography gear can get bulky and delicate.
For times when only a small digital camera is available, better shots can be made with a bottle cap tripod. It's a small modification to a bottle cap that allows it to support a digital camera.
You can buy one on Amazon for $9.89, or make one yourself. Just remember to put it on a weighted bottle, otherwise, the bottle might fall over from the weight of the camera. Fill the bottle with water before using.

6. Gorilla Tripod
The Gorilla Tripod is a portable and flexible tripod that can support point & shoot cameras and larger professional DSLRs alike. The tripod's legs are shorter than your average tripod but extremely maneuverable.
The legs can be moved and bent like octopus legs while remaining completely stable, allowing for steady shots over most terrain. Imagine wrapping a tripod around a tree branch or a pole. It is also made with high-quality materials that can withstand the wear and tear expected out of use.

7. The Lenspen
Cleaning is always an issue for photographers. Dirt, dust, and other things can land on the lens, resulting in shots that are less than ideal. For photographers who are always on-the-go, the Lenspen might be the perfect gift.
The Lenspen is a neat pen-shaped tool with a microfiber cleaning tip on one end and a brush on the other. It's a compact tool used to clean a camera that fits right in a pocket. The Lenspen Pro Pack is available on Amazon for $11.95.

8. Altura Photo Professional Cleaning Kit
For photographers who need a more complete suite of cleaning tools, the Altura Photo Professional Cleaning Kit is the better option.
Each kit contains a 2-ounce bottle of lens cleaner, 50 sheets of camera cleaning tissue paper, 3 packs of microfiber cleaning cloths in 2 sizes, a lens cleaning pen, a lens brush, and an air blower cleaner. The kit is available on Amazon at $12.99.

9. HP Sprocket 2nd Edition Photo Printer
The HP Sprocket 2nd Edition Photo Printer is a compact printer that's small enough to fit in a pocket. It measures at 4.63 x 3.15 x 0.98 inches and weighs 6.1 ounces. The printer uses ZINK photo paper to print without using ink.
ZINK photo paper uses thermal printing technology for printing, resulting in photos that do not smudge. The ZINK photo paper that HP offers also has a sticky backing, allowing the photos to be used as stickers. HP sells the photo paper at 20, 50, and 100 papers per pack. The packs cost $9.99, $24.99, and $44.99, respectively.

10. Canon Selphy CP1200 Printer
The Canon Selphy CP1200 Printer is a rechargeable battery-powered printer that can print 4 x 6 photos from any smart device, flash disk, or memory card. It weighs about 2 pounds and measures 7.1 x 5.4 x 2.5 inches when packed.
The photos do take a while to print, but the quality is amazing for a portable printer. Photos also come with a special coating that protects the photos from fading and damage. A brand new unit costs $149.99 on the Canon eStore.

11. Peak Design 45L Travel Backpack
A photographer's gear is expensive, with some parts being very delicate. A backpack that can keep all that gear safe and secure is important for any photographer. The Peak Design 45L Travel Backpack is just that.
It's a tough, yet appealing backpack that can safely fit in a lot of photography gear due to its modular design. It comes with packing cubes in three different sizes. The large camera cubes can fit a lot of camera gear snugly inside.
A tripod can be lashed onto the side of the bag through the bag's stow-away straps and hooks. The bag itself can be used as a 35L backpack or expanded to a 45L backpack. Peak Design sells this backpack at $300.

12. Portable SSD
A common issue that photographers deal with that many don't realize is memory and file transferring. Photographers can take up to hundreds of photographs on any given day and storing all of that on a computer's hard drive can take a lot of time, not to mention a lot of memory management.
A good portable SSD has a lot of storage space and can transfer files quickly, making this process a lot faster. Good portable SSDs can cost upwards of $300.

13. Fast Memory Card
Any computing process is like a chain, it is only as strong as its weakest link. A fast portable SSD would be nothing without a fast memory card to pair with it. Taken together, photos can be transferred from the camera to a hard drive at high speeds, saving your photographer friend the hours of boredom and frustration from waiting while their photos are transferring.
A decent memory card can cost around $50. Just remember to ask your friend as to what specific type of memory card they're using, there are many types of cards on the market today.

14. DJI Mavic 2 Pro
The drone is probably the greatest recent innovation in photography. It allows photographers to capture photos that wouldn't normally be possible on foot. If you've been to a big event with professional photographers, chances are you've seen what these little flying machines can capture. It is not cheap, of course.
A brand new DJI Mavic 2 Pro costs $1,499, but opening the doors to aerial photography for a budding photographer is priceless.

15. ExpoImaging ROGUEGELS-U Gels
The ROGUEGELS-U Universal Lighting Filter Kit makes dramatic lighting possible on a budget. It's a small attachment that goes onto a camera's flash. The filters can be mixed and matched to create all sorts of lighting conditions, from simulating sunlight to making a background gradient.
A photographer who knows how to use the kit well can make create mood from just a few filters or add color for artistic effect. Rogue Photographic Designs sells the combo filter kit at $29.95.

16. Lomography Smartphone Scanner
There's something about 35 mm film that's exciting for some photography enthusiasts. It captures photographs in ways that no camera does anymore, making its pictures unique in their own ways.
Getting support for niche interests like 35 mm can be difficult, which makes gifts like the Lomography Smartphone Scanner so great for the right person.
The Lomography Smartphone Scanner is a portable 35 mm film scanner that attaches to a smartphone. It allows your smartphone to digitize any 35 mm film through its camera.

17. Underwater Camera
An underwater camera is an excellent way to give your photographer friend a whole new world to capture. Pair that with a vacation near the sea, a scuba diving trip, or a day in the neighborhood pool.
You'll be going home with photographs that can leave you breathless. Underwater cameras with decent specifications can cost upwards of $300.

18. Underwater Camera Housing
Professional photographers will likely have their own trusty camera that they are comfortable with. Giving them an underwater camera housing lets them take it to the depths of the sea. An underwater camera housing is a case that allows full control over the camera's features while being water-proof and pressure-proof.
Some housings are similar enough to the camera that it feels like the housing isn't even there. You'll want to know exactly what model your photographer friend's camera is to get them the right match.

In a nutshell
These gifts will make any photographer happy. They're very useful, fun and affordable.
You can choose any of these gifts to give a photographer during any occasion.
This article was composed by a freelance writer.
---
Related articles:
Top 8 Gifts For 10-Year-Old Boys: Buy Some Cool Presents Today!
Top 8 Gifts For Writers – Best Presents For Writers Today
20 Best Gifts For Coffee Lovers [2019 Update]
Best Zero Gravity Chair – Top Five Picks [Updated 2019]
15 Best Minecraft Gifts To Buy For Your Kids Or Friends