Japan has been well-known for its anime. Their creation of different unique anime manga series captured the hearts of a lot of people around the world.
An example of their famous manga series is Kakegurui – Compulsive Gambler. It became popular and has its own Netflix live-action show.
There are a number of other popular game related anime you can watch as well.
Here's a list of 10 best game anime to watch today! You'll notice many are related to gambling or high stakes.
1. No Game, No Life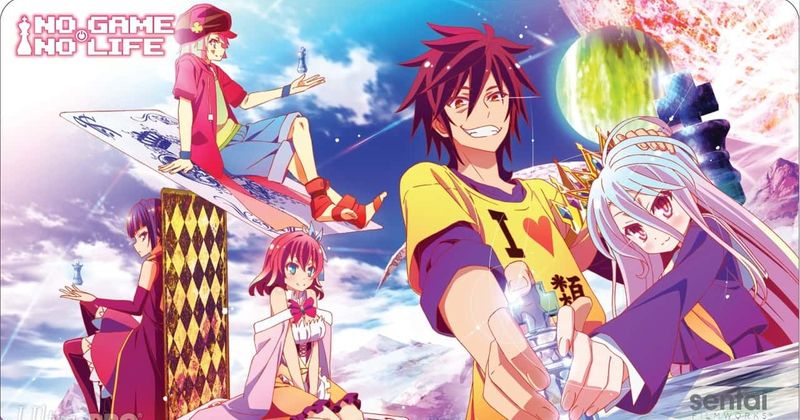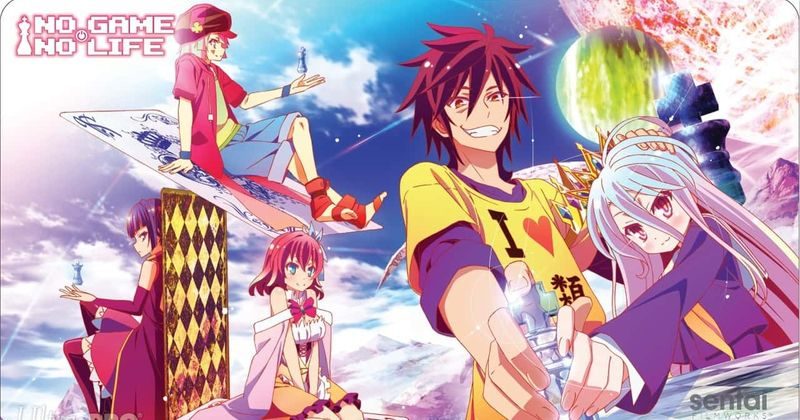 This anime is about two individuals who are addicted to playing video games. They usually play online games and they even have their own online game alias. Video game addiction allows them to develop their skill and eventually made them two of the most skilled gamers in the world.
One day, they received an email challenging them to a game that they never played before. Thinking that it might be a joke, they all agreed to accept the challenge and were eventually summoned to another world called Disboard by Tet, the god of games.
In Disboard, you will be living in a community where you cannot harm every citizen. The only way to solve every issues and difference you have with each other is through gambling.
And even though there is no real money at stake in every game, players are still willing to push themselves into their limits defeat whoever they face.
2. Danganronpa 3: The End of Hope's Peak High School (Future + Despair)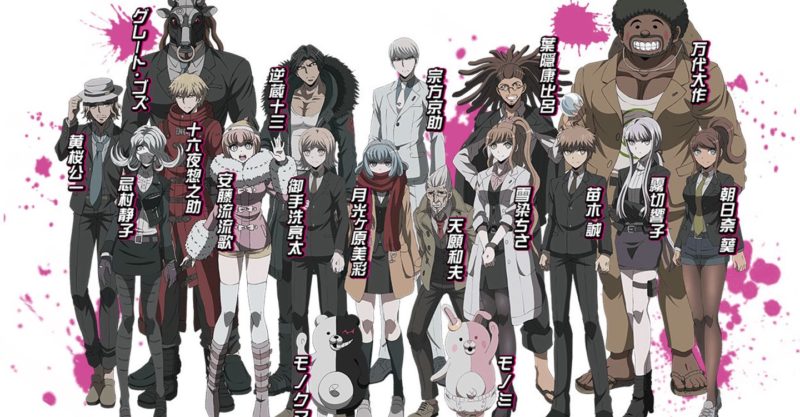 This series served as the conclusion of the storyline of Hope's Peak Academy. The Super High School Level Despair, Junko Enoshima, said to be played hostess to a killing school life disguised as Monokuma. The storyline is divided into two chapters: Future and Despair chapters.
Aside from having a school setting, what Danganronpa and Kakegurui have in common is that both are offering high stakes wherein making a simple mistake will eventually cost you your freedom or life.
Even though no lives were taken, it still has a crazy storyline where characters somehow feel like they are betting their lives.
3. One Outs
This anime is about a baseball enthusiast, Toua Tokuchi, who combines sports and gambling. He calls the game One Outs. It all started when was asked to join a team and lead that team into being one of the best team in the league.
Since Toua loves to make money aside from playing baseball, he agreed to it but he with one condition, he wants them to give him 5 million for every pitch that will lead to an out and for every hit he will lose 50. This is the reason why he called the game One Outs.
You will feel the suspense and intensity of every pitch that he makes and end up hoping his opponents won't be able to hit it.
4. Food Wars (Shokugeki no Souma)
Unlike other anime on this list, this anime is based on a culinary cook-off. The prestigious school, Tootsuki Culinary Academy, has a unique rule for their students where they can challenge other students for a cooking battle called Shokugeki (Food Wars).
Shonen decided to join Tootsuki Culinary Academy without knowing that his cooking career will be at risk.
Even though gambling and cooking battles are different from each other, Food Wars and Kakegurui have some similarities in terms of the main characters. Both Yumeko and Shoma derive pleasure on what they are doing and want to derive more of it.
Also, both anime has a high stake at risk. One is freedom and the other is a career.
5. Death Note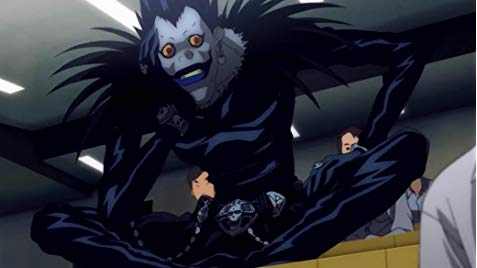 Death note is not about gambling but it definitely has high stakes. Light Yagami, the protagonist, was raised as a genius who is already tired of the world he's living into and wants to change everything.
One day, he got the opportunity to fulfill his dream and change the world after acquiring power from a supernatural notebook called Death Note. The Death Note looks like any other notebook, but it allows you to take the lives of other people by just writing their name on it.
Kakegurui and Death Note also have similarity in terms of manipulating other people. Both characters are willing to manipulate other people just to emerge victoriously.
In a way, it's a game of life and death. Death Note is pretty popular that it has its own live action show.
6. Death Parade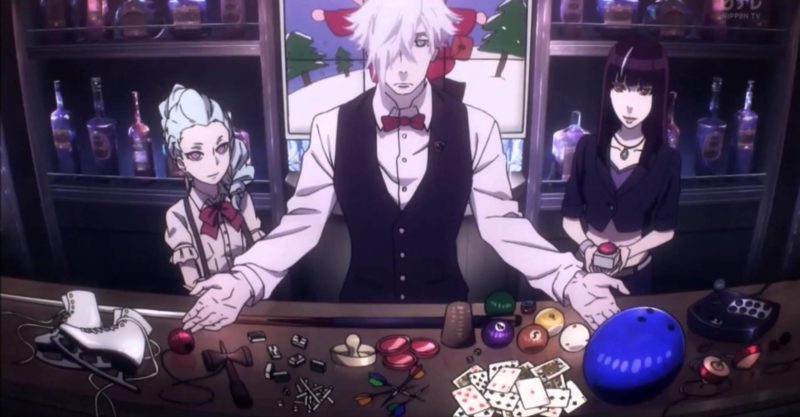 What happens after death? That's probably one of the questions that have been left unanswered for a long time. Some say you will be seeing gardens of heaven while other said the that you will be welcomed by the blazing fire of hell but whatever it is, none of these things happen after death in Death Parade.
After your death, you will either be reincarnated or lost into oblivion. The bartender will be the one to challenge every deceased person to a game which will decide what will you get after.
Death Parade has a dark and mature theme. The stakes in this anime are also high. In every game, your future whether you will continue living or forever be lost will be at stake.
It is somehow to life and death situation; the only difference is you're already dead.
7. Prison School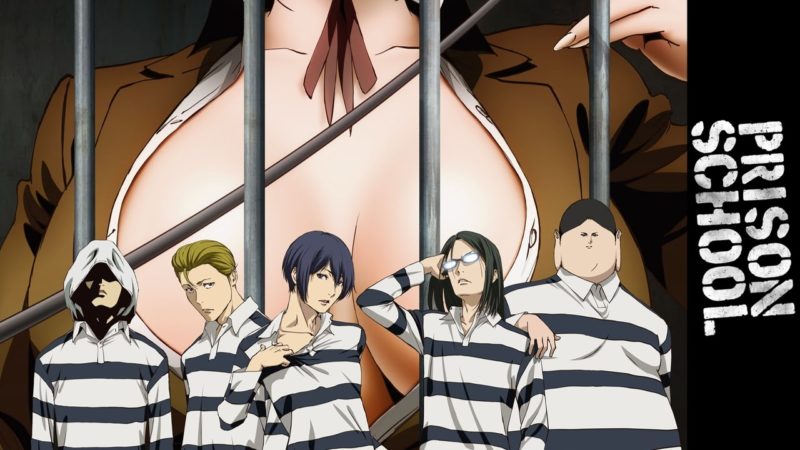 Hachimitsu Private Academy was once an all-girls prestigious academy, but everything was changed when the board of directors of the school decided to open the school for male students. The first five male students of the school were Kiyoshi, Gakuto, Shingo, Andre, and Jo.
Their first semester was not every study desire after being thrown into school prison after they got caught peeking into the girls' bathroom. They got punished by the Underground Student Council and was thrown to the prison built inside the academy for one month.
Prison School has an adult-themed content and have a weird sense of comedy. It's actually pretty similar to another anime – Kakegurui.
8. Lostorage Incited WIXOSS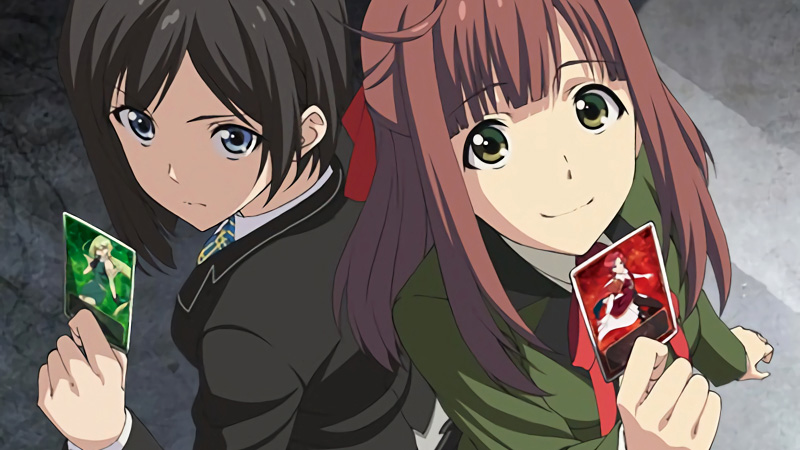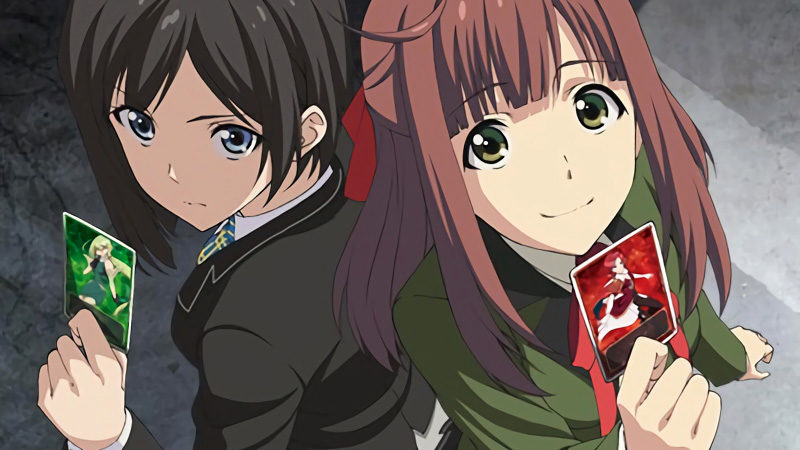 Suzuko and Chinatsu grew up as best friends, but Suzuko left their place, Ikebukuro, for a long time. By the time he returns to her hometown, Suzuko noticed something unusual. All her classmates are playing a new card game called WIXOSS.
She got curious about the game and she decided to get her first card deck. Upon opening her card deck, she noticed that one of her cards is alive and it explained the rules of the game to her. In WIXOSS, players will be given five coins for them to keep.
Every time a player loses a game, he/she will also lose a coin but once he/she wins, he/she will get a coin back. This will continue until you either gather a lot of coins or lose all your coins. The only twist is, once you lose all your coins, you will also lose your memory.
9. Rio: Rainbow Gate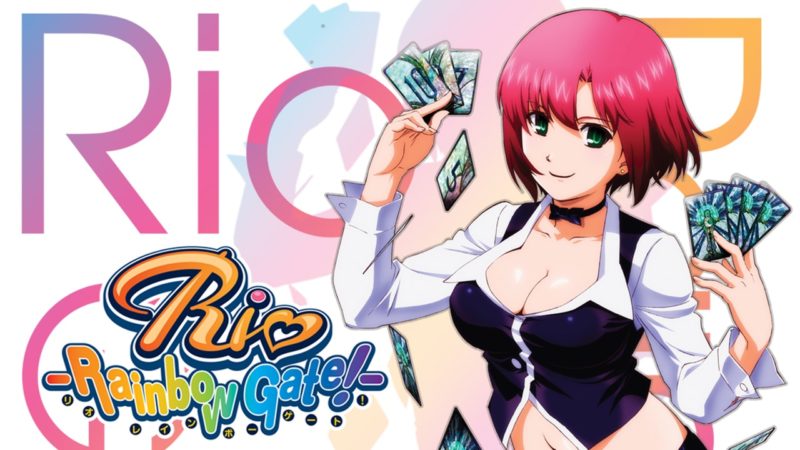 This is also an anime about gambling but the main focus in here is the dealer. Rio Hollins, known as Goddess of Victory, is a dealer in a casino called Howard Resort Hotel.
She doesn't really care what other people will call her, her only dream in life is to be a legendary dealer just like her mother.
And there's no other way for her to achieve this dream but to gather all the 13 legendary gate cards.
10. Gyakkyou Burai Kaiji: Ultimate Survivor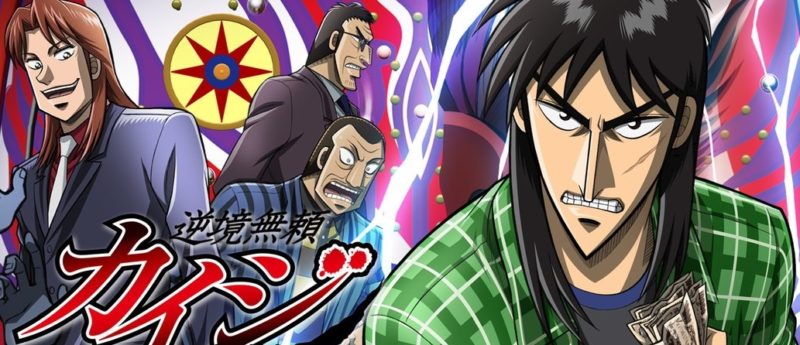 Gyakkyou Burai Kaiji is based on the famous manga series by Noboyuki Fukumoto. Kaiji Itou, the protagonist, is just like any other thug you know. He does everything that a normal thug will do even betraying someone he knew until one day he finds himself stuck in debt that he can't repay.
He then decided to take part in a cruise ship and takes part in the illegal gambling activity that is happening inside the ship.
If you love gambling / game related anime, then check this out.
In a nutshell
There are plenty of great game anime that you can watch today, apart from just Kakegurui.
Hopefully this list will give you a good idea on other game-related anime you can watch.
This article was written by a freelancer.
---
Related articles:
Best Kitchen Nightmare Episodes To Binge On
Top 10 Best Japanese Movies Of All Time
Top 9 Best Free Horror Games Out There
7 Best Gaming Laptops Under $800 You Can Buy Today
The 10 Best Items In Teamfight Tactics
10 Best English Dubbed Anime Series