In a screen-obsessed world, you'd be surprised as to how much demand there remains for board games.
Ranging from the simpler and easy enough to understand that you can play it with your family to the more complex ones that only hardcore fans of a particular franchise can even begin to comprehend how the game is played, board games cater to a wide range of audience which is probably why people still play them.
But, of course, just like video games, not all board games are created equal.
Like, for example, there are board games that need groups of people to come together and play it.
Then, there are board games that you can play with your significant other, friend, or whoever else you can play it with. The latter is what we're here to focus on.
Below, you'll find 8 recommendations for the best two-player board games available today, carefully selected to make sure that there's a little bit of something for everyone.
Note: there may be affiliate links below.
1. Carcassonne
Carcassonne isn't exactly marketed as a two-player board game. In fact, it's usually recommended to be played with five people.
However, the game works just as well with five people as it does with just two. In fact, the argument exists that Carcassonne works better when there are fewer players on the board and the two can focus on waging all-out medieval war against each other.
As for what Carcassonne is all about, it's a game about building a medieval empire by owning as many tiles as possible to get a high score.
The player who gets the highest score once all of the tiles of the game has been filled wins.

2. Pandemic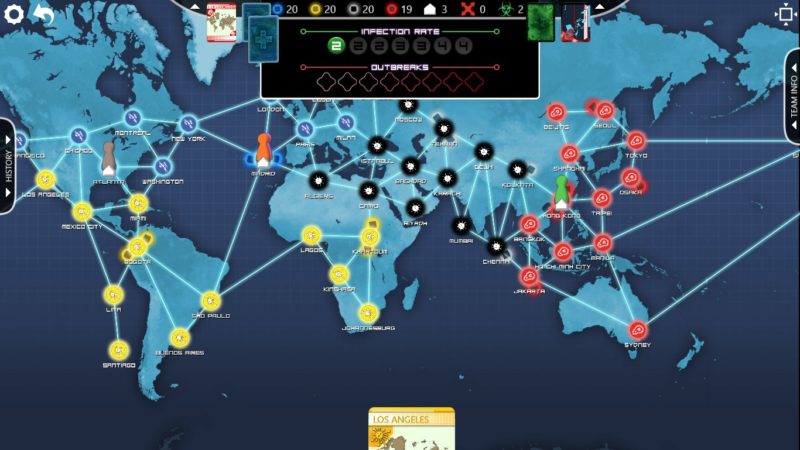 Considered one of the best modern games released in recent years, Pandemic lets up to four players work together to fight against four deadly viruses that are threatening to kill off the entire human population. The goal? To contain the infection and prevent it from spreading, all the while finding a cure.
While the premise sounds simple enough, the different roles that players can choose from and the rules help keep every game fresh and unique without unnecessarily making things more complicated than it should be.
In Pandemic, the key to winning is working together, although how exactly players should work together changes depending on how many players are on the board.
If there is a downside to Pandemic, it's that setting up can take a while, especially for beginners. But, once you get the hang of it, it gets a lot easier.
In fact, you could clear through a couple of games in a single evening with your loved one, which makes it the perfect board game for those who'd love to stay at home and have a game night, date night sort of thing.
As an added bonus, Pandemic has multiple expansions and spin-offs that each add a different layer of depth and strategy to the game.
So, in case you get bored with playing just the vanilla Pandemic, remember that there are ways to spice things up, like adding in a fifth player or play in teams in case you have plenty of friends over.

3. Exit: The Abandoned Cabin
If you're looking for an at-home escape room experience, then Exit: The Abandoned Cabin might just be for you.
A two-player board game that can be played by up to as many as four players, the Exit: The Game series was created to simulate the same experience of that of an escape room.
This includes fostering the kind of conversations that eventually lead to puzzles being unraveled by testing each player's problem-solving skills and memory.
While Exit: The Abandoned Cabin, or rather, Exit: The Game series, could never fully replicate the escape room experience, it does a more than adequate job of providing a good alternative.
Starting players off with only a handful of clues, the real joy is here competing against someone else and gloating about the fact that you've already solved a sequence or two while they're still busy banging their hands on the wall.
For some quick and good ol' competitive fun, look no more than Exit: The Abandoned Cabin.

4. Bananagrams
Tense, frantic, and extremely challenging, Bananagrams is like the good ol' Scrabble board game but on steroids.
The idea of Bananagrams is simple. You get 24 single-letter titles and your task is to use up all of them to create a crossword. The challenge here is that, whenever a player finishes their set of tiles, they take another one that they have to add to their crossword, and so does everyone else.
This simple but clever mechanic puts the pressure on everyone, especially those who see their unused titles keep on growing.
The winner of the game is the one to use all of the spare tiles in the game, and because, just like Scrabble, your crossword has to make sense, you can't just make words up and be done with it.
A game that will literally play out differently each time you play it, Bananagrams makes for a perfect board game for those who need something that can be played anytime and anywhere.

5. Hey, That's My Fish!
How would you like to be in control of some furious-looking penguins who are looking to make the most out of a sinking ship? Or, rather, in the case of Hey, That's My Fish!, it's a sinking iceberg instead of a literal boat.
In Hey, That's My Fish!, every move counts. Each move you make comes with the price of the underfoot breaking away, but you can't just stay either. Because, whenever you leave a tile, you collect and win how many fish are drawn on it.
But, at the same time, you'd have to be careful about how many tiles you take, because that's a piece of your iceberg being taken away as well.
The pressure of losing whatever's left of your iceberg and other players trying to cut you off makes Hey, That's My Fish! a surprisingly clever game that, although is a bit of a pain to set up, is well worth your time.

6. Forbidden Island
If you don't mind relying on a little bit of luck to help you win in a board game, you might want to try out Forbidden Island, and its sequel, Forbidden Desert.
One of the few true cooperative board games out there, the goal in Forbidden Island is to seek out the four treasures before the entire island sinks forever. Because everything's sinking slowly, it's up to your luck to decide which tiles we'll see will sink first, and in case you're wondering, it's possible that your luck turn for the worst and prevent you from winning.
Forbidden Island may have been designed to be played by four people, but two can enjoy playing it just the same – it's just that the difficulty will be ramped up many times over.

7. Hive
It's inevitable that any two-player strategy board game is going to be compared to Chess.
A timeless classic, there's a reason why Chess is considered the ultimate board game. Lauded for its simplicity and depth, Chess sets a high standard that most board games who try to imitate it simply just can't live up to, but Hive isn't like most board games.
Similar to Chess in strategy, what sets Hive apart is that there is no board.
In Hive, players control pieces, each with their respective moments, and the goal is to use the hexagonal tiles to their advantage to be able to surround the opposing player's queen bee.
Like Chess, it doesn't take long to understand how each different bug on an hexagonal tile works. But, the strategical depth of the game helps keep it complex, making the hundredth play through just as unique as the first one.
Another added benefit of Hive is that, once you know the game well enough, each round played can be over with in as little time as 15 minutes.

8. Twilight Struggle
Twilight Struggle isn't just considered one of the best two-player board games of all time, it is considered by many as one of the best games of all time.
The only problem? The barrier of entry is so high that Twilight Struggle turns a lot of people off before they can even start playing it. And, with an estimated three-hour playtime for each round, you wouldn't really blame some players for not sticking around. But, for those who stuck around, they can be in for quite the wild ride.
Developed to simulate the tension between the United States and the Soviet Union during the period of the Cold War, Twilight Struggle is a strategy heavy board game that will definitely overwhelm first time players.
However, if you give it enough time, you'll realize soon enough why a lot of people are willing to spend three hours of their time playing the game.
Full of unique and interesting gameplay mechanics, with multitudes of options available to each player, Twilight Struggle is a must-play for hardcore board game players and beginners alike.

Final Thoughts
Finding a two-player board game isn't hard, but finding a GOOD two player board game might present itself quite the challenge.
Lucky for you, we've already taken care of that.
So, what are you waiting for? Go through our list and stock on two-player board games today.
Even though you might not see the appeal of a particular game right now, it's always better to have something ready to play during the inevitable times when you and your loved ones or friends just want to disconnect from the technology-dependent world.
This article was composed by a freelance writer.
---
Related articles:
The 10 Best One-Player Games Available Today
The 10 Best Space Games You Can Play Today
8 Best Party Games You Can Play With Friends
How To Get Golden Keys: Borderlands 3 Guide And Wiki
Top 8 Best Yu-Gi-Oh! Cards Of All Time
Top 10 Best Games Like Cards Against Humanity